| | |
| --- | --- |
| AceNotes Today | Thursday, May 11, 2017 |
Funeral arrangements for Devin Cyr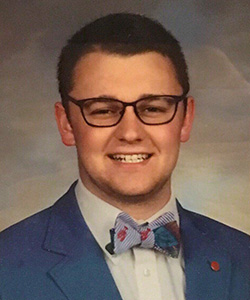 Visitation and funeral services for Devin Cyr will be held at Sacred Heart Catholic Church, 124 N. New York Street in Remington, Indiana this Thursday and Friday. Details are as follows and all times are Eastern:
Thursday, May 11
3:00 p.m. - 8:00 p.m.: Visitation
Friday, May 12
10:30 a.m.: Special Eulogies
11:00 a.m.: Funeral Mass
Immediately following the funeral mass, the men of Sigma Phi Epsilon will conduct a brief ritual.
Devin, who was 20 years old, was from Remington, Indiana. He went to be with his Lord and Savior on Sunday, May 7, at Deaconess Hospital of Evansville, Indiana, due to injuries sustained in an automobile accident. Devin passed peacefully surrounded by his loving family and close friends.
Devin was born October 8, 1996 in Portland, Maine, to Jerry and Julie (Cassidy) Cyr and welcomed by his big sister Olivia. He was a 2015 graduate of Tri-County High School where he was vice president of his class, a National Honor Society member, a member of Business Professionals of America, Hoosier Boys State, 2015 Junior Achievement Outstanding Economics Award Winner and on Student Council. At Tri-County, athletics was a big part of Devin's life. He participated in track, cross country, basketball and football. Devin's lifelong passion was soccer. He started with Remington Soccer Club at age three, played for St Joe Travel Soccer and travelled the Mid-West with FC Revolution.
Devin was a member of Sacred Heart Catholic Church. His deep faith led him to serve his church as an alter server, lector and president of the Catholic Youth Organization. He participated in Notre Dame Vision, Destination Jesus and attended Nation Youth Conference several years. Of particular importance to Devin was the 'Random Acts of Kindness' program he initiated with his youth group.
Devin just completed his sophomore year the University of Evansville where he studied mechanical engineering. He was a brother of Sigma Phi Epsilon fraternity at the UE and was devoted to his brothers, the philosophies of the organization, and the 'Balanced Man' program.
Surviving along with his parents Jerry and Julie and sister Olivia are paternal grandparents, Dana and Linda Cyr, Uncle Scott and Aunt Diane Smith, Uncle Dana Cassidy, Aunt Karen Umphrey, Uncle Wayne and Aunt Jean Cyr, Aunt Rhonda Cyr. Cousins Dory Smith Graham, Leigh Smith, Kelly Smith, Eric Cassidy JodI Umphrey Watts, Jim Umphrey, Ben Umphrey, Kevin Cyr, Karen Cyr, Lauren Cyr, Jessica McLeod, Timmy McLeod and Dana McCleod
Devin is preceded in death by his maternal grandparents, Phillip and Winnifred Cassidy Cray, and Beverly Cray.
Devin was a wonderful, humble, faithful and caring young man and will be missed by all. He was never judgmental and always accepting of everyone. He always had a wonderful smile and a kind word. He was the best son a parent could ask for and his relationship with his Sis was like no other.
Memorial contributions may be made in Devin's name to the Devin P. Cyr Memorial Fund in care of Stitz-Clapper Funeral Home.
Share memories and condolences online at www.clapperfuneralservices.com.
FREE Honoring Women Veterans Conference to be held at UE
The eighth annual Honoring Women Veterans Conference will be hosted at UE on Saturday, June 17. The conference is FREE and open to women veterans and current service members. Registration is required by June 1 at www.evansville.edu/veteransaffairs or by calling 812-488-2141.
Attendees will receive valuable veteran benefit information, enjoy a complimentary luncheon, and an afternoon of being pampered with massages, manicures, facials, prizes, and more.
This year's special guest speaker will be Marylyn Harris, MSN, MBA. Harris is a US Army veteran and founder and executive director of the country's first Women Veterans Business Center located in Houston, Texas. She is committed to improving the health status (mental and physical), education, and economic opportunities of women and girls. The mission of the Women Veterans Business Center is to connect, educate, and empower women veterans and military families to start and grow wealth-generating veteran-owned businesses.
Harris has received numerous awards and recognitions for her work including the prestigious White House Champion of Change Award presented to her by President Barack Obama in 2013.
Join us as we hear how Harris overcame obstacles including PSTD to lead a fulfilling personal and professional life. She has lessons to share and is an inspiration to all.
Submitted by Cherie Leonhardt CL29@evansville.edu
Re-Think Diversity Through Advocacy and Dialogue
The Office of Diversity is offering re-thinking diversity sessions again this summer to help campus members with discussion and dialogue around diversity and inclusion. The theme will be "Re-Think Diversity Through Advocacy and Dialogue." They will be on Tuesdays beginning June 6 through August 1 (excluding July 4) from noon-1:00 p.m., in Room 273 in the Schroeder School of Business Building.
Mark your calendars and plan to attend!
Each session allows participants to think and dialogue about how to re-think everything they ever knew about diversity topics by providing solution-oriented steps and strategies. There will be resources for participants on how to engage in diversity opportunities for encouraged inclusion on campus.
Sessions are intended for any campus member (faculty, staff, administrators, or students workers).
Please note that anyone attending at least six sessions will be given a certificate of completion from the Office of Diversity Initiatives at UE at the end of the summer.
Information on the sessions is below:
June 6
"What you need to know about Evansville's LGBTQ community and how to offer support," presented by Wally Paynter, Tri-State Alliance
June 13
"Evansville's Black History and the mission of the Evansville African American Museum," presented by Lu Porter, executive director, Evansville African American Museum
June 20
"Why affinity groups are important and the steps to increase retention within a diverse workforce," presented by Danyelle Granger, vice president, diversity and inclusion director at Old National Bank
June 27
"What is the Evansville Chamber of Commerce doing to increase diversity?" presented by Megan Alvarez, inclusion coordinator, Chamber of Commerce
July 11
"More than accommodations: Understanding the needs of people with different abilities," presented by Gary May, retired professor of social work, president of Veterans for Peace
July 18
"True inclusivity: Building and strengthening important diversity community initiatives," presented by Alex Burton, banker, Old National Bank
July 25
"Women in the workforce: How can we make it better?" presented by Jennifer Briggs, university registrar, University of Evansville
August 1
"Celebrating and exploring the Hindu temple and culture," presented by Tri-State Hindu Temple and Cultural Center
For more information contact LaNeeca Williams at lw161@evansville.edu or by phone at ext. 2413.
Summer publication schedule for AceNotes
As there are fewer submissions to AceNotes during the summer, AceNotes will only be published on Tuesdays and Thursdays starting the week of Monday, May 15. AceNotes Extras will still be published whenever needed. The regular AceNotes publication schedule of every Monday through Friday will resume when school begins again in August.
Sign up now for June health screenings
Sign up now for your wellness screening and earn HRA credits. Screenings will be held in the UE Employee Health Clinic on June 6, June 7, and June 8 from 7:00-10:50 a.m. Sign-up on Acelink. A 12-hour fast is recommended. E-mail ac357@evansville.edu with questions.
Hay, Lambert and Florey earn MVC Awards
Brittany Hay, Morgan Lambert and Morgan Florey each earned Missouri Valley Conference awards at a banquet on the eve of the conference championship in Normal, Ill.
Hay was recognized as the league's Newcomer of the Year while Florey and Lambert earned All-Conference Second Team honors. Lambert was also named to the All-Defensive Team.
A junior out of Georgetown, Ill., Hay led the Aces with a .372 average in conference play while scoring 22 runs over that span. She batted .306 for the season and was the conference Newcomer of the Week on April 10.
"This is such a tremendous honor for Brittany! She has had such a great year at the plate for our team," UE head coach Mat Mundell said. "She is a dynamic weapon out of the lead-off spot."
Morgan Lambert had another nice season at the plate and in the field. The first baseman finished with an unbelievable .997 fielding percentage this season and improved her career tally to .989. That is third on the all-time program list. She finished second on the squad with eight home runs and 27 RBI.
"I could not be any happier for Morgan. She has been such a clutch player for us in conference play the last three years," Mundell said. "It has been awesome to see her grow as a player this is a nice recognition for her senior year."
Another player who does it all for the Purple Aces has been Morgan Florey. UE's leader with 9 homers and 31 RBI was even better in the circle. Her 188 strikeouts paced the MVC this season while her 1.95 ERA was third in the league. She is the defending league Freshman of the Year.
"I am excited for Morgan to earn this recognition," Mundell explained. "She continues to improve in the circle. She is without a doubt one of the best pitchers in the MVC."
Evansville's award-winning trio and their teammates are set to open the league championship on Thursday at 11:00 a.m. versus Loyola.
Sari Baum's Norton Writer's Prize essay now online
Creative writing student Sari Baum recently placed in the fiercely competitive Norton Writer's Prize, a national competition awarded annually for an outstanding essay written by an undergraduate. You can now read her essay, "Bánat is Hungarian for Grief," online on the Norton & Company website.
Mary Ellen Wylie named Outstanding Teacher of Year
Mary Ellen Wylie, professor of music at the University of Evansville, was named the 2017 Outstanding Teacher at the University during UE's 159th Commencement exercises on Saturday, May 9.
UE alumni value the exceptional education they received here, and to encourage continued excellence, the Alumni Association sponsors this award honoring distinguished service in teaching.
Wylie came to UE in 1991. She earned her undergraduate degree in music education from the University of Wisconsin-Madison and her advanced degrees from the University of Kansas.
She is an experienced music therapist having worked with children with severe developmental delays and multiple handicaps, adults with mental handicaps, the elderly and terminally ill, and patients with cancer.
Wylie is past president of the American Music Therapy Association and has served a number of years on the board of directors and executive committee of that organization. In March 2010 she was awarded the Honorary Life Member award from the region for distinguished contributions made over the years.
She has given numerous presentations locally, as well as at national, regional, and state music therapy conferences. She has been published in the Journal of Music Therapy and Music Therapy Perspectives.
As director of UE's music therapy program, Wylie teaches courses in music therapy, supervises music therapy practica, and coordinates internships.
A record number of nominations for this year's award were submitted for Wylie, not only from students, but also from alumni and fellow faculty members.
Whitsitt and Wallisch named Outstanding Seniors
Lynnette J. Whitsitt and Nathan Wallisch were named the University of Evansville's Outstanding Seniors during Commencement at the Ford Center on Saturday, May 6.
The Mabel Dillingham Nenneker and Guthrie May Outstanding Senior Service Awards are the highest honors that UE presents to one female and one male senior. They are named for two of the University's most respected alumni, Mabel Dillingham Nenneker and Guthrie May.
Whitsitt received the Mabel Dillingham Nenneker Outstanding Senior Service Award. She graduated today with a Bachelor of Science in psychology with minors in ethics and sociology.
She is a member of such groups as Psychology Club, Admission Ambassadors, Newman Club, and Circle K. Whitsitt was president of her sorority, Chi Omega, when the national organization awarded it the Founder's Cup. This honor is given to the top five performing chapters in the nation.
As Relay for Life chair of Colleges Against Cancer, Whitsitt worked with the University of Southern Indiana and the American Cancer Society to create an annual event at both campuses.
She served internships at Southridge High School and the Huntingburg Housing Authority.
Whitsitt has a passion for children and mental health, and her career goal is to become a school psychologist.
The Guthrie May Award was presented to Wallisch. He graduated today with a double major in electrical engineering and applied mathematics.
Wallisch has been a member of UE's Engineering Honor Society, Tau Delta Kappa, and was named Male Admission Ambassador of the Year. In addition, he was vice president of the Institute of Electrical and Electronics Engineers.
He has served as a tutor for the math department and as an assistant for the physics lab. Wallisch was also very involved with intramurals.
As a commuter student and orientation leader, he was recently elected to represent the student body as a student-elected member of the Board of Trustees.
Wallisch completed an internship at Ciholas, Inc., and Alcoa Warrick Operations, where he was offered and accepted a position as an electrical engineer. His professional career begins in June.
Cook named 2016-17 Administrator of the Year
Dedication and loyalty are just two of the attributes that describe senior admission counselor Heather Cook, recipient of the 2016-17 Administrator of the Year.
Those nominating Heather praise her as someone who goes above and beyond for any student that she comes in contact with, and they say her love for UE is obvious to everyone.
Heather's warm manner and friendly style provide a wonderful environment for prospective students and their families. She eagerly reaches across campus to all departments to ensure that every student here on their college search has the best visit possible.
She dedicates countless hours traveling to college fairs and high schools all over the country to engage students and relay to them the many reasons that they should make UE their college choice.
Heather manages all of this with a positive attitude, even during the challenging and high pressured time of enrollment.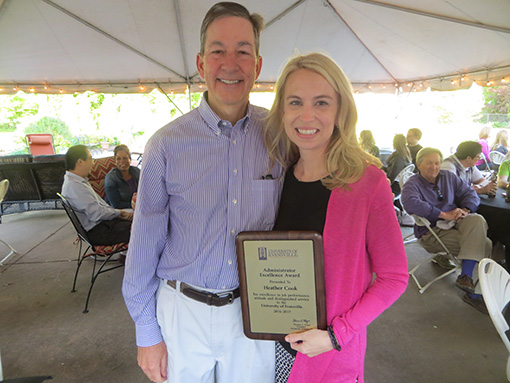 Sympathy to Mark Logel and family
Our deepest sympathy goes out to Mark Logel and his family on the death of his precious mother, Doris Mae Logel, who passed away at her home on Monday, May 8. Services were this morning at St. Benedicts Cathedral followed by burial at St. Joseph Cemetery.
Contribute to AceNotes
To have content considered for inclusion in AceNotes, please submit a Marketing Request Form. Deadline for submission to AceNotes is 10:00 a.m. on the requested date of publication. Only articles concerning UE related/sponsored activities will be accepted. Articles submitted to AceNotes may be edited for length and clarity. Submitter contact information is at the end of each article.