| | |
| --- | --- |
| AceNotes Today | Wednesday, May 10, 2017 |
Funeral arrangements for Devin Cyr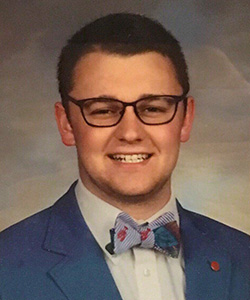 Visitation and funeral services for Devin Cyr will be held at Sacred Heart Catholic Church, 124 N. New York Street in Remington, Indiana this Thursday and Friday. Details are as follows and all times are Eastern:
Thursday, May 11
3:00 p.m. - 8:00 p.m.: Visitation
Friday, May 12
10:30 a.m.: Special Eulogies
11:00 a.m.: Funeral Mass
Immediately following the funeral mass, the men of Sigma Phi Epsilon will conduct a brief ritual.
Devin, who was 20 years old, was from Remington, Indiana. He went to be with his Lord and Savior on Sunday, May 7, at Deaconess Hospital of Evansville, Indiana, due to injuries sustained in an automobile accident. Devin passed peacefully surrounded by his loving family and close friends.
Devin was born October 8, 1996 in Portland, Maine, to Jerry and Julie (Cassidy) Cyr and welcomed by his big sister Olivia. He was a 2015 graduate of Tri-County High School where he was vice president of his class, a National Honor Society member, a member of Business Professionals of America, Hoosier Boys State, 2015 Junior Achievement Outstanding Economics Award Winner and on Student Council. At Tri-County, athletics was a big part of Devin's life. He participated in track, cross country, basketball and football. Devin's lifelong passion was soccer. He started with Remington Soccer Club at age three, played for St Joe Travel Soccer and travelled the Mid-West with FC Revolution.
Devin was a member of Sacred Heart Catholic Church. His deep faith led him to serve his church as an alter server, lector and president of the Catholic Youth Organization. He participated in Notre Dame Vision, Destination Jesus and attended Nation Youth Conference several years. Of particular importance to Devin was the 'Random Acts of Kindness' program he initiated with his youth group.
Devin just completed his sophomore year the University of Evansville where he studied mechanical engineering. He was a brother of Sigma Phi Epsilon fraternity at the UE and was devoted to his brothers, the philosophies of the organization, and the 'Balanced Man' program.
Surviving along with his parents Jerry and Julie and sister Olivia are paternal grandparents, Dana and Linda Cyr, Uncle Scott and Aunt Diane Smith, Uncle Dana Cassidy, Aunt Karen Umphrey, Uncle Wayne and Aunt Jean Cyr, Aunt Rhonda Cyr. Cousins Dory Smith Graham, Leigh Smith, Kelly Smith, Eric Cassidy JodI Umphrey Watts, Jim Umphrey, Ben Umphrey, Kevin Cyr, Karen Cyr, Lauren Cyr, Jessica McLeod, Timmy McLeod and Dana McCleod
Devin is preceded in death by his maternal grandparents, Phillip and Winnifred Cassidy Cray, and Beverly Cray.
Devin was a wonderful, humble, faithful and caring young man and will be missed by all. He was never judgmental and always accepting of everyone. He always had a wonderful smile and a kind word. He was the best son a parent could ask for and his relationship with his Sis was like no other.
Memorial contributions may be made in Devin's name to the Devin P. Cyr Memorial Fund in care of Stitz-Clapper Funeral Home.
Share memories and condolences online at www.clapperfuneralservices.com.
UE faces Loyola on Thursday
With the regular season in the books, the University of Evansville Softball team is ready for action in the 2017 Missouri Valley Conference Championship as they open play on Thursday versus Loyola.
Normal, Ill. is the host for the tournament as the Purple Aces and Ramblers will tangle in the first game on Thursday at 11:00 a.m. The Valley on ESPN3 has full coverage while live stats will also be available.
UE has dropped nine of its last ten games, including three over the weekend at Wichita State. The Aces and Shockers had a 12-inning battle in game one before WSU took a 4-3 win. WSU picked up 5-0 wins in each of the last two games. The Aces open versus Loyola, a team they swept in the first MVC series of 2017.
For the first time since the 2007 and 2008 season, the Purple Aces posted double digit conference wins. UE finished with 12 MVC victories in 2016 and completed the 2017 campaign with 11. Evansville also finished in the top five in the league standings in consecutive seasons for the first time since 2002-03.
Last year, Morgan Lambert hit a season-changing home run against Wichita State to give the Aces their first Valley series win in three years. In this year's match-up, Lambert launched a 2-run homer in the ninth inning to give UE the lead. For the season, Lambert batted .265 with 8 home runs and 27 RBI. In MVC games, she led the Aces with six homers and was second with 16 runs batted in.
Morgan Florey had another great day in the circle at Wichita State in game one, throwing 11 1/3 innings in a tough 4-3 loss. Her ERA of 1.95 remains third in the MVC while her tally of 188 strikeouts continues to lead the league as she is 30 ahead of her nearest competition. The sophomore has gone the distance in 15 of her last 18 outings while winning 14 games on the season.
Loyola finished the season with a 26-25 mark while going 9-17 in league play on their way to the #8 seed. Shannon McGee paced the Ramblers with a .297 average and 26 runs scored while Katie Kasubke provided the power, notching five home runs and 25 RBI. Kiley Jones posted 18 victories for LUC with a 2.27 ERA.
Aces fall in midweek showdown with Austin Peay
A dramatic comeback wouldn't prove enough on Tuesday night, as Troy Beilsmith's two-run eighth-inning single was canceled out by Austin Peay as the University of Evansville Baseball team dropped a 7-5 decision to the host Governors at Raymond C. Hand Park.
"What a day for Troy to take advantage of an opportunity. We've been struggling to get that big knock in 'winning time' this season," UE head coach Wes Carroll said, referring to the seventh, eighth and ninth innings. "It was great to see him come up and give us a chance, but unfortunately, we gave it right back to them in the bottom half. It's unfortunate that we let this get away from us, but we have to get back on the bus and get ready for Wichita this weekend."
After the Aces (15-32) drew first blood on a passed ball in the top of the second, Parker Phillips leveled the affair for the Govs (21-25) with a solo blast to left in the bottom half. Garrett Giovanelli put the hosts ahead a few minutes later with a groundout to make it 2-1.
In the third, Phillips singled in another score before Brett Newberg made it 5-1 with a two-run homer to right.
Phillips finished the game 5-for-5 at the plate with three runs batted in to lead the way for the Govs. Alex Sala enjoyed a three-hit day after coming off the bench, and as a team, the hosts out-hit the Aces 14-11.
UE began to punch its way back into the contest in the fifth as a Trey Hair groundout plated Beilsmith in the fifth, and then a Brendan Krob fielder's choice an inning later brought home Craig Shepherd to cut the deficit to two runs.
After Ryan Brady got himself out of a jam in the seventh, striking out Malcolm Tipler to strand the bases loaded, the Aces rallied once again in the eighth as an error and hit-by-pitch put runners on for Beilsmith, who placed a check-swing single over the head of Phillips at first base.
Beilsmith finished 3-for-4 at the plate, and Hair and Shepherd ended with two hits apiece. Travis Tokarek, meanwhile, was 1-for-5 to extend his team-best on-base streak out to 20 games.
However, the Govs responded in emphatic fashion in the bottom half of the eighth as doubles from Phillips and Cayce Bredlau pushed the lead back out to 7-5.
Brady (0-3), who was one of seven pitchers to appear on the mound for the Aces, was pegged with the loss after giving up two runs on a hit and a single over an inning of work. Jack Cavanaugh was the most effective pitcher for the Aces, tossing two scoreless frames with a pair of punchouts.
UE will return to action this weekend with a road trip to Wichita State for the penultimate Missouri Valley Conference series of the season. Play will begin on Friday at Eck Stadium.
Sign up now for June health screenings
Sign up now for your wellness screening and earn HRA credits. Screenings will be held in the UE Employee Health Clinic on June 6, June 7, and June 8 from 7:00-10:50 a.m. Sign-up on Acelink. A 12-hour fast is recommended. E-mail ac357@evansville.edu with questions.
Thursday afternoon golf outings
The employees of the University of Evansville are again invited to play golf with other UE employees on Thursday afternoons during the summer months. The UE golf outings will be on Thursday afternoons at 3:00 p.m. at Fendrich golf course. You can reserve your tee time by contacting Debbie Kassenbrock in the Center for Academic Advising at dk26@evansville.edu or 488-2605 by 4:30 p.m. on the Wednesday prior to the outing.
Submitted by Deborah Kassenbrock dk26@evansville.edu
Reminder: Purchasing procedures for May 2017
As the end of the University's fiscal year approaches on May 31, administrative services and accounting and audit announce the following procedures related to purchases of goods and services during May.
Pcard purchases
Pcard purchases posting on the May statement (cycle end date is May 22) will be paid from FY 2016-17 funds. Most shipments post on your Pcard within three to four business days. However, vendors have up to nine business days to post transactions.
Pcard purchases posting from May 23 through May 31 will be paid from FY 2017-18 (the new year) funds, unless the item purchased exceeds $500. Purchases exceeding $500 will be paid from FY 2016-17 funds.
Office Depot orders
Normally, Office Depot orders placed online by 3:00 p.m. for items in stock are delivered the next business day. Upon delivery, the transaction should post on your Pcard within three to four business days.
Office Depot orders received by May 15 will likely post on the May 22 Pcard cycle and be paid from FY 2016-17 funds.
Office Depot orders placed and received - but posting to the Pcard from May 23-31 - will be paid from FY 2017-18 funds, unless the items purchased exceed $500. Purchases exceeding $500 will be paid from FY 2016-17 funds.
Purchase orders
Approved requisitions converted into purchase orders and delivered by May 31 will be paid from FY 2016-17 funds.
Approved requisitions indicating FY 2017-18 written on them in red ink will be processed with a delivery date of June 1 or later.
Backordered purchase orders not delivered by May 31 will be paid from FY 2017-18 funds.
Blanket orders
All FY 2016-17 blanket orders expire on May 31.
Approved requisitions for FY 2017-18 (new year) blanket orders may now be submitted with June 1 through May 31 effective dates.
Backordered blanket purchase order items not delivered by May 31 will be paid from FY 2017-18 funds.
Requisitions for check request
All services completed and items purchased (and on campus) by May 31 must be submitted on a WebAdvisor voucher to accounting and audit by Monday, June 19 to be paid from FY 2016-17 funds. Any pre-May 31 purchases submitted for payment after this date will be charged to FY 2017-18.
Dr. Marvin E. Hartig Memorial Scholarship applications
Family, friends, and loved ones of the late Marvin E. Hartig are pleased to announce the application process for the Dr. Marvin E. Hartig Memorial Scholarship. This scholarship is dedicated to the loving memory of Hartig, dean of Evansville College's Evening College in 1967, and administrator for the Center for Advanced Study, director of the Evansville chapter of the American Institute of Banking (AIB), and the international student advisor. In 1974, Hartig was appointed dean of academic services. He retired in 1984 after serving his alma mater for 35 years and passed away in 2007.
This scholarship will be awarded each year to a deserving sophomore student with demonstrated financial need as shown by the results of the Free Application for Federal Student Aid (FAFSA). Preference will be given to a student working while being enrolled as a full-time student.
International students are encouraged to apply. Please include in your essay your particular financial need, since international students do not have FAFSA forms on file.
Applicants must submit the following to be considered:
Completed application

In a one page, single spaced, 12 point Verdana font essay, please answer all of these questions:
What have you learned about yourself as a UE student?
What do you do for fun when not studying or working?
Name a special attribute or accomplishment that sets you apart.
You have done a lot in your short life. In what areas do you think you can improve?
What are your scholastic and career goals?
How did you finance your freshman year and how will you finance your sophomore year?
Why are you a good candidate to receive this scholarship?
What have you learned about Dr. Hartig, how does he influence or inspire you, and how will you preserve his legacy as recipient of this scholarship?
Please return all materials to the Office of Financial Aid by June 1. Decision will be announced by August 1.
If you have questions, contact Trisha Hawkes, administrative assistant to the Office of Financial Aid, at financialaid@evansville.edu or 812-488-2364.
Submitted by Trisha Hawkes th187@evansville.edu
Sari Baum's Norton Writer's Prize essay now online
Creative writing student Sari Baum recently placed in the fiercely competitive Norton Writer's Prize, a national competition awarded annually for an outstanding essay written by an undergraduate. You can now read her essay, "Bánat is Hungarian for Grief," online on the Norton & Company website.
Mary Ellen Wylie named Outstanding Teacher of Year
Mary Ellen Wylie, professor of music at the University of Evansville, was named the 2017 Outstanding Teacher at the University during UE's 159th Commencement exercises on Saturday, May 9.
UE alumni value the exceptional education they received here, and to encourage continued excellence, the Alumni Association sponsors this award honoring distinguished service in teaching.
Wylie came to UE in 1991. She earned her undergraduate degree in music education from the University of Wisconsin-Madison and her advanced degrees from the University of Kansas.
She is an experienced music therapist having worked with children with severe developmental delays and multiple handicaps, adults with mental handicaps, the elderly and terminally ill, and patients with cancer.
Wylie is past president of the American Music Therapy Association and has served a number of years on the board of directors and executive committee of that organization. In March 2010 she was awarded the Honorary Life Member award from the region for distinguished contributions made over the years.
She has given numerous presentations locally, as well as at national, regional, and state music therapy conferences. She has been published in the Journal of Music Therapy and Music Therapy Perspectives.
As director of UE's music therapy program, Wylie teaches courses in music therapy, supervises music therapy practica, and coordinates internships.
A record number of nominations for this year's award were submitted for Wylie, not only from students, but also from alumni and fellow faculty members.
Whitsitt and Wallisch named Outstanding Seniors
Lynnette J. Whitsitt and Nathan Wallisch were named the University of Evansville's Outstanding Seniors during Commencement at the Ford Center on Saturday, May 6.
The Mabel Dillingham Nenneker and Guthrie May Outstanding Senior Service Awards are the highest honors that UE presents to one female and one male senior. They are named for two of the University's most respected alumni, Mabel Dillingham Nenneker and Guthrie May.
Whitsitt received the Mabel Dillingham Nenneker Outstanding Senior Service Award. She graduated today with a Bachelor of Science in psychology with minors in ethics and sociology.
She is a member of such groups as Psychology Club, Admission Ambassadors, Newman Club, and Circle K. Whitsitt was president of her sorority, Chi Omega, when the national organization awarded it the Founder's Cup. This honor is given to the top five performing chapters in the nation.
As Relay for Life chair of Colleges Against Cancer, Whitsitt worked with the University of Southern Indiana and the American Cancer Society to create an annual event at both campuses.
She served internships at Southridge High School and the Huntingburg Housing Authority.
Whitsitt has a passion for children and mental health, and her career goal is to become a school psychologist.
The Guthrie May Award was presented to Wallisch. He graduated today with a double major in electrical engineering and applied mathematics.
Wallisch has been a member of UE's Engineering Honor Society, Tau Delta Kappa, and was named Male Admission Ambassador of the Year. In addition, he was vice president of the Institute of Electrical and Electronics Engineers.
He has served as a tutor for the math department and as an assistant for the physics lab. Wallisch was also very involved with intramurals.
As a commuter student and orientation leader, he was recently elected to represent the student body as a student-elected member of the Board of Trustees.
Wallisch completed an internship at Ciholas, Inc., and Alcoa Warrick Operations, where he was offered and accepted a position as an electrical engineer. His professional career begins in June.
Cook named 2016-17 Administrator of the Year
Dedication and loyalty are just two of the attributes that describe senior admission counselor Heather Cook, recipient of the 2016-17 Administrator of the Year.
Those nominating Heather praise her as someone who goes above and beyond for any student that she comes in contact with, and they say her love for UE is obvious to everyone.
Heather's warm manner and friendly style provide a wonderful environment for prospective students and their families. She eagerly reaches across campus to all departments to ensure that every student here on their college search has the best visit possible.
She dedicates countless hours traveling to college fairs and high schools all over the country to engage students and relay to them the many reasons that they should make UE their college choice.
Heather manages all of this with a positive attitude, even during the challenging and high pressured time of enrollment.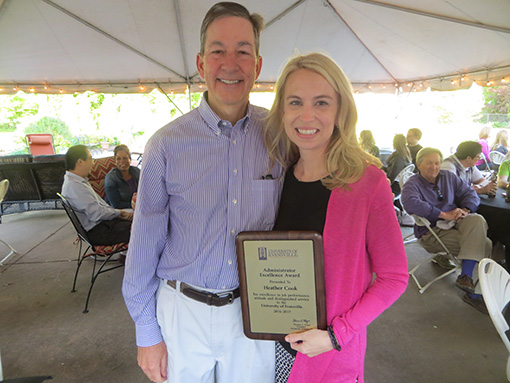 Student-athletes honored with President's Council Award
Five University of Evansville student-athletes were honored recently with one of the most prestigious Missouri Valley Conference Awards – The President's Council Academic Excellence Award.
Earning the accolade were:
Whitney Biggs/WSO - Exercise Science, Pre-Professional Track - 3.924
Bronwyn Boswell/WSO - Exercise Science, Pre-Professional Track - 3.933
Colleen Dierkes/WSO - Global Business - 3.84
Blake Simmons/MBB - Sports Management - 3.843
Everett Plocek/MSW - Exercise Science, Pre-Professional Track - 3.943
The President's Council Academic Excellence Award requires a minimum 3.8 cumulative grade point average (through Spring 2016 semester), participation in athletics a minimum of two years, and the student-athlete must be within 18 hours of graduation.
Evansville's recipients were recognized on Saturday morning at the Senior Breakfast, which is a yearly event that recognizes all senior student-athletes on the morning of graduation. Biggs, Boswell, Dierkes, and Simmons were each in attendance while Plocek was unable to attend.
Wil Pahud earns spot on MVC Scholar-Athlete Team
The 2017 Missouri Valley Conference Men's Golf Scholar-Athlete Team was released on Friday and University of Evansville senior Wil Pahud earned a spot on the First Team
Pahud finished the year with a 73.67 stroke average over the course of his 30 rounds of action. His low score of the year came in the Donald Ross Intercollegiate in the fall as he posted a 69 in the final round. He had a 3-round total of 212 strokes on his way to a tie for 7th place. His best finish in the fall was a tie for 6th at the Butler Fall Invitational.
In the spring, he posted four top 12 finishes and did not finish worse than 21st in any of the six tournaments. His top outing was a tie for 3rd place in an impressive field at the Hoosier Invitational, hosted by Indiana University. The Finance major has notched a 3.4 GPA at UE.
Six golfers are on the first-team unit. Carpenter, Bennett and Jacobs are joined on the first team by Dustin Atkinson of UNI; Drake Bushong of Bradley; and Pahud. Tommi Avant of Drake; Kory Franks of Missouri State; Zach Hoskins of Loyola; Zach Jewell of Bradley; Jason Marrs of Illinois State; Conrad Walcher of Wichita State; and Peyton Wilhoit of Southern Illinois received honorable mention selection, by virtue of receiving a minimum number of votes.
The criteria for the MVC scholar-athlete team parallels the CoSIDA (College Sports Information Directors of America) standards for its Academic All-America® program. Nominees must have at least a 3.20 cumulative grade point average (4.0 scale), while the student-athletes must have reached sophomore athletic and academic standing at their institutions and must have participated in at least 50 percent of his team's rounds or played at the MVC Championship.
Contribute to AceNotes
To have content considered for inclusion in AceNotes, please submit a Marketing Request Form. Deadline for submission to AceNotes is 10:00 a.m. on the requested date of publication. Only articles concerning UE related/sponsored activities will be accepted. Articles submitted to AceNotes may be edited for length and clarity. Submitter contact information is at the end of each article.