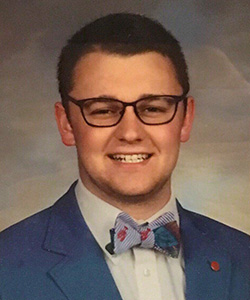 Visitation and funeral services for Devin Cyr will be held at Sacred Heart Catholic Church, 124 N. New York Street in Remington, Indiana this Thursday and Friday. Details are as follows and all times are Eastern:
Thursday, May 11
3:00 p.m. - 8:00 p.m.: Visitation
Friday, May 12
10:30 a.m.: Special Eulogies
11:00 a.m.: Funeral Mass
Immediately following the funeral mass, the men of Sigma Phi Epsilon will conduct a brief ritual.
Devin, who was 20 years old, was from Remington, Indiana. He went to be with his Lord and Savior on Sunday, May 7, at Deaconess Hospital of Evansville, Indiana, due to injuries sustained in an automobile accident. Devin passed peacefully surrounded by his loving family and close friends.
Devin was born October 8, 1996 in Portland, Maine, to Jerry and Julie (Cassidy) Cyr and welcomed by his big sister Olivia. He was a 2015 graduate of Tri-County High School where he was vice president of his class, a National Honor Society member, a member of Business Professionals of America, Hoosier Boys State, 2015 Junior Achievement Outstanding Economics Award Winner and on Student Council. At Tri-County, athletics was a big part of Devin's life. He participated in track, cross country, basketball and football. Devin's lifelong passion was soccer. He started with Remington Soccer Club at age three, played for St Joe Travel Soccer and travelled the Mid-West with FC Revolution.
Devin was a member of Sacred Heart Catholic Church. His deep faith led him to serve his church as an alter server, lector and president of the Catholic Youth Organization. He participated in Notre Dame Vision, Destination Jesus and attended Nation Youth Conference several years. Of particular importance to Devin was the 'Random Acts of Kindness' program he initiated with his youth group.
Devin just completed his sophomore year the University of Evansville where he studied mechanical engineering. He was a brother of Sigma Phi Epsilon fraternity at the UE and was devoted to his brothers, the philosophies of the organization, and the 'Balanced Man' program.
Surviving along with his parents Jerry and Julie and sister Olivia are paternal grandparents, Dana and Linda Cyr, Uncle Scott and Aunt Diane Smith, Uncle Dana Cassidy, Aunt Karen Umphrey, Uncle Wayne and Aunt Jean Cyr, Aunt Rhonda Cyr. Cousins Dory Smith Graham, Leigh Smith, Kelly Smith, Eric Cassidy JodI Umphrey Watts, Jim Umphrey, Ben Umphrey, Kevin Cyr, Karen Cyr, Lauren Cyr, Jessica McLeod, Timmy McLeod and Dana McCleod
Devin is preceded in death by his maternal grandparents, Phillip and Winnifred Cassidy Cray, and Beverly Cray.
Devin was a wonderful, humble, faithful and caring young man and will be missed by all. He was never judgmental and always accepting of everyone. He always had a wonderful smile and a kind word. He was the best son a parent could ask for and his relationship with his Sis was like no other.
Memorial contributions may be made in Devin's name to the Devin P. Cyr Memorial Fund in care of Stitz-Clapper Funeral Home.
Share memories and condolences online at www.clapperfuneralservices.com.