| | |
| --- | --- |
| AceNotes Today | Friday, May 5, 2017 |
UE Website Unavailable
The University of Evansville website is unavailable at this time. The website hosting company is aware of the problem and has a team working to restore service as quickly as possible.
Thank you for your understanding.
Reserved parking
On Thursday, May 4, and Friday, May 5, a number of parking spaces on the front oval will be reserved for members of the Board of Trustees.
Harlaxton Welcome Back Reception
On Friday, May 5, join the study abroad team and your fellow Harlaxton alumni for a welcome back reception! The reception will be in Dunigan Lounge on the first floor of the Schroeder School of Business Building from 2:00- 4:00 p.m. Grab some free food, talk to other Harlaxton alumni, and reflect on your experiences abroad. The reception is open to all Harlaxton alumni.
Submitted by Greta Becker gb91@evansville.edu
UE Commencement set for this Saturday
The University of Evansville's 159th Commencement ceremony will take place this Saturday, May 6, at the Ford Center in downtown Evansville. The ceremony starts at 1:30 p.m. and our annual Baccalaureate service will be held at 10:00 a.m. Saturday in Neu Chapel.
The event will feature the Senior Keynote address, presentation of the University of Evansville Alumni Association's Outstanding Teacher of the Year award, Eykamp Prize, as well as the Outstanding Senior Service Awards.
Graduates, if you have family and friends who will be unable to attend, please let them know that they can watch a live stream here: http://www.evansville.edu/live/
A video of the Commencement ceremony will be posted on this page in the coming weeks.
Additionally, you can follow along and post on social media using #UEGrad17.
Interfaith Baccalaureate Service: Saturday, May 6, 10:00 a.m., Neu Chapel
All graduates and their families are invited to attend the 2017 Interfaith Baccalaureate Service this Saturday, May 6 at 10:00 a.m. Baccalaureate is a religious service that gives thanks to God and offers prayer for the graduating class in the context of sacred ceremony. President Kazee will be offering words of wisdom, the University Choir will be singing; Board of Trustee members will be processing with faculty and administrators; and 2017 graduates will be participating in the service.
Graduates are invited to participate in the Baccalaureate service by wearing full regalia (cap, gown, and honors cords), and processing with faculty, members of the Board of Trustees, President Kazee, and other guests.
Graduates, if you have not registered yet, you are invited to do so by going to the Baccalaureate web page so that the appropriate number of seats may be reserved.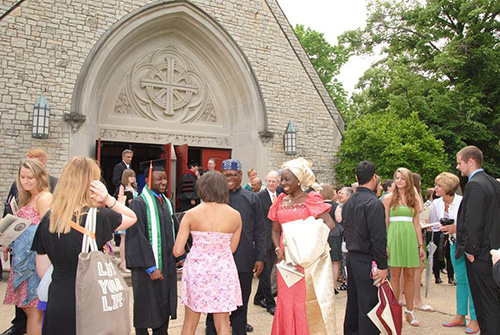 Please note - University Choir members who are graduating are invited to register and wear full regalia.
Families are encouraged to arrive by 9:30 a.m. in order to get priority seating. Neu Chapel is always full for this special celebration.
Reception for Principal Seaman and Harlaxton faculty on May 5
The Harlaxton Society and Office of Education Abroad are sponsoring a reception on Friday, May 5, from 2:00- 4:00 p.m. to welcome Harlaxton Principal Gerald Seaman and Harlaxton faculty members David Green and Amber Pouliot, to campus. The event will be in Dunigan Lounge in the Schroeder School of Business Building. Students, alumni, faculty and staff are all welcome to attend!
Submitted by Sylvia DeVault sy5@evansville.edu
PAC Golf Outing set for Monday, May 22
On Monday, May 22, the annual Purple Aces Club Golf Outing will again take place at Oak Meadow Country Club in Evansville.
Foursomes are available for $600 while individuals may register for $150. Your fee includes a boxed lunch, drinks, Aces NIKE polo shirt, and post-golf hors d'oeuvres.
Registration on the day of the tournament starts at 11:00 a.m. before a shotgun start commences the action at noon. Following your round of play, a reception will take place from 5:00-6:00 p.m. with the awards ceremony taking place at 5:30 p.m., inside the clubhouse.
The fun and fast-paced format is a 4-person scramble where everyone hits off the tee, but only three players play into the green, with the person whose tee shot is utilized sitting the next shot out. Multiple tee boxes will be used where you start on the regular tee, move back after a birdie, eagle or double eagle, up for a bogie or worse, or for two consecutive pars. All players will putt with a 2-putt maximum on the green. Mulligans will not be utilized; instead a length of string will be provided to each team to make the putt without an additional stroke. Once a length is used, it cannot be reused. Additional lengths may be purchased.
Several great sponsorship opportunities are available and start out at just $150. Hole sponsors cost just $150 and include a sign on a tee or green. Three $250 opportunities are available: longest drive sponsor, closest to the pin sponsor, and cart sponsor. The chance to sponsor the reception is available for $1,000 while an event title sponsorship can be purchased for $2,500.
To register for the event, visit the Purple Aces Golf Classic web page.
For more sponsorship information, contact John Rodgers at jp295@evansville.edu or 812-488-4288.
Thursday afternoon golf outings
The employees of the University of Evansville are again invited to play golf with other UE employees on Thursday afternoons during the summer months. The UE golf outings will be on Thursday afternoons at 3:00 p.m. at Fendrich golf course. You can reserve your tee time by contacting Debbie Kassenbrock in the Center for Academic Advising at dk26@evansville.edu or 488-2605 by 4:30 p.m. on the Wednesday prior to the outing.
Submitted by Deborah Kassenbrock dk26@evansville.edu
Want a copy of the 2016 LinC?
About five copies of the 2016 LinC remain and are available to those wanting a copy. Pick up your copy of the yearbook outside of student publications. First come, first served!
Submitted by Tracy Maurer tm2@evansville.edu
Fitness Center summer hours
Starting Monday, May 8, the schedule for the Fitness Center will be as follows:
Open Monday-Friday from 8:00 am-6:00 pm.
Open Swim on Monday-Friday from 11:00 am-1:00 pm.
Yoga on Tuesdays from 5:00-6:00 pm
Zumba on Wednesdays from 5:00-6:00 pm
Submitted by Lori Adams la87@evansville.edu
UE Athletics continues active presence in the community
An impressive showing by the 14 sports at the University of Evansville saw them combine for 4,136 hours of community service to over 86 different agencies in the Tri-State area over the last year.
Leading the way in that department was the Purple Aces softball team. They performed 1,396 hours of service to 60 different agencies. Some of those included: Animalpalooza, Challenger League, Gilda's Club, March of Dimes, Cardio for Canines, Delaware School, Rotary Club Santa Run, Toys for Tots, Holly's House Boo at the Zoo, EPD Ball, It Takes a Village, Night of Memories, Evansville Philharmonic Orchestra Gala, Museum Guild, and Howl O'Ween.
"What an amazing accomplishment by our young ladies this year to volunteer so much time in the community," Aces head softball coach Mat Mundell said. "Community services is a core principal of the University of Evansville and for three straight years they have really embraced it. Volunteering gives us the opportunity to have an impact on our community in such a positive way."
The top 20 individual student-athletes were recently honored as softball's Hayli Scott along with women's golfer Carly Waggoner tied for the top spot. Each recorded 91 hours of service to 17 different agencies. The UE Softball team took 18 out of the top 20 spots on the list with Alex Latoria, Emily Lockhart, Courtney Land, Olivia Cheatham, McKenzie Johnson, Samantha Fleming, Mikaela Fleming, Brittany Hay, Bailee Porter, Ashleigh Downing, Morgan Lambert, Susan Norris, Kristin Koepke, Chandra Parr, Ashlee Kawall, Kori Keyes, and Tess Hupe being recognized. Men's soccer player Cesar Guitunga was also named to the list.
Mickaela Fleming earns State Farm MVC Good Neighbor Award
In an effort to honor the achievements of exceptional student-athletes, the Missouri Valley Conference has created the State Farm MVC Good Neighbor Award. Ten student-athletes have been named by Commissioner Doug Elgin as the honorees for the 2016-17 spring season. The honoree from the University of Evansville is softball player Mickaela Fleming.
"I am so proud of Mickaela for being named the Good Neighbor award recipient," UE head coach Mat Mundell said. "She is the very definition of what a University of Evansville student athlete she would be."
In order to be eligible for the award, the student-athlete must be in good academic standing, must demonstrate good citizenship through good sportsmanship and significant community service, and must participate in a sport, during the season of recognition. The Valley will recognize 10 student-athletes three times annually (fall, winter, spring), for a total of 30 honorees. Institutions select their State Farm MVC Good Neighbor Award honorees.
Fleming's accolades include:
- 3.609 cumulative GPA
- Dean's List (four semesters)
- 2016 National College Athlete Honor Society (2nd year honoree)
- NFCA All-American Scholar-Athlete (2014-15, 2015-16)
- MVC Honor Roll (2014-15)
She has volunteered with several organizations including:
- National Society of Leadership & Success
- Newman Club
- Top 20 Student-Athlete for Community Service
- March of Dimes
- Holly's House
- Centre'd on Kids
- Tri-State Food Bank
- Gilda's Club
- Toys 4 Tots
- Reading with Aces Day
Gieselman Selected for Faculty Seminar on Teaching Interfaith Understanding
University of Evansville chaplain and director of religious life Tammy Gieselman has been selected from a competitive, national pool of nominees to participate in a faculty seminar on teaching interfaith understanding. The seminar is offered by the Council of Independent Colleges (CIC) and Interfaith Youth Core (IFYC), with support from the Henry Luce Foundation.
Twenty-five faculty members will participate in this seminar, set for June 18–22 at DePaul University in Chicago, Illinois. It will be led by leading scholars Eboo Patel, founder and president of IFYC, a Chicago-based organization building the interfaith movement on college campuses; and Laurie Patton, president of Middlebury College and former dean of Trinity College of Arts and Sciences and the Robert F. Durden Professor of Religion at Duke University. The program aims to broaden faculty members' knowledge and strengthen their teaching of interfaith understanding with the development of new courses and resources.
"Strengthening the teaching of interfaith understanding at colleges and universities is a priority at a time when college enrollment - and American society - is becoming more diverse. Strengthening participation in American life with greater understanding of the distinctive contributions of different faiths is key to America's future success as a democracy," said CIC president Richard Ekman.
Commenting on Gieselman's selection to the seminar, UE executive vice president for academic affairs Michael Austin noted that she "has been a passionate advocate for interfaith understanding on our campus and has overseen a concerted effort to make the University of Evansville a welcoming environment for students of all faiths. She has a passion to help people of all faiths understand each other better. This is not something she does because it is her job; it is a job that she does because of who she is."
For more information, visit www.cic.edu/TeachingInterfaith.
Key Fundraising Goal Met for Hyde Hall Renovations
Dear Campus Community,
It is with great pleasure that I announce the completion of the first critical goal in the fundraising campaign to renovate Hyde Hall. The generosity of our donors has enabled us to proceed with the renovations to one of our most-used buildings.
As you know, Hyde Hall is located in the heart of campus and houses Shanklin Theatre, home of the University of Evansville's nationally renowned undergraduate theatre program. Hyde Hall is also home to the administrative offices for the William L. Ridgway College of Arts and Sciences and other faculty offices, classrooms, and core learning spaces.
Virtually every student who passes through the University of Evansville will have attended a class in Hyde Hall, making the completion of this fundraising goal one that will directly impact the entire campus community.
Renovations will provide academic space upgrades including interactive learning centers equipped with technology allowing for collaborative, project-based work and group learning.
Along with upgraded learning spaces, Hyde Hall will receive an advanced energy efficient heating and cooling system, illustrating UE's commitment to providing a sustainable, healthy learning environment.
Construction is anticipated to begin in May 2018 with an estimated completion date in fall 2019.
Please join me in thanking the many donors who have helped us reach this significant milestone in our institution's history. We have reached the first $5 million milestone on a total project cost of roughly $8 million strictly through the generosity of our supporters. Their contributions will provide the next generation with an enhanced college experience grounded in the liberal arts.
Sincerely,
Tom Kazee
President
P.S. You can learn more about the campaign and see artists' renderings of the proposed renovations here: https://www.evansville.edu/makeanimpact/hyde.cfm
Contribute to AceNotes
To have content considered for inclusion in AceNotes, please submit a Marketing Request Form. Deadline for submission to AceNotes is 10:00 a.m. on the requested date of publication. Only articles concerning UE related/sponsored activities will be accepted. Articles submitted to AceNotes may be edited for length and clarity. Submitter contact information is at the end of each article.