| | |
| --- | --- |
| AceNotes Today | Thursday, May 4, 2017 |
Women's Tennis teams up with Chipotle for fundraiser
A fundraiser will take place at the Evansville Chipotle today with proceeds going to the University of Evansville Women's Tennis team. Between 5:00 p.m.-9:00 p.m., everyone who shows this flyer to the cashier will have 50 percent of the proceeds of their order go to the Purple Aces women's tennis program. This is only good at the Chipotle at 499 North Green River Road, Suite A, in Evansville. You may print the flyer or show it on your phone.
UE Commencement set for this Saturday
The University of Evansville's 159th Commencement ceremony will take place this Saturday, May 6, at the Ford Center in downtown Evansville. The ceremony starts at 1:30 p.m. and our annual Baccalaureate service will be held at 10:00 a.m. Saturday in Neu Chapel.
The event will feature the Senior Keynote address, presentation of the University of Evansville Alumni Association's Outstanding Teacher of the Year award, Eykamp Prize, as well as the Outstanding Senior Service Awards.
Graduates, if you have family and friends who will be unable to attend, please let them know that they can watch a live stream here: http://www.evansville.edu/live/
A video of the Commencement ceremony will be posted on this page in the coming weeks.
Additionally, you can follow along and post on social media using #UEGrad17.
Interfaith Baccalaureate Service: Saturday, May 6, 10:00 a.m., Neu Chapel
All graduates and their families are invited to attend the 2017 Interfaith Baccalaureate Service this Saturday, May 6 at 10:00 a.m. Baccalaureate is a religious service that gives thanks to God and offers prayer for the graduating class in the context of sacred ceremony. President Kazee will be offering words of wisdom, the University Choir will be singing; Board of Trustee members will be processing with faculty and administrators; and 2017 graduates will be participating in the service.
Graduates are invited to participate in the Baccalaureate service by wearing full regalia (cap, gown, and honors cords), and processing with faculty, members of the Board of Trustees, President Kazee, and other guests.
Graduates, if you have not registered yet, you are invited to do so by going to the Baccalaureate web page so that the appropriate number of seats may be reserved.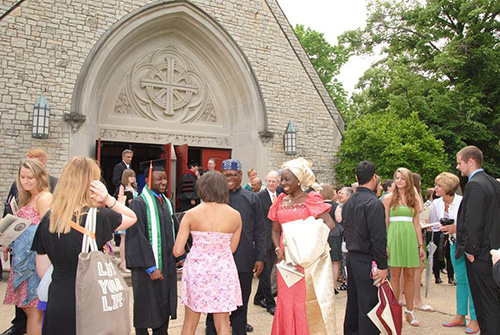 Please note - University Choir members who are graduating are invited to register and wear full regalia.
Families are encouraged to arrive by 9:30 a.m. in order to get priority seating. Neu Chapel is always full for this special celebration.
Aces fall in duel with Belmont
The Belmont pitching staff was sharp early, and the University of Evansville Baseball team was unable to break through as the Purple Aces fell 2-0 to the Bruins in a non-conference contest at E.S. Rose Park on Wednesday evening.
The Bruins (22-21) used seven pitchers over the course of the game, and the trio of Casey Queener, Austin Reynolds, and Zach Hodgkiss led the way, tossing five near-perfect innings without allowing a hit before a fifth-inning two-run Nick Egli homer put the Bruins on the board.
Egli finished the game 1-for-2 at the plate, and Hodgkiss was credited with the win as he improved to 2-0 on the season.
The Aces (13-30) were out-hit in the contest 7-3, with Craig Shepherd, Andrew Tanous, and Troy Beilsmith picking up the hits. Travis Tokarek, who earned a walk in the seventh inning, extended his on-base streak to 16 games.
Belmont added an insurance run with a Hunter Holland sacrifice fly in the seventh.
On the mound, Justin Hayden tossed two innings without surrendering a run to extend his personal scoreless streak to 14 innings. Austin Allinger, who gave up four hits and the Egli homer, dropped to 3-3 on the year.
UE will return to Missouri Valley Conference play later this week as the team continues its current eight-game road swing with a three-game set at Bradley, which is slated to begin on Friday evening in Peoria.
Want a copy of the 2016 LinC?
About five copies of the 2016 LinC remain and are available to those wanting a copy. Pick up your copy of the yearbook outside of student publications. First come, first served!
Submitted by Tracy Maurer tm2@evansville.edu
Fitness Center summer hours
Starting Monday, May 8, the schedule for the Fitness Center will be as follows:
Open Monday-Friday from 8:00 am-6:00 pm.
Open Swim on Monday-Friday from 11:00 am-1:00 pm.
Yoga on Tuesdays from 5:00-6:00 pm
Zumba on Wednesdays from 5:00-6:00 pm
Submitted by Lori Adams la87@evansville.edu
Reserved parking
On Thursday, May 4, and Friday, May 5, a number of parking spaces on the front oval will be reserved for members of the Board of Trustees.
Reminder: Purchasing procedures for May 2017
As the end of the University's fiscal year approaches on May 31, administrative services and accounting and audit announce the following procedures related to purchases of goods and services during May.
Pcard purchases
Pcard purchases posting on the May statement (cycle end date is May 22) will be paid from FY 2016-17 funds. Most shipments post on your Pcard within three to four business days. However, vendors have up to nine business days to post transactions.
Pcard purchases posting from May 23 through May 31 will be paid from FY 2017-18 (the new year) funds, unless the item purchased exceeds $500. Purchases exceeding $500 will be paid from FY 2016-17 funds.
Office Depot orders
Normally, Office Depot orders placed online by 3:00 p.m. for items in stock are delivered the next business day. Upon delivery, the transaction should post on your Pcard within three to four business days.
Office Depot orders received by May 15 will likely post on the May 22 Pcard cycle and be paid from FY 2016-17 funds.
Office Depot orders placed and received - but posting to the Pcard from May 23-31 - will be paid from FY 2017-18 funds, unless the items purchased exceed $500. Purchases exceeding $500 will be paid from FY 2016-17 funds.
Purchase orders
Approved requisitions converted into purchase orders and delivered by May 31 will be paid from FY 2016-17 funds.
Approved requisitions indicating FY 2017-18 written on them in red ink will be processed with a delivery date of June 1 or later.
Backordered purchase orders not delivered by May 31 will be paid from FY 2017-18 funds.
Blanket orders
All FY 2016-17 blanket orders expire on May 31.
Approved requisitions for FY 2017-18 (new year) blanket orders may now be submitted with June 1 through May 31 effective dates.
Backordered blanket purchase order items not delivered by May 31 will be paid from FY 2017-18 funds.
Requisitions for check request
All services completed and items purchased (and on campus) by May 31 must be submitted on a WebAdvisor voucher to accounting and audit by Monday, June 19 to be paid from FY 2016-17 funds. Any pre-May 31 purchases submitted for payment after this date will be charged to FY 2017-18.
Dr. Marvin E. Hartig Memorial Scholarship applications
Family, friends, and loved ones of the late Marvin E. Hartig are pleased to announce the application process for the Dr. Marvin E. Hartig Memorial Scholarship. This scholarship is dedicated to the loving memory of Hartig, dean of Evansville College's Evening College in 1967, and administrator for the Center for Advanced Study, director of the Evansville chapter of the American Institute of Banking (AIB), and the international student advisor. In 1974, Hartig was appointed dean of academic services. He retired in 1984 after serving his alma mater for 35 years and passed away in 2007.
This scholarship will be awarded each year to a deserving sophomore student with demonstrated financial need as shown by the results of the Free Application for Federal Student Aid (FAFSA). Preference will be given to a student working while being enrolled as a full-time student.
International students are encouraged to apply. Please include in your essay your particular financial need, since international students do not have FAFSA forms on file.
Applicants must submit the following to be considered:
Completed application

In a one page, single spaced, 12 point Verdana font essay, please answer all of these questions:
What have you learned about yourself as a UE student?
What do you do for fun when not studying or working?
Name a special attribute or accomplishment that sets you apart.
You have done a lot in your short life. In what areas do you think you can improve?
What are your scholastic and career goals?
How did you finance your freshman year and how will you finance your sophomore year?
Why are you a good candidate to receive this scholarship?
What have you learned about Dr. Hartig, how does he influence or inspire you, and how will you preserve his legacy as recipient of this scholarship?
Please return all materials to the Office of Financial Aid by June 1. Decision will be announced by August 1.
If you have questions, contact Trisha Hawkes, administrative assistant to the Office of Financial Aid, at financialaid@evansville.edu or 812-488-2364.
Submitted by Trisha Hawkes th187@evansville.edu
Mickaela Fleming earns State Farm MVC Good Neighbor Award
In an effort to honor the achievements of exceptional student-athletes, the Missouri Valley Conference has created the State Farm MVC Good Neighbor Award. Ten student-athletes have been named by Commissioner Doug Elgin as the honorees for the 2016-17 spring season. The honoree from the University of Evansville is softball player Mickaela Fleming.
"I am so proud of Mickaela for being named the Good Neighbor award recipient," UE head coach Mat Mundell said. "She is the very definition of what a University of Evansville student athlete she would be."
In order to be eligible for the award, the student-athlete must be in good academic standing, must demonstrate good citizenship through good sportsmanship and significant community service, and must participate in a sport, during the season of recognition. The Valley will recognize 10 student-athletes three times annually (fall, winter, spring), for a total of 30 honorees. Institutions select their State Farm MVC Good Neighbor Award honorees.
Fleming's accolades include:
- 3.609 cumulative GPA
- Dean's List (four semesters)
- 2016 National College Athlete Honor Society (2nd year honoree)
- NFCA All-American Scholar-Athlete (2014-15, 2015-16)
- MVC Honor Roll (2014-15)
She has volunteered with several organizations including:
- National Society of Leadership & Success
- Newman Club
- Top 20 Student-Athlete for Community Service
- March of Dimes
- Holly's House
- Centre'd on Kids
- Tri-State Food Bank
- Gilda's Club
- Toys 4 Tots
- Reading with Aces Day
Gieselman Selected for Faculty Seminar on Teaching Interfaith Understanding
University of Evansville chaplain and director of religious life Tammy Gieselman has been selected from a competitive, national pool of nominees to participate in a faculty seminar on teaching interfaith understanding. The seminar is offered by the Council of Independent Colleges (CIC) and Interfaith Youth Core (IFYC), with support from the Henry Luce Foundation.
Twenty-five faculty members will participate in this seminar, set for June 18–22 at DePaul University in Chicago, Illinois. It will be led by leading scholars Eboo Patel, founder and president of IFYC, a Chicago-based organization building the interfaith movement on college campuses; and Laurie Patton, president of Middlebury College and former dean of Trinity College of Arts and Sciences and the Robert F. Durden Professor of Religion at Duke University. The program aims to broaden faculty members' knowledge and strengthen their teaching of interfaith understanding with the development of new courses and resources.
"Strengthening the teaching of interfaith understanding at colleges and universities is a priority at a time when college enrollment - and American society - is becoming more diverse. Strengthening participation in American life with greater understanding of the distinctive contributions of different faiths is key to America's future success as a democracy," said CIC president Richard Ekman.
Commenting on Gieselman's selection to the seminar, UE executive vice president for academic affairs Michael Austin noted that she "has been a passionate advocate for interfaith understanding on our campus and has overseen a concerted effort to make the University of Evansville a welcoming environment for students of all faiths. She has a passion to help people of all faiths understand each other better. This is not something she does because it is her job; it is a job that she does because of who she is."
For more information, visit www.cic.edu/TeachingInterfaith.
Key Fundraising Goal Met for Hyde Hall Renovations
Dear Campus Community,
It is with great pleasure that I announce the completion of the first critical goal in the fundraising campaign to renovate Hyde Hall. The generosity of our donors has enabled us to proceed with the renovations to one of our most-used buildings.
As you know, Hyde Hall is located in the heart of campus and houses Shanklin Theatre, home of the University of Evansville's nationally renowned undergraduate theatre program. Hyde Hall is also home to the administrative offices for the William L. Ridgway College of Arts and Sciences and other faculty offices, classrooms, and core learning spaces.
Virtually every student who passes through the University of Evansville will have attended a class in Hyde Hall, making the completion of this fundraising goal one that will directly impact the entire campus community.
Renovations will provide academic space upgrades including interactive learning centers equipped with technology allowing for collaborative, project-based work and group learning.
Along with upgraded learning spaces, Hyde Hall will receive an advanced energy efficient heating and cooling system, illustrating UE's commitment to providing a sustainable, healthy learning environment.
Construction is anticipated to begin in May 2018 with an estimated completion date in fall 2019.
Please join me in thanking the many donors who have helped us reach this significant milestone in our institution's history. We have reached the first $5 million milestone on a total project cost of roughly $8 million strictly through the generosity of our supporters. Their contributions will provide the next generation with an enhanced college experience grounded in the liberal arts.
Sincerely,
Tom Kazee
President
P.S. You can learn more about the campaign and see artists' renderings of the proposed renovations here: https://www.evansville.edu/makeanimpact/hyde.cfm
Tree planting honorees
Tink Martin, Janet Szczepanski, Gifford Brown, and Renatto Butturi were the guests of honor on Sunday, April 23, at the annual Tree-Planting/Retirement Reception. Patti McCrory and Mike and Molly Zimmer are also retiring this year, but were unable to attend. We wish them all the very best in their retirement.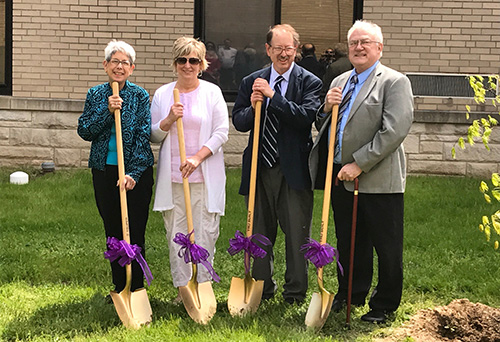 Submitted by Terri Ames ta74@evansville.edu
Safi accepts position in Fifth Third leadership program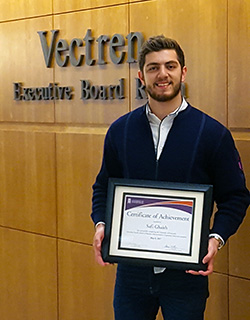 Ghaith Safi, a Schroeder School of Business finance major, has accepted a full-time position in Fifth Third's wealth and asset management leadership program in Cincinnati, Ohio.
Safi has already completed two internships with Fifth Third, working in Evansville, Lexington, and Cincinnati in a number of roles including retail, commercial, and investment decisions.
One highlight of his internships with the bank was delivering a presentation to Fifth Third CEO Greg Carmichael.
"I have never been more excited about anything in my life," said Safi, "and I can say with complete confidence that my time at the University of Evansville was very successful; my professors, peers, and advisor have helped me grow enormously, both in personal and professional terms."
The Schroeder School of Business is ranked tenth among small private business schools by US News & World Report and is ranked first among over 500 small universities for accounting and finance programs.
Professional Athletic Training Program earns five year accreditation
The University of Evansville's Professional Athletic Training Program has been granted five-year accreditation by the Commission on Accreditation of Athletic Training Education (CAATE) with the next comprehensive review occurring during the 2021-22 academic year. .
UE hosted a site visit with a CAATE review team in January after an intense period of self-study, which began in the fall of 2015, and a self-study application that was submitted June 1. The site visit team reviewed extensive reports and interviewed members of the athletic training team to evaluate and verify the institution's ongoing ability to meet the standards for accreditation.
The UE athletic training program is now one of only five schools in the country that has an accredited program at both the master's level and bachelor's level, giving students' options for pursuing their athletic training degrees.
The athletic training program utilizes three universities and colleges, three out-patient rehabilitation clinics, and eleven high schools to provide their students with clinical placements within the Evansville area.
Kathy Liu, PhD, ATC, program director, states, "We are very proud of our programs here at UE. With a successful undergraduate program and a growing graduate program, gaining this accreditation will allow us to provide additional opportunities for students deciding on their career aspirations."
"We recognize the faculty, staff, and administrators at the University of Evansville for their commitment to the advancement of education in athletic training, as well as the dedication to the preparation of qualified athletic training professionals," said a representative from CAATE.
The University of Evansville is the smallest Division I CAATE-accredited school in the country. Athletic training students are challenged with rigorous course work and hands-on experiences, such as their involvement with UE's Division I athletic programs, from their first week on campus. University of Evansville athletic training students have the flexibility to explore many branches of study and develop diverse skill sets through the athletic training, physical therapist assistant, pre-physician assistant, pre-med and Doctor of Physical Therapy-combination degree programs.
King receives Distinguished Senior Award of International Studies
Megan King has been awarded the 2016-17 Wesley T. Milner Distinguished Senior Award of International Studies Program. The newly established honor is awarded annually to the outstanding senior of International Studies major. The award is named for the former director of the International Studies Program, Wesley T. Milner, in honor of his dedication in the IS program at UE for over two decades.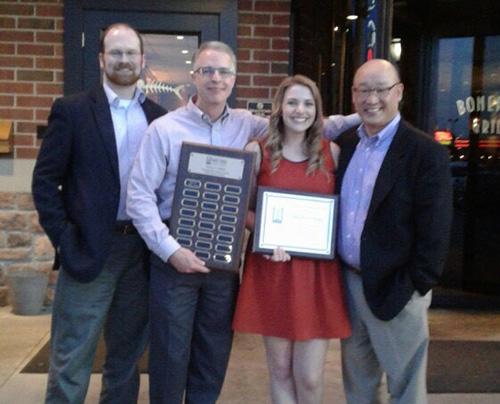 Pictured (from left to right): Richard Maass (political science professor), Wesley Milner (executive director of international programs), Megan King, and Young Kim (director of international studies)
Tracey Folden named to Henderson County Sports Hall of Fame
UE vice president of academic affairs and Title IX officer Tracey Folden has been named to the 2017 class of the Henderson County Sports Hall of Fame.
Folden is a 1992 graduate of Henderson County High School. She won the indoor state championship in the 55-meter dash at Mason-Dixon Games. Folden was the anchor of the 4x200 relay team that still holds the school record that was set in 1989 and was part of the 4x100 relay team that held the school record for 15 years. She also held the school record in the 200 dash that stood for 27 years. She continued her track career at Western Kentucky University.
Christina Howe receives Dean's Outstanding Teaching Award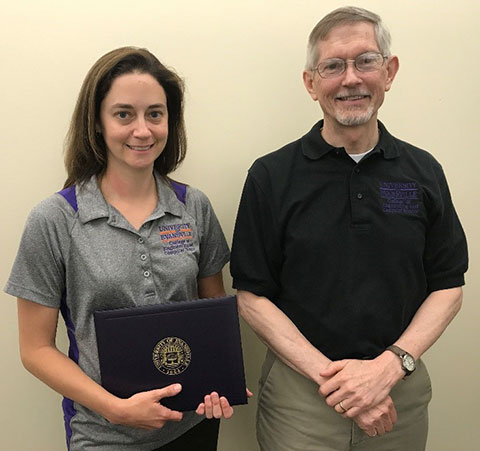 The College of Engineering and Computer Science congratulates Christina Howe, associate professor of electric engineering, on receiving the Dean's Outstanding Teaching Award for 2017. Howe serves as the UE chapter IEEE advisor and SWE co-advisor. She is also the Indiana Space Grant representative for the college and serves on the board of directors for the Indiana Girls Collaborative Project.
Submitted by Kimberly Higgins kh209@evansville.edu
To the UE Community
The Task Force would like to thank all the folks who contributed answers to the survey questions, we very much appreciate your contributions. There were numerous insightful recommendations; recycling and energy efficiency were two of the most popular topics. The survey helped to communicate a need for greater education about sustainability initiatives already happening on campus. The task force looks forward to increasing education and awareness. There were also a number of areas for growth identified, which will be outlined in the strategic plan that will presented to President Kazee in late Fall 2017.

Warmest Regards,
The Environmental Sustainability Task Force
Contribute to AceNotes
To have content considered for inclusion in AceNotes, please submit a Marketing Request Form. Deadline for submission to AceNotes is 10:00 a.m. on the requested date of publication. Only articles concerning UE related/sponsored activities will be accepted. Articles submitted to AceNotes may be edited for length and clarity. Submitter contact information is at the end of each article.