| | |
| --- | --- |
| AceNotes Today | Monday, May 1, 2017 |
Reception for Gifford Brown planned for today
To honor Gifford Brown for his 38 years at UE, the physics department invites the UE community to stop by Room 232 (biology conference room) in the Koch Center for Engineering and Science between 4:00-6:00 p.m., TODAY, May 1. Refreshments will be served.
Submitted by Jeffrey Braun jb53@evansville.edu
Exam treats!
Exam treats are right around the corner! Go to the Snack Bar in Café Court today from 8:00-9:00 p.m. this event is free to UE students. You must present UE ID to enter.
Submitted by Katie Nowlan mary.nowlan@sodexo.com
Book Buyback at the UE Bookstore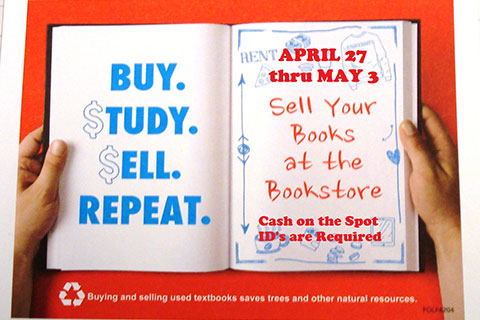 Semester ending Book Buyback at the UE Bookstore runs during finals week, April 27-May 3. We freely quote prices on any books you might want to sell regardless of where purchased or if used on this campus or not. You'll get cash on the spot! Please bring your student ID with you, you do not need your original receipt. We've got loads of books we're buying at special prices so just stop in and check pricing.
Submitted by Doug Gustwiller dg57@evansville.edu
Final Days Sale at UE Bookstore
The UE Bookstore is offering 20 percent OFF all clothing and gift purchases during Buyback Week, April 27-May 3. NIKE and Under Armour merchandise is 25 percent OFF during the same time. Clearance items are exempted from additional discounts. Stop in the bookstore and save before the year is over.
Submitted by Doug Gustwiller dg57@evansville.edu
Discover your inner artist!
The University of Evansville Friends of Art invites you to Painting with a Twist on Thursday, May 4, from 6:00-8:30 p.m. in the Melvin Peterson Gallery. Come paint a one-of-a-kind creation and learn about the style of artist Van Gogh. The cost is $35 for UE Friends of Art or $45 for non-members. Sign up to become a member of UE Friends of Art and pay the reduced member fee for the event.
Contact Michelle at dh196@evansvillle.edu to register by May 2.
Submitted by Michelle Hahn dh196@evansville.edu
Reception for Principal Seaman and Harlaxton faculty on May 5
The Harlaxton Society and Office of Education Abroad are sponsoring a reception on Friday, May 5, from 2:00- 4:00 p.m. to welcome Harlaxton Principal Gerald Seaman and Harlaxton faculty members David Green and Amber Pouliot, to campus. The event will be in Dunigan Lounge in the Schroeder School of Business Building. Students, alumni, faculty and staff are all welcome to attend!
Submitted by Sylvia DeVault sy5@evansville.edu
PAC Golf Outing set for Monday, May 22
On Monday, May 22, the annual Purple Aces Club Golf Outing will again take place at Oak Meadow Country Club in Evansville.
Foursomes are available for $600 while individuals may register for $150. Your fee includes a boxed lunch, drinks, Aces NIKE polo shirt, and post-golf hors d'oeuvres.
Registration on the day of the tournament starts at 11:00 a.m. before a shotgun start commences the action at noon. Following your round of play, a reception will take place from 5:00-6:00 p.m. with the awards ceremony taking place at 5:30 p.m., inside the clubhouse.
The fun and fast-paced format is a 4-person scramble where everyone hits off the tee, but only three players play into the green, with the person whose tee shot is utilized sitting the next shot out. Multiple tee boxes will be used where you start on the regular tee, move back after a birdie, eagle or double eagle, up for a bogie or worse, or for two consecutive pars. All players will putt with a 2-putt maximum on the green. Mulligans will not be utilized; instead a length of string will be provided to each team to make the putt without an additional stroke. Once a length is used, it cannot be reused. Additional lengths may be purchased.
Several great sponsorship opportunities are available and start out at just $150. Hole sponsors cost just $150 and include a sign on a tee or green. Three $250 opportunities are available: longest drive sponsor, closest to the pin sponsor, and cart sponsor. The chance to sponsor the reception is available for $1,000 while an event title sponsorship can be purchased for $2,500.
To register for the event, visit the Purple Aces Golf Classic web page.
For more sponsorship information, contact John Rodgers at jp295@evansville.edu or 812-488-4288.
Wesley Shepard Summer Music Camp
The University of Evansville Department of Music is currently accepting registrations for this year's Wesley Shepard Summer Music Camp which will run June 11-17.
During this comprehensive week of music making, students will rehearse and perform in their specialty area, receive instruction in like-instrument/voice groups, learn music theory, and have a choice of music-related electives. The week will culminate with final performances by all student musicians.
Pianists who have had two years of private piano lessons are eligible to attend.
All middle and high school aged student instrumentalists and vocalists who have completed one year with their school ensemble (or similar experience) are encouraged to attend.
You can find out more about the camp or register to attend by going to the Wesley Shepard Summer Music Camp web page.
Submitted by Barbara Josenhans bj101@evansville.edu
UE signs agreement with Tindley Accelerated Schools
The University of Evansville has signed an agreement with Charles A. Tindley Accelerated Schools in Indianapolis to begin a dual credit program beginning the 2017-18 academic year.
Tindley Accelerated's Early College program will allow high school juniors and seniors attending Tindley the opportunity to earn both a high school diploma and up to 36 transferrable college credits. This partnership will support Tindley's continued progress toward achieving 100% college acceptance.
UE is the exclusive dual credit provider for the 70 juniors and 60 seniors at Tindley who will participate in the program in the fall.
"Tindley is extremely excited to partner with the University of Evansville for the upcoming school year. Our shared values in education and rich instructional content will equip our scholars with a well-rounded curriculum," said Kelli B. Marshall, chief executive officer at Tindley. "The opportunities presented by the University will also help our students make an educated decision about their college choice after graduating high school."
There are currently five students from Tindley studying at the University of Evansville.
"Tindley students do well at UE," said Shane Davidson, vice president for enrollment services at the University of Evansville. "The UE experience parallels the individual attention and hands-on experiences these students already receive, making it a good fit for Tindley students. The Early College High School Program will provide an additional means for an easy transition from high school to college while providing an accelerated degree path for these students."
Want a copy of the 2016 LinC?
About 10 copies of the 2016 LinC remain and are available to those wanting a copy. Pick up your copy of the yearbook outside of student publications. First come, first served!
Submitted by Tracy Maurer tm2@evansville.edu
Aces honor nine seniors at Cooper Stadium
The University of Evansville Softball team fell in a pair of games to Illinois State on Saturday at Cooper Stadium. It was a special evening for the program as nine seniors played their final home games as members of the team. The 2017 class consists of Mickaela Fleming, Courtney Land, Susan Norris, Michal Luckett, Hayli Scott, Chandra Parr, Ashlee Kawall, Morgan Lambert and Samantha Fleming.
Season ends against top seed for UE tennis
A memorable season came to an end on Saturday as the University of Evansville Women's Tennis team fell to Wichita State on Saturday in the Missouri Valley Team Championships on Saturday.
UE finished the season with 17 victories, but more impressively, the Purple Aces registered a 5-2 record in the MVC, tying for second place. Diana Tkachenko earned the league's Freshman of the Year award while Chieko Yamada earned a nod on the All-Select Team.
In Saturday's matchup, the Shockers earned the doubles point to start the day. Andjela Brguljan and Daria Pentsova put up a strong fight in third-flight doubles, dropping a 3-2 decision.
WSU took three singles wins (flight 3, 4 and 5) to clinch the match. Yamada played well at #1 singles. After dropping the first set, she fought Giulia Guidetti to a 2-2 tie in the second of an unfinished match.
GAP 310-08 counts toward fieldwork requirement in ethics and social change major
Considering GAP or the new major where you can have a real world impact? Tackle both by taking the Changemaker Training GAP class this fall (just look for the GAP prefix). Students learn about transformative action in their own lives, and then apply that to a real world issue of their choosing! Course also counts for PSYC 205 – Special Topics in Psychology. (Tuesdays and Thursdays from 2:45-4:00 p.m.)
Questions? E-mail Erin Lewis at EL131@evansville.edu.
Submitted by Cindy Kelley ck116@evansville.edu
Harlaxton Welcome Back Reception
On Friday, May 5, join the study abroad team and your fellow Harlaxton alumni for a welcome back reception! The reception will be in Dunigan Lounge on the first floor of the Schroeder School of Business Building from 2:00- 4:00 p.m. Grab some free food, talk to other Harlaxton alumni, and reflect on your experiences abroad. The reception is open to all Harlaxton alumni.
Submitted by Greta Becker gb91@evansville.edu
Aces Place has new hours until summer closing
Ace's Place will have new hours of operation from now until it closes for the summer. Ace's Place will be open:
Monday-Thursday: 10:30 A.m.-11:00 p.m.
Friday: 10:30 a.m.-9:00 p.m.
Saturday: 2:00-9:00 p.m.
Sunday: 3:00-11:00 p.m.
Tuesday, May 2: 10:30 a.m.-2:00 p.m.
Submitted by Mary Nowlan mary.nowlan@sodexo.com
Rental books due back by May 3
This is a reminder to all UE students who rented books from the UE Bookstore for the Spring 2017 term that those rentals are due back in the store no later than 5:00 p.m. on Wednesday, May 3. Avoid late charges and return on time. If you have questions please contact the UE Bookstore.
Submitted by Doug Gustwiller dg57@evansville.edu
Call for proposals for Continued Learning @ UE Program
The Center for Adult Education invites proposals for Continued Learning @ UE for fall of 2017. The courses run for five weeks meeting for 90 minute sessions.
Continued Learning @UE programmatically connects the campus and community consisting of alumni, emeriti faculty, and community members to encourage lifelong learning. Providing personal enrichment (non-credit) offerings on UE's campus each fall and spring semester advances personal growth and enhances rooted knowledge.
Those interested should please e-mail Lindsay Roberts at lr155@evansville.edu.
Submitted by Lindsay Roberts lr155@evansville.edu
Accounting and audit procedures for summer travel expenses and membership dues
Traveling this summer on UE business with a return date after May 31? Paying membership dues for next fiscal year prior to May 31? If you pay for any of these expenses before May 31, you will need to contact Lori Harriss (lh177@evansville.edu) in accounting and audit.
If you use WebAdvisor to create a web voucher, you will need to ask for the prepaid account number to be added to your choices.
If you use your Pcard prior to May 31 to pay for next year's travel or membership dues, you will need to email the following information:
Vendor name
Date of purchase on Pcard
Dollar amount charged to Pcard
Description and purpose of purchase
Account number charged for purchase
These expenses will be charged to your 2017-18 budget funds.
Submitted by: Michele Adams ma72@evansville.edu
Dr. Marvin E. Hartig Memorial Scholarship applications
Family, friends, and loved ones of the late Marvin E. Hartig are pleased to announce the application process for the Dr. Marvin E. Hartig Memorial Scholarship. This scholarship is dedicated to the loving memory of Hartig, dean of Evansville College's Evening College in 1967, and administrator for the Center for Advanced Study, director of the Evansville chapter of the American Institute of Banking (AIB), and the international student advisor. In 1974, Hartig was appointed dean of academic services. He retired in 1984 after serving his alma mater for 35 years and passed away in 2007.
This scholarship will be awarded each year to a deserving sophomore student with demonstrated financial need as shown by the results of the Free Application for Federal Student Aid (FAFSA). Preference will be given to a student working while being enrolled as a full-time student.
International students are encouraged to apply. Please include in your essay your particular financial need, since international students do not have FAFSA forms on file.
Applicants must submit the following to be considered:
Completed application

In a one page, single spaced, 12 point Verdana font essay, please answer all of these questions:
What have you learned about yourself as a UE student?
What do you do for fun when not studying or working?
Name a special attribute or accomplishment that sets you apart.
You have done a lot in your short life. In what areas do you think you can improve?
What are your scholastic and career goals?
How did you finance your freshman year and how will you finance your sophomore year?
Why are you a good candidate to receive this scholarship?
What have you learned about Dr. Hartig, how does he influence or inspire you, and how will you preserve his legacy as recipient of this scholarship?
Please return all materials to the Office of Financial Aid by June 1. Decision will be announced by August 1.
If you have questions, contact Trisha Hawkes, administrative assistant to the Office of Financial Aid, at financialaid@evansville.edu or 812-488-2364.
Submitted by Trisha Hawkes th187@evansville.edu
Biology student awards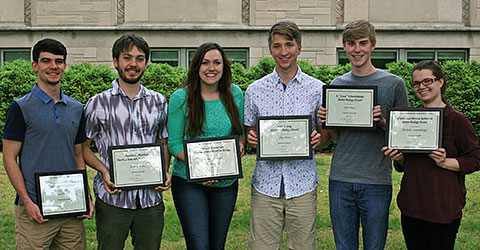 The Biology Awards Reception was held on April 26 to honor the outstanding achievements of UE biology students during the 2016-17 academic year.
The James A. Brenneman Student Service Award in Biology was given to Brooke Wininger, and the Patricia L. Akrabawi Teaching Assistant Award in Biology was presented to Andrew Nunn. These awards are named in honor of retired professor Jim Brenneman and Pat Akrabawi, respectively, for their long and generous commitment to UE biology students.
The Jerry T. Seng Freshman Biology Award recognizes retired faculty member Jerry Seng for his years of tireless devotion to the success of biology students, especially the freshmen class. The recipient of the most outstanding freshmen award was Skip Maas.
Colton Houchin received the David and Jennifer Pollock Sophomore Biology Award, named in honor of David and Jennifer Pollock ('78) for their generous support and contributions to the biology department.
Josh Baty received the P. "Louie" Winternheimer Junior Biology Award, named in memory of Louie Winternheimer for his 39 years of distinguished teaching and service at UE.
The outstanding senior award is named in honor of UE benefactors Dr. and Mrs. Robertson. The Charles and Patricia Robertson Senior Biology Award was presented to Shelly Sonnenberger.
Congratulations go out to all of the biology majors for their success over the past academic year.
(Photo: From left to right, Colton Houchin, Andrew Nunn, Brooke Wininger, Skip Maas, Josh Baty, and Shelly Sonnenberger)
History department grads accepted to law school
The History Department of the University of Evansville would like to congratulate Mitch Rick and William Glasscock on their acceptance to law school. Rick received a full tuition scholarship to attend the John Marshall Law School. Glasscock received over $50,000 in scholarship support to attend the Southern Illinois University School of Law. The history department is proud of Mitch and Bill and our many alumni who graduated to pursue the law.
Johnson and Serafino receive Senior Research Award
Senior sociology major Logan Johnson and senior international studies and criminal justice major Hayley Serafino have been awarded the 2006-17 Hanns G. Pieper Sociology and Criminal Justice Senior Research Award.
The honor is awarded annually to the outstanding independent research project conducted, written, and presented by a major in sociology, anthropology, gerontology, and criminal justice.
Johnson's senior research project was entitled "Influences on Perception of Authenticity in Sports Fandom;" this fall, he will be pursuing a graduate degree in film and media arts at Southern Methodist University in Dallas, Texas.
Serafino's senior research project was entitled "Views on Criminals and the Criminal Justice System: The Differential Treatment of Terrorists and Traditional Offenders;" this fall, she will be pursuing a graduate degree in security studies at Georgetown University in Washington, DC.
The award is named for emeritus professor of sociology Hanns G. Pieper in honor of his foundational work in the program's research sequence and for his dedication in promoting independent student research in sociology and criminal justice at UE for over two decades.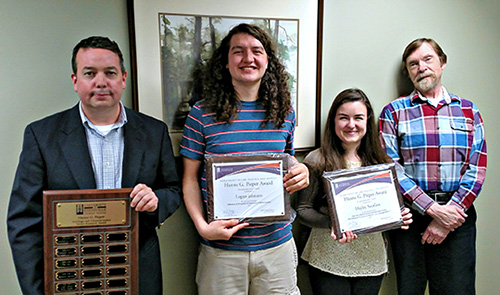 Pictured (from left to right): Kevin Gray (interim chair, Department of Law, Politics, & Society), Logan Johnson, Hayley Serafino, and James Berry (director of Sociology Programs)
Dean's Teaching Awards announced
Congratulations to the commendable faculty members who received Dean's Teaching Awards from the Academic Deans for 2016-17.
The faculty members being honored are:
Heather Fenton, assistant professor of management from the Schroeder Family School of Business Administration;
Stephanie Frasier, associate professor of art from the William L. Ridgway College of Arts and Sciences;
Kristina Hochwender, associate professor of English from the William L. Ridgway College of Arts and Sciences;
Christina Howe, associate professor of electrical engineering from the College of Engineering and Computer Science;
Kathy Liu, assistant professor of exercise science and athletic training from the College of Education and Health Sciences.
Rania Mousa is the recipient of the Dean's Research Award 2017
Rania Mousa, associate professor of accounting, has received her second 2017 Dean's Research Award. The award was given in recognition of Mousa's latest paper, "The evolution of electronic filing process at the UK's HM Revenue and Customs: The case of XBRL adoption."
The paper has been published in the Journal of Tax Research, one of the top five journals in taxation in the world.
The paper chronicles and analyzes the history of legacy electronic reporting systems at the British tax authority over the last 50 years, which culminated in adopting XBRL, the latest technology used by US federal agencies, SEC and FDIC, to process corporate data in regulatory filings.
Katterhenry named to MVC Scholar-Athlete Team
Kayla Katterhenry was named to the Missouri Valley Conference Scholar-Athlete First Team on Wednesday in an announcement by the league. A total of 13 student-athletes were recognized
The 2017 Golfer of the Year is one of five repeat first-team picks on the team, which was voted on by the league's golf sports information directors. Those who earned first-team honors this year and last include Brooke Cusumano (SIU), Katterhenry, Madison Glennie of Drake, Taryn Torgerson of Wichita State, and Kiley Walsh of Illinois State. Those five were joined on the first-team unit by Wichita State's Gavrilla Arya, Missouri State's Caroline Boone and Bradley's Ally Scaccia.
The 2017 Missouri Valley Conference Individual Champion and Golfer of the Year has done a stellar job on the course and in the classroom. She finished her senior campaign with a 75.11 stroke average while picking up four victories on the season, setting the MVC career tournament win record with 11. She earned wins at the Redbird Invitational and Braun Intercollegiate in the fall before winning the Indiana State Spring Invite and MVC Championship in the spring. The management major has a 3.662 GPA.
The criteria for the MVC scholar-athlete team parallels the CoSIDA (College Sports Information Directors of America) standards for the Academic All-America® program. Nominees must have at least a 3.20 cumulative grade point average (4.0 scale), while the student-athletes must have reached sophomore athletic and academic standing at their institutions and must have participated in at least 50 percent of her team's rounds or played at the MVC Championship.
Klinger and Grabill writing awards announced
The English department has announced the winners of the Virginia Lowell Grabill Awards for academic writing and the George Klinger Prize for best academic essay.
The Third-Place Grabill Award went to Samantha Petitjean. The Second-place Grabill Award went to Taylor Gates. The First-place Grabill Award went to Sydney Blessinger. The George Klinger Prize was presented to Lydia Crain.
Submitted by Larry Caldwell lc4@evansville.edu
Gordon publishes research study
Noah Gordon, associate professor of biology, recently published a paper in collaboration with biologists from Washington University and the University of Minnesota on the information female frogs use to orient toward desirable noise. The paper, titled "The signal in noise: acoustic information for soundscape orientation in two North American treefrogs," was published in the peer-reviewed journal Behavioral Ecology.
Catie Taylor and family
Our deepest sympathy for Catie Taylor, Office of Admission, on the passing of her aunt, JoAnn Schmidt.
Submitted by the Office of Admission
Contribute to AceNotes
To have content considered for inclusion in AceNotes, please submit a Marketing Request Form. Deadline for submission to AceNotes is 10:00 a.m. on the requested date of publication. Only articles concerning UE related/sponsored activities will be accepted. Articles submitted to AceNotes may be edited for length and clarity. Submitter contact information is at the end of each article.