| | |
| --- | --- |
| AceNotes Today | Thursday, April 27, 2017 |
Reception for Vicki Custer, Janet Turner, and Becky Ziliak
Please join us TODAY for a retirement reception in honor of Vickie Custer, Becky Ziliak, and Janet Turner from 2:00-4:00 p.m. in the Class of '59 Gallery, Ridgway University Center. Over the last 20 years, these ladies have faithfully served UE students in the health center. Please stop by to thank them and wish them well! Light refreshments will be served.
Submitted by Karen Martin km306@evansville.edu
Book Buyback at the UE Bookstore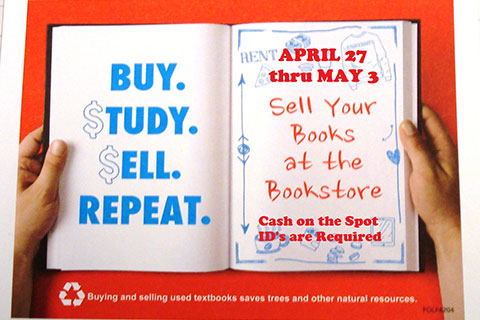 Semester ending Book Buyback at the UE Bookstore runs during finals week, April 27-May 3. We freely quote prices on any books you might want to sell regardless of where purchased or if used on this campus or not. You'll get cash on the spot! Please bring your student ID with you, you do not need your original receipt. We've got loads of books we're buying at special prices so just stop in and check pricing.
Submitted by Doug Gustwiller dg57@evansville.edu
Final Days Sale at UE Bookstore
The UE Bookstore is offering 20 percent OFF all clothing and gift purchases during Buyback Week, April 27-May 3. NIKE and Under Armour merchandise is 25 percent OFF during the same time. Clearance items are exempted from additional discounts. Stop in the bookstore and save before the year is over.
Submitted by Doug Gustwiller dg57@evansville.edu
Discover your inner artist!
The University of Evansville Friends of Art invites you to Painting with a Twist on Thursday, May 4, from 6:00-8:30 p.m. in the Melvin Peterson Gallery. Come paint a one-of-a-kind creation and learn about the style of artist Van Gogh. The cost is $35 for UE Friends of Art or $45 for non-members. Sign up to become a member of UE Friends of Art and pay the reduced member fee for the event.
Contact Michelle at dh196@evansvillle.edu to register by May 2.
Submitted by Michelle Hahn dh196@evansville.edu
Transitions from Military to College panel discussion
UE faculty, administrators, and staff are cordially invited to a luncheon and discussion on the topic of "Transitions…From Military to College," sponsored by the UE Office of Veterans Affairs. The event is planned for Monday, May 8, from 11:00 a.m.-12:30 p.m. in Smythe Lecture Hall (Room 170), Schroeder School of Business Building.
Please RSVP by Monday, May 1, to Cherie Leonhardt at cl29@evansville.edu or call 812-488-2141 along with your meal preference:
1. Tarragon chicken salad wrap (spinach wrap), lettuce, tomato, pretzels, chocolate chip cookie, water.
2. Club wrap (tomato wrap), chipotle mayo, turkey, bacon, lettuce, tomato, cheese, pretzels, chocolate chip cookie, water.
3. Roasted veggie wrap (garlic wrap), hummus, balsamic vinegar, eggplant, yellow squash, zucchini, red peppers, pretzels, chocolate chip cookie, water.
UE has been an institution of higher learning partner with the U.S. Department of Veterans Affairs since 2009 to provide education benefits through the Post 9/11 GI Bill. Since then, we have seen an increase in student veterans and current service member students. These students bring varied experiences with them to UE. This discussion is for everyone – from those experienced working with student veterans, to those not so experienced. Please plan to attend to share your knowledge and bring your questions to the discussion. We hope you will plan to join us for this special opportunity to learn from each other.
Panelists include:
• Mike Roscoe - Director/chair/associate professor of physician assistant science at UE, lieutenant colonel in the Army National Guard.
• Hilary Morales – UE assistant director of financial aid and VA certifying official.
• Erik Goodge – Current student veteran, junior, economics and cognitive science major, UE VETS student veterans organization president, Marine veteran.
• Matt Brown – Current student veteran, freshman, mechanical engineering major, Army National Guard veteran.
• Trudy Buckman - adjustment counselor from the Evansville Vet Center, Air Force veteran.
Submitted by Cherie Leonhardt CL29@evansville.edu
This Week in Music: Jazz Band Invitational
Join the UE Jazz Ensemble and many of the area's outstanding jazz bands for the Third Annual UE Jazz Band Invitational. The event takes place throughout the day on Sunday, April 30, in the Krannert Hall of Fine Arts. It will include a concert at 4:00 p.m. in Wheeler Concert Hall, that is free and open to the public, as well as a clinic on improvisation led by Jamey Aebersold.
Submitted by James Sullivan js820@evansville.edu
Reception for Principal Seaman and Harlaxton faculty on May 5
The Harlaxton Society and Office of Education Abroad are sponsoring a reception on Friday, May 5, from 2:00- 4:00 p.m. to welcome Harlaxton Principal Gerald Seaman and Harlaxton faculty members David Green and Amber Pouliot, to campus. The event will be in Dunigan Lounge in the Schroeder School of Business Building. Students, alumni, faculty and staff are all welcome to attend!
Submitted by Sylvia DeVault sy5@evansville.edu
Baseball falls to Racers in the ninth
A late miscue came back to haunt the University of Evansville Baseball team on Wednesday night as the Purple Aces dropped a 5-4 decision to visiting Murray State at Charles H. Braun Stadium.
The Aces (13-27) led for much of the contest, but the tide would turn late as the Racers (20-21) scored in each the sixth and seventh innings to level matters at 4-4 before an error on a pop fly to short with two outs resulted in the eventual game-winning run.
UE attempted to mount a response in the bottom half of the frame, but the attempted rally was cut short on impressive defensive play by MSU's middle infield as Kipp Moore and Caleb Hicks linked up after a Korbin Williams lineout for a double play to end the game.
Williams actually put the Aces on the board early with a first inning solo-blast that cleared the wall in left field with ease, but the lead would evaporate two innings later as a pair of errors resulted in two runs for the visitors out of the Ohio Valley Conference. It was MSU's turn to commit an error in the bottom half, as Trey Hair, who reached first on a hit-by-pitch, advanced two bases on a failed pickoff before Travis Tokarek doubled him home.
Tokarek, who ended 1-for-1 with a pair of RBI, has now reached base successfully in 13 consecutive games.
A Tokarek sac fly and Andrew Tanous RBI groundout pushed the Aces ahead a final time in the fifth.
Alex Weigand earned the start for the Aces on the mound and gave up three runs (two earned) on five hits while striking out a career-best eight over six innings. Ryan Brady surrendered an unearned score in the seventh, and Brandon Gomer gave up just one hit and struck out four over his 1.1 innings of work. Hunter Porterfield (0-1) was pegged with the hard-luck loss in the ninth.
Meanwhile, MSU was led by Lawrence Tyler's 3-for-4 performance as the team out-hit the Aces 8-4. After starter Trevor McMurray gave up all four runs in the first 4.1 frames, the Racer bullpen of Tyler Horsley, Justin Perkins, Blake Clynes, and Alec Whaley combined to hold UE hitless from there on out.
The Aces will return to action on Friday with the first of three games against Missouri Valley Conference leaders Missouri State. First pitch is slated for 6:00 p.m.
Aces Place has new hours until summer closing
Ace's Place will have new hours of operation from now until it closes for the summer. Ace's Place will be open:
Monday-Thursday: 10:30 A.m.-11:00 p.m.
Friday: 10:30 a.m.-9:00 p.m.
Saturday: 2:00-9:00 p.m.
Sunday: 3:00-11:00 p.m.
Tuesday, May 2: 10:30 a.m.-2:00 p.m.
Submitted by Mary Nowlan mary.nowlan@sodexo.com
COMM 380 offered ONLINE in Summer I
Would one class that fulfills several general education requirements and teaches you valuable life skills interest you? Do you want to reduce your course load during the regular fall or spring semesters? How would you like to take such a course NO MATTER WHERE you plan to be this summer?
Would you like to be more prepared for your future career in a diverse society and global world? Want to add another skill set to distinguish you from the pack? How about increasing your cultural knowledge and communication competency to relate more effectively with people from other cultures in your personal and professional life?
If you answered yes to any of these questions, you should consider enrolling in COMM 380 ONLINE (Intercultural Communication) offered in Summer Session I.
COMM 380 meets criteria for General Education Outcome 9 (Understanding of Core Concepts of Society, Human Behavior, and Civic Knowledge) and Overlay Component A (Global Diversity: International Component).
For more information contact professor emeritus of communication Dean Thomlison at dt4@evansville.edu.
Submitted by Dean Thomlison dt4@evansville.edu
Fitness Center finals week hours
The Fitness Center hours during finals week will be:
Wednesday. April 26-Friday, April 28: 8:00 a.m.-7:00 p.m.
Saturday, April 29-Sunday, April 30: 11:30 a.m.-5:30 p.m.
Monday, May 1-Friday, May 5: 8:00 a.m.-7:00 p.m.
Saturday, May 6-Sunday, May 7: Closed
Submitted by Lori Adams la87@evansville.edu
Rental books due back by May 3
This is a reminder to all UE students who rented books from the UE Bookstore for the Spring 2017 term that those rentals are due back in the store no later than 5:00 p.m. on Wednesday, May 3. Avoid late charges and return on time. If you have questions please contact the UE Bookstore.
Submitted by Doug Gustwiller dg57@evansville.edu
Important UE campus mail reminder
When preparing and bundling UE intra-campus mail for UE distribution services courier pick-up, please DO NOT attach a UE Data Mail account barcode card. Mail bundled with that card is transported to Data Mail for postage processing. Using the card on bundled intra-campus mail will result in delivery delays. These cards are designed to provide required information for properly processing (USPS, UPS) mail and parcels to be delivered off campus.
Please contact Kim Winsett or Distribution Services if you have any questions. For additional information, visit the mail services website.
Submitted by Kim Winsett kw83@evansville.edu
Dr. Marvin E. Hartig Memorial Scholarship applications
Family, friends, and loved ones of the late Marvin E. Hartig are pleased to announce the application process for the Dr. Marvin E. Hartig Memorial Scholarship. This scholarship is dedicated to the loving memory of Hartig, dean of Evansville College's Evening College in 1967, and administrator for the Center for Advanced Study, director of the Evansville chapter of the American Institute of Banking (AIB), and the international student advisor. In 1974, Hartig was appointed dean of academic services. He retired in 1984 after serving his alma mater for 35 years and passed away in 2007.
This scholarship will be awarded each year to a deserving sophomore student with demonstrated financial need as shown by the results of the Free Application for Federal Student Aid (FAFSA). Preference will be given to a student working while being enrolled as a full-time student.
International students are encouraged to apply. Please include in your essay your particular financial need, since international students do not have FAFSA forms on file.
Applicants must submit the following to be considered:
Completed application

In a one page, single spaced, 12 point Verdana font essay, please answer all of these questions:
What have you learned about yourself as a UE student?
What do you do for fun when not studying or working?
Name a special attribute or accomplishment that sets you apart.
You have done a lot in your short life. In what areas do you think you can improve?
What are your scholastic and career goals?
How did you finance your freshman year and how will you finance your sophomore year?
Why are you a good candidate to receive this scholarship?
What have you learned about Dr. Hartig, how does he influence or inspire you, and how will you preserve his legacy as recipient of this scholarship?
Please return all materials to the Office of Financial Aid by June 1. Decision will be announced by August 1.
If you have questions, contact Trisha Hawkes, administrative assistant to the Office of Financial Aid, at financialaid@evansville.edu or 812-488-2364.
Submitted by Trisha Hawkes th187@evansville.edu
Rania Mousa is the recipient of the Dean's Research Award 2017
Rania Mousa, associate professor of accounting, has received her second 2017 Dean's Research Award. The award was given in recognition of Mousa's latest paper, "The evolution of electronic filing process at the UK's HM Revenue and Customs: The case of XBRL adoption."
The paper has been published in the Journal of Tax Research, one of the top five journals in taxation in the world.
The paper chronicles and analyzes the history of legacy electronic reporting systems at the British tax authority over the last 50 years, which culminated in adopting XBRL, the latest technology used by US federal agencies, SEC and FDIC, to process corporate data in regulatory filings.
Katterhenry named to MVC Scholar-Athlete Team
Kayla Katterhenry was named to the Missouri Valley Conference Scholar-Athlete First Team on Wednesday in an announcement by the league. A total of 13 student-athletes were recognized
The 2017 Golfer of the Year is one of five repeat first-team picks on the team, which was voted on by the league's golf sports information directors. Those who earned first-team honors this year and last include Brooke Cusumano (SIU), Katterhenry, Madison Glennie of Drake, Taryn Torgerson of Wichita State, and Kiley Walsh of Illinois State. Those five were joined on the first-team unit by Wichita State's Gavrilla Arya, Missouri State's Caroline Boone and Bradley's Ally Scaccia.
The 2017 Missouri Valley Conference Individual Champion and Golfer of the Year has done a stellar job on the course and in the classroom. She finished her senior campaign with a 75.11 stroke average while picking up four victories on the season, setting the MVC career tournament win record with 11. She earned wins at the Redbird Invitational and Braun Intercollegiate in the fall before winning the Indiana State Spring Invite and MVC Championship in the spring. The management major has a 3.662 GPA.
The criteria for the MVC scholar-athlete team parallels the CoSIDA (College Sports Information Directors of America) standards for the Academic All-America® program. Nominees must have at least a 3.20 cumulative grade point average (4.0 scale), while the student-athletes must have reached sophomore athletic and academic standing at their institutions and must have participated in at least 50 percent of her team's rounds or played at the MVC Championship.
Klinger and Grabill writing awards announced
The English department has announced the winners of the Virginia Lowell Grabill Awards for academic writing and the George Klinger Prize for best academic essay.
The Third-Place Grabill Award went to Samantha Petitjean. The Second-place Grabill Award went to Taylor Gates. The First-place Grabill Award went to Sydney Blessinger. The George Klinger Prize was presented to Lydia Crain.
Submitted by Larry Caldwell lc4@evansville.edu
Gordon publishes research study
Noah Gordon, associate professor of biology, recently published a paper in collaboration with biologists from Washington University and the University of Minnesota on the information female frogs use to orient toward desirable noise. The paper, titled "The signal in noise: acoustic information for soundscape orientation in two North American treefrogs," was published in the peer-reviewed journal Behavioral Ecology.
Butterman accepted by sociology doctoral program
Olivia Butterman has been accepted by the Washington State sociology doctoral program. She will begin her studies this fall with an assistantship as she pursues research in environmental sociology with a focus in climate change skepticism.
Family of UE emeritus professor Bung-Chung "B.C." Lee
University of Evansville emeritus professor of civil engineering Bung-Chung "B.C." Lee passed away on March 29, at Bickford Independent Living in Springfield, Illinois. He was a professor of mechanical and civil engineering at UE from 1960-1996
He is survived by his children, Rev. Lonna Chang-Ren Lee (husband, Rev. Chuck Goodman) and Rev. John Chang Yee Lee (wife, J. Evelyn Orr); grandchildren, Ruby Da-Ai Goodman Lee, Solveig Da-Qi Lee and Soren Da-De Lee; siblings, Bung-Fung (Dr. H.C.) Torng, Peng-Hwa (K.S.) Yang, and Bung-Yuan Lee; brother-in-law, Dr. Jason C. (Janet) Shih; sister-in-law, Mimi Ping-Yung Chiang Lee; and nieces and nephews. He was preceded in death by his parents; wife, Evelyn; step-mother, Helen Hsieh-Ching Yeh Lee; and brother, Michael Pen-Tung Lee.
Lee was born in Beijing, China, on October 19, 1927. He earned his Bachelors of Science degree in Mechanical Engineering from the National Taiwan University in Taipei, and served in the Taiwan National Guard before immigrating to the United States. Lee earned his Masters of Science degree from Georgia Tech and his Ph.D. in Mechanical Engineering from Michigan State University.
His complete obituary can be viewed on the Vancil-Murphy Funeral Home website.
A memorial service will be held in Evansville, on Sunday, May 28, at 1:30 p.m., at First Presbyterian Church with burial at Park Lawn Cemetery followed by a dinner at Yen Ching Restaurant.
Contribute to AceNotes
To have content considered for inclusion in AceNotes, please submit a Marketing Request Form. Deadline for submission to AceNotes is 10:00 a.m. on the requested date of publication. Only articles concerning UE related/sponsored activities will be accepted. Articles submitted to AceNotes may be edited for length and clarity. Submitter contact information is at the end of each article.