| | |
| --- | --- |
| AceNotes Today | Friday, April 21, 2017 |
Summer hours start today
The University will begin a modified summer schedule today - Monday, May 8 - through Monday, August 7. Business hours for the campus will be adjusted during this period to 8:00 a.m. to 4:30 p.m. As always, the area supervisor is responsible for the scheduling decisions that will best meet the University's and their respective department's service requirements. We will return to regular hours on Tuesday, August 8.
The modified summer work schedule is incumbent on ensuring coverage to service our many constituencies. It is important to maintain our commitment and communication with students and their parents during the summer months. Your assistance in this regard is greatly appreciated.
Take A Stand With YWCA at UE
Take A Stand With YWCA for peace, justice, freedom, and dignity all day today outside of Ridgway University Center. Rain location will be inside Ridgway University Center.
Activities are planned for this event include:
1:00-2:00 p.m. – Special announcement by President Kazee, a mayoral announcement, and student remarks
2:00-3:00 p.m. - Tours of Diversity House, located at 434 Weinbach Avenue
3:00-6:00 p.m. – Visit information tables
3:00-4:00 p.m. – Open mic at the free speech podium
4:00-5:00 p.m. – Panel discussion on race
5:00-6:00 p.m. – Open mic at the free speech podium
6:00 p.m. – Screening of the film 13th, followed by a discussion
Submitted by LaNeeca Williams lw161@evansville.edu
Volunteer to read/record YWCA Stand Against Racism Pledge
We are searching for campus members (students/faculty/staff) to stop by WUEV this Friday, April 21, to read the YWCA's Stand Against Racism Pledge. All are welcome to read it in their native languages as well. A recording of the reading of the pledge will be aired on Tuesday, April 25, as a part of events that the YWCA and the University are hosting together.
If you are interested, please e-mail LaNeeca Williams at lw161@evansville.edu for times and the pledge.
Thank you in advance for being a part of this national day of events.
Submitted by LaNeeca Williams lw161@evansville.edu
English Department Literary Conference on Friday and Saturday
The Department of English invites all members of the campus community to its sixth annual literary conference on April 21 and 22.
On Friday night, acclaimed author Jacqueline Briggs Martin will appear at the Melvin M. Peterson Literary Forum to give the Hemminger-Brown Lecture, entitled "Gathering Stories Along the Way," Her lecture will begin at 7:00 p.m. in Harkness Hall (Room 162), Schroeder School of Business Building.
On Saturday morning, students will present their conference papers, with panels starting at 9:30 a.m., 10:45 a.m., and noon in Rooms 271 and 272 in the Schroeder School of Business Building. Following the final panel, the department will award its Grabill and Klinger writing prizes.
Submitted by Mark Cirino mc171@evansville.edu
UE Theatre presents: The 24 Hour Plays - University of Evansville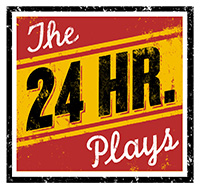 UE Theatre will be producing four new plays from start to finish ALL IN 24 HOURS! That includes writing, laughing, rehearsing, designing, crying (?), and performing. Join us for our performances on Saturday, April 22 at 7:30 p.m. in the May Studio Theatre and follow our process via our social media platforms
Facebook: University of Evansville Theatre (UET)
Instagram @uetheatre
Twitter @UETheatre
Tree-Planting/Retirement Reception this weekend
The UE community is invited to the annual Tree-Planting/Retirement Reception this Sunday to celebrate with retirees Gifford Brown, Renato Butturi, Tink Martin, and Janet Szczepanski. The tree will be planted between Morton and Brentano Halls, beginning at 1:30 p.m., with the reception immediately following in the Class of 1959 Gallery in Ridgway University Center. Please join us!
Diversity House Dedication on Tuesday, April 25
The Diversity House is scheduled for a dedication on Tuesday, April 25, from 1:00-2:00 p.m. in Ridgway University Center. The dedication will be a part of the YWCA's Stand Against Racism events scheduled on campus that day. There will be tours of the house from 2:00-3:00 p.m., and all are welcome to attend.
The Diversity House is currently open for limited hours. Please stop by 436 Weinbach Avenue to study or just hang-out. The house is the only one on the block with a purple door.
The hours are as follows:
Monday: 9:00 a.m. -12:50 p.m.
Tuesday: 11:00 a.m.-2:30 p.m.
Wednesday: 9:00 a.m.-4:00 p.m.
Thursday: 11:00 a.m.-5:00 p.m.
Friday: 9:00 a.m.-4:00 p.m.
Submitted by LaNeeca Williams lw161@evansville.edu
Public invited to UE Engineering Excellence Day
The University of Evansville's annual Engineering Excellence Day is set for Saturday, April 22, from 1:00-4:00 p.m. This event is free and open to the public.
From 1:00-3:00 p.m., projects designed and built by UE engineering student teams – including the Formula Car and Concrete Canoe - will be on display outside Ridgway University Center. UE engineering students will be on hand to explain how their projects were designed and created.
Real Talk, a session with UE engineering students, is planned from 3:00-4:00 p.m. in Room 100 in the Koch Center for Engineering and Science. During this activity, prospective students, parents, or anyone with an interest in engineering are welcome to ask the students about what it is like to be an engineering student at UE.
UE celebrates Melvin Peterson's 95th birthday
An open house for the University of Evansville's Melvin Peterson Gallery is planned for today from 6:30-8:30 p.m. The celebration will mark the 95th birthday of Melvin M. Peterson, the man who made possible this elegant showcase for student and professional artwork. Hosted by the University's Friends of Art, the event is free and open to the public.
Peterson has been a long-time supporter and friend to the University of Evansville. He was president of UE's Samuel Johnson Society, Harlaxton Society, and Academy of Arts and Sciences. He has been an honorary trustee of the University since 1999.
In 1991, the UE Alumni Association recognized Peterson with a Samuel Orr Honorary Alumnus; in 2014, he was awarded an honorary Doctor of Humane Letters. Through generous gifts to UE, he established the Melvin Peterson Endowed Chair in Literature and Writing and the Melvin Peterson Gallery.
A native of Omaha, Nebraska, Peterson served four years in the United States Navy and earned a Bachelor of Science in business administration from the University of San Francisco, a Master of Arts in English literature from the California State University, and a Master of Arts in history from Indiana State University. In 1972, he retired from Chevron Oil Corporation, San Francisco, California, where he was a financial advisor.
Located at 1935 Lincoln Avenue, the Melvin Peterson Gallery was dedicated in 2010. It features changing exhibits of artwork by local and regional artists, alumni, and students.
PAC Golf Outing set for Monday, May 22
On Monday, May 22, the annual Purple Aces Club Golf Outing will again take place at Oak Meadow Country Club in Evansville.
Foursomes are available for $600 while individuals may register for $150. Your fee includes a boxed lunch, drinks, Aces NIKE polo shirt, and post-golf hors d'oeuvres.
Registration on the day of the tournament starts at 11:00 a.m. before a shotgun start commences the action at noon. Following your round of play, a reception will take place from 5:00-6:00 p.m. with the awards ceremony taking place at 5:30 p.m., inside the clubhouse.
The fun and fast-paced format is a 4-person scramble where everyone hits off the tee, but only three players play into the green, with the person whose tee shot is utilized sitting the next shot out. Multiple tee boxes will be used where you start on the regular tee, move back after a birdie, eagle or double eagle, up for a bogie or worse, or for two consecutive pars. All players will putt with a 2-putt maximum on the green. Mulligans will not be utilized; instead a length of string will be provided to each team to make the putt without an additional stroke. Once a length is used, it cannot be reused. Additional lengths may be purchased.
Several great sponsorship opportunities are available and start out at just $150. Hole sponsors cost just $150 and include a sign on a tee or green. Three $250 opportunities are available: longest drive sponsor, closest to the pin sponsor, and cart sponsor. The chance to sponsor the reception is available for $1,000 while an event title sponsorship can be purchased for $2,500.
To register for the event, visit the Purple Aces Golf Classic web page.
For more sponsorship information, contact John Rodgers at jp295@evansville.edu or 812-488-4288.
Relay for Life this Friday
Come out and fight back against cancer at Relay for Life in the Carson Center (Meeks Gym) starting at 7:00 p.m. on Friday, April 21, and ending at 7:00 a.m. on Saturday, April 22. There will be a BDubs party for the top fundraising team, lots of games, free snacks at 2:00 a.m., and plenty of ways to fight back against cancer! Sign up on Relay for Life's web page for Vanderburgh County colleges.
Submitted by Lynnette Whitsitt lw147@evansville.edu
Zeta Tau Alpha presents Rent-A-Puppy on April 22
Stop at the grassy knoll on Saturday, April 22 from 11:00 a.m.-3:00 p.m. to play with some puppies! It's $5 for 10 minutes or $15 for 10 minutes with five people. All proceeds go directly to local humane societies! Come out and de-stress with us!
Submitted by Hannah Rowe hr45@evansville.edu
This Week in Music: Student ensembles and recitals and Schmidt Opera Series
The University String Ensemble will present a concert today - Thursday, April 20 - at 6:00 p.m. in Wheeler Concert Hall. The program will feature Vivaldi's Sinfonia No. 1 in C major, Elgar's Serenade for Strings, and Shaffer's The Chase. The program will also feature Mozart's Duo for Violin and Viola K. 423, performed by the UE String Duo, and it will conclude with a joint performance by the String Ensemble and Thompkins Middle School Strings of Leyden's Serenade for String Orchestra. The concert is free and open to the public.
The Schmidt Opera Series returns on Friday and Saturday, April 21 and 22. with Offenbach's Orpheus in the Underworld. In this hilarious retelling of the classic myth, Orpheus reluctantly travels to the Underworld to retrieve his wife, Eurydice. The production is directed by Alanna Keenan and features several UE music students and faculty. Performances begin at 7:0 p.m., in Wheeler Concert Hall. Tickets are $10 or free with a UE ID.
Student recitals are planned for Saturday, April 22 in Wheeler Concert Hall. Madison Petty and Olivia Price, mezzo-sopranos, will perform at 1:00 p.m. Jennifer Warren and Hayden McClure, clarinet and saxophone, will perform at 2:30 p.m. Alex Edwards, euphonium, performs at 4:00 p.m.
Submitted by James Sullivan js820@evansville.edu.
Wesley Shepard Summer Music Camp
The University of Evansville Department of Music is currently accepting registrations for this year's Wesley Shepard Summer Music Camp which will run June 11-17.
During this comprehensive week of music making, students will rehearse and perform in their specialty area, receive instruction in like-instrument/voice groups, learn music theory, and have a choice of music-related electives. The week will culminate with final performances by all student musicians.
Pianists who have had two years of private piano lessons are eligible to attend.
All middle and high school aged student instrumentalists and vocalists who have completed one year with their school ensemble (or similar experience) are encouraged to attend.
You can find out more about the camp or register to attend by going to the Wesley Shepard Summer Music Camp web page.
Submitted by Barbara Josenhans bj101@evansville.edu
Free paper shredding tomorrow
Free off-site paper shredding by Piranha Mobile Shredding will return to campus once again on Wednesday, April 26 (Reading Study Day) from 10:00 a.m.-1:00 p.m. All UE students, faculty, staff, and alumni can take advantage of this free service by bringing paper to the Piranha truck in Koch Center for Engineering and Science parking lot. Paper will be shredded off-site.
So, if mounds of paper are taking over your office, home, or room, this is the time to gather those old files, receipts, cancelled checks, tax forms, etc. No need to take out the staples or paper clips. Avoid identity theft by having confidential information permanently destroyed.
Please - no telephone books, magazines, or newspapers. Also, please note that there is a 100 pound paper limit per visit (number of visits is not limited).
Submitted by Jan Schrader js652@evansville.edu
UE Engineering OPTIONS camps set for June
The College of Engineering and Computer Science at the University of Evansville has announced the dates for Engineering OPTIONS, its annual engineering summer camps.
The Engineering OPTIONS for Middle School Girls summer career exploration program is a 3 ½ day residential opportunity at UE for middle school girls currently in grades 6, 7, or 8. The program begins on Sunday, June 11, and concludes on Wednesday, June 14.
The Engineering OPTIONS for High School Girls summer career exploration program is a week-long residential opportunity at the University for high school girls currently in grades 9, 10, or 11 who have completed geometry. The program begins on Sunday, June 18, and concludes on Friday, June 23.
Participants in the Engineering OPTIONS programs will gain a better understanding of what types of opportunities are available in fields most closely related to science, technology, engineering, and mathematics (STEM).
Dependent children of University of Evansville employees are eligible for a $125 discount towards the cost of registration.
For more information and to obtain an application or apply online, see www.evansville.edu/options.
Submitted by Kimberly Higgins kh209@evansville.edu
UE environmental management system updates
UE's environmental management system started its third cycle in January. The significant environmental aspects (SEAs) for the third cycle are hazardous chemical and hazardous waste management in chemistry, exercise science, printmaking, metalworking, sculpture, and ceramics. Targets and objectives are being developed to implement best practices for these areas. For more information, check out Environmental Management EMS under areas on AceLink.
Submitted by Jan Schrader js652@evansville.edu
April Pcard cycle ending
The April Pcard cycle which began on March 22 ends on April 21. As of April 23, cardholders may schedule and run the April cycle report. April transactions may be reconciled in SDG2 until April 28. On April 28, the general ledger Pcard file will be uploaded and cardholders will be locked out of (unable to make changes) posted transactions in SDG2 for the April Cycle.
Submitted by Kim Winsett kw83@evansville.edu
Commencement senior video: photos needed
Hey seniors! We are now collecting photos from our last few years to be included in Commencement's senior slideshow. The video will be presented prior to the ceremony on Saturday, May 6, and available to view online afterward, as well. Any and all photos that you would like to be featured - seniors only if possible! - should be uploaded by Wednesday, April 26.
Submitted by Alanna Payne ap202@evansville.edu
Student survey
The University is working with the Times Higher Education US Student Survey in order to gain student perspectives of the UE experience. Students will soon be receiving an e-mail with information about the survey and a link to it. Participation in the survey is voluntary and all responses will be anonymous.
Students who complete the nationwide survey will have an opportunity to win prizes. There will be five winners per week for eight weeks, and each of these winners will each receive a $100 Amazon gift card. One grand prize winner will receive a $30,000 scholarship that will be awarded in the form of a check.
The survey ends June 1.
If you have any questions about the survey, contact the Office of Institutional Effectiveness at 812-488-2155.
Sari Baum places In Norton Writer's Prize
University of Evansville junior Sari Baum was the recent runner-up in the competitive 2016 Norton Writer's Prize, a national competition that is awarded annually for an outstanding essay written by an undergraduate.
Baum's essay "Bánat is Hungarian for Grief" skillfully weaves scenes about her Hungarian roots with the familial curse of dementia. Baum uses beautiful scenes to render heartbreak and show us her great-grandmother's struggle, resulting in a narratively complex essay.
Winners of the Virginia Lowell Grabill Award announced
Each year, the University of Evansville's Department of Creative Writing has the pleasure of announcing the student winners of The Virginia Lowell Grabill Award for excellence in undergraduate creative writing.
The winners and finalists for 2016 and recipients of a cash prize are as follows:
Nonfiction:
First place: "Steel" by Sarah Butler
Second place: "Tornadoes" by Taylor Gates
Third place: "Sister, Sister' by Brittney Kaleri

Poetry:
First place: "How to Pray in St Kinga's Salt Cathedral" by Rachel Moore
Second Place: "Uncovered" by Sarah Butler
Third Place: "Lavender" by Sarah Butler

Fiction:
First place: "Neighbors" by Neil Brookhouse
Second Place: "A Good Friend" by Lea Arnold
Third Place: "What Witches Want" by Brittney Kaleri
Recent graduate headed to MFA
The Department of Creative Writing would like to congratulate 2016 graduate Joy Grace Chen on her acceptance to The Ohio State University's MFA program. She will begin her studies in creative nonfiction in Fall 2017. Way to go, Joy Grace!
Nikolidakis signs with literary agent
Assistant professor of creative writing Lisa Nikolidakis has signed with literary agent Rayhané Sanders of Massie & McQuilkin for representation of her book projects in fiction and nonfiction. Massie & McQuilkin represents some of the finest names in literature today, such as Roxane Gay, Lidia Yuknavitch, Annie Dillard, Dan Chaon, and many others. Lisa is thrilled to be in such good company and eager to bring her books to shelves near you.
Schmidt elected to American Society for Engineering Education board of directors
Peter Schmidt, associate professor of mechanical engineering, has been elected chair of professional interest council II and member of the American Society for Engineering Education board of directors. Schmidt will serve in this capacity for two years.
The membership elected seven officers to its board of directors in April. The board members will begin their terms at the society's annual conference in June in Columbus, Ohio.
Spare Change for Warriors Bowling Tournament for Charity a success
The student veterans' organization UEVETS would like to thank everyone who donated to make Spare Change for Warriors Bowling Tournament for Charity a success. We were able to donate a total of $1,000 to charity. Fallen Patriots scholarship program received $500 and the winning team (Savannah Kern, Devin Augustin, Frannie Fiallo, Carmen Fiallo, and Donavan Preston) selected UNICEF to receive a $500 donation.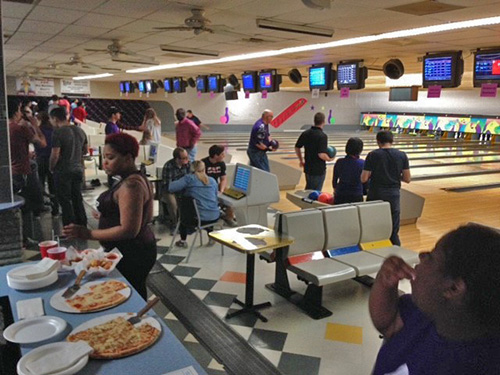 Harlaxton College awarded Historic England Grant
Harlaxton College has been awarded a grant by Historic England (the public body that looks after England's historic environment) toward the cost of repairs to the North East Gazebo. This work will complete the phased repair of the built structures in the garden area to the south west of the forecourt comprising two substantial gazebos and a retaining wall which form part of the framed setting to Harlaxton Manor and are highly visible from its approach and contributes to its theatrical silhouette. The gazebos are thought to be the work of William Burn and date from 1838-54.
Harlaxton College is very grateful for Historic England's continued support and is especially thankful to our generous and immensely loyal donors who are providing matching funds.
Contribute to AceNotes
To have content considered for inclusion in AceNotes, please submit a Marketing Request Form. Deadline for submission to AceNotes is 10:00 a.m. on the requested date of publication. Only articles concerning UE related/sponsored activities will be accepted. Articles submitted to AceNotes may be edited for length and clarity. Submitter contact information is at the end of each article.