| | |
| --- | --- |
| AceNotes Today | Thursday, April 20, 2017 |
Summer hours start today
The University will begin a modified summer schedule today - Monday, May 8 - through Monday, August 7. Business hours for the campus will be adjusted during this period to 8:00 a.m. to 4:30 p.m. As always, the area supervisor is responsible for the scheduling decisions that will best meet the University's and their respective department's service requirements. We will return to regular hours on Tuesday, August 8.
The modified summer work schedule is incumbent on ensuring coverage to service our many constituencies. It is important to maintain our commitment and communication with students and their parents during the summer months. Your assistance in this regard is greatly appreciated.
Creating posters for March for Science
Join BiSci Club today at 5:00 p.m. in Room 133 in Koch Center for Engineering and Science to make posters for the upcoming March for Science. We will provide poster board, markers, and a few ideas. Hope to see you there and at the march this Saturday from 2:00-5:00 p.m. at the Evansville riverfront.
Submitted by Brooke Wininger bw150@evansville.edu
Presentation on Pakistan by Haseeb Muhammad
Haseeb Muhammad is an exchange student participating in a cultural exchange program representing Pakistan. Because he is leaving at the end of this semester, he plans to deliver a special presentation on Pakistan. He will bring souvenirs and sweets for you all, so make sure to stop by tonight at 7:00 p.m. in Room 75 in the Schroeder School of Business Building to learn more about Pakistan.
Submitted by Megan Sicard ms331@evansville.edu
Promotion and Tenure Committee open meeting with candidates
The Promotion and Tenure Committee will hold an open meeting today at 4:00 p.m. in the J. Henry Schroeder Boardroom of the Library. Committee members will answer questions about the promotion/tenure process and offer suggestions to those applying in the 2017-18 academic year. Candidates, their chairs, and all interested faculty are invited to attend.
Submitted by jb74@evansville.edu.
Volunteer to read/record YWCA Stand Against Racism Pledge
We are searching for campus members (students/faculty/staff) to stop by WUEV this Friday, April 21, to read the YWCA's Stand Against Racism Pledge. All are welcome to read it in their native languages as well. A recording of the reading of the pledge will be aired on Tuesday, April 25, as a part of events that the YWCA and the University are hosting together.
If you are interested, please e-mail LaNeeca Williams at lw161@evansville.edu for times and the pledge.
Thank you in advance for being a part of this national day of events.
Submitted by LaNeeca Williams lw161@evansville.edu
English Department Literary Conference on Friday and Saturday
The Department of English invites all members of the campus community to its sixth annual literary conference on April 21 and 22.
On Friday night, acclaimed author Jacqueline Briggs Martin will appear at the Melvin M. Peterson Literary Forum to give the Hemminger-Brown Lecture, entitled "Gathering Stories Along the Way," Her lecture will begin at 7:00 p.m. in Harkness Hall (Room 162), Schroeder School of Business Building.
On Saturday morning, students will present their conference papers, with panels starting at 9:30 a.m., 10:45 a.m., and noon in Rooms 271 and 272 in the Schroeder School of Business Building. Following the final panel, the department will award its Grabill and Klinger writing prizes.
Submitted by Mark Cirino mc171@evansville.edu
UE Theatre presents: The 24 Hour Plays - University of Evansville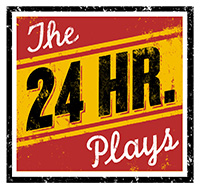 UE Theatre will be producing four new plays from start to finish ALL IN 24 HOURS! That includes writing, laughing, rehearsing, designing, crying (?), and performing. Join us for our performances on Saturday, April 22 at 7:30 p.m. in the May Studio Theatre and follow our process via our social media platforms
Facebook: University of Evansville Theatre (UET)
Instagram @uetheatre
Twitter @UETheatre
Tree-Planting/Retirement Reception this weekend
The UE community is invited to the annual Tree-Planting/Retirement Reception this Sunday to celebrate with retirees Gifford Brown, Renato Butturi, Tink Martin, and Janet Szczepanski. The tree will be planted between Morton and Brentano Halls, beginning at 1:30 p.m., with the reception immediately following in the Class of 1959 Gallery in Ridgway University Center. Please join us!
Diversity House Dedication on Tuesday, April 25
The Diversity House is scheduled for a dedication on Tuesday, April 25, from 1:00-2:00 p.m. in Ridgway University Center. The dedication will be a part of the YWCA's Stand Against Racism events scheduled on campus that day. There will be tours of the house from 2:00-3:00 p.m., and all are welcome to attend.
The Diversity House is currently open for limited hours. Please stop by 436 Weinbach Avenue to study or just hang-out. The house is the only one on the block with a purple door.
The hours are as follows:
Monday: 9:00 a.m. -12:50 p.m.
Tuesday: 11:00 a.m.-2:30 p.m.
Wednesday: 9:00 a.m.-4:00 p.m.
Thursday: 11:00 a.m.-5:00 p.m.
Friday: 9:00 a.m.-4:00 p.m.
Submitted by LaNeeca Williams lw161@evansville.edu
Public invited to UE Engineering Excellence Day
The University of Evansville's annual Engineering Excellence Day is set for Saturday, April 22, from 1:00-4:00 p.m. This event is free and open to the public.
From 1:00-3:00 p.m., projects designed and built by UE engineering student teams – including the Formula Car and Concrete Canoe - will be on display outside Ridgway University Center. UE engineering students will be on hand to explain how their projects were designed and created.
Real Talk, a session with UE engineering students, is planned from 3:00-4:00 p.m. in Room 100 in the Koch Center for Engineering and Science. During this activity, prospective students, parents, or anyone with an interest in engineering are welcome to ask the students about what it is like to be an engineering student at UE.
UE celebrates Melvin Peterson's 95th birthday
An open house for the University of Evansville's Melvin Peterson Gallery is planned for today from 6:30-8:30 p.m. The celebration will mark the 95th birthday of Melvin M. Peterson, the man who made possible this elegant showcase for student and professional artwork. Hosted by the University's Friends of Art, the event is free and open to the public.
Peterson has been a long-time supporter and friend to the University of Evansville. He was president of UE's Samuel Johnson Society, Harlaxton Society, and Academy of Arts and Sciences. He has been an honorary trustee of the University since 1999.
In 1991, the UE Alumni Association recognized Peterson with a Samuel Orr Honorary Alumnus; in 2014, he was awarded an honorary Doctor of Humane Letters. Through generous gifts to UE, he established the Melvin Peterson Endowed Chair in Literature and Writing and the Melvin Peterson Gallery.
A native of Omaha, Nebraska, Peterson served four years in the United States Navy and earned a Bachelor of Science in business administration from the University of San Francisco, a Master of Arts in English literature from the California State University, and a Master of Arts in history from Indiana State University. In 1972, he retired from Chevron Oil Corporation, San Francisco, California, where he was a financial advisor.
Located at 1935 Lincoln Avenue, the Melvin Peterson Gallery was dedicated in 2010. It features changing exhibits of artwork by local and regional artists, alumni, and students.
PAC Golf Outing set for Monday, May 22
On Monday, May 22, the annual Purple Aces Club Golf Outing will again take place at Oak Meadow Country Club in Evansville.
Foursomes are available for $600 while individuals may register for $150. Your fee includes a boxed lunch, drinks, Aces NIKE polo shirt, and post-golf hors d'oeuvres.
Registration on the day of the tournament starts at 11:00 a.m. before a shotgun start commences the action at noon. Following your round of play, a reception will take place from 5:00-6:00 p.m. with the awards ceremony taking place at 5:30 p.m., inside the clubhouse.
The fun and fast-paced format is a 4-person scramble where everyone hits off the tee, but only three players play into the green, with the person whose tee shot is utilized sitting the next shot out. Multiple tee boxes will be used where you start on the regular tee, move back after a birdie, eagle or double eagle, up for a bogie or worse, or for two consecutive pars. All players will putt with a 2-putt maximum on the green. Mulligans will not be utilized; instead a length of string will be provided to each team to make the putt without an additional stroke. Once a length is used, it cannot be reused. Additional lengths may be purchased.
Several great sponsorship opportunities are available and start out at just $150. Hole sponsors cost just $150 and include a sign on a tee or green. Three $250 opportunities are available: longest drive sponsor, closest to the pin sponsor, and cart sponsor. The chance to sponsor the reception is available for $1,000 while an event title sponsorship can be purchased for $2,500.
To register for the event, visit the Purple Aces Golf Classic web page.
For more sponsorship information, contact John Rodgers at jp295@evansville.edu or 812-488-4288.
Relay for Life this Friday
Come out and fight back against cancer at Relay for Life in the Carson Center (Meeks Gym) starting at 7:00 p.m. on Friday, April 21, and ending at 7:00 a.m. on Saturday, April 22. There will be a BDubs party for the top fundraising team, lots of games, free snacks at 2:00 a.m., and plenty of ways to fight back against cancer! Sign up on Relay for Life's web page for Vanderburgh County colleges.
Submitted by Lynnette Whitsitt lw147@evansville.edu
UE environmental management system updates
UE's environmental management system started its third cycle in January. The significant environmental aspects (SEAs) for the third cycle are hazardous chemical and hazardous waste management in chemistry, exercise science, printmaking, metalworking, sculpture, and ceramics. Targets and objectives are being developed to implement best practices for these areas. For more information, check out Environmental Management EMS under areas on AceLink.
Submitted by Jan Schrader js652@evansville.edu
Physician assistant application help
With the CASPA application for physician assistant schools opening soon, current members of the physician assistant program would like to help you out! We will answer your questions about the process, essays, or letters of recommendation. Please e-mail Haley Vos at hv25@evansville.edu and we will set you up with someone who can answer your questions.
Submitted by Billie Chandler bc185@evansville.edu
April Pcard cycle ending
The April Pcard cycle which began on March 22 ends on April 21. As of April 23, cardholders may schedule and run the April cycle report. April transactions may be reconciled in SDG2 until April 28. On April 28, the general ledger Pcard file will be uploaded and cardholders will be locked out of (unable to make changes) posted transactions in SDG2 for the April Cycle.
Submitted by Kim Winsett kw83@evansville.edu
Work study positions available for this summer
There are available jobs through UE work-study offered by the Office of Financial Aid for UE students. Eligibility is based on federal need as shown through the FAFSA. The student employment application may be obtained on WebAdvisor through the Student tab, under the student employment section. A listing of all available positions (student employment positions listing all positions/all departments) may also be found there. Applications should be directed to the department for which the student is applying. Questions regarding eligibility should be directed to Sean Riley at sr252@evansville.edu.
Submitted by Sean Riley sr252@evansville.edu
Norris shines as Aces split against SIU
In her first trip to the plate following an injury in March, senior Susan Norris hit a walk-off single as the University of Evansville earned a doubleheader split against Southern Illinois on Wednesday at Cooper Stadium.
Norris came to the plate in the bottom of the seventh of game one in a scoreless game and came through with the hit to give the Purple Aces (19-24, 10-7 MVC) a 1-0 win. In game two, she hit a 2-run home run as UE fell to Southern Illinois (23-21, 10-7 MVC) by a 10-7 score.
"We played a great game in the first one, Morgan threw an awesome game and Susan came in and got a huge hit," Aces head coach Mat Mundell said. "She has been out and we did not know if we would even get her back. The second game got away from us a little bit, but I am proud of how we fought back. Danielle Cassidy pitched extremely well, it was her best outing so far."
Game one was a defensive battle as the game remained scoreless until the final at-bat. Evansville starter Morgan Florey threw a 2-hit shutout in the game while striking out 12 batters en route to her 13th win of the season. Brianna Jones of SIU was just as impressive, giving up just one run in six innings of work.
The game changer came in the bottom of the seventh as Bailee Bostic led off with a double to right center field and was pinch run for by Courtney Land. Next up was Ashlee Kawall, who reached via a bunt single that moved Land to third with nobody out. Susan Norris then pinch hit, her first trip to the plate since suffering an injury in March. In a special moment, she singled to left for the only run of the game while clinching an Aces win.
Southern Illinois plated three runs in each of the first two innings of game two as they opened up a 10-2 lead after the top of the fourth in the second tilt. The two UE runs came off the bat of Norris as she hit a home run to deep left field to get the Aces on the board in the second.
Two innings later, UE made it interesting, scoring four times. Chandra Parr hit a home run while Brittany Hay was hit by a pitch with the bases loaded and Michal Luckett notched a 2-RBI hit, but the deficit was too much as Evansville dropped the 10-7 decision.
UE is back at Cooper Stadium on Saturday for a doubleheader against Indiana State. Game one is set to begin at noon.
Sari Baum places In Norton Writer's Prize
University of Evansville junior Sari Baum was the recent runner-up in the competitive 2016 Norton Writer's Prize, a national competition that is awarded annually for an outstanding essay written by an undergraduate.
Baum's essay "Bánat is Hungarian for Grief" skillfully weaves scenes about her Hungarian roots with the familial curse of dementia. Baum uses beautiful scenes to render heartbreak and show us her great-grandmother's struggle, resulting in a narratively complex essay.
Winners of the Virginia Lowell Grabill Award announced
Each year, the University of Evansville's Department of Creative Writing has the pleasure of announcing the student winners of The Virginia Lowell Grabill Award for excellence in undergraduate creative writing.
The winners and finalists for 2016 and recipients of a cash prize are as follows:
Nonfiction:
First place: "Steel" by Sarah Butler
Second place: "Tornadoes" by Taylor Gates
Third place: "Sister, Sister' by Brittney Kaleri

Poetry:
First place: "How to Pray in St Kinga's Salt Cathedral" by Rachel Moore
Second Place: "Uncovered" by Sarah Butler
Third Place: "Lavender" by Sarah Butler

Fiction:
First place: "Neighbors" by Neil Brookhouse
Second Place: "A Good Friend" by Lea Arnold
Third Place: "What Witches Want" by Brittney Kaleri
Recent graduate headed to MFA
The Department of Creative Writing would like to congratulate 2016 graduate Joy Grace Chen on her acceptance to The Ohio State University's MFA program. She will begin her studies in creative nonfiction in Fall 2017. Way to go, Joy Grace!
Nikolidakis signs with literary agent
Assistant professor of creative writing Lisa Nikolidakis has signed with literary agent Rayhané Sanders of Massie & McQuilkin for representation of her book projects in fiction and nonfiction. Massie & McQuilkin represents some of the finest names in literature today, such as Roxane Gay, Lidia Yuknavitch, Annie Dillard, Dan Chaon, and many others. Lisa is thrilled to be in such good company and eager to bring her books to shelves near you.
Kayla Katterhenry wins MVC Championship
Senior Kayla Katterhenry made program history as she became the first women's golfer in University of Evansville history to win a conference championship as she was the medalist at the 2017 Missouri Valley Conference Championship.
Katterhenry finished the final round with a 74 to win the championship by four strokes at Dalhousie Country Club. She was also named the MVC Golfer of the Year and her win, the 11th of her career, set the all-time conference mark. Katterhenry is the first-even champion for the women's golf program and the first UE golfer since 1986 to win the conference championship as Tom Nelson did so on the men's side in the MCC.
"It was a great day for our program," Aces head coach Jim Hamilton said. "Kayla broke the MVC mark for the most tournament wins and was named the Player of the Year on top of winning the tournament. It is a great way for her to end her career."
Her total for the tournament finished out at 218, just two over par over the course of three rounds. She registered even rounds of 72 in each of the opening two days. The performance comes one year after finishing the event as the runner-up, just one stroke off of the win.
"I cannot imagine a better way to finish up my career. It was great to have all of the girls out there watching me over the last few holes and cheering me on," Katterhenry said. "I had a little extra determination to come out on top this year after losing by one last year. It pushed me a lot harder to focus. I knew I was good enough and it was just my turn."
Second on the team was Maria Pickens, who tied for 37th place. She carded an 82 on Tuesday to finish with a total of 247 over 54 holes. Giulia Mallmann was third for the Aces. She had her lowest round of the tournament in the final round, posting an 80, to complete play with a 251.
Evansville's second senior – Maggie Camp – played her final collegiate round on Tuesday, notching an 81. Her total of 253 was good for a 44th place finish. Madison Chaney wrapped up the third round with an 89, carding a total of 264 in the event.
UE came home in ninth place on the team list with a 969. They finished 19 shots ahead of 10th. Missouri State was the top team finisher with a score of 913, besting Wichita State by 20 strokes.
Gieselman invited to serve on ordination credentialing board
Bishop Julius Trimble, resident bishop of the Indiana Area of The United Methodist Church, has invited university chaplain Tamara Gieselman to serve on the United Methodist Indiana Conference Board of Ordained Ministry. The Board of Ordained Ministry assists in the discovery, development, and deployment of clergy leadership, including guiding new candidates into ministry, and credentialing candidates for ministry who are prepared to be licensed, commissioned, and ordained. Gieselman's appointment begins June 2017 and continues for the next quadrennium.
Yamada named MVC Women's Tennis Athlete of the Week
Junior Chieko Yamada helped the University of Evansville Women's Tennis team to a 7-0 win over Missouri State on Friday and was honored yesterday as the Missouri Valley Conference Women's Tennis Athlete of the Week.
Chieko has taken on the top player from every team that the UE team has played all season. Although she started out the season with tough matches, she came back strong over the last two months. She has taken on the best players the MVC has to offer and has beaten most of them.
Yamada helped the UE Women's Tennis team end its home schedule in style, leading her team to a 7-0 win over Missouri State. At top doubles, she teamed up with Theodora Soldatou to defeat Fati Khamissi and Ekaterina Donetskova by a 6-1 final.
She also got the job done in a dominating effort at #1 singles, earning the win over Alye Darter, 6-2, 6-1.
This weekend, the Purple Aces wrap up the regular season with matches at Drake and UNI.
Schmidt elected to American Society for Engineering Education board of directors
Peter Schmidt, associate professor of mechanical engineering, has been elected chair of professional interest council II and member of the American Society for Engineering Education board of directors. Schmidt will serve in this capacity for two years.
The membership elected seven officers to its board of directors in April. The board members will begin their terms at the society's annual conference in June in Columbus, Ohio.
Yazdanparast and Alhenawi have manuscript accepted
Atefeh Yazdanparast, assistant professor of marketing, and Yasser Alhenawi, associate professor of finance, have a new manuscript accepted for publication in the Financial Service Review. Their work explores the role of psychological characteristics in household borrowing decisions.
They report evidence that the attitude toward borrowing and the intuition to borrow are not always consistent and, more interestingly, the discrepancies between the two vary across personalities.
Further, they show that borrowing options are not homogenous and are motivated differently. They find that individuals with greater need for material resources have stronger intentions for mortgages, home improvement loans, business loans, personal loans, and payday loans. In contrast, individuals with greater need for arousal have stronger intentions for home improvement loans, business loans, student loans, personal loans, and payday loans.
The Financial Service Review is a reputable academic journal known for its strong affiliation with professional licensing institutions like the Certified Financial Planning Board.
Yazdanparast publishes in Journal of Consumer Marketing
Atefeh Yazdanparast, assistant professor of marketing, has had a paper accepted for publication in the Journal of Consumer Marketing.
In two experiments, this research identifies new communication approaches through which political marketers can reach out more effectively to voters. The research examines the impact of different WOM/e-WOM political messages (shallow vs. deep) delivered through various communication channels on voters' message evaluation, believability, attitude towards the message and communication, message involvement, voting intentions, and WOM/e-WOM intentions.
The results suggest that political WOM/e-WOM messages received via different communication modes are perceived differently by age-based voting cohorts.
Also, the complexity of message impacts behavioral intentions of age-based voting cohorts differently. Older (younger) voter cohorts are more receptive to complex and detailed (short and brief) messages. Political message involvement mediates the relationship between message believability and voting intentions as well as WOM/e-WOM intentions.
Spare Change for Warriors Bowling Tournament for Charity a success
The student veterans' organization UEVETS would like to thank everyone who donated to make Spare Change for Warriors Bowling Tournament for Charity a success. We were able to donate a total of $1,000 to charity. Fallen Patriots scholarship program received $500 and the winning team (Savannah Kern, Devin Augustin, Frannie Fiallo, Carmen Fiallo, and Donavan Preston) selected UNICEF to receive a $500 donation.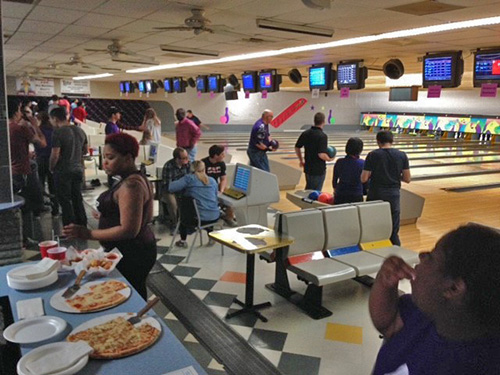 Harlaxton College awarded Historic England Grant
Harlaxton College has been awarded a grant by Historic England (the public body that looks after England's historic environment) toward the cost of repairs to the North East Gazebo. This work will complete the phased repair of the built structures in the garden area to the south west of the forecourt comprising two substantial gazebos and a retaining wall which form part of the framed setting to Harlaxton Manor and are highly visible from its approach and contributes to its theatrical silhouette. The gazebos are thought to be the work of William Burn and date from 1838-54.
Harlaxton College is very grateful for Historic England's continued support and is especially thankful to our generous and immensely loyal donors who are providing matching funds.
Contribute to AceNotes
To have content considered for inclusion in AceNotes, please submit a Marketing Request Form. Deadline for submission to AceNotes is 10:00 a.m. on the requested date of publication. Only articles concerning UE related/sponsored activities will be accepted. Articles submitted to AceNotes may be edited for length and clarity. Submitter contact information is at the end of each article.