| | |
| --- | --- |
| AceNotes Today | Tuesday, April 18, 2017 |
Baseball returns to non-conference schedule with UT Martin
After picking up their first conference road sweep in over a decade, the University of Evansville Baseball team will take a six-game break from league play, beginning with showdown today against UT Martin at Skyhawk Park.
The Aces (13-22) showcased both pitching and offense against Illinois State over the weekend, and if the team wants to extend its three-game winning streak, it will hope to do the same Tuesday. Earlier this season, the Aces dropped a 12-4 contest to the Skyhawks at Charles H. Braun Stadium.
UE starting pitchers Connor Strain and Justin Hayden combined to throw 14 scoreless innings against the Redbirds, and sophomore lefty Alex Weigand will aim to keep the impressive run going as he's set to get the nod today. A Bourbonnais, Illinois, native, Weigand will be making his first start since tossing six one-hit frames in a 5-1 victory over Southern Indiana earlier this month. He enters today's contest with a 2-3 record and a 6.12 earned run average over 25 innings and nine appearances.
Meanwhile, a pair of newcomers continue to boast the best batting averages on the team, beginning with freshman leadoff pitcher Craig Shepherd, who owns a .310 average with 14 scores and nine runs batted in. The Jasper product recorded his first career home run on Saturday, sending the fourth pitch of the game over the fence in Normal.
Andrew Tanous, meanwhile, put together a .467 weekend for UE, highlighted by a two-homer performance in Saturday's 8-1 series-clinching victory.
Trey Hair and his .299 average continues to lead the team in most offensive categories, including doubles (15), homers (5), scores (24) and RBI (25).
UT Martin will be looking to put the brakes on a four-game skid that includes a sweep at the hands of Wright State and an 8-0 loss to Kentucky last week in Lexington. The Skyhawks are 12-20 overall and 4-11 in Ohio Valley Conference play.
First pitch is slated for 6:00 p.m.
This Week in Music: Student ensembles and recitals and Schmidt Opera Series
The University String Ensemble will present a concert today - Thursday, April 20 - at 6:00 p.m. in Wheeler Concert Hall. The program will feature Vivaldi's Sinfonia No. 1 in C major, Elgar's Serenade for Strings, and Shaffer's The Chase. The program will also feature Mozart's Duo for Violin and Viola K. 423, performed by the UE String Duo, and it will conclude with a joint performance by the String Ensemble and Thompkins Middle School Strings of Leyden's Serenade for String Orchestra. The concert is free and open to the public.
The Schmidt Opera Series returns on Friday and Saturday, April 21 and 22. with Offenbach's Orpheus in the Underworld. In this hilarious retelling of the classic myth, Orpheus reluctantly travels to the Underworld to retrieve his wife, Eurydice. The production is directed by Alanna Keenan and features several UE music students and faculty. Performances begin at 7:0 p.m., in Wheeler Concert Hall. Tickets are $10 or free with a UE ID.
Student recitals are planned for Saturday, April 22 in Wheeler Concert Hall. Madison Petty and Olivia Price, mezzo-sopranos, will perform at 1:00 p.m. Jennifer Warren and Hayden McClure, clarinet and saxophone, will perform at 2:30 p.m. Alex Edwards, euphonium, performs at 4:00 p.m.
Submitted by James Sullivan js820@evansville.edu.
Lunch and Lead: Beginning with the End in Mind
Join us for Lunch and Lead today at 12:30 p.m. in Eykamp Hall, Room 252, Ridgway University Center, to learn how to use vision boards to plot out future goals and the steps to get there.
Tracey Folden, assistant vice president of academic affairs will be presenting.
This event is free and open to all students, faculty, staff, and UE community members. We encourage attendees to bring their lunch with them to these events.
Submitted by Amber Stull as625@evansville.edu
Charlas: Dinner at Los Bravos and La Campirana
Students of all levels of Spanish are invited to meet at Jazzman's in Ridgway University Center at 6:00 p.m. today, to go to La Campirana and have dinner with Belén Alemán Mansilla, a Fulbright FLTA. This is the last Charlas session of the semester, so it would be wonderful if you could join her in enjoying Mexican food while practicing some Spanish. Please contact Belén at ma360@evansville.edu to coordinate carpooling or if you have any questions. ¡Nos vemos!
Submitted by Belen Aleman Mansilla ma360@evansville.edu
Today - Lead in the New: Leadership Transition Workshop
Today is the day to "Lead in the New!" Join us in Eykamp Hall, Room 255, Ridgway University Center, from 5:30-6:30 p.m. Are you an incoming or outgoing officer of your organization? Do you want to know how to make sure your best practices, information, and connections are passed down to keep your organization strong? If so, this leadership transition workshop is for you!
Submitted by Amber Stull as625@evansville.edu
PAC Golf Outing set for Monday, May 22
On Monday, May 22, the annual Purple Aces Club Golf Outing will again take place at Oak Meadow Country Club in Evansville.
Foursomes are available for $600 while individuals may register for $150. Your fee includes a boxed lunch, drinks, Aces NIKE polo shirt, and post-golf hors d'oeuvres.
Registration on the day of the tournament starts at 11:00 a.m. before a shotgun start commences the action at noon. Following your round of play, a reception will take place from 5:00-6:00 p.m. with the awards ceremony taking place at 5:30 p.m., inside the clubhouse.
The fun and fast-paced format is a 4-person scramble where everyone hits off the tee, but only three players play into the green, with the person whose tee shot is utilized sitting the next shot out. Multiple tee boxes will be used where you start on the regular tee, move back after a birdie, eagle or double eagle, up for a bogie or worse, or for two consecutive pars. All players will putt with a 2-putt maximum on the green. Mulligans will not be utilized; instead a length of string will be provided to each team to make the putt without an additional stroke. Once a length is used, it cannot be reused. Additional lengths may be purchased.
Several great sponsorship opportunities are available and start out at just $150. Hole sponsors cost just $150 and include a sign on a tee or green. Three $250 opportunities are available: longest drive sponsor, closest to the pin sponsor, and cart sponsor. The chance to sponsor the reception is available for $1,000 while an event title sponsorship can be purchased for $2,500.
To register for the event, visit the Purple Aces Golf Classic web page.
For more sponsorship information, contact John Rodgers at jp295@evansville.edu or 812-488-4288.
Creating posters for March for Science
Join BiSci Club today at 5:00 p.m. in Room 133 in Koch Center for Engineering and Science to make posters for the upcoming March for Science. We will provide poster board, markers, and a few ideas. Hope to see you there and at the march this Saturday from 2:00-5:00 p.m. at the Evansville riverfront.
Submitted by Brooke Wininger bw150@evansville.edu
Men's Soccer to host Mayor's Cup Wednesday
Evansville bragging rights will be on the line Wednesday as the University of Evansville Men's Soccer team will host Southern Indiana for the annual Mayor's Cup at Arad McCutchan Stadium.
The contest, which is slated for a 6:00 p.m. kickoff, is being staged in conjunction with the Evansville YMCA. Entry to the match will cost $5, and all proceeds will directly benefit an after school soccer program. Each team has already been involved in a number of youth soccer clinics throughout the spring season, and participants in the program are slated to compete on the field at halftime.
In addition to the YMCA, UE has partnered with both ProRehab and Tri-State Orthopaedics to put on the event.
Mayor Lloyd Winnecke is slated to be on hand for the pregame festivities.
The match comes at an interesting time for UE's men's soccer program. After putting together the second-largest turnaround in UE history last fall, the team has carried the momentum into spring. Wednesday's showdown with USI will wrap up the team's spring season, marking the end of competitive play before the fall season returns in August.
Meanwhile, USI enjoyed a fantastic fall season that featured a 13-4-4 record and a trip to the second round of the NCAA Division II tournament.
Presentation on Pakistan by Haseeb Muhammad
Haseeb Muhammad is an exchange student participating in a cultural exchange program representing Pakistan. Because he is leaving at the end of this semester, he plans to deliver a special presentation on Pakistan. He will bring souvenirs and sweets for you all, so make sure to stop by tonight at 7:00 p.m. in Room 75 in the Schroeder School of Business Building to learn more about Pakistan.
Submitted by Megan Sicard ms331@evansville.edu
Zeta Tau Alpha presents Rent-A-Puppy on April 22
Stop at the grassy knoll on Saturday, April 22 from 11:00 a.m.-3:00 p.m. to play with some puppies! It's $5 for 10 minutes or $15 for 10 minutes with five people. All proceeds go directly to local humane societies! Come out and de-stress with us!
Submitted by Hannah Rowe hr45@evansville.edu
Peters-Margedant House dedication - tomorrow at 10:00 a.m.
A dedication ceremony will be held on Thursday, April 20 at 10:00 a.m. to celebrate the completion of the Peters-Margedant House restoration. The home was built in 1934 by William Wesley "Wes" Peters, Frank Lloyd Wright's primary assistant and son-in-law. Peters graduated from Benjamin Bosse High School and attended Evansville College and MIT. The ceremony will take place outside the Peters-Margedant House, located on the east side of the Koch Center for Engineering and Science at UE. The rain location is the south atrium of Koch Center. Brief tours and refreshments will be available immediately following the ceremony and the entire campus community is invited.
I-House: Tea Event
Friends, come this week to I-House to try tea from all around the world! We have seven countries represented and they would love for you to come out and try their tea. At this event, we will learn about and drink their tea, and find out why it is special to them. We will get to try them all! What a great way to relax before finals, right? It is today at 7:00 p.m., upstairs in Ridgway University Center. Make sure to attend, because it will be a real treat!
Submitted by Cassie Peterson cp156@evansville.edu
Promotion and Tenure Committee open meeting with candidates
The Promotion and Tenure Committee will hold an open meeting on Thursday, April 20, at 4:00 p.m. in the J. Henry Schroeder Boardroom of the Library. Committee members will answer questions about the promotion/tenure process and offer suggestions to those applying in the 2017-18 academic year. Candidates, their chairs, and all interested faculty are invited to attend.
Submitted by James Berry jb74@evansville.edu.
UE GD Ritzy fundraiser today!
The UE Cross Country team is hosting a fundraising event TODAY at all Evansville GD Ritzy locations. The event will last all day so stop in at any time to eat a meal or have some delicious GD Ritzy's ice cream. The UE Cross Country team will receive 20 percent of the sales from your purchase.
In order for this to happen you must print out and present a paper copy of the PDF coupon. You may NOT present a digital image or picture on your phone.
The percentage of your purchase will help the team buy new attire and uniforms.
If you have any questions feel free to e-mail Kylie Hasenour at kh330@evansville.edu. Thank you for your support!
Submitted by Kylie Hasenour kh330@evansville.edu
Obsolete electronics recycling event on April 26
There will be an obsolete electronics recycling event on reading/study day, April 26, from 10:00 a.m.-1:00 p.m. on the drive that loops around Hale Hall.
Students and employees (faculty, administrators, and staff) can bring the following personal, obsolete electronic equipment to be recycled at no cost:
LCD displays, LCD TVs and LCD monitors, computers, printers, fax machines, laptops, cell phones, PDAs, cables, circuit boards, connectors, electrical equipment, audio video equipment, DVD players, stereos, radios, calculators, speakers, and VCRs. Small quantities of batteries will be accepted.
The following items will NOT be accepted:
• CRT TVs and CRT computer monitors
• Fluorescent light bulbs (including compact bulbs), refrigerators, freezers, microwaves, stoves, vacuum cleaners, dehumidifiers, leaking batteries, and any other items.
• Electronics owned by the University.
The cost of processing CRT TVs and CRT computer monitors has increased significantly, and the University is no longer able to cover these items. However, these items may be brought to C&I Electronics, located at 1700 North Lafayette Avenue in Evansville, Monday–Friday, from 9:30 a.m.–4:30 p.m. The cost will be 35 cents per pound.
Submitted by Jan Schrader js652@evansville.edu
UE Volleyball inks two for next season
University of Evansville head volleyball coach Manolo Concepcion has announced the signing of two student-athletes to National Letters of Intent to play for the Purple Aces next season.
His signees include: Gabriela Dos Santos of Rio de Janeiro, Brazil, and Allana McInnis, who is from Kennesaw, Georgia.
Dos Santos spent her first two collegiate seasons playing at Frank Phillips College in Texas where she worked as an outside hitter and defensive specialist. She is coming off a strong sophomore campaign that saw her earn First-Team All-Conference honors in 2016. As a freshman, her team was the NJCAA Conference Champion and also won the NJCAA Region IV West Championship that season. She also brings a great work ethic in the classroom as she is a member of the Phi Theta Kappa Honor Society.
"Gabby will create an immediate impact on ball control and volleyball IQ. She is an all-around player that is able to contribute in many aspects of the game, especially with her capacity to go beyond tangible measures to still influence the game," Concepcion said. "She will provide our team with an intense competitive spirit and extensive experience. What she lacks in height, she compensates in heart & versatility. We are very excited to know that Gabby has chosen UE as her next destination, as she brings to the table what Brazilians call 'jogo bonito.'"
McInnis will come to UE as a freshman later this year from Harrison High School in Kennesaw, Georgia. She also played for the A5-South Club Team. As a senior, she led her squad to the state championship and played a pivotal role in that run, being named the MVP.
She was a 3-time All-Area Team honoree while being a member of the USA Volleyball High Performance A2 Team in 2014 and 2015. Serving as the team captain as a junior and senior, McInnis was also a role model in the classroom, earning a spot on the Honor Roll.
"Allana brings an incredible boost to our setting position with her servant/vocal leadership style, precision/location, and dynamic movement. We were blown away with her personality, as she has tremendous self-confidence and interpersonal skills," Concepcion explained. "She is a setter that even played Libero for a year in one of the best clubs in the nation (A5 Volleyball Club), and that has recently led her current team as a setter towards a double-bid qualification to USA Volleyball National Championships, which will be played this coming weekend. We have high hopes in the depth that will create in the setting position right away."
Diversity House open for limited hours
The campus community is invited to begin using the Diversity House for limited hours.
The hours of operation will be:
Monday from 9:00 a.m.-noon
Tuesday from 11:00 a.m.-2:30 p.m.
Wednesday from 9:00 a.m.- 4:00 p.m.
Thursday from 11:00 a.m.- 2:30 p.m.
Friday from 9:00 a.m.-11:00 a.m.
The space can be used to study, eat lunch or just hang-out. All students are welcome to use the space.
The Diversity House is located at 436 Weinbach Avenue, across the street from Hughes Hall. You will recognize it by the purple door.
Submitted by LaNeeca Williams lw161@evansville.edu.
Physician assistant application help
With the CASPA application for physician assistant schools opening soon, current members of the physician assistant program would like to help you out! We will answer your questions about the process, essays, or letters of recommendation. Please e-mail Haley Vos at hv25@evansville.edu and we will set you up with someone who can answer your questions.
Submitted by Billie Chandler bc185@evansville.edu
Graduates - time is running out
Graduation will be here soon. If you need a cap and gown you should visit the UE Bookstore as soon as possible. Also, if you need graduation announcements there is still some time to get them ready and mailed. Don't delay... Make sure your graduation needs are fulfilled.
Submitted by Doug Gustwiller dg57@evansville.edu
Get paid to help protect the environment
There is one summer work study position available in the recycling area, and the pay/hour has been increased from last summer!
Please go to WebAdvisor, click on Student Employment and select Student Employment Positions Listing, then click on Risk Management Department, and then select Recycling Assistant to find out more.
Hours are flexible within Monday-Friday, 8:00 a.m.-4:30 p.m. Please email js652@evansville.edu or call ext. 2697 if you have questions.
Submitted by Jan Schrader js652@evansville.edu
Important mail notice for students living in UE housing!
The last day for mail delivery and pick-up by mail services for all students living in UE Housing will be Wednesday, May 3.
Students are asked to review the Office of Residence Life website's on-campus services-mail services link prior to departure from UE campus. Also, students are strongly encouraged to contact financial institutions directly regarding mailing address changes. Please note that UE is not responsible for fines or penalties due to delayed mail delivery.
Those anticipating packages shipped via couriers (FedEx, UPS, DHL, USPS, etc.) that may arrive after their departure, should contact UE mail services to make arrangements to pick-up these items prior to leaving UE. Please note mail services will not be able to forward items.
Please contact UE mail services with questions or concerns via e-mail at mailservices@evansville.edu or phone 812-488-2197.
Submitted by Kim Winsett kw83@evansville.edu
Benefit open enrollment until April 19
During the period of April 3-19, benefit-eligible employees may enroll or make changes in the University's health, voluntary term life, dental, and ACES flexible spending account benefit plans.
It is the only chance for benefit-eligible employees to enroll or make changes until the next open enrollment period unless you have a qualifying change in status. You may also consider enrolling in the University's group life and long term disability insurance plans, if you haven't done so already.

Please review the documents in the Open Enrollment section on the HR area of AceLink - beginning with the open enrollment memo - for important announcements, reminders, and changes to the University's benefits which will occur June 1.

We will once again utilize an on-line enrollment process, eliminating all paper enrollment forms for health, life, dental, and long term disability insurance, as well as the ACES flexible spending account. This will ensure the accuracy of your enrollment elections and maintain records electronically regarding your current and future participation.
Enrollment/changes to your TIAA and Emeriti VEBA Trust retirement plan salary deferrals will continue to be processed on paper forms available in the Office of Human Resources. Therefore, you do not need to re-enroll in the TIAA or Emeriti retirement plans.
ALL benefit eligible employees (including those who do not want to make any changes to their current coverage) must enter their elections by April 19.
Please review the open enrollment memo and on-line benefit enrollment documents on the HR area of AceLink, which should answer many of the questions you might have about this system.

Please contact the Office of Human Resources at ext. 2943 with any questions.
Submitted by Lori LeDuc ll138@evansville.edu
Dr. Marvin E. Hartig Memorial Scholarship applications
Family, friends, and loved ones of the late Marvin E. Hartig are pleased to announce the application process for the Dr. Marvin E. Hartig Memorial Scholarship. This scholarship is dedicated to the loving memory of Hartig, dean of Evansville College's Evening College in 1967, and administrator for the Center for Advanced Study, director of the Evansville chapter of the American Institute of Banking (AIB), and the international student advisor. In 1974, Hartig was appointed dean of academic services. He retired in 1984 after serving his alma mater for 35 years and passed away in 2007.
This scholarship will be awarded each year to a deserving sophomore student with demonstrated financial need as shown by the results of the Free Application for Federal Student Aid (FAFSA). Preference will be given to a student working while being enrolled as a full-time student.
International students are encouraged to apply. Please include in your essay your particular financial need, since international students do not have FAFSA forms on file.
Applicants must submit the following to be considered:
Completed application

In a one page, single spaced, 12 point Verdana font essay, please answer all of these questions:
What have you learned about yourself as a UE student?
What do you do for fun when not studying or working?
Name a special attribute or accomplishment that sets you apart.
You have done a lot in your short life. In what areas do you think you can improve?
What are your scholastic and career goals?
How did you finance your freshman year and how will you finance your sophomore year?
Why are you a good candidate to receive this scholarship?
What have you learned about Dr. Hartig, how does he influence or inspire you, and how will you preserve his legacy as recipient of this scholarship?
Please return all materials to the Office of Financial Aid by June 1. Decision will be announced by August 1.
If you have questions, contact Trisha Hawkes, administrative assistant to the Office of Financial Aid, at financialaid@evansville.edu or 812-488-2364.
Submitted by Trisha Hawkes th187@evansville.edu
Katterhenry leads MVC Championship after round two
Battling inclement weather and 49 other golfers, University of Evansville senior Kayla Katterhenry carded an even 72 and leads the Missouri Valley Conference Championship at Dalhousie Country Club.
Two even rounds of 72 put Katterhenry atop the leaderboard with a score of 144. She had the low round of the day on Monday and leads the competition by two strokes with 18 holes to go. Marissa Uradomo of Indiana State is in second place.
Katterhenry and the rest of the participants overcame rain and storms to finish Monday's round.
As a team, the Purple Aces moved up one spot into ninth place with a 652. They are just four behind Illinois State for eighth place.
Second on the UE squad is Maria Pickens. After notching an 85 to open play on Sunday, Pickens lowered her score by five strokes to an 80 and ranks in a tie for 33rd with a 165. Third for UE is Giulia Mallmann. She also saw an improvement on Monday, lowering her score by one to an 85 and ranks tied for 42nd with a 171.
Maggie Camp is fourth for Evansville. She has a 2-round total of 172. Madison Chaney rounds out the squad with a 175.
Missouri State continues to lead the team standings with a 616. They enter the final round 13 shots ahead of Wichita State. Bradley and UNI are tied for third with a 634. The final 18 holes are on tap for today.
Yazdanparast and Alhenawi have manuscript accepted
Atefeh Yazdanparast, assistant professor of marketing, and Yasser Alhenawi, associate professor of finance, have a new manuscript accepted for publication in the Financial Service Review. Their work explores the role of psychological characteristics in household borrowing decisions.
They report evidence that the attitude toward borrowing and the intuition to borrow are not always consistent and, more interestingly, the discrepancies between the two vary across personalities.
Further, they show that borrowing options are not homogenous and are motivated differently. They find that individuals with greater need for material resources have stronger intentions for mortgages, home improvement loans, business loans, personal loans, and payday loans. In contrast, individuals with greater need for arousal have stronger intentions for home improvement loans, business loans, student loans, personal loans, and payday loans.
The Financial Service Review is a reputable academic journal known for its strong affiliation with professional licensing institutions like the Certified Financial Planning Board.
Yazdanparast publishes in Journal of Consumer Marketing
Atefeh Yazdanparast, assistant professor of marketing, has had a paper accepted for publication in the Journal of Consumer Marketing.
In two experiments, this research identifies new communication approaches through which political marketers can reach out more effectively to voters. The research examines the impact of different WOM/e-WOM political messages (shallow vs. deep) delivered through various communication channels on voters' message evaluation, believability, attitude towards the message and communication, message involvement, voting intentions, and WOM/e-WOM intentions.
The results suggest that political WOM/e-WOM messages received via different communication modes are perceived differently by age-based voting cohorts.
Also, the complexity of message impacts behavioral intentions of age-based voting cohorts differently. Older (younger) voter cohorts are more receptive to complex and detailed (short and brief) messages. Political message involvement mediates the relationship between message believability and voting intentions as well as WOM/e-WOM intentions.
Winners in Recyclemania contest
Mitchell Rick and Payton Charlton each won a Smart Strip energy saving surge protectors for having their names drawn from all Powell Hall residents. Powell Hall was the winning residence hall for the Recyclemania weight contest.
Submitted by Jan Schrader js652@evansville.edu
Cirino's "Hidden Hemingway" wins Gold Medal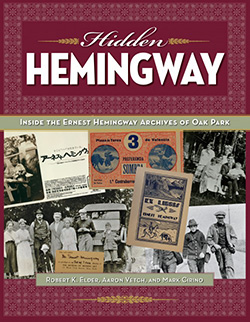 Mark Cirino's recent book, Hidden Hemingway: Inside the Ernest Hemingway Archives of Oak Park, was awarded the Gold Medal in the Reference category of the 2017 Independent Publishers Book Awards.
Cirino, associate professor and Melvin M. Peterson Endowed Chair in English, co-wrote Hidden Hemingway with Robert K. Elder and Aaron Vetch. Kent State University Press published the book in 2017.
Contribute to AceNotes
To have content considered for inclusion in AceNotes, please submit a Marketing Request Form. Deadline for submission to AceNotes is 10:00 a.m. on the requested date of publication. Only articles concerning UE related/sponsored activities will be accepted. Articles submitted to AceNotes may be edited for length and clarity. Submitter contact information is at the end of each article.