| | |
| --- | --- |
| AceNotes Today | Thursday, April 13, 2017 |
Environmental sustainability survey
In March, President Kazee appointed an Environmental Sustainability Task Force charged with developing concrete plans to guide the University's actions in the coming years. Formation of the Task Force was grounded in UE's affirmation of its desire to become more sustainable that is stated in our strategic plan, "Transforming Tomorrow: Our Students, Our University, Our World."
The Environmental Sustainability Task Force would like your input to help ensure student, faculty, staff and administration's voices are heard. To that end, members of the Task Force invite you to complete a short survey.
The survey will remain open until 5:00 p.m. on Thursday, April 13.
Annual plant sale today in Ridgway University Center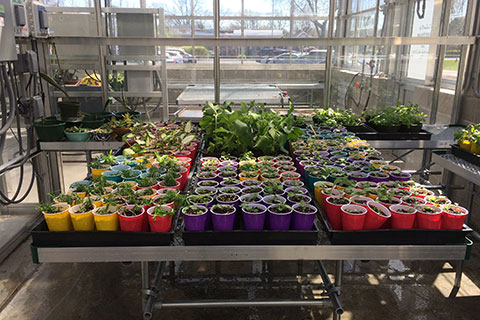 BiSci Club will have a variety of plants for sale in Ridgway University Center today - April13 - from 11:00 a.m.-2:00 p.m. and 5:00-7:00 p.m.
Plants for sale will include succulents, marigolds, columbines, basil, cilantro, century plants, spider plants, banana plants, mother-in-laws tongue, purple cone flowers, butterfly weed, and ferns. In addition, wind chimes, greeting cards, gift bags, and artwork by professors and students from the biology department will also be for sale.
Submitted by Brooke Michelle Wininger bw150@evansville.edu
UE GD Ritzy fundraiser today!
The UE Cross Country team is hosting a fundraising event TODAY at all Evansville GD Ritzy locations. The event will last all day so stop in at any time to eat a meal or have some delicious GD Ritzy's ice cream. The UE Cross Country team will receive 20 percent of the sales from your purchase.
In order for this to happen you must print out and present a paper copy of the PDF coupon. You may NOT present a digital image or picture on your phone.
The percentage of your purchase will help the team buy new attire and uniforms.
If you have any questions feel free to e-mail Kylie Hasenour at kh330@evansville.edu. Thank you for your support!
Submitted by Kylie Hasenour kh330@evansville.edu
Senior Day is Friday for Aces Tennis - Brguljan to be recognized
Senior Andjela Brguljan will be recognized on Friday as the University of Evansville Women's Tennis team wraps up its home slate with a Missouri Valley Conference match against Missouri State.
The match will begin at 1:30 p.m. at Wesselman Park with Senior Day festivities starting at 1:15 p.m. Admission is free.
UE is coming off of a 2-1 home weekend where they picked up wins over Bradley and Taylor University. Evansville picked up the doubles point in both matches to get an early edge. UE also had a stellar day in singles in the opener versus the Braves. Chieko Yamada, Diana Tkachenko Daria Pentsova, and Andrea Pascual-Larrinaga each went 2-0 in singles. Yamada and Tkachenko played at number one and two singles, respectively while Pentsova earned the win in the fourth flight against the Braves before playing in the number three spot against Taylor.
Pascual-Larrinaga was in the number six flight in the win over Bradley and moved up number four versus Taylor. Theodora Soldatou added a win in the fifth flight in the day's first match-up while Andjela Brguljan took the win in two sets against Taylor in the second outing in flight five.
Lunch and Lead: Beginning with the End in Mind
"The first step toward creating an improved future is developing the ability to envision it." A good vision clarifies purpose and direction. Join us for Lunch and Lead on April 18 at 12:30 in Eykamp Hall, Room 252, Ridgway University Center, to learn how to use vision boards to plot out future goals and steps to get there.
Tracey Folden, assistant vice president of academic affairs, will be presenting.
This event is free and open to all students, faculty, staff, and UE community members. We encourage attendees to bring their lunch with them to these events.
Submitted by Amber Stull as625@evansville.edu
Charlas: Dinner at Los Bravos and La Campirana
Students of all levels of Spanish are invited to meet at Jazzman's in Ridgway University Center at 6:00 p.m. today, to go to La Campirana and have dinner with Belén Alemán Mansilla, a Fulbright FLTA. This is the last Charlas session of the semester, so it would be wonderful if you could join her in enjoying Mexican food while practicing some Spanish. Please contact Belén at ma360@evansville.edu to coordinate carpooling or if you have any questions. ¡Nos vemos!
Submitted by Belen Aleman Mansilla ma360@evansville.edu
Free paper shredding tomorrow
Free off-site paper shredding by Piranha Mobile Shredding will return to campus once again on Wednesday, April 26 (Reading Study Day) from 10:00 a.m.-1:00 p.m. All UE students, faculty, staff, and alumni can take advantage of this free service by bringing paper to the Piranha truck in Koch Center for Engineering and Science parking lot. Paper will be shredded off-site.
So, if mounds of paper are taking over your office, home, or room, this is the time to gather those old files, receipts, cancelled checks, tax forms, etc. No need to take out the staples or paper clips. Avoid identity theft by having confidential information permanently destroyed.
Please - no telephone books, magazines, or newspapers. Also, please note that there is a 100 pound paper limit per visit (number of visits is not limited).
Submitted by Jan Schrader js652@evansville.edu
UE Engineering OPTIONS camps set for June
The College of Engineering and Computer Science at the University of Evansville has announced the dates for Engineering OPTIONS, its annual engineering summer camps.
The Engineering OPTIONS for Middle School Girls summer career exploration program is a 3 ½ day residential opportunity at UE for middle school girls currently in grades 6, 7, or 8. The program begins on Sunday, June 11, and concludes on Wednesday, June 14.
The Engineering OPTIONS for High School Girls summer career exploration program is a week-long residential opportunity at the University for high school girls currently in grades 9, 10, or 11 who have completed geometry. The program begins on Sunday, June 18, and concludes on Friday, June 23.
Participants in the Engineering OPTIONS programs will gain a better understanding of what types of opportunities are available in fields most closely related to science, technology, engineering, and mathematics (STEM).
Dependent children of University of Evansville employees are eligible for a $125 discount towards the cost of registration.
For more information and to obtain an application or apply online, see www.evansville.edu/options.
Submitted by Kimberly Higgins kh209@evansville.edu
SGA election results
The student body recently voted on leadership roles during campus-wide SGA elections.
Senior Nathan Wallisch was elected to the student elected member for Board of Trustees for a three year term. Junior Jacob Lutz was elected president of SGA. Trevor Lax was elected chief executive officer of Student Congress and freshman Tristan De Leon was elected academic fund board chairperson.
Congratulations to all winners.
Submitted by Geoff Edwards ge21@evansville.edu
Graduates - time is running out
Graduation will be here soon. If you need a cap and gown you should visit the UE Bookstore as soon as possible. Also, if you need graduation announcements there is still some time to get them ready and mailed. Don't delay... Make sure your graduation needs are fulfilled.
Submitted by Doug Gustwiller dg57@evansville.edu
Commencement senior video: photos needed
Hey seniors! We are now collecting photos from our last few years to be included in Commencement's senior slideshow. The video will be presented prior to the ceremony on Saturday, May 6, and available to view online afterward, as well. Any and all photos that you would like to be featured - seniors only if possible! - should be uploaded by Wednesday, April 26.
Submitted by Alanna Payne ap202@evansville.edu
Get paid to help protect the environment
There is one summer work study position available in the recycling area, and the pay/hour has been increased from last summer!
Please go to WebAdvisor, click on Student Employment and select Student Employment Positions Listing, then click on Risk Management Department, and then select Recycling Assistant to find out more.
Hours are flexible within Monday-Friday, 8:00 a.m.-4:30 p.m. Please email js652@evansville.edu or call ext. 2697 if you have questions.
Submitted by Jan Schrader js652@evansville.edu
Distribution services reminder – Easter break
Since UE campus will be closed Good Friday, April 14, please note the following Distribution Services adjustments and plan accordingly. These adjustments will help to ensure there is sufficient time to complete deliveries before Easter Break.
• UE central receiving will close at 4:30 p.m. on Thursday, April 13 and re-open at 7:30 a.m. on Monday morning, April 17.
• UE mail services will close at 5:00 p.m. on Thursday, April 13, and re-open at 7:30 a.m. on Monday morning, April 17.
• Offices that plan to be unstaffed earlier than Friday, April 14, are asked to notify distribution services in advance to avoid unnecessary delivery stops.
For questions, contact distribution services at ext. 1067 or e-mail distributionservices@evansville.edu.
Submitted by Kim Winsett kw83@evansville.edu

Athletic Training Club collecting T-shirts for Atlanta homeless
Have any T-shirts that you'd like to get rid of? Clean out your drawers over Easter and bring them to Ridgway University Center on Tuesday-Friday, April 18-21, from 11:00 a.m-.1:00 p.m. The Athletic Training Club will be collecting T-shirts to donate to the Atlanta Dream Center. These T-shirts will be distributed to the homeless around Atlanta in a very strategic process. For every three T-shirts you donate, you'll get a chance to win a $25 gift card!
Submitted by Megan Morris mm636@evansville.edu
Interested in studying abroad in Mexico?
A new study abroad program will be running in Mexico during the summer of 2018! Earn Spanish or education credits through this trip. Activities may include trips to Mérida, visits to local schools, museum visits, visits to local beaches/ports, local shopping, and much more!
Contact Amara Stuehling at as760@evansville.edu before the end of the semester if you're interested.
Submitted by Greta Becker gb91@evansville.edu
Benefit open enrollment until April 19
During the period of April 3-19, benefit-eligible employees may enroll or make changes in the University's health, voluntary term life, dental, and ACES flexible spending account benefit plans.
It is the only chance for benefit-eligible employees to enroll or make changes until the next open enrollment period unless you have a qualifying change in status. You may also consider enrolling in the University's group life and long term disability insurance plans, if you haven't done so already.

Please review the documents in the Open Enrollment section on the HR area of AceLink - beginning with the open enrollment memo - for important announcements, reminders, and changes to the University's benefits which will occur June 1.

We will once again utilize an on-line enrollment process, eliminating all paper enrollment forms for health, life, dental, and long term disability insurance, as well as the ACES flexible spending account. This will ensure the accuracy of your enrollment elections and maintain records electronically regarding your current and future participation.
Enrollment/changes to your TIAA and Emeriti VEBA Trust retirement plan salary deferrals will continue to be processed on paper forms available in the Office of Human Resources. Therefore, you do not need to re-enroll in the TIAA or Emeriti retirement plans.
ALL benefit eligible employees (including those who do not want to make any changes to their current coverage) must enter their elections by April 19.
Please review the open enrollment memo and on-line benefit enrollment documents on the HR area of AceLink, which should answer many of the questions you might have about this system.

Please contact the Office of Human Resources at ext. 2943 with any questions.
Submitted by Lori LeDuc ll138@evansville.edu
Accounting and audit procedures for summer travel expenses and membership dues
Traveling this summer on UE business with a return date after May 31? Paying membership dues for next fiscal year prior to May 31? If you pay for any of these expenses before May 31, you will need to contact Lori Harriss (lh177@evansville.edu) in accounting and audit.
If you use WebAdvisor to create a web voucher, you will need to ask for the prepaid account number to be added to your choices.
If you use your Pcard prior to May 31 to pay for next year's travel or membership dues, you will need to email the following information:
Vendor name
Date of purchase on Pcard
Dollar amount charged to Pcard
Description and purpose of purchase
Account number charged for purchase
These expenses will be charged to your 2017-18 budget funds.
Submitted by: Michele Adams ma72@evansville.edu
Margery Florence Kahn Scholarship applications
Applications for the Margery Florence Kahn Scholarship for 2017-18 are now available. It was the desire of the donor, Margery Florence Kahn, that her scholarship be awarded to "dedicated and conscientious students who exhibit a true passion for their chosen fields of study, and who, in the opinion of the members of the University of Evansville faculty, are likely to bring the same enthusiasm into the performance of their jobs or the practice of the professions which they will pursue following graduation."

All University of Evansville full-time undergraduate students who will be juniors or seniors in 2017-18 may apply. An essay of about 300 words must accompany the application, along with two to five faculty recommendation letters.

Applications are available from the Office of Financial Aid, located in Room 116 in Olmsted Administration Hall.
Completed applications and recommendation letters should be returned to the Office of Financial Aid by April 15.
You may also request application materials by e-mailing financialaid@evansville.edu.
Questions may be directed to the Office of Financial Aid via e-mail or by phone at 812-488-2364 or 800-424-8634.
Submitted by Trisha Hawkes th187@evansville.edu
Winners in Recyclemania contest
Mitchell Rick and Payton Charlton each won a Smart Strip energy saving surge protectors for having their names drawn from all Powell Hall residents. Powell Hall was the winning residence hall for the Recyclemania weight contest.
Submitted by Jan Schrader js652@evansville.edu
Senior earned 10th career win on Monday
Two days after earning the 10th victory of her career, University of Evansville women's golfer Kayla Katterhenry was named the Missouri Valley Conference Women's Golfer of the Week.
Katterhenry continued her record-breaking career at UE, earning the 10th victory of her career at the Indiana State Spring Invitational in Terre Haute. In the final tune-up prior to the MVC Championship, Katterhenry defeated the competition by four strokes. She notched a 75 in the opening round before recording a 70 in round two to earn the victory.
This weekend, the ladies head to Cape Girardeau, Missouri, for the MVC Championship.
Cirino's "Hidden Hemingway" wins Gold Medal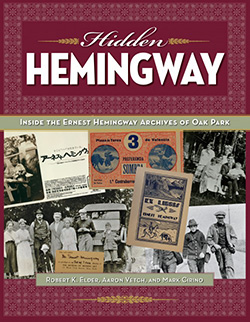 Mark Cirino's recent book, Hidden Hemingway: Inside the Ernest Hemingway Archives of Oak Park, was awarded the Gold Medal in the Reference category of the 2017 Independent Publishers Book Awards.
Cirino, associate professor and Melvin M. Peterson Endowed Chair in English, co-wrote Hidden Hemingway with Robert K. Elder and Aaron Vetch. Kent State University Press published the book in 2017.
PTA alumnus and adjunct professor receives national award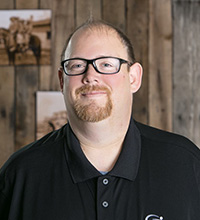 The American Physical Therapy Association recently released its annual honors and awards list and Sean Bagbey, PTA, MHA, and ATC, was named national Outstanding Physical Therapist Assistant for 2017.
Bagbey is chief operations officer of Rehabilitation & Performance Institute, PSC. The institute is a physical therapy and healthcare services organization with offices in Owensboro and Hawesville, Kentucky; Mt. Vernon, Indiana; and Albion, Illinois. Bagbey works at RPI offices throughout the region and primarily focuses on the company's workplace health initiatives. He also serves as an adjunct professor in the physical therapist assistant program at UE.
Bagbey is a graduate of UE's physical therapist assistant and athletic trainer programs and the University of Southern Indiana's master of health administration program.
Submitted by Jennifer Simon js698@evansville.edu
School of Education recognizes outstanding future educators
The School of Education recognized three seniors, class of 2016-17, with the Indiana Association of Colleges for Teacher Education Outstanding Future Educators Award. These students were recognized at a ceremony in Indianapolis on Friday, April 7, with others from across Indiana. Congratulations to Anna Loef (special education major), Michelle Huff (secondary education major-math), and Brittney Sullivan (elementary education).
Submitted by Sharon Gieselmann sg78@evansville.edu
International Honor Society of Nursing induction ceremony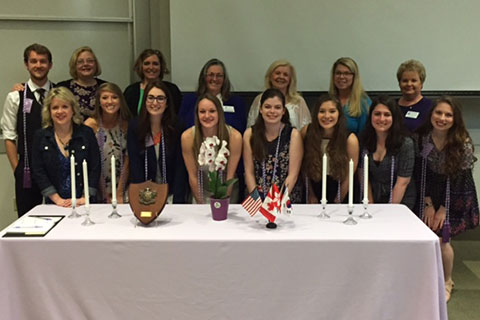 The University of Evansville's School of Nursing inducted new members into the Eta Lambda Chapter of Sigma Theta Tau International Honor Society of Nursing on April 9. Nursing students inducted included Kayla Cantrell, Courtney Coverdale, Ryan Lane, Kasey Rein, Nicole Simmons, Mikayla Sullivan, Olivia Williams, and Sarah Vanderhoff.
Sigma Theta Tau International recognizes superior academic achievement and leadership qualities.
Kristen Nussel and Annalise Moll, graduating seniors and current members of the Honor Society, assisted with the ceremony.
Jerrilee LaMar, chair and associate professor of nursing, delivered the keynote address, sharing her experiences with medical mission trips to Jamaica.
Lambert and Hay earn weekly MVC honors
Morgan Lambert and Brittany Hay earned weekly Missouri Valley Conference awards on Monday in an announcement by the league.
Lambert was named the league's Player of the Week while Hay garnered Newcomer of the Week accolades.
"Morgan had some clutch hits for us this week driving in runs; she has been one of our best hitters over the last three seasons and this is a great honor for her," UE head coach Mat Mundell said. "Brittany had one of the best conference offensive series that I have ever seen. When she goes, our offense goes."
An amazing week of play saw UE senior Morgan Lambert bat .500, going 9-18 with two home runs, 9 RBI and four runs scored. She reached base 52.6% of the time while slugging .944. She got off to a quick start against Austin Peay on Wednesday, going 2-4 with a home run and four RBI. She also scored two runs in a 10-7 victory.
In the doubleheader finale, she went 1-3. Lambert went 1-4 in the first game at Drake before registering a perfect 3-3 performance from the plate in game two. That effort included a double and home run. On Sunday, she helped the Aces pick up the sweep with a 2-4 offensive day with three RBI, a walk and a run scored. She notched her second double of the week.
Aces junior Brittany Hay batted .474 as she went 9-19 with a home run, three RBI and four doubles against Austin Peay and Drake. One of the top run producers in the MVC got the job done once again, scoring nine times over the last week of play. All of her damage came against the Bulldogs in an unbelievable performance that saw UE pick up the road sweep. In game one versus the Bulldogs, she went 3-4 with three runs scored and a walk as UE picked up an 8-2 victory.
Hay came right back in game two with a 2-3 day at the plate with three RBI and three runs scored as she belted a home run and a double. Sunday's 13-5 win saw Hay erupt for a career-high four hits in five plate appearances. She crossed the plate three more times.
Students present research at national conference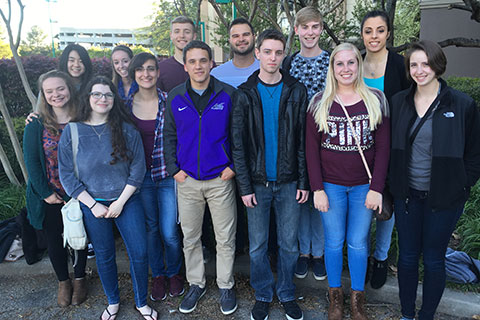 Thirteen University of Evansville students were among over 3000 students who presented their research at the National Conference on Undergraduate Research at the University of Memphis, Memphis, Tennessee, on April 6-8. Posters and oral presentations were given of their research in the areas of biology, women studies, physiology, archeology, kinesiology and exercise science, history, and mechanical engineering.
Those who presented included (front row from left) Lydia Crain, Megan Owens, Maggie Sullivan, Paul Schwartz, Patrick Heaston, Baylee Wildman, Hanna Carter, (back row from left) Stacey Chen, Mandy Feagans, Austin Cibulka, Nasib Al-Haffar, Josh Baty, and Jelena Merseli.
Strobel receives Franklin Research Grant
Heidi Strobel, associate professor of art history, has received an American Philosophical Society Franklin Research Grant. She will use this grant to complete her research on Mary Linwood, about whom she is writing a book.
UE alumnus recognized for research in drug discovery
The Science Magazine recently featured drug discovery research developed by J. B. Brown, a University of Evansville graduate. Brown, PhD, doubled majored in mathematics and computer science at UE. He then earned advanced degrees from Kyoto University in Kyoto, Japan. Currently, Brown is a junior associate professor at the Kyoto University Graduate School of Medicine.
The Science Magazine can be viewed here.
An article about his achievement can be viewed here.
Brown's biography can be viewed here.
Submitted by Clark Kimberling ck6@evansville.edu
Contribute to AceNotes
To have content considered for inclusion in AceNotes, please submit a Marketing Request Form. Deadline for submission to AceNotes is 10:00 a.m. on the requested date of publication. Only articles concerning UE related/sponsored activities will be accepted. Articles submitted to AceNotes may be edited for length and clarity. Submitter contact information is at the end of each article.