| | |
| --- | --- |
| AceNotes Today | Monday, April 10, 2017 |
Photographer on campus
The Office of Marketing and Communication will have a photographer on campus for a photo shoot Monday, April 10, through Wednesday, April 12. UE students and faculty have always been very cooperative and accommodating during previous shoots. As a result, many great photos have been taken for UE publications. Alex Amick will try to notify faculty in advance if photos will be taken in a particular class; however, weather often can force the shoot inside, and it is possible that last minute requests will be made. If faculty members know that they will be giving a test or do not wish to have their class photographed any of these days, please inform Alex Amick at ext. 5004 and the classroom will be avoided.
Submitted by Theresa Hoffherr mh270@evansville.edu
Welcome the University Senate Review Committee today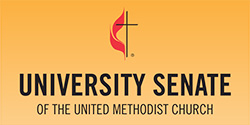 The University of Evansville is affiliated with the United Methodist Church. The United Methodist Church, through the work of its University Senate, conducts accreditation visits at all United Methodist-related institutions.
UE will welcome the following University Senate Review Committee to campus today:
Dennis Carroll, EdD, Review Team Chair and Provost at High Point University
David Joyce, PhD, President of Brevard College
Mark Hanshaw, PhD, Interim Dean of the School of Arts and Letters at Texas Wesleyan University
Visiting members hope to learn how our relationship with the United Methodist Church informs the work of the administration, staff, faculty, and trustees as we educate and develop our students.
Let's welcome our committee members as we demonstrate our commitment to the identifying marks of a United Methodist-related institution.
For more information, go to AceLink and click UMC accreditation.
Men's Golf heads to Big Blue Invitational
Reigning Missouri Valley Conference Men's Golfer of the Week Wil Pahud and his Purple Aces teammates head to the Big Blue Invitational today and tomorrow.
The tournament will be played on the Par-72, 7,044 yard President's Reserve Course at Hermitage Golf Club. Today is set for 36-holes, with the final 18 to be played tomorrow. A shotgun start at 8:00 a.m. is set for both days.
The tournament field will consist of 12 teams: Chicago State, Detroit, Evansville, Murray State, Tennessee State, Tennessee Tech, UT Martin, Wisconsin-Green Bay, Christian Brothers, John A. Logan, Walters State, and West Georgia.
Wil Pahud shot a 1-under 70 on Sunday as he finished the Hoosier Invitational in a tie for third place at the IU Golf Course earlier this week. Coupled with his first two rounds, Pahud finished the tournament with a 210, just four strokes off of the win. His opening-day totals finished at 71 and 69.
Tyler Gray also had a nice finish. A 2-over 73 in the last round saw him complete the event in a tie for 12th place. His tally checked in at 215. Matthew Ladd was third on the squad. His final round finished at 80 to give him a final score of 229. He tied for 62nd. Zac Turi was next for the Aces. He registered a 78 on Sunday to post a 232 for the tournament. Jon Pick was fifth on the team with a 3-round total of 234.
Honors Program project presentations
The Honors Program invites you to attend the Honors Program Project Presentations. The Honors project is an opportunity for students to explore an area about which they are passionate, and may consist of a research project, thesis, or creative work.
We hope you will join us to hear the fascinating work that this year's Honors students have completed. Special thanks are extended to all faculty, advisors, and others who have supported the Honors students in their educational achievements.
Below is this week's presentation schedule. All presentations will take place in Room 101 in Koch Center for Engineering and Science.
Wednesday, April 12
3:00 – 3:45 p.m.
Emily Westing, theatre design and technology
"It's Not About Television: Dramaturgy for The Ruby Sunrise"
Ben Phillips, theatre studies
"An In-Depth Study of the Relationship Between Technology and Theatrical Design with Respect to Sound"
4:00 – 5:00 p.m.
Hayley Serafino, political science/criminal justice
"Content Analysis of Media Coverage Concerning Domestic, Homegrown, and International Terrorism in the United States Since 9/11"
Jacob Trotter, political science/philosophy
"The German-Turkish Response to the Balfour Declaration"
Cindy White, music therapy
"The Perception and Importance of Feminism and Feminist Issues to UE Students"
Submitted by Jayme Williams jw504@evansville.edu
I-House: Japan
At this week's I-House, Madoko, Kyoko and Megumi will be presenting on Japan! Their majors are communications and political science. They like watching movies, reading, hiking, shopping, and traveling. They love classes, people here at UE, and all the friends they have made. Make sure to come see them today at 7:00 p.m. upstairs in Ridgway University Center!
Submitted by Cassie Peterson cp156@evansville.edu
Baseball analytics to be topic of lecture today
Tuan Nguyen, assistant professor of mathematics, will give a talk today to the Society for Industrial and Applied Mathematics (SIAM) student chapter at 4:00 p.m. in Room 304, Koch Center for Engineering and Science.
The title of Nguyen's lecture is "Basketball Analytics 101-A starting point for analyzing basketball statistics"
While statistics in sports have been around for a long time, it's recently reached a new level of popularity with Michael Lewis's book Moneyball, which features the use of advanced statistics to assembling a competitive team despite a disadvantaged payroll. The success the book has changed the way professional teams value and use analytics to do business.
In this talk, Nguyen will survey the current state of basketball statistics and provide a common starting point for analyzing statistics. He will also discuss basic concepts and methods, including per-possession and per-minute statistics, four factors, and offensive and defensive ratings.
Submitted by Pengcheng Xiao px3@evansville.edu
Creative Writing Senior Reading set for today
Please join us today for the farewell reading by creative writing's graduating seniors. The students will read short excerpts of their work, and the CRW department will announce the winners of The Virginia Lowell Grabill Writing Awards in fiction, creative nonfiction, and poetry. The reading will be held at the Melvin Peterson Gallery at 4:00 p.m.
Submitted by Lisa Nikolidakis ln43@evansville.edu
Free paper shredding tomorrow
Free off-site paper shredding by Piranha Mobile Shredding will return to campus once again on Wednesday, April 26 (Reading Study Day) from 10:00 a.m.-1:00 p.m. All UE students, faculty, staff, and alumni can take advantage of this free service by bringing paper to the Piranha truck in Koch Center for Engineering and Science parking lot. Paper will be shredded off-site.
So, if mounds of paper are taking over your office, home, or room, this is the time to gather those old files, receipts, cancelled checks, tax forms, etc. No need to take out the staples or paper clips. Avoid identity theft by having confidential information permanently destroyed.
Please - no telephone books, magazines, or newspapers. Also, please note that there is a 100 pound paper limit per visit (number of visits is not limited).
Submitted by Jan Schrader js652@evansville.edu
Obsolete electronics recycling event on April 26
There will be an obsolete electronics recycling event on reading/study day, April 26, from 10:00 a.m.-1:00 p.m. on the drive that loops around Hale Hall.
Students and employees (faculty, administrators, and staff) can bring the following personal, obsolete electronic equipment to be recycled at no cost:
LCD displays, LCD TVs and LCD monitors, computers, printers, fax machines, laptops, cell phones, PDAs, cables, circuit boards, connectors, electrical equipment, audio video equipment, DVD players, stereos, radios, calculators, speakers, and VCRs. Small quantities of batteries will be accepted.
The following items will NOT be accepted:
• CRT TVs and CRT computer monitors
• Fluorescent light bulbs (including compact bulbs), refrigerators, freezers, microwaves, stoves, vacuum cleaners, dehumidifiers, leaking batteries, and any other items.
• Electronics owned by the University.
The cost of processing CRT TVs and CRT computer monitors has increased significantly, and the University is no longer able to cover these items. However, these items may be brought to C&I Electronics, located at 1700 North Lafayette Avenue in Evansville, Monday–Friday, from 9:30 a.m.–4:30 p.m. The cost will be 35 cents per pound.
Submitted by Jan Schrader js652@evansville.edu
University Wind Ensemble to perform tonight
The University Wind Ensemble, directed by Kenneth Steinsultz, associate professor of music and director of bands, will present a concert in Neu Chapel this Tuesday evening, April 11, at 7:30 p.m. The program includes Stephen Shewan's King David's Dance, Percy Grainger's Lincolnshire Posy, Juraj Filas's Concerto for Horn and Wind Orchestra, featuring faculty member Emily Britton as soloist, and an arrangement of William Walton's Crown Imperial. The concert is free and open to the public.
James Sullivan js820@evansville.edu
Austin delivers final Crick Lecture of the year
Michael Austin, executive vice president for academic affairs, will deliver the final Crick Lecture of the 2016-17 school year. His topic will be "A Certain Convocation of Politic Worms: Literature and the Fear of Being Eaten." The lecture will be today at 4:00 p.m., in Room 100 in the Koch Center for Engineering and Science.
All Crick Lectures are open to the public and aimed at a general audience. The series is jointly sponsored by the Cognitive Science and Neuroscience programs.
A short abstract of Austin's talk follows:
In this presentation, Austin will draw on his book Useful Fictions: Evolution, Anxiety, and the Origins of Literature to try to answer the question "why does a species whose survival depends on the ability to collect and use accurate information have a universal predilection for fictional narratives?"
The answer takes us far back into humanity's evolutionary past and deep into a cognitive structure that evolved to help organisms compete for resources in an environment full of dangerous predators and perilous situations.
Derek Jones dj4@evansville.edu
UE Engineering OPTIONS camps set for June
The College of Engineering and Computer Science at the University of Evansville has announced the dates for Engineering OPTIONS, its annual engineering summer camps.
The Engineering OPTIONS for Middle School Girls summer career exploration program is a 3 ½ day residential opportunity at UE for middle school girls currently in grades 6, 7, or 8. The program begins on Sunday, June 11, and concludes on Wednesday, June 14.
The Engineering OPTIONS for High School Girls summer career exploration program is a week-long residential opportunity at the University for high school girls currently in grades 9, 10, or 11 who have completed geometry. The program begins on Sunday, June 18, and concludes on Friday, June 23.
Participants in the Engineering OPTIONS programs will gain a better understanding of what types of opportunities are available in fields most closely related to science, technology, engineering, and mathematics (STEM).
Dependent children of University of Evansville employees are eligible for a $125 discount towards the cost of registration.
For more information and to obtain an application or apply online, see www.evansville.edu/options.
Submitted by Kimberly Higgins kh209@evansville.edu
Info session on Orr Fellowship-post grad opportunities
An information session on Orr Fellowship-post grad opportunities is planned for today at 12:15 p.m. in Room 162 in the Schroeder School of Business Building. If you plan to attend, please RSVP to ro32@evansville.edu.
The Orr Fellowship is the ultimate post-grad experience. Fellows are recruited from the top seniors at universities in Indiana and Ohio (but candidates from any school are welcome), with an average acceptance rate of six percent. Converging in Indianapolis, these talented graduates join vibrant companies in positions that create a foundation for career success. In addition to full time employment, Orr Fellows participate in a unique curriculum designed to challenge, develop, and propel them toward a career of excellence. With two years that are jam-packed with executive mentorship, growing a strong network, and acquiring new skills, each Fellow stars in his or her own success story.
For more information visit the Orr Fellowship website.
Submitted by Rebecca Oates ro32@evansville.edu
Annual plant sale today in Ridgway University Center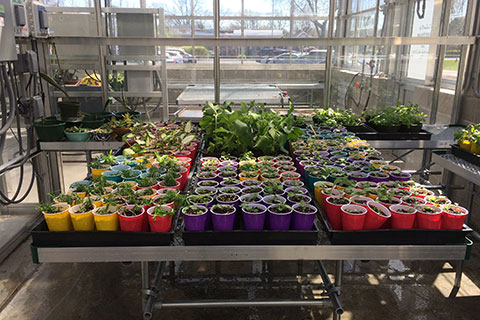 BiSci Club will have a variety of plants for sale in Ridgway University Center today - April13 - from 11:00 a.m.-2:00 p.m. and 5:00-7:00 p.m.
Plants for sale will include succulents, marigolds, columbines, basil, cilantro, century plants, spider plants, banana plants, mother-in-laws tongue, purple cone flowers, butterfly weed, and ferns. In addition, wind chimes, greeting cards, gift bags, and artwork by professors and students from the biology department will also be for sale.
Submitted by Brooke Michelle Wininger bw150@evansville.edu
Late rally falls short
The University of Evansville was one-hit away from breaking through on Sunday afternoon as the Aces pushed across all three of their runs in the final two innings to fall 5-3 to visiting Indiana State at Charles H. Braun Stadium.
"We were trying to put ourselves in good counts at the plate, but we just couldn't get the big hit," UE head coach Wes Carroll said. "It's always good for our young players to play in these kind of close games. We just need to keep working and learn how to win games like this. We're getting some valuable experience, but we just have to find a way to get over the hump."
With the loss, the Aces dropped to 10-22 on the season with a 1-5 record in Missouri Valley Conference play. Meanwhile, the Sycamores improved to 15-13 and took home their first league series to move to 2-1.
UE starting pitcher Justin Hayden fell to 2-5 on the year after giving up five runs (four earned) over the game's opening five frames. The junior out of Mayfield, Kentucky, allowed seven hits and walked six.
His counterpart, Will Kincanon, enjoyed a strong day on the mound, giving up five hits over 6.1 innings to move to 2-3 on the year. He recorded seven strikeouts.
Tony Rosselli opened the scoring for the visitors from Terre Haute with a solo blast in the third, and Chris Ayers would follow up later in the frame with a run-scoring double to make it 2-0. An inning later, Dane Giesler tacked on another with a single.
After UE stranded five runners over the course of the opening four innings, the Sycamores made the Aces pay for it in the fifth as Tyler Friis' two-out single just missed the glove of a leaping Trey Hair. The hit plated two more for ISU to make it 5-0.
Rosselli ended the day 2-for-3, and Friis also enjoyed a multi-hit outing with a 2-for-4 showing.
UE was dangerous late, loading the bases with no outs in the eighth. The first run would cross on an error, and a Dalton Horstmeier groundout brought home another before ISU pitcher Ethan Larrison left runners stranded on second and third.
In the final stanza, UE once again surged as a Trey Hair double plated a score to kick things off, but unfortunately for the Aces, ISU closer Austin Conway worked out of a bases loaded jam to record his sixth save of the season.
Travis Tokarek, who ended 2-for-4, was the only Ace with multiple hits. On the mound, Adam Lukas, Alex Weigand, David Ellis, and Brandon Gomer combined to limit the Sycamores to just one hit over the final four frames.
The Aces will get a rare midweek off this week and will return to action next weekend against Illinois State in Normal.

Women's Tennis falls in weekend finale
A pair of home matches on Saturday resulted in two 6-1 wins for the University of Evansville Women's Tennis team. The Purple Aces opened the day with a win over Bradley before defeating Taylor University at Tri-State Athletic Club.
"This loss is a tough one; not just because we had opportunities to win, but more because of how hard our team fought. We had four different sets go to tiebreaker and two, 3-set matches. For the match to come down to a third set tiebreaker at number one singles tells you just how close this match really was," head coach Jayson Wiseman said.
"A lot of credit has to go to Illinois State and their coaches Maja and Thiago. They had their team ready to go with a great mindset from the opening point. The put us in a hole early at numbers one and two doubles that ultimately made the difference in the match as the took number one easily and just held on at number two. Losing that doubles point really put us behind the eight ball in singles, but we gave it everything we had and just came up a fraction short."
"We know we will likely see them again in our path through the MVC tournament, so we are going to refocus, look to improve moving forward, and direct all our attention to getting at win this Friday against Missouri State on Senior Day," Wiseman added.
Evansville's success in singles on Sunday came from Diana Tkachenko and Andrea Pascual-Larrinaga. Tkachenko earned the win at number two singles while Pascual-Larrinaga won in the fifth flight.
Senior Day is set for Friday afternoon when the Purple Aces welcome Missouri State to Wesselman Park for a 1:30 p.m. match.
Tennis Match Results
Illinois State vs. University of Evansville on April 9, at Tri-State Athletic Club
Illinois State 4, University of Evansville 3
Singles competition
1. Marcia Tere-Apisah (ILS) def. Chieko Yamada (UE) 6-0, 6-7 (0-6), 7-6 (4-0)
2. Diana Tkachenko (UE) def. Jelena Karla Vujicic (ILS) 6-4, 7-6 (4-0)
3. Gabriela Sprague (ILS) def. Daria Pentsova (UE) 6-2, 6-1
4. Valerija Gercar (ILS) def. Theodora Soldatou (UE) 6-2, 6-3
5. Andrea Pascual-Larri (UE) def. Andrea Beneroso (ILS) 6-2, 4-6, 6-2
6. Andjela Brguljan (UE) def. No player (ILS), by forfeit
Doubles competition
1. Marcia Tere-Apisah/Jelena Karla Vujicic (ILS) def. Chieko Yamada/Theodora Soldatou (UE) 6-0
2. Gabriela Sprague/Valerija Gercar (ILS) def. Diana Tkachenko/Nicoli Pereira (UE) 7-6 (6-0)
3. Andjela Brguljan/Daria Pentsova (UE) def. Andrea Beneroso/No player (ILS), by forfeit
Aces women in sixth at Indiana State
Kayla Katterhenry carded a 75 to lead the University of Evansville Women's Golf team in the opening round of the Indiana State Spring Invitational on Sunday.

Katterhenry's efforts have her in a tie for fifth place on the leaderboard, just two off of the lead, which is held by William Woods' Lucy Matthews and Elayna Bowser of Loyola.
Next up for the Aces was Giulia Mallmann, who carded an 80 and sits in a tie for 22nd place. One behind her was Madison Chaney, who notched a round of 81 and is tied for 28th. Maggie Camp recorded an 82 in the opening round to sit tied for 33rd while Maria Pickens notched an 89.
Individual Lexie Sollman had a strong round for the Purple Aces, totaling 82 strokes while Carly Waggoner finished Sunday's action with a 90, also playing as an individual.
William Woods has the team lead. Their 308 is two ahead of Western Illinois. Indiana State and Drake are tied for third place with rounds of 315 while Butler sits in 5th with a 316. The Aces are in sixth, just two out of the top five with a 318.
One more round remains this morning from the Terre Haute Country Club.
Student survey
The University is working with the Times Higher Education US Student Survey in order to gain student perspectives of the UE experience. Students will soon be receiving an e-mail with information about the survey and a link to it. Participation in the survey is voluntary and all responses will be anonymous.
Students who complete the nationwide survey will have an opportunity to win prizes. There will be five winners per week for eight weeks, and each of these winners will each receive a $100 Amazon gift card. One grand prize winner will receive a $30,000 scholarship that will be awarded in the form of a check.
The survey ends June 1.
If you have any questions about the survey, contact the Office of Institutional Effectiveness at 812-488-2155.
RSA Executive Board nominations
The Resident Student Association is currently accepting nominations for all executive board positions (president, vice president of special events, vice president of area programming, treasurer, secretary, and director of housing improvement) If you or someone you know would fit any of these positions nicely or you simply want to gain more information about a particular spot, please e-mail all inquiries to Miranda Nelson at an127@evansville.edu. Nominations will be open until Thursday, April 13, at midnight.
Submitted by Justin Coffey jc534@evansville.edu
Attention May 2017 graduates
If you have earned a military honorable discharge or a general discharge under honorable conditions, are on active duty, or in active drilling status, please notify Cherie Leonhardt in the Office of Veterans Affairs at cl29@evansville.edu or call 812-488-2141, ASAP. The Office of Veterans Affairs and UE VETS has a special graduation gift for you!
Submitted by Cherie Leonhardt CL29@evansville.edu
Letterhead and envelope orders due April 12
The Office of Publications has distributed letterhead and envelope ordering information. If your department uses letterhead or envelopes during the fiscal year, this is the time to order it. We are able to get a substantial price break on boxes of envelopes (500 quantity) and reams of letterhead (500 quantity) due to the size of the order. Smaller orders placed later in the year will be more expensive.
If you did not receive the ordering information from the Office of Publications, please e-mail publications@evansville.edu or call ext. 2561.
Orders are due April 12.
Submitted by Theresa Hoffherr mh270@evansville.edu
Benefit open enrollment until April 19
During the period of April 3-19, benefit-eligible employees may enroll or make changes in the University's health, voluntary term life, dental, and ACES flexible spending account benefit plans.
It is the only chance for benefit-eligible employees to enroll or make changes until the next open enrollment period unless you have a qualifying change in status. You may also consider enrolling in the University's group life and long term disability insurance plans, if you haven't done so already.

Please review the documents in the Open Enrollment section on the HR area of AceLink - beginning with the open enrollment memo - for important announcements, reminders, and changes to the University's benefits which will occur June 1.

We will once again utilize an on-line enrollment process, eliminating all paper enrollment forms for health, life, dental, and long term disability insurance, as well as the ACES flexible spending account. This will ensure the accuracy of your enrollment elections and maintain records electronically regarding your current and future participation.
Enrollment/changes to your TIAA and Emeriti VEBA Trust retirement plan salary deferrals will continue to be processed on paper forms available in the Office of Human Resources. Therefore, you do not need to re-enroll in the TIAA or Emeriti retirement plans.
ALL benefit eligible employees (including those who do not want to make any changes to their current coverage) must enter their elections by April 19.
Please review the open enrollment memo and on-line benefit enrollment documents on the HR area of AceLink, which should answer many of the questions you might have about this system.

Please contact the Office of Human Resources at ext. 2943 with any questions.
Submitted by Lori LeDuc ll138@evansville.edu
Margery Florence Kahn Scholarship applications
Applications for the Margery Florence Kahn Scholarship for 2017-18 are now available. It was the desire of the donor, Margery Florence Kahn, that her scholarship be awarded to "dedicated and conscientious students who exhibit a true passion for their chosen fields of study, and who, in the opinion of the members of the University of Evansville faculty, are likely to bring the same enthusiasm into the performance of their jobs or the practice of the professions which they will pursue following graduation."

All University of Evansville full-time undergraduate students who will be juniors or seniors in 2017-18 may apply. An essay of about 300 words must accompany the application, along with two to five faculty recommendation letters.

Applications are available from the Office of Financial Aid, located in Room 116 in Olmsted Administration Hall.
Completed applications and recommendation letters should be returned to the Office of Financial Aid by April 15.
You may also request application materials by e-mailing financialaid@evansville.edu.
Questions may be directed to the Office of Financial Aid via e-mail or by phone at 812-488-2364 or 800-424-8634.
Submitted by Trisha Hawkes th187@evansville.edu
Dr. Marvin E. Hartig Memorial Scholarship applications
Family, friends, and loved ones of the late Marvin E. Hartig are pleased to announce the application process for the Dr. Marvin E. Hartig Memorial Scholarship. This scholarship is dedicated to the loving memory of Hartig, dean of Evansville College's Evening College in 1967, and administrator for the Center for Advanced Study, director of the Evansville chapter of the American Institute of Banking (AIB), and the international student advisor. In 1974, Hartig was appointed dean of academic services. He retired in 1984 after serving his alma mater for 35 years and passed away in 2007.
This scholarship will be awarded each year to a deserving sophomore student with demonstrated financial need as shown by the results of the Free Application for Federal Student Aid (FAFSA). Preference will be given to a student working while being enrolled as a full-time student.
International students are encouraged to apply. Please include in your essay your particular financial need, since international students do not have FAFSA forms on file.
Applicants must submit the following to be considered:
Completed application

In a one page, single spaced, 12 point Verdana font essay, please answer all of these questions:
What have you learned about yourself as a UE student?
What do you do for fun when not studying or working?
Name a special attribute or accomplishment that sets you apart.
You have done a lot in your short life. In what areas do you think you can improve?
What are your scholastic and career goals?
How did you finance your freshman year and how will you finance your sophomore year?
Why are you a good candidate to receive this scholarship?
What have you learned about Dr. Hartig, how does he influence or inspire you, and how will you preserve his legacy as recipient of this scholarship?
Please return all materials to the Office of Financial Aid by June 1. Decision will be announced by August 1.
If you have questions, contact Trisha Hawkes, administrative assistant to the Office of Financial Aid, at financialaid@evansville.edu or 812-488-2364.
Submitted by Trisha Hawkes th187@evansville.edu
Powell Hall wins Recyclemania recycling weight contest
Powell Residence Hall has won the Recyclemania recycling weight contest! Here are the total pounds per resident for each residence hall for the three week contest period of March 13 - 31:
Powell 1.3
North 1.0
Hughes 0.8
Schroeder 0.8
Moore 0.4
Morton/Brentano 0.4
Hale 0.4
President Thomas and Dr. Sharon Kazee will award the Recyclemania trophy to representatives of Powell on Tuesday, April 11. There will also be a drawing for residents of Powell for two Smart Strip Energy Saving Surge Protectors.
Thanks to all for recycling!
Submitted by Jan Schrader js652@evansville.edu
DPT student performing clinical in Taiwan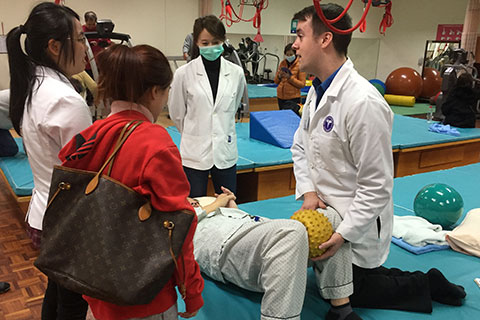 Adam Barga, DPT '17, is performing his final clinical at Cheng-Hsin General Hospital, Taipei, Taiwan. Cheng-Hsin General Hospital is the first rehabilitation hospital in Taiwan and currently has more than 33 physical therapists on staff. This clinical experience is made possible through collaboration with National Yang-Ming University, Taipei, Taiwan. Professor Tzurei Chen recently visited Adam during his clinical and gave a presentation regarding UE's physical therapy program and physical therapy as a career in the United States.
Submitted by Jennifer Simon js698@evansville.edu
Parr sets program home run mark as Aces earn sweep
Senior Chandra Parr set the University of Evansville program record with the 31st home run of her career as the Purple Aces Softball team finished off a weekend sweep at Drake with a 13-5 victory on Sunday morning.
"I am so proud of our hitting this series, the ladies have been working really hard on some adjustments and it is paying off," head coach Mat Mundell said. "I also want to congratulate Chandra on breaking the school's all-time home run record!"
Evansville (16-20, 7-5 MVC) scored its 13 runs on 17 hits while Drake (19-19, 3-9 MVC) was credited with 13 hits.
Brittany Hay led everyone with four hits on the day and also tied for the game-high with three runs scored. Hayli Scott also crossed the plate on three occasions. Morgan Florey made the start for UE, going five innings while giving up four runs, three earned, on nine hits. Ashleigh Downing threw the final two frames to finish off the win.
The Aces wasted little time getting on the scoreboard as Hay started things off with a double before scoring on a Florey groundout. The next three runs belonged to the Bulldogs as they plated one in the first and two in the second on a Sarah Maddox home run.
UE fought back with the tying runs in the third. Another hit by Hay got things going before she scored on a Scott double. Later, Morgan Lambert brought home Ashlee Kawall on a single to center.
History was made for UE one inning later. With the score knotted up at 3-3, Chandra Parr led the fourth off with a solo home run to center, setting the all-time program record with 31. It also proved to be the difference as the Aces never looked back. In the fifth, Parr and Michal Luckett each had RBI doubles before Morgan Florey connected on her third home run of the weekend, a 3-run shot, as the Aces took a 10-4 lead. Luckett also had an RBI knock in the inning.
Drake added single runs in the fifth and sixth innings, but Evansville was just too much as they plated three more in the seventh. Two came in on a Lambert double while the scoring wrapped up for the day on a Downing single.
On Tuesday, another midweek doubleheader is on tap as the Aces welcome UT Martin to Cooper Stadium. Game one is set for a 3:00 p.m. first pitch with game two to follow.
Richardson receives Staff Employee of Year award
Shannon Richardson, lead in distribution services, was presented with the Employee of the Year Award by President Kazee at the Staff Recognition Dinner on Wednesday, April 5.
Shannon leads her department to maintain an excellent level of service to students, faculty and staff. Those who nominated her mentioned that she adapts to change well and helps implement those changes to help her department become more efficient.
She has been known to reach across campus to assist others when the need arises. She is truly an employee that goes above and beyond her duties and makes her a deserving recipient of this years' award.
Congratulations to Shannon!
Other staff employees recognized at the annual dinner were:
5 - Year Service Award
Cheri Stratman – Mathematics
Kim Flener - Accounting and Business
Joseph Barnhill – Physical Plant
Heroshi Milan – Office of Safety and Security
Cheryl Shafer - Foreign Language
Shelly Kleiman – Athletics
10 - Year Service Award
Becky Buxton - Mechanical and Civil Engineering
Vicky Hasenour – Electrical Engineering and Computer Science
Donna Schmitt - Career Services
Tom Ambrose – Grounds
15 - Year Service Award
Amy Esche – Music
20 - Year Service Award
Janet Turner - Health and Wellness Center
Barbara Kerner – Fiscal Affairs
Vickie Custer – Health and Wellness Center
35 - Year Service Award
Gwen Barnett – Biology
Retirement
Geneva Davis, who retired from the office of safety and security in July 2016
Debbie Driggs, who retired from the office of admission in June 2016
Kenny Zirkelbach, who retired from physical plant in July 2016
Keith Fox, who retired from administrative services in September 2016
Janet Turner, who retired from health and wellness in May 2017
Success at ICI Student Lobby Days
Sophomore Savannah Kern, HSA, represented UE well when she met with Representative Randy Frye at the Indiana State House April 4, during the ICI Student Lobby Days. Cathleen Wright and Sean Riley from the Office of Financial Aid also met with Representative Ryan Hatfield to thank him for supporting state scholarships for UE students.
College students across the state participated to bring awareness to the needs of Indiana students. While at the State House, we also met several UE alum and others with strong ties to the University of Evansville.
Thank you, Savannah, for making this day a success!
Submitted by Cathleen Wright cw259@evansville.edu
Contribute to AceNotes
To have content considered for inclusion in AceNotes, please submit a Marketing Request Form. Deadline for submission to AceNotes is 10:00 a.m. on the requested date of publication. Only articles concerning UE related/sponsored activities will be accepted. Articles submitted to AceNotes may be edited for length and clarity. Submitter contact information is at the end of each article.