| | |
| --- | --- |
| AceNotes Today | Friday, April 7, 2017 |
Photographer on campus
The Office of Marketing and Communication will have a photographer on campus for a photo shoot Monday, April 10, through Wednesday, April 12. UE students and faculty have always been very cooperative and accommodating during previous shoots. As a result, many great photos have been taken for UE publications. Alex Amick will try to notify faculty in advance if photos will be taken in a particular class; however, weather often can force the shoot inside, and it is possible that last minute requests will be made. If faculty members know that they will be giving a test or do not wish to have their class photographed any of these days, please inform Alex Amick at ext. 5004 and the classroom will be avoided.
Submitted by Theresa Hoffherr mh270@evansville.edu
Donna Teague selected as new vice president for fiscal affairs
Donna Teague has been named the new vice president for fiscal affairs and administration at the University of Evansville. She has been serving in that position in the interim since January 2017.
Teague came to UE in 2004 in the position of controller and was later promoted to assistant vice president for fiscal affairs. She was named the University's Administrator of the Year in 2014.
As vice president, Teague will serve as chief financial officer (CFO) and is accountable to the president for all business and fiscal matters of the University. The VPFAA is responsible for the strategic direction and administrative management of financial planning and modeling, business operations, policy development, the University budget and budget processes, accounts payable and receivable, debt management, institutional investments, University-wide contract administration, risk management and insurance, bookstore, dining services and capital construction and renovation projects. With a division of 70 employees, the VPFAA oversees the offices of fiscal affairs, administrative services, technology services, human resources, facilities maintenance and planning, and the university bookstore. Under the umbrella of fiscal affairs, the VPFAA is also the key contact for University legal counsel and contracted institutional dining and facility services.
Teague is a licensed certified public accountant in Indiana and Kentucky, with financial management and accounting experience and public accounting experience in audit, tax, and consulting roles.
She earned her Master of Business Administration degree from the University of Southern Indiana, and her Bachelor of Science degree in accounting from Brescia University.
Teague is a member of the American Institute of Certified Public Accountants, the Kentucky Society of Certified Public Accountants, and the Central Association of College and University Business Officers. She has been a member and president of the Indiana Association of College and University Business Officers. She currently is treasurer for the Tri-State Multiple Sclerosis Association, and has served as treasurer for Girls, Inc., in Owensboro, Kentucky.
Welcome the University Senate Review Committee today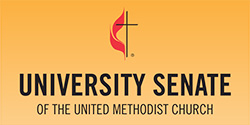 The University of Evansville is affiliated with the United Methodist Church. The United Methodist Church, through the work of its University Senate, conducts accreditation visits at all United Methodist-related institutions.
UE will welcome the following University Senate Review Committee to campus today:
Dennis Carroll, EdD, Review Team Chair and Provost at High Point University
David Joyce, PhD, President of Brevard College
Mark Hanshaw, PhD, Interim Dean of the School of Arts and Letters at Texas Wesleyan University
Visiting members hope to learn how our relationship with the United Methodist Church informs the work of the administration, staff, faculty, and trustees as we educate and develop our students.
Let's welcome our committee members as we demonstrate our commitment to the identifying marks of a United Methodist-related institution.
For more information, go to AceLink and click UMC accreditation.
Aces aim to get back on track against Indiana State
After falling victim to a sweep at the hands of Southern Illinois in last weekend's conference-opening series in Carbondale, the University of Evansville Baseball team will be hoping to get things turned around with in-state foe Indiana State as the team kicks off the Missouri Valley home slate at Charles H. Braun Stadium.
It was difficult weekend for the Aces (9-20, 0-3 MVC) beginning with Friday's narrow 3-2 setback against the Salukis. That was followed up on Saturday with three-run walk-off homer in the ninth, and then on Sunday, nearly every SIU run was scored with two outs.
UE scored two runs in all three contests at SIU, and the team will hope to be getting back to the high-scoring totals the team put together in first month of the season. That effort got off to a good start on Wednesday night as homers from Travis Tokarek and Trey Hair propelled the UE line-up to a 5-1 rain-shortened victory over crosstown rival Southern Indiana.
Tokarek, who hit just one home run over his first two seasons with the Aces, leads the team this season with five dingers. Hair, who hit 10 a season ago, picked up his fourth of the campaign and first since March 10, a streak of 15 games.
Hair is one of four UE players with an average better than .300. His .302 mark is supplemented by team-leading totals in runs batted in (20), runs scored (19) and doubles (14). The freshman duo of Kenton Crews and Craig Shepherd own .319 and .311 marks at the plate, and Andrew Tanous is nearly up there as well as the junior out of Katy, Texas, has seen his average improve to .298 thanks in large part to his 17-game on-base streak, which is the longest by a UE player this season.
On the mound, Patrick Schnieders will get the nod tonight. The senior out of Westphalia, Missouri, has experienced a fantastic final season to this point. A two-time MVC Pitcher of the Week, Schnieders is coming off a career-best performance of 12 strikeouts over 6.1 innings at SIU. He enters the weekend with a 2-3 record to go along with a 2.54 earned run average and 52 punchouts over 39 frames.
Connor Strain, who is in search of his first win, will make his eighth start of the season on Saturday with a 4.56 ERA, and Justin Hayden (2-4, 7.23 ERA) is scheduled to go on Sunday.
Relief ace Austin Allinger may also be called upon this weekend after allowing just six earned runs over 23 innings. He owns a 2.35 ERA with 20 strikeouts. Jack Cavanaugh has given up runs in just two of his 10 appearances, posting a 3.00 ERA, and Brandon Gomer is the team leader in appearances (17) and saves (2). He's 1-1 on the year with a 5.85 ERA.
Meanwhile, Indiana State (13-12) will be playing in its first conference series. Last weekend, the Sycamores fell in a trio of tight contests at Illinois, but the team bounced back earlier this week with a 5-2 victory at Purdue.
First pitch today is slated for 6:00 p.m. All three games this weekend will be carried live on The Valley on ESPN3.
The Japanese Club to host a Karaoke Night this evening
The Japanese Club is going to have a Karaoke event tonight , Friday, April 7, at 6:00 p.m. Hyde Hall, Room 6. Students can sing their favorite songs and release their stress! We are also going to have a competition during this event. Show your talent and get a prize!
Submitted by Madoko Ishii mi40@evansville.edu
UE Engineering OPTIONS camps set for June
The College of Engineering and Computer Science at the University of Evansville has announced the dates for Engineering OPTIONS, its annual engineering summer camps.
The Engineering OPTIONS for Middle School Girls summer career exploration program is a 3 ½ day residential opportunity at UE for middle school girls currently in grades 6, 7, or 8. The program begins on Sunday, June 11, and concludes on Wednesday, June 14.
The Engineering OPTIONS for High School Girls summer career exploration program is a week-long residential opportunity at the University for high school girls currently in grades 9, 10, or 11 who have completed geometry. The program begins on Sunday, June 18, and concludes on Friday, June 23.
Participants in the Engineering OPTIONS programs will gain a better understanding of what types of opportunities are available in fields most closely related to science, technology, engineering, and mathematics (STEM).
Dependent children of University of Evansville employees are eligible for a $125 discount towards the cost of registration.
For more information and to obtain an application or apply online, see www.evansville.edu/options.
Submitted by Kimberly Higgins kh209@evansville.edu
Venturing Crew hiking trip
Join Venturing Crew this Sunday, April 9, for hiking at Hemlock Cliffs and Tipsaw Lake Trail at Hoosier National Forest. The group will be leaving at noon and returning to campus around 8:00 p.m. This is a fabulous way to enjoy the spring weather and blow off some steam during such a stressful part of the semester! The cost of this trip will be $10.
The deadline to sign up for this trip is Friday, April 7. Officers will be available to accept your payment and reserve your spot at Ridgway University Center lobby tables from 11:00 a.m.-2:00 p.m. and 5:00-7:00 p.m., on Wednesday, April 5, Thursday, April 6, and Friday, April 7.
If you plan on joining the group on this trip, bring some extra money for dinner! Make sure you eat a good breakfast before leaving campus, as the group won't get dinner until 6:30 p.m. You are also welcome to bring snacks, and you are encouraged to bring plenty of water.
Submitted by Andrea Onyett ao64@evansville.edu
UE Theatre closes 2016-17 Shanklin Theatre season with Hamlet
The University of Evansville Department of Theatre proudly presents the final production of its season, William Shakespeare's Hamlet, honoring the 50th anniversary of the April 1967 opening of Shanklin Theatre. Hamlet opens Friday, April 7, at 7:30 p.m., in Shanklin Theatre. Additional performances are at 7:30 p.m. on April 8, 12, 13, 14, 15 and at 2:00 p.m. on April 9.
Enraged by his mother's hasty marriage and tormented by ghostly visions of his father's suspected murder, the play follows the desperate young Prince of Denmark on his bloody quest for revenge. Grand in scope and rich in language, this haunting story of family loyalty, obsession, and remorse will leave audiences ready for the next 50 years of historic Shanklin Theatre productions.
Shanklin Theatre opened its doors in April 1967 with a production of Hamlet starring professor John David Lutz in the title role. After a $1.3 million renovation in 1990, Shanklin Theatre reopened its doors with another production of Hamlet, this time with John David Lutz directing and Brent Langdon tackling the lead role. Mirroring the opening of Shanklin Theatre in April 1967, the University of Evansville Department of Theatre is thrilled to celebrate the 50th anniversary with another production of this critically acclaimed tragedy.
Professor John David Lutz directs this special production. Department chair Eric Renschler serves as the scenic designer; professor Patti McCrory is the costume designer; associate professor Stephen Boulmetis is the lighting designer; Baxter Pitt, a junior from McKinney, Texas, serves as the sound designer; professor Diane Brewer is the dramaturg; Melia Schnefke, a junior from St. Louis, Missouri, is the stage manager; and Logan Schumann, a senior from San Antonio, Texas, is the technical director.
The cast features senior David Aaron Evans from The Woodlands, Texas, as Hamlet; sophomore Meredith Ham from Castle Rock, Colorado, as Ophelia; junior Davis Brinker from Minneapolis, Minnesota, as Horatio; senior Rachel Barkalow from Cincinnati, Ohio, as Gertrude; senior Nate DeCook from Holland, Michigan, as Laertes. The cast also feature Brent Langdon, a 1992 University of Evansville Department of Theatre graduate, who played Hamlet in the 1990 Shanklin Theatre production.
Ticket prices are $15 for adults and $13 for senior adults, students, and UE faculty and staff. UE students may obtain one free student rush ticket beginning at noon on the day of the performance they wish to attend. Tickets may be purchased by calling 812-488–2031, Monday through Friday, noon to 5:00 p.m.
Info session on Orr Fellowship-post grad opportunities
An information session on Orr Fellowship-post grad opportunities is planned for today at 12:15 p.m. in Room 162 in the Schroeder School of Business Building. If you plan to attend, please RSVP to ro32@evansville.edu.
The Orr Fellowship is the ultimate post-grad experience. Fellows are recruited from the top seniors at universities in Indiana and Ohio (but candidates from any school are welcome), with an average acceptance rate of six percent. Converging in Indianapolis, these talented graduates join vibrant companies in positions that create a foundation for career success. In addition to full time employment, Orr Fellows participate in a unique curriculum designed to challenge, develop, and propel them toward a career of excellence. With two years that are jam-packed with executive mentorship, growing a strong network, and acquiring new skills, each Fellow stars in his or her own success story.
For more information visit the Orr Fellowship website.
Submitted by Rebecca Oates ro32@evansville.edu
Dedication of memorial for Stephanie Marcotte
On Saturday, April 8, at 2:00 p.m., there will be a dedication ceremony for the picnic table put in place in honor of Stephanie Marcotte, an archaeology student who passed away last spring. The event will take place in the grassy area of the north side of Moore Hall, next to Lot F. After the ceremony, there will be refreshments on the Neu Chapel lawn. Please join us in remembering a very special young woman, student, and friend.
Submitted by Emily Wilderman ew159@evansville.edu
Student survey
The University is working with the Times Higher Education US Student Survey in order to gain student perspectives of the UE experience. Students will soon be receiving an e-mail with information about the survey and a link to it. Participation in the survey is voluntary and all responses will be anonymous.
Students who complete the nationwide survey will have an opportunity to win prizes. There will be five winners per week for eight weeks, and each of these winners will each receive a $100 Amazon gift card. One grand prize winner will receive a $30,000 scholarship that will be awarded in the form of a check.
The survey ends June 1.
If you have any questions about the survey, contact the Office of Institutional Effectiveness at 812-488-2155.
RSA Executive Board nominations
The Resident Student Association is currently accepting nominations for all executive board positions (president, vice president of special events, vice president of area programming, treasurer, secretary, and director of housing improvement) If you or someone you know would fit any of these positions nicely or you simply want to gain more information about a particular spot, please e-mail all inquiries to Miranda Nelson at an127@evansville.edu. Nominations will be open until Thursday, April 13, at midnight.
Submitted by Justin Coffey jc534@evansville.edu
Attention May 2017 graduates
If you have earned a military honorable discharge or a general discharge under honorable conditions, are on active duty, or in active drilling status, please notify Cherie Leonhardt in the Office of Veterans Affairs at cl29@evansville.edu or call 812-488-2141, ASAP. The Office of Veterans Affairs and UE VETS has a special graduation gift for you!
Submitted by Cherie Leonhardt CL29@evansville.edu
Letterhead and envelope orders due April 12
The Office of Publications has distributed letterhead and envelope ordering information. If your department uses letterhead or envelopes during the fiscal year, this is the time to order it. We are able to get a substantial price break on boxes of envelopes (500 quantity) and reams of letterhead (500 quantity) due to the size of the order. Smaller orders placed later in the year will be more expensive.
If you did not receive the ordering information from the Office of Publications, please e-mail publications@evansville.edu or call ext. 2561.
Orders are due April 12.
Submitted by Theresa Hoffherr mh270@evansville.edu
T-shirts! Buy your T-shirts!
College Mentors for Kids still has shirts for sale! All profits raised go toward the UE chapter's fundraising efforts which keep the program running efficiently each year.
What shirt sizes are left? One small and seven large. How much do they cost? $20.
Please contact Hannah Nilsen at hn22@evansville.edu to get your shirt!
Submitted by Hanna Nilsen hn22@evansville.edu
Purple Palooza Friday!
SAB will host the second annual Purple Palooza event this Friday from 6:00-10:00 p.m. Purple Palooza is a combination music festival and carnival.
This year, we will have three musicians, five inflatable attractions, and a zipline.
We will also be giving out prizes such as T-shirts, tank tops, Beats headphones, Fitbits, and a Nintendo Switch!
Submitted by Justin Coffey jc534@evansville.edu
Today is the last day to withdraw with a "W"
Today is the last day to drop a class for this spring with a "W." No exceptions.
Drop slips are available in the registrar's office and you must have all required signatures. Please note - if you are dropping below 12 credit hours you must also obtain stamps from the Financial Aid Office and Student Accounts. Advisors may not be readily available due to SOAR today.
If you have any questions contact the registrar's office.
Submitted by Lori Johnson lj71@evansville.edu
Benefit open enrollment until April 19
During the period of April 3-19, benefit-eligible employees may enroll or make changes in the University's health, voluntary term life, dental, and ACES flexible spending account benefit plans.
It is the only chance for benefit-eligible employees to enroll or make changes until the next open enrollment period unless you have a qualifying change in status. You may also consider enrolling in the University's group life and long term disability insurance plans, if you haven't done so already.

Please review the documents in the Open Enrollment section on the HR area of AceLink - beginning with the open enrollment memo - for important announcements, reminders, and changes to the University's benefits which will occur June 1.

We will once again utilize an on-line enrollment process, eliminating all paper enrollment forms for health, life, dental, and long term disability insurance, as well as the ACES flexible spending account. This will ensure the accuracy of your enrollment elections and maintain records electronically regarding your current and future participation.
Enrollment/changes to your TIAA and Emeriti VEBA Trust retirement plan salary deferrals will continue to be processed on paper forms available in the Office of Human Resources. Therefore, you do not need to re-enroll in the TIAA or Emeriti retirement plans.
ALL benefit eligible employees (including those who do not want to make any changes to their current coverage) must enter their elections by April 19.
Please review the open enrollment memo and on-line benefit enrollment documents on the HR area of AceLink, which should answer many of the questions you might have about this system.

Please contact the Office of Human Resources at ext. 2943 with any questions.
Submitted by Lori LeDuc ll138@evansville.edu
Margery Florence Kahn Scholarship applications
Applications for the Margery Florence Kahn Scholarship for 2017-18 are now available. It was the desire of the donor, Margery Florence Kahn, that her scholarship be awarded to "dedicated and conscientious students who exhibit a true passion for their chosen fields of study, and who, in the opinion of the members of the University of Evansville faculty, are likely to bring the same enthusiasm into the performance of their jobs or the practice of the professions which they will pursue following graduation."

All University of Evansville full-time undergraduate students who will be juniors or seniors in 2017-18 may apply. An essay of about 300 words must accompany the application, along with two to five faculty recommendation letters.

Applications are available from the Office of Financial Aid, located in Room 116 in Olmsted Administration Hall.
Completed applications and recommendation letters should be returned to the Office of Financial Aid by April 15.
You may also request application materials by e-mailing financialaid@evansville.edu.
Questions may be directed to the Office of Financial Aid via e-mail or by phone at 812-488-2364 or 800-424-8634.
Submitted by Trisha Hawkes th187@evansville.edu
A Winner Has Been Chosen for The Student Art Exhibit's 2017 People's Choice Award
The 55th Annual Student Art Exhibition is over and the votes have been tabulated! Thank you to everyone who visited the Peterson Gallery and cast a vote for their favorite piece of artwork.
The Department of Art is pleased to announce the winner of the 2017 People's Choice Award is Rebecca Webb. Rebecca's winning piece is titled "From the Earth" and is a ceramic sculpture. Rebecca is a senior double majoring in Studio Art and Archaeology.
Please join the Department of Art faculty, staff and students in congratulating Rebecca on her award.
Submitted by Michelle Hahn dh196@evansville.edu
Richardson receives Staff Employee of Year award
Shannon Richardson, lead in distribution services, was presented with the Employee of the Year Award by President Kazee at the Staff Recognition Dinner on Wednesday, April 5.
Shannon leads her department to maintain an excellent level of service to students, faculty and staff. Those who nominated her mentioned that she adapts to change well and helps implement those changes to help her department become more efficient.
She has been known to reach across campus to assist others when the need arises. She is truly an employee that goes above and beyond her duties and makes her a deserving recipient of this years' award.
Congratulations to Shannon!
Other staff employees recognized at the annual dinner were:
5 - Year Service Award
Cheri Stratman – Mathematics
Kim Flener - Accounting and Business
Joseph Barnhill – Physical Plant
Heroshi Milan – Office of Safety and Security
Cheryl Shafer - Foreign Language
Shelly Kleiman – Athletics
10 - Year Service Award
Becky Buxton - Mechanical and Civil Engineering
Vicky Hasenour – Electrical Engineering and Computer Science
Donna Schmitt - Career Services
Tom Ambrose – Grounds
15 - Year Service Award
Amy Esche – Music
20 - Year Service Award
Janet Turner - Health and Wellness Center
Barbara Kerner – Fiscal Affairs
Vickie Custer – Health and Wellness Center
35 - Year Service Award
Gwen Barnett – Biology
Retirement
Geneva Davis, who retired from the office of safety and security in July 2016
Debbie Driggs, who retired from the office of admission in June 2016
Kenny Zirkelbach, who retired from physical plant in July 2016
Keith Fox, who retired from administrative services in September 2016
Janet Turner, who retired from health and wellness in May 2017
Wil Pahud named MVC Men's Golfer of the Week
Purple Aces senior golfer Wil Pahud was named the Missouri Valley Conference Men's Golfer of the Week on Wednesday by the league.
Pahud came home in a tie for third place as the University of Evansville played at the Hoosier Invitational hosted by Indiana University over the weekend. Pahud notched an even 71 to open the tournament before carding a 2-under 69 in Saturday's second round.
He would complete the final 18 with a 1-under 70 in route to a 210 for the tournament. Pahud finished four strokes out of first place.
The next action for the Aces will be Monday and Tuesday at the Tennessee State Intercollegiate in Nashville.
Success at ICI Student Lobby Days
Sophomore Savannah Kern, HSA, represented UE well when she met with Representative Randy Frye at the Indiana State House April 4, during the ICI Student Lobby Days. Cathleen Wright and Sean Riley from the Office of Financial Aid also met with Representative Ryan Hatfield to thank him for supporting state scholarships for UE students.
College students across the state participated to bring awareness to the needs of Indiana students. While at the State House, we also met several UE alum and others with strong ties to the University of Evansville.
Thank you, Savannah, for making this day a success!
Submitted by Cathleen Wright cw259@evansville.edu
UE Jazz Ensemble performance with jazz legend Doc Severinsen
The Patricia H. Snyder Concert and Lecture Series proudly presented Doc Severinsen and the UE Jazz Ensemble to a packed house at the Victory Theatre on Tuesday, April 4.
Students who performed as part of the UE Jazz Ensemble included:
Jon Allen
Melanie Baker
Chris Carner
Alex Edwards
Grayson Gerni
Pat Gerton
Alex Godinez
Nicole Gourieux
Devyn Haas
Griffin Honeycutt
Arlen Magelitz
Rico Martinez
Hayden McClure
Zach Mitchell
James Smith
Logan Tsuji
Kiersten Weyer
Baby announcement - Asa Patel Dovlatabadi
Payal Patel-Dovlatabadi, professor of public health and director of the public health program, and her husband, Sorush, announce the birth of their son, Asa Patel Dovlatabadi. Asa was born on Sunday, April 2. All are well!
Submitted by Pam Young py2@evansville.edu
Professor Khan receives highly cited research award
Walayet A. Khan, professor of finance, recently received the Elsevier publisher 2017 "highly cited research" award for his coauthored paper with Joao Vieito (Portugal). The paper is titled "Executive compensation and gender: S&P 1500 listed firms" and was published in Journal of Economics and Business in 2013. Since its publication it has been one of the five most highly cited papers.
Khan and Vieito examine if a gender gap persists in executive compensation and if the composition and the determinants of executive compensation for men versus women are the same for the S&P1500 listed firms. They also extended the analysis to high tech firms, where high scholarship is required both for male and female executives.
The results reveal that the gender gap in executive compensation is reducing essentially after the year 2000. Also, the factors that explain the variation in executive compensation are not all the same for men and women. However, firms continue to pay women, who are considered more risk averse than men, a similar proportion of risky compensation components, such as stock options and restricted stocks, than they pay to men. In terms of technology firms, they find that the gender differences in total compensation are not statistically significant. The finding that the gender gap diminishes is a sign of a better functioning market for executives.
The findings could be potentially useful for compensation committees in order to develop compensation packages that take into consideration the degree of risk aversion in order to enhance performance. Compensation adjusted for risk aversion can produce a higher level of satisfaction for the employees and can lead to better performances.
The authors suggest that future research should focus on international comparison of various dimensions of executive compensation.
Contribute to AceNotes
To have content considered for inclusion in AceNotes, please submit a Marketing Request Form. Deadline for submission to AceNotes is 10:00 a.m. on the requested date of publication. Only articles concerning UE related/sponsored activities will be accepted. Articles submitted to AceNotes may be edited for length and clarity. Submitter contact information is at the end of each article.