| | |
| --- | --- |
| AceNotes Today | Thursday, April 6, 2017 |
Photographer on campus
The Office of Marketing and Communication will have a photographer on campus for a photo shoot Monday, April 10, through Wednesday, April 12. UE students and faculty have always been very cooperative and accommodating during previous shoots. As a result, many great photos have been taken for UE publications. Alex Amick will try to notify faculty in advance if photos will be taken in a particular class; however, weather often can force the shoot inside, and it is possible that last minute requests will be made. If faculty members know that they will be giving a test or do not wish to have their class photographed any of these days, please inform Alex Amick at ext. 5004 and the classroom will be avoided.
Submitted by Theresa Hoffherr mh270@evansville.edu
Donna Teague selected as new vice president for fiscal affairs
Donna Teague has been named the new vice president for fiscal affairs and administration at the University of Evansville. She has been serving in that position in the interim since January 2017.
Teague came to UE in 2004 in the position of controller and was later promoted to assistant vice president for fiscal affairs. She was named the University's Administrator of the Year in 2014.
As vice president, Teague will serve as chief financial officer (CFO) and is accountable to the president for all business and fiscal matters of the University. The VPFAA is responsible for the strategic direction and administrative management of financial planning and modeling, business operations, policy development, the University budget and budget processes, accounts payable and receivable, debt management, institutional investments, University-wide contract administration, risk management and insurance, bookstore, dining services and capital construction and renovation projects. With a division of 70 employees, the VPFAA oversees the offices of fiscal affairs, administrative services, technology services, human resources, facilities maintenance and planning, and the university bookstore. Under the umbrella of fiscal affairs, the VPFAA is also the key contact for University legal counsel and contracted institutional dining and facility services.
Teague is a licensed certified public accountant in Indiana and Kentucky, with financial management and accounting experience and public accounting experience in audit, tax, and consulting roles.
She earned her Master of Business Administration degree from the University of Southern Indiana, and her Bachelor of Science degree in accounting from Brescia University.
Teague is a member of the American Institute of Certified Public Accountants, the Kentucky Society of Certified Public Accountants, and the Central Association of College and University Business Officers. She has been a member and president of the Indiana Association of College and University Business Officers. She currently is treasurer for the Tri-State Multiple Sclerosis Association, and has served as treasurer for Girls, Inc., in Owensboro, Kentucky.
Welcome the University Senate Review Committee today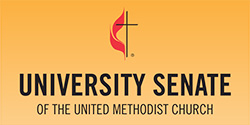 The University of Evansville is affiliated with the United Methodist Church. The United Methodist Church, through the work of its University Senate, conducts accreditation visits at all United Methodist-related institutions.
UE will welcome the following University Senate Review Committee to campus today:
Dennis Carroll, EdD, Review Team Chair and Provost at High Point University
David Joyce, PhD, President of Brevard College
Mark Hanshaw, PhD, Interim Dean of the School of Arts and Letters at Texas Wesleyan University
Visiting members hope to learn how our relationship with the United Methodist Church informs the work of the administration, staff, faculty, and trustees as we educate and develop our students.
Let's welcome our committee members as we demonstrate our commitment to the identifying marks of a United Methodist-related institution.
For more information, go to AceLink and click UMC accreditation.
Scholars for Syria Lecture to feature personal stories of Syrian students
Tonight's UE Scholars for Syria Lecture will feature four Syrian students who will graduate from UE this spring. The students will be sharing their personal stories, and there will be a summary of UE GAP/Syrian school outreach program and a discussion of the future plans for the program. The lecture, which is free and open to the public is at 6:00 p.m. in Room 162 (Harkness Hall), Schroeder School of Business Building.
Those attending the event will have the opportunity to meet and chat with the Syrian students and their families afterward at a reception in Dunigan Lounge in the Schroeder School of Business Building.
This lecture series is sponsored by Scholars for Syria.
Submitted by Gail Vignola gv15@evansville.edu
This Week in Music: guest artist recital
Guest artists Elizabeth Crawford (clarinet), Katrin Meidell (viola), and Lori Rhoden (piano) will present a recital in Wheeler Concert Hall this evening, April 6, at 5:30 p.m. The program will feature Bach's Suite No. 1 in G major, Haydn's Sonata in A-flat major, Granados's Quejas ó la Maja y el Ruiseñor, Head's Duet for Clarinet and Viola, Lifchitz's Yellow Ribbons #13, and Parker's Grooves. The recital is free and open to the public
Submitted by James Sullivan js820@evansville.edu
Honors Program project presentations
The Honors Program invites you to attend the Honors Program Project Presentations. The Honors project is an opportunity for students to explore an area about which they are passionate, and may consist of a research project, thesis, or creative work.
We hope you will join us to hear the fascinating work that this year's Honors students have completed. Special thanks are extended to all faculty, advisors, and others who have supported the Honors students in their educational achievements.
Below is this week's presentation schedule. All presentations will take place in Room 101 in Koch Center for Engineering and Science.
Wednesday, April 12
3:00 – 3:45 p.m.
Emily Westing, theatre design and technology
"It's Not About Television: Dramaturgy for The Ruby Sunrise"
Ben Phillips, theatre studies
"An In-Depth Study of the Relationship Between Technology and Theatrical Design with Respect to Sound"
4:00 – 5:00 p.m.
Hayley Serafino, political science/criminal justice
"Content Analysis of Media Coverage Concerning Domestic, Homegrown, and International Terrorism in the United States Since 9/11"
Jacob Trotter, political science/philosophy
"The German-Turkish Response to the Balfour Declaration"
Cindy White, music therapy
"The Perception and Importance of Feminism and Feminist Issues to UE Students"
Submitted by Jayme Williams jw504@evansville.edu
Harlaxton returnees: Cookies and Correspondence is today!
Don't forget - the cookies and correspondence event for Harlaxton returnees is happening today! Please join us in grabbing a sweet treat and writing a postcard full of tips and tricks for our outgoing students. This will be a great resource for our students who don't know what to expect while they're abroad. The postcards and sweets will be available in our office, located in Room 260 in the Schroeder School of Business Building.
Please e-mail Greta Becker at gb91@evansville.edu with any questions.
Submitted by Greta Becker gb91@evansville.edu
UE Engineering OPTIONS camps set for June
The College of Engineering and Computer Science at the University of Evansville has announced the dates for Engineering OPTIONS, its annual engineering summer camps.
The Engineering OPTIONS for Middle School Girls summer career exploration program is a 3 ½ day residential opportunity at UE for middle school girls currently in grades 6, 7, or 8. The program begins on Sunday, June 11, and concludes on Wednesday, June 14.
The Engineering OPTIONS for High School Girls summer career exploration program is a week-long residential opportunity at the University for high school girls currently in grades 9, 10, or 11 who have completed geometry. The program begins on Sunday, June 18, and concludes on Friday, June 23.
Participants in the Engineering OPTIONS programs will gain a better understanding of what types of opportunities are available in fields most closely related to science, technology, engineering, and mathematics (STEM).
Dependent children of University of Evansville employees are eligible for a $125 discount towards the cost of registration.
For more information and to obtain an application or apply online, see www.evansville.edu/options.
Submitted by Kimberly Higgins kh209@evansville.edu
Watch party set for Kyle Freeland's MLB debut on Friday
Former University of Evansville pitcher Kyle Freeland will make his Major League Baseball debut for the Colorado Rockies on Friday in their home opener at 3:10 p.m. CT.
The Purple Aces athletic department invites fans in the area to a watch party to commemorate his start on Friday at the Buffalo Wild Wings located at 715 North Green River Road.
Members of the athletic department will be on hand to mingle with fans and enjoy Freeland's first MLB start. All guests in attendance at Buffalo Wild Wings will also be given a wristband, which will be good for free admission to Friday's UE baseball game against Indiana State at Braun Stadium. The Aces and Sycamores will begin their series opener at 6:00 p.m.
While at the restaurant, fans are asked to mention "Home Town D." By doing so, they will help UE receive a donation of 10 percent of their total bill (not including alcohol). The donation goes to the Purple Aces SAAC (Student-Athlete Advisory Committee) and is used for various community service projects such as Toys for Tots, Habitat for Humanity, and Project Linus.
As a junior, Kyle Freeland led the Aces to their second-ever MVC regular season crown. He picked up 10 victories in the process while posting a 1.62 ERA over 94.2 innings of work, including four complete games and six outings that featured 10-or-more strikeouts. His 122 punch outs and 13.56 strikeout-to-walk ratio that season ranked second in the nation.
Following the season, Freeland was selected eighth overall by the Rockies. After spending the 2014 and 2015 seasons with the Grand Junction Rockies, Asheville Tourists and Modesto Nuts, Freeland emerged as a hot prospect in the Arizona Fall League with the Salt River Rafters. He'd parlay that success into impressive performances last season with the Double-A Hartford Yard Goats before finishing the season with the Triple-A Albuquerque Isotopes. He was officially called up to the big league club on Sunday.
UE Theatre closes 2016-17 Shanklin Theatre season with Hamlet
The University of Evansville Department of Theatre proudly presents the final production of its season, William Shakespeare's Hamlet, honoring the 50th anniversary of the April 1967 opening of Shanklin Theatre. Hamlet opens Friday, April 7, at 7:30 p.m., in Shanklin Theatre. Additional performances are at 7:30 p.m. on April 8, 12, 13, 14, 15 and at 2:00 p.m. on April 9.
Enraged by his mother's hasty marriage and tormented by ghostly visions of his father's suspected murder, the play follows the desperate young Prince of Denmark on his bloody quest for revenge. Grand in scope and rich in language, this haunting story of family loyalty, obsession, and remorse will leave audiences ready for the next 50 years of historic Shanklin Theatre productions.
Shanklin Theatre opened its doors in April 1967 with a production of Hamlet starring professor John David Lutz in the title role. After a $1.3 million renovation in 1990, Shanklin Theatre reopened its doors with another production of Hamlet, this time with John David Lutz directing and Brent Langdon tackling the lead role. Mirroring the opening of Shanklin Theatre in April 1967, the University of Evansville Department of Theatre is thrilled to celebrate the 50th anniversary with another production of this critically acclaimed tragedy.
Professor John David Lutz directs this special production. Department chair Eric Renschler serves as the scenic designer; professor Patti McCrory is the costume designer; associate professor Stephen Boulmetis is the lighting designer; Baxter Pitt, a junior from McKinney, Texas, serves as the sound designer; professor Diane Brewer is the dramaturg; Melia Schnefke, a junior from St. Louis, Missouri, is the stage manager; and Logan Schumann, a senior from San Antonio, Texas, is the technical director.
The cast features senior David Aaron Evans from The Woodlands, Texas, as Hamlet; sophomore Meredith Ham from Castle Rock, Colorado, as Ophelia; junior Davis Brinker from Minneapolis, Minnesota, as Horatio; senior Rachel Barkalow from Cincinnati, Ohio, as Gertrude; senior Nate DeCook from Holland, Michigan, as Laertes. The cast also feature Brent Langdon, a 1992 University of Evansville Department of Theatre graduate, who played Hamlet in the 1990 Shanklin Theatre production.
Ticket prices are $15 for adults and $13 for senior adults, students, and UE faculty and staff. UE students may obtain one free student rush ticket beginning at noon on the day of the performance they wish to attend. Tickets may be purchased by calling 812-488–2031, Monday through Friday, noon to 5:00 p.m.
Info session on Orr Fellowship-post grad opportunities
An information session on Orr Fellowship-post grad opportunities is planned for today at 12:15 p.m. in Room 162 in the Schroeder School of Business Building. If you plan to attend, please RSVP to ro32@evansville.edu.
The Orr Fellowship is the ultimate post-grad experience. Fellows are recruited from the top seniors at universities in Indiana and Ohio (but candidates from any school are welcome), with an average acceptance rate of six percent. Converging in Indianapolis, these talented graduates join vibrant companies in positions that create a foundation for career success. In addition to full time employment, Orr Fellows participate in a unique curriculum designed to challenge, develop, and propel them toward a career of excellence. With two years that are jam-packed with executive mentorship, growing a strong network, and acquiring new skills, each Fellow stars in his or her own success story.
For more information visit the Orr Fellowship website.
Submitted by Rebecca Oates ro32@evansville.edu
Dedication of memorial for Stephanie Marcotte
On Saturday, April 8, at 2:00 p.m., there will be a dedication ceremony for the picnic table put in place in honor of Stephanie Marcotte, an archaeology student who passed away last spring. The event will take place in the grassy area of the north side of Moore Hall, next to Lot F. After the ceremony, there will be refreshments on the Neu Chapel lawn. Please join us in remembering a very special young woman, student, and friend.
Submitted by Emily Wilderman ew159@evansville.edu
Aces Softball splits DH against Austin Peay
A midweek doubleheader saw the University of Evansville Softball team split two games against Austin Peay on Wednesday at Cooper Stadium.
Evansville (13-20) took game one by a final of 10-7 before Austin Peay (14-20) took the second contest, 12-2. Highlighting the day for UE was Chandra Parr, who tied the program record with the 30th home run of her career in game one.
"We did a really good job in the first game of capitalizing on big hits," Purple Aces head coach Mat Mundell said. "We did not get the adjustments we needed in game 2. Overall we had some girls who did not play as much come in and play well for us today and that is a big plus heading into the weekend."
After Austin Peay scored a run in the top of the first, Morgan Lambert gave UE its first lead in the bottom of the frame. After Morgan Florey was hit by a pitch and Chandra Parr notched the first hit of the game for the Aces, Lambert belted her fourth home run of the season to put UE on top, 3-1.
History was made two innings later as Parr hit the 30th home run of her UE career. It tied the all-time program mark set by Krista Price. Two more runs came across on a Governor error as the Aces opened up a 6-1 advantage.
Christiana Gable hit a solo shot for APSU in the top of the fourth, but the Aces offense got the run back and more with three more in the bottom half. Lambert knocked in her fourth run of the game before two runs scored on an outfielder error and the 10th run of the game scored on a sacrifice fly courtesy of Hayli Scott.
Three runs came across in the top of the sixth for Austin Peay and one more in the seventh, but UE was able to hang on for the 10-7 win. Lambert and Parr each had two hits and a home run while Ashlee Kawall notched two hits and a steal. Ashleigh Downing threw 5 2/3 innings allowing six runs, three earned, on five hits and earned her first win as a member of the squad.
Game two saw the Governors strike early again as they plated three runs on two hits in the top of the first before solo shots in both the second and third frames contributed to a 6-0 lead. The lead reached 8-0 in the fourth before UE got on the board. Kori Keyes hit a single to center to bring in the first run of the contest.
From there, Austin Peay was able to secure the win via a 3-run shot in the sixth. The Aces had six hits in the game while APSU notched 11.

For the second weekend in a row, the Aces head to the state of Iowa as they make their way to Des Moines for a 3-game set beginning on Saturday.
RSA Executive Board nominations
The Resident Student Association is currently accepting nominations for all executive board positions (president, vice president of special events, vice president of area programming, treasurer, secretary, and director of housing improvement) If you or someone you know would fit any of these positions nicely or you simply want to gain more information about a particular spot, please e-mail all inquiries to Miranda Nelson at an127@evansville.edu. Nominations will be open until Thursday, April 13, at midnight.
Submitted by Justin Coffey jc534@evansville.edu
Attention May 2017 graduates
If you have earned a military honorable discharge or a general discharge under honorable conditions, are on active duty, or in active drilling status, please notify Cherie Leonhardt in the Office of Veterans Affairs at cl29@evansville.edu or call 812-488-2141, ASAP. The Office of Veterans Affairs and UE VETS has a special graduation gift for you!
Submitted by Cherie Leonhardt CL29@evansville.edu
Letterhead and envelope orders due April 12
The Office of Publications has distributed letterhead and envelope ordering information. If your department uses letterhead or envelopes during the fiscal year, this is the time to order it. We are able to get a substantial price break on boxes of envelopes (500 quantity) and reams of letterhead (500 quantity) due to the size of the order. Smaller orders placed later in the year will be more expensive.
If you did not receive the ordering information from the Office of Publications, please e-mail publications@evansville.edu or call ext. 2561.
Orders are due April 12.
Submitted by Theresa Hoffherr mh270@evansville.edu
T-shirts! Buy your T-shirts!
College Mentors for Kids still has shirts for sale! All profits raised go toward the UE chapter's fundraising efforts which keep the program running efficiently each year.
What shirt sizes are left? One small and seven large. How much do they cost? $20.
Please contact Hannah Nilsen at hn22@evansville.edu to get your shirt!
Submitted by Hanna Nilsen hn22@evansville.edu
Purple Palooza Friday!
SAB will host the second annual Purple Palooza event this Friday from 6:00-10:00 p.m. Purple Palooza is a combination music festival and carnival.
This year, we will have three musicians, five inflatable attractions, and a zipline.
We will also be giving out prizes such as T-shirts, tank tops, Beats headphones, Fitbits, and a Nintendo Switch!
Submitted by Justin Coffey jc534@evansville.edu
Last day to withdraw from a spring class is Friday, April 7
Do you still need to drop a class for this spring? This Friday, April 7, is the last day to drop with a "W." No exceptions.
Drop slips are available in the registrar's office. You must have both the signatures of the instructor and your advisor on the drop slip. Please note - if you are dropping below 12 credit hours you must also obtain stamps from the financial aid office and student accounts.
Advisors may not be readily available due to SOAR on Friday so do not wait.
If you have any questions contact the registrar's office.
Submitted by Lori Johnson lj71@evansville.edu
Two NEW GAP classes for fall
Two new GAP classes are planned for the fall of 2017.
Associate professor of mechanical and civil engineering Mark Valenzuela will offer a class (GAP 310-07) in which students will work on developing a plan to provide tiny homes to the homeless,
Erin Lewis program director of the Institute for Global Enterprise, will be offering a class (GAP 310-08) that will apply Scott Sherman's transformative action curriculum to creative thinking and public problem solving.
Both classes are available for registration online under the GAP prefix. More info at www.evansville.edu/gap.
Submitted by Cindy Kelley ck116@evansville.edu
Deadline extended to today for UE Gives Back!
The deadline for UE Gives Back has been extended to today, April 6. We still have many openings and non-profits that need our support on Saturday, April 8.
To register, go to volunteer.evansville.edu.
For more information, ask for Millie, David, or Geoff Edwards in the student life office.
Submitted by Jackie Luedtke jl295@evansville.edu
Benefit open enrollment until April 19
During the period of April 3-19, benefit-eligible employees may enroll or make changes in the University's health, voluntary term life, dental, and ACES flexible spending account benefit plans.
It is the only chance for benefit-eligible employees to enroll or make changes until the next open enrollment period unless you have a qualifying change in status. You may also consider enrolling in the University's group life and long term disability insurance plans, if you haven't done so already.

Please review the documents in the Open Enrollment section on the HR area of AceLink - beginning with the open enrollment memo - for important announcements, reminders, and changes to the University's benefits which will occur June 1.

We will once again utilize an on-line enrollment process, eliminating all paper enrollment forms for health, life, dental, and long term disability insurance, as well as the ACES flexible spending account. This will ensure the accuracy of your enrollment elections and maintain records electronically regarding your current and future participation.
Enrollment/changes to your TIAA and Emeriti VEBA Trust retirement plan salary deferrals will continue to be processed on paper forms available in the Office of Human Resources. Therefore, you do not need to re-enroll in the TIAA or Emeriti retirement plans.
ALL benefit eligible employees (including those who do not want to make any changes to their current coverage) must enter their elections by April 19.
Please review the open enrollment memo and on-line benefit enrollment documents on the HR area of AceLink, which should answer many of the questions you might have about this system.

Please contact the Office of Human Resources at ext. 2943 with any questions.
Submitted by Lori LeDuc ll138@evansville.edu
Dr. Marvin E. Hartig Memorial Scholarship applications
Family, friends, and loved ones of the late Marvin E. Hartig are pleased to announce the application process for the Dr. Marvin E. Hartig Memorial Scholarship. This scholarship is dedicated to the loving memory of Hartig, dean of Evansville College's Evening College in 1967, and administrator for the Center for Advanced Study, director of the Evansville chapter of the American Institute of Banking (AIB), and the international student advisor. In 1974, Hartig was appointed dean of academic services. He retired in 1984 after serving his alma mater for 35 years and passed away in 2007.
This scholarship will be awarded each year to a deserving sophomore student with demonstrated financial need as shown by the results of the Free Application for Federal Student Aid (FAFSA). Preference will be given to a student working while being enrolled as a full-time student.
International students are encouraged to apply. Please include in your essay your particular financial need, since international students do not have FAFSA forms on file.
Applicants must submit the following to be considered:
Completed application

In a one page, single spaced, 12 point Verdana font essay, please answer all of these questions:
What have you learned about yourself as a UE student?
What do you do for fun when not studying or working?
Name a special attribute or accomplishment that sets you apart.
You have done a lot in your short life. In what areas do you think you can improve?
What are your scholastic and career goals?
How did you finance your freshman year and how will you finance your sophomore year?
Why are you a good candidate to receive this scholarship?
What have you learned about Dr. Hartig, how does he influence or inspire you, and how will you preserve his legacy as recipient of this scholarship?
Please return all materials to the Office of Financial Aid by June 1. Decision will be announced by August 1.
If you have questions, contact Trisha Hawkes, administrative assistant to the Office of Financial Aid, at financialaid@evansville.edu or 812-488-2364.
Submitted by Trisha Hawkes th187@evansville.edu
Wil Pahud named MVC Men's Golfer of the Week
Purple Aces senior golfer Wil Pahud was named the Missouri Valley Conference Men's Golfer of the Week on Wednesday by the league.
Pahud came home in a tie for third place as the University of Evansville played at the Hoosier Invitational hosted by Indiana University over the weekend. Pahud notched an even 71 to open the tournament before carding a 2-under 69 in Saturday's second round.
He would complete the final 18 with a 1-under 70 in route to a 210 for the tournament. Pahud finished four strokes out of first place.
The next action for the Aces will be Monday and Tuesday at the Tennessee State Intercollegiate in Nashville.
Success at ICI Student Lobby Days
Sophomore Savannah Kern, HSA, represented UE well when she met with Representative Randy Frye at the Indiana State House April 4, during the ICI Student Lobby Days. Cathleen Wright and Sean Riley from the Office of Financial Aid also met with Representative Ryan Hatfield to thank him for supporting state scholarships for UE students.
College students across the state participated to bring awareness to the needs of Indiana students. While at the State House, we also met several UE alum and others with strong ties to the University of Evansville.
Thank you, Savannah, for making this day a success!
Submitted by Cathleen Wright cw259@evansville.edu
UE Jazz Ensemble performance with jazz legend Doc Severinsen
The Patricia H. Snyder Concert and Lecture Series proudly presented Doc Severinsen and the UE Jazz Ensemble to a packed house at the Victory Theatre on Tuesday, April 4.
Students who performed as part of the UE Jazz Ensemble included:
Jon Allen
Melanie Baker
Chris Carner
Alex Edwards
Grayson Gerni
Pat Gerton
Alex Godinez
Nicole Gourieux
Devyn Haas
Griffin Honeycutt
Arlen Magelitz
Rico Martinez
Hayden McClure
Zach Mitchell
James Smith
Logan Tsuji
Kiersten Weyer
Baby announcement - Asa Patel Dovlatabadi
Payal Patel-Dovlatabadi, professor of public health and director of the public health program, and her husband, Sorush, announce the birth of their son, Asa Patel Dovlatabadi. Asa was born on Sunday, April 2. All are well!
Submitted by Pam Young py2@evansville.edu
Lonnberg presents research at AMS Sectional Meeting
UE math student Adam Lonnberg recently delivered a contributed research talk at the 2017 American Mathematics Society Central Meeting at Indiana University, Bloomington. The talk was titled as "A Modeling Study of the Hypothalamic-Pituitary-Adrenal (HPA) Axis Including Glucocorticoid Receptor (GR)."
Adam's work was supported by UExplore Undergraduate Research Grant, Department of Mathematics, and Department of Chemistry. Pengcheng Xiao, assistant professor of mathematics, is the supervisor of this research project.
Here is the abstract of the talk:
The human stress response is controlled largely by the hypothalamic pituitary adrenal (HPA) axis. Models predicting the levels of the hormones involved very often are not analytically solvable. Many of these models, such as Gupta et al. 2007, predict a bistability in this axis. Said bistability results in two steady states, a normal high-glucocorticoid receptor (GR) state, and an alternate low-GR steady state. In the current study, we are able to simplify the HPA axis model in order to solve it more easily while maintaining key features such as the bistability thereof. This model's equilibrium and characteristic polynomial are both more easily derived when compared with previous models, and the latter can be more easily analyzed via the Routh-Hurwitz criteria and its Sturm chain. Simulations run with this model exhibit oscillation, a feature found in many recent models to account for the circadian rhythms of this axis.
Submitted by Cheri Stratman cs311@evansville.edu
Kretz visits ASU's Lincoln Center for Applied Ethics
Professor Lisa Kretz is presenting this week at Arizona State University's Lincoln Center for Applied Ethics. The Lincoln Center for Applied Ethics advances teaching, research and community engagement efforts that explore how best to live together as a human community, so that we all may achieve purposeful, productive and prosperous lives. Kretz will be discussing how to teach in ways that ethically engage, as well as presenting on the new ethics and social change major.
Frasier judges Evansville Museum's High School Art Show
Stephanie Frasier, chair and associate professor of art, has been invited to judge the 54th Annual High School Art Show at the Evansville Museum. Nearly 1,000 entries were submitted in the categories of painting, drawing, printmaking, sculpture, jewelry, textiles, ceramics, photography, mixed media, and graphic design by students currently enrolled in grades 9-12 in 20 public, parochial and private schools in Vanderburgh, Warrick, Pike, Posey, and Gibson Counties in Indiana
The exhibition runs March 16–April 16.
Contribute to AceNotes
To have content considered for inclusion in AceNotes, please submit a Marketing Request Form. Deadline for submission to AceNotes is 10:00 a.m. on the requested date of publication. Only articles concerning UE related/sponsored activities will be accepted. Articles submitted to AceNotes may be edited for length and clarity. Submitter contact information is at the end of each article.