| | |
| --- | --- |
| AceNotes Today | Wednesday, April 5, 2017 |
Donna Teague selected as new vice president for fiscal affairs
Donna Teague has been named the new vice president for fiscal affairs and administration at the University of Evansville. She has been serving in that position in the interim since January 2017.
Teague came to UE in 2004 in the position of controller and was later promoted to assistant vice president for fiscal affairs. She was named the University's Administrator of the Year in 2014.
As vice president, Teague will serve as chief financial officer (CFO) and is accountable to the president for all business and fiscal matters of the University. The VPFAA is responsible for the strategic direction and administrative management of financial planning and modeling, business operations, policy development, the University budget and budget processes, accounts payable and receivable, debt management, institutional investments, University-wide contract administration, risk management and insurance, bookstore, dining services and capital construction and renovation projects. With a division of 70 employees, the VPFAA oversees the offices of fiscal affairs, administrative services, technology services, human resources, facilities maintenance and planning, and the university bookstore. Under the umbrella of fiscal affairs, the VPFAA is also the key contact for University legal counsel and contracted institutional dining and facility services.
Teague is a licensed certified public accountant in Indiana and Kentucky, with financial management and accounting experience and public accounting experience in audit, tax, and consulting roles.
She earned her Master of Business Administration degree from the University of Southern Indiana, and her Bachelor of Science degree in accounting from Brescia University.
Teague is a member of the American Institute of Certified Public Accountants, the Kentucky Society of Certified Public Accountants, and the Central Association of College and University Business Officers. She has been a member and president of the Indiana Association of College and University Business Officers. She currently is treasurer for the Tri-State Multiple Sclerosis Association, and has served as treasurer for Girls, Inc., in Owensboro, Kentucky.
Welcome the University Senate Review Committee today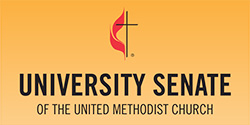 The University of Evansville is affiliated with the United Methodist Church. The United Methodist Church, through the work of its University Senate, conducts accreditation visits at all United Methodist-related institutions.
UE will welcome the following University Senate Review Committee to campus today:
Dennis Carroll, EdD, Review Team Chair and Provost at High Point University
David Joyce, PhD, President of Brevard College
Mark Hanshaw, PhD, Interim Dean of the School of Arts and Letters at Texas Wesleyan University
Visiting members hope to learn how our relationship with the United Methodist Church informs the work of the administration, staff, faculty, and trustees as we educate and develop our students.
Let's welcome our committee members as we demonstrate our commitment to the identifying marks of a United Methodist-related institution.
For more information, go to AceLink and click UMC accreditation.
Softball to face Austin Peay today
Another midweek doubleheader is on tap for the University of Evansville Softball team as they welcome Austin Peay to Cooper Stadium for a doubleheader today at 2:00 p.m.
The first of two consecutive weekends in the state of Iowa took place as the Aces traveled to Cedar Falls for a 3-game set at UNI. The Panthers got a leg up on Saturday, sweeping a doubleheader before grabbing a 3-2 win in Sunday's finale with a walk-off home run in the eighth inning. Hayli Scott hit .600 in the series while Morgan Lambert batted .375. Ashleigh Downing tossed 7.0 innings on Sunday, allowing just three earned runs.
Sophomore Ashleigh Downing gave the Purple Aces her best effort on Sunday at UNI. After the Aces allowed 21 runs in Saturday's doubleheader, the team was look for a solid game in the circle. Downing did just that; in her first MVC start, Downing went the distance, allowing just three runs on six hits.
Hayli Scott batted .400 over the last five games. The senior had four hits in ten at-bats, including three extra base hits and a home run. She had two RBI and slugged .900. Scott also drew three walks. Scott had a strong effort in Cedar Falls against UNI, hitting a home run in the first game of the series. In game two, she came in as a pinch hitter and reached via a walk before going 2-2 with an RBI and two walks in the series finale. Her efforts pushed her season average to a team-high .356 while her 12 RBIs is second.
Austin Peay stands at 13-19 overall and 2-4 in the Ohio Valley Conference. Danielle Liermann leads the way with a .350 batting average. A strong power hitter, she has recorded eight home runs, eight doubles and 28 RBI, all team highs. In the circle, Autumn Hanners stands with a 5-7 mark and a 3.34 ERA.
I-House: Saudi Arabia
This week's I-House presentation is on Saudi Arabia! The presenter is Abdulrahman Almutairi. He is a finance and marketing major and he loves to drive and travel. His favorite part about UE are the classes. He has a few treats in store for you all, so make sure to stop by tonight at 7:00 p.m., upstairs in Ridgway University Center to learn more about Saudi Arabia.
Submitted by Cassie Peterson cp156@evansville.edu
Honors Program project presentations
The Honors Program invites you to attend the Honors Program Project Presentations. The Honors project is an opportunity for students to explore an area about which they are passionate, and may consist of a research project, thesis, or creative work.
We hope you will join us to hear the fascinating work that this year's Honors students have completed. Special thanks are extended to all faculty, advisors, and others who have supported the Honors students in their educational achievements.
Below is this week's presentation schedule. All presentations will take place in Room 101 in Koch Center for Engineering and Science.
Wednesday, April 12
3:00 – 3:45 p.m.
Emily Westing, theatre design and technology
"It's Not About Television: Dramaturgy for The Ruby Sunrise"
Ben Phillips, theatre studies
"An In-Depth Study of the Relationship Between Technology and Theatrical Design with Respect to Sound"
4:00 – 5:00 p.m.
Hayley Serafino, political science/criminal justice
"Content Analysis of Media Coverage Concerning Domestic, Homegrown, and International Terrorism in the United States Since 9/11"
Jacob Trotter, political science/philosophy
"The German-Turkish Response to the Balfour Declaration"
Cindy White, music therapy
"The Perception and Importance of Feminism and Feminist Issues to UE Students"
Submitted by Jayme Williams jw504@evansville.edu
Harlaxton returnees: Cookies and Correspondence is today!
Don't forget - the cookies and correspondence event for Harlaxton returnees is happening today! Please join us in grabbing a sweet treat and writing a postcard full of tips and tricks for our outgoing students. This will be a great resource for our students who don't know what to expect while they're abroad. The postcards and sweets will be available in our office, located in Room 260 in the Schroeder School of Business Building.
Please e-mail Greta Becker at gb91@evansville.edu with any questions.
Submitted by Greta Becker gb91@evansville.edu
Gahan to discuss Irish immigrants in Southwestern Indiana
University of Evansville professor of history Daniel Gahan will be the speaker for tonight's Andiron Lecture. The lecture, which is free and open to the public, begins at 4:00 p.m. in Eykamp Hall, Room 252, Ridgway University Center. Gahan's topic will be "Diggers, Farmers, and Townspeople: Irish Immigrants in Southwestern Indiana."
Between 1815 and 1900 over four million Irish came to the US. The arrival of the Irish in such numbers sparked the first anti-immigrant political movement. Irish immigrants of 1815-1900 were largely Catholic; most settled in urban centers. Their eighteenth century compatriots were mostly Protestant and settled largely in the rural south. Scholarship on the nineteenth-century wave has focused largely on the urban experience, but recently there has been considerable study of those who settled in small towns and in the country.
Gahan will summarize current research on a 17-county area of southwestern Indiana, which examines the Irish immigrant experience there in the period 1815-1880. He will offer a profile of the Irish immigrant community of the study area at the mid-point of the century. He will consider evidence of community development, recreation of "normal" family life, achievement of a certain economic status, and degrees of assimilation, as experienced by these immigrants. This will be placed in the broader context of Irish settlement in rural parts of the US from 1815-1900.
Gahan earned his BA from the National University of Ireland (Maynooth College), his MA from Loyola University of Chicago, and his PhD from the University of Kansas. He has published on Irish agrarian history, Irish immigrants in the United States, and the Irish rebellion of 1798 (including a book on the rebellion in county Wexford, The People's Rising).
The Andiron Lecture series is sponsored by the William L. Ridgway College of Arts and Sciences and supported by a generous gift from Donald B. Korb. For more information, call 812-488-1070 or 812-488-2589.
UE Engineering OPTIONS camps set for June
The College of Engineering and Computer Science at the University of Evansville has announced the dates for Engineering OPTIONS, its annual engineering summer camps.
The Engineering OPTIONS for Middle School Girls summer career exploration program is a 3 ½ day residential opportunity at UE for middle school girls currently in grades 6, 7, or 8. The program begins on Sunday, June 11, and concludes on Wednesday, June 14.
The Engineering OPTIONS for High School Girls summer career exploration program is a week-long residential opportunity at the University for high school girls currently in grades 9, 10, or 11 who have completed geometry. The program begins on Sunday, June 18, and concludes on Friday, June 23.
Participants in the Engineering OPTIONS programs will gain a better understanding of what types of opportunities are available in fields most closely related to science, technology, engineering, and mathematics (STEM).
Dependent children of University of Evansville employees are eligible for a $125 discount towards the cost of registration.
For more information and to obtain an application or apply online, see www.evansville.edu/options.
Submitted by Kimberly Higgins kh209@evansville.edu
Venturing Crew hiking trip
Join Venturing Crew this Sunday, April 9, for hiking at Hemlock Cliffs and Tipsaw Lake Trail at Hoosier National Forest. The group will be leaving at noon and returning to campus around 8:00 p.m. This is a fabulous way to enjoy the spring weather and blow off some steam during such a stressful part of the semester! The cost of this trip will be $10.
The deadline to sign up for this trip is Friday, April 7. Officers will be available to accept your payment and reserve your spot at Ridgway University Center lobby tables from 11:00 a.m.-2:00 p.m. and 5:00-7:00 p.m., on Wednesday, April 5, Thursday, April 6, and Friday, April 7.
If you plan on joining the group on this trip, bring some extra money for dinner! Make sure you eat a good breakfast before leaving campus, as the group won't get dinner until 6:30 p.m. You are also welcome to bring snacks, and you are encouraged to bring plenty of water.
Submitted by Andrea Onyett ao64@evansville.edu
Watch party set for Kyle Freeland's MLB debut on Friday
Former University of Evansville pitcher Kyle Freeland will make his Major League Baseball debut for the Colorado Rockies on Friday in their home opener at 3:10 p.m. CT.
The Purple Aces athletic department invites fans in the area to a watch party to commemorate his start on Friday at the Buffalo Wild Wings located at 715 North Green River Road.
Members of the athletic department will be on hand to mingle with fans and enjoy Freeland's first MLB start. All guests in attendance at Buffalo Wild Wings will also be given a wristband, which will be good for free admission to Friday's UE baseball game against Indiana State at Braun Stadium. The Aces and Sycamores will begin their series opener at 6:00 p.m.
While at the restaurant, fans are asked to mention "Home Town D." By doing so, they will help UE receive a donation of 10 percent of their total bill (not including alcohol). The donation goes to the Purple Aces SAAC (Student-Athlete Advisory Committee) and is used for various community service projects such as Toys for Tots, Habitat for Humanity, and Project Linus.
As a junior, Kyle Freeland led the Aces to their second-ever MVC regular season crown. He picked up 10 victories in the process while posting a 1.62 ERA over 94.2 innings of work, including four complete games and six outings that featured 10-or-more strikeouts. His 122 punch outs and 13.56 strikeout-to-walk ratio that season ranked second in the nation.
Following the season, Freeland was selected eighth overall by the Rockies. After spending the 2014 and 2015 seasons with the Grand Junction Rockies, Asheville Tourists and Modesto Nuts, Freeland emerged as a hot prospect in the Arizona Fall League with the Salt River Rafters. He'd parlay that success into impressive performances last season with the Double-A Hartford Yard Goats before finishing the season with the Triple-A Albuquerque Isotopes. He was officially called up to the big league club on Sunday.
This Week in Music: guest artist recital
Guest artists Elizabeth Crawford (clarinet), Katrin Meidell (viola), and Lori Rhoden (piano) will present a recital in Wheeler Concert Hall this evening, April 6, at 5:30 p.m. The program will feature Bach's Suite No. 1 in G major, Haydn's Sonata in A-flat major, Granados's Quejas ó la Maja y el Ruiseñor, Head's Duet for Clarinet and Viola, Lifchitz's Yellow Ribbons #13, and Parker's Grooves. The recital is free and open to the public
Submitted by James Sullivan js820@evansville.edu
UE Theatre celebrates Shanklin Theatre's 50th anniversary with pop-up exhibit
The University of Evansville Department of Theatre invites you to a one-day-only pop-up exhibit, featuring a photo retrospective in honor of the 50th anniversary of Shanklin Theatre. The exhibit is open from 10:00 a.m.-5:00 p.m., Saturday, April 8, in the Melvin Peterson Gallery. Theatre professor emeritus Joseph P. Flauto will be hosting the gallery event. The exhibit is free and open to the community.
Shanklin Theatre opened in April of 1967 with a production of William Shakespeare's Hamlet. The photo retrospective coincides with the opening weekend of UE Theatre's 2017 production of Hamlet, running at 7:30 p.m., April 7, 8, 12, 13, 14, and 15, and at 2:00 p.m. on April 9.
Tickets are $15 for adults, and $13 for senior adults, UE faculty/staff, and any student. The Shanklin Theatre ticket office may be reached by calling 812-488-2031.
Submitted by Sharla Cowden sc75@evansville.edu
T-shirts! Buy your T-shirts!
College Mentors for Kids still has shirts for sale! All profits raised go toward the UE chapter's fundraising efforts which keep the program running efficiently each year.
What shirt sizes are left? One small and seven large. How much do they cost? $20.
Please contact Hannah Nilsen at hn22@evansville.edu to get your shirt!
Submitted by Hanna Nilsen hn22@evansville.edu
Purple Palooza Friday!
SAB will host the second annual Purple Palooza event this Friday from 6:00-10:00 p.m. Purple Palooza is a combination music festival and carnival.
This year, we will have three musicians, five inflatable attractions, and a zipline.
We will also be giving out prizes such as T-shirts, tank tops, Beats headphones, Fitbits, and a Nintendo Switch!
Submitted by Justin Coffey jc534@evansville.edu
Last day to withdraw from a spring class is Friday, April 7
Do you still need to drop a class for this spring? This Friday, April 7, is the last day to drop with a "W." No exceptions.
Drop slips are available in the registrar's office. You must have both the signatures of the instructor and your advisor on the drop slip. Please note - if you are dropping below 12 credit hours you must also obtain stamps from the financial aid office and student accounts.
Advisors may not be readily available due to SOAR on Friday so do not wait.
If you have any questions contact the registrar's office.
Submitted by Lori Johnson lj71@evansville.edu
Two NEW GAP classes for fall
Two new GAP classes are planned for the fall of 2017.
Associate professor of mechanical and civil engineering Mark Valenzuela will offer a class (GAP 310-07) in which students will work on developing a plan to provide tiny homes to the homeless,
Erin Lewis program director of the Institute for Global Enterprise, will be offering a class (GAP 310-08) that will apply Scott Sherman's transformative action curriculum to creative thinking and public problem solving.
Both classes are available for registration online under the GAP prefix. More info at www.evansville.edu/gap.
Submitted by Cindy Kelley ck116@evansville.edu
Indiana Teacher of the Year visits the School of Education
The University of Evansville welcomed Indiana Teacher of the Year, Jean Russell, to campus last Wednesday and Thursday. Russell has been an educator for 26 years; the first 21 were in the classroom in Fort Wayne, Indiana, teaching 4th and 5th grade, and more recently she began working as in instructional coach for a K-5 literacy program. She has also served on the ISTEP alternative education panel.
Since earning this prestigious title, Russell has been traveling across the state to different education departments, departing her wisdom on current teachers and soon to be educators.
On her recent visit to UE's campus, she exclaimed, "One of the things I've noticed about the students here (University of Evansville) is how incredibly reflective they are. They are here to learn. It's exciting to be in a classroom with them."
Russell called UE's program a "jewel."
The School of Education was ecstatic to be able to welcome her to campus and knows the students had a positive experience listening to her speak.
Submitted by Sharon Gieselmann sg78@evansville.edu
Deadline extended to today for UE Gives Back!
The deadline for UE Gives Back has been extended to today, April 6. We still have many openings and non-profits that need our support on Saturday, April 8.
To register, go to volunteer.evansville.edu.
For more information, ask for Millie, David, or Geoff Edwards in the student life office.
Submitted by Jackie Luedtke jl295@evansville.edu
Benefit open enrollment until April 19
During the period of April 3-19, benefit-eligible employees may enroll or make changes in the University's health, voluntary term life, dental, and ACES flexible spending account benefit plans.
It is the only chance for benefit-eligible employees to enroll or make changes until the next open enrollment period unless you have a qualifying change in status. You may also consider enrolling in the University's group life and long term disability insurance plans, if you haven't done so already.

Please review the documents in the Open Enrollment section on the HR area of AceLink - beginning with the open enrollment memo - for important announcements, reminders, and changes to the University's benefits which will occur June 1.

We will once again utilize an on-line enrollment process, eliminating all paper enrollment forms for health, life, dental, and long term disability insurance, as well as the ACES flexible spending account. This will ensure the accuracy of your enrollment elections and maintain records electronically regarding your current and future participation.
Enrollment/changes to your TIAA and Emeriti VEBA Trust retirement plan salary deferrals will continue to be processed on paper forms available in the Office of Human Resources. Therefore, you do not need to re-enroll in the TIAA or Emeriti retirement plans.
ALL benefit eligible employees (including those who do not want to make any changes to their current coverage) must enter their elections by April 19.
Please review the open enrollment memo and on-line benefit enrollment documents on the HR area of AceLink, which should answer many of the questions you might have about this system.

Please contact the Office of Human Resources at ext. 2943 with any questions.
Submitted by Lori LeDuc ll138@evansville.edu
2017-2018 Global Scholars
The Institute for Global Enterprise is pleased to announce the Global Scholars for the 2017-18 academic year. Congratulations to Noah Gordon, associate professor of biology; Erin Lewis, program director of the Institute for Global Enterprise; Lesley Pleasant, associate professor of German; and Shawn Teichmer, assistant professor of music. Each scholar will receive a travel allowance.
Lewis and Teichmer will study the legendary dance and music education system in Havana and Santiago, Cuba. Upon return, they will develop a Latin dance and music performance team at UE as well as a potential summer class where UE students could get class credit for learning the material. These UE student groups would pilot an outreach program at EVSC schools among other outreach projects.
Gordon will study three species of barking geckos in Namibia that form choruses much like frogs in North America. Namibia is the only place in the world where all three of these gecko species are found. Part of Gordon's time in Namibia will be spent investigating the communication system of these closely related geckos.
While many students come to UE from African nations, there is no UE-sponsored program for students to learn in Africa. Gordon's project aims to fill that gap. Namibia provides an excellent opportunity for students to learn firsthand how other countries deal with modern, social, political, and environmental challenges.
Pleasant proposes to study migration patterns across the world. Regardless of individual politics, migration is a highly relevant topic as masses of refugees and other migrants cross borders, affecting local, regional, national, and supranational identities. Pleasant would work with UE faculty members to add value to existing courses and potential new courses across disciplines and schools to highlight the continuing importance of national and international diversity in the UE curriculum. In addition to collaborating with colleagues, she plans to reach out to Evansville and Tristate individuals, businesses, groups, and institutions.
As Global Scholars, the recipients of this award will engage in scholarship, curriculum development, and activities related to preparing our students and community for global leadership, citizenry, and success. The Global Scholars program is supported by the John H. Schroeder Global Scholar Endowed Fund and the Lilly Endowment.
Submitted by Cindy Kelley ck116@evansville.edu
Margery Florence Kahn Scholarship applications
Applications for the Margery Florence Kahn Scholarship for 2017-18 are now available. It was the desire of the donor, Margery Florence Kahn, that her scholarship be awarded to "dedicated and conscientious students who exhibit a true passion for their chosen fields of study, and who, in the opinion of the members of the University of Evansville faculty, are likely to bring the same enthusiasm into the performance of their jobs or the practice of the professions which they will pursue following graduation."

All University of Evansville full-time undergraduate students who will be juniors or seniors in 2017-18 may apply. An essay of about 300 words must accompany the application, along with two to five faculty recommendation letters.

Applications are available from the Office of Financial Aid, located in Room 116 in Olmsted Administration Hall.
Completed applications and recommendation letters should be returned to the Office of Financial Aid by April 15.
You may also request application materials by e-mailing financialaid@evansville.edu.
Questions may be directed to the Office of Financial Aid via e-mail or by phone at 812-488-2364 or 800-424-8634.
Submitted by Trisha Hawkes th187@evansville.edu
UE Jazz Ensemble performance with jazz legend Doc Severinsen
The Patricia H. Snyder Concert and Lecture Series proudly presented Doc Severinsen and the UE Jazz Ensemble to a packed house at the Victory Theatre on Tuesday, April 4.
Students who performed as part of the UE Jazz Ensemble included:
Jon Allen
Melanie Baker
Chris Carner
Alex Edwards
Grayson Gerni
Pat Gerton
Alex Godinez
Nicole Gourieux
Devyn Haas
Griffin Honeycutt
Arlen Magelitz
Rico Martinez
Hayden McClure
Zach Mitchell
James Smith
Logan Tsuji
Kiersten Weyer
Baby announcement - Asa Patel Dovlatabadi
Payal Patel-Dovlatabadi, professor of public health and director of the public health program, and her husband, Sorush, announce the birth of their son, Asa Patel Dovlatabadi. Asa was born on Sunday, April 2. All are well!
Submitted by Pam Young py2@evansville.edu
Lonnberg presents research at AMS Sectional Meeting
UE math student Adam Lonnberg recently delivered a contributed research talk at the 2017 American Mathematics Society Central Meeting at Indiana University, Bloomington. The talk was titled as "A Modeling Study of the Hypothalamic-Pituitary-Adrenal (HPA) Axis Including Glucocorticoid Receptor (GR)."
Adam's work was supported by UExplore Undergraduate Research Grant, Department of Mathematics, and Department of Chemistry. Pengcheng Xiao, assistant professor of mathematics, is the supervisor of this research project.
Here is the abstract of the talk:
The human stress response is controlled largely by the hypothalamic pituitary adrenal (HPA) axis. Models predicting the levels of the hormones involved very often are not analytically solvable. Many of these models, such as Gupta et al. 2007, predict a bistability in this axis. Said bistability results in two steady states, a normal high-glucocorticoid receptor (GR) state, and an alternate low-GR steady state. In the current study, we are able to simplify the HPA axis model in order to solve it more easily while maintaining key features such as the bistability thereof. This model's equilibrium and characteristic polynomial are both more easily derived when compared with previous models, and the latter can be more easily analyzed via the Routh-Hurwitz criteria and its Sturm chain. Simulations run with this model exhibit oscillation, a feature found in many recent models to account for the circadian rhythms of this axis.
Submitted by Cheri Stratman cs311@evansville.edu
Freeland named to Colorado Opening Day roster
It's been nearly 15 years since a former University of Evansville pitcher earned a start on a Major League Baseball mound, but that could all change next week as 2014 Missouri Valley Conference Pitcher of the Year Kyle Freeland is expected toe the rubber next Friday for the Colorado Rockies in the team's home-opening contest against the Los Angeles Dodgers.
On Sunday, Freeland was officially named to the 2017 Opening Day roster by the Rockies organization.
"Obviously, I'm very proud to see Kyle earn the call-up," UE head coach Wes Carroll said. "He represents our university and our program extremely well. He's overcome adversity and injuries along the way, and he's kept his head up and put himself in a position to succeed. That's the type of mentality that Evansville Baseball is all about, and I couldn't be more proud of him. I know it's a dream come true for Kyle, and I know that everyone involved with our program is looking forward to following him with the Rockies."
Freeland, who was a non-roster invitee to Rockies Spring Training in Scottsdale, Arizona, has impressed all spring, making six appearances with four starts while posting a 3.48 earned run average with 19 strikeouts over 20.2 innings of work. The 6-foot-3 lefty began the spring as a top-10 rated prospect in the Colorado farm system, and as reported by multiple outlets, he is expected to begin as the No. 5 starter in the team's rotation.
A native of Denver, Freeland could become the first pitcher to start the Coors Field opener for his home state team since Greeley's Shawn Chacon in 2003.
Freeland's journey to "The Show" began as a prep star at Thomas Jefferson High School. After being selected by the Philadelphia Phillies in the 2011 MLB First-Year Player Draft, he elected to attend the University of Evansville, where he became one of the more dominant pitchers in the storied history of Valley Baseball. As a junior, he led the Aces to just their second-ever MVC regular season crown. He picked up 10 victories in the process while posting a 1.62 ERA over 94.2 innings of work, including four complete games and six outings that featured 10-or-more strikeouts. His 122 punchouts and 13.56 strikeout-to-walk ratio that season ranked second in the nation.
Following the season, Freeland was selected eighth overall by the Rockies. After spending the 2014 and 2015 seasons with the Grand Junction Rockies, Asheville Tourists and Modesto Nuts, Freeland emerged as a hot prospect in the Arizona Fall League with the Salt River Rafters. He'd parlay that success into impressive performances last season with the Double-A Hartford Yard Goats before finishing the season with the Triple-A Albuquerque Isotopes.
Freeland is now the fifth-ever former UE player to grab a spot on a Major League roster, and he's the first since the retirement of former Aces great Jamey Carroll, who left the Kansas City Royals organization in 2013. A prototypical utility man over the course of his career, Carroll, oddly enough, was also the last UE player to appear on the mound in the majors as he tossed a perfect frame for the Twins against the Royals in 2013.
Andy Benes, the No. 1 overall pick of the 1988 draft, was the last full-fledged UE pitcher to appear on the mound in the big leagues. A recognizable member of the St. Louis Cardinals for much of his career, he stepped off the mound for good near the end of the 2002 season.
In all, there are four other Aces pursuing the Major League dream in affiliated organizations. After earning invites their respective big-league camps, Cleveland Indians farmhand Eric Stamets and New York Mets prospect Kevin Kaczmarski are set to begin their seasons in the minor leagues, most likely with the Double-A Akron RubberDucks and Binghamton Rumble Ponies. Kyle Lloyd will also be looking to continue his progression after spending the 2016 campaign with the San Antonio Missions in the San Diego Padres system. Meanwhile, Boomer Synek, who graduated from UE last spring, will hope to build off his first season with the Rookie-Level GCL Pirates.
Professor Khan receives highly cited research award
Walayet A. Khan, professor of finance, recently received the Elsevier publisher 2017 "highly cited research" award for his coauthored paper with Joao Vieito (Portugal). The paper is titled "Executive compensation and gender: S&P 1500 listed firms" and was published in Journal of Economics and Business in 2013. Since its publication it has been one of the five most highly cited papers.
Khan and Vieito examine if a gender gap persists in executive compensation and if the composition and the determinants of executive compensation for men versus women are the same for the S&P1500 listed firms. They also extended the analysis to high tech firms, where high scholarship is required both for male and female executives.
The results reveal that the gender gap in executive compensation is reducing essentially after the year 2000. Also, the factors that explain the variation in executive compensation are not all the same for men and women. However, firms continue to pay women, who are considered more risk averse than men, a similar proportion of risky compensation components, such as stock options and restricted stocks, than they pay to men. In terms of technology firms, they find that the gender differences in total compensation are not statistically significant. The finding that the gender gap diminishes is a sign of a better functioning market for executives.
The findings could be potentially useful for compensation committees in order to develop compensation packages that take into consideration the degree of risk aversion in order to enhance performance. Compensation adjusted for risk aversion can produce a higher level of satisfaction for the employees and can lead to better performances.
The authors suggest that future research should focus on international comparison of various dimensions of executive compensation.
Kretz visits ASU's Lincoln Center for Applied Ethics
Professor Lisa Kretz is presenting this week at Arizona State University's Lincoln Center for Applied Ethics. The Lincoln Center for Applied Ethics advances teaching, research and community engagement efforts that explore how best to live together as a human community, so that we all may achieve purposeful, productive and prosperous lives. Kretz will be discussing how to teach in ways that ethically engage, as well as presenting on the new ethics and social change major.
Contribute to AceNotes
To have content considered for inclusion in AceNotes, please submit a Marketing Request Form. Deadline for submission to AceNotes is 10:00 a.m. on the requested date of publication. Only articles concerning UE related/sponsored activities will be accepted. Articles submitted to AceNotes may be edited for length and clarity. Submitter contact information is at the end of each article.