| | |
| --- | --- |
| AceNotes Today | Monday, April 3, 2017 |
Welcome the University Senate Review Committee today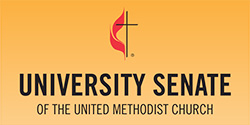 The University of Evansville is affiliated with the United Methodist Church. The United Methodist Church, through the work of its University Senate, conducts accreditation visits at all United Methodist-related institutions.
UE will welcome the following University Senate Review Committee to campus today:
Dennis Carroll, EdD, Review Team Chair and Provost at High Point University
David Joyce, PhD, President of Brevard College
Mark Hanshaw, PhD, Interim Dean of the School of Arts and Letters at Texas Wesleyan University
Visiting members hope to learn how our relationship with the United Methodist Church informs the work of the administration, staff, faculty, and trustees as we educate and develop our students.
Let's welcome our committee members as we demonstrate our commitment to the identifying marks of a United Methodist-related institution.
For more information, go to AceLink and click UMC accreditation.
Benefit open enrollment meetings
During the period of April 3-14, benefit-eligible employees may enroll or make changes in the University's health, voluntary term life, dental, and ACES flexible spending account benefit plans. It is the only chance for benefit-eligible employees to enroll or make changes until the next open enrollment period unless you have a qualifying change in status. You may also consider enrolling in the University's group life and long term disability insurance plans, if you haven't done so already.
Please review the documents in the Open Enrollment section on the HR area of AceLink - beginning with the open enrollment memo - for important announcements, reminders, and changes to the University's benefits which will occur June 1.
We will once again utilize an on-line enrollment process, eliminating all paper enrollment forms for health, life, dental, and long term disability insurance, as well as the ACES flexible spending account. This will ensure the accuracy of your enrollment elections and maintain records electronically regarding your current and future participation.
Enrollment/changes to your TIAA and Emeriti VEBA Trust retirement plan salary deferrals will continue to be processed on paper forms available in the Office of Human Resources. Therefore, you do not need to re-enroll in the TIAA or Emeriti retirement plans. ALL benefit eligible employees (including those who do not want to make any changes to their current coverage) must enter their elections by April 14.
Please review the open enrollment memo and on-line benefit enrollment documents on the HR area of AceLink, which should answer many of the questions you might have about this system.
To learn more about these benefit changes, see a demo of on-line benefit enrollment, or to speak with a plan representative, employees are encouraged to attend one of the following open enrollment meetings in Eykamp Hall, Room 251, Ridgway University Center:
• Tuesday, April 4 from 9:00 a.m. to 10:00 a.m.
• Tuesday, April 4 from 11:00 a.m.-noon
• Tuesday, April 4 from 2:00 p.m.-3:00 p.m.
Please contact the Office of Human Resources at ext. 2943 with any questions.
Submitted by Lori LeDuc ll138@evansville.edu
Honors Program project presentations
The Honors Program invites you to attend the Honors Program Project Presentations. The Honors project is an opportunity for students to explore an area about which they are passionate, and may consist of a research project, thesis, or creative work.
We hope you will join us to hear the fascinating work that this year's Honors students have completed. Special thanks are extended to all faculty, advisors, and others who have supported the Honors students in their educational achievements.
Below is this week's presentation schedule. All presentations will take place in Room 101 in Koch Center for Engineering and Science.
Wednesday, April 12
3:00 – 3:45 p.m.
Emily Westing, theatre design and technology
"It's Not About Television: Dramaturgy for The Ruby Sunrise"
Ben Phillips, theatre studies
"An In-Depth Study of the Relationship Between Technology and Theatrical Design with Respect to Sound"
4:00 – 5:00 p.m.
Hayley Serafino, political science/criminal justice
"Content Analysis of Media Coverage Concerning Domestic, Homegrown, and International Terrorism in the United States Since 9/11"
Jacob Trotter, political science/philosophy
"The German-Turkish Response to the Balfour Declaration"
Cindy White, music therapy
"The Perception and Importance of Feminism and Feminist Issues to UE Students"
Submitted by Jayme Williams jw504@evansville.edu
Scholars for Syria Lecture to feature personal stories of Syrian students
Tonight's UE Scholars for Syria Lecture will feature four Syrian students who will graduate from UE this spring. The students will be sharing their personal stories, and there will be a summary of UE GAP/Syrian school outreach program and a discussion of the future plans for the program. The lecture, which is free and open to the public is at 6:00 p.m. in Room 162 (Harkness Hall), Schroeder School of Business Building.
Those attending the event will have the opportunity to meet and chat with the Syrian students and their families afterward at a reception in Dunigan Lounge in the Schroeder School of Business Building.
This lecture series is sponsored by Scholars for Syria.
Submitted by Gail Vignola gv15@evansville.edu
UE Theatre closes 2016-17 Shanklin Theatre season with Hamlet
The University of Evansville Department of Theatre proudly presents the final production of its season, William Shakespeare's Hamlet, honoring the 50th anniversary of the April 1967 opening of Shanklin Theatre. Hamlet opens Friday, April 7, at 7:30 p.m., in Shanklin Theatre. Additional performances are at 7:30 p.m. on April 8, 12, 13, 14, 15 and at 2:00 p.m. on April 9.
Enraged by his mother's hasty marriage and tormented by ghostly visions of his father's suspected murder, the play follows the desperate young Prince of Denmark on his bloody quest for revenge. Grand in scope and rich in language, this haunting story of family loyalty, obsession, and remorse will leave audiences ready for the next 50 years of historic Shanklin Theatre productions.
Shanklin Theatre opened its doors in April 1967 with a production of Hamlet starring professor John David Lutz in the title role. After a $1.3 million renovation in 1990, Shanklin Theatre reopened its doors with another production of Hamlet, this time with John David Lutz directing and Brent Langdon tackling the lead role. Mirroring the opening of Shanklin Theatre in April 1967, the University of Evansville Department of Theatre is thrilled to celebrate the 50th anniversary with another production of this critically acclaimed tragedy.
Professor John David Lutz directs this special production. Department chair Eric Renschler serves as the scenic designer; professor Patti McCrory is the costume designer; associate professor Stephen Boulmetis is the lighting designer; Baxter Pitt, a junior from McKinney, Texas, serves as the sound designer; professor Diane Brewer is the dramaturg; Melia Schnefke, a junior from St. Louis, Missouri, is the stage manager; and Logan Schumann, a senior from San Antonio, Texas, is the technical director.
The cast features senior David Aaron Evans from The Woodlands, Texas, as Hamlet; sophomore Meredith Ham from Castle Rock, Colorado, as Ophelia; junior Davis Brinker from Minneapolis, Minnesota, as Horatio; senior Rachel Barkalow from Cincinnati, Ohio, as Gertrude; senior Nate DeCook from Holland, Michigan, as Laertes. The cast also feature Brent Langdon, a 1992 University of Evansville Department of Theatre graduate, who played Hamlet in the 1990 Shanklin Theatre production.
Ticket prices are $15 for adults and $13 for senior adults, students, and UE faculty and staff. UE students may obtain one free student rush ticket beginning at noon on the day of the performance they wish to attend. Tickets may be purchased by calling 812-488–2031, Monday through Friday, noon to 5:00 p.m.
This Week in Music: guest artist recital
Guest artists Elizabeth Crawford (clarinet), Katrin Meidell (viola), and Lori Rhoden (piano) will present a recital in Wheeler Concert Hall this evening, April 6, at 5:30 p.m. The program will feature Bach's Suite No. 1 in G major, Haydn's Sonata in A-flat major, Granados's Quejas ó la Maja y el Ruiseñor, Head's Duet for Clarinet and Viola, Lifchitz's Yellow Ribbons #13, and Parker's Grooves. The recital is free and open to the public
Submitted by James Sullivan js820@evansville.edu
UE Theatre celebrates Shanklin Theatre's 50th anniversary with pop-up exhibit
The University of Evansville Department of Theatre invites you to a one-day-only pop-up exhibit, featuring a photo retrospective in honor of the 50th anniversary of Shanklin Theatre. The exhibit is open from 10:00 a.m.-5:00 p.m., Saturday, April 8, in the Melvin Peterson Gallery. Theatre professor emeritus Joseph P. Flauto will be hosting the gallery event. The exhibit is free and open to the community.
Shanklin Theatre opened in April of 1967 with a production of William Shakespeare's Hamlet. The photo retrospective coincides with the opening weekend of UE Theatre's 2017 production of Hamlet, running at 7:30 p.m., April 7, 8, 12, 13, 14, and 15, and at 2:00 p.m. on April 9.
Tickets are $15 for adults, and $13 for senior adults, UE faculty/staff, and any student. The Shanklin Theatre ticket office may be reached by calling 812-488-2031.
Submitted by Sharla Cowden sc75@evansville.edu
Free bowling! Prizes! Fun!
Act fast, there are only three team spaces left for the annual Spare Change for Warriors Bowling Tournament for charity! UE students, faculty, administration and the Tri-State community will gather to bowl for charity on Saturday, April 8 at 1:00 p.m. at River City Recreation on Weinbach Avenue. Prizes will be awarded throughout the tournament. Proceeds will be shared among Fallen Patriots, the winning team's charity of choice, and UEVETS student veterans' organization. Contact Chris Haynes at ch300@evansville.edu or 812-629-6777 for details.
Submitted by Cherie Leonhardt CL29@evansville.edu
Charlas: workout today!
Students of all levels of Spanish are invited to meet with Belén Alemán Mansilla, a Fulbright FLTA, to play some games/workout while practicing Spanish. The next Charlas session is today from 4:30-5:30 p.m. in the large gym in Carson Center.
It's a wonderful opportunity to interact informally in Spanish and to meet other students of Spanish. You can stay as little or as long as you want.
Please contact Belén at ma360@evansville.edu if you have any questions.
¡Allá nos vemos!
Submitted by Maria Belén Aleman Mansilla ma360@evansville.edu
Gahan to discuss Irish immigrants in Southwestern Indiana
University of Evansville professor of history Daniel Gahan will be the speaker for tonight's Andiron Lecture. The lecture, which is free and open to the public, begins at 4:00 p.m. in Eykamp Hall, Room 252, Ridgway University Center. Gahan's topic will be "Diggers, Farmers, and Townspeople: Irish Immigrants in Southwestern Indiana."
Between 1815 and 1900 over four million Irish came to the US. The arrival of the Irish in such numbers sparked the first anti-immigrant political movement. Irish immigrants of 1815-1900 were largely Catholic; most settled in urban centers. Their eighteenth century compatriots were mostly Protestant and settled largely in the rural south. Scholarship on the nineteenth-century wave has focused largely on the urban experience, but recently there has been considerable study of those who settled in small towns and in the country.
Gahan will summarize current research on a 17-county area of southwestern Indiana, which examines the Irish immigrant experience there in the period 1815-1880. He will offer a profile of the Irish immigrant community of the study area at the mid-point of the century. He will consider evidence of community development, recreation of "normal" family life, achievement of a certain economic status, and degrees of assimilation, as experienced by these immigrants. This will be placed in the broader context of Irish settlement in rural parts of the US from 1815-1900.
Gahan earned his BA from the National University of Ireland (Maynooth College), his MA from Loyola University of Chicago, and his PhD from the University of Kansas. He has published on Irish agrarian history, Irish immigrants in the United States, and the Irish rebellion of 1798 (including a book on the rebellion in county Wexford, The People's Rising).
The Andiron Lecture series is sponsored by the William L. Ridgway College of Arts and Sciences and supported by a generous gift from Donald B. Korb. For more information, call 812-488-1070 or 812-488-2589.
Cookies and correspondence
Calling all Harlaxton returnees! The study abroad office staff invites you to help with a special project for outgoing Harlaxton students. Please join them in "pudding" your time at Harlaxton to good use by stopping by their office in Room 260 in the Schroeder School of Business Building to grab a sweet treat and write a postcard full of tips and tricks for outgoing students.
This will be a great resource for students who don't know what to expect while they are abroad, and they hope you won't "dessert" your fellow Harlaxton students!
The postcards and sweets will be available in the study abroad office all day from Tuesday-Thursday, April 4-6. If you have any questions, please contact Greta Becker at gb91@evansville.edu.
Submitted by: Greta Becker gb91@evansville.edu
Pep and Vim Annual Day of Giving and Philanthropy Week were a success!
Thank you to everyone on and off campus who helped make UE's Pep and Vim Annual Day of Giving and Philanthropy Week a success! The camaraderie of our campus shined exceptionally bright on Friday.
We're excited to announce that we met our first goal of 500 gifts, and we are still counting Pep and Vim gifts! This means the Alumni Board is going to donate $10,000 to the Alumni Scholarship Fund!
The board challenged us to hit a stretch goal of 700 gifts. If we reach this goal, the Alumni Board will donate another $10,000 for a total of $20,000 to the Alumni Scholarship Fund.
Our advancement services team is working hard to post all the gifts, so please stay tuned for a final count! Our University is a special place to work and learn because of YOU!
Submitted by Jennifer Jacobs jj130@evansville.edu
Indiana Teacher of the Year visits the School of Education
The University of Evansville welcomed Indiana Teacher of the Year, Jean Russell, to campus last Wednesday and Thursday. Russell has been an educator for 26 years; the first 21 were in the classroom in Fort Wayne, Indiana, teaching 4th and 5th grade, and more recently she began working as in instructional coach for a K-5 literacy program. She has also served on the ISTEP alternative education panel.
Since earning this prestigious title, Russell has been traveling across the state to different education departments, departing her wisdom on current teachers and soon to be educators.
On her recent visit to UE's campus, she exclaimed, "One of the things I've noticed about the students here (University of Evansville) is how incredibly reflective they are. They are here to learn. It's exciting to be in a classroom with them."
Russell called UE's program a "jewel."
The School of Education was ecstatic to be able to welcome her to campus and knows the students had a positive experience listening to her speak.
Submitted by Sharon Gieselmann sg78@evansville.edu
UNI wins series finale over UE Softball
Ashleigh Downing threw a complete game, but a home run in the eighth inning propelled UNI to a 3-2 win over the University of Evansville Softball team on Sunday afternoon.
"I just want to say how proud of this team I am! We came out and battled today and played pitch by pitch," UE head coach Mat Mundell said. "I love how we responded after a tough Saturday. Now we just have to harness that fight every game."
Downing went the distance in the circle, allowing just three runs on six hits. She walked three and struck out one in her best outing with the Purple Aces (12-19, 4-5 MVC).
UNI (18-13, 6-3 MVC) opened up the scoring in the bottom of the second inning on an Ashley Chesser home run. Two innings later, the Aces got rolling and took the lead. Morgan Lambert led off with a single and was pinch run for by Ashlee Kawall.
Downing connected on a successful sacrifice bunt to move Kawall to second before she proceeded to steal third. Courtney Land was hit by a pitch and recorded a steal after reaching base. Hayli Scott later singled to right to plate Kawall for the first run of the game before Brittany Hay had an RBI knock of her own to give the Aces a 2-1 lead.
The Panthers came back with the tying run in the sixth before the winning run scored as Anna Varriano homered in the eighth inning. Each team registered six hits on the day while both also garnered three walks.
Evansville welcomes Austin Peay to Cooper Stadium on Wednesday for a doubleheader that is slated to begin at 2:00 p.m.
Deadline extended to today for UE Gives Back!
The deadline for UE Gives Back has been extended to today, April 6. We still have many openings and non-profits that need our support on Saturday, April 8.
To register, go to volunteer.evansville.edu.
For more information, ask for Millie, David, or Geoff Edwards in the student life office.
Submitted by Jackie Luedtke jl295@evansville.edu
Lunch with the Aces another big success for UE
A crowd of close to 400 people were in attendance at the 2017 Lunch with the Aces as the event returned to campus for the second year in a row.
Highlighting the event was keynote speaker Andy Elkins, who reminisced about his journey that started in high school in Evansville and continued as a member of the Purple Aces in the early 1990's. He spoke of his memories of playing at Roberts Stadium, the path his teammates took to the NCAA Tournament and NIT and how the University of Evansville prepared him for his future.
A special presentation was made at the beginning of the program by Purple Aces Club president Don Apple. He gave out the first-ever Purple Aces Club Student-Athlete of the Year Award, which will now be given annually to a male and female student-athlete at UE.
The criteria include:
• The student/athlete should maintain an accumulative GPA of 3.0 or above.
• The student/athlete should display the true spirit of the University of Evansville.
• The student/athlete should maintain a positive attitude and shows flexibility at adapting to challenging situations.
• The student/athlete should display a high level of integrity, by leading through example.
• The student/athlete should provide encouragement and support to other students (athlete and non-athlete; upperclassman and underclassman).
• The student/athlete should excel in community spirit and relations.
• The student/athlete should be willing to give time to community service.
• The student/athlete should be willing to give/spend time with the young Aces fan base.
Earning the awards were Whitney Biggs of Women's Soccer and David Howard from the Aces Men's Basketball team.
"I would like to thank all those who sent in nomination forms. This award would not be possible, without the nomination from UE staff, faculty and administrators," Apple said. "On behalf of the PAC Board of Directors, we would like to congratulate Whitney and David. They are both very deserving and set a high standard for all those that follow for years to come."
Kyle Peach of UE's ESPN3 crew was the emcee for the event while Marx BBQ provided the food. A special thanks also go out to Lumaworx for their assistance. At the completion of the event, a video presentation was shown to the fans, courtesy of Purple Aces Productions.
Financial aid for summer courses and work-study jobs
Financial aid for summer courses
If you are seeking financial aid to help pay for summer courses at UE, please complete a summer financial aid application, available in the Office of Financial Aid. We will help you examine your options for aid, which in most cases during the summer term is limited to: federal loans (direct or PLUS), private student loans, federal Pell grants, tuition remission (employees and dependents), and student employment. Refer to the summer form to determine the types of aid for which you may be eligible based on your anticipated enrollment status.
Work-study
On-campus jobs are available for continuing UE students during the summer. You do not need to be eligible for need-based federal/state work-study during the academic year in order to apply. You may also apply regardless of your enrollment in summer courses. Applications are available within the Student Employment area of WebAdvisor.
Submitted by Amy Sowders as560@evansville.edu
Accounting and audit procedures for summer travel expenses and membership dues
Traveling this summer on UE business with a return date after May 31? Paying membership dues for next fiscal year prior to May 31? If you pay for any of these expenses before May 31, you will need to contact Lori Harriss (lh177@evansville.edu) in accounting and audit.
If you use WebAdvisor to create a web voucher, you will need to ask for the prepaid account number to be added to your choices.
If you use your Pcard prior to May 31 to pay for next year's travel or membership dues, you will need to email the following information:
Vendor name
Date of purchase on Pcard
Dollar amount charged to Pcard
Description and purpose of purchase
Account number charged for purchase
These expenses will be charged to your 2017-18 budget funds.
Submitted by: Michele Adams ma72@evansville.edu
Nominations being accepted for Outstanding Senior Service Awards
Do you know a senior deserving of the highest award given by UE? Ten finalists will be honored at a luncheon in May and one male and one female will be given this award at commencement. Selection is based on academic achievement, demonstrated leadership, and future contribution to society.
The Guthrie May and Mabel Dillingham Nenneker Outstanding Senior Service Awards nominations will be accepted March 20-April 11.
Please download the nomination application and print it out and share copies with students whom you would like to nominate so they can complete the requirements and submit their applications. Copies are also available in the Office of the Dean of Students.
Applications must be submitted to the Office of the Dean of Students by April 11. Questions can be referred to Karen Martin at km306@evansville.edu or 812-488-2500.
Margery Florence Kahn Scholarship applications
Applications for the Margery Florence Kahn Scholarship for 2017-18 are now available. It was the desire of the donor, Margery Florence Kahn, that her scholarship be awarded to "dedicated and conscientious students who exhibit a true passion for their chosen fields of study, and who, in the opinion of the members of the University of Evansville faculty, are likely to bring the same enthusiasm into the performance of their jobs or the practice of the professions which they will pursue following graduation."

All University of Evansville full-time undergraduate students who will be juniors or seniors in 2017-18 may apply. An essay of about 300 words must accompany the application, along with two to five faculty recommendation letters.

Applications are available from the Office of Financial Aid, located in Room 116 in Olmsted Administration Hall.
Completed applications and recommendation letters should be returned to the Office of Financial Aid by April 15.
You may also request application materials by e-mailing financialaid@evansville.edu.
Questions may be directed to the Office of Financial Aid via e-mail or by phone at 812-488-2364 or 800-424-8634.
Submitted by Trisha Hawkes th187@evansville.edu
Pahud ties for third at Hoosier Invitational
Wil Pahud shot a 1-under 70 on Sunday as he finished the Hoosier Invitational in a tie for third place at the IU Golf Course.
Coupled with his first two rounds, Pahud finished the tournament with a 210, just four strokes off of the win. His opening-day totals finished at 71 and 69.
Tyler Gray also had a nice finish. A 2-over 73 in the last round saw him complete the event in a tie for 12th place. His tally checked in at 215.
Matthew Ladd was third on the squad. His final round finished at 80 to give him a final score of 229. He tied for 62nd. Zac Turi was next for the Aces. He registered a 78 on Sunday to post a 232 for the tournament. Jon Pick was fifth on the team with a 3-round total of 234.
As a team, the Purple Aces tied Oakland for tenth place with totals of 882. The pair was one behind 9th-place Oakland. Charlotte continued its dominance on the team side, finishing the three rounds with a total of 841 strokes, 18 ahead of Indiana and 20 in front of third place Bradley.
Medalist honors went to Valparaiso's Peter Webb. After rounds of 65 and 68 on Saturday, a 73 on Sunday was good enough to win the tournament by three strokes with a 206.
Evansville travels to the Tennessee State Intercollegiate in Nashville on April 10-11.
Freeland named to Colorado Opening Day roster
It's been nearly 15 years since a former University of Evansville pitcher earned a start on a Major League Baseball mound, but that could all change next week as 2014 Missouri Valley Conference Pitcher of the Year Kyle Freeland is expected toe the rubber next Friday for the Colorado Rockies in the team's home-opening contest against the Los Angeles Dodgers.
On Sunday, Freeland was officially named to the 2017 Opening Day roster by the Rockies organization.
"Obviously, I'm very proud to see Kyle earn the call-up," UE head coach Wes Carroll said. "He represents our university and our program extremely well. He's overcome adversity and injuries along the way, and he's kept his head up and put himself in a position to succeed. That's the type of mentality that Evansville Baseball is all about, and I couldn't be more proud of him. I know it's a dream come true for Kyle, and I know that everyone involved with our program is looking forward to following him with the Rockies."
Freeland, who was a non-roster invitee to Rockies Spring Training in Scottsdale, Arizona, has impressed all spring, making six appearances with four starts while posting a 3.48 earned run average with 19 strikeouts over 20.2 innings of work. The 6-foot-3 lefty began the spring as a top-10 rated prospect in the Colorado farm system, and as reported by multiple outlets, he is expected to begin as the No. 5 starter in the team's rotation.
A native of Denver, Freeland could become the first pitcher to start the Coors Field opener for his home state team since Greeley's Shawn Chacon in 2003.
Freeland's journey to "The Show" began as a prep star at Thomas Jefferson High School. After being selected by the Philadelphia Phillies in the 2011 MLB First-Year Player Draft, he elected to attend the University of Evansville, where he became one of the more dominant pitchers in the storied history of Valley Baseball. As a junior, he led the Aces to just their second-ever MVC regular season crown. He picked up 10 victories in the process while posting a 1.62 ERA over 94.2 innings of work, including four complete games and six outings that featured 10-or-more strikeouts. His 122 punchouts and 13.56 strikeout-to-walk ratio that season ranked second in the nation.
Following the season, Freeland was selected eighth overall by the Rockies. After spending the 2014 and 2015 seasons with the Grand Junction Rockies, Asheville Tourists and Modesto Nuts, Freeland emerged as a hot prospect in the Arizona Fall League with the Salt River Rafters. He'd parlay that success into impressive performances last season with the Double-A Hartford Yard Goats before finishing the season with the Triple-A Albuquerque Isotopes.
Freeland is now the fifth-ever former UE player to grab a spot on a Major League roster, and he's the first since the retirement of former Aces great Jamey Carroll, who left the Kansas City Royals organization in 2013. A prototypical utility man over the course of his career, Carroll, oddly enough, was also the last UE player to appear on the mound in the majors as he tossed a perfect frame for the Twins against the Royals in 2013.
Andy Benes, the No. 1 overall pick of the 1988 draft, was the last full-fledged UE pitcher to appear on the mound in the big leagues. A recognizable member of the St. Louis Cardinals for much of his career, he stepped off the mound for good near the end of the 2002 season.
In all, there are four other Aces pursuing the Major League dream in affiliated organizations. After earning invites their respective big-league camps, Cleveland Indians farmhand Eric Stamets and New York Mets prospect Kevin Kaczmarski are set to begin their seasons in the minor leagues, most likely with the Double-A Akron RubberDucks and Binghamton Rumble Ponies. Kyle Lloyd will also be looking to continue his progression after spending the 2016 campaign with the San Antonio Missions in the San Diego Padres system. Meanwhile, Boomer Synek, who graduated from UE last spring, will hope to build off his first season with the Rookie-Level GCL Pirates.
Professor Khan receives highly cited research award
Walayet A. Khan, professor of finance, recently received the Elsevier publisher 2017 "highly cited research" award for his coauthored paper with Joao Vieito (Portugal). The paper is titled "Executive compensation and gender: S&P 1500 listed firms" and was published in Journal of Economics and Business in 2013. Since its publication it has been one of the five most highly cited papers.
Khan and Vieito examine if a gender gap persists in executive compensation and if the composition and the determinants of executive compensation for men versus women are the same for the S&P1500 listed firms. They also extended the analysis to high tech firms, where high scholarship is required both for male and female executives.
The results reveal that the gender gap in executive compensation is reducing essentially after the year 2000. Also, the factors that explain the variation in executive compensation are not all the same for men and women. However, firms continue to pay women, who are considered more risk averse than men, a similar proportion of risky compensation components, such as stock options and restricted stocks, than they pay to men. In terms of technology firms, they find that the gender differences in total compensation are not statistically significant. The finding that the gender gap diminishes is a sign of a better functioning market for executives.
The findings could be potentially useful for compensation committees in order to develop compensation packages that take into consideration the degree of risk aversion in order to enhance performance. Compensation adjusted for risk aversion can produce a higher level of satisfaction for the employees and can lead to better performances.
The authors suggest that future research should focus on international comparison of various dimensions of executive compensation.
Women's Tennis earns big MVC win over SIU
A full team effort saw the University of Evansville Women's Tennis team pick up a big Missouri Valley Conference win over Southern Illinois on Friday as UE took a 4-3 triumph.
"This was a battle from start to finish and we had to fight for everything today," Purple Aces head coach Jayson Wiseman said. "We were fortunate to get a fast start at both #1 & #2 doubles as clinching that point made all the difference."
"We had a couple chances to clinch the victory, first at #6 which we came up short in the 3rd set tie-breaker, then at #1 singles," Wiseman continued. "Chieko showed tremendous heart coming back from down a set and down 5-2 to win 11 of the final 13 games to take the win and clinch the match."
Evansville opened the day with success in doubles as Theodora Soldatou and Chieko Yamada won a 6-1 decision at flight one with Diana Tkachenko and Nicoli Pereira picking up a 6-2 win in the second flight to clinch the point.
Singles play saw Daria Pentsova and Tkachenko each earn 2-set wins. Tkachenko picked up the win in a tiebreaker in the second flight while Pentsova was victorious in the fourth. Clinching the victory was Yamada at top singles. She fell in the first set before rallying for the win.
Home play continues for UE next weekend as the squad welcomes Bradley and Taylor University to Wesselman Park on Saturday, April 8. The match versus the Braves starts at 11:00 a.m. before the second contest begins at 3:00 p.m.

Tennis match results:
Singles competition
1. Chieko Yamada (UE) def. Cai, Xiwei (SIU) 3-6, 7-5, 6-2
2. Diana Tkachenko (UE) def. Cordero, Ana Sofia (SIU) 6-3, 7-6 (6-0)
3. Chrysanthou, Athena (SIU) def. Nicoli Pereira (UE) 6-2, 6-4
4. Daria Pentsova (UE) def. Golovkina, Yana (SIU) 6-3, 6-0
5. Monaghan, Meagan (SIU) def. Theodora Soldatou (UE) 7-6 (5-0), 6-3
6. Dozortseva, Polina (SIU) def. Andrea Pascual-Larri (UE) 6-0, 3-6, 7-6 (2-0)
Doubles competition
1. Theodora Soldatou/Chieko Yamada (UE) def. Cai, Xiwei/Cordero, Ana Sofia (SIU) 6-1
2. Diana Tkachenko/Nicoli Pereira (UE) def. Beiroa, Vitoria/Monaghan, Meagan (SIU) 6-2
3. Andjela Brguljan/Daria Pentsova (UE) vs. Dozortseva, Polina/Golovkina, Yana (SIU) 4-4, unfinished
Frasier judges Evansville Museum's High School Art Show
Stephanie Frasier, chair and associate professor of art, has been invited to judge the 54th Annual High School Art Show at the Evansville Museum. Nearly 1,000 entries were submitted in the categories of painting, drawing, printmaking, sculpture, jewelry, textiles, ceramics, photography, mixed media, and graphic design by students currently enrolled in grades 9-12 in 20 public, parochial and private schools in Vanderburgh, Warrick, Pike, Posey, and Gibson Counties in Indiana
The exhibition runs March 16–April 16.
Contribute to AceNotes
To have content considered for inclusion in AceNotes, please submit a Marketing Request Form. Deadline for submission to AceNotes is 10:00 a.m. on the requested date of publication. Only articles concerning UE related/sponsored activities will be accepted. Articles submitted to AceNotes may be edited for length and clarity. Submitter contact information is at the end of each article.