| | |
| --- | --- |
| AceNotes Today | Friday, March 31, 2017 |
Aces set to open Valley play in Carbondale
Consistency will be key for the University of Evansville Baseball team when it opens Missouri Valley Conference play this weekend with a three-game set against Southern Illinois at Itchy Jones Stadium in Carbondale.
The Aces (8-17) will be looking to notch their second series victory of the season and their first since taking two out of three at Campbell in Buies Creek, North Carolina.
UE, which fell in a pair of tightly-contested contests at Indiana and against SIUE earlier this week, has put together stretches of strong hitting and strong pitching separately, but as the schedule turns over to the league slate, head coach Wes Carroll will be hoping to see it all come together at the same time.
"We're starting to show more consistency defensively, but we still haven't played complementary baseball," said the ninth-year head coach. "Our pitchers haven't picked up our offense when we needed it, and our offense hasn't picked up our pitchers when we needed it. We just need to keep working and try to find ways to win."
The Aces have started to excel at the plate at times in recent weeks, thanks in large part to the local contingent in the line-up. Korbin Williams, a junior out of Newburgh, has seen his average climb to .337 for the season after stringing together four consecutive multi-hit games. Kenton Crews, a freshman out of Lincoln City, actually leads the team offensively with a .363 average, and Jasper product Craig Shepherd is second on the team at .360.
Trey Hair, a preseason All-American, is hitting .294 this season with team-best totals in doubles (13), runs (16) and RBI (18), and Travis Tokarek has excelled over the past week, hitting three home runs in his past four games.
On the mound, Patrick Schnieders (2-3, 2.48 ERA) will get the start today with Connor Strain (0-2, 5.23) and Justin Hayden (2-3, 7.39) slated to get the nods on Saturday and Sunday.
SIU (12-14) will also be looking to round into form after dropping five of their last six games. The Salukis were picked to finish second in the Valley in the preseason poll.
First pitch today in Carbondale is set for 6:30 p.m.
UE Women's Tennis welcomes SIU today
Another home Missouri Valley Conference match is up next for the University of Evansville Women's Tennis team as they welcome Southern Illinois to Wesselman Park today for a 2:00 p.m. match.
Despite falling in their last two matches, the Purple Aces have been on a nice roll, going 7-5 in their last 12 outings. Freshman Diana Tkachenko paces the squad with 15 singles wins. Most of her work has come in the second flight as she has registered 14 wins in that spot.
Andrea Pascual-Larrinaga has had a steady spring season, going 13-8. She has earned wins in the third through sixth flights. At the top of the lineup, Chieko Yamada has recorded eight victories, all coming in the top flight.
Southern Illinois comes into today's match with an overall mark of 6-9. In their MVC opener last Saturday, the Salukis fell to Wichita State by a 5-2 final. Prior to that, they defeated Alabama State, 4-3, before dropping a 4-1 decision to Saint Louis.
Xiwei Cal paces SIU with 12 wins on the season. Athena Chrysanthou, Polina Dozortseva, and Ana Sofia Cordero have notched 10 wins apiece.
Battle of the Genders
Tonight, the Newman Club will host a Battle of the Genders at 7:00 p.m. in the Newman Center. Join us for food, fun, and some friendly competition! For more information, contact Olivia Voegerl at @evanscille.edu.
Submitted by Emily Rodgers er136@evansville.edu
This Week in Music: faculty and student recitals
Kirsten Jermé (cello) will present a faculty recital in Wheeler Concert Hall this evening, March 31, at 7:30 p.m. The program will feature Beethoven's Cello Sonata No. 2 in G minor, Crumb's Sonata for Solo Violoncello, and Schumann's Piano Trio in D minor, Op. 63. She will be joined by fellow faculty member Robert Anemone (violin), as well as Andreas Ioannides (piano). The recital is free and open to the public.
Several student senior recitals are planned for this weekend in Wheeler Concert Hall.
On Saturday, April 1, Victoria Geisz, piano, will play at 1:00 p.m., Emma Kelley, soprano, at 2:30 p.m., and Natsumi Yamada, violin, at 4:00 p.m.
On Sunday, April 2, Vickie Huber, piano, will perform at 1:00 p.m., Kristen Sanders, clarinet, at 2:30 p.m., and Rebecca Laskey, soprano, at 4:00 p.m.
All student recitals are free and open to the public.
Submitted by James Sullivan js820@evansville.edu
Free bowling! Prizes! Fun!
Act fast, there are only three team spaces left for the annual Spare Change for Warriors Bowling Tournament for charity! UE students, faculty, administration and the Tri-State community will gather to bowl for charity on Saturday, April 8 at 1:00 p.m. at River City Recreation on Weinbach Avenue. Prizes will be awarded throughout the tournament. Proceeds will be shared among Fallen Patriots, the winning team's charity of choice, and UEVETS student veterans' organization. Contact Chris Haynes at ch300@evansville.edu or 812-629-6777 for details.
Submitted by Cherie Leonhardt CL29@evansville.edu
University Worship this Sunday
Join us at Neu Chapel at 11:00 a.m. on Sunday for University Worship. We're moving quickly toward Easter, and this week, we'll talk about the central place of the Eucharist in Christian liturgy. As always, we'll have donuts and coffee at 10:30 a.m.!
Submitted by Dallas Gingles dg153@evansville.edu
Charlas: workout today!
Students of all levels of Spanish are invited to meet with Belén Alemán Mansilla, a Fulbright FLTA, to play some games/workout while practicing Spanish. The next Charlas session is today from 4:30-5:30 p.m. in the large gym in Carson Center.
It's a wonderful opportunity to interact informally in Spanish and to meet other students of Spanish. You can stay as little or as long as you want.
Please contact Belén at ma360@evansville.edu if you have any questions.
¡Allá nos vemos!
Submitted by Maria Belén Aleman Mansilla ma360@evansville.edu
Come to the PRIDE drag show!
On Saturday, April 1, PRIDE is hosting its annual drag show. This year's theme is "Gays in Space!" PRIDE is selling tickets for the event in Ridgway University Center during lunch and dinner today. Individual tickets are $5 in advance and $7 at the door. The group is also selling tables for eight people and those cost $48 ($6 each). Come out and have a great time!
Submitted by Katie Brown kb362@evansville.edu
UE Plans Digital Artists Exhibit for April 1-May 6
An exhibit of the work of digital painters Jenna Citrus, Jan Frick Thompson, and Heather Landry is set for April 1-May 6 in the Krannert Gallery. A reception will take place April 20 at 5:30 p.m. These events are free and open to the public.
Citrus, a graduate of University of Southern Indiana, has been awarded an Efroymson Bridge Year Fellowship. She has received several awards for her work, including First Place in Photography at the Evansville Museum and Best of Show in the Brescia College Best of Graphic Design Show. Her work has been published in Brainchild Magazine of Kent State University, Fishhook of University of Southern Indiana, and Photographer's Forum, Best of Photography.
Thompson earned her BFA in advertising from Texas Woman's University.
Her work has been included in the North Carolina Photographers Annual Exhibition, and she has received awards of recognition in the Fayetteville Arts Council Annual Juried Art Exhibitions and the Fayetteville Museum of Art Annual Competitions. Thompson has also shown her work in the Arts Council of Southwestern Indiana exhibitions.
Landry is a professional graphic artist with a prolific body of independent work, including several ongoing comic series. Her work has appeared in many local solo and group shows.
For more information, contact 207-650-6073.
R. Wayne Perkins Theology Lecture set for Monday, April 3
The second annual R. Wayne Perkins Theology Lecture is Monday, April 3, at 7:00 p.m. in Neu Chapel. The event is free and open to the public, but those planning to attend are asked to register online on religious life's R. Wayne Perkins Theology Lecture Series web page.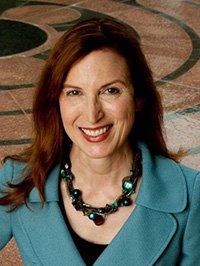 This year's lecturer is the Rev. Alyce M. McKenzie, the George W. and Nell Ayers Le Van Professor of Preaching and Worship at Perkins School of Theology, the graduate school of theology of Southern Methodist University. Her lecture is titled, "Finding a Way in the Wilderness: Biblical Wisdom's Good News in a Culture of Fake News."
Clergy are invited to preaching workshops with McKenzie on Tuesday, April 4. The $50 registration fee for the workshops includes lunch and continuing education credits from the General Board of Higher Education and Ministry. Clergy planning to attend the workshops are asked to register online on religious life's R. Wayne Perkins Theology Lecture Series web page.
The annual Perkins Theology Lectures, sponsored by UE's Office of Religious Life, bring together religion scholars and church leaders to explore perennial theological questions about God and human flourishing. The lectures are intended to be public in nature: both furthering theological understanding and using theological insights to illuminate and interpret important features of our contemporary common life.
These lectures are made possible by the generosity of private donors and the Lilly Endowment, Inc., and are designed to generate and foster sustained theological reflection among UE students and alumni, clergy, and the larger community.
Rev. R. Wayne Perkins, professor emeritus of religion and ordained elder in the United Methodist Church, came to UE in 1966 as a faculty member in the Department of Philosophy and Religion. During his tenure at UE, he served as director of religious life, University chaplain, and chair of the department. Perkins was professor and mentor to thousands of UE students for over five decades. He advised countless students in their academic achievements and directed students in their ministry and vocational goals.
The annual R. Wayne Perkins Theology Lecture Series acknowledges his teaching and advising legacy, and honors his contribution to scholarship, the University of Evansville, the United Methodist Church, and the lives of students for over 50 years.
Gahan to discuss Irish immigrants in Southwestern Indiana
University of Evansville professor of history Daniel Gahan will be the speaker for tonight's Andiron Lecture. The lecture, which is free and open to the public, begins at 4:00 p.m. in Eykamp Hall, Room 252, Ridgway University Center. Gahan's topic will be "Diggers, Farmers, and Townspeople: Irish Immigrants in Southwestern Indiana."
Between 1815 and 1900 over four million Irish came to the US. The arrival of the Irish in such numbers sparked the first anti-immigrant political movement. Irish immigrants of 1815-1900 were largely Catholic; most settled in urban centers. Their eighteenth century compatriots were mostly Protestant and settled largely in the rural south. Scholarship on the nineteenth-century wave has focused largely on the urban experience, but recently there has been considerable study of those who settled in small towns and in the country.
Gahan will summarize current research on a 17-county area of southwestern Indiana, which examines the Irish immigrant experience there in the period 1815-1880. He will offer a profile of the Irish immigrant community of the study area at the mid-point of the century. He will consider evidence of community development, recreation of "normal" family life, achievement of a certain economic status, and degrees of assimilation, as experienced by these immigrants. This will be placed in the broader context of Irish settlement in rural parts of the US from 1815-1900.
Gahan earned his BA from the National University of Ireland (Maynooth College), his MA from Loyola University of Chicago, and his PhD from the University of Kansas. He has published on Irish agrarian history, Irish immigrants in the United States, and the Irish rebellion of 1798 (including a book on the rebellion in county Wexford, The People's Rising).
The Andiron Lecture series is sponsored by the William L. Ridgway College of Arts and Sciences and supported by a generous gift from Donald B. Korb. For more information, call 812-488-1070 or 812-488-2589.
Cookies and correspondence
Calling all Harlaxton returnees! The study abroad office staff invites you to help with a special project for outgoing Harlaxton students. Please join them in "pudding" your time at Harlaxton to good use by stopping by their office in Room 260 in the Schroeder School of Business Building to grab a sweet treat and write a postcard full of tips and tricks for outgoing students.
This will be a great resource for students who don't know what to expect while they are abroad, and they hope you won't "dessert" your fellow Harlaxton students!
The postcards and sweets will be available in the study abroad office all day from Tuesday-Thursday, April 4-6. If you have any questions, please contact Greta Becker at gb91@evansville.edu.
Submitted by: Greta Becker gb91@evansville.edu
Financial aid for summer courses and work-study jobs
Financial aid for summer courses
If you are seeking financial aid to help pay for summer courses at UE, please complete a summer financial aid application, available in the Office of Financial Aid. We will help you examine your options for aid, which in most cases during the summer term is limited to: federal loans (direct or PLUS), private student loans, federal Pell grants, tuition remission (employees and dependents), and student employment. Refer to the summer form to determine the types of aid for which you may be eligible based on your anticipated enrollment status.
Work-study
On-campus jobs are available for continuing UE students during the summer. You do not need to be eligible for need-based federal/state work-study during the academic year in order to apply. You may also apply regardless of your enrollment in summer courses. Applications are available within the Student Employment area of WebAdvisor.
Submitted by Amy Sowders as560@evansville.edu
2017-2018 Global Scholars
The Institute for Global Enterprise is pleased to announce the Global Scholars for the 2017-18 academic year. Congratulations to Noah Gordon, associate professor of biology; Erin Lewis, program director of the Institute for Global Enterprise; Lesley Pleasant, associate professor of German; and Shawn Teichmer, assistant professor of music. Each scholar will receive a travel allowance.
Lewis and Teichmer will study the legendary dance and music education system in Havana and Santiago, Cuba. Upon return, they will develop a Latin dance and music performance team at UE as well as a potential summer class where UE students could get class credit for learning the material. These UE student groups would pilot an outreach program at EVSC schools among other outreach projects.
Gordon will study three species of barking geckos in Namibia that form choruses much like frogs in North America. Namibia is the only place in the world where all three of these gecko species are found. Part of Gordon's time in Namibia will be spent investigating the communication system of these closely related geckos.
While many students come to UE from African nations, there is no UE-sponsored program for students to learn in Africa. Gordon's project aims to fill that gap. Namibia provides an excellent opportunity for students to learn firsthand how other countries deal with modern, social, political, and environmental challenges.
Pleasant proposes to study migration patterns across the world. Regardless of individual politics, migration is a highly relevant topic as masses of refugees and other migrants cross borders, affecting local, regional, national, and supranational identities. Pleasant would work with UE faculty members to add value to existing courses and potential new courses across disciplines and schools to highlight the continuing importance of national and international diversity in the UE curriculum. In addition to collaborating with colleagues, she plans to reach out to Evansville and Tristate individuals, businesses, groups, and institutions.
As Global Scholars, the recipients of this award will engage in scholarship, curriculum development, and activities related to preparing our students and community for global leadership, citizenry, and success. The Global Scholars program is supported by the John H. Schroeder Global Scholar Endowed Fund and the Lilly Endowment.
Submitted by Cindy Kelley ck116@evansville.edu
Help the local kids!
Please consider donating to your local College Mentors for Kids chapter! Your contribution helps keep children from Joshua Academy able to partake in everything a college mentor provides: encouragement, support, advice, and a push to pursue their education.
Without your contributions, our chapter cannot run efficiently. Please make your contribution online
Submitted by Hannah Nilsen hn22@evansville.edu
Textbook adoptions are due
Just a reminder to all faculty and departments that summer and fall textbook adoptions are now due in the UE Bookstore. Timely return of adoptions saves students and the bookstore money by helping us obtain more used copies. Please return your adoptions as soon as possible.
Submitted by Doug Gustwiller dg57@evansville.edu
Margery Florence Kahn Scholarship applications
Applications for the Margery Florence Kahn Scholarship for 2017-18 are now available. It was the desire of the donor, Margery Florence Kahn, that her scholarship be awarded to "dedicated and conscientious students who exhibit a true passion for their chosen fields of study, and who, in the opinion of the members of the University of Evansville faculty, are likely to bring the same enthusiasm into the performance of their jobs or the practice of the professions which they will pursue following graduation."

All University of Evansville full-time undergraduate students who will be juniors or seniors in 2017-18 may apply. An essay of about 300 words must accompany the application, along with two to five faculty recommendation letters.

Applications are available from the Office of Financial Aid, located in Room 116 in Olmsted Administration Hall.
Completed applications and recommendation letters should be returned to the Office of Financial Aid by April 15.
You may also request application materials by e-mailing financialaid@evansville.edu.
Questions may be directed to the Office of Financial Aid via e-mail or by phone at 812-488-2364 or 800-424-8634.
Submitted by Trisha Hawkes th187@evansville.edu
Azarian receives Mathematical Association of America-Indiana Distinguished Service Award
Mohammad K. Azarian, professor of mathematics, is the recipient of the 2017 Mathematical Association of America-Indiana section Distinguished Service Award. This award honors a member of the Mathematical Association of America (MAA) by "acknowledging his or her extraordinary contributions and outstanding efforts consistent with the stated purposes of the MAA". He was honored at the annual spring sectional meeting at Earlham College on March 24.
Azarian served on the Executive Board of the Indiana Section of the MAA (2001-2007), where he was responsible for the Indiana College Mathematics Competition each of those years, and coordinated all other student activities. He also serves as a referee for the Problems Section of The College Mathematics Journal, published by the MAA. Since 1985, Azarian has presented 33 papers at MAA meetings, or the joint annual meetings of MAA and the American Mathematical Society. Additionally, he has published 13 problems in The College Mathematics Journal, as well as three problems in Math Horizons, another popular mathematics journal of the MAA.
Submitted by the Mathematics Department math@evansville.edu
Contribute to AceNotes
To have content considered for inclusion in AceNotes, please submit a Marketing Request Form. Deadline for submission to AceNotes is 10:00 a.m. on the requested date of publication. Only articles concerning UE related/sponsored activities will be accepted. Articles submitted to AceNotes may be edited for length and clarity. Submitter contact information is at the end of each article.