| | |
| --- | --- |
| AceNotes Today | Thursday, March 30, 2017 |
Thank a donor for your scholarship award
Zero percent of UE students pay the full price in tuition. Celebrate campus philanthropic donations to scholarships today by visiting the Pep and Vim Philanthropy Week table in Ridgway between 11:00 a.m.–1:00 p.m. Tell an alumni donor thank you for supporting student scholarships by signing a thank you card or recording a brief video thank you.
You can still add your name to the UE Giving Tree by making a gift of $5 to any department or area.
Submitted by Liz Riffert el37@evansville.edu
Today's History Spring Lecture features William Bartelt
The History Department welcomes you to attend its annual Spring Lecture today - March 30 - at 4:00 p.m. in the Vectren Lecture Hall, Room 100, Koch Center for Engineering and Science. William (Bill) Bartelt, a native of Holland, Indiana, will be discussing his lecture topic "Robert Dale Owen: The Political Transformation of a Wordsmith."
Bartelt is a graduate of Indiana State University and the University of Evansville. He taught social studies at Evansville's Harrison High School for 37 years and was the social studies and fine arts department chair at the school when he retired in 2005.
For over 15 summers he was employed as a ranger and historian at Lincoln Boyhood National Memorial [two summers at Lincoln Home in Springfield]. From 1986 to 2007 he was an adjunct American history instructor at the University of Southern Indiana.
He is currently president of the Evansville Museum Board, a trustee of the Indiana Historical Society, secretary of the Indiana Library and Historical Board, a director of the Abraham Lincoln Association, a member of the Friends of the Lincoln Collection of Indiana board of directors, and historian (and lay leader) of Trinity UMC in Evansville.
He has served as president of the Vanderburgh County Historical Society, as past president of the Southwestern Indiana Historical Society, and past president of the Newburgh Museum Foundation. In 2003 he received the Indiana Historical Society's Hoosier Historian Award for contribution to historical scholarship. He was a member of the Federal Abraham Lincoln Bicentennial Commission's Advisory and Education Committees and served as vice-chair of the Indiana Abraham Lincoln Bicentennial Commission.
In 2008 the Indiana Historical Society Press published his book There I Grew Up: Remembering Abraham Lincoln's Indiana Youth.
Submitted by Katherine Martyn km283@evansville.edu
Battle of the Genders
Tonight, the Newman Club will host a Battle of the Genders at 7:00 p.m. in the Newman Center. Join us for food, fun, and some friendly competition! For more information, contact Olivia Voegerl at @evanscille.edu.
Submitted by Emily Rodgers er136@evansville.edu
Free bowling! Prizes! Fun!
Act fast, there are only three team spaces left for the annual Spare Change for Warriors Bowling Tournament for charity! UE students, faculty, administration and the Tri-State community will gather to bowl for charity on Saturday, April 8 at 1:00 p.m. at River City Recreation on Weinbach Avenue. Prizes will be awarded throughout the tournament. Proceeds will be shared among Fallen Patriots, the winning team's charity of choice, and UEVETS student veterans' organization. Contact Chris Haynes at ch300@evansville.edu or 812-629-6777 for details.
Submitted by Cherie Leonhardt CL29@evansville.edu
University Worship this Sunday
Join us at Neu Chapel at 11:00 a.m. on Sunday for University Worship. We're moving quickly toward Easter, and this week, we'll talk about the central place of the Eucharist in Christian liturgy. As always, we'll have donuts and coffee at 10:30 a.m.!
Submitted by Dallas Gingles dg153@evansville.edu
This Week in Music: faculty and student recitals
Kirsten Jermé (cello) will present a faculty recital in Wheeler Concert Hall this evening, March 31, at 7:30 p.m. The program will feature Beethoven's Cello Sonata No. 2 in G minor, Crumb's Sonata for Solo Violoncello, and Schumann's Piano Trio in D minor, Op. 63. She will be joined by fellow faculty member Robert Anemone (violin), as well as Andreas Ioannides (piano). The recital is free and open to the public.
Several student senior recitals are planned for this weekend in Wheeler Concert Hall.
On Saturday, April 1, Victoria Geisz, piano, will play at 1:00 p.m., Emma Kelley, soprano, at 2:30 p.m., and Natsumi Yamada, violin, at 4:00 p.m.
On Sunday, April 2, Vickie Huber, piano, will perform at 1:00 p.m., Kristen Sanders, clarinet, at 2:30 p.m., and Rebecca Laskey, soprano, at 4:00 p.m.
All student recitals are free and open to the public.
Submitted by James Sullivan js820@evansville.edu
Make a Difference - Student Lobby Day at IN State House
Indiana residents! The Independent Colleges of Indiana (ICI) Student Lobby Day is April 4. Students from all Indiana private colleges will descend upon the State House to encourage their state representatives to support the continuation of financial aid from state funds. UE has a few open spots left for this event and would love for you to participate! Transportation and meals are provided for the event. Please e-mail cw259@evansville.edu by March 30 for more information.
Submitted by Cathleen Wright cw259@evansville.edu
Charlas: workout today!
Students of all levels of Spanish are invited to meet with Belén Alemán Mansilla, a Fulbright FLTA, to play some games/workout while practicing Spanish. The next Charlas session is today from 4:30-5:30 p.m. in the large gym in Carson Center.
It's a wonderful opportunity to interact informally in Spanish and to meet other students of Spanish. You can stay as little or as long as you want.
Please contact Belén at ma360@evansville.edu if you have any questions.
¡Allá nos vemos!
Submitted by Maria Belén Aleman Mansilla ma360@evansville.edu
Come to the PRIDE drag show!
On Saturday, April 1, PRIDE is hosting its annual drag show. This year's theme is "Gays in Space!" PRIDE is selling tickets for the event in Ridgway University Center during lunch and dinner today. Individual tickets are $5 in advance and $7 at the door. The group is also selling tables for eight people and those cost $48 ($6 each). Come out and have a great time!
Submitted by Katie Brown kb362@evansville.edu
Andy Elkins highlights 2017 Lunch with the Aces
Men's Basketball legend Andy Elkins highlights the 2017 Lunch with the Aces event, which will take place on Friday, March 31, at the Meeks Gym inside the Carson Center on the University of Evansville campus.
Elkins, who graduated from UE in 1995, led the Men's Basketball team to two NCAA Tournament appearances and one NIT berth in his four years with the program. He ranks sixth in program history with 1,761 points in his career.
A record crowd of over 400 was on hand for the 2016 event, and this year's lunch also promises to be a memorable one. The full lunch runs from 11:00 a.m.-1:00 p.m. with the program beginning at 12:30 p.m.
Early registration for your spot at the lunch is just $30. The cost will be $35 after 5:00 p.m. on March 27 and at the door. A Spring Break Special features $15 tickets for those 15 and under. Another new opportunity is available as you can now sponsor a UE student-athlete for just $10.
The meal will be provided by Marx BBQ while a video presentation will be shown at the program. A half pot and silent auction will also be on hand. A Purple Aces student-athlete will be seated at each table, and the latest Student-Athletes of the Year will be recognized at the lunch.
"Bringing this event to campus last year took it to a whole new level," UE director of athletics Mark Spencer said. "We had a record attendance and are excited to continue to build upon its success."
Corporate tables are available for $350 and come with several unique perks. You receive a table at the front of the room, logo on the video screen, logo in the program, recognition by the emcee, and two student-athletes seated at each table. Each corporate table has eight seats.
All proceeds directly support UE student-athletes.
For more information, contact Shelbie Weaver at 812-488-1024 or at sw260@evansville.edu.
R. Wayne Perkins Theology Lecture set for Monday, April 3
The second annual R. Wayne Perkins Theology Lecture is Monday, April 3, at 7:00 p.m. in Neu Chapel. The event is free and open to the public, but those planning to attend are asked to register online on religious life's R. Wayne Perkins Theology Lecture Series web page.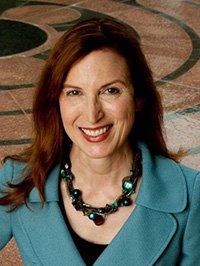 This year's lecturer is the Rev. Alyce M. McKenzie, the George W. and Nell Ayers Le Van Professor of Preaching and Worship at Perkins School of Theology, the graduate school of theology of Southern Methodist University. Her lecture is titled, "Finding a Way in the Wilderness: Biblical Wisdom's Good News in a Culture of Fake News."
Clergy are invited to preaching workshops with McKenzie on Tuesday, April 4. The $50 registration fee for the workshops includes lunch and continuing education credits from the General Board of Higher Education and Ministry. Clergy planning to attend the workshops are asked to register online on religious life's R. Wayne Perkins Theology Lecture Series web page.
The annual Perkins Theology Lectures, sponsored by UE's Office of Religious Life, bring together religion scholars and church leaders to explore perennial theological questions about God and human flourishing. The lectures are intended to be public in nature: both furthering theological understanding and using theological insights to illuminate and interpret important features of our contemporary common life.
These lectures are made possible by the generosity of private donors and the Lilly Endowment, Inc., and are designed to generate and foster sustained theological reflection among UE students and alumni, clergy, and the larger community.
Rev. R. Wayne Perkins, professor emeritus of religion and ordained elder in the United Methodist Church, came to UE in 1966 as a faculty member in the Department of Philosophy and Religion. During his tenure at UE, he served as director of religious life, University chaplain, and chair of the department. Perkins was professor and mentor to thousands of UE students for over five decades. He advised countless students in their academic achievements and directed students in their ministry and vocational goals.
The annual R. Wayne Perkins Theology Lecture Series acknowledges his teaching and advising legacy, and honors his contribution to scholarship, the University of Evansville, the United Methodist Church, and the lives of students for over 50 years.
Cookies and correspondence
Calling all Harlaxton returnees! The study abroad office staff invites you to help with a special project for outgoing Harlaxton students. Please join them in "pudding" your time at Harlaxton to good use by stopping by their office in Room 260 in the Schroeder School of Business Building to grab a sweet treat and write a postcard full of tips and tricks for outgoing students.
This will be a great resource for students who don't know what to expect while they are abroad, and they hope you won't "dessert" your fellow Harlaxton students!
The postcards and sweets will be available in the study abroad office all day from Tuesday-Thursday, April 4-6. If you have any questions, please contact Greta Becker at gb91@evansville.edu.
Submitted by: Greta Becker gb91@evansville.edu
2017-2018 Global Scholars
The Institute for Global Enterprise is pleased to announce the Global Scholars for the 2017-18 academic year. Congratulations to Noah Gordon, associate professor of biology; Erin Lewis, program director of the Institute for Global Enterprise; Lesley Pleasant, associate professor of German; and Shawn Teichmer, assistant professor of music. Each scholar will receive a travel allowance.
Lewis and Teichmer will study the legendary dance and music education system in Havana and Santiago, Cuba. Upon return, they will develop a Latin dance and music performance team at UE as well as a potential summer class where UE students could get class credit for learning the material. These UE student groups would pilot an outreach program at EVSC schools among other outreach projects.
Gordon will study three species of barking geckos in Namibia that form choruses much like frogs in North America. Namibia is the only place in the world where all three of these gecko species are found. Part of Gordon's time in Namibia will be spent investigating the communication system of these closely related geckos.
While many students come to UE from African nations, there is no UE-sponsored program for students to learn in Africa. Gordon's project aims to fill that gap. Namibia provides an excellent opportunity for students to learn firsthand how other countries deal with modern, social, political, and environmental challenges.
Pleasant proposes to study migration patterns across the world. Regardless of individual politics, migration is a highly relevant topic as masses of refugees and other migrants cross borders, affecting local, regional, national, and supranational identities. Pleasant would work with UE faculty members to add value to existing courses and potential new courses across disciplines and schools to highlight the continuing importance of national and international diversity in the UE curriculum. In addition to collaborating with colleagues, she plans to reach out to Evansville and Tristate individuals, businesses, groups, and institutions.
As Global Scholars, the recipients of this award will engage in scholarship, curriculum development, and activities related to preparing our students and community for global leadership, citizenry, and success. The Global Scholars program is supported by the John H. Schroeder Global Scholar Endowed Fund and the Lilly Endowment.
Submitted by Cindy Kelley ck116@evansville.edu
UE comeback falls short against SIUE
The University of Evansville Baseball team scored four runs over the final three innings on Wednesday evening, but it wouldn't prove enough as the Purple Aces dropped an 8-7 decision to visiting SIUE at Charles H. Braun Stadium.
UE, which fell to 8-17 with the loss, led twice in the contest before a five-run SIUE (14-10) sixth inning put the Aces behind for good.
That five-run frame, which featured just one Cougars hit, saw both UE relievers Nathan Croner and Blake Swanger work to overcome command issues as five walks and a number of wild pitches allowed the Cougars to pull ahead. Croner was pegged with his first loss of the season, falling to 0-1.
"It's another one-run loss, and that's something that's been hurting us," UE head coach Wes Carroll said. "We've been in some tight ball games, but we haven't found a way to win, either offensively or defensively. Tonight we gave away a lot of free bases on the mound with a lot of walks, and that snuck up and got us. Offensively, we just couldn't get that extra hit in winning time. I felt like we had some momentum going and couldn't get the big hit. It's something that's been eluding us all year."
The Aces nearly overcame the sixth, however, as a Jimmy Day one-out double put UE on the comeback trail an inning later. Craig Shepherd followed up with a walk in the ensuing at-bat, and hits from Korbin Williams and Trey Hair made it 7-5.
Shepherd and Williams were the only Aces hitters with multiple hits as each picked up a pair. Meanwhile, the top three in the SIUE line-up combined to go 7-for-13 with five RBI. Leadoff hitter Alec Skender led the pack with a 3-for-5 day with three scores, and as a team, the Cougars out-hit the Aces 11-10.
Unfortunately for the Aces, a Dustin Woodcock single extended the Cougar lead in the top of the eighth. UE responded in the bottom half as Andrew Tanous led off the frame with the double. An error on a would-be Nate Reeder sacrifice fly ultimately brought home the first score, and a Shepherd RBI single plated Reeder to cut the deficit to one.
UE would put a runner on in the ninth, but SIUE closer Tristan Walters quelled the rally with three straight outs for his third save.
SIUE's Michael Shereyk, who gave up two runs (one earned) over 2.1 frames, earned his first decision of the year for the Cougars.
Aces Softball drops doubleheader versus KSU
Kent State erupted for 17 runs as they swept a doubleheader against the University of Evansville Softball team on Wednesday night at Cooper Stadium.
The Golden Flashes (12-16) picked up a 9-1 win over Evansville (12-16) in game one before taking the second end of the doubleheader by a final of 8-2.
In the top of the second inning of game one, the Golden Flashes struck first. Three walks loaded up the bases before the first run scored on a wild pitch. Two more crossed the plate on a Jen Cader double as KSU took a 3-0 advantage before another run scored on an error.
UE got one of the runs back in the bottom of the second. Morgan Lambert led the frame off with a triple and came home when Tess Hupe singled up the middle. KSU got the run back in the third and added their sixth one on a Maddy Grimm home run to left in the fifth. The Golden Flashes cruised from there to take the 9-1 win.
The Aces notched six hits in the game with Courtney Land notching two of them. Bailey Brownfield had three of KSU's 10 hits while Jen Cader had three RBI. Janel Hayes picked up the win for the Golden Flashes, going the distance allowing one run. Emily Lockhart took the loss for UE, going 1 1/3 innings, giving up four runs and four walks.
Game two saw Kent State pick up right where they left off in game one, scoring four times in the first. They did their damage on one hit and three walks.
UE loads bases in the second inning, but were unable to capitalize. In the fourth, the Golden Flashes plated two more runs as Maddy Grimm hit a homer to left, her second of the doubleheader. Evansville got on the board in the bottom of the sixth as Bailee Bostic hit a 2-run double, but KSU grabbed the 8-2 triumph. They recorded seven hits while holding UE to six.
A trip to Iowa is on tap for the Aces this weekend as they travel to Cedar Falls for a 3-game set against UNI. Next Wednesday, UE is back at Cooper Stadium for a doubleheader against Austin Peay. It is set to begin at 2:00 p.m.
UE Women's Basketball roster changes
University of Evansville head women's basketball coach Matt Ruffing has announced two roster changes that are effective immediately. Peyton Langston and Erin Sinnott will no longer be with the team. Langston has completed all of her academic requirements and is set to graduate in May while Sinnott is going to transfer to continue her basketball career.
"We would like to thank Peyton and Erin for their contributions to the program. Peyton has shown what it means to be a student-athlete by earning her degree in just three years at UE," Ruffing said. "Both Peyton and Erin were solid contributors to our team and we wish them the best of luck in the future."
Submitted by Bob Pristash rp113@evansville,edu
Help the local kids!
Please consider donating to your local College Mentors for Kids chapter! Your contribution helps keep children from Joshua Academy able to partake in everything a college mentor provides: encouragement, support, advice, and a push to pursue their education.
Without your contributions, our chapter cannot run efficiently. Please make your contribution online
Submitted by Hannah Nilsen hn22@evansville.edu
Textbook adoptions are due
Just a reminder to all faculty and departments that summer and fall textbook adoptions are now due in the UE Bookstore. Timely return of adoptions saves students and the bookstore money by helping us obtain more used copies. Please return your adoptions as soon as possible.
Submitted by Doug Gustwiller dg57@evansville.edu
Margery Florence Kahn Scholarship applications
Applications for the Margery Florence Kahn Scholarship for 2017-18 are now available. It was the desire of the donor, Margery Florence Kahn, that her scholarship be awarded to "dedicated and conscientious students who exhibit a true passion for their chosen fields of study, and who, in the opinion of the members of the University of Evansville faculty, are likely to bring the same enthusiasm into the performance of their jobs or the practice of the professions which they will pursue following graduation."

All University of Evansville full-time undergraduate students who will be juniors or seniors in 2017-18 may apply. An essay of about 300 words must accompany the application, along with two to five faculty recommendation letters.

Applications are available from the Office of Financial Aid, located in Room 116 in Olmsted Administration Hall.
Completed applications and recommendation letters should be returned to the Office of Financial Aid by April 15.
You may also request application materials by e-mailing financialaid@evansville.edu.
Questions may be directed to the Office of Financial Aid via e-mail or by phone at 812-488-2364 or 800-424-8634.
Submitted by Trisha Hawkes th187@evansville.edu
Dr. Marvin E. Hartig Memorial Scholarship applications
Family, friends, and loved ones of the late Marvin E. Hartig are pleased to announce the application process for the Dr. Marvin E. Hartig Memorial Scholarship. This scholarship is dedicated to the loving memory of Hartig, dean of Evansville College's Evening College in 1967, and administrator for the Center for Advanced Study, director of the Evansville chapter of the American Institute of Banking (AIB), and the international student advisor. In 1974, Hartig was appointed dean of academic services. He retired in 1984 after serving his alma mater for 35 years and passed away in 2007.
This scholarship will be awarded each year to a deserving sophomore student with demonstrated financial need as shown by the results of the Free Application for Federal Student Aid (FAFSA). Preference will be given to a student working while being enrolled as a full-time student.
International students are encouraged to apply. Please include in your essay your particular financial need, since international students do not have FAFSA forms on file.
Applicants must submit the following to be considered:
Completed application

In a one page, single spaced, 12 point Verdana font essay, please answer all of these questions:
What have you learned about yourself as a UE student?
What do you do for fun when not studying or working?
Name a special attribute or accomplishment that sets you apart.
You have done a lot in your short life. In what areas do you think you can improve?
What are your scholastic and career goals?
How did you finance your freshman year and how will you finance your sophomore year?
Why are you a good candidate to receive this scholarship?
What have you learned about Dr. Hartig, how does he influence or inspire you, and how will you preserve his legacy as recipient of this scholarship?
Please return all materials to the Office of Financial Aid by June 1. Decision will be announced by August 1.
If you have questions, contact Trisha Hawkes, administrative assistant to the Office of Financial Aid, at financialaid@evansville.edu or 812-488-2364.
Submitted by Trisha Hawkes th187@evansville.edu
Purple Aces take part in NCAA National Student-Athlete Day
Four University of Evansville student-athletes traveled to Indianapolis on Tuesday to take part in NCAA Student-Athlete Day. Making the trip for the Purple Aces were Silas Adheke (men's basketball), Leah Helpingstine (women's tennis), Jonathan Newby (cross country), and Bailee Porter (softball).
"We are appreciative the NCAA hosts a National Student-Athlete Day program. Our student-athletes had the opportunity to work with Indianapolis youth in support of Riley's Children's Hospital, participate in leadership and professional development sessions and tour the NCAA Hall of Champions," UE senior associate athletic director Sarah Solinsky said. "The skills developed with serve them well in leadership roles with their teams and on our campus."
National STUDENT-Athlete Day is generally recognized April 6 nationwide, but can be celebrated throughout the months of March and April at NCAA colleges and universities. The day recognizes the accomplishments of student-athletes who excel in the classroom, on the playing fields and who give back to their community through service projects.
Student-athletes from Indiana NCAA institutions and Indianapolis youth from Perry Meridian Middle School and Dream Center made art care bags for Riley's Children's Hospital. The group also toured the NCAA Hall of Champions. The afternoon consisted of programming for the student-athletes, related to leadership, communication and professional development.
"Student-Athlete Day was great! I really liked getting to meet student-athletes from other schools and sports, and talking about values and leadership with them," Helpingstine explained. "It is inspiring to be surrounded by peers that are excited about what they are doing, and inspire you to work harder too."
Azarian receives Mathematical Association of America-Indiana Distinguished Service Award
Mohammad K. Azarian, professor of mathematics, is the recipient of the 2017 Mathematical Association of America-Indiana section Distinguished Service Award. This award honors a member of the Mathematical Association of America (MAA) by "acknowledging his or her extraordinary contributions and outstanding efforts consistent with the stated purposes of the MAA". He was honored at the annual spring sectional meeting at Earlham College on March 24.
Azarian served on the Executive Board of the Indiana Section of the MAA (2001-2007), where he was responsible for the Indiana College Mathematics Competition each of those years, and coordinated all other student activities. He also serves as a referee for the Problems Section of The College Mathematics Journal, published by the MAA. Since 1985, Azarian has presented 33 papers at MAA meetings, or the joint annual meetings of MAA and the American Mathematical Society. Additionally, he has published 13 problems in The College Mathematics Journal, as well as three problems in Math Horizons, another popular mathematics journal of the MAA.
Submitted by the Mathematics Department math@evansville.edu
PT students present Ace CARE at conference
Second year physical therapy students and Ace CARE board members Danielle Sage, Katlyn Baker, Kaitlin Adler, Michaela Bortle, Kendra Weber, Morgan Longnaker, and Maggie Limmer recently traveled to Philadelphia to represent and present about Ace CARE at The Pro Bono Network's Eastern Regional Conference at Widener University. While there, they explored the city by visiting the Liberty Bell, Independence Hall, Mütter Museum, and ran up the Rocky stairs.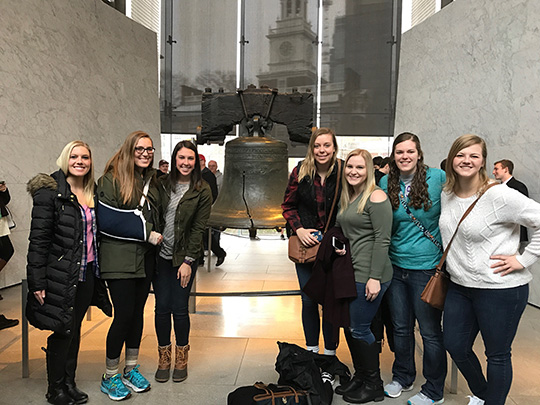 Submitted by: Jennifer Simon js698@evansville.edu
Ecological research presented at Indiana Academy of Sciences
Research carried out by biology seniors Andrew Nunn and Michelle Sonnenberger, together with Matt Roberts (who graduated in environmental science in 2016) was presented by Cris Hochwender PhD in Indianapolis at the Indiana Academy of Sciences on Saturday, March 25. Their research entitled, "Can't grow the forest for the trees: Implication of decades of deer browse on a recalcitrant layer and forest regeneration in a southwestern Indiana forest" was carried out at Wesselman Woods Nature Preserve (WWNP) during the summer of 2015.
Their study suggests that deer may prevent tree species from transitioning above browse-level and into the mid-story strata. Given time, these changes could lead to a loss of diversity in the canopy, as replacement will consist of only those few species which escape deer browse. In addition, their research suggests that pawpaws may limit access of many tree species into the overstory. The loss of diversity in the forest community could cause wide-ranging alterations in the forest community. The study has helped to launch a long-term, manipulative experiment examining the importance of both deer browsing and pawpaw on forest regeneration at WWNP.
Submitted by Cris Hochwender ch81@evansville.edu
Contribute to AceNotes
To have content considered for inclusion in AceNotes, please submit a Marketing Request Form. Deadline for submission to AceNotes is 10:00 a.m. on the requested date of publication. Only articles concerning UE related/sponsored activities will be accepted. Articles submitted to AceNotes may be edited for length and clarity. Submitter contact information is at the end of each article.