| | |
| --- | --- |
| AceNotes Today | Wednesday, March 29, 2017 |
Class Act Day – UE Giving Tree
Students at UE play a critical role in the continuation of philanthropic giving at UE. Today is the chance for current students to make a difference and leave a legacy on campus for future UE students.
At the Philanthropy Week table in Ridgway University Center from 11:00 a.m.-1:00 p.m., students can add their name to the UE Giving Tree by making a gift of at least $5 to the area or department of their choice. Gifts can be made via cash, check, or credit/debit card.
In addition, all seniors who donate will receive recognition in the commencement program.
Submitted by Liz Riffert el37@evansville.edu
Removal of vehicles for Bike Race
All vehicles must be removed from Lot H by 5:00 p.m. today. Vehicles remaining in the lot after this time may be towed. The removal of vehicles is necessary so that the lot can be prepared for the bike race, which will be on Saturday, April 1. Vehicles must be moved so the lot can be restriped and time trials can be held.
The lot will be reopened for parking by Sunday morning at the latest. Vehicles must be moved to legal parking places for the permit category held by the driver. The use of Lot O, by the armory, and Lot Q, by the general services building, is recommended.
Submitted by Doug Cook dc2@evansville.edu
Newman Club Dinner and Discussion
All are welcome to join the Newman Club today, March 29, starting at 5:00 p.m. for Dinner and Discussion. Come for as little or as much of the evening as you would like – we're always happy to see new faces! We will be enjoying homemade lasagna, followed by a presentation on "The Masculine and Feminine Genius" led by guest speaker Sister Regina. You can find us at the house on Lincoln Avenue with the purple banner. For more information, please contact Olivia Voegerl at ov4@evansville.edu.
Submitted by Emily Schuster es260@evansville.edu
Softball hosts Kent State
A 10-game home stand will finish up today as the University of Evansville Softball team play host to Kent State in a doubleheader at Cooper Stadium. Game one is set for 3:00 p.m. with the second contest to follow.
Evansville stands at 4-2 in the MVC following the series against Bradley. Morgan Florey batted .600 in the series with three RBIs and tossed 14 innings in the circle, posting a 1.50 ERA. She grabbed UE's win in the series opener on Saturday as she allowed just two hits in seven innings. Brittany Hay had a team-high four runs batted in over the weekend and also drew three walks. The Aces made it on base 40.6% of the time versus the Braves.
On Sunday, Chandra Parr hit the 29th home run of her Purple Aces career. She is now just one from tying and two from breaking the program record, set by Krista Price. She played at UE from 2007 until 2010. She has batted .350 in conference play while posting a home run and four RBI.
Pitcher Morgan Florey went 1-1 with a 1.50 ERA in 14 innings of action against Bradley. She also added 16 strikeouts and a pair of complete games. In the opener versus the Braves, Florey threw a 2-hit shutout while walking just one batter and striking out 8 in a 7-0 win. She has now thrown seven complete games in a row and has registered 127 strikeouts on the season. In three games last week, Florey batted .600 for the Purple Aces while getting on base 66.7% of the time and slugging .700.
Brittany Hay hit .375 for the Purple Aces in their series against the Braves. She registered a home run, four RBIs and scored four times. Saturday's opener saw her go 2-3 with two RBIs, a walk and steal. Hay notched a home run in the second game of the doubleheader while scoring twice, batting in two runs and reaching via a walk. Though she did not get a hit in the final game of the weekend, Hay scored twice and earned a walk.
A nice weekend of play saw Tess Hupe bat .375 versus Bradley. Hupe recorded three hits in 8 at-bats while scoring four runs.
Kent State comes to town with a 10-15 mark and sit at 2-1 in Mid-American Conference play. Bailey Brownfield leads the way for KSU with a .358 batting average while Maddy Grimm is next up at .314. In the circle, Ronnie Ladines has notched a 2.14 ERA.
Baseball set to play SIUE
The University of Evansville Baseball team will face SIUE today at Charles H. Braun Stadium. Today's game at Braun Stadium is set for a 6:00 p.m. start.
Health Careers Forum is planned for today
A Health Careers Forum is set for today from 6:15-8:30 p.m. in Room 100, Koch Center for Engineering and Science. Registration closes at 3:00 p.m. today. This is a business casual event. Sign up online. This is a great opportunity to ask questions and meet with people in the health professions.
Submitted by Kaela Guglielmo kg150@evansville.edu
Renowned philosopher Nancy Snow to speak on campus
The speaker for the Eighth Annual William Connolly Lecture Series will be Nancy Snow, a philosopher widely renowned for her work on virtue. Her topic will be "From 'Ordinary' Virtue to Aristotelian Virtue." The lecture is planned for 7:00 p.m. tonight in Smythe Lecture Hall Room 170 Schroeder School of Business Building.
Submitted by Lisa Kretz lk102@evansville.edu
Sex on Campus Health Program
Join us today for a sexual health program put on by UE nursing students and sponsored by the Office of Health Education and Wellness Programs. The event will start at 5:00 p.m. in Eykamp Hall, Room 252, Ridgway University Center. Students who attend will learn about ways to keep themselves safe and healthy!
Submitted by Jamie Adams-Kemper ja200@evansville.edu
Free bowling! Prizes! Fun!
Act fast, there are only three team spaces left for the annual Spare Change for Warriors Bowling Tournament for charity! UE students, faculty, administration and the Tri-State community will gather to bowl for charity on Saturday, April 8 at 1:00 p.m. at River City Recreation on Weinbach Avenue. Prizes will be awarded throughout the tournament. Proceeds will be shared among Fallen Patriots, the winning team's charity of choice, and UEVETS student veterans' organization. Contact Chris Haynes at ch300@evansville.edu or 812-629-6777 for details.
Submitted by Cherie Leonhardt CL29@evansville.edu
University Worship this Sunday
Join us at Neu Chapel at 11:00 a.m. on Sunday for University Worship. We're moving quickly toward Easter, and this week, we'll talk about the central place of the Eucharist in Christian liturgy. As always, we'll have donuts and coffee at 10:30 a.m.!
Submitted by Dallas Gingles dg153@evansville.edu
Make a Difference - Student Lobby Day at IN State House
Indiana residents! The Independent Colleges of Indiana (ICI) Student Lobby Day is April 4. Students from all Indiana private colleges will descend upon the State House to encourage their state representatives to support the continuation of financial aid from state funds. UE has a few open spots left for this event and would love for you to participate! Transportation and meals are provided for the event. Please e-mail cw259@evansville.edu by March 30 for more information.
Submitted by Cathleen Wright cw259@evansville.edu
Staff Appreciation Dinner
Each staff employee and their guest is invited to attend the Staff Appreciation Dinner at the Log Inn on Wednesday, April 5, 2017. The social hour (cash bar and appetizers) begins at 6:00 p.m. and the dinner will begin at 7:00 p.m. Please join President Kazee in the presentation of staff service awards and the Staff Employee of the Year Award.
Invitations have been sent to staff employees via UE campus mail. Please RSVP to the Office of Human Resources no later than Wednesday, March 29, 2017.
Submitted by Lori LeDuc ll138@evansville.edu
Political dynamics of Syrian crisis to be topic of Scholars for Syria Lecture
Wes Milner, executive director of international programs at the University of Evansville, will be the speaker for the UE Scholars for Syria Lecture on Thursday, March 30. His topic will be "The Emerging Political Dynamics of the Syrian Crisis."
The event, which is free and open to the public, begins at 6:00 p.m. Harkness Hall Room 162, Schroeder School of Business Building. The lecture will be followed by a panel discussion with UE Syrian students and discussion with the audience.
Other lectures in this series, which is sponsored by Scholars for Syria, include:
Thursday, April 6
UE Syrian Stories: Humanizing the Syrian conflict with local families
Come to the PRIDE drag show!
On Saturday, April 1, PRIDE is hosting its annual drag show. This year's theme is "Gays in Space!" PRIDE is selling tickets for the event in Ridgway University Center during lunch and dinner today. Individual tickets are $5 in advance and $7 at the door. The group is also selling tables for eight people and those cost $48 ($6 each). Come out and have a great time!
Submitted by Katie Brown kb362@evansville.edu
Andy Elkins highlights 2017 Lunch with the Aces
Men's Basketball legend Andy Elkins highlights the 2017 Lunch with the Aces event, which will take place on Friday, March 31, at the Meeks Gym inside the Carson Center on the University of Evansville campus.
Elkins, who graduated from UE in 1995, led the Men's Basketball team to two NCAA Tournament appearances and one NIT berth in his four years with the program. He ranks sixth in program history with 1,761 points in his career.
A record crowd of over 400 was on hand for the 2016 event, and this year's lunch also promises to be a memorable one. The full lunch runs from 11:00 a.m.-1:00 p.m. with the program beginning at 12:30 p.m.
Early registration for your spot at the lunch is just $30. The cost will be $35 after 5:00 p.m. on March 27 and at the door. A Spring Break Special features $15 tickets for those 15 and under. Another new opportunity is available as you can now sponsor a UE student-athlete for just $10.
The meal will be provided by Marx BBQ while a video presentation will be shown at the program. A half pot and silent auction will also be on hand. A Purple Aces student-athlete will be seated at each table, and the latest Student-Athletes of the Year will be recognized at the lunch.
"Bringing this event to campus last year took it to a whole new level," UE director of athletics Mark Spencer said. "We had a record attendance and are excited to continue to build upon its success."
Corporate tables are available for $350 and come with several unique perks. You receive a table at the front of the room, logo on the video screen, logo in the program, recognition by the emcee, and two student-athletes seated at each table. Each corporate table has eight seats.
All proceeds directly support UE student-athletes.
For more information, contact Shelbie Weaver at 812-488-1024 or at sw260@evansville.edu.
UE Plans Digital Artists Exhibit for April 1-May 6
An exhibit of the work of digital painters Jenna Citrus, Jan Frick Thompson, and Heather Landry is set for April 1-May 6 in the Krannert Gallery. A reception will take place April 20 at 5:30 p.m. These events are free and open to the public.
Citrus, a graduate of University of Southern Indiana, has been awarded an Efroymson Bridge Year Fellowship. She has received several awards for her work, including First Place in Photography at the Evansville Museum and Best of Show in the Brescia College Best of Graphic Design Show. Her work has been published in Brainchild Magazine of Kent State University, Fishhook of University of Southern Indiana, and Photographer's Forum, Best of Photography.
Thompson earned her BFA in advertising from Texas Woman's University.
Her work has been included in the North Carolina Photographers Annual Exhibition, and she has received awards of recognition in the Fayetteville Arts Council Annual Juried Art Exhibitions and the Fayetteville Museum of Art Annual Competitions. Thompson has also shown her work in the Arts Council of Southwestern Indiana exhibitions.
Landry is a professional graphic artist with a prolific body of independent work, including several ongoing comic series. Her work has appeared in many local solo and group shows.
For more information, contact 207-650-6073.
Gahan to discuss Irish immigrants in Southwestern Indiana
University of Evansville professor of history Daniel Gahan will be the speaker for tonight's Andiron Lecture. The lecture, which is free and open to the public, begins at 4:00 p.m. in Eykamp Hall, Room 252, Ridgway University Center. Gahan's topic will be "Diggers, Farmers, and Townspeople: Irish Immigrants in Southwestern Indiana."
Between 1815 and 1900 over four million Irish came to the US. The arrival of the Irish in such numbers sparked the first anti-immigrant political movement. Irish immigrants of 1815-1900 were largely Catholic; most settled in urban centers. Their eighteenth century compatriots were mostly Protestant and settled largely in the rural south. Scholarship on the nineteenth-century wave has focused largely on the urban experience, but recently there has been considerable study of those who settled in small towns and in the country.
Gahan will summarize current research on a 17-county area of southwestern Indiana, which examines the Irish immigrant experience there in the period 1815-1880. He will offer a profile of the Irish immigrant community of the study area at the mid-point of the century. He will consider evidence of community development, recreation of "normal" family life, achievement of a certain economic status, and degrees of assimilation, as experienced by these immigrants. This will be placed in the broader context of Irish settlement in rural parts of the US from 1815-1900.
Gahan earned his BA from the National University of Ireland (Maynooth College), his MA from Loyola University of Chicago, and his PhD from the University of Kansas. He has published on Irish agrarian history, Irish immigrants in the United States, and the Irish rebellion of 1798 (including a book on the rebellion in county Wexford, The People's Rising).
The Andiron Lecture series is sponsored by the William L. Ridgway College of Arts and Sciences and supported by a generous gift from Donald B. Korb. For more information, call 812-488-1070 or 812-488-2589.
Help the local kids!
Please consider donating to your local College Mentors for Kids chapter! Your contribution helps keep children from Joshua Academy able to partake in everything a college mentor provides: encouragement, support, advice, and a push to pursue their education.
Without your contributions, our chapter cannot run efficiently. Please make your contribution online
Submitted by Hannah Nilsen hn22@evansville.edu
Textbook adoptions are due
Just a reminder to all faculty and departments that summer and fall textbook adoptions are now due in the UE Bookstore. Timely return of adoptions saves students and the bookstore money by helping us obtain more used copies. Please return your adoptions as soon as possible.
Submitted by Doug Gustwiller dg57@evansville.edu
I-House: Philippines
This week's I-House is going to be on the Philippines, and Tristan De Leon will be presenting! He is an accounting major, and likes to watch anime as well as play the piano. His favorite part about UE are all the activities there are. Make sure to come today at 7:00 p.m. upstairs in Ridgway University Center to learn more about Tristan and the Philippines!
Submitted by Cassie Peterson cp156@evansville.edu
Margery Florence Kahn Scholarship applications
Applications for the Margery Florence Kahn Scholarship for 2017-18 are now available. It was the desire of the donor, Margery Florence Kahn, that her scholarship be awarded to "dedicated and conscientious students who exhibit a true passion for their chosen fields of study, and who, in the opinion of the members of the University of Evansville faculty, are likely to bring the same enthusiasm into the performance of their jobs or the practice of the professions which they will pursue following graduation."

All University of Evansville full-time undergraduate students who will be juniors or seniors in 2017-18 may apply. An essay of about 300 words must accompany the application, along with two to five faculty recommendation letters.

Applications are available from the Office of Financial Aid, located in Room 116 in Olmsted Administration Hall.
Completed applications and recommendation letters should be returned to the Office of Financial Aid by April 15.
You may also request application materials by e-mailing financialaid@evansville.edu.
Questions may be directed to the Office of Financial Aid via e-mail or by phone at 812-488-2364 or 800-424-8634.
Submitted by Trisha Hawkes th187@evansville.edu
Dr. Marvin E. Hartig Memorial Scholarship applications
Family, friends, and loved ones of the late Marvin E. Hartig are pleased to announce the application process for the Dr. Marvin E. Hartig Memorial Scholarship. This scholarship is dedicated to the loving memory of Hartig, dean of Evansville College's Evening College in 1967, and administrator for the Center for Advanced Study, director of the Evansville chapter of the American Institute of Banking (AIB), and the international student advisor. In 1974, Hartig was appointed dean of academic services. He retired in 1984 after serving his alma mater for 35 years and passed away in 2007.
This scholarship will be awarded each year to a deserving sophomore student with demonstrated financial need as shown by the results of the Free Application for Federal Student Aid (FAFSA). Preference will be given to a student working while being enrolled as a full-time student.
International students are encouraged to apply. Please include in your essay your particular financial need, since international students do not have FAFSA forms on file.
Applicants must submit the following to be considered:
Completed application

In a one page, single spaced, 12 point Verdana font essay, please answer all of these questions:
What have you learned about yourself as a UE student?
What do you do for fun when not studying or working?
Name a special attribute or accomplishment that sets you apart.
You have done a lot in your short life. In what areas do you think you can improve?
What are your scholastic and career goals?
How did you finance your freshman year and how will you finance your sophomore year?
Why are you a good candidate to receive this scholarship?
What have you learned about Dr. Hartig, how does he influence or inspire you, and how will you preserve his legacy as recipient of this scholarship?
Please return all materials to the Office of Financial Aid by June 1. Decision will be announced by August 1.
If you have questions, contact Trisha Hawkes, administrative assistant to the Office of Financial Aid, at financialaid@evansville.edu or 812-488-2364.
Submitted by Trisha Hawkes th187@evansville.edu
Women's Golf improves in final day in Arkansas
Maria Pickens and Kayla Katterhenry each fired off rounds under 80 as the University of Evansville Women's Golf team earned a 12th place finish at the Little Rock/ASU Invitational at Maumelle Country Club.
Katterhenry was the top finisher for the Purple Aces, earning a tie for 13th with a final tally of 228. She completed Tuesday's final round with a 3-over 75. Maria Pickens had her best round of the tournament, carding a 77 as she wrapped up the tournament with a 243. She finished in 48th place.
Next up was Maggie Camp. The senior posted an 87 in the final 18 holes to place 69th with a 256. Madison Chaney and Giulia Mallmann rounded out the top five for the Aces. Chaney notched a 93 on Tuesday to finish with a 259 while Mallmann's last round was an 89. Her tournament total was a 261.
Lexie Sollman matched her second-round total on Tuesday, posting an 80 on her way to a 248. That put her in a tie for 58th. Carly Waggoner registered a 94 in the last trip around Maumelle Country Club and notched a 279 for the event.
Central Arkansas was the big winner in the tournament. An 897 saw UCA take the team championship by 15 strokes over Little Rock. UTEP and Toledo tied for third place with scores of 917. Ye Ji Lim of Central Arkansas was the medalist. Her final round tally of 77 saw her take the top spot with a 221, one stroke ahead of a second-place tie.
Evansville's next tournament goes from April 9-10 in Terre Haute, Indiana, as the Aces will take part in the Indiana State Invitational.
PT students present Ace CARE at conference
Second year physical therapy students and Ace CARE board members Danielle Sage, Katlyn Baker, Kaitlin Adler, Michaela Bortle, Kendra Weber, Morgan Longnaker, and Maggie Limmer recently traveled to Philadelphia to represent and present about Ace CARE at The Pro Bono Network's Eastern Regional Conference at Widener University. While there, they explored the city by visiting the Liberty Bell, Independence Hall, Mütter Museum, and ran up the Rocky stairs.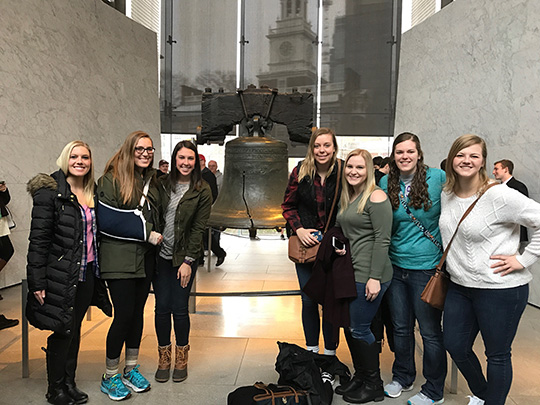 Submitted by: Jennifer Simon js698@evansville.edu
Fulkerson/Scott Wedding
Congratulations to our director of accounting Samantha Fulkerson and her husband, Mike Scott, on their marriage earlier this month.
Please note that your e-mails from Sam will now appear from Samantha Scott.
Submitted by Michele Adams ma72@evansville.edu
Ecological research presented at Indiana Academy of Sciences
Research carried out by biology seniors Andrew Nunn and Michelle Sonnenberger, together with Matt Roberts (who graduated in environmental science in 2016) was presented by Cris Hochwender PhD in Indianapolis at the Indiana Academy of Sciences on Saturday, March 25. Their research entitled, "Can't grow the forest for the trees: Implication of decades of deer browse on a recalcitrant layer and forest regeneration in a southwestern Indiana forest" was carried out at Wesselman Woods Nature Preserve (WWNP) during the summer of 2015.
Their study suggests that deer may prevent tree species from transitioning above browse-level and into the mid-story strata. Given time, these changes could lead to a loss of diversity in the canopy, as replacement will consist of only those few species which escape deer browse. In addition, their research suggests that pawpaws may limit access of many tree species into the overstory. The loss of diversity in the forest community could cause wide-ranging alterations in the forest community. The study has helped to launch a long-term, manipulative experiment examining the importance of both deer browsing and pawpaw on forest regeneration at WWNP.
Submitted by Cris Hochwender ch81@evansville.edu
Contribute to AceNotes
To have content considered for inclusion in AceNotes, please submit a Marketing Request Form. Deadline for submission to AceNotes is 10:00 a.m. on the requested date of publication. Only articles concerning UE related/sponsored activities will be accepted. Articles submitted to AceNotes may be edited for length and clarity. Submitter contact information is at the end of each article.