| | |
| --- | --- |
| AceNotes Today | Tuesday, March 28, 2017 |
Removal of vehicles for Bike Race
All vehicles must be removed from Lot H by 5:00 p.m. today. Vehicles remaining in the lot after this time may be towed. The removal of vehicles is necessary so that the lot can be prepared for the bike race, which will be on Saturday, April 1. Vehicles must be moved so the lot can be restriped and time trials can be held.
The lot will be reopened for parking by Sunday morning at the latest. Vehicles must be moved to legal parking places for the permit category held by the driver. The use of Lot O, by the armory, and Lot Q, by the general services building, is recommended.
Submitted by Doug Cook dc2@evansville.edu
Do you know all 166 named spaces on campus?
It takes an entire community of people who believe in the mission and work of the University of Evansville to continue to support the University with their monetary gifts.
On Day 2 of philanthropy week we celebrate the 166 spaces on campus named in honor, memory, and recognition of the faculty, staff, alumni, parents, and friends of the University who ensure that the University of Evansville campus is a vibrant, leading edge liberal arts institution. Today as you walk around campus, take a moment to see who made that space possible! Without those names on plaques throughout our campus, many of the buildings where classes and offices are housed would not exist.
Students – stop by the philanthropy week table and sign a thank you card for a donor. The goal is to receive 500 signed cards in one week!
Submitted by Liz Riffert el37@evansville.edu
Baseball set to play SIUE
The University of Evansville Baseball team will face SIUE today at Charles H. Braun Stadium. Today's game at Braun Stadium is set for a 6:00 p.m. start.
Health Careers Forum is planned for today
A Health Careers Forum is set for today from 6:15-8:30 p.m. in Room 100, Koch Center for Engineering and Science. Registration closes at 3:00 p.m. today. This is a business casual event. Sign up online. This is a great opportunity to ask questions and meet with people in the health professions.
Submitted by Kaela Guglielmo kg150@evansville.edu
University Worship this Sunday
Join us at Neu Chapel at 11:00 a.m. on Sunday for University Worship. We're moving quickly toward Easter, and this week, we'll talk about the central place of the Eucharist in Christian liturgy. As always, we'll have donuts and coffee at 10:30 a.m.!
Submitted by Dallas Gingles dg153@evansville.edu
Talk on autism and language development
World Autism Awareness Day is coming up on April 2, and the Psychology Club has a great opportunity to help you learn a little more about the topic! Psychology professor Beth Hennon will be speaking on autism and language development. Her presentation will be followed by the chance to ask questions as well. This event will be in Room 100, Graves Hall at 6:30 p.m. and is open to the whole campus.
Submitted by Chelsea Wheat cw231@evansville.edu
Make a Difference - Student Lobby Day at IN State House
Indiana residents! The Independent Colleges of Indiana (ICI) Student Lobby Day is April 4. Students from all Indiana private colleges will descend upon the State House to encourage their state representatives to support the continuation of financial aid from state funds. UE has a few open spots left for this event and would love for you to participate! Transportation and meals are provided for the event. Please e-mail cw259@evansville.edu by March 30 for more information.
Submitted by Cathleen Wright cw259@evansville.edu
Staff Appreciation Dinner
Each staff employee and their guest is invited to attend the Staff Appreciation Dinner at the Log Inn on Wednesday, April 5, 2017. The social hour (cash bar and appetizers) begins at 6:00 p.m. and the dinner will begin at 7:00 p.m. Please join President Kazee in the presentation of staff service awards and the Staff Employee of the Year Award.
Invitations have been sent to staff employees via UE campus mail. Please RSVP to the Office of Human Resources no later than Wednesday, March 29, 2017.
Submitted by Lori LeDuc ll138@evansville.edu
Charlas: workout today!
Students of all levels of Spanish are invited to meet with Belén Alemán Mansilla, a Fulbright FLTA, to play some games/workout while practicing Spanish. The next Charlas session is today from 4:30-5:30 p.m. in the large gym in Carson Center.
It's a wonderful opportunity to interact informally in Spanish and to meet other students of Spanish. You can stay as little or as long as you want.
Please contact Belén at ma360@evansville.edu if you have any questions.
¡Allá nos vemos!
Submitted by Maria Belén Aleman Mansilla ma360@evansville.edu
Lunch and Lead - Leadership and Letters
Being involved in Greek life can bring leadership skills that can be utilized for the rest of your life. Join us on March 28 for Lunch and Lead in Eykamp Hall, Room 252, Ridgway University Center, at 12:30 p.m. to learn more.
Justin Coffey, residential coordinator for Hale Hall/assistant director for campus programs, will be presenting.
This event is free and open to all students, faculty, staff, and UE community members. We encourage attendees to bring their lunch with them to these events.
Submitted by Amber Stull as625@evansville.edu
Political dynamics of Syrian crisis to be topic of Scholars for Syria Lecture
Wes Milner, executive director of international programs at the University of Evansville, will be the speaker for the UE Scholars for Syria Lecture on Thursday, March 30. His topic will be "The Emerging Political Dynamics of the Syrian Crisis."
The event, which is free and open to the public, begins at 6:00 p.m. Harkness Hall Room 162, Schroeder School of Business Building. The lecture will be followed by a panel discussion with UE Syrian students and discussion with the audience.
Other lectures in this series, which is sponsored by Scholars for Syria, include:
Thursday, April 6
UE Syrian Stories: Humanizing the Syrian conflict with local families
Renowned philosopher Nancy Snow to speak on campus
The speaker for the Eighth Annual William Connolly Lecture Series will be Nancy Snow, a philosopher widely renowned for her work on virtue. Her topic will be "From 'Ordinary' Virtue to Aristotelian Virtue." The lecture is planned for 7:00 p.m. tonight in Smythe Lecture Hall Room 170 Schroeder School of Business Building.
Submitted by Lisa Kretz lk102@evansville.edu
Sex on Campus Health Program
Join us today for a sexual health program put on by UE nursing students and sponsored by the Office of Health Education and Wellness Programs. The event will start at 5:00 p.m. in Eykamp Hall, Room 252, Ridgway University Center. Students who attend will learn about ways to keep themselves safe and healthy!
Submitted by Jamie Adams-Kemper ja200@evansville.edu
R. Wayne Perkins Theology Lecture set for Monday, April 3
The second annual R. Wayne Perkins Theology Lecture is Monday, April 3, at 7:00 p.m. in Neu Chapel. The event is free and open to the public, but those planning to attend are asked to register online on religious life's R. Wayne Perkins Theology Lecture Series web page.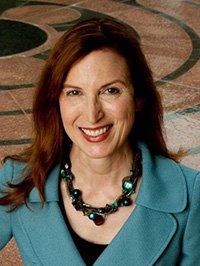 This year's lecturer is the Rev. Alyce M. McKenzie, the George W. and Nell Ayers Le Van Professor of Preaching and Worship at Perkins School of Theology, the graduate school of theology of Southern Methodist University. Her lecture is titled, "Finding a Way in the Wilderness: Biblical Wisdom's Good News in a Culture of Fake News."
Clergy are invited to preaching workshops with McKenzie on Tuesday, April 4. The $50 registration fee for the workshops includes lunch and continuing education credits from the General Board of Higher Education and Ministry. Clergy planning to attend the workshops are asked to register online on religious life's R. Wayne Perkins Theology Lecture Series web page.
The annual Perkins Theology Lectures, sponsored by UE's Office of Religious Life, bring together religion scholars and church leaders to explore perennial theological questions about God and human flourishing. The lectures are intended to be public in nature: both furthering theological understanding and using theological insights to illuminate and interpret important features of our contemporary common life.
These lectures are made possible by the generosity of private donors and the Lilly Endowment, Inc., and are designed to generate and foster sustained theological reflection among UE students and alumni, clergy, and the larger community.
Rev. R. Wayne Perkins, professor emeritus of religion and ordained elder in the United Methodist Church, came to UE in 1966 as a faculty member in the Department of Philosophy and Religion. During his tenure at UE, he served as director of religious life, University chaplain, and chair of the department. Perkins was professor and mentor to thousands of UE students for over five decades. He advised countless students in their academic achievements and directed students in their ministry and vocational goals.
The annual R. Wayne Perkins Theology Lecture Series acknowledges his teaching and advising legacy, and honors his contribution to scholarship, the University of Evansville, the United Methodist Church, and the lives of students for over 50 years.
Andy Elkins highlights 2017 Lunch with the Aces Event returns to campus once again in March
Men's basketball legend Andy Elkins highlights the 2017 Lunch with the Aces event, which will take place on Friday, March 31, 2017 at the Meeks Gym inside the Carson Center on the University of Evansville campus.
Elkins, who graduated from UE in 1995, led the men's basketball team to two NCAA Tournament appearances and one NIT berth in his four years with the program. He ranks sixth in program history with 1,761 points in his career.
A record crowd of over 400 was on hand for the 2016 event and this year's lunch also promises to be a memorable one. The full lunch runs from 11 a.m. until 1 p.m. with the program beginning at 12:30 p.m.
Early registration for your spot at the lunch is just $30. The cost will be $35 after 5 p.m. on March 27 and at the door. A Spring Break Special features $15 tickets for those 15 and under. Another new opportunity is available as you can now sponsor a UE student-athlete for just $10.
The meal will be provided by Marx BBQ while a video presentation will be shown at the program. A half pot and silent auction will also be on hand. A Purple Aces student-athlete will be seated at each table and the latest Student-Athletes of the Year will be recognized at the lunch.
"Bringing this event to campus last year took it to a whole new level," UE Director of Athletics Mark Spencer said. "We had a record attendance and are excited to continue to build upon its success."
Corporate tables are available for $350 and come with several unique perks. You receive a table at the front of the room, logo on the video screen, logo in the program, recognition by the emcee and two student-athletes seated at each table. Each corporate table has 8 seats.
To register, click on the link above or print off the registration brochure. All proceeds directly support UE Student-Athletes. For more information, contact Shelbie Weaver at 812-488-1024 or at sw260@evansville.edu.
Textbook adoptions are due
Just a reminder to all faculty and departments that summer and fall textbook adoptions are now due in the UE Bookstore. Timely return of adoptions saves students and the bookstore money by helping us obtain more used copies. Please return your adoptions as soon as possible.
Submitted by Doug Gustwiller dg57@evansville.edu
Opening day in the books for UE women
Thirty-six holes of play were featured on Monday as the University of Evansville women's golf team wrapped up the opening day of the Little Rock/ASU Invitational at Maumelle Country Club.
Kayla Katterhenry had the top day for the Purple Aces. She carded a 2-over 74 in round one before finishing the day with a 79. Her tally of 153 is tied for 15th on the individual list.
Madison Chaney and Maria Pickens were next for UE, completing the day with scores of 166. Chaney registered identical rounds of 83 while Pickens checked in with an 82 and 84. They are tied for 59th.
Maggie Camp posted totals of 82 and 87 on her way to a 169 for the day while Giulia Mallmann completed Monday's action with a 172. Lexie Sollman and Carly Waggoner are competing as individuals. Sollman wrapped up the first two rounds with a 168 while Waggoner finished with a 185. As a team, Evansville is in 13th place.
Central Arkansas had a dominant day on the course. They are 20 points ahead of the competition with one round left, finishing Monday with a 590 while Little Rock and UTEP are tied for second with a 610. All five UCA players are in the top 15 in the individual standings. Ye Ji Lim of UCA and Caroline Boone from Missouri State lead the pack with scores of 144.
Tomorrow, the final 18 holes will be played.
Little Rock/A-State Invitational next for UE women Aces play on Monday and Tuesday
A busy spring start to the spring season continues for the University of Evansville women's golf team as they will play at the Little Rock/A-State Invitational on Monday and Tuesday in Maumelle, Arkansas.
Monday's play will consist of 36 holes with the final 18 to be played on Tuesday at Maumelle Country Club. A shotgun start commences the action at 8:30 a.m. each day. The par is 72 with the yardage standing at 6,202. Teams participating include Little Rock, Arkansas State, Central Arkansas, Evansville, Missouri State, Northern Illinois, Northern Iowa, Oklahoma City, Omaha, Toledo, UTEP and Wichita State.
Senior Kayla Katterhenry finished just one shot off of the lead as the team earned a 5th place finish at the Bobby Nichols Intercollegiate at Sevierville Golf Club earlier this week. A 3-over 74 on Tuesday saw her finish one stroke behind medalist Elizabeth England of Carson-Newman. Katterhenry's efforts in the tournament saw her post a 3-round tally of 220. She was named the Missouri Valley Conference Women's Golfer of the Week on Wednesday.
Giulia Mallmann was second for the Purple Aces. She carded an 84 in the final round and completed the tournament with a 246 to finish in 28th. One behind her was Maggie Camp. The senior registered an 83 to total 247 strokes in the tournament, good for a 29th-place tie.
Madison Chaney and Lexie Sollman completed the top five. Chaney had her best round of the tournament on Tuesday, scoring an 81 to tie for 32nd with a 250. Sollman posted an 85 on her way to a 257. She placed 38th.
Schedule updated as UE Softball welcomes Bradley Aces to play 3-game set versus the Braves
Sitting at 3-0 in the Missouri Valley Conference, the University of Evansville softball team is back home looking to extend its perfect start against Bradley at Cooper Stadium this weekend.
A schedule change has been announced for Saturday as the Purple Aces and Braves will now play a doubleheader at 10 a.m. due to the impending weather. Sunday's game is still slated to begin at 12 p.m.
Former student-athlete and Evansville firefighter Beth Csukas will be recognized at 11:45 a.m. on Sunday with the MVC Most Courageous Award. All first responders, current and former, will receive free admission to Sunday's game to honor Csukas. This includes firefighters, police, EMT, paramedics, etc.
For the first time since 2002, the Purple Aces opened up MVC play with a series sweep, taking all three games against Loyola last weekend. It was also the first conference-opening series win since 2008. Morgan Florey threw 14 innings against the Ramblers, giving up just one earned run as she won two games. She also hit the game-winning walk-off home run on Sunday. Michal Luckett had a homer of her own on Saturday and batted .556 in the series.
Sophomore Morgan Florey has been on fire as of late, throwing five complete games in a row while giving up just four earned runs over that span. In those 35 innings, Florey has fanned an unbelievable 62 batters while walking just seven batters en route to a perfect 5-0 mark. Her 12.4 strikeouts per seven innings over that span would rank in the top five in the nation. For the season, she has struck out 9.5 batters per seven frames, which is 24th in the NCAA. She was the MVC Pitcher of the Week.
Brittany Hay was the leader of the pack for the Purple Aces over the last week, leading the squad with a .545 batting average. Hay posted six hits in 11 at-bats while scoring a team-high seven runs. She drew two walks while getting on base 64.3% of the time. She slugged .909 on the week while notching two doubles, a triple and a steal.
Against NIU, Hay went 2-2 with three runs scored as the Aces grabbed a 4-2 win over the Huskies in the home opener. She batted .444 versus Loyola and sits at .300 on the season while leading the Aces with 17 runs scored, just four outside of the MVC's top five.
Senior infielder Michal Luckett had a stellar weekend against Loyola, batting .556 while leading UE to the 3-game sweep. She recorded 5 hits in 9 at-bats. Two of those hits were doubles and another a home run. In the 1-0 win in the series opener against the Ramblers, Luckett scored the winning run in the bottom of the sixth inning.
Game two saw her have one of the top games any UE player has had this season - going 3-3 with a home run, three RBI and two runs scored. She notched a 2-3 performance in the series finale and drew one of UE's 2-out walks that saw the team walk it off in the seventh. For the season, she is batting .315.
Bradley enters the weekend with a mark of 15-14. In their first Valley series last weekend, the Braves dropped two out of three to Southern Illinois. Caitlyn McCarron and Kelly Kapp lead the BU offense. McCarron is hitting .482 on the season with four home runs and 27 RBI. Kapp is a force on the bases, sitting with 34 stolen bases on the season and is also just two steals away from breaking the all-time MVC mark of 92, which is currently held by Amy Pierce of Drake.

This Week in Music: Harlaxton Quintet, Jermé, and Student Recitals
Faculty Recital: Harlaxton Woodwind Quintet
Tuesday, March 28, 7:30 p.m. Wheeler Concert Hall
The Harlaxton Woodwind Quintet will present a recital in Wheeler Concert Hall this Tuesday evening, March 28, at 7:30 p.m. The group includes faculty members Cara Dailey (flute), Elizabeth Robertson (oboe), Thomas Josenhans (clarinet), Ed Lacy (bassoon), and Emily Britton (horn). The program will feature Eugène Bozza's Scherzo, Paul Taffanel's Quintet in G minor, Endre Szervánszky's Wind Quintet No. 1, and Júlio Medaglia's Suite Popular Brasileira.
All Tuesday night recitals are free and open to the public.

Faculty Recital: Kirsten Jermé
Friday, March 31, 7:30 p.m. Wheeler Concert Hall
Kirsten Jermé (cello) will present a faculty recital in Wheeler Concert Hall this Friday evening, March 31, at 7:30 p.m. The program will feature Beethoven's Cello Sonata No. 2 in G minor, Crumb's Sonata for Solo Violoncello, and Schumann's Piano Trio in D minor, Op. 63. She will be joined by fellow faculty member Robert Anemone (violin), as well as Andreas Ioannides (piano). The recital is free and open to the public.

Student Recitals
Saturday, April 1
Victoria Geisz, piano, senior recital, Wheeler Concert Hall, 1:00 p.m.
Emma Kelley, soprano, senior recital, Wheeler Concert Hall, 2:30 p.m.
Natsumi Yamada, violin, senior recital, Wheeler Concert Hall, 4:00 p.m.
Sunday, April 2
Vickie Huber, piano, senior recital, Wheeler Concert Hall, 1:00 p.m.
Kristen Sanders, clarinet, senior recital, Wheeler Concert Hall, 2:30 p.m.
Rebecca Laskey, soprano, senior recital, Wheeler Concert Hall, 4:00 p.m.
All student recitals are free and open to the public.
Submitted by James Sullivan js820@evansville.edu
UE SOFTBALL SCHEDULE CHANGE
Due to the rain that moved through the area, today's Beth Csukas recognition has been postponed until Saturday, April 22, which is also Alumni Weekend for the UE softball team. We thank you all for your interest and support in the story and hope to see you on the April 22.
Today's softball game against Bradley is now set to begin at 3:00 p.m.
I-House: Philippines
This week's I-House is going to be on the Philippines, and Tristan De Leon will be presenting! He is an accounting major, and likes to watch anime as well as play the piano. His favorite part about UE are all the activities there are. Make sure to come today at 7:00 p.m. upstairs in Ridgway University Center to learn more about Tristan and the Philippines!
Submitted by Cassie Peterson cp156@evansville.edu
UE Garden intern needed
Are you interested in gardening? In eating well with fresh food? In caring for and beautifying your surroundings?
If so, you may be interested in becoming an intern in the UE Garden program this summer. Working with faculty and other local gardeners, you will learn to care for vegetables and fruits. Garden produce is shared among people who work in the garden; excess produce is either sold cheaply at on-campus farmers' markets or donated for use in local food pantries. A stipend is available for this position and certain conditions apply; please see the stipend application on the Experiential Education web page.
Complete program description and application directions can be found at listing # 906228
Log in to UE JobLink to view and apply.
Submitted by Donna Schmitt ds120@evansville.edu
Faculty regalia rentals due
Faculty needing to rent regalia for May Commencement should contact the UE Bookstore so that their orders can be received in time. Most faculty only need to reply to the recent e-mail sent to them regarding their needs. Those who didn't get the e-mail should contact the UE Bookstore as soon as possible.
Submitted by Doug Gustwiller dg57@evansville.edu
ARSAF grants for faculty applications due April 3
The UE Alumni Association is once again offering Alumni Research and Scholarly Activity Fellowships (ARSAF) to faculty. The application deadline for 2017-18 academic year grants is Monday, April 3. Find the online application and more details by going to AceLink and clicking on Areas, and selecting Academic Affairs. The application form can be found on that page under the category of Online Forms.
Questions? Contact alumni@evansville.edu or ext. 2586.
Submitted by Sylvia DeVault sy5@evansville.edu
PT students present Ace CARE at conference
Second year physical therapy students and Ace CARE board members Danielle Sage, Katlyn Baker, Kaitlin Adler, Michaela Bortle, Kendra Weber, Morgan Longnaker, and Maggie Limmer recently traveled to Philadelphia to represent and present about Ace CARE at The Pro Bono Network's Eastern Regional Conference at Widener University. While there, they explored the city by visiting the Liberty Bell, Independence Hall, Mütter Museum, and ran up the Rocky stairs.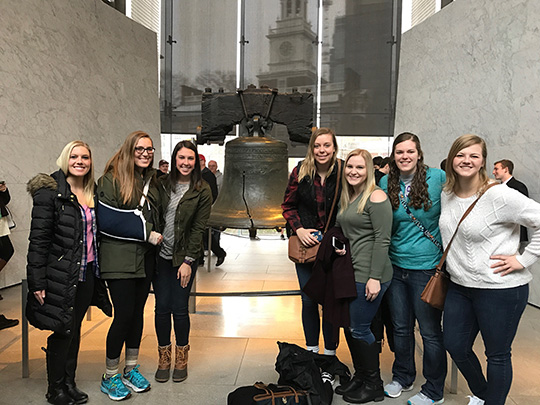 Submitted by: Jennifer Simon js698@evansville.edu
Fulkerson/Scott Wedding
Congratulations to our director of accounting Samantha Fulkerson and her husband, Mike Scott, on their marriage earlier this month.
Please note that your e-mails from Sam will now appear from Samantha Scott.
Submitted by Michele Adams ma72@evansville.edu
Ecological research presented at Indiana Academy of Sciences
Research carried out by biology seniors Andrew Nunn and Michelle Sonnenberger, together with Matt Roberts (who graduated in environmental science in 2016) was presented by Cris Hochwender PhD in Indianapolis at the Indiana Academy of Sciences on Saturday, March 25. Their research entitled, "Can't grow the forest for the trees: Implication of decades of deer browse on a recalcitrant layer and forest regeneration in a southwestern Indiana forest" was carried out at Wesselman Woods Nature Preserve (WWNP) during the summer of 2015.
Their study suggests that deer may prevent tree species from transitioning above browse-level and into the mid-story strata. Given time, these changes could lead to a loss of diversity in the canopy, as replacement will consist of only those few species which escape deer browse. In addition, their research suggests that pawpaws may limit access of many tree species into the overstory. The loss of diversity in the forest community could cause wide-ranging alterations in the forest community. The study has helped to launch a long-term, manipulative experiment examining the importance of both deer browsing and pawpaw on forest regeneration at WWNP.
Submitted by Cris Hochwender ch81@evansville.edu
Phi Sigma Iota welcomes new members
The Epsilon Beta chapter of Phi Sigma Iota, the international foreign language honor society, held its annual initiation ceremony on Sunday afternoon, March 19, in Ridgway University Center. New members include Tatiana Czajkowski and Caitlin Kaleri. At this year's ceremony, Russian and classical languages were highlighted. Faculty advisor Ann Baker gave the opening remarks and welcomed the new members. PSI president Megan King conducted the ceremony along with officers Amanda Alexander and Clarissa Eckert. A dessert reception for members, initiates, faculty, and friends followed the ceremony. The Epsilon Beta chapter has initiated 176 members since it was installed in April 2000.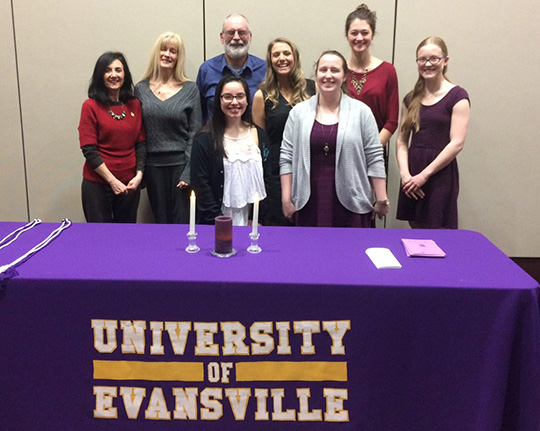 Submitted by Cheryl Shafer cs315@evansville.edu
Contribute to AceNotes
To have content considered for inclusion in AceNotes, please submit a Marketing Request Form. Deadline for submission to AceNotes is 10:00 a.m. on the requested date of publication. Only articles concerning UE related/sponsored activities will be accepted. Articles submitted to AceNotes may be edited for length and clarity. Submitter contact information is at the end of each article.