| | |
| --- | --- |
| AceNotes Today | Monday, March 27, 2017 |
Removal of vehicles for Bike Race
All vehicles must be removed from Lot H by 5:00 p.m. today. Vehicles remaining in the lot after this time may be towed. The removal of vehicles is necessary so that the lot can be prepared for the bike race, which will be on Saturday, April 1. Vehicles must be moved so the lot can be restriped and time trials can be held.
The lot will be reopened for parking by Sunday morning at the latest. Vehicles must be moved to legal parking places for the permit category held by the driver. The use of Lot O, by the armory, and Lot Q, by the general services building, is recommended.
Submitted by Doug Cook dc2@evansville.edu
Talk on autism and language development
World Autism Awareness Day is coming up on April 2, and the Psychology Club has a great opportunity to help you learn a little more about the topic! Psychology professor Beth Hennon will be speaking on autism and language development. Her presentation will be followed by the chance to ask questions as well. This event will be in Room 100, Graves Hall at 6:30 p.m. and is open to the whole campus.
Submitted by Chelsea Wheat cw231@evansville.edu
Staff Appreciation Dinner
Each staff employee and their guest is invited to attend the Staff Appreciation Dinner at the Log Inn on Wednesday, April 5, 2017. The social hour (cash bar and appetizers) begins at 6:00 p.m. and the dinner will begin at 7:00 p.m. Please join President Kazee in the presentation of staff service awards and the Staff Employee of the Year Award.
Invitations have been sent to staff employees via UE campus mail. Please RSVP to the Office of Human Resources no later than Wednesday, March 29, 2017.
Submitted by Lori LeDuc ll138@evansville.edu
Charlas: workout today!
Students of all levels of Spanish are invited to meet with Belén Alemán Mansilla, a Fulbright FLTA, to play some games/workout while practicing Spanish. The next Charlas session is today from 4:30-5:30 p.m. in the large gym in Carson Center.
It's a wonderful opportunity to interact informally in Spanish and to meet other students of Spanish. You can stay as little or as long as you want.
Please contact Belén at ma360@evansville.edu if you have any questions.
¡Allá nos vemos!
Submitted by Maria Belén Aleman Mansilla ma360@evansville.edu
Lunch and Lead - Leadership and Letters
Being involved in Greek life can bring leadership skills that can be utilized for the rest of your life. Join us on March 28 for Lunch and Lead in Eykamp Hall, Room 252, Ridgway University Center, at 12:30 p.m. to learn more.
Justin Coffey, residential coordinator for Hale Hall/assistant director for campus programs, will be presenting.
This event is free and open to all students, faculty, staff, and UE community members. We encourage attendees to bring their lunch with them to these events.
Submitted by Amber Stull as625@evansville.edu
Political dynamics of Syrian crisis to be topic of Scholars for Syria Lecture
Wes Milner, executive director of international programs at the University of Evansville, will be the speaker for the UE Scholars for Syria Lecture on Thursday, March 30. His topic will be "The Emerging Political Dynamics of the Syrian Crisis."
The event, which is free and open to the public, begins at 6:00 p.m. Harkness Hall Room 162, Schroeder School of Business Building. The lecture will be followed by a panel discussion with UE Syrian students and discussion with the audience.
Other lectures in this series, which is sponsored by Scholars for Syria, include:
Thursday, April 6
UE Syrian Stories: Humanizing the Syrian conflict with local families
Renowned philosopher Nancy Snow to speak on campus
The speaker for the Eighth Annual William Connolly Lecture Series will be Nancy Snow, a philosopher widely renowned for her work on virtue. Her topic will be "From 'Ordinary' Virtue to Aristotelian Virtue." The lecture is planned for 7:00 p.m. tonight in Smythe Lecture Hall Room 170 Schroeder School of Business Building.
Submitted by Lisa Kretz lk102@evansville.edu
Sex on Campus Health Program
Join us today for a sexual health program put on by UE nursing students and sponsored by the Office of Health Education and Wellness Programs. The event will start at 5:00 p.m. in Eykamp Hall, Room 252, Ridgway University Center. Students who attend will learn about ways to keep themselves safe and healthy!
Submitted by Jamie Adams-Kemper ja200@evansville.edu
Chemistry Club bake sale planned for March 28
Come visit the Chemistry Club bake sale on Tuesday, March 28, from 11:00 a.m.-1:00 p.m. We will have a table on the north side of the Koch Center for Engineering and Science. Help us raise money for Relay for Life by buying some yummy treats!
Submitted by Hannah E Clark hc97@evansville.edu
Why all the purple flags?
Today marks the beginning of the week long Pep and Vim Philanthropy Week with the goal of increasing campus awareness, knowledge of how philanthropic giving impacts UE, why UE belongs on your list of top non-profits to support, and how you can participate.
When walking around the front oval today you'll notice 7,378 purple flags! These flags represent everyone who donated to UE last year. Without this donor support, many academic programs, student scholarships, and facilities would not be possible.
Stop by the Pep and Vim Philanthropy Week table in Ridgway University Center all week long from 11:00 a.m.–1:00 p.m. and learn more how philanthropic events impact our University.
Submitted by Liz Riffert el37@evansville.edu
Tuition remission/tuition exchange info session for employees
Have questions about tuition remission and tuition exchange? The Offices of Admission, Financial Aid, and Academic Affairs invite employees to attend an informational session that will provide further details about use of the benefit on Monday, March 27, at 2:30 p.m., in Room 126 in Hyde Hall.
Submitted by Cathleen Wright cw259@evansville.edu
Andy Elkins highlights 2017 Lunch with the Aces
Men's Basketball legend Andy Elkins highlights the 2017 Lunch with the Aces event, which will take place on Friday, March 31, at the Meeks Gym inside the Carson Center on the University of Evansville campus.
Elkins, who graduated from UE in 1995, led the Men's Basketball team to two NCAA Tournament appearances and one NIT berth in his four years with the program. He ranks sixth in program history with 1,761 points in his career.
A record crowd of over 400 was on hand for the 2016 event, and this year's lunch also promises to be a memorable one. The full lunch runs from 11:00 a.m.-1:00 p.m. with the program beginning at 12:30 p.m.
Early registration for your spot at the lunch is just $30. The cost will be $35 after 5:00 p.m. on March 27 and at the door. A Spring Break Special features $15 tickets for those 15 and under. Another new opportunity is available as you can now sponsor a UE student-athlete for just $10.
The meal will be provided by Marx BBQ while a video presentation will be shown at the program. A half pot and silent auction will also be on hand. A Purple Aces student-athlete will be seated at each table, and the latest Student-Athletes of the Year will be recognized at the lunch.
"Bringing this event to campus last year took it to a whole new level," UE director of athletics Mark Spencer said. "We had a record attendance and are excited to continue to build upon its success."
Corporate tables are available for $350 and come with several unique perks. You receive a table at the front of the room, logo on the video screen, logo in the program, recognition by the emcee, and two student-athletes seated at each table. Each corporate table has eight seats.
All proceeds directly support UE student-athletes.
For more information, contact Shelbie Weaver at 812-488-1024 or at sw260@evansville.edu.
UE Plans Digital Artists Exhibit for April 1-May 6
An exhibit of the work of digital painters Jenna Citrus, Jan Frick Thompson, and Heather Landry is set for April 1-May 6 in the Krannert Gallery. A reception will take place April 20 at 5:30 p.m. These events are free and open to the public.
Citrus, a graduate of University of Southern Indiana, has been awarded an Efroymson Bridge Year Fellowship. She has received several awards for her work, including First Place in Photography at the Evansville Museum and Best of Show in the Brescia College Best of Graphic Design Show. Her work has been published in Brainchild Magazine of Kent State University, Fishhook of University of Southern Indiana, and Photographer's Forum, Best of Photography.
Thompson earned her BFA in advertising from Texas Woman's University.
Her work has been included in the North Carolina Photographers Annual Exhibition, and she has received awards of recognition in the Fayetteville Arts Council Annual Juried Art Exhibitions and the Fayetteville Museum of Art Annual Competitions. Thompson has also shown her work in the Arts Council of Southwestern Indiana exhibitions.
Landry is a professional graphic artist with a prolific body of independent work, including several ongoing comic series. Her work has appeared in many local solo and group shows.
For more information, contact 207-650-6073.
Gahan to discuss Irish immigrants in Southwestern Indiana
University of Evansville professor of history Daniel Gahan will be the speaker for tonight's Andiron Lecture. The lecture, which is free and open to the public, begins at 4:00 p.m. in Eykamp Hall, Room 252, Ridgway University Center. Gahan's topic will be "Diggers, Farmers, and Townspeople: Irish Immigrants in Southwestern Indiana."
Between 1815 and 1900 over four million Irish came to the US. The arrival of the Irish in such numbers sparked the first anti-immigrant political movement. Irish immigrants of 1815-1900 were largely Catholic; most settled in urban centers. Their eighteenth century compatriots were mostly Protestant and settled largely in the rural south. Scholarship on the nineteenth-century wave has focused largely on the urban experience, but recently there has been considerable study of those who settled in small towns and in the country.
Gahan will summarize current research on a 17-county area of southwestern Indiana, which examines the Irish immigrant experience there in the period 1815-1880. He will offer a profile of the Irish immigrant community of the study area at the mid-point of the century. He will consider evidence of community development, recreation of "normal" family life, achievement of a certain economic status, and degrees of assimilation, as experienced by these immigrants. This will be placed in the broader context of Irish settlement in rural parts of the US from 1815-1900.
Gahan earned his BA from the National University of Ireland (Maynooth College), his MA from Loyola University of Chicago, and his PhD from the University of Kansas. He has published on Irish agrarian history, Irish immigrants in the United States, and the Irish rebellion of 1798 (including a book on the rebellion in county Wexford, The People's Rising).
The Andiron Lecture series is sponsored by the William L. Ridgway College of Arts and Sciences and supported by a generous gift from Donald B. Korb. For more information, call 812-488-1070 or 812-488-2589.
Today's History Spring Lecture features William Bartelt
The History Department welcomes you to attend its annual Spring Lecture today - March 30 - at 4:00 p.m. in the Vectren Lecture Hall, Room 100, Koch Center for Engineering and Science. William (Bill) Bartelt, a native of Holland, Indiana, will be discussing his lecture topic "Robert Dale Owen: The Political Transformation of a Wordsmith."
Bartelt is a graduate of Indiana State University and the University of Evansville. He taught social studies at Evansville's Harrison High School for 37 years and was the social studies and fine arts department chair at the school when he retired in 2005.
For over 15 summers he was employed as a ranger and historian at Lincoln Boyhood National Memorial [two summers at Lincoln Home in Springfield]. From 1986 to 2007 he was an adjunct American history instructor at the University of Southern Indiana.
He is currently president of the Evansville Museum Board, a trustee of the Indiana Historical Society, secretary of the Indiana Library and Historical Board, a director of the Abraham Lincoln Association, a member of the Friends of the Lincoln Collection of Indiana board of directors, and historian (and lay leader) of Trinity UMC in Evansville.
He has served as president of the Vanderburgh County Historical Society, as past president of the Southwestern Indiana Historical Society, and past president of the Newburgh Museum Foundation. In 2003 he received the Indiana Historical Society's Hoosier Historian Award for contribution to historical scholarship. He was a member of the Federal Abraham Lincoln Bicentennial Commission's Advisory and Education Committees and served as vice-chair of the Indiana Abraham Lincoln Bicentennial Commission.
In 2008 the Indiana Historical Society Press published his book There I Grew Up: Remembering Abraham Lincoln's Indiana Youth.
Submitted by Katherine Martyn km283@evansville.edu
UE 55th annual Student Art Exhibit set for March 13-April 1
The 55th Annual University of Evansville Student Art Exhibition is planned for March 13-April 1 in the Melvin Peterson Gallery. On March 20, there will be a reception from 5:00-6:00 p.m., with an awards ceremony at 5:30 p.m. The exhibit, reception, and award ceremony are free and open to the public.
The jurist for the show and many of the student awards will be UE Class of 2003 graduate Matthew Gaddie, a professional production potter. Gaddie earned his Bachelor of Fine Arts degree in ceramics from the University of Evansville, and his Master of Fine Arts degree in ceramic arts from Hood College. His studio is located in Bardstown, Kentucky.
For more information, contact 207-650-6073.
Submitted by Corliss Chastain cc270@evansville.edu
Little Rock/A-State Invitational next for UE women Aces play on Monday and Tuesday
A busy spring start to the spring season continues for the University of Evansville women's golf team as they will play at the Little Rock/A-State Invitational on Monday and Tuesday in Maumelle, Arkansas.
Monday's play will consist of 36 holes with the final 18 to be played on Tuesday at Maumelle Country Club. A shotgun start commences the action at 8:30 a.m. each day. The par is 72 with the yardage standing at 6,202. Teams participating include Little Rock, Arkansas State, Central Arkansas, Evansville, Missouri State, Northern Illinois, Northern Iowa, Oklahoma City, Omaha, Toledo, UTEP and Wichita State.
Senior Kayla Katterhenry finished just one shot off of the lead as the team earned a 5th place finish at the Bobby Nichols Intercollegiate at Sevierville Golf Club earlier this week. A 3-over 74 on Tuesday saw her finish one stroke behind medalist Elizabeth England of Carson-Newman. Katterhenry's efforts in the tournament saw her post a 3-round tally of 220. She was named the Missouri Valley Conference Women's Golfer of the Week on Wednesday.
Giulia Mallmann was second for the Purple Aces. She carded an 84 in the final round and completed the tournament with a 246 to finish in 28th. One behind her was Maggie Camp. The senior registered an 83 to total 247 strokes in the tournament, good for a 29th-place tie.
Madison Chaney and Lexie Sollman completed the top five. Chaney had her best round of the tournament on Tuesday, scoring an 81 to tie for 32nd with a 250. Sollman posted an 85 on her way to a 257. She placed 38th.
Schedule updated as UE Softball welcomes Bradley Aces to play 3-game set versus the Braves
Sitting at 3-0 in the Missouri Valley Conference, the University of Evansville softball team is back home looking to extend its perfect start against Bradley at Cooper Stadium this weekend.
A schedule change has been announced for Saturday as the Purple Aces and Braves will now play a doubleheader at 10 a.m. due to the impending weather. Sunday's game is still slated to begin at 12 p.m.
Former student-athlete and Evansville firefighter Beth Csukas will be recognized at 11:45 a.m. on Sunday with the MVC Most Courageous Award. All first responders, current and former, will receive free admission to Sunday's game to honor Csukas. This includes firefighters, police, EMT, paramedics, etc.
For the first time since 2002, the Purple Aces opened up MVC play with a series sweep, taking all three games against Loyola last weekend. It was also the first conference-opening series win since 2008. Morgan Florey threw 14 innings against the Ramblers, giving up just one earned run as she won two games. She also hit the game-winning walk-off home run on Sunday. Michal Luckett had a homer of her own on Saturday and batted .556 in the series.
Sophomore Morgan Florey has been on fire as of late, throwing five complete games in a row while giving up just four earned runs over that span. In those 35 innings, Florey has fanned an unbelievable 62 batters while walking just seven batters en route to a perfect 5-0 mark. Her 12.4 strikeouts per seven innings over that span would rank in the top five in the nation. For the season, she has struck out 9.5 batters per seven frames, which is 24th in the NCAA. She was the MVC Pitcher of the Week.
Brittany Hay was the leader of the pack for the Purple Aces over the last week, leading the squad with a .545 batting average. Hay posted six hits in 11 at-bats while scoring a team-high seven runs. She drew two walks while getting on base 64.3% of the time. She slugged .909 on the week while notching two doubles, a triple and a steal.
Against NIU, Hay went 2-2 with three runs scored as the Aces grabbed a 4-2 win over the Huskies in the home opener. She batted .444 versus Loyola and sits at .300 on the season while leading the Aces with 17 runs scored, just four outside of the MVC's top five.
Senior infielder Michal Luckett had a stellar weekend against Loyola, batting .556 while leading UE to the 3-game sweep. She recorded 5 hits in 9 at-bats. Two of those hits were doubles and another a home run. In the 1-0 win in the series opener against the Ramblers, Luckett scored the winning run in the bottom of the sixth inning.
Game two saw her have one of the top games any UE player has had this season - going 3-3 with a home run, three RBI and two runs scored. She notched a 2-3 performance in the series finale and drew one of UE's 2-out walks that saw the team walk it off in the seventh. For the season, she is batting .315.
Bradley enters the weekend with a mark of 15-14. In their first Valley series last weekend, the Braves dropped two out of three to Southern Illinois. Caitlyn McCarron and Kelly Kapp lead the BU offense. McCarron is hitting .482 on the season with four home runs and 27 RBI. Kapp is a force on the bases, sitting with 34 stolen bases on the season and is also just two steals away from breaking the all-time MVC mark of 92, which is currently held by Amy Pierce of Drake.

This Week in Music: Harlaxton Quintet, Jermé, and Student Recitals
Faculty Recital: Harlaxton Woodwind Quintet
Tuesday, March 28, 7:30 p.m. Wheeler Concert Hall
The Harlaxton Woodwind Quintet will present a recital in Wheeler Concert Hall this Tuesday evening, March 28, at 7:30 p.m. The group includes faculty members Cara Dailey (flute), Elizabeth Robertson (oboe), Thomas Josenhans (clarinet), Ed Lacy (bassoon), and Emily Britton (horn). The program will feature Eugène Bozza's Scherzo, Paul Taffanel's Quintet in G minor, Endre Szervánszky's Wind Quintet No. 1, and Júlio Medaglia's Suite Popular Brasileira.
All Tuesday night recitals are free and open to the public.

Faculty Recital: Kirsten Jermé
Friday, March 31, 7:30 p.m. Wheeler Concert Hall
Kirsten Jermé (cello) will present a faculty recital in Wheeler Concert Hall this Friday evening, March 31, at 7:30 p.m. The program will feature Beethoven's Cello Sonata No. 2 in G minor, Crumb's Sonata for Solo Violoncello, and Schumann's Piano Trio in D minor, Op. 63. She will be joined by fellow faculty member Robert Anemone (violin), as well as Andreas Ioannides (piano). The recital is free and open to the public.

Student Recitals
Saturday, April 1
Victoria Geisz, piano, senior recital, Wheeler Concert Hall, 1:00 p.m.
Emma Kelley, soprano, senior recital, Wheeler Concert Hall, 2:30 p.m.
Natsumi Yamada, violin, senior recital, Wheeler Concert Hall, 4:00 p.m.
Sunday, April 2
Vickie Huber, piano, senior recital, Wheeler Concert Hall, 1:00 p.m.
Kristen Sanders, clarinet, senior recital, Wheeler Concert Hall, 2:30 p.m.
Rebecca Laskey, soprano, senior recital, Wheeler Concert Hall, 4:00 p.m.
All student recitals are free and open to the public.
Submitted by James Sullivan js820@evansville.edu
Aces and Braves split Saturday softball doubleheader Teams wrap up series tomorrow
A Saturday doubleheader saw the University of Evansville and Bradley split a pair of softball games at Cooper Stadium.
Evansville (12-13, 4-1 MVC) started the day with a 7-0 victory before the Braves (16-15, 2-3 MVC) completed the twin bill with a 7-2 triumph.
"We did a great job to get the split today; it was a tale of 2 games," UE head coach Mat Mundell said. "I like how we competed in the first game, but we got outside of what we like to do in 2nd. We are excited to come out tomorrow and play for Beth Csukas in front of a good crowd and get the series win."
Morgan Florey had a stellar game in the circle to start the day as she tossed her sixth-consecutive complete game victory. She fanned eight batters on the way to her 9th win of the year. Hayli Scott was a perfect 3-3 with a walk in the contest while Hay and Norris registered two hits apiece.
Bradley looked to jump out to an early lead in the first inning as they put runners on first and second with one out. Florey was able to get out of the jam and would go on to retire the next 16 batters before the Braves got their first hit in the top of the 6th.
Evansville got on the board in the bottom of the third inning as Tess Hupe was hit by a pitch to lead off the inning and quickly stole second. Brittany Hay delivered another big hit as her single to right brought Hupe home to give the Aces a 1-0 lead. UE looked to add more to its lead, but left the bases loaded.
Two more Aces runs scored in the fourth. With runners on second and third with no outs, it was Hay coming through once again in the clutch as her suicide squeeze brought home Ashlee Kawall. The base running success continued as a double steal resulted in Courtney Land posting the third run of the day.
The runs kept coming for the Aces as Susan Norris hit a long 2-out double to center field to make it a 4-0. Norris would later score on a BU error as the Aces plated four runs in the frame to grab a 7-0 advantage. That would be the final as Florey finished off the win in the circle.
After being held scoreless in the first game, the Braves wasted little time in getting on the board in game two. Maria Schroeder hit a 2-run home run to left field in the first to take a 2-0 lead. The Braves continued to threaten, loading the bases in the second and third frames, but pitcher Emily Lockhart kept them out of the scoring column.
Michal Luckett cut the gap in half in the third. After Hay reached on a walk, Luckett doubled to left to put the Aces on the board. Luckett tied the game one batter later on a Florey double to right. Schroeder put the Braves back on top with a sacrifice fly in the top of the fourth.
Bradley extended its lead in the sixth when Caitlyn McCarron hit a 3-run home run to center field to make it a 6-2 contest. Kealia Wysocki added a solo shot of her own in the inning. The Aces did not give up their fight as Tess Hupe hit a 1-out double before Brittany Hay homered to left to get UE within three at 7-4. That would be the final as the squads split the doubleheader.
On Sunday, the rubber match will be played at 12 p.m. At 11:45 a.m., former UE player Beth Csukas will be honored with the Missouri Valley Conference Most Courageous Award. Csukas, a former Evansville Firefighter, will be presented with the award prior to the game. All first responders, current and former, will receive free admission to support Beth.
Hilltoppers defeat UE women's tennis
In their final match before starting Missouri Valley Conference play on Sunday, the University of Evansville women's tennis team fell by a final of 6-1 at Western Kentucky on Friday.
Andrea Pascual-Larrinaga picked up the point for the Purple Aces, battling to the finish in the sixth flight. She defeated Lisa Friess in three sets, 2-6, 7-5, 10-4.
Chieko Yamada went three sets at top singles, but Elpida Malamou held on for the win, 4-6, 6-3, 10-2.
Evansville looks to open MVC action with a positive result on Sunday as they take on Wichita State at 10 a.m. at Wesselman Park.
Tennis Match Results
Evansville vs WKU
Mar 24, 2017 at Bowling Green, Ky.
(WKU Tennis Complex)
WKU 6, Evansville 1
Singles competition
1. Elpida Malamou (WKU) def. Chieko Yamada (UE) 4-6, 6-3, 10-2
2. A. Christopoulou (WKU) def. Diana Tkachenko (UE) 6-2, 6-3
3. Monica Malinen (WKU) def. Nicoli Pereira (UE) 6-3, 6-2
4. Cindy Oest (WKU) def. Daria Pentsova (UE) 6-2, 6-2
5. Natalia De Ugarte (WKU) def. Theodora Soldatou (UE) 6-1, 6-0
6. A. Pascual-Larrinaga (UE) def. Lisa Friess (WKU) 2-6, 7-5, 10-4
Doubles competition
1. A. Christopoulou/Lisa Friess (WKU) def. Theodora Soldatou/Chieko Yamada (UE) 6-0
2. Natalia De Ugarte/Cindy Oest (WKU) def. Diana Tkachenko/Nicoli Pereira (UE) 6-1
3. Elpida Malamou/Monica Malinen (WKU) def. Andjela Brguljan/Daria Pentsova (UE) 6-0
Match Notes:
Evansville 10-11
WKU 10-4
Order of finish: Doubles (3,2,1); Singles (4,5,2,3,1,6)
T-2:20 A-27
Aces tennis drops conference opener Aces look to get back on track against SIU
In the Missouri Valley Conference opener for the University of Evansville women's tennis team on Sunday morning, the Purple Aces fell to Wichita State by a final of 7-0 at Tri-State Athletic Club.
"This was obviously not the start we were hoping for in our MVC opener, however, our attitude and effort were right where they need to be, we just got beat by a better team today," UE head coach Jayson Wiseman said.
Full results are below. The Aces will look to get back on the winning track at home on Friday against Southern Illinois at 2 p.m. The match will be played at Wesselman Park.
Tennis Match Results
Wichita State vs University of Evansville
Mar 26, 2017 at Evansville, Ind.
(Tri-State Athletic Club)
Wichita State 7, University of Evansville 0
Singles competition
1. Giulia Guidetti (WSU) def. Chieko Yamada (UE) 6-2, 6-3
2. Tanaporn Thongsing (WSU) def. Diana Tkachenko (UE) 6-1, 6-1
3. Gabriela Porubin (WSU) def. Nicoli Pereira (UE) 6-2, 6-1
4. Fatima Bizhukova (WSU) def. Daria Pentsova (UE) 6-1, 6-0
5. Marta Bellucco (WSU) def. Theodora Soldatou (UE) 6-0, 6-4
6. Marija Mastilovic (WSU) def. Andrea Pascual-Larri (UE) 6-1, 6-3
Doubles competition
1. Fatima Bizhukova/Gabriela Porubin (WSU) def. Chieko Yamada/Theodora Soldatou (UE) 6-4
2. Diana Tkachenko/Nicoli Pereira (UE) def. Tanaporn Thongsing/Ting-Ya Hsu (WSU) 5-3
3. Giulia Guidetti/Marta Bellucco (WSU) def. Daria Pentsova/Andjela Brguljan (UE) 6-1
UE SOFTBALL SCHEDULE CHANGE
Due to the rain that moved through the area, today's Beth Csukas recognition has been postponed until Saturday, April 22, which is also Alumni Weekend for the UE softball team. We thank you all for your interest and support in the story and hope to see you on the April 22.
Today's softball game against Bradley is now set to begin at 3:00 p.m.
Bradley takes series with 8-7 win over UE Aces home on Wednesday to face Kent State
In a back-and-forth game on Sunday at Cooper Stadium, Bradley came away with an 8-7 victory over the University of Evansville softball team.
A wild game saw three lead changes and an hour-long fourth inning with nine combined runs scored. Morgan Florey went the distance, allowing 8 runs, just three earned while striking out eight batters. The Aces (12-14, 4-2 MVC) out hit Bradley (17-15, 3-3 MVC), 13-7. Michal Luckett, Florey, Chandra Parr, Courtney Land and Ashlee Kawall each had two hits apiece.
Chandra Parr got the game rolling in the bottom of the first inning. With Brittany Hay on third and two outs on the board, Parr hit the 29th home run of her career to give UE a 2-0 lead. She is just one away from tying the program mark. In the next inning, Evansville loaded up the bases, but was unable to push any across the plate.
Bradley took advantage in the ensuing frame. Kelly Kapp walked to lead off the inning and stole second. That steal set the all-time MVC mark with 93. She would later score one of two runs in the inning. Four more runs scored for BU in the fourth as UE committed three errors and had a passed ball.
Trailing 6-2, Morgan Lambert started the bottom half of the fourth off with a home run. With one out, Ashlee Kawall notched a hit to right-center before Tess Hupe drew a walk and Brittany Hay was hit by a pitch to load up the bases for Michal Luckett. She came through with a 2-run single as the Aces got within one. Morgan Florey knotted the game back up at 6-6 as she singled to center before Hayli Scott hit a long double to left as the Aces grabbed a 7-6 advantage.
The Braves came right back with the game-tying run in the fifth on a sacrifice fly by Megan Mahaffy. They added the game-winner in the top of the seventh to take the 8-7 win.
Kent State comes to town for a doubleheader on Wednesday. The games are set for 3:00 and 5:00 p.m. at Cooper Stadium.
Aces ride big fifth inning to 10-5 win at Lipscomb
Travis Tokarek couldn't figure out why the fans were cheering on Sunday afternoon.
With the University of Evansville baseball team in need of an offensive spark after a pair of tight losses at Lipscomb, the junior catcher hit the ball hard to left field in the second inning and took off running. When he looked up, he realized he hit a home run, and the cheers were actually coming from a strong Aces contingent near the UE dugout. It was the first of three hits for Tokarek on the day as the Aces picked up a 10-5 victory over Lipscomb at Ken Dugan Field.
"Honestly, I thought the cheers in the stands were for the guy making a great catch in left field," Tokarek revealed. "I was happy to win the at-bat and hit the ball hard on an 0-2 pitch, but I guess the wind took it because I thought he would catch it. I was pretty excited when I saw it had cleared the fence."
The Aces (8-15) had been held to six or fewer runs in nine consecutive games, but on Sunday, the team would follow up that Tokarek homer with two more scores in the fourth and a seven-run fifth.
"Oh yeah, that fifth inning was a long time coming," Tokarek added. "We've been winning at-bats and putting in work in practice with [assistant] coach [Jake] Mahon. He's been working with a lot of guys to try and get us ready for Valley play. Hopefully we can find a way to have innings like that against every team."
"Travis is a leader for us and a glue guy for us," UE head coach Wes Carroll said. "When he has a good day, man, it really helps our overall offense. He's been a rock behind the dish for us, and it's been great to see him lead both vocally and by example."
Tokarek, who hit two home runs this weekend in Nashville, was one of five UE hitters to finish with multiple hits, ending 3-for-5 with a pair of scores. Korbin Williams went 3-for-4. Kenton Crews, Trey Hair and Nate Reeder each finished 2-for-5 as the Aces out-hit the Bisons (14-9) in 14-11 fashion.
Following Tokarek's home run, the Bisons responded with a pair of scores in the bottom of the third, but the lead was short-lived as back-to-back Craig Shepherd and Williams doubles put the Aces ahead once more at 3-2 in the ensuing half-inning.
LU's Jeffrey Crisan would double home another in the bottom half of the frame before the Aces started rolling offensively in the fifth. Crisan, as well as Blake Thomas, finished the game 3-for-4 to lead the Bisons.
In the fifth, Crews led off with a double, and an Andrew Tanous hit-by-pitch and Tokarek single loaded the bases to chase LU starter Dayton Tripp from the mound. Stewart Nelson gave the Aces the lead with a sacrifice fly, and Dalton Horstmeier followed up with a walk to reload the bases and bring about another pitching change. Following a wild pitch that brought home a run, Reeder opened up the game even further with a two-run double. An error and another Williams single extended the frame for Trey Hair, who would respond with his 12th double of the season to make it 10-3.
The 10 runs are the second-most runs conceded by Lipscomb this season and the most since Feb. 19.
Justin Hayden was credited with the win in the contest, out-performing a former Rend Lake College teammate in LU's Tripp to finish with four earned runs over 5.2 innings of work. With the victory, the junior right-hander improved to 2-3 on the season.
Tripp, who had not seen the Bisons lose in any of his previous four starts this season, dropped to 2-1 after giving up 10 hits for six earned runs over four-plus innings.
UE will return to action later this week with a trip to Indiana on Tuesday before returning to Charles H. Braun Stadium on Wednesday for a showdown with SIUE. Missouri Valley Conference play will begin next weekend at Southern Illinois.
I-House: Philippines
This week's I-House is going to be on the Philippines, and Tristan De Leon will be presenting! He is an accounting major, and likes to watch anime as well as play the piano. His favorite part about UE are all the activities there are. Make sure to come today at 7:00 p.m. upstairs in Ridgway University Center to learn more about Tristan and the Philippines!
Submitted by Cassie Peterson cp156@evansville.edu
March Pcard reconciliation due
The March Pcard cycle which began February 22, ended March 21 at midnight. As of March 23, cardholders may schedule and run the March Cycle report. March transactions may be reconciled in SDG2 until March 28. On March 30, the general ledger Pcard file will be uploaded and cardholders will be locked out of (unable to make changes) posted transactions for the March Cycle.
Submitted by Kim Winsett kw83@evansville.edu
Five for $25 Deals on Sale for UE Baseball and Softball
With University of Evansville baseball and softball in full swing, a special ticket deal has been announced for each sport.
For just $25, you receive tickets to five games against the top competition the squads will be playing in 2017. Along with your tickets, you will also get a free Purple Aces t-shirt.
The baseball promotion includes one any five games from the following series: USI (April 5), Indiana State (April 7-9), Northern Illinois (April 21-23), Missouri State (April 28-30), and Dallas Baptist (May 18-20). The series against NIU includes Alumni Day and the DBU series features Senior Day.
On the softball side, the series include: Austin Peay (April 5), UT Martin (April 11), Southern Illinois (April 19), Indiana State (April 22-23), and Illinois State (April 29-30). The series versus the Sycamores includes Alumni Day while Senior Day is part of the weekend against the Redbirds.
Fans can pick exactly which games and series they choose to attend. This season is also the first where beer is available at the concession stand.
To purchase your package or for more information, contact 812-488-ACES or email UE Assistant AD for Ticket Operations Scott Peace at sp166@evansville.edu.
Submitted by Bob Pristash rp113@evansville.edu
UE Garden intern needed
Are you interested in gardening? In eating well with fresh food? In caring for and beautifying your surroundings?
If so, you may be interested in becoming an intern in the UE Garden program this summer. Working with faculty and other local gardeners, you will learn to care for vegetables and fruits. Garden produce is shared among people who work in the garden; excess produce is either sold cheaply at on-campus farmers' markets or donated for use in local food pantries. A stipend is available for this position and certain conditions apply; please see the stipend application on the Experiential Education web page.
Complete program description and application directions can be found at listing # 906228
Log in to UE JobLink to view and apply.
Submitted by Donna Schmitt ds120@evansville.edu
Faculty regalia rentals due
Faculty needing to rent regalia for May Commencement should contact the UE Bookstore so that their orders can be received in time. Most faculty only need to reply to the recent e-mail sent to them regarding their needs. Those who didn't get the e-mail should contact the UE Bookstore as soon as possible.
Submitted by Doug Gustwiller dg57@evansville.edu
UE Stories Abroad: Alexis in Morocco
Head over to the study abroad web page to read more about international studies student Alexis Whitacre and her experience so far studying in Morocco! Learn all about Alexis's relationship with her host family, how she faces the language barrier, and what advice she'd give to any future study abroad students.
Read Alexis's story on the UE Stories Abroad web page.
Submitted by Greta Becker gb91@evansville.edu
Nominations being accepted for Outstanding Senior Service Awards
Do you know a senior deserving of the highest award given by UE? Ten finalists will be honored at a luncheon in May and one male and one female will be given this award at commencement. Selection is based on academic achievement, demonstrated leadership, and future contribution to society.
The Guthrie May and Mabel Dillingham Nenneker Outstanding Senior Service Awards nominations will be accepted March 20-April 11.
Please download the nomination application and print it out and share copies with students whom you would like to nominate so they can complete the requirements and submit their applications. Copies are also available in the Office of the Dean of Students.
Applications must be submitted to the Office of the Dean of Students by April 11. Questions can be referred to Karen Martin at km306@evansville.edu or 812-488-2500.
Residence hall recycling contest March 13-31
As part of Recyclemania, a contest will be held to see which residence hall is recycling the most (by weight) per resident. The contest will be held starting March 13 until 2:00 p.m. on March 31.
Here are the details:
• Eligible recyclables are paper, newspapers, magazines, empty plastic containers, empty aluminum and steel cans, empty cardboard, empty cereal, soda boxes.
• Items not considered recyclable: glass, pizza boxes and plastics other than those marked with the recycle sign and number 1–7.
• If a recyclables bag is contaminated with items such as trash, Styrofoam, full drink containers or food, it will be treated as trash, and excluded.
• The winning hall will be the one with the greatest recyclables weight per resident.
• Prizes – a trophy will be awarded to the winning hall. There will also be a drawing for residents of that hall for two Smart Strip Energy Saving Surge Protectors.
Please e-mail js652@evansville.edu or call ext. 2697 for more information.
Submitted by Jan Schrader js652@evansville.edu
ARSAF grants for faculty applications due April 3
The UE Alumni Association is once again offering Alumni Research and Scholarly Activity Fellowships (ARSAF) to faculty. The application deadline for 2017-18 academic year grants is Monday, April 3. Find the online application and more details by going to AceLink and clicking on Areas, and selecting Academic Affairs. The application form can be found on that page under the category of Online Forms.
Questions? Contact alumni@evansville.edu or ext. 2586.
Submitted by Sylvia DeVault sy5@evansville.edu
Fulkerson/Scott Wedding
Congratulations to our director of accounting Samantha Fulkerson and her husband, Mike Scott, on their marriage earlier this month.
Please note that your e-mails from Sam will now appear from Samantha Scott.
Submitted by Michele Adams ma72@evansville.edu
Jaylon Brown earns NABC All-District honor
The honors keep rolling in for University of Evansville senior Jaylon Brown as he was named to the National Association of Basketball Coaches (NABC) All-District 16 Second Team.
These selections are voted on by members of the NABC in Division I.
Brown led the Missouri Valley Conference in scoring in 2016-17, posting 20.9 points per game. He was named to the MVC All-Conference Second Team while also garnering All-Tournament accolades in the 2017 version of Arch Madness.
Over the final stretch of his career, Brown was at his best. The Fishers, Indiana, native recorded 20 or more points in his final six games for the Purple Aces. He also reached double figures in 32 out of 33 games as a senior.
He completed his career with 1,369 career points, 19th on the all-time program list. Brown was also named to the MVC Most Improved Team in consecutive seasons; that is the first time any player has done so.
Submitted by Bob Pristash rp113@evansville.edu
Phi Sigma Iota welcomes new members
The Epsilon Beta chapter of Phi Sigma Iota, the international foreign language honor society, held its annual initiation ceremony on Sunday afternoon, March 19, in Ridgway University Center. New members include Tatiana Czajkowski and Caitlin Kaleri. At this year's ceremony, Russian and classical languages were highlighted. Faculty advisor Ann Baker gave the opening remarks and welcomed the new members. PSI president Megan King conducted the ceremony along with officers Amanda Alexander and Clarissa Eckert. A dessert reception for members, initiates, faculty, and friends followed the ceremony. The Epsilon Beta chapter has initiated 176 members since it was installed in April 2000.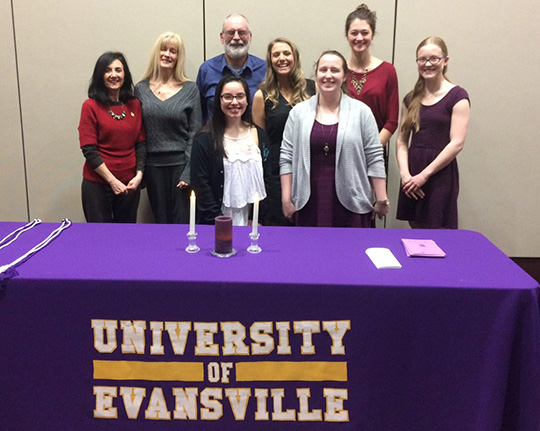 Submitted by Cheryl Shafer cs315@evansville.edu
Contribute to AceNotes
To have content considered for inclusion in AceNotes, please submit a Marketing Request Form. Deadline for submission to AceNotes is 10:00 a.m. on the requested date of publication. Only articles concerning UE related/sponsored activities will be accepted. Articles submitted to AceNotes may be edited for length and clarity. Submitter contact information is at the end of each article.