| | |
| --- | --- |
| AceNotes Today | Friday, March 24, 2017 |
Baseball returns to the road this weekend at Lipscomb
The University of Evansville Baseball team will be hoping to replicate the success it experienced on its last three-game road series as it sets out for a series at Lipscomb this weekend.
After picking up two out of three at Campbell earlier this month, the Aces have hit a rough patch in the last week, dropping two out of three to Western Michigan at Braun Stadium last week and falling in contests with UT Martin and SIUE on Tuesday and Wednesday.
UE (7-13) will be hoping that its line-up can heat up once again this weekend. The Aces racked up 13 runs in the series opener at Campbell, but in the seven games since, the Aces have averaged 3.4 runs per game.
The UE offense has been led this season by the freshman duo of Craig Shepherd and Kenton Crews with .400 and .362 batting averages, respectively, but the team owns a .254 mark overall. Former Fort Scott Community College teammates Trey Hair (.317) and Andrew Tanous (.316) are the only other players on the roster with an average better than .300.
Hair, a preseason All-American, also leads the team in doubles (11), runs (15) and runs batted in (15). With three home runs, he's the only player to register more than one four-bagger on the season.
On the mound, UE will return to the rotation it utilized in that Campbell series, beginning with Patrick Schnieders (2-2, 2.36 ERA) on Friday night. Connor Strain (0-2, 5.40), who tossed three scoreless frames on Wednesday at SIUE, will return to the weekend rotation Saturday, and Justin Hayden (1-3, 7.62) will get the nod Sunday.
After earning a weekend start last time out, Austin Allinger (2-0, 2.41) will return to his role as a top reliever for the Aces this season.
On the other hand, Lipscomb enters the weekend with a lot of momentum. The Bisons (12-8) swept past Illinois State in Nashville last weekend before picking up a 16-2 win at Middle Tennessee on Wednesday.
First pitch today is slated for 6:00 p.m.
Submitted by Bob Pristash rp113@evansville.edu
Aces tennis to open MVC slate this weekend
Missouri Valley Conference play commences on Sunday for the University of Evansville Women's Tennis team as they will first embark on a trip to Bowling Green, Kentucky, today to take on Western Kentucky.
Evansville starts the action today in Bowling Green against the Hilltoppers at noon before the Purple Aces take on Wichita State at Wesselman Park on Sunday at 10:00 a.m.
Last Saturday, UE picked up victories over Wright State (4-1) before defeating IUPUI by a final score of 6-1.
Wright State started the opening match by taking the doubles point before UE stormed back to sweep singles play and earn the 4-1 win. Chieko Yamada, Diana Tkachenko, Theodora Soldatou, and Andrea Pascual-Larrinaga each earned singles wins.
In the match versus the Jaguars, Evansville picked up the doubles point before taking five out of six singles tilts. Yamada, Tkachenko, Daria Pentsova, Pascual-Larrinaga, and Andjela Brguljan were the singles winners for the Aces.
WKU comes into the weekend with a 9-4 mark and have won three straight. On a trip out west, the Hilltoppers defeated San Francisco and Pacific before toppling Butler by a 7-0 final in Nashville last Saturday. The Shockers come to Evansville with an even 7-7 record. They have won their last two matches, earning a 5-2 triumph over #43 SMU and a 4-3 victory against North Texas.
Submitted by Bob Pristash rp113@evansville.edu
Philanthropy Week - every student benefits!
Philanthropy Week (March 27-31) at the University of Evansville is a time when we come together as a campus community to celebrate the gift of philanthropy. It is an opportunity to educate our students on how and why people donate to UE. We will also celebrate the generous donors who make it possible for many of our students to attend UE.
Last year we had 7,378 donors!
Drop by the Ridgway University Center from 11:00 a.m.-1:00 p.m. any day during Philanthropy Week to sign a huge 'Thank You' banner and write a thank you note to a UE donor. The banner will be displayed at our Gift of Scholarship dinner on Thursday, March 30. The personalized thank you notes will be mailed to Pep and Vim donors.
Awareness Day is Monday, March 27. Stop by a "Fact Snack" location and learn about how UE is supported. Who donates, how the funds are used, ways to give, and so much more!
Pick up your "Fact Snack" from:
11:00 a.m. in the Schroeder School of Business Building
Noon in Ridgway University Center
1:00 p.m. in Graves Hall
Gratitude Day - Donuts for Donors is Tuesday, March 28. Last fiscal year, 40 percent of our employees gave back to UE! That is amazing support from within our campus community. Donut Bank donuts will be delivered around campus as a special thank you to our campus donors. Want a donut next year? Make a donation on March 31!
Class Act Day is Wednesday, March 29. For students at UE, Class Act Day is a chance to make a difference for future UE students and leave a legacy on the UE campus. At special tables set up in the Ridgway University Center, students can show their support and love for UE by making a gift. All students who make a gift of at least $5 will have their name written on a leaf that will be added to the giving tree.
Gift of Scholarship Dinner is Thursday, March 30. Every year, the Office of Development and Alumni Relations sponsors a dinner to bring donors and scholarship recipients together. Many of our students receive the gift of scholarship. This event provides an opportunity for students to personally thank a donor. Donors get to see how their gift of scholarship has directly impacted a student.
Pep and Vim Day of Giving is Friday, March 31. We need everyone's help to reach our goal of 500 gifts in 24 hours. The Alumni Board will donate $10,000 if we reach our goal so please give on Pep and Vim! A gift of any size counts and matters in the lives of UE students!
Submitted by Liz Riffert el37@evansville.edu
Charlas: workout today!
Students of all levels of Spanish are invited to meet with Belén Alemán Mansilla, a Fulbright FLTA, to play some games/workout while practicing Spanish. The next Charlas session is today from 4:30-5:30 p.m. in the large gym in Carson Center.
It's a wonderful opportunity to interact informally in Spanish and to meet other students of Spanish. You can stay as little or as long as you want.
Please contact Belén at ma360@evansville.edu if you have any questions.
¡Allá nos vemos!
Submitted by Maria Belén Aleman Mansilla ma360@evansville.edu
Lunch and Lead - Leadership and Letters
Being involved in Greek life can bring leadership skills that can be utilized for the rest of your life. Join us on March 28 for Lunch and Lead in Eykamp Hall, Room 252, Ridgway University Center, at 12:30 p.m. to learn more.
Justin Coffey, residential coordinator for Hale Hall/assistant director for campus programs, will be presenting.
This event is free and open to all students, faculty, staff, and UE community members. We encourage attendees to bring their lunch with them to these events.
Submitted by Amber Stull as625@evansville.edu
Political dynamics of Syrian crisis to be topic of Scholars for Syria Lecture
Wes Milner, executive director of international programs at the University of Evansville, will be the speaker for the UE Scholars for Syria Lecture on Thursday, March 30. His topic will be "The Emerging Political Dynamics of the Syrian Crisis."
The event, which is free and open to the public, begins at 6:00 p.m. Harkness Hall Room 162, Schroeder School of Business Building. The lecture will be followed by a panel discussion with UE Syrian students and discussion with the audience.
Other lectures in this series, which is sponsored by Scholars for Syria, include:
Thursday, April 6
UE Syrian Stories: Humanizing the Syrian conflict with local families
Renowned philosopher Nancy Snow to speak on campus
The speaker for the Eighth Annual William Connolly Lecture Series will be Nancy Snow, a philosopher widely renowned for her work on virtue. Her topic will be "From 'Ordinary' Virtue to Aristotelian Virtue." The lecture is planned for 7:00 p.m. tonight in Smythe Lecture Hall Room 170 Schroeder School of Business Building.
Submitted by Lisa Kretz lk102@evansville.edu
Health Careers Forum set for March 29
The EXSS Club and career development are hosting a Health Careers Forum Wednesday, March 29, from 6:15-8:30 p.m. in Room 100 in the Koch Center for Engineering and Science.
Professional panelists from different organizations in our area will come to share their experiences. This event will be a great opportunity for anyone who would like to make acquaintance with local health care professionals.
RSVP as soon as possible by adding your information to this sign-up sheet.
Attendees are asked to dress business-casual. All students from health career fields should plan to attend. There will be an MD, PA, PT, PTA and CLS personnel there.
Submitted by Kaela Guglielmo kg150@evansville.edu
Chemistry Club bake sale planned for March 28
Come visit the Chemistry Club bake sale on Tuesday, March 28, from 11:00 a.m.-1:00 p.m. We will have a table on the north side of the Koch Center for Engineering and Science. Help us raise money for Relay for Life by buying some yummy treats!
Submitted by Hannah E Clark hc97@evansville.edu
Scholars for Syria Poetry Slam
Scholars for Syria is excited to announce that it will be hosting its first ever Poetry Slam! The event will take place on Thursday, April 6 from noon-1:00 p.m., upstairs in Ridgway University Center. If you would like to participate, please add your name, title of piece, UE e-mail address, and notation as to whether you agree to being filmed during your performance to this sign-up sheet.
Please select a piece that will not exceed the five minute time limit.
The theme of this poetry slam is the Syrian crisis. While the theme is specific to Scholars for Syria's mission of advocating for and supporting Syrian students, we invite participants to speak about the following topics with respect to the humanitarian crisis in the Middle East: diversity, acceptance, violence, discrimination, war, love, peace.
Performance selection criteria:
May be original poetry
May be hand-selected from literature (Please credit the author.)
May be replicated from a video online (Please credit the author.)
May not contain vulgar language (Exceptions may be granted on an individual basis)
May not exceed five minutes
You will have access to a microphone.
Submitted by Kendra Mehling km349@evansville.edu
This Week in Music: Rite of Spring Gala and student recitals
Friends of UE Music's annual Rite of Spring Gala will celebrate the careers of three Department of Music faculty this year. Renato Butturi, John Jordan, and Edwin Lacy will be honored for over a century of teaching excellence at UE.
The Rite of Spring will be held on Saturday, March 25, beginning at 6:00 p.m., in the Executive Conference Center at the Tropicana Evansville. In addition to celebrating the three honorees, the evening will includes cocktails, dinner, a musical program, jazz and dancing with the UE Jazz Ensemble, and a silent auction.
Tickets are $65 per person and are available now. For tickets or more information and to register on-line, visit the Rite of Spring web page or call 812-488-2754.
On Sunday March 26 at 4:00 p.m. in Wheeler Concert Hall, Harry Pickens will bring his trio for a return appearance on the Jazz Guest Artist Concert Series. Pickens, who is from Louisville, Kentucky, is one of the most outstanding jazz pianists in the Midwest, and long a favorite of Evansville audiences. He is a pianist, composer, teacher and motivational speaker, and his international career as a jazz musician has taken him to 17 countries throughout Europe, Japan, and the Americas.
He has collaborated with such greats as Art Blakey, Terrance Blanchard, Ron Carter, Harry "Sweets" Edison, Art Farmer, Dizzy Gillespie, Benny Golson, Slide Hampton, Billy Higgins, Freddie Hubbard, Milt Jackson, Marian McPartland, Jackie McLean, James Moody, and Phil Woods.
Admission to the concert is $15 for adults, $10 for Evansville Jazz Society members and $5 for students with I.D. Tickets can be obtained by contacting the UE Department of Music at 812-488-2754, or may be obtained at the door.
For more information, contact Edwin Lacy, music advisor, Evansville Jazz Society, at 812-476-8923 or EL2@evansville.edu.
Several student recitals are planned for next weekend.
On Saturday, March 25, in Wheeler Concert Hall:
Hannah Nilsen, soprano, will present her senior recital at 1:00 p.m.
Annie Cloud, clarinet, will present her junior recital at 2:30 p.m.
Anessa Brosman, mezzo-soprano, will present a senior recital 4:00 p.m.
On Sunday, March 26, in Wheeler Concert Hall:
Ashley Sliment, piano, will present a senior recital at 1:00 p.m.
All student recitals are free and open to the public.
Submitted by James Sullivan js820@evansville.edu
Tuition remission/tuition exchange info session for employees
Have questions about tuition remission and tuition exchange? The Offices of Admission, Financial Aid, and Academic Affairs invite employees to attend an informational session that will provide further details about use of the benefit on Monday, March 27, at 2:30 p.m., in Room 126 in Hyde Hall.
Submitted by Cathleen Wright cw259@evansville.edu
Andy Elkins highlights 2017 Lunch with the Aces
Men's Basketball legend Andy Elkins highlights the 2017 Lunch with the Aces event, which will take place on Friday, March 31, at the Meeks Gym inside the Carson Center on the University of Evansville campus.
Elkins, who graduated from UE in 1995, led the Men's Basketball team to two NCAA Tournament appearances and one NIT berth in his four years with the program. He ranks sixth in program history with 1,761 points in his career.
A record crowd of over 400 was on hand for the 2016 event, and this year's lunch also promises to be a memorable one. The full lunch runs from 11:00 a.m.-1:00 p.m. with the program beginning at 12:30 p.m.
Early registration for your spot at the lunch is just $30. The cost will be $35 after 5:00 p.m. on March 27 and at the door. A Spring Break Special features $15 tickets for those 15 and under. Another new opportunity is available as you can now sponsor a UE student-athlete for just $10.
The meal will be provided by Marx BBQ while a video presentation will be shown at the program. A half pot and silent auction will also be on hand. A Purple Aces student-athlete will be seated at each table, and the latest Student-Athletes of the Year will be recognized at the lunch.
"Bringing this event to campus last year took it to a whole new level," UE director of athletics Mark Spencer said. "We had a record attendance and are excited to continue to build upon its success."
Corporate tables are available for $350 and come with several unique perks. You receive a table at the front of the room, logo on the video screen, logo in the program, recognition by the emcee, and two student-athletes seated at each table. Each corporate table has eight seats.
All proceeds directly support UE student-athletes.
For more information, contact Shelbie Weaver at 812-488-1024 or at sw260@evansville.edu.
UE Plans Digital Artists Exhibit for April 1-May 6
An exhibit of the work of digital painters Jenna Citrus, Jan Frick Thompson, and Heather Landry is set for April 1-May 6 in the Krannert Gallery. A reception will take place April 20 at 5:30 p.m. These events are free and open to the public.
Citrus, a graduate of University of Southern Indiana, has been awarded an Efroymson Bridge Year Fellowship. She has received several awards for her work, including First Place in Photography at the Evansville Museum and Best of Show in the Brescia College Best of Graphic Design Show. Her work has been published in Brainchild Magazine of Kent State University, Fishhook of University of Southern Indiana, and Photographer's Forum, Best of Photography.
Thompson earned her BFA in advertising from Texas Woman's University.
Her work has been included in the North Carolina Photographers Annual Exhibition, and she has received awards of recognition in the Fayetteville Arts Council Annual Juried Art Exhibitions and the Fayetteville Museum of Art Annual Competitions. Thompson has also shown her work in the Arts Council of Southwestern Indiana exhibitions.
Landry is a professional graphic artist with a prolific body of independent work, including several ongoing comic series. Her work has appeared in many local solo and group shows.
For more information, contact 207-650-6073.
R. Wayne Perkins Theology Lecture set for Monday, April 3
The second annual R. Wayne Perkins Theology Lecture is Monday, April 3, at 7:00 p.m. in Neu Chapel. The event is free and open to the public, but those planning to attend are asked to register online on religious life's R. Wayne Perkins Theology Lecture Series web page.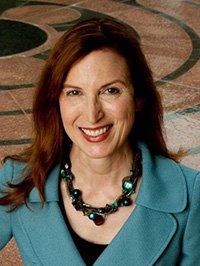 This year's lecturer is the Rev. Alyce M. McKenzie, the George W. and Nell Ayers Le Van Professor of Preaching and Worship at Perkins School of Theology, the graduate school of theology of Southern Methodist University. Her lecture is titled, "Finding a Way in the Wilderness: Biblical Wisdom's Good News in a Culture of Fake News."
Clergy are invited to preaching workshops with McKenzie on Tuesday, April 4. The $50 registration fee for the workshops includes lunch and continuing education credits from the General Board of Higher Education and Ministry. Clergy planning to attend the workshops are asked to register online on religious life's R. Wayne Perkins Theology Lecture Series web page.
The annual Perkins Theology Lectures, sponsored by UE's Office of Religious Life, bring together religion scholars and church leaders to explore perennial theological questions about God and human flourishing. The lectures are intended to be public in nature: both furthering theological understanding and using theological insights to illuminate and interpret important features of our contemporary common life.
These lectures are made possible by the generosity of private donors and the Lilly Endowment, Inc., and are designed to generate and foster sustained theological reflection among UE students and alumni, clergy, and the larger community.
Rev. R. Wayne Perkins, professor emeritus of religion and ordained elder in the United Methodist Church, came to UE in 1966 as a faculty member in the Department of Philosophy and Religion. During his tenure at UE, he served as director of religious life, University chaplain, and chair of the department. Perkins was professor and mentor to thousands of UE students for over five decades. He advised countless students in their academic achievements and directed students in their ministry and vocational goals.
The annual R. Wayne Perkins Theology Lecture Series acknowledges his teaching and advising legacy, and honors his contribution to scholarship, the University of Evansville, the United Methodist Church, and the lives of students for over 50 years.
Today's History Spring Lecture features William Bartelt
The History Department welcomes you to attend its annual Spring Lecture today - March 30 - at 4:00 p.m. in the Vectren Lecture Hall, Room 100, Koch Center for Engineering and Science. William (Bill) Bartelt, a native of Holland, Indiana, will be discussing his lecture topic "Robert Dale Owen: The Political Transformation of a Wordsmith."
Bartelt is a graduate of Indiana State University and the University of Evansville. He taught social studies at Evansville's Harrison High School for 37 years and was the social studies and fine arts department chair at the school when he retired in 2005.
For over 15 summers he was employed as a ranger and historian at Lincoln Boyhood National Memorial [two summers at Lincoln Home in Springfield]. From 1986 to 2007 he was an adjunct American history instructor at the University of Southern Indiana.
He is currently president of the Evansville Museum Board, a trustee of the Indiana Historical Society, secretary of the Indiana Library and Historical Board, a director of the Abraham Lincoln Association, a member of the Friends of the Lincoln Collection of Indiana board of directors, and historian (and lay leader) of Trinity UMC in Evansville.
He has served as president of the Vanderburgh County Historical Society, as past president of the Southwestern Indiana Historical Society, and past president of the Newburgh Museum Foundation. In 2003 he received the Indiana Historical Society's Hoosier Historian Award for contribution to historical scholarship. He was a member of the Federal Abraham Lincoln Bicentennial Commission's Advisory and Education Committees and served as vice-chair of the Indiana Abraham Lincoln Bicentennial Commission.
In 2008 the Indiana Historical Society Press published his book There I Grew Up: Remembering Abraham Lincoln's Indiana Youth.
Submitted by Katherine Martyn km283@evansville.edu
March Pcard reconciliation due
The March Pcard cycle which began February 22, ended March 21 at midnight. As of March 23, cardholders may schedule and run the March Cycle report. March transactions may be reconciled in SDG2 until March 28. On March 30, the general ledger Pcard file will be uploaded and cardholders will be locked out of (unable to make changes) posted transactions for the March Cycle.
Submitted by Kim Winsett kw83@evansville.edu
Five for $25 Deals on Sale for UE Baseball and Softball
With University of Evansville baseball and softball in full swing, a special ticket deal has been announced for each sport.
For just $25, you receive tickets to five games against the top competition the squads will be playing in 2017. Along with your tickets, you will also get a free Purple Aces t-shirt.
The baseball promotion includes one any five games from the following series: USI (April 5), Indiana State (April 7-9), Northern Illinois (April 21-23), Missouri State (April 28-30), and Dallas Baptist (May 18-20). The series against NIU includes Alumni Day and the DBU series features Senior Day.
On the softball side, the series include: Austin Peay (April 5), UT Martin (April 11), Southern Illinois (April 19), Indiana State (April 22-23), and Illinois State (April 29-30). The series versus the Sycamores includes Alumni Day while Senior Day is part of the weekend against the Redbirds.
Fans can pick exactly which games and series they choose to attend. This season is also the first where beer is available at the concession stand.
To purchase your package or for more information, contact 812-488-ACES or email UE Assistant AD for Ticket Operations Scott Peace at sp166@evansville.edu.
Submitted by Bob Pristash rp113@evansville.edu
UE Garden intern needed
Are you interested in gardening? In eating well with fresh food? In caring for and beautifying your surroundings?
If so, you may be interested in becoming an intern in the UE Garden program this summer. Working with faculty and other local gardeners, you will learn to care for vegetables and fruits. Garden produce is shared among people who work in the garden; excess produce is either sold cheaply at on-campus farmers' markets or donated for use in local food pantries. A stipend is available for this position and certain conditions apply; please see the stipend application on the Experiential Education web page.
Complete program description and application directions can be found at listing # 906228
Log in to UE JobLink to view and apply.
Submitted by Donna Schmitt ds120@evansville.edu
Faculty regalia rentals due
Faculty needing to rent regalia for May Commencement should contact the UE Bookstore so that their orders can be received in time. Most faculty only need to reply to the recent e-mail sent to them regarding their needs. Those who didn't get the e-mail should contact the UE Bookstore as soon as possible.
Submitted by Doug Gustwiller dg57@evansville.edu
UE Stories Abroad: Alexis in Morocco
Head over to the study abroad web page to read more about international studies student Alexis Whitacre and her experience so far studying in Morocco! Learn all about Alexis's relationship with her host family, how she faces the language barrier, and what advice she'd give to any future study abroad students.
Read Alexis's story on the UE Stories Abroad web page.
Submitted by Greta Becker gb91@evansville.edu
Need financial aid for summer courses?
If you are seeking financial aid to help pay for summer courses at UE, please complete a summer financial aid application, also available in the Office of Financial Aid. We will help you examine your options for aid, which in most cases during the summer term is limited to: federal loans (direct or plus), private student loans, federal Pell grants, tuition remission (employees and dependents), and student employment. Refer to the summer form to determine the types of aid for which you may be eligible based on your anticipated enrollment status.
Work-Study
On-campus jobs are available for continuing UE students during the summer. You do not need to be eligible for need-based federal/state work-study during the academic year in order to apply. You may also apply regardless of your enrollment in summer courses. Applications are available within the Student Employment area of WebAdvisor.
Submitted by Amy Sowders as560@evansville.edu
Interested in law school? New legal studies minor is for you!
If you're interested in law school or a job in the legal professions, UE's new legal studies minor is for you!
This minor complements many majors including, but not limited to:
• Political science
• International studies
• Criminal justice
• Sociology
• Psychology
• History
• Business
• Health services
• Communications
• Philosophy
• Environmental studies.
Students planning to enter the legal profession are advised to pursue baccalaureate degrees in academic areas best suited to their interests. While the new legal studies minor complements the above majors well, it can be paired with any existing major.
The minor requires Law and Society (LS125) and Constitutional Law -- both providing necessary context and background for any of the legal professions - plus a variety of electives for more specific law-oriented courses such as business law, criminal law, or environmental law.
LS125: Law in Society is offered in Fall 2017. Add it to your registration list!
The minor brings together a number of law-oriented courses currently being taught at UE across disciplines and colleges.
Contact Kevin Gray, legal studies program director, at kg70@evansville.edu for more information.
COMM 380 offered ONLINE in Summer I
Would one class that fulfills many general education requirements and teaches valuable skills interest you? How would you like to take such a course NO MATTER where you plan to be this summer?
Do you want to reduce your course load during the regular fall or spring semesters?

Would you like to be more prepared for your future career in a diverse society and global world? Want to add another skill set to distinguish you from the pack? How about increasing your cultural knowledge and communication competency to relate more effectively with people from other cultures in your personal and professional life?

Do you want to fulfill several General Education competency requirements in one course?
If you answered yes to any of these questions, you should consider enrolling in COMM 380 ONLINE (Intercultural Communication) offered in Summer Session I.
COMM 380 meets criteria for General Education Outcome 9 (Understanding of Core Concepts of Society, Human Behavior, and Civic Knowledge) and Overlay Component A (Global Diversity: International Component).
For more information contact professor emeritus of communication Dean Thomlison at dt4@evansville.edu.
Submitted by Dean Thomlison dt4@evansville.edu
Residence hall recycling contest March 13-31
As part of Recyclemania, a contest will be held to see which residence hall is recycling the most (by weight) per resident. The contest will be held starting March 13 until 2:00 p.m. on March 31.
Here are the details:
• Eligible recyclables are paper, newspapers, magazines, empty plastic containers, empty aluminum and steel cans, empty cardboard, empty cereal, soda boxes.
• Items not considered recyclable: glass, pizza boxes and plastics other than those marked with the recycle sign and number 1–7.
• If a recyclables bag is contaminated with items such as trash, Styrofoam, full drink containers or food, it will be treated as trash, and excluded.
• The winning hall will be the one with the greatest recyclables weight per resident.
• Prizes – a trophy will be awarded to the winning hall. There will also be a drawing for residents of that hall for two Smart Strip Energy Saving Surge Protectors.
Please e-mail js652@evansville.edu or call ext. 2697 for more information.
Submitted by Jan Schrader js652@evansville.edu
Jaylon Brown earns NABC All-District honor
The honors keep rolling in for University of Evansville senior Jaylon Brown as he was named to the National Association of Basketball Coaches (NABC) All-District 16 Second Team.
These selections are voted on by members of the NABC in Division I.
Brown led the Missouri Valley Conference in scoring in 2016-17, posting 20.9 points per game. He was named to the MVC All-Conference Second Team while also garnering All-Tournament accolades in the 2017 version of Arch Madness.
Over the final stretch of his career, Brown was at his best. The Fishers, Indiana, native recorded 20 or more points in his final six games for the Purple Aces. He also reached double figures in 32 out of 33 games as a senior.
He completed his career with 1,369 career points, 19th on the all-time program list. Brown was also named to the MVC Most Improved Team in consecutive seasons; that is the first time any player has done so.
Submitted by Bob Pristash rp113@evansville.edu
Phi Sigma Iota welcomes new members
The Epsilon Beta chapter of Phi Sigma Iota, the international foreign language honor society, held its annual initiation ceremony on Sunday afternoon, March 19, in Ridgway University Center. New members include Tatiana Czajkowski and Caitlin Kaleri. At this year's ceremony, Russian and classical languages were highlighted. Faculty advisor Ann Baker gave the opening remarks and welcomed the new members. PSI president Megan King conducted the ceremony along with officers Amanda Alexander and Clarissa Eckert. A dessert reception for members, initiates, faculty, and friends followed the ceremony. The Epsilon Beta chapter has initiated 176 members since it was installed in April 2000.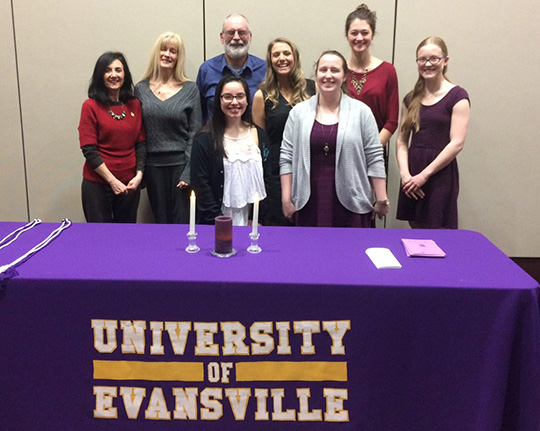 Submitted by Cheryl Shafer cs315@evansville.edu
Katterhenry named MVC Golfer of the Week
University of Evansville golfer Kayla Katterhenry was named the Missouri Valley Conference Women's Golfer of the Week on Wednesday after posting a second-place finish in Sevierville, Tennessee.
Katterhenry tied for second place out of 44 participants as the University of Evansville Women's Golf squad took part in the Bobby Nichols Intercollegiate in Sevierville. Katterhenry carded scores of 73 in the first two rounds, both just two strokes over par.
She completed the tournament with a 74 to wrap up the tournament with a 220. She finished just one stroke off the win.
The ladies are back on the golf course on Monday, March 27, in Little Rock, Arkansas.
Submitted by Bob Pristash rp113@evansville.edu
Contribute to AceNotes
To have content considered for inclusion in AceNotes, please submit a Marketing Request Form. Deadline for submission to AceNotes is 10:00 a.m. on the requested date of publication. Only articles concerning UE related/sponsored activities will be accepted. Articles submitted to AceNotes may be edited for length and clarity. Submitter contact information is at the end of each article.