| | |
| --- | --- |
| AceNotes Today | Tuesday, March 21, 2017 |
Helen Skuggedal Reed, Adjunct Professor of Organ and Harpsichord
Dear UE Community,
It is with a heavy heart that I report to the UE family that Helen Skuggedal Reed, adjunct professor of organ and harpsichord, passed away late Saturday after a fall last week. Please keep Ms. Reed and her family in your thoughts and prayers during this difficult time.
Friends may visit today - Wednesday, March 22 - from 4:00 to 8:00 p.m. at Alexander East Chapel. A memorial service and concert will be held at First Presbyterian Church at a later date. Her obituary and more information may be found online here.
Sincerely,
President Kazee
GWS Gender and Work Panel
Come join us for an informal panel discussion about the experiences of people working in fields not traditionally associated with their sex. We will have panelists from numerous professions including the ministry, engineering, health care, and government. The event will be held in Eykamp Hall, Rooms 254 and 255, Ridgway University Center, at 6:00 p.m.
Contact Lizzie Flora with questions at ef84@evansville.edu or Annette Parks at ap3@evansville.edu. Light refreshments will be provided.
Submitted by Annette Parks ap3@evansville.edu
This Week in Music: Rite of Spring Gala and student recitals
Friends of UE Music's annual Rite of Spring Gala will celebrate the careers of three Department of Music faculty this year. Renato Butturi, John Jordan, and Edwin Lacy will be honored for over a century of teaching excellence at UE.
The Rite of Spring will be held on Saturday, March 25, beginning at 6:00 p.m., in the Executive Conference Center at the Tropicana Evansville. In addition to celebrating the three honorees, the evening will includes cocktails, dinner, a musical program, jazz and dancing with the UE Jazz Ensemble, and a silent auction.
Tickets are $65 per person and are available now. For tickets or more information and to register on-line, visit the Rite of Spring web page or call 812-488-2754.
On Sunday March 26 at 4:00 p.m. in Wheeler Concert Hall, Harry Pickens will bring his trio for a return appearance on the Jazz Guest Artist Concert Series. Pickens, who is from Louisville, Kentucky, is one of the most outstanding jazz pianists in the Midwest, and long a favorite of Evansville audiences. He is a pianist, composer, teacher and motivational speaker, and his international career as a jazz musician has taken him to 17 countries throughout Europe, Japan, and the Americas.
He has collaborated with such greats as Art Blakey, Terrance Blanchard, Ron Carter, Harry "Sweets" Edison, Art Farmer, Dizzy Gillespie, Benny Golson, Slide Hampton, Billy Higgins, Freddie Hubbard, Milt Jackson, Marian McPartland, Jackie McLean, James Moody, and Phil Woods.
Admission to the concert is $15 for adults, $10 for Evansville Jazz Society members and $5 for students with I.D. Tickets can be obtained by contacting the UE Department of Music at 812-488-2754, or may be obtained at the door.
For more information, contact Edwin Lacy, music advisor, Evansville Jazz Society, at 812-476-8923 or EL2@evansville.edu.
Several student recitals are planned for next weekend.
On Saturday, March 25, in Wheeler Concert Hall:
Hannah Nilsen, soprano, will present her senior recital at 1:00 p.m.
Annie Cloud, clarinet, will present her junior recital at 2:30 p.m.
Anessa Brosman, mezzo-soprano, will present a senior recital 4:00 p.m.
On Sunday, March 26, in Wheeler Concert Hall:
Ashley Sliment, piano, will present a senior recital at 1:00 p.m.
All student recitals are free and open to the public.
Submitted by James Sullivan js820@evansville.edu
Charlas: Games!
Students of all levels of Spanish are invited to meet with Belén Alemán Mansilla, a Fulbright FLTA, to play some games while practicing Spanish. The next Charlas session is today from 4:30-5:30 p.m. at Jazzman's in Ridgway University Center. It's a wonderful opportunity to interact informally in Spanish and to meet other students of Spanish. You can stay as little or as long as you want. Please contact Belén at ma360@evansville.edu if you have any questions. ¡Allá nos vemos!
Submitted by: Maria Belén Aleman Mansilla ma360@evansville.edu
Lunch and Lead - Do More of What You Do Best
Everyone has different talents to bring to the table. Join us for Lunch and Lead today at 12:30 p.m. in Eykamp Hall, Room 252, Ridgway University Center, to learn how to use your strengths to become a better leader.
This Lunch and Lead will be presented by Emily Fiedler from the Office of Career Development. This event is free and open to all students, faculty, staff, and UE community members. We encourage attendees to bring their lunch with them to these events.
Submitted by Amber Stull as625@evansville.edu
Final performance of Ruby Sunrise tonight
The University of Evansville Department of Theatre opened The Ruby Sunrise by Rinne Groff on March 17. The last performance is tonight at 7:30 p.m.
Out of a remote 1920's Indiana town emerges Ruby, a driven and capable woman who wants to change the world with the first all-electric television system. Groff's inventive play follows two generations of strong-willed, Midwestern women working to overcome obstacles that challenge them from moving forward. In this underdog story, conflicts arise and tensions flare as the truth is questioned. Tune into this illuminating tale sure to leave audiences wondering how much is compromised when art imitates life.
Elisa Hoover, a senior theatre studies major from Atlanta, Georgia, takes the helm as director of the production. The cast includes senior Cody Vann, from Denton, Texas, and juniors Braden Wilkerson from Fort Worth, Texas., Miranda Schieving from Denver, Colorado; Paige Ward from, Round Rock, Texas, Aaron Gonner from Dubuque, Iowa; Simon Earle from Shorewood, Wisconsin; and Kira Vuolo from Westminster, Colorado.
The creative team for The Ruby Sunrise includes scenic design by junior Jacob Sellers from Fort Branch, Indiana; costume design by senior Olivia Rigdon from Colorado Springs, Colorado; lighting design by junior Baxter Pitt from McKinney, Texas; and sound design by senior Robbie Love from St. Louis, Missouri. The dramaturg is senior Emily Westing, from Grand Rapids, Michigan, and the stage manager is junior Emma Blevins from San Antonio, Texas. This production is under the technical direction of Department of Theatre professor Chuck Meacham.
Tickets are $11 for adults and $9 for senior adults, students, and UE faculty and staff. UE students may pick up their free student rush ticket beginning at noon on the day of the performance they wish to attend. Seating is limited and patrons are encouraged to make reservations by calling 812-488–2031, Monday-Friday, noon-5:00 p.m.
Let's bowl! Spare Change for Warriors Bowling Tournament for charity
UE students, faculty members, and administration and the Tri-State community will gather to bowl for charity on Saturday, April 8 at 1:00 p.m. at River City Recreation on Weinbach Avenue. Proceeds from the tournament will be shared among Fallen Patriots, the winning team's charity of choice, and UEVETS student veterans organization. Please consider registering a team or sponsoring a lane for $120. Act fast, there are only 16 lanes/team spots available. Contact Chris Haynes at ch300@evansville.edu or 812-629-6777 for details.
Submitted by Cherie Leonhardt CL29@evansville.edu
Swing Dance Fundraiser tickets
The UE Jazz Ensemble will once again be selling tickets to its annual Swing Dance Fundraiser. Tickets may be purchased from professor of music Timothy Zifer at tz3@evansville.edu, ext. 2878, or Room 144 in the Fine Arts Building - or at the door. The dance will be Saturday, March 25 at 8:00 p.m. in the Tropicana Executive Conference Center. The cost of the tickets are $10 and all of the proceeds go toward the UE Jazz program. Dancing, cash bar, and silent auction will be featured. Come swing with us!
Submitted by Timothy Zifer tz3@evansville.edu
Lora Becker to speak at Scholars for Syria Lecture
The topic of the University of Evansville Scholars for Syria Lecture planned for Thursday, March 23, will be "Neural Development in a War Zone." Lora Becker, UE associate professor of psychology and neuroscience and director of Neuroscience Program and Neuromarketing Research Center, will be the speaker. The event, which is free and open to the public, begins at 6:00 p.m. in Room 162 (Harkness Hall), Schroeder School of Business Building. The lecture will be followed by a panel discussion with UE Syrian students and discussion with the audience.
During her lecture Becker will discuss how our environment influences developmental processes as much as our genetic makeup.
"These powerful forces interact to result in a spectrum of emotional and cognitive human traits," explained Becker. "However, extreme environments such as war zones, result in devastating effects on neurodevelopment that can be passed to future generations. We will examine neurodevelopmental consequences of trauma on the individual's neuroanatomical wiring, emotional responses and reasoning skills. Furthermore, we will examine what these changes mean for the future of Syria's inhabitants."
The psychological trauma associated with this crisis, said Becker, is far-reaching and carries with it implications of domestic violence, indoctrination, and lifelong disease.
Other lectures in this series, which is sponsored by Scholars for Syria, include:
Thursday, March 30
Wes Milner, executive director of international programs at UE - "The Emerging Political Dynamics of the Syrian Crisis"
Thursday, April 6
UE Syrian Stories: Humanizing the Syrian conflict with local families
Submitted by Gail Vignola gv15@evansville.edu
Documentary on HPV epidemic
Please join us for a screening of the poignant documentary, Someone You Love: The HPV Epidemic, today from 6:00-8:00 p.m. in Eykamp Hall, Ridgway University Center. Along with the movie screening, there will be a panel discussion and Q&A with local experts. Admission will be free.
This documentary takes a look into the lives of five women affected by HPV, the widely misunderstood and controversial virus that causes several types of cancer, including cervical. We welcome and encourage men and women to attend, as HPV effects everyone.
Submitted by Laura Connors lr23@evansville.edu
I-House: South Africa
Tonight's I-House will be on South Africa! Kristy Kupfer and Sindi Dlamini will be presenting. Their majors are public health with an emphasis on nutrition and mechanical engineering. Kristy loves to swim, sleep, be outside, and spend time with family and friends. Sindi loves to play with animals, travel, and spend time with family. Kristy is on the swim team here and she loves it. She also loves how many people you can meet here at UE from all over the world. Sindi likes how many opportunities UE has for its students. Make sure to come out tonight at 7:00 p.m., upstairs in Ridgway University Center, to learn more about South Africa!
Submitted by Cassie Peterson cp156@evansville.edu
Clickers in the Classroom Lunch and Learn on Thursday
Come to a lunch session in Room 102 in Koch Center for Engineering and Science on Thursday, March 23, from 11:00 a.m.-1:00 p.m. to learn more about the Turning Point classroom response system.
Turning Technologies provides a classroom response technology used to obtain direct feedback from students during class. Its Turning Point software solution helps instructors implement proven pedagogies like peer instruction, agile learning, and gamification. Turning Point works with student's mobile devices or dedicated hardware clickers.
During this session, a representative from Turning Technologies will be present to introduce the Turning Point software, and explain some of the benefits of implementing it in your classroom. Lunch will be provided,
Submitted by Jeff Braun jb53@evansville.edu
Summer and part-time job fair today
Stop by upstairs in Ridgway University Center today and meet with area employers at the Summer and Part-Time Job Fair! The event will be from 11:00 a.m.-1:00 p.m.
Business casual attire recommended and bring many copies of your resume.
Schedule an appointment with the Center for Career Development to prepare for the fair and perfect your resume! Call 488-1083 or e-mail (career@evansville.edu).
Submitted by: Alison Morris-McDonald am268@evansville.edu
UpGrade bike sharing program offers free test-ride
Residents will have an opportunity to learn about the popular new Upgrade Bike Sharing transportation system and test-ride a bicycle free at today's Traveling City Hall meeting. The meeting will be from 5:30-7:00 p.m. in Eykamp Hall, Room 252, Ridgway University Center. Parking for attendees will be available at the parking lot near Carson Center with access off Frederick Street.
The citywide UpGrade Bike Sharing program launched in October 2016 offering 70 rental bicycles at seven locations across town. Within five months, the local bike sharing program exceeded 1,000 rides, and the City of Evansville was featured as a national case study by Zagster, a world leader in designing and operating bike sharing systems.
Mayor Lloyd Winnecke will open the Traveling City Hall meeting with introductions of city department heads and elected officials, followed by public announcements. A representative from Zagster and a member of the Evansville Trails Coalition will give a presentation on the UpGrade Bike Sharing program, and a University of Evansville student will demonstrate how to sign-up for the service with a smartphone and checkout a bike. As a special promotion for Traveling City Hall, Zagster will offer a $3 credit for one-hour free for an hourly membership or $5 off for an annual membership to anyone over age 18 signing-up for the service at the meeting.
Following the presentations, Mayor Winnecke and city department heads will be available to talk one-on-one with residents about any issue involving city government. Everyone is welcome to attend.
Tuition remission/tuition exchange info session for employees
Have questions about tuition remission and tuition exchange? The Offices of Admission, Financial Aid, and Academic Affairs invite employees to attend an informational session that will provide further details about use of the benefit on Monday, March 27, at 2:30 p.m., in Room 126 in Hyde Hall.
Submitted by Cathleen Wright cw259@evansville.edu
Wahnita DeLong Reading to feature emeriti professors
The University of Evansville's Creative Writing Coffee Hour Wahnita DeLong Reading is today at 4:00 p.m. in the Melvin Peterson Gallery. UE professors emeriti Bill Baer and Margaret McMullan will be the speakers. This event is free and open to the public.
Baer, a recent Guggenheim fellow, is the author of 20 books. His poetry collection "Bocage" and Other Sonnets was the recipient of the X.J. Kennedy Poetry Prize. His other books include The Ballad Rode into Town; Psalter; and The Unfortunates, recipient of the T.S. Eliot Award. A former Fulbright and recipient of a N.E.A. Creative Writing Fellowship, Baer was founding editor of The Formalist and founding director of the Howard Nemerov Sonnet Award. He is the author of the short fiction collections Times Square and Other Stories and One-and-Twenty Tales, and his plays have been performed at more than 30 American theaters.
McMullan is the author of seven award-winning novels, the story collection Aftermath Lounge, and editor of the anthology Every Father's Daughter. Her work has appeared in such publications as The Los Angeles Times, The Washington Post, and The Chicago Tribune. She is a National Author Winner of the Eugene and Marilyn Glick Indiana Authors Award, and received an NEA fellowship and a Fulbright to research and teach in Hungary for her new memoir Where the Angels Lived: One Family's Story of Exile, Loss, and Return. She currently serves as a faculty mentor at the Stony Brook Southampton Low-Residency MFA Program.
The LinC looking for new staff for 2017-18
The yearbook is looking for dependable students to be a part of the 2018 LinC staff. Every position from writing to editing to photography is available. No experience necessary. Academic credit available. Visit the Student Publications Facebook page for the link to the application and to read job descriptions. For additional information, please e-mail tm2@evansville.edu.
Submitted by Tracy Maurer tm2@evansville.edu
Join the Crescent Magazine staff
The Crescent Magazine is hiring and we could use you! Help make a difference by joining YOUR campus media!
There are many positions to choose from: ad designer, reporter, columnist, copy editor, photographer, social media assistant, and event planner. Visit the Student Publications Facebook page for the link to the application and to read job descriptions.
For additional information, please e-mail tm2@evansville.edu.
Submitted by Tracy Maurer tm2@evansville.edu
Interested in law school? New legal studies minor is for you!
If you're interested in law school or a job in the legal professions, UE's new legal studies minor is for you!
This minor complements many majors including, but not limited to:
• Political science
• International studies
• Criminal justice
• Sociology
• Psychology
• History
• Business
• Health services
• Communications
• Philosophy
• Environmental studies.
Students planning to enter the legal profession are advised to pursue baccalaureate degrees in academic areas best suited to their interests. While the new legal studies minor complements the above majors well, it can be paired with any existing major.
The minor requires Law and Society (LS125) and Constitutional Law -- both providing necessary context and background for any of the legal professions - plus a variety of electives for more specific law-oriented courses such as business law, criminal law, or environmental law.
LS125: Law in Society is offered in Fall 2017. Add it to your registration list!
The minor brings together a number of law-oriented courses currently being taught at UE across disciplines and colleges.
Contact Kevin Gray, legal studies program director, at kg70@evansville.edu for more information.
Letterhead and envelope orders due April 12
The Office of Publications has distributed letterhead and envelope ordering information. If your department uses letterhead or envelopes during the fiscal year, this is the time to order it. We are able to get a substantial price break on boxes of envelopes (500 quantity) and reams of letterhead (500 quantity) due to the size of the order. Smaller orders placed later in the year will be more expensive.
If you did not receive the ordering information from the Office of Publications, please e-mail publications@evansville.edu or call ext. 2561.
Orders are due April 12.
Apply to be an I-House coordinator for 2017-18
International House (I-House) is a long-standing UE program that showcases the University's international students through weekly country presentations. I-House coordinators are paid to recruit presenters and run the program each Wednesday. Coordinator applications are now available! If you're interested in getting to know more international students and looking for a leadership position on campus, apply today by filling out the I-House coordinator application.
Applications are due Friday, March 24 at 5:00 p.m.
Submitted by Megan Sicard ms331@evansville.edu
COMM 380 offered ONLINE in Summer I
Would one class that fulfills many general education requirements and teaches valuable skills interest you? How would you like to take such a course NO MATTER where you plan to be this summer?
Do you want to reduce your course load during the regular fall or spring semesters?

Would you like to be more prepared for your future career in a diverse society and global world? Want to add another skill set to distinguish you from the pack? How about increasing your cultural knowledge and communication competency to relate more effectively with people from other cultures in your personal and professional life?

Do you want to fulfill several General Education competency requirements in one course?
If you answered yes to any of these questions, you should consider enrolling in COMM 380 ONLINE (Intercultural Communication) offered in Summer Session I.
COMM 380 meets criteria for General Education Outcome 9 (Understanding of Core Concepts of Society, Human Behavior, and Civic Knowledge) and Overlay Component A (Global Diversity: International Component).
For more information contact professor emeritus of communication Dean Thomlison at dt4@evansville.edu.
Submitted by Dean Thomlison dt4@evansville.edu
Dr. Marvin E. Hartig Memorial Scholarship applications
Family, friends, and loved ones of the late Marvin E. Hartig are pleased to announce the application process for the Dr. Marvin E. Hartig Memorial Scholarship. This scholarship is dedicated to the loving memory of Hartig, dean of Evansville College's Evening College in 1967, and administrator for the Center for Advanced Study, director of the Evansville chapter of the American Institute of Banking (AIB), and the international student advisor. In 1974, Hartig was appointed dean of academic services. He retired in 1984 after serving his alma mater for 35 years and passed away in 2007.
This scholarship will be awarded each year to a deserving sophomore student with demonstrated financial need as shown by the results of the Free Application for Federal Student Aid (FAFSA). Preference will be given to a student working while being enrolled as a full-time student.
International students are encouraged to apply. Please include in your essay your particular financial need, since international students do not have FAFSA forms on file.
Applicants must submit the following to be considered:
Completed application

In a one page, single spaced, 12 point Verdana font essay, please answer all of these questions:
What have you learned about yourself as a UE student?
What do you do for fun when not studying or working?
Name a special attribute or accomplishment that sets you apart.
You have done a lot in your short life. In what areas do you think you can improve?
What are your scholastic and career goals?
How did you finance your freshman year and how will you finance your sophomore year?
Why are you a good candidate to receive this scholarship?
What have you learned about Dr. Hartig, how does he influence or inspire you, and how will you preserve his legacy as recipient of this scholarship?
Please return all materials to the Office of Financial Aid by June 1. Decision will be announced by August 1.
If you have questions, contact Trisha Hawkes, administrative assistant to the Office of Financial Aid, at financialaid@evansville.edu or 812-488-2364.
Submitted by Trisha Hawkes th187@evansville.edu
Last chance for nominations for Dean of Students Leadership Awards
Nominations for consideration of The Howard S. Rosenblatt Dean of Students Leadership Awards are due by this Friday, March 24. These awards will be presented at the 24th Annual Leadership Awards Reception scheduled for April 19 at 7:00 p.m. Invitations will be prepared by the Center for Student Engagement.
Awards are presented in the following categories:
• Student Organization Advisor of the Year
• Student Organization of the Year
• Student Leader of the Year
Over 80 percent of UE students participate in at least one student organization or program. These organizations are successful because of the commitment of the student leaders and the advisors who give freely of their time and support.
The recipients of these awards are selected based on their commitment to the University of Evansville as well as the development and success of their efforts within their chosen student organization.
The deadline for nominations is March 20. You can download a nomination form or stop by Room 230 in the Ridgway University Center to pick up a nomination form from the Dean of Students Office. Return the completed nomination form and essay to the Dean of Students Office, located in Room 230 in the Ridgway University Center, or by e-mail to km306@evansville.edu.
If you have any questions, please contact the Vice President for Student Affairs/Dean of Students office at 812-488-2500 or by e-mail via km306@evansville.edu.
Thank you in advance for celebrating our student leaders' achievements!
Men's Golf jumps to third place at Bobby Nichols
Tyler Gray shot a 4-under 68 as the University of Evansville Men's Golf squad wrapped up the second day of the Bobby Nichols Intercollegiate at Sevierville Golf Club.
A day after posting an even 72, Gray toured the course in just 68 strokes. His 2-round total of 140 has him in fifth place entering the final round of 18.
Also finishing the day under par was Wil Pahud. He jumped by four strokes from Sunday's total, carding a 2-under 70. His score of 144 has him tied for eighth place.
Jon Pick is tied for 23rd. After notching a 76 in the opening round, Pick posted a 74 and checks in with a score of 150. Two behind him is Zac Turi, who posted a 75 on Monday and is tied for 33rd place with a 152.
Matthew Ladd also improved, recording a 77 to stand in a tie for 47th place overall with a 156. Individual Noah Reese made the biggest leap on the team. A day after registering an 80, Reese finished round two with a 174. He is tied for 42nd with his 154.
Evansville jumped two spots on the board to third place. Carson-Newman continues to lead the way with a 561, 15 strokes ahead of Lincoln Memorial, who sits with a 576. The Aces are third with a 586 and are one ahead of Austin Peay and four in front of 5th place Wright State. Dalton Reese of Carson-Newman paces the individuals. His efforts of 68 and 69 give him a 2-stroke lead heading into the final 18.
Florey picks up second MVC Pitcher of the Week honor
For the second time in the 2017 season, University of Evansville sophomore Morgan Florey has been named the Missouri Valley Conference Pitcher of the Week in an announcement by the league on Monday.
Florey made three starts on the week, earning three wins and throwing a complete game each time, including a shutout over Loyola in the series opener. In 21 innings of work, she gave up just three earned runs while striking out an unbelievable 37 batters while walking just four. Opponents batted just .169 against her.
In Tuesday's home opener against Northern Illinois, Florey went seven innings allowing two runs on six hits while tying her career mark with 14 strikeouts. She brought her best stuff once again in Saturday's Valley opener versus Loyola, throwing a 1-hit shutout while fanning 11 batters.
Sunday's finale saw her help UE to its first MVC series sweep since 2012 as she threw seven more innings, allowing one run on five hits while striking out 12. At that plate, she hit a 3-run walk-off home run to clinch the victory.
Florey and the Aces are back home this weekend to face Bradley in a 3-game set. On Saturday, the action begins with a 12 p.m. doubleheader before Sunday features one game at noon. Sunday's game will also see former UE softball player Beth Csukas honored with the Missouri Valley Conference Most Courageous Award. All first responders (police, fire, EMT, etc.) will receive free admission to the game with proper ID.
Submitted by Bob Pristash rp113@evansville.edu
Manolo Concepcion working with USA Volleyball
Purple Aces head volleyball coach Manolo Concepcion will represent the University of Evansville program at several USA Volleyball National Team tryouts over the next month.
"I am extremely excited to be part of this project at the national team level of USA Volleyball, especially because of my passion for long term training and development of athletes of all ages, and the potential for professional growth as a coach and as a leader," Concepcion said. "This is a great step for our program and city as well, as it continues to increase the awareness for our university, while it also encourages youth and junior athletes around the area to aspire for High Performance opportunities."
Concepcion will be working on the tryout staff, assisting them with running drills and evaluating athletes for the USA Volleyball National Team pipeline. He will be working two tryout dates in Indianapolis as well as one apiece in Nashville and Kansas City. His first work began March 17 and the final takes place on April 20.
Coaches from around the country work with USA Volleyball at these tryouts. There are approximately 30 in different cities around the United States. Concepcion is working specifically with the High Performance Tryout.
Submitted by Bob Pristash rp113@evansville.edu
Roscoe receives Susan Kelley Jordan Leader in Courage Award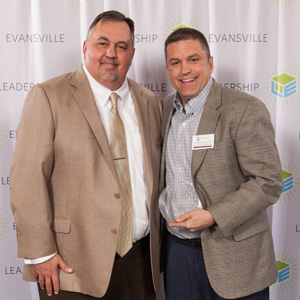 Physician Assistant Department Chair Michael Roscoe has been awarded the Susan Kelley Jordan Leader in Courage Award. This award was presented at the recent 22nd Annual Celebration of Leadership.
Roscoe is pictured with his presenter, Dr. Steven Becker of IU School of Medicine.
We are proud of you, Dr. Roscoe!
Submitted by: Billie Chandler bc185@evansville.edu
Contribute to AceNotes
To have content considered for inclusion in AceNotes, please submit a Marketing Request Form. Deadline for submission to AceNotes is 10:00 a.m. on the requested date of publication. Only articles concerning UE related/sponsored activities will be accepted. Articles submitted to AceNotes may be edited for length and clarity. Submitter contact information is at the end of each article.