Celebration of Leadership recognizes individuals and groups who have positively impacted the Evansville community in the categories of the arts, community and neighborhood, education, environment, government and public services, and/or health and social service.
The Upgrade Bikeshare Program won an award in the environment category. Upgrade Bike Share Program—Evansville-area Trails Coalition in partnership with city officials and representatives from numerous area organizations launched 70 cruiser bikes at seven stations across Evansville for members to use on demand. Anyone over the age of 18 can ride by purchasing a day pass or by enrolling in a monthly or annual membership. Locations include University of Evansville, North Main Street, West Franklin Street, Downtown YMCA, Downtown Pagoda, Haynie's Corner Art District, and Deaconess Sports Park. The installation of this program marks the culmination of a collaborative effort between an impressive network of individuals committed to the progress of Evansville. Read more about this program.
Congratulations to the Evansville Area Trails Coalition and the Changemaker students on their award for Upgrade Bikeshare!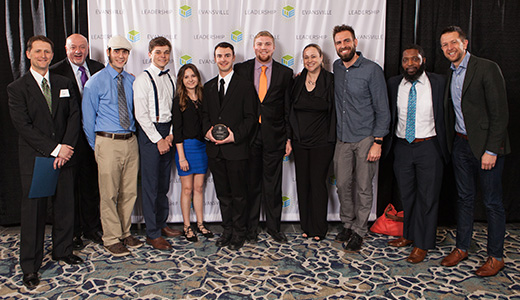 Submitted by Alexandra Amick aa308@evansville.edu