| | |
| --- | --- |
| AceNotes Today | Thursday, March 16, 2017 |
Vice president for fiscal affairs and administration candidates to visit campus
The Vice President for Fiscal Affairs and Administration (VPFAA) Search Committee is currently conducting on-campus interviews of finalists for the VPFAA position.
Information related to the job description and candidates can be viewed at: https://www.evansville.edu/offices/president/vpfaaSearch.cfm
Candidate Donna Teague will interview on campus March 16-17. A reception for the campus community will be held today, from 4:00-5:15 p.m., in Dunigan Lounge, (Room 160), Schroeder School of Business Building.
Please join me and members of the Search Committee in welcoming these individuals to campus.
Dana Clayton
Chair, VPFAA Search Committee
University of Evansville
Lisa Kretz presents Scholars for Syria Lecture today
University of Evansville assistant professor of philosophy Lisa Kretz will be the speaker for today's Scholars for Syria Spring Speaker Series. She will be discussing "How to Be Ethical: Seeding Moral Action."
All lectures in this series are at 6:00 p.m. in Room 162 (Harkness Hall), Schroeder School of Business Building, and are followed by a panel discussion with UE Syrian students and discussion with the audience. This series is sponsored by Scholars for Syria.
"The Syrian crisis, coupled with the political climate of the US, leaves heartbreaking questions of moral failure," Kretz said. "How can this happen? How can this continue to happen? I contend that part of such moral failing rests in an approach to ethics and action that encourages us to leave our hearts at the door. I venture the 'radical' thesis that we are thinking and feeling creatures, that reason and emotion working in tandem is necessary for action, and that we cannot be our ideal moral selves without nurturing both constituents of human being."
She added that "emotional wisdom is an underdeveloped skill. This means we have to get in touch with the power of emotion for motivating large scale positive change. Moral emotions such as empathy, sympathy, compassion, hope, and even anger can be harnessed so that we approach the Syrian crisis with our full selves, and see what whole-hearted living can accomplish."
Other lectures in this series include:
Thursday, March 23
Lora Becker, UE associate professor of psychology and neuroscience and director of Neuroscience Program and Neuromarketing Research Center – "Neural Development in a War Zone"
Thursday, March 30
Wes Milner, executive director of international programs at UE - "The Emerging Political Dynamics of the Syrian Crisis"
Thursday, April 6
UE Syrian Stories: Humanizing the Syrian conflict with local families
UELA Honoring our Vets Donation Drive
The members of UE Leadership Academy will be hosting Honoring our Vets Donation Drive this week – March 13-17. They are collecting personal care/hygiene items. Collections boxes are in each residence hall, CSE, and the admissions office. Thank you in advance!
Submitted by Karl Quilligan kq22@evansville.edu
20% off NIKE at UE Bookstore this week
The UE Bookstore is offering 20 percent OFF all NIKE purchases this week, March 13-17. The discount will be taken off the original price of item and includes shorts, T-shirts, and sweatshirts. Sale ends Friday, March 17!
Submitted by Doug Gustwiller dg57@evansville.edu
Lunch and Lead - Do More of What You Do Best
Everyone has different talents to bring to the table. Join us for Lunch and Lead today at 12:30 p.m. in Eykamp Hall, Room 252, Ridgway University Center, to learn how to use your strengths to become a better leader.
This Lunch and Lead will be presented by Emily Fiedler from the Office of Career Development. This event is free and open to all students, faculty, staff, and UE community members. We encourage attendees to bring their lunch with them to these events.
Submitted by Amber Stull as625@evansville.edu
Final performance of Ruby Sunrise tonight
The University of Evansville Department of Theatre opened The Ruby Sunrise by Rinne Groff on March 17. The last performance is tonight at 7:30 p.m.
Out of a remote 1920's Indiana town emerges Ruby, a driven and capable woman who wants to change the world with the first all-electric television system. Groff's inventive play follows two generations of strong-willed, Midwestern women working to overcome obstacles that challenge them from moving forward. In this underdog story, conflicts arise and tensions flare as the truth is questioned. Tune into this illuminating tale sure to leave audiences wondering how much is compromised when art imitates life.
Elisa Hoover, a senior theatre studies major from Atlanta, Georgia, takes the helm as director of the production. The cast includes senior Cody Vann, from Denton, Texas, and juniors Braden Wilkerson from Fort Worth, Texas., Miranda Schieving from Denver, Colorado; Paige Ward from, Round Rock, Texas, Aaron Gonner from Dubuque, Iowa; Simon Earle from Shorewood, Wisconsin; and Kira Vuolo from Westminster, Colorado.
The creative team for The Ruby Sunrise includes scenic design by junior Jacob Sellers from Fort Branch, Indiana; costume design by senior Olivia Rigdon from Colorado Springs, Colorado; lighting design by junior Baxter Pitt from McKinney, Texas; and sound design by senior Robbie Love from St. Louis, Missouri. The dramaturg is senior Emily Westing, from Grand Rapids, Michigan, and the stage manager is junior Emma Blevins from San Antonio, Texas. This production is under the technical direction of Department of Theatre professor Chuck Meacham.
Tickets are $11 for adults and $9 for senior adults, students, and UE faculty and staff. UE students may pick up their free student rush ticket beginning at noon on the day of the performance they wish to attend. Seating is limited and patrons are encouraged to make reservations by calling 812-488–2031, Monday-Friday, noon-5:00 p.m.
Nikolidakis to give job talk to CRW students
Lisa Nikolidakis, assistant professor of creative writing, will give a talk and engage in a lengthy Q&A with creative writing students on the job searches they face as graduation looms. Topics covered might include useful websites for writing and editing job searches, marketing one's strengths, writing those elusive cover letters, and the joys and perils of relocation. The talk will be held in Room 71 in the Schroeder School of Business Building on Friday, March 17, at 4:00 p.m.
Submitted by Lisa Nikolidakis ln43@evansville.edu
Wahnita DeLong Reading to feature emeriti professors
The University of Evansville's Creative Writing Coffee Hour Wahnita DeLong Reading is today at 4:00 p.m. in the Melvin Peterson Gallery. UE professors emeriti Bill Baer and Margaret McMullan will be the speakers. This event is free and open to the public.
Baer, a recent Guggenheim fellow, is the author of 20 books. His poetry collection "Bocage" and Other Sonnets was the recipient of the X.J. Kennedy Poetry Prize. His other books include The Ballad Rode into Town; Psalter; and The Unfortunates, recipient of the T.S. Eliot Award. A former Fulbright and recipient of a N.E.A. Creative Writing Fellowship, Baer was founding editor of The Formalist and founding director of the Howard Nemerov Sonnet Award. He is the author of the short fiction collections Times Square and Other Stories and One-and-Twenty Tales, and his plays have been performed at more than 30 American theaters.
McMullan is the author of seven award-winning novels, the story collection Aftermath Lounge, and editor of the anthology Every Father's Daughter. Her work has appeared in such publications as The Los Angeles Times, The Washington Post, and The Chicago Tribune. She is a National Author Winner of the Eugene and Marilyn Glick Indiana Authors Award, and received an NEA fellowship and a Fulbright to research and teach in Hungary for her new memoir Where the Angels Lived: One Family's Story of Exile, Loss, and Return. She currently serves as a faculty mentor at the Stony Brook Southampton Low-Residency MFA Program.
Spring Healthy Behavior Challenge begins March 20
Earn HRA credits by participating in the Spring Healthy Behavior Challenge. E-mail ac375@evansville.edu to sign-up. The challenge begins March 20!
This is an eight week competition to support a healthy lifestyle. HRA credits will be issued upon successful fulfillment of some basic healthy behaviors. Employees and insured spouses enrolled in the HRA health insurance program will earn a $150 credit. If a credit was earned previously (summer 2016, or fall 2016), no additional credit will be issued.
Anyone who finishes in the top four will receive a $50 gift card regardless of previous gift-card winning status.
You must submit eight weeks of data. You can pick up additional pocket-sized logs from the UE Health and Wellness Center.
Rules:
Eat a combination of five fruits and vegetables at least four days a week and exercise an average of 120 minutes weekly (your log needs at least 160 fruit/veggie boxes checked and 64 exercise boxes checked).
Check off boxes daily to avoid "guesstimation" later.
Additional logs can be picked up from the UE Health and Wellness Center or on AceLink.
Return logs to the collection box at the UE Health and Wellness Clinic or by e-mail to ac375@evansville.edu by May 6.
HRA credits will be submitted to Meritain by May 13.
Submitted by Ashley Chipps ac375@evansville.edu
This Week in Music: guest piano recital and student recitals
Pianist Philip Thomson will present a guest recital this Sunday afternoon, March 19, at 4:00 p.m. in Wheeler Concert Hall. Canadian born pianist Thomson has been on the piano faculty at the School of Music at The University of Akron since 1994. He came to international attention in 1991 when he made the world premiere recording of Liszt's De Profundis with the Hungarian State Orchestra. Sunday's program includes a variety of works by Bach, Schubert, Grieg, and Blumenfeld. The program closes with several movements of Liszt's Harmonies Poetiques et Religieuses. This event is free and open to the public.
Several student recitals are planned for this week. All student recitals are free and open to the public. The recitals are scheduled for:
Saturday, March 18, Wheeler Concert Hall
Cynthia White, mezzo-soprano, senior recital, at 1:00 p.m.
Samantha Waddell, piano, junior recital, at 2:30 p.m.
Adam Smith, bass-baritone, junior recital, at 4:00 p.m.
Sunday, March 19, Wheeler Concert Hall
Grayson Gerni, guitar, senior recital, at 1:00 p.m.
Kelsey Fields, soprano and Laura Dalto, guitar, senior recital, at 2:30 p.m.
Submitted by James Sullivan js820@evansville.edu
Andy Elkins highlights 2017 Lunch with the Aces
Men's Basketball legend Andy Elkins highlights the 2017 Lunch with the Aces event, which will take place on Friday, March 31, at the Meeks Gym inside the Carson Center on the University of Evansville campus.
Elkins, who graduated from UE in 1995, led the Men's Basketball team to two NCAA Tournament appearances and one NIT berth in his four years with the program. He ranks sixth in program history with 1,761 points in his career.
A record crowd of over 400 was on hand for the 2016 event, and this year's lunch also promises to be a memorable one. The full lunch runs from 11:00 a.m.-1:00 p.m. with the program beginning at 12:30 p.m.
Early registration for your spot at the lunch is just $30. The cost will be $35 after 5:00 p.m. on March 27 and at the door. A Spring Break Special features $15 tickets for those 15 and under. Another new opportunity is available as you can now sponsor a UE student-athlete for just $10.
The meal will be provided by Marx BBQ while a video presentation will be shown at the program. A half pot and silent auction will also be on hand. A Purple Aces student-athlete will be seated at each table, and the latest Student-Athletes of the Year will be recognized at the lunch.
"Bringing this event to campus last year took it to a whole new level," UE director of athletics Mark Spencer said. "We had a record attendance and are excited to continue to build upon its success."
Corporate tables are available for $350 and come with several unique perks. You receive a table at the front of the room, logo on the video screen, logo in the program, recognition by the emcee, and two student-athletes seated at each table. Each corporate table has eight seats.
All proceeds directly support UE student-athletes.
For more information, contact Shelbie Weaver at 812-488-1024 or at sw260@evansville.edu.
Student Success Workshops
Did you start the spring semester vowing to be better organized, avoid procrastination, and earn higher grades with lower stress? Could you use a jump-start to get back on track after spring break?
Attend one of our Student Success Workshops on Tuesday, March 21, in Grabill Lounge (located in the basement of Neu Chapel) at noon OR at 4:00 p.m.
We will review techniques to assist you with organization, staying focused, and studying effectively.
Please e-mail Angie Dawson at ad5@evansville.edu or Stacey Shanks at ss581@evansville.edu if you have questions or would like to request a reminder text or email about the workshops.
Submitted by Angie Dawson ad5@evansville.edu
Rite of Spring to honor UE faculty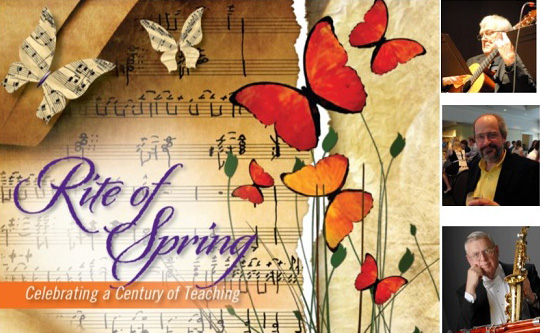 The Rite of Spring will be held on Saturday, March 25, beginning at 6:00 p.m., in the Executive Conference Center at the Tropicana Evansville. In addition to celebrating the three honorees, the evening will includes cocktails, dinner, a musical program, jazz and dancing with the UE Jazz Ensemble, and a silent auction.
Tickets are $65 per person and are available now. For tickets or more information and to register on-line, visit the Rite of Spring web page or call 812-488-2754.
Submitted by Thomas Josenhans tj38@evansville.edu
Today's History Spring Lecture features William Bartelt
The History Department welcomes you to attend its annual Spring Lecture today - March 30 - at 4:00 p.m. in the Vectren Lecture Hall, Room 100, Koch Center for Engineering and Science. William (Bill) Bartelt, a native of Holland, Indiana, will be discussing his lecture topic "Robert Dale Owen: The Political Transformation of a Wordsmith."
Bartelt is a graduate of Indiana State University and the University of Evansville. He taught social studies at Evansville's Harrison High School for 37 years and was the social studies and fine arts department chair at the school when he retired in 2005.
For over 15 summers he was employed as a ranger and historian at Lincoln Boyhood National Memorial [two summers at Lincoln Home in Springfield]. From 1986 to 2007 he was an adjunct American history instructor at the University of Southern Indiana.
He is currently president of the Evansville Museum Board, a trustee of the Indiana Historical Society, secretary of the Indiana Library and Historical Board, a director of the Abraham Lincoln Association, a member of the Friends of the Lincoln Collection of Indiana board of directors, and historian (and lay leader) of Trinity UMC in Evansville.
He has served as president of the Vanderburgh County Historical Society, as past president of the Southwestern Indiana Historical Society, and past president of the Newburgh Museum Foundation. In 2003 he received the Indiana Historical Society's Hoosier Historian Award for contribution to historical scholarship. He was a member of the Federal Abraham Lincoln Bicentennial Commission's Advisory and Education Committees and served as vice-chair of the Indiana Abraham Lincoln Bicentennial Commission.
In 2008 the Indiana Historical Society Press published his book There I Grew Up: Remembering Abraham Lincoln's Indiana Youth.
Submitted by Katherine Martyn km283@evansville.edu
Apply to be an I-House coordinator for 2017-18
International House (I-House) is a long-standing UE program that showcases the University's international students through weekly country presentations. I-House coordinators are paid to recruit presenters and run the program each Wednesday. Coordinator applications are now available! If you're interested in getting to know more international students and looking for a leadership position on campus, apply today by filling out the I-House coordinator application.
Applications are due Friday, March 24 at 5:00 p.m.
Submitted by Megan Sicard ms331@evansville.edu
Textbook adoptions due by March 30
This is a reminder to all faculty members and departments that textbook adoptions for the summer sessions and Fall 2017 term are due in the UE Bookstore by March 30. This will insure that adequate time is available to set up Buyback and also source textbooks for used copies. Both of these help save students money. If you have questions please contact Brooksie in the UE Bookstore at ext. 2679.
Submitted by Doug Gustwiller dg57@evansville.edu
BIOL 100 offered online during Summer I
Are you interested in taking a non-majors biology course with a lab this summer to fulfill one of your scientific literacy general education requirements? Then take BIOL 100 D01 – Fundamentals of Biology during Summer I (May 15-June 16). Please contact Dale Edwards (de3@evansville.edu) for more details.
Submitted by Dale Edwards de3@evansville.edu
COMM 380 offered ONLINE in Summer I
Would one class that fulfills many general education requirements and teaches valuable skills interest you? How would you like to take such a course NO MATTER where you plan to be this summer?
Do you want to reduce your course load during the regular fall or spring semesters?

Would you like to be more prepared for your future career in a diverse society and global world? Want to add another skill set to distinguish you from the pack? How about increasing your cultural knowledge and communication competency to relate more effectively with people from other cultures in your personal and professional life?

Do you want to fulfill several General Education competency requirements in one course?
If you answered yes to any of these questions, you should consider enrolling in COMM 380 ONLINE (Intercultural Communication) offered in Summer Session I.
COMM 380 meets criteria for General Education Outcome 9 (Understanding of Core Concepts of Society, Human Behavior, and Civic Knowledge) and Overlay Component A (Global Diversity: International Component).
For more information contact professor emeritus of communication Dean Thomlison at dt4@evansville.edu.
Submitted by Dean Thomlison dt4@evansville.edu
Need financial aid for summer courses?
If you are seeking financial aid to help pay for summer courses at UE, please complete a summer financial aid application, also available in the Office of Financial Aid. We will help you examine your options for aid, which in most cases during the summer term is limited to: federal loans (direct or plus), private student loans, federal Pell grants, tuition remission (employees and dependents), and student employment. Refer to the summer form to determine the types of aid for which you may be eligible based on your anticipated enrollment status.
Work-Study:
On-campus jobs are available for continuing UE students during the summer. You do not need to be eligible for need-based federal/state work-study during the academic year in order to apply. You may also apply regardless of your enrollment in summer courses. Applications are available within the Student Employment area of WebAdvisor.
Submitted by Amy Sowders as560@evansville.edu
What is AmeriCorps?
AmeriCorps is a federally funded community-service program open to people of all ages! It's a great option for those looking to give back after they graduate. You can check out more about Americorps by visiting the Americorps page on the Corporation for National & Community Service website.
Submitted by Jackie Luedtke jl295@evansville.edu
Last chance for nominations for Dean of Students Leadership Awards
Nominations for consideration of The Howard S. Rosenblatt Dean of Students Leadership Awards are due by this Friday, March 24. These awards will be presented at the 24th Annual Leadership Awards Reception scheduled for April 19 at 7:00 p.m. Invitations will be prepared by the Center for Student Engagement.
Awards are presented in the following categories:
• Student Organization Advisor of the Year
• Student Organization of the Year
• Student Leader of the Year
Over 80 percent of UE students participate in at least one student organization or program. These organizations are successful because of the commitment of the student leaders and the advisors who give freely of their time and support.
The recipients of these awards are selected based on their commitment to the University of Evansville as well as the development and success of their efforts within their chosen student organization.
The deadline for nominations is March 20. You can download a nomination form or stop by Room 230 in the Ridgway University Center to pick up a nomination form from the Dean of Students Office. Return the completed nomination form and essay to the Dean of Students Office, located in Room 230 in the Ridgway University Center, or by e-mail to km306@evansville.edu.
If you have any questions, please contact the Vice President for Student Affairs/Dean of Students office at 812-488-2500 or by e-mail via km306@evansville.edu.
Thank you in advance for celebrating our student leaders' achievements!
ARSAF grants for faculty applications due April 3
The UE Alumni Association is once again offering Alumni Research and Scholarly Activity Fellowships (ARSAF) to faculty. The application deadline for 2017-18 academic year grants is Monday, April 3. Find the online application and more details by going to AceLink and clicking on Areas, and selecting Academic Affairs. The application form can be found on that page under the category of Online Forms.
Questions? Contact alumni@evansville.edu or ext. 2586.
Submitted by Sylvia DeVault sy5@evansville.edu
Mathematics professor lectures in Canada
Clark Kimberling, professor of mathematics, presented his recent research on "Beatty Sequences" and "Fractal Sequences, Fractal Trees, and Linear Recurrence Sequences" on March 8 and 9 to the Undergraduate Honours Seminar and the Faculty Colloquium at Dalhousie University, Halifax, Nova Scotia.
Beatty sequences are named in honor of Canadian number-theorist Sam Beatty, and fractal trees were introduced in 2016 in the Online Encyclopedia of Integer Sequences.
Contribute to AceNotes
To have content considered for inclusion in AceNotes, please submit a Marketing Request Form. Deadline for submission to AceNotes is 10:00 a.m. on the requested date of publication. Only articles concerning UE related/sponsored activities will be accepted. Articles submitted to AceNotes may be edited for length and clarity. Submitter contact information is at the end of each article.