| | |
| --- | --- |
| AceNotes Today | Wednesday, March 15, 2017 |
I-House: India with Holi
This week's I-House presentation will be on India with a special event related to a holiday widely celebrated there called Holi. Be sure to come by tonight as Kunal Mukherjee and Jasneet Singh tell us all about their home and this wonderful holiday. Be there at 7:00 p.m. this evening, upstairs in Ridgway University Center!
Submitted by Cassie Peterson cp156@evansville.edu
UELA Honoring our Vets Donation Drive
The members of UE Leadership Academy will be hosting Honoring our Vets Donation Drive this week – March 13-17. They are collecting personal care/hygiene items. Collections boxes are in each residence hall, CSE, and the admissions office. Thank you in advance!
Submitted by Karl Quilligan kq22@evansville.edu
GAP info and pizza session today!
Come learn about GAP TODAY from noon-12:50 p.m., in Room 162, Schroeder School of Business Building. ALL majors welcome! Put your skills to work on a real-world project, get valuable experience and build your résumé, learn to work with people from different majors, develop professional confidence, and get the coaching and guidance needed to succeed!
To apply or learn more about the GAP Program, visit the website at www.evansville.edu/gap.
Submitted by Cindy Kelley ck116@evansville.edu
R. Wayne Perkins Theology Lecture set for Monday, April 3
The second annual R. Wayne Perkins Theology Lecture is Monday, April 3, at 7:00 p.m. in Neu Chapel. The event is free and open to the public, but those planning to attend are asked to register online on religious life's R. Wayne Perkins Theology Lecture Series web page.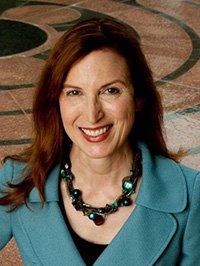 This year's lecturer is the Rev. Alyce M. McKenzie, the George W. and Nell Ayers Le Van Professor of Preaching and Worship at Perkins School of Theology, the graduate school of theology of Southern Methodist University. Her lecture is titled, "Finding a Way in the Wilderness: Biblical Wisdom's Good News in a Culture of Fake News."
Clergy are invited to preaching workshops with McKenzie on Tuesday, April 4. The $50 registration fee for the workshops includes lunch and continuing education credits from the General Board of Higher Education and Ministry. Clergy planning to attend the workshops are asked to register online on religious life's R. Wayne Perkins Theology Lecture Series web page.
The annual Perkins Theology Lectures, sponsored by UE's Office of Religious Life, bring together religion scholars and church leaders to explore perennial theological questions about God and human flourishing. The lectures are intended to be public in nature: both furthering theological understanding and using theological insights to illuminate and interpret important features of our contemporary common life.
These lectures are made possible by the generosity of private donors and the Lilly Endowment, Inc., and are designed to generate and foster sustained theological reflection among UE students and alumni, clergy, and the larger community.
Rev. R. Wayne Perkins, professor emeritus of religion and ordained elder in the United Methodist Church, came to UE in 1966 as a faculty member in the Department of Philosophy and Religion. During his tenure at UE, he served as director of religious life, University chaplain, and chair of the department. Perkins was professor and mentor to thousands of UE students for over five decades. He advised countless students in their academic achievements and directed students in their ministry and vocational goals.
The annual R. Wayne Perkins Theology Lecture Series acknowledges his teaching and advising legacy, and honors his contribution to scholarship, the University of Evansville, the United Methodist Church, and the lives of students for over 50 years.
Final performance of Ruby Sunrise tonight
The University of Evansville Department of Theatre opened The Ruby Sunrise by Rinne Groff on March 17. The last performance is tonight at 7:30 p.m.
Out of a remote 1920's Indiana town emerges Ruby, a driven and capable woman who wants to change the world with the first all-electric television system. Groff's inventive play follows two generations of strong-willed, Midwestern women working to overcome obstacles that challenge them from moving forward. In this underdog story, conflicts arise and tensions flare as the truth is questioned. Tune into this illuminating tale sure to leave audiences wondering how much is compromised when art imitates life.
Elisa Hoover, a senior theatre studies major from Atlanta, Georgia, takes the helm as director of the production. The cast includes senior Cody Vann, from Denton, Texas, and juniors Braden Wilkerson from Fort Worth, Texas., Miranda Schieving from Denver, Colorado; Paige Ward from, Round Rock, Texas, Aaron Gonner from Dubuque, Iowa; Simon Earle from Shorewood, Wisconsin; and Kira Vuolo from Westminster, Colorado.
The creative team for The Ruby Sunrise includes scenic design by junior Jacob Sellers from Fort Branch, Indiana; costume design by senior Olivia Rigdon from Colorado Springs, Colorado; lighting design by junior Baxter Pitt from McKinney, Texas; and sound design by senior Robbie Love from St. Louis, Missouri. The dramaturg is senior Emily Westing, from Grand Rapids, Michigan, and the stage manager is junior Emma Blevins from San Antonio, Texas. This production is under the technical direction of Department of Theatre professor Chuck Meacham.
Tickets are $11 for adults and $9 for senior adults, students, and UE faculty and staff. UE students may pick up their free student rush ticket beginning at noon on the day of the performance they wish to attend. Seating is limited and patrons are encouraged to make reservations by calling 812-488–2031, Monday-Friday, noon-5:00 p.m.
Nikolidakis to give job talk to CRW students
Lisa Nikolidakis, assistant professor of creative writing, will give a talk and engage in a lengthy Q&A with creative writing students on the job searches they face as graduation looms. Topics covered might include useful websites for writing and editing job searches, marketing one's strengths, writing those elusive cover letters, and the joys and perils of relocation. The talk will be held in Room 71 in the Schroeder School of Business Building on Friday, March 17, at 4:00 p.m.
Submitted by Lisa Nikolidakis ln43@evansville.edu
Rite of Spring to honor UE faculty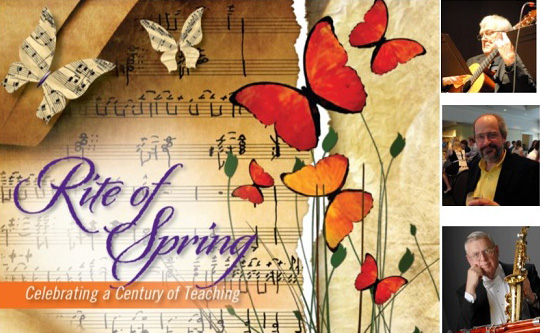 The Rite of Spring will be held on Saturday, March 25, beginning at 6:00 p.m., in the Executive Conference Center at the Tropicana Evansville. In addition to celebrating the three honorees, the evening will includes cocktails, dinner, a musical program, jazz and dancing with the UE Jazz Ensemble, and a silent auction.
Tickets are $65 per person and are available now. For tickets or more information and to register on-line, visit the Rite of Spring web page or call 812-488-2754.
Submitted by Thomas Josenhans tj38@evansville.edu
Staff Appreciation Dinner planned for April 5
Each staff employee and their guest are invited to attend the Staff Appreciation Dinner at the Log Inn on Wednesday, April 5. The social hour (cash bar and appetizers) begins at 6:00 p.m. and dinner will begin at 7:00 p.m. Please join Dr. Kazee in the presentation of staff service awards and for the presentation of the Staff Employee of The Year Award.
Invitations will be sent to staff employees via UE campus mail in the next week. Please contact Human Resources at ext. 2943 if you have any questions.
Submitted by Lori LeDuc ll138@evansville.edu
Honors Night: A Conversation with Maggie Stevenson and Katie Aldred
Honors Night: A Conversation with Maggie Stevenson and Katie Aldred is planned for today - Monday, March 20 - from 5:00-6:30 p.m. in the lobby of Powell Hall. Drop in or stay the whole time, we welcome all levels of participation! Light hors d'oeuvres and drinks will be provided.
This is a new series where you get a chance to meet and converse with various faculty members from across campus in a more casual atmosphere. Bring your questions and curiosity and learn about your faculty member's personal and professional journeys.
Submitted by Jackie Luedtke jl295@evansville.edu
Lisa Kretz presents Scholars for Syria Lecture today
University of Evansville assistant professor of philosophy Lisa Kretz will be the speaker for today's Scholars for Syria Spring Speaker Series. She will be discussing "How to Be Ethical: Seeding Moral Action."
All lectures in this series are at 6:00 p.m. in Room 162 (Harkness Hall), Schroeder School of Business Building, and are followed by a panel discussion with UE Syrian students and discussion with the audience. This series is sponsored by Scholars for Syria.
"The Syrian crisis, coupled with the political climate of the US, leaves heartbreaking questions of moral failure," Kretz said. "How can this happen? How can this continue to happen? I contend that part of such moral failing rests in an approach to ethics and action that encourages us to leave our hearts at the door. I venture the 'radical' thesis that we are thinking and feeling creatures, that reason and emotion working in tandem is necessary for action, and that we cannot be our ideal moral selves without nurturing both constituents of human being."
She added that "emotional wisdom is an underdeveloped skill. This means we have to get in touch with the power of emotion for motivating large scale positive change. Moral emotions such as empathy, sympathy, compassion, hope, and even anger can be harnessed so that we approach the Syrian crisis with our full selves, and see what whole-hearted living can accomplish."
Other lectures in this series include:
Thursday, March 23
Lora Becker, UE associate professor of psychology and neuroscience and director of Neuroscience Program and Neuromarketing Research Center – "Neural Development in a War Zone"
Thursday, March 30
Wes Milner, executive director of international programs at UE - "The Emerging Political Dynamics of the Syrian Crisis"
Thursday, April 6
UE Syrian Stories: Humanizing the Syrian conflict with local families
Paddy Murphy Pageant
Sigma Alpha Epsilon will be hosting its annual Paddy Murphy Pageant on March 17 at 7:00 p.m. in Eykamp Hall, Ridgway University Center. Tickets will be available for sale from March 13-17 in Ridgway University Center lobby for $5 and at the door for $7. All proceeds this year will benefit Chemo Buddies, a local group that provides support to cancer patients.
Submitted by Jacob Brenton jb622@evansville.edu
Textbook adoptions due by March 30
This is a reminder to all faculty members and departments that textbook adoptions for the summer sessions and Fall 2017 term are due in the UE Bookstore by March 30. This will insure that adequate time is available to set up Buyback and also source textbooks for used copies. Both of these help save students money. If you have questions please contact Brooksie in the UE Bookstore at ext. 2679.
Submitted by Doug Gustwiller dg57@evansville.edu
BIOL 100 offered online during Summer I
Are you interested in taking a non-majors biology course with a lab this summer to fulfill one of your scientific literacy general education requirements? Then take BIOL 100 D01 – Fundamentals of Biology during Summer I (May 15-June 16). Please contact Dale Edwards (de3@evansville.edu) for more details.
Submitted by Dale Edwards de3@evansville.edu
COMM 380 offered ONLINE in Summer I
Would one class that fulfills many general education requirements and teaches valuable skills interest you? How would you like to take such a course NO MATTER where you plan to be this summer?
Do you want to reduce your course load during the regular fall or spring semesters?

Would you like to be more prepared for your future career in a diverse society and global world? Want to add another skill set to distinguish you from the pack? How about increasing your cultural knowledge and communication competency to relate more effectively with people from other cultures in your personal and professional life?

Do you want to fulfill several General Education competency requirements in one course?
If you answered yes to any of these questions, you should consider enrolling in COMM 380 ONLINE (Intercultural Communication) offered in Summer Session I.
COMM 380 meets criteria for General Education Outcome 9 (Understanding of Core Concepts of Society, Human Behavior, and Civic Knowledge) and Overlay Component A (Global Diversity: International Component).
For more information contact professor emeritus of communication Dean Thomlison at dt4@evansville.edu.
Submitted by Dean Thomlison dt4@evansville.edu
Mechanical engineering students tour gear manufacturer
UE mechanical engineering students of ME344 and ME434 visited HMC Gears, Inc., prior to spring break. HMC is located in Princeton, Indiana, and specializes in the international supply of very large custom designed gearing, with some gears measuring 26 feet in diameter. The company's market is associated with ore mining equipment, but recently HMC has broadened its customer base to include processing mills and power plants.
The students toured the engineering, welding, machining, grinding, and quality areas and participated in a Q&A session with HMC engineering and human resources personnel. HMC Gears Inc. is currently looking for a graduate with a bachelor of science degree in mechanical engineering, and some of the students were able to initiate conversations with the company's human resources personnel during the tour.
The visit was facilitated by Pete Stremming, HMC applications engineer and 2016 UE mechanical engineering graduate.
Need financial aid for summer courses?
If you are seeking financial aid to help pay for summer courses at UE, please complete a summer financial aid application, also available in the Office of Financial Aid. We will help you examine your options for aid, which in most cases during the summer term is limited to: federal loans (direct or plus), private student loans, federal Pell grants, tuition remission (employees and dependents), and student employment. Refer to the summer form to determine the types of aid for which you may be eligible based on your anticipated enrollment status.
Work-Study:
On-campus jobs are available for continuing UE students during the summer. You do not need to be eligible for need-based federal/state work-study during the academic year in order to apply. You may also apply regardless of your enrollment in summer courses. Applications are available within the Student Employment area of WebAdvisor.
Submitted by Amy Sowders as560@evansville.edu
Residence hall recycling contest March 13-31
As part of Recyclemania, a contest will be held to see which residence hall is recycling the most (by weight) per resident. The contest will be held starting March 13 until 2:00 p.m. on March 31.
Here are the details:
• Eligible recyclables are paper, newspapers, magazines, empty plastic containers, empty aluminum and steel cans, empty cardboard, empty cereal, soda boxes.
• Items not considered recyclable: glass, pizza boxes and plastics other than those marked with the recycle sign and number 1–7.
• If a recyclables bag is contaminated with items such as trash, Styrofoam, full drink containers or food, it will be treated as trash, and excluded.
• The winning hall will be the one with the greatest recyclables weight per resident.
• Prizes – a trophy will be awarded to the winning hall. There will also be a drawing for residents of that hall for two Smart Strip Energy Saving Surge Protectors.
Please e-mail js652@evansville.edu or call ext. 2697 for more information.
Submitted by Jan Schrader js652@evansville.edu
METS offering free bus transportation Thursday, March 16
The City of Evansville is promoting the use of public transportation by offering FREE trips on METS on Thursday, March 16, from 5:45 a.m.-4:00 p.m. Metropolitan Evansville Transit System will offer free bus transportation for all passengers.
Submitting textbook adoptions for summer and fall
Just a reminder that summer and fall textbook adoptions are due back in the UE Bookstore by March 30. When submitting or e-mailing them, please make sure you use Brooksie's e-mail address of bs267@evansville.edu. (Some old forms out there may still list ea74@evansville as the email address.) If you have questions please contact the UE Bookstore.
Submitted by Doug Gustwiller dg57@evansville.edu
Rising sophomores to select residence hall rooms in same hall
The process for students with 43 earned credit hours or less who wish to select a room in their current residence hall for next year will take place from 9:30-10:30 p.m. on Wednesday, March 15, in Eykamp Hall, Ridgway University Center. If you are interested in reserving a room in your same residence hall for next year, please go to Eykamp Hall then. The building staff will be ready to assist during these times.
If you would like to switch buildings for next year, submit a housing contract on WebAdvisor and do not sign up for a room in your same hall. You will receive an appointment time on March 20 indicating when you can select a room in a different hall next week.
Submitted by Brian Conner bc32@evansville.edu
UE Stories Abroad: Kristen in Mexico
The Office of Study Abroad is introducing UE Stories Abroad! Check in to hear from students who have gone abroad and read about where they studied, their challenges, and the most rewarding parts of their trip. They will also have some great advice for any future study abroad students. The first story comes from Kristen Sholander, a third year DPT student who studied in Mexico.
Read Kristen's story on the UE Stories Abroad web page.
Submitted by Greta Becker gb91@evansville.edu
Margery Florence Kahn Scholarship applications
Applications for the Margery Florence Kahn Scholarship for 2017-18 are now available. It was the desire of the donor, Margery Florence Kahn, that her scholarship be awarded to "dedicated and conscientious students who exhibit a true passion for their chosen fields of study, and who, in the opinion of the members of the University of Evansville faculty, are likely to bring the same enthusiasm into the performance of their jobs or the practice of the professions which they will pursue following graduation."

All University of Evansville full-time undergraduate students who will be juniors or seniors in 2017-18 may apply. An essay of about 300 words must accompany the application, along with two to five faculty recommendation letters.

Applications are available from the Office of Financial Aid, located in Room 116 in Olmsted Administration Hall.
Completed applications and recommendation letters should be returned to the Office of Financial Aid by April 15.
You may also request application materials by e-mailing financialaid@evansville.edu.
Questions may be directed to the Office of Financial Aid via e-mail or by phone at 812-488-2364 or 800-424-8634.
Submitted by Trisha Hawkes th187@evansville.edu
Dr. Marvin E. Hartig Memorial Scholarship applications
Family, friends, and loved ones of the late Marvin E. Hartig are pleased to announce the application process for the Dr. Marvin E. Hartig Memorial Scholarship. This scholarship is dedicated to the loving memory of Hartig, dean of Evansville College's Evening College in 1967, and administrator for the Center for Advanced Study, director of the Evansville chapter of the American Institute of Banking (AIB), and the international student advisor. In 1974, Hartig was appointed dean of academic services. He retired in 1984 after serving his alma mater for 35 years and passed away in 2007.
This scholarship will be awarded each year to a deserving sophomore student with demonstrated financial need as shown by the results of the Free Application for Federal Student Aid (FAFSA). Preference will be given to a student working while being enrolled as a full-time student.
International students are encouraged to apply. Please include in your essay your particular financial need, since international students do not have FAFSA forms on file.
Applicants must submit the following to be considered:
Completed application

In a one page, single spaced, 12 point Verdana font essay, please answer all of these questions:
What have you learned about yourself as a UE student?
What do you do for fun when not studying or working?
Name a special attribute or accomplishment that sets you apart.
You have done a lot in your short life. In what areas do you think you can improve?
What are your scholastic and career goals?
How did you finance your freshman year and how will you finance your sophomore year?
Why are you a good candidate to receive this scholarship?
What have you learned about Dr. Hartig, how does he influence or inspire you, and how will you preserve his legacy as recipient of this scholarship?
Please return all materials to the Office of Financial Aid by June 1. Decision will be announced by August 1.
If you have questions, contact Trisha Hawkes, administrative assistant to the Office of Financial Aid, at financialaid@evansville.edu or 812-488-2364.
Submitted by Trisha Hawkes th187@evansville.edu
Summer assistant applications still available
Summer assistant applications are still available to be picked up in the residence life office. If you are planning on staying on campus this summer, and would like the chance to get free housing, this is a great opportunity!
There will be one more information session on Wednesday, March 15, at 7:00 p.m. in Room 126 in Hyde Hall if you want more details.
Applications are due to residence life by 5:00 p.m. on March 17.
Submitted by Justin Coffey jc534@evansville.edu
Important reminder for spring graduates
This is a reminder to all spring graduates. If you need a cap and gown and/or graduation announcements please stop by the UE Bookstore as soon as possible. This is ESPECIALLY required of all masters and doctoral graduates as a custom graduation gown and hood need to be ordered for you. It takes additional time for these items to arrive. If you have any questions please contact the UE Bookstore.
Submitted by Doug Gustwiller dg57@evansville.edu
Hay and Florey lead UE softball to 4-2 win
Brittany Hay and Morgan Florey were the top performers for the University of Evansville Softball team as they defeated Northern Illinois by a final of 4-2 in the home opener on Tuesday at Cooper Stadium.
Hay was a perfect 2-2 from the plate while scoring three runs. Florey went the distance in the circle, tying her career mark with 14 strikeouts. She also notched a home run and two RBIs on the offensive side for the Purple Aces (8-12).
"This was a good team win for us. We played a great game defensively with no errors," Aces head coach Mat Mundell said. "Morgan did a great job in the circle while the offensive was able to execute with some good sacrifice hits and timely hitting."
Northern Illinois (9-10) struck first as a Kayti Grable single gave the Huskies a 1-0 lead in the top of the first. Florey made sure that lead was short-lived as she hit a long home run to right field in the bottom of the frame. The homer brought home Hay, who had a 1-out single in the inning.
After NIU tied it up in the top of the third, the Aces took the lead right back in the bottom half of the inning. Brittany Hay led off with a triple to right-center and came home on a sacrifice fly by Michal Luckett.
Evansville added an insurance run in the fifth when Hay scored her third run of the game on a single by Chandra Parr. From there, Florey took care of business in the circle. She allowed just one hit in the final three innings en route to her sixth victory of the season.
Florey gave up two runs on six hits for UE while striking out 14 and walking one batter. Alex Frenz took the loss for NIU. She gave up three earned runs in two innings of work.
This weekend, UE will open up Missouri Valley Conference play against Loyola. A Saturday doubleheader at noon begins the action before a single game on Sunday, which starts at 11:00 a.m.
Strobel accepted to Council of Independent Colleges seminar
Heidi Strobel, associate professor of art history, was recently accepted to the Council of Independent Colleges seminar at the Yale Center for British Art in New Haven, Connecticut. The seminar, "Landscape and Identity in Britain and the United States (1770-1914)" will take place in late July of 2017 and will focus on Hudson River School landscape artists Thomas Cole and Frederic Church.
Winning residence hall for Recyclemania Pledge Contest
Schroeder Residence Hall has won the Recyclemania Pledge Contest between residence halls!
Here are the contest results by residence hall with the percent of residents signing the recycling pledge for each hall:
Schroeder: 42 percent
Hughes: 24 percent
Powell: 20 percent
Moore: 18 percent
Hale: 10 percent
Brentano: 9 percent
Morton: 5 percent
North: 1 percent
Also - congratulations to Jess O'Shaughnessy – her name was drawn from all the residents of Schroeder Residence Hall who signed the recycling pledge. Jess has won a Smart Strip Energy Saving Surge Protector. Thanks to Brian Conner for drawing the winning name from those submitted!
Submitted by Jan Schrader js652@evansville.edu
Jazzman's beverage coupon winners for Recyclemania pledge drive
Congratulations to Mason Mobley, Jayne Schnacke, and Simon Earle for having your names drawn to win a Jazzman's beverage coupon for signing the Recyclemania pledge. Thanks to Lisa Kretz for drawing the winning names from those submitted!
Please note that Recyclemania continues until the end of March, so remember to recycle all you can. Information on UE's recycling program, including what to recycle and where to take your recyclables can be found in the UE recycling guide located on AceLink under Areas under Recycling.
E-mail js652@evansville.edu or call ext. 2697 with any questions.
Submitted by Jan Schrader js652@evansville.edu
Contribute to AceNotes
To have content considered for inclusion in AceNotes, please submit a Marketing Request Form. Deadline for submission to AceNotes is 10:00 a.m. on the requested date of publication. Only articles concerning UE related/sponsored activities will be accepted. Articles submitted to AceNotes may be edited for length and clarity. Submitter contact information is at the end of each article.