| | |
| --- | --- |
| AceNotes Today | Monday, March 13, 2017 |
Psychology and the law presentations set for today
UE graduate Emily Denne will be presenting research on social workers and child custodial decisions, and current psychology student Jordan Buechler will be presenting on judicial objections and emotions. These research presentations will start at 5:30 p.m. today - Monday, March 13 - in Room 162 in Schroeder School of Business Building! If you're interested in psychology, the law, or both then please join us.
Submitted by Chelsea Wheat cw231@evansville.edu
20% off NIKE at UE Bookstore this week
The UE Bookstore is offering 20 percent OFF all NIKE purchases this week, March 13-17. The discount will be taken off the original price of item and includes shorts, T-shirts, and sweatshirts. Sale ends Friday, March 17!
Submitted by Doug Gustwiller dg57@evansville.edu
UE 55th annual Student Art Exhibit set for March 13-April 1
The 55th Annual University of Evansville Student Art Exhibition is planned for March 13-April 1 in the Melvin Peterson Gallery. On March 20, there will be a reception from 5:00-6:00 p.m., with an awards ceremony at 5:30 p.m. The exhibit, reception, and award ceremony are free and open to the public.
The jurist for the show and many of the student awards will be UE Class of 2003 graduate Matthew Gaddie, a professional production potter. Gaddie earned his Bachelor of Fine Arts degree in ceramics from the University of Evansville, and his Master of Fine Arts degree in ceramic arts from Hood College. His studio is located in Bardstown, Kentucky.
For more information, contact 207-650-6073.
Submitted by Corliss Chastain cc270@evansville.edu
Sculptor Chet Geiselman exhibits work
The work of sculptor Chet Geiselman is on display in an exhibit at the Krannert Gallery in the Krannert Hall of Fine Arts until March 28. A reception will be held for Geiselman at 6:30 p.m. on March 16.
Geiselman earned a BS in Art from the University of Southern Indiana and an MFA in metalsmithing from Southern Illinois University at Carbondale.
He creates works that combine the familiar materials of wood and steel with re-contextualized found objects. In his works, the interplay of form and content generates a tension that is meditative, awkward, humorous, playful, and ultimately open-ended.
Geiselman grew up in a small German farming community in southern Indiana. His grandfather was a blacksmith, and his father and uncle were welders. Chet learned to weld and build things with his hands at a very early age. Geiselman has taught sculpture and metalsmithing at several colleges and universities over the years. He has shown his sculptures both nationally and internationally including six one-person exhibitions at Vale Craft Gallery in Chicago as well as numerous juried exhibitions. Currently Geiselman is the 3D studio manager and instructor of art – 3D foundations at Ball State University.
R. Wayne Perkins Theology Lecture set for Monday, April 3
The second annual R. Wayne Perkins Theology Lecture is Monday, April 3, at 7:00 p.m. in Neu Chapel. The event is free and open to the public, but those planning to attend are asked to register online on religious life's R. Wayne Perkins Theology Lecture Series web page.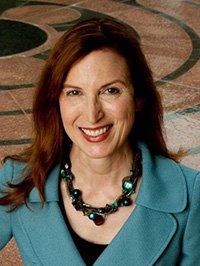 This year's lecturer is the Rev. Alyce M. McKenzie, the George W. and Nell Ayers Le Van Professor of Preaching and Worship at Perkins School of Theology, the graduate school of theology of Southern Methodist University. Her lecture is titled, "Finding a Way in the Wilderness: Biblical Wisdom's Good News in a Culture of Fake News."
Clergy are invited to preaching workshops with McKenzie on Tuesday, April 4. The $50 registration fee for the workshops includes lunch and continuing education credits from the General Board of Higher Education and Ministry. Clergy planning to attend the workshops are asked to register online on religious life's R. Wayne Perkins Theology Lecture Series web page.
The annual Perkins Theology Lectures, sponsored by UE's Office of Religious Life, bring together religion scholars and church leaders to explore perennial theological questions about God and human flourishing. The lectures are intended to be public in nature: both furthering theological understanding and using theological insights to illuminate and interpret important features of our contemporary common life.
These lectures are made possible by the generosity of private donors and the Lilly Endowment, Inc., and are designed to generate and foster sustained theological reflection among UE students and alumni, clergy, and the larger community.
Rev. R. Wayne Perkins, professor emeritus of religion and ordained elder in the United Methodist Church, came to UE in 1966 as a faculty member in the Department of Philosophy and Religion. During his tenure at UE, he served as director of religious life, University chaplain, and chair of the department. Perkins was professor and mentor to thousands of UE students for over five decades. He advised countless students in their academic achievements and directed students in their ministry and vocational goals.
The annual R. Wayne Perkins Theology Lecture Series acknowledges his teaching and advising legacy, and honors his contribution to scholarship, the University of Evansville, the United Methodist Church, and the lives of students for over 50 years.
Honors Night: A Conversation with Maggie Stevenson and Katie Aldred
Honors Night: A Conversation with Maggie Stevenson and Katie Aldred is planned for today - Monday, March 20 - from 5:00-6:30 p.m. in the lobby of Powell Hall. Drop in or stay the whole time, we welcome all levels of participation! Light hors d'oeuvres and drinks will be provided.
This is a new series where you get a chance to meet and converse with various faculty members from across campus in a more casual atmosphere. Bring your questions and curiosity and learn about your faculty member's personal and professional journeys.
Submitted by Jackie Luedtke jl295@evansville.edu
Lunch and Lead - LDRSHIP: The Seven Values of the Army
Loyalty, duty, respect, selfless service, honor, integrity, and personal courage. Join us for Lunch and Lead at 12:30 p.m. TODAY - March 14 - in Eykamp Hall, Room 251, Ridgway University Center, to learn how the Army incorporates these values and how you can too.
This Lunch and Lead will be presented by Michael Roscoe, founding director and chair of UE's Department of Physician Assistant Science and associate professor of physician assistant science.
Roscoe earned a PhD in international health science from Trident University International. He has two master's degrees, one in physician assistant studies with a concentration in emergency medicine from the University of Nebraska, and one in biology from Purdue University. Roscoe has bachelor's degrees from Butler University in biology and in health science.
In 2000, Roscoe joined the Indiana National Guard and was deployed with the 76th Infantry Brigade Combat Team to Afghanistan in 2004-05 for an 18 month deployment. He had a second combat tour in Iraq in 2008-09. He has been decorated by the military with numerous awards including the Bronze Star Medal.
Submitted by Amber Stull as625@evansville.edu
Lisa Kretz presents Scholars for Syria Lecture today
University of Evansville assistant professor of philosophy Lisa Kretz will be the speaker for today's Scholars for Syria Spring Speaker Series. She will be discussing "How to Be Ethical: Seeding Moral Action."
All lectures in this series are at 6:00 p.m. in Room 162 (Harkness Hall), Schroeder School of Business Building, and are followed by a panel discussion with UE Syrian students and discussion with the audience. This series is sponsored by Scholars for Syria.
"The Syrian crisis, coupled with the political climate of the US, leaves heartbreaking questions of moral failure," Kretz said. "How can this happen? How can this continue to happen? I contend that part of such moral failing rests in an approach to ethics and action that encourages us to leave our hearts at the door. I venture the 'radical' thesis that we are thinking and feeling creatures, that reason and emotion working in tandem is necessary for action, and that we cannot be our ideal moral selves without nurturing both constituents of human being."
She added that "emotional wisdom is an underdeveloped skill. This means we have to get in touch with the power of emotion for motivating large scale positive change. Moral emotions such as empathy, sympathy, compassion, hope, and even anger can be harnessed so that we approach the Syrian crisis with our full selves, and see what whole-hearted living can accomplish."
Other lectures in this series include:
Thursday, March 23
Lora Becker, UE associate professor of psychology and neuroscience and director of Neuroscience Program and Neuromarketing Research Center – "Neural Development in a War Zone"
Thursday, March 30
Wes Milner, executive director of international programs at UE - "The Emerging Political Dynamics of the Syrian Crisis"
Thursday, April 6
UE Syrian Stories: Humanizing the Syrian conflict with local families
Paddy Murphy Pageant
Sigma Alpha Epsilon will be hosting its annual Paddy Murphy Pageant on March 17 at 7:00 p.m. in Eykamp Hall, Ridgway University Center. Tickets will be available for sale from March 13-17 in Ridgway University Center lobby for $5 and at the door for $7. All proceeds this year will benefit Chemo Buddies, a local group that provides support to cancer patients.
Submitted by Jacob Brenton jb622@evansville.edu
GAP info and pizza session today!
Come learn about GAP TODAY from noon-12:50 p.m., in Room 162, Schroeder School of Business Building. ALL majors welcome! Put your skills to work on a real-world project, get valuable experience and build your résumé, learn to work with people from different majors, develop professional confidence, and get the coaching and guidance needed to succeed!
To apply or learn more about the GAP Program, visit the website at www.evansville.edu/gap.
Submitted by Cindy Kelley ck116@evansville.edu
L2L Conference: SPARK - register today!
Every spring, the University of Evansville Leadership Academy sponsors the L2L Leadership Conference. (L2L stands for Learn to Lead. Love to Lead. Live to Lead.) This year's L2L conference is set for Saturday, March 25, from 9:00 a.m.-3:00 p.m., in Eykamp Hall, Room 251, Ridgway University Center. Check-in will begin at 8:00 a.m.
Early registration for the conference ends March 3, and final registration is March 14. There is a $10 registration fee that will be refunded to UE students at the event. Use this registration form to sign up to attend the event.
The theme of this year's conference is "SPARK: Using Leadership to Ignite a Change in the World." Speakers at the conference will include Mari Plikuhn, UE associate professor sociology, Kevin Snyder from Campuspeak, and Kristina Arnold from WKU.
If you have any questions, please feel free to contact Kendall Turner at kt131@evansville.edu.
Submitted by Kendall Turner kt131@evansville.edu
Women's Basketball falls in MVC semis
An early three-point barrage set the tone for Northern Iowa on Saturday afternoon, and the University of Evansville Women's Basketball team was unable to recover, falling 82-58 to the Panthers in the in the semifinals of the Missouri Valley Conference Tournament at the iWireless Center.
No. 2 seed UNI (24-7) hit five of its first six three-point attempts in the game to take hold early, and UE (14-17) could not mount a response on the other end. The result booked the Panthers a trip to Sunday's conference championship game against top-seeded Drake, which beat Wichita State earlier in the day in Moline.
The Aces were led by all-time leading scorer and four-time all-conference honoree Sara Dickey who racked up 16 points. The Montezuma, Indiana, product ends her decorated Aces career with 2,099 career points, which stands as the sixth-best mark in the history of the MVC. Dickey is UE's all-time leader in field goals (711), three pointers (268) and free throws (408). She also ranks seventh in career steals (160) and she stands as the 10th-best scorer in Indiana Division I history.
"To have Sara's last year be my first year as a head coach has been a pleasure," Ruffing said. "She's been a huge part of what we've done this year, and throughout her whole career. She's one of the best that has ever put on a University of Evansville uniform."
"Overall, this team has been a great group to coach. Yesterday summed up what this group was about. I think we'll look back at this group down the line as the group that started good things for UE."
The 2017 senior class stands as one of the most statistically decorated in history. Sasha Robinson, who pulled down six rebounds on Saturday, finishes her UE career with 841, which is the second-most in the school record books. Camary Williams, who was presented with the league's defensive player of the year award earlier this week, recorded 119 steals this season, which is a school record and the third-most for a single season in conference history.
All three as well as fellow senior Ashley Hawkins each played pivotal roles in the 2016-17 campaign for the Aces, which turned heads across the conference. A season after finishing in 10th, UE improved its win total by 11 and became just the fourth team in conference history to jump from a 10th-seed to a first round bye in the span of a year.
"We've had a lot of downs over the years," Ruffing said. "It was great to come here and get a win like we did against Missouri State on Friday. You could see the joy these players had. As coaches, that's what we do it for. I think that when the team looks back at this week, they'll remember that, and hopefully, it's just the first step of what we're building towards in the future."
After weathering an early UNI blitz that saw the Aces fall behind by double-digits in the opening quarter, Macie Lively helped cut the lead to seven points at 23-16 with a circus shot at the buzzer. However, while the percentages may have leveled off from the hot first quarter for the Panthers, they grabbed hold of the rebounding advantage in 23-14 fashion, which included 10 on the offensive glass, to take a 41-25 edge into the break.
The Panthers put the game out-of-reach for good with a 25-point third quarter.
Angie Davison and Madison Weekly did the bulk of the heavy lifting, combining for 41 points on 14-of-28 shooting, which included a 13-of-25 showing from beyond the three-point arc.
UE, which has won at least one tournament game in three consecutive seasons, will graduate four players from this season's squad. The Aces will return to the court next fall in a newly-renovated Carson Center.
SEMO earns 4-2 win over UE Tennis
In a highly-competitive match on Sunday morning, the University of Evansville Women's Tennis team fell by a final of 4-2 on the road at Southeast Missouri State. UE was originally scheduled to also face Maryville on Sunday, but that match was cancelled.
"This loss stings a bit because it was a match we let get away from us. We had chances to take the doubles point and didn't," Aces head coach Jayson Wiseman said. "Then we put ourselves in position to still come back and take the match with four singles wins but ultimately just couldn't convert some key points. We have to learn from this one and get better worth the MVC season fast approaching."
Picking up the wins on Sunday for the Purple Aces were Chieko Yamada and Theodora Soldatou. Yamada topped Isabella Krupa at #1 singles, 6-2, 6-3. Soldatou picked up the point in the fourth flight with the win over Annisa Warasanti, 6-0, 7-6.
Evansville travels to Louisville on Friday for a match at 4:00 p.m. before coming home on Saturday.
Need financial aid for summer courses?
If you are seeking financial aid to help pay for summer courses at UE, please complete a summer financial aid application, also available in the Office of Financial Aid. We will help you examine your options for aid, which in most cases during the summer term is limited to: federal loans (direct or plus), private student loans, federal Pell grants, tuition remission (employees and dependents), and student employment. Refer to the summer form to determine the types of aid for which you may be eligible based on your anticipated enrollment status.
Work-Study:
On-campus jobs are available for continuing UE students during the summer. You do not need to be eligible for need-based federal/state work-study during the academic year in order to apply. You may also apply regardless of your enrollment in summer courses. Applications are available within the Student Employment area of WebAdvisor.
Submitted by Amy Sowders as560@evansville.edu
Residence hall recycling contest March 13-31
As part of Recyclemania, a contest will be held to see which residence hall is recycling the most (by weight) per resident. The contest will be held starting March 13 until 2:00 p.m. on March 31.
Here are the details:
• Eligible recyclables are paper, newspapers, magazines, empty plastic containers, empty aluminum and steel cans, empty cardboard, empty cereal, soda boxes.
• Items not considered recyclable: glass, pizza boxes and plastics other than those marked with the recycle sign and number 1–7.
• If a recyclables bag is contaminated with items such as trash, Styrofoam, full drink containers or food, it will be treated as trash, and excluded.
• The winning hall will be the one with the greatest recyclables weight per resident.
• Prizes – a trophy will be awarded to the winning hall. There will also be a drawing for residents of that hall for two Smart Strip Energy Saving Surge Protectors.
Please e-mail js652@evansville.edu or call ext. 2697 for more information.
Submitted by Jan Schrader js652@evansville.edu
METS offering free bus transportation Thursday, March 16
The City of Evansville is promoting the use of public transportation by offering FREE trips on METS on Thursday, March 16, from 5:45 a.m.-4:00 p.m. Metropolitan Evansville Transit System will offer free bus transportation for all passengers.
Submitting textbook adoptions for summer and fall
Just a reminder that summer and fall textbook adoptions are due back in the UE Bookstore by March 30. When submitting or e-mailing them, please make sure you use Brooksie's e-mail address of bs267@evansville.edu. (Some old forms out there may still list ea74@evansville as the email address.) If you have questions please contact the UE Bookstore.
Submitted by Doug Gustwiller dg57@evansville.edu
What is AmeriCorps?
AmeriCorps is a federally funded community-service program open to people of all ages! It's a great option for those looking to give back after they graduate. You can check out more about Americorps by visiting the Americorps page on the Corporation for National & Community Service website.
Submitted by Jackie Luedtke jl295@evansville.edu
Rising seniors and juniors to select residence hall rooms
The process for students with 44 plus earned credit hours who wish to select a room in their current residence hall for next year takes place on Tuesday, March 14, from 9:30-10:30 p.m. in Eykamp Hall, Ridgway University Center. If you are interested in reserving a room in your same residence hall for next year, please go to Eykamp Hall then. The building staff will be ready to assist during these times.
If you would like to switch buildings for next year, submit a housing contract on WebAdvisor and do not sign up for a room in your same hall. You will receive an appointment time on March 20 indicating when you can select a room in a different hall next week.
Submitted by Brian Conner bc32@evansville.edu
UE Stories Abroad: Kristen in Mexico
The Office of Study Abroad is introducing UE Stories Abroad! Check in to hear from students who have gone abroad and read about where they studied, their challenges, and the most rewarding parts of their trip. They will also have some great advice for any future study abroad students. The first story comes from Kristen Sholander, a third year DPT student who studied in Mexico.
Read Kristen's story on the UE Stories Abroad web page.
Submitted by Greta Becker gb91@evansville.edu
Margery Florence Kahn Scholarship applications
Applications for the Margery Florence Kahn Scholarship for 2017-18 are now available. It was the desire of the donor, Margery Florence Kahn, that her scholarship be awarded to "dedicated and conscientious students who exhibit a true passion for their chosen fields of study, and who, in the opinion of the members of the University of Evansville faculty, are likely to bring the same enthusiasm into the performance of their jobs or the practice of the professions which they will pursue following graduation."

All University of Evansville full-time undergraduate students who will be juniors or seniors in 2017-18 may apply. An essay of about 300 words must accompany the application, along with two to five faculty recommendation letters.

Applications are available from the Office of Financial Aid, located in Room 116 in Olmsted Administration Hall.
Completed applications and recommendation letters should be returned to the Office of Financial Aid by April 15.
You may also request application materials by e-mailing financialaid@evansville.edu.
Questions may be directed to the Office of Financial Aid via e-mail or by phone at 812-488-2364 or 800-424-8634.
Submitted by Trisha Hawkes th187@evansville.edu
Dr. Marvin E. Hartig Memorial Scholarship applications
Family, friends, and loved ones of the late Marvin E. Hartig are pleased to announce the application process for the Dr. Marvin E. Hartig Memorial Scholarship. This scholarship is dedicated to the loving memory of Hartig, dean of Evansville College's Evening College in 1967, and administrator for the Center for Advanced Study, director of the Evansville chapter of the American Institute of Banking (AIB), and the international student advisor. In 1974, Hartig was appointed dean of academic services. He retired in 1984 after serving his alma mater for 35 years and passed away in 2007.
This scholarship will be awarded each year to a deserving sophomore student with demonstrated financial need as shown by the results of the Free Application for Federal Student Aid (FAFSA). Preference will be given to a student working while being enrolled as a full-time student.
International students are encouraged to apply. Please include in your essay your particular financial need, since international students do not have FAFSA forms on file.
Applicants must submit the following to be considered:
Completed application

In a one page, single spaced, 12 point Verdana font essay, please answer all of these questions:
What have you learned about yourself as a UE student?
What do you do for fun when not studying or working?
Name a special attribute or accomplishment that sets you apart.
You have done a lot in your short life. In what areas do you think you can improve?
What are your scholastic and career goals?
How did you finance your freshman year and how will you finance your sophomore year?
Why are you a good candidate to receive this scholarship?
What have you learned about Dr. Hartig, how does he influence or inspire you, and how will you preserve his legacy as recipient of this scholarship?
Please return all materials to the Office of Financial Aid by June 1. Decision will be announced by August 1.
If you have questions, contact Trisha Hawkes, administrative assistant to the Office of Financial Aid, at financialaid@evansville.edu or 812-488-2364.
Submitted by Trisha Hawkes th187@evansville.edu
Summer assistant applications still available
Summer assistant applications are still available to be picked up in the residence life office. If you are planning on staying on campus this summer, and would like the chance to get free housing, this is a great opportunity!
There will be one more information session on Wednesday, March 15, at 7:00 p.m. in Room 126 in Hyde Hall if you want more details.
Applications are due to residence life by 5:00 p.m. on March 17.
Submitted by Justin Coffey jc534@evansville.edu
Important reminder for spring graduates
This is a reminder to all spring graduates. If you need a cap and gown and/or graduation announcements please stop by the UE Bookstore as soon as possible. This is ESPECIALLY required of all masters and doctoral graduates as a custom graduation gown and hood need to be ordered for you. It takes additional time for these items to arrive. If you have any questions please contact the UE Bookstore.
Submitted by Doug Gustwiller dg57@evansville.edu
Last chance for nominations for Dean of Students Leadership Awards
Nominations for consideration of The Howard S. Rosenblatt Dean of Students Leadership Awards are due by this Friday, March 24. These awards will be presented at the 24th Annual Leadership Awards Reception scheduled for April 19 at 7:00 p.m. Invitations will be prepared by the Center for Student Engagement.
Awards are presented in the following categories:
• Student Organization Advisor of the Year
• Student Organization of the Year
• Student Leader of the Year
Over 80 percent of UE students participate in at least one student organization or program. These organizations are successful because of the commitment of the student leaders and the advisors who give freely of their time and support.
The recipients of these awards are selected based on their commitment to the University of Evansville as well as the development and success of their efforts within their chosen student organization.
The deadline for nominations is March 20. You can download a nomination form or stop by Room 230 in the Ridgway University Center to pick up a nomination form from the Dean of Students Office. Return the completed nomination form and essay to the Dean of Students Office, located in Room 230 in the Ridgway University Center, or by e-mail to km306@evansville.edu.
If you have any questions, please contact the Vice President for Student Affairs/Dean of Students office at 812-488-2500 or by e-mail via km306@evansville.edu.
Thank you in advance for celebrating our student leaders' achievements!
Aces win series at Campbell
After falling in the opener, the University of Evansville Baseball team responded with a win in the rubber game on Saturday, splitting a doubleheader with Campbell at Jim Perry Stadium to earn the Purple Aces their first series victory of the season.
"Overall, it was a great effort today," UE head coach Wes Carroll said. "It felt like a Valley weekend to come out here and take two out of three on the road. We're starting to get a feel for what guys can and can't do, and I think we've started to turn a corner. It was a good day for our pitching staff, and we played some great defense."
The Aces dropped the first game in 8-1 fashion before returning the favor with a 6-2 decision in the evening. Both the Aces and Campbell close out the weekend with 6-9 overall records.
In the afternoon contest, Matthew Barefoot led the way with a 4-for-5 showing at the plate with a pair of runs scored, touching home in the first and third innings as the Camels got out to a quick 3-0 start.
Campbell grabbed hold of the game in the sixth with a Kyle Mehl homer, and then a pair of bases-loaded singles brought home three more to make it 7-0.
A Kenton Crews single picked up a consolation run for the Aces an inning later. He'd lead UE in the contest, going 3-for-4 at the plate.
Justin Hayden (1-2) was pegged with the loss after allowing six runs, and Campbell reliever Alex Yarem earned his first victory after coming out of the bullpen to throw 6.2 one-run innings.
In the second game, UE capitalized on three Campbell errors to push across four runs in the fourth. After Crews reached on an error to lead things off, consecutive singles from Korbin Williams, Trey Hair, and Andrew Tanous brought home three scores. Stewart Nelson added another on a wild pitch later in the inning.
The Camels reclaimed a run in the bottom half of the frame, but UE would tack on two more in the fifth as Troy Beilsmith scored on a wild pitch and Hair doubled home another.
Both Hair and Williams finished the game 2-for-4 at the plate.
Austin Allinger (2-0) came out of the pen to earn the win. UE starter Connor Strain allowed one run through four innings of work, and the duo of Ryan Brady and Brandon Gomer gave up a single run over the final four frames.
Campbell added another in the eighth and loaded the bases in the ninth, but Gomer would leave them stranded, striking out Bryce Myers to bring the game to an end.
The Aces will continue the current four-game road swing with a trip to SIUE on Wednesday.
Strobel accepted to Council of Independent Colleges seminar
Heidi Strobel, associate professor of art history, was recently accepted to the Council of Independent Colleges seminar at the Yale Center for British Art in New Haven, Connecticut. The seminar, "Landscape and Identity in Britain and the United States (1770-1914)" will take place in late July of 2017 and will focus on Hudson River School landscape artists Thomas Cole and Frederic Church.
Aces top Drexel, 5-1
A 5-run sixth inning by the University of Evansville Softball team saw them complete their trip to the John Cropp Classic with a 5-1 victory over Drexel on Sunday morning.
"I thought we had a great approach offensively today, which is something we have been talking about," UE head coach Mat Mundell said. "We had more walks than strikeouts, which is a goal. When you put the ball in play and get girls on base, good things happen."
Morgan Florey got the job done in the circle and at the plate for UE (7-12). The sophomore gave up one run on five hits while fanning 11 Drexel (3-3) batters. At the plate, she went 1-2 with a run scored and two walks.
The Dragons got on the board first with a run in the top of the fifth inning. The difference for UE came in the sixth as five runs would score. McKenzie Johnson led off with a single up the middle and was pinch run for by Tess Hupe. After Courtney Land reached on an error, Ashlee Kawall singled to third to load the bases with nobody out.
Brittany Hay got the Aces on the board with an RBI fielder's choice. Next up was Michal Luckett, who hit a sacrifice fly to center to plate the second run of the game and give UE the lead. Deja Shelton, Morgan Lambert and Bailee Bostic also had RBIs in the inning as the Aces took a 5-1 advantage and were able to win by that margin.
Evansville outhit Drexel, 9-5. Another impressive stat for UE was that its offense struck out just three times while drawing five walks. The Dragons struck out 11 times and walked just once.
On Tuesday, the home schedule will begin. UE welcomes Northern Illinois to Cooper Stadium for a doubleheader with game one set to start at 3:00 p.m. before game two at approximately 5:00 p.m.
Winning residence hall for Recyclemania Pledge Contest
Schroeder Residence Hall has won the Recyclemania Pledge Contest between residence halls!
Here are the contest results by residence hall with the percent of residents signing the recycling pledge for each hall:
Schroeder: 42 percent
Hughes: 24 percent
Powell: 20 percent
Moore: 18 percent
Hale: 10 percent
Brentano: 9 percent
Morton: 5 percent
North: 1 percent
Also - congratulations to Jess O'Shaughnessy – her name was drawn from all the residents of Schroeder Residence Hall who signed the recycling pledge. Jess has won a Smart Strip Energy Saving Surge Protector. Thanks to Brian Conner for drawing the winning name from those submitted!
Submitted by Jan Schrader js652@evansville.edu
Jazzman's beverage coupon winners for Recyclemania pledge drive
Congratulations to Mason Mobley, Jayne Schnacke, and Simon Earle for having your names drawn to win a Jazzman's beverage coupon for signing the Recyclemania pledge. Thanks to Lisa Kretz for drawing the winning names from those submitted!
Please note that Recyclemania continues until the end of March, so remember to recycle all you can. Information on UE's recycling program, including what to recycle and where to take your recyclables can be found in the UE recycling guide located on AceLink under Areas under Recycling.
E-mail js652@evansville.edu or call ext. 2697 with any questions.
Submitted by Jan Schrader js652@evansville.edu
Williams named MVC Defensive Player of the Year
Camary Williams's breakout season was further honored on Thursday evening as the senior guard became the third-ever University of Evansville Women's Basketball player to lay claim to the Missouri Valley Conference's Defensive Player of the Year award.
"This is a great accomplishment," Williams said of the award. "I've always prided myself on playing good defense. That's how I get going on offense. I love playing defense, and I'm really thankful for receiving this award."
The honor was presented between opening round games at Hoops in the Heartland on Friday evening.
Williams, a native of Ft. Myers, Florida, made the leap from a reserve a year ago to one of the best guards in the Valley this season. Despite standing at just 5 feet 5 inches, she will enter Friday's meeting with Missouri State as the third-leading rebounder in the conference with 7.9 per contest. She also boasts the second-best steals mark in the NCAA this season, swiping just under four per game.
Williams has come away with 115 steals so far this season, which is the fourth-best mark in MVC history. It broke the school record set by Latasha Austin in the 2001-02 season.
Williams's defensive prowess has often led to points on the other end for the Aces, and she currently ranks sixth in the league at 14.1 points per game.
Williams is the first UE player to win Defensive Player of the Year since Rebekah Parker in 2007. Austin is the only other Ace to win the award, taking it home in that record-setting season 15 years ago.
Tkachenko earns second MVC honor
Purple Aces freshman women's tennis player Diana Tkachenko was named the Missouri Valley Conference Women's Tennis Athlete of the Week for the second time in a row on Tuesday.
It was another perfect weekend of play for Diana Tkachenko as she led UE to a pair of victories over Florida A&M and Marian. She began the week against the University of Cincinnati where she earned UE's point in the match at #2 singles. She defeated Kelly Poggensee-Wei, 6-1, 4-6, 1-0 (10-5). She also teamed up with Nicoli Pereira to pick up a 4-3 win at #2 doubles.
Against Florida A&M, she played at flight two singles, winning over Arrice Robinson, 6-1, 6-1. At #1 doubles with Pereira, the duo picked up a 6-1 triumph. She had another great outing against Marian, shutting down Grace Neathery in second flight singles, 6-0, 6-0 while picking up a win in #3 doubles with teammate Leah Helpingstine.
Jaylon Brown named to MVC All-Tournament Team
Averaging 25.5 points per game in the University of Evansville Men's Basketball team's two games at Arch Madness, senior Jaylon Brown earned a spot on the All-Tournament Team.
Joining Brown on the team were Landry Shamet (WSU), Conner Frankamp (WSU), Paris Lee (ILS), and Alize Johnson (MSU). Frankamp was named the Most Outstanding Player.
Brown started the tournament with 27 points in an 83-72 win over Indiana State. He also grabbed eight rebounds and hit three triples in 39 minutes of work. He was 9-of-19 from the field and added six free throws.
In a matchup against #1 seed Illinois State, Brown had another stellar game as the Aces rallied to get within four points of the Redbirds in the final minute. He finished the game with 24 points while hitting all eight free throws and dishing out four assists. He played just under 40 minutes.
He finished up his senior season leading the MVC in scoring (20.9 points per game) and minutes (36.8 minutes per game). Brown finished up the season scoring 20 or more points in the final six contests while scoring double figures in all but one game in the 2016-17 season.
The honor for Brown marks the second year in a row that he earned a spot on the All-Tournament Team. D.J. Balentine was also honored twice, in both 2014 and 2016. Prior to 2014, the only UE player to be named to the squad in the school's tenure in the MVC was Marcus Wilson in 1999.
David Howard earns a spot on MVC Scholar-Athlete Team
Senior David Howard has excelled in the classroom and on the floor and was recognized on Thursday for his accomplishments as he was named to the Missouri Valley Conference Scholar-Athlete First Team. The accounting major from Nashville, Tennessee, had one of the top GPA's on the University of Evansville Men's Basketball team, sitting at 3.56. It was also the second-highest among those named to the First Team.
Howard has enjoyed the best year of his career in 2016-17, setting career highs in all categories during the season, highlighted by a career-best 21 points earlier this season against Drake.
Joining him on the First Team were Clayton Custer (Loyola), Ben Richardson (Loyola), Austin Ruder (Missouri State) and Reed Timmer (Drake).
The criteria for the Missouri Valley Conference's Scholar-Athlete Team voting parallels the CoSIDA (College Sports Information Directors of America) standards for Academic All-America voting. Nominees must be starters or important reserves with at least a 3.20 cumulative grade-point average (4.0 scale). Student-athletes must have reached sophomore athletic and academic standing at their institution (true freshmen and redshirt freshmen were not eligible) and must have completed at least one full academic year at their institution. He must have played in 75 percent of his team's games.
New baby!
Congratulations to Su Jin Jeong and her husband Tae, and big sister Lillia on the birth of baby girl, Elenora, on February 25. Su Jin is an assistant professor in the School of Health Sciences.
Submitted by Pam Young py2@evansville.edu
Nerd Wars was a success! Thanks to all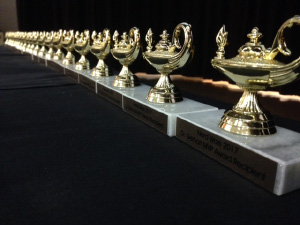 The Honors Activity Board and the Honors Program wish to thank SGA for its financial support and the campus community for participating in the 2017 Nerd Wars trivia night on February 28. Your participation allowed us to raise $580 for Honors Ace Mentors (HAM), a group of honors students who volunteer to support students in the EVSC with tutoring and cultural enrichment and by serving as positive role models.
The winning student team was Apollo's Raider's (Evan Pierce, Jacob Meyer, Shawn Leedy, Preston Wagner, and Thomas Jandebeur).
The winning faculty was Consilience (Joyce Stamm, John Stamm, Ann Powell, Dan Byrne, and Kristie Hochwender).
In memory of Dr. Gerhart, dean of the college of engineering and computer science who recently passed away, each of the 21 teams selected a player to receive a Nerd Wars 2017 Dr. Gerhart MVP trophy. Dr. Gerhart was a frequent participant in Nerd Wars over the years.
Submitted by Cherie Leonhardt cl29@evansville.edu
Harlaxton College awarded Historic England Grant
Harlaxton College has been awarded a grant by Historic England (the public body that looks after England's historic environment) towards the cost of a Parkland Management Plan (PMP) for Harlaxton Manor and surrounding parkland.
The PMP will provide an understanding of the development of the park, its significance and current condition; identify essential repairs and establish policies to secure the future of the historic designed landscape, facilitating its removal from the Heritage at Risk register; and assist the College in identifying a vision and management strategy for the future of the park that integrates it fully with the rest of the site, and the educational and other aims and activities of Harlaxton College.
Contribute to AceNotes
To have content considered for inclusion in AceNotes, please submit a Marketing Request Form. Deadline for submission to AceNotes is 10:00 a.m. on the requested date of publication. Only articles concerning UE related/sponsored activities will be accepted. Articles submitted to AceNotes may be edited for length and clarity. Submitter contact information is at the end of each article.