| | |
| --- | --- |
| AceNotes Today | Friday, March 3, 2017 |
Vice president for fiscal affairs and administration candidate to visit campus
The Vice President for Fiscal Affairs and Administration Search Committee is pleased to announce finalists that will interview on campus over the next several weeks.
Information related to the job description and candidates can be viewed at: https://www.evansville.edu/offices/president/vpfaaSearch.cfm
The first candidate, Mark Titzer, will interview on campus March 6-7. A reception for the campus community will be held on Monday, March 6, 4:00-5:15 p.m. in Dunigan Lounge (Room 160), Schroeder School of Business Building.
Please join me and members of the Search Committee in welcoming these individuals to campus.
Dana Clayton
Chair, VPFAA Search Committee
University of Evansville
UE Tennis heads for spring break trip
A 7-match road trip begins for the University of Evansville Women's Tennis team as they begin a busy week at the University of Cincinnati.
The Purple Aces open up the week against the Bearcats at 5:00 p.m. today. Cincinnati enters the match with a record of 6-4. Following that match-up, UE heads to Orlando, Florida, fox six contests. On Sunday, the Aces play Florida A&M and Marian before taking on Creighton and Norfolk State on Wednesday. The trip winds down on Friday with tilts against Furman and South Dakota
Last time out, the Aces fell by a final of 4-3 to UIC. Despite losses to the University of Iowa and UIC, freshman Diana Tkachenko was named the MVC Women's Tennis Athlete of the Week.
In Sunday's match versus the Flames. Evansville picked up the opening point in doubles with Theodora Soldatou and Chicko Yamada earning a 6-3 win over Melika Leblanc and Rachel Le Comber at flight one. Diana Tkachenko and Nicoli Pereira were victorious at #3 doubles, defeating Georgia Sanders and Stefana Vasic, 6-4.
Tkachenko made the start at top singles and won the decision over Oana Manole, 6-1, 6-1. Daria Pentsova was victorious at #4 singles as she topped Bianca Zuzu, 6-4, 6-7 (0-3), 6-0. The biggest battle of the day was in flight five as Miranda Rodriguez got past Andrea Pascual-Larrinaga, 5-7, 6-2, 6-4.
UE Softball heads to Oklahoma for weekend tournament
Defending National Champion Oklahoma is among the teams the University of Evansville Softball team will face in the Courtyard Marriott Tournament in Norman, Oklahoma.
The Purple Aces begin the tournament today at 1:00 p.m. as they take on Western Kentucky. Later in the day at 6:00 p.m., UE faces #9 Oklahoma before opening play on Saturday at 10:30 a.m. versus Northwestern State. The final two games will be determined by the bracket.
A 2-hour trip to Nashville over the weekend was a successful one for the Purple Aces as they went 3-1 in their four games. UE opened the weekend by dealing Belmont its first loss of the season before sweeping past Tennessee State on Saturday. Morgan Florey batted .444 on the weekend while Morgan Lambert finished at .417 with a grand slam.
Senior first baseman Morgan Lambert batted .417 with a home run and five RBIs as the UE Softball team went 3-1 on the weekend. After starting the weekend 0-2 at the plate, Lambert recorded a hit in five of her next 10 at-bats. Batting in the cleanup spot in Saturday's first game at Tennessee State, Lambert had the winning hit in the form of a grand slam as UE pulled away for an 8-1 win. In the finale versus the Tigers, Lambert had another strong game, going 3-5 with an RBI and run scored.
In 16 innings of work, Aces sophomore Morgan Florey had another great week in the circle, going a perfect 2-0 while also recording her first save of the season. She battled adversity in game one against undefeated Belmont, giving up two runs in the second inning, but from that point on, she held the Bruins off the board as the Aces tied it up in the sixth and took the lead in the seventh. She struck out three batters. Another complete game effort saw Florey win her second game of the weekend at Tennessee State on Saturday. In seven innings, she gave up one run on three hits while fanning 8 batters. She also played a pivotal role in game two of the sweep, tossing the final two innings, allowing just one hit as she notched her first save of the season.
Great base-running in four games over the weekend made all of the difference in the world for the Purple Aces as they went a perfect 16-16 in stolen bases. Pacing that crew were Tess Hupe, Ashlee Kawall, and Michal Luckett, who were each a perfect 4-4 on the base paths. For the season, the Aces are 24-of-25 in that category.
Lunch and Lead - LDRSHIP: The Seven Values of the Army
Loyalty, duty, respect, selfless service, honor, integrity, and personal courage. Join us for Lunch and Lead at 12:30 p.m. TODAY - March 14 - in Eykamp Hall, Room 251, Ridgway University Center, to learn how the Army incorporates these values and how you can too.
This Lunch and Lead will be presented by Michael Roscoe, founding director and chair of UE's Department of Physician Assistant Science and associate professor of physician assistant science.
Roscoe earned a PhD in international health science from Trident University International. He has two master's degrees, one in physician assistant studies with a concentration in emergency medicine from the University of Nebraska, and one in biology from Purdue University. Roscoe has bachelor's degrees from Butler University in biology and in health science.
In 2000, Roscoe joined the Indiana National Guard and was deployed with the 76th Infantry Brigade Combat Team to Afghanistan in 2004-05 for an 18 month deployment. He had a second combat tour in Iraq in 2008-09. He has been decorated by the military with numerous awards including the Bronze Star Medal.
Submitted by Amber Stull as625@evansville.edu
L2L Conference: SPARK - register today!
Every spring, the University of Evansville Leadership Academy sponsors the L2L Leadership Conference. (L2L stands for Learn to Lead. Love to Lead. Live to Lead.) This year's L2L conference is set for Saturday, March 25, from 9:00 a.m.-3:00 p.m., in Eykamp Hall, Room 251, Ridgway University Center. Check-in will begin at 8:00 a.m.
Early registration for the conference ends March 3, and final registration is March 14. There is a $10 registration fee that will be refunded to UE students at the event. Use this registration form to sign up to attend the event.
The theme of this year's conference is "SPARK: Using Leadership to Ignite a Change in the World." Speakers at the conference will include Mari Plikuhn, UE associate professor sociology, Kevin Snyder from Campuspeak, and Kristina Arnold from WKU.
If you have any questions, please feel free to contact Kendall Turner at kt131@evansville.edu.
Submitted by Kendall Turner kt131@evansville.edu
Last chance for nominations for Dean of Students Leadership Awards
Nominations for consideration of The Howard S. Rosenblatt Dean of Students Leadership Awards are due by this Friday, March 24. These awards will be presented at the 24th Annual Leadership Awards Reception scheduled for April 19 at 7:00 p.m. Invitations will be prepared by the Center for Student Engagement.
Awards are presented in the following categories:
• Student Organization Advisor of the Year
• Student Organization of the Year
• Student Leader of the Year
Over 80 percent of UE students participate in at least one student organization or program. These organizations are successful because of the commitment of the student leaders and the advisors who give freely of their time and support.
The recipients of these awards are selected based on their commitment to the University of Evansville as well as the development and success of their efforts within their chosen student organization.
The deadline for nominations is March 20. You can download a nomination form or stop by Room 230 in the Ridgway University Center to pick up a nomination form from the Dean of Students Office. Return the completed nomination form and essay to the Dean of Students Office, located in Room 230 in the Ridgway University Center, or by e-mail to km306@evansville.edu.
If you have any questions, please contact the Vice President for Student Affairs/Dean of Students office at 812-488-2500 or by e-mail via km306@evansville.edu.
Thank you in advance for celebrating our student leaders' achievements!
Maintenance announcement
Physical plant will be conducting maintenance and cleaning on the chill water system starting Monday, March 6. The work should be completed by Friday, March 10. There may be reduced cooling capability during this time. Contact the physical plant at ext. 2775 with questions or concerns.
Submitted by Jayne Schnacke js607@evansville.edu
UE Bookstore spring break hours
The UE Bookstore will have revised hours for spring break, March 4-11. The bookstore will be closed on Saturdays. The hours on Monday-Thursday will be 8:00 a.m.-5:00 p.m., and on Friday from 8:00 a.m.-4:30 p.m. Normal hours resume March 13.
Submitted by Doug Gustwiller dg57@evansville.edu
Spring break dining services hours
Spring break is right around the corner! Please be mindful of dining services hours of operation during that time.
Ace's Place will close at 2:00 p.m. on Friday, March 3, and open at 10:30 a.m., Monday March 13.
Café Court will close at 5:30 p.m. on Friday, March 3, and will open at 4:30 p.m., Sunday, March 12. (La Vincita/Charleston Market/Grill 155 available)
Jazzman's will close at 2:00 p.m. on Friday, March 3, and will open at 7:00 a.m., Monday, March 12.
Submitted by Katie Nowlan mary.nowlan@sodexo.com
Fitness Center spring break hours
The Fitness Center will be:
Open Friday, March 3 from 6:30 a.m.-7:00 p.m. (no p.m. open swim)
Closed Saturday and Sunday, March 4-5
Open Monday-Friday, March 6-10, from 8:00 a.m.-6:00 p.m.
Closed Saturday and Sunday, March 11-12
Normal hours resume on Monday, March 13
Submitted by Lori Adams la87@evansville.edu
Moore Hall suite room requests
Interested in living in a Moore Hall four person suite for 2017-18? Then get a group together and fill out a Moore Hall suite request card in the residence life office this week. There are three suites in the basement of Moore Hall. Suites will be awarded based on the group's combined earned credit hours as of the end of the fall 2016 semester. Requests for the Moore Hall suites are due by 5:00 p.m., Friday, March 3.
Submitted by Brian Conner bc32@evansville.edu
UE welcomes new instructional technologist
The Center for Adult Education would like to welcome Leslie Barton to the University of Evansville. Leslie steps into the role of instructional technologist and brings a wealth of knowledge to our campus. Leslie is a University of Southern Indiana graduate with a B.A. in English and holds a Masters of Library Science from Indiana University. She most recently served as a campus librarian for Harrison College and also an adjunct faculty member in information literacy. Leslie's expertise include creation of online courses, training and facilitating students in learning management systems, and developing online supplements in conjunction with faculty to support face-to-face courses. She can be reached by e-mail at lb261@evansville.edu.
Submitted by Lindsay Roberts lr155@evansville.edu
Summer assistant applications available
Applications for residence life's summer assistant position are now available at the residence life office.
If you would like more information visit the info tables in Ridgway University Center lobby at 11:00 a.m. on Tuesday, Wednesday, and Thursday of this week. Information sessions will take place in Room 126, Hyde Hall, on February 28 and March 1 at 7:00 p.m.
Please contact Justin Coffey (jc534@evansville.edu) and Melinda Daniels (md212@evansville.edu) with questions.
Submitted by Justin Coffey jc534@evansville.edu
Harlaxton College faculty site visits
Harlaxton College and the Office of Academic Affairs at the University of Evansville are pleased to announce a new faculty site visit program.
Each year, two faculty members will be selected to visit the manor for three nights and four days while attending the Harlaxton Partners Conference. This conference annually gathers faculty and administrators from UE and its Harlaxton partners with the goal of sharing how Harlaxton works, discussing what's new in the academic and student development programs, and expressing our vision for the future. It is also an opportunity for fellowship and field trips, making new friends, and experiencing the manor in all its splendor and glory.
The main goal of the site visit program is to cultivate a familiarity with, and knowledge of, Harlaxton in UE faculty who have not previously lived and taught here. This is intended to lead to at least three other significant outcomes: a facility for communicating about Harlaxton with colleagues, students, and prospective students; the capacity to make a connection between the faculty member's teaching, and research interests and Harlaxton; and, finally, the substance and perspective for submitting an application to teach in residence at Harlaxton in the future.
Faculty who have not taught at Harlaxton will be given first priority.
Preference will be given to those faculty who demonstrate most convincingly that teaching at Harlaxton:
• will benefit their teaching, career trajectory and students at UE.
• will contribute positively to the curricular, artistic, and intellectual fabric of Harlaxton.
• will be broadly appealing to students at UE and partner colleges and universities.
Faculty members who have taught at Harlaxton within the last eight years and/or faculty members who are scheduled to teach at Harlaxton in the next two years are ineligible.
To apply, please submit a completed application and a CV to facultysitevisits@harlaxton.ac.uk. To be considered for the summer of 2017, applications must be submitted via e-mail no later than April 15.
Please direct any questions to Gerald Seaman, principal, at gseaman@harlaxton.ac.uk.
Submitted by Holly Carter hc110@evansville.edu
Men's Basketball opens Arch Madness with 83-72 win
Four University of Evansville Men's Basketball players hit double figures as the Purple Aces earned an 83-72 win over Indiana State in the opening game of Arch Madness on Thursday night at the Scottrade Center.
With the win, UE (16-16, 6-12 MVC) will advance to play top seeded Illinois State on Friday at noon.
"Our guys are thrilled to advance and play Illinois State," UE head coach Marty Simmons said. "Give Indiana State credit, we told our guys they would never quit and they did not. Our guys were able to tighten things up and hang on. We are very happy to get the win."
Jaylon Brown was the top scorer in the game, notching 27 points and 8 rebounds, both team highs. It is the fifth game in a row that Brown has hit the 20-point mark. Duane Gibson also hit the plateau, finishing with 20. He was an efficient 6-of-7 from the field and hit 8 free throws. Ryan Taylor finished the night with 12 points while Christian Benzon had 11.
Brenton Scott was the leader for Indiana State (11-20, 5-13 MVC) as he posted 17. TJ Bell notched 15 points for the Sycamores while Everett Clemons notched 12.
Evansville's offense and defense were sharp in the first half as the Purple Aces shot 53.3% while holding the Sycamores to just 21.2%. A triple by Niels Bunschoten gave ISU a 3-2 lead in the opening minute before the Aces got cranking. Up 8-6, the Aces went on a 12-0 run, which was capped off by a triple from Jaylon Brown.
"We had some great practices before this game that really helped to give us the confidence to start well," Brown said.
Following a time out, Indiana State stopped the run with a triple, but the Aces kept it going. Another 3-pointer by Brown saw UE hit 10 of its opening 15 shots to go up 25-9 less than eight minutes in. The Sycamores got within 11 at 34-23 inside of the 4-minute mark, but Evansville responded with an 8-0 stretch as Duane Gibson posted five points. The lead reached as many as 21 at 44-23 in the final minute before a late Sycamore basket saw UE head to the break with a lead of 44-25.
A 9-2 run in the first five minutes of the second half pushed the Aces lead to 26 points at 53-27 on Brown's third triple of the night. Back-to-back triples by the Sycamores ended the stretch. Indiana State continued to push its way back into the game as a layup from Jordan Barnes cut the gap to 10 at 70-60 with 2:38 left. Seconds later, ISU cut the Aces lead to six at 76-70, but Evansville was able to hit its late free throws and hang on.
The Aces finished with a 46-37 rebounding edge while outshooting the Sycamores, 47.3%-33.8%.
David Howard earns a spot on MVC Scholar-Athlete Team
Senior David Howard has excelled in the classroom and on the floor and was recognized on Thursday for his accomplishments as he was named to the Missouri Valley Conference Scholar-Athlete First Team. The accounting major from Nashville, Tennessee, had one of the top GPA's on the University of Evansville Men's Basketball team, sitting at 3.56. It was also the second-highest among those named to the First Team.
Howard has enjoyed the best year of his career in 2016-17, setting career highs in all categories during the season, highlighted by a career-best 21 points earlier this season against Drake.
Joining him on the First Team were Clayton Custer (Loyola), Ben Richardson (Loyola), Austin Ruder (Missouri State) and Reed Timmer (Drake).
The criteria for the Missouri Valley Conference's Scholar-Athlete Team voting parallels the CoSIDA (College Sports Information Directors of America) standards for Academic All-America voting. Nominees must be starters or important reserves with at least a 3.20 cumulative grade-point average (4.0 scale). Student-athletes must have reached sophomore athletic and academic standing at their institution (true freshmen and redshirt freshmen were not eligible) and must have completed at least one full academic year at their institution. He must have played in 75 percent of his team's games.
New baby!
Congratulations to Su Jin Jeong and her husband Tae, and big sister Lillia on the birth of baby girl, Elenora, on February 25. Su Jin is an assistant professor in the School of Health Sciences.
Submitted by Pam Young py2@evansville.edu
Jaylon Brown named to Most Improved Team
University of Evansville senior Jaylon Brown added to his honors on Wednesday as he garnered a spot on the Missouri Valley Conference Most Improved Team for the second year in a row. He is believed to be the first to do so in the history of the league's award.
CECS Engineers Week Banquet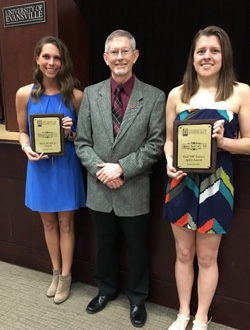 The College of Engineering and Computer Science held its annual Engineers Week Banquet on February 22.
Justin Bennett, Director of Engineering at Ciholas, Inc., and a UE alumnus, was the keynote speaker. Bennett received a BS in Computer Engineering and a minor in Mathematics at UE in 2000.
He spoke to the engineering faculty, staff, students and special guests about the development of algorithms that use data from Ultra-Wide Band (UWB) transceivers to provide highly accurate, low-latency, real-time location data.
Several engineering majors were announced as new inductees in the Tau Delta Kappa engineering honor society by Jared Fulcher, assistant professor of mechanical engineering.
Two of the engineering students were recognized by Brian Swenty, interim dean of the college. Brittani Carroll, a junior electrical engineering major received the James M. Hall, Jr. Award, and Alexis Sorrell, a junior civil engineering major received the Paul "PR" Brown Spirit Award.
The James M. Hall Memorial Award is presented annually to a student of the junior engineering class who is considered by the faculty to be the most outstanding based on scholastic achievement, extra-curricular activities, character, responsibility, attitude, and potential for professional growth.
The award is made possible through a generous donation made by Mr. Hall and his wife, Madeline.
The Paul "PR" Brown Spirit Award is presented annually to an engineering major who has been nominated by the faculty and has completed at least four semesters in good academic standing, who is an encouragement and help to his/her fellow students, and who demonstrates leadership in fostering cooperation and camaraderie among the engineering students.
The Engineers Week Banquet was hosted by the UE student chapter of the Society of Women Engineers and sponsored in part by the CECS Dean's Advisory Council and the local chapter of the Institute of Electrical and Electronics Engineers.
Nerd Wars was a success! Thanks to all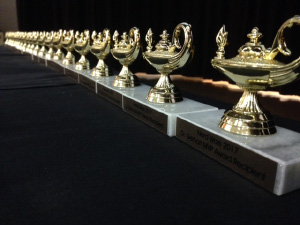 The Honors Activity Board and the Honors Program wish to thank SGA for its financial support and the campus community for participating in the 2017 Nerd Wars trivia night on February 28. Your participation allowed us to raise $580 for Honors Ace Mentors (HAM), a group of honors students who volunteer to support students in the EVSC with tutoring and cultural enrichment and by serving as positive role models.
The winning student team was Apollo's Raider's (Evan Pierce, Jacob Meyer, Shawn Leedy, Preston Wagner, and Thomas Jandebeur).
The winning faculty was Consilience (Joyce Stamm, John Stamm, Ann Powell, Dan Byrne, and Kristie Hochwender).
In memory of Dr. Gerhart, dean of the college of engineering and computer science who recently passed away, each of the 21 teams selected a player to receive a Nerd Wars 2017 Dr. Gerhart MVP trophy. Dr. Gerhart was a frequent participant in Nerd Wars over the years.
Submitted by Cherie Leonhardt cl29@evansville.edu
Thank you from Levi's twin sister, Allysa
This picture was laying on my work bag when I woke up yesterday for work. Levi's twin sister, Allysa, genuinely thanks everyone for their prayers and blessings. She created this picture to show her gratitude towards our UE and WFF family. I want to share this to give everyone a glimpse of the impact that my work family has had on my immediate family. Including Levi's 9 year twin sister, my youngest daughter. I would like to thank everyone as well. I do not have words to express how full my heart is. Levi is on the long road to normalcy, and I have all the faith in the world that he will make a full recovery, except the scars.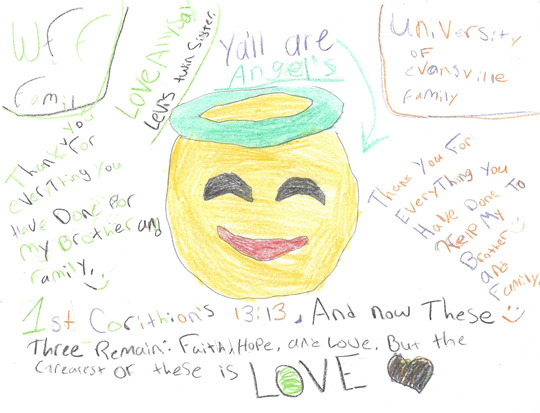 Destiny Hesson, Levi and Allysa's mother
Harlaxton College awarded Historic England Grant
Harlaxton College has been awarded a grant by Historic England (the public body that looks after England's historic environment) towards the cost of a Parkland Management Plan (PMP) for Harlaxton Manor and surrounding parkland.
The PMP will provide an understanding of the development of the park, its significance and current condition; identify essential repairs and establish policies to secure the future of the historic designed landscape, facilitating its removal from the Heritage at Risk register; and assist the College in identifying a vision and management strategy for the future of the park that integrates it fully with the rest of the site, and the educational and other aims and activities of Harlaxton College.
Contribute to AceNotes
To have content considered for inclusion in AceNotes, please submit a Marketing Request Form. Deadline for submission to AceNotes is 10:00 a.m. on the requested date of publication. Only articles concerning UE related/sponsored activities will be accepted. Articles submitted to AceNotes may be edited for length and clarity. Submitter contact information is at the end of each article.