| | |
| --- | --- |
| AceNotes Today | Thursday, March 2, 2017 |
Aces prep for ISU
The Purple Aces are preparing to face Indiana State today at 6:00 p.m. in the opening game of Arch Madness. The MVC TV Network will have full coverage with Fox Sports Midwest broadcasting the game. Fans coming to St. Louis are invited to a pregame pep rally at the Lumiere Hotel, which begins at 3:30 p.m. and runs until 5:30 p.m. A team sendoff will take place at 4:00 p.m.
The conference leader in scoring, Brown finished with 20.6 points per game while also leading the league in minutes while tying teammate Ryan Taylor for the top free throw percentage in the conference. He comes to Arch Madness riding a streak of four 20-point scoring efforts in a row.
UE heads to St. Louis as the #8 seed for the second time in their history; in 2007, UE dropped a 101-96 overtime game against Drake as the #8 squad. Evansville is 8-22 all-time in the MVC Tournament and went 2-1 last season while advancing to the championship game for the second time (other was 1999). Thursday's game against Indiana State will mark the fifth tournament meeting between the squads with them splitting the first four games; last year, UE earned a 68-42 win over ISU in the semifinals.
Indiana State and Evansville will meet in back-to-back games today at Arch Madness. The Sycamores were 11-19 on the season and clinched the 9 seed with a 5-13 league record. Brenton Scott averaged a team-best 15.9 points per game and hit a team-high 69 3-pointers. Everett Clemons finished with 9.7 points and led the way with 6.2 rebounds. Matt Van Scyoc notched nine points per game on the season. TJ Bell was the high scorer for ISU on Saturday at the Ford Center as he totaled 14 points.
Men's MVC pre-game pep rally today
Going to the MVC tourney in St. Louis? Join us for a pre-game gathering in the lobby of the Hotel Lumiere at 3:30 p.m., TODAY, prior to the 6:00 p.m. game vs. Indiana State. Alumni, faculty, staff, students and other Aces fans are all welcome. Questions? Contact alumni@evansville.edu or ext. 2586.
Submitted by Sylvia DeVault sy5@evansville.edu
SAB presents Moana tonight
SAB will be showing Disney's Moana today at 7:00 p.m. in Eykamp Hall, Room 251, Ridgway University Center! Popcorn will be available, and a movie poster will be given out.
UE Softball heads to Oklahoma for weekend tournament
Defending National Champion Oklahoma is among the teams the University of Evansville Softball team will face in the Courtyard Marriott Tournament in Norman, Oklahoma.
The Purple Aces begin the tournament today at 1:00 p.m. as they take on Western Kentucky. Later in the day at 6:00 p.m., UE faces #9 Oklahoma before opening play on Saturday at 10:30 a.m. versus Northwestern State. The final two games will be determined by the bracket.
A 2-hour trip to Nashville over the weekend was a successful one for the Purple Aces as they went 3-1 in their four games. UE opened the weekend by dealing Belmont its first loss of the season before sweeping past Tennessee State on Saturday. Morgan Florey batted .444 on the weekend while Morgan Lambert finished at .417 with a grand slam.
Senior first baseman Morgan Lambert batted .417 with a home run and five RBIs as the UE Softball team went 3-1 on the weekend. After starting the weekend 0-2 at the plate, Lambert recorded a hit in five of her next 10 at-bats. Batting in the cleanup spot in Saturday's first game at Tennessee State, Lambert had the winning hit in the form of a grand slam as UE pulled away for an 8-1 win. In the finale versus the Tigers, Lambert had another strong game, going 3-5 with an RBI and run scored.
In 16 innings of work, Aces sophomore Morgan Florey had another great week in the circle, going a perfect 2-0 while also recording her first save of the season. She battled adversity in game one against undefeated Belmont, giving up two runs in the second inning, but from that point on, she held the Bruins off the board as the Aces tied it up in the sixth and took the lead in the seventh. She struck out three batters. Another complete game effort saw Florey win her second game of the weekend at Tennessee State on Saturday. In seven innings, she gave up one run on three hits while fanning 8 batters. She also played a pivotal role in game two of the sweep, tossing the final two innings, allowing just one hit as she notched her first save of the season.
Great base-running in four games over the weekend made all of the difference in the world for the Purple Aces as they went a perfect 16-16 in stolen bases. Pacing that crew were Tess Hupe, Ashlee Kawall, and Michal Luckett, who were each a perfect 4-4 on the base paths. For the season, the Aces are 24-of-25 in that category.
Saint Louis trip
International Club will taking a trip to Saint Louis. The group will leave on Saturday, March 25, and return Sunday, March 26. Activities will include visiting the city museum, downtown/riverfront, the Arch, Union Station, the mall, the zoo, Forest Park, and the science center. The group will also go to Sports Fusion where they will play laser tag, dodge ball, and more.
The cost to sign up for the trip includes these activities plus transportation and hotel.
You can pay $25 to reserve your place on the trip at tables in Ridgway University Center on Thursday, March 2, from 11:00 a.m.-2:00 p.m., and 5:00-7:00 p.m. The $25 is non-refundable. If you reserve your spot on Thursday, you only have to pay another $25 after spring break making the total cost for the trip $50. If you don't pay Thursday but wait until after spring break to pay, then the price will be $60. If you would like to get the $50 deal, you must sign-up this Thursday. The fee for the trip includes any costs for activities plus transportation and hotel.
If you have any questions, please to e-mail Sydney Winstead at sw228@evansville.edu
Submitted by Sydney Winstead sw228@evansville.edu
Hughes, Hale, and Powell Halls plan etiquette dinner
Hughes, Powell, and Hale Halls are hosting an etiquette dinner for hall residents! At this event you'll learn social and dining etiquette while you are served a catered meal. This event will take place March 23 from 5:00-6:30 p.m. in Eykamp Hall, Ridgway University Center. In order to reserve a spot for this event, you must RSVP and the deadline to reserve a spot is March 3. For more information, e-mail Stephanie Scholz at ss619@evansville.edu.
Submitted by Stephanie Scholz ss619@evansville.edu
Spring break dining services hours
Spring break is right around the corner! Please be mindful of dining services hours of operation during that time.
Ace's Place will close at 2:00 p.m. on Friday, March 3, and open at 10:30 a.m., Monday March 13.
Café Court will close at 5:30 p.m. on Friday, March 3, and will open at 4:30 p.m., Sunday, March 12. (La Vincita/Charleston Market/Grill 155 available)
Jazzman's will close at 2:00 p.m. on Friday, March 3, and will open at 7:00 a.m., Monday, March 12.
Submitted by Katie Nowlan mary.nowlan@sodexo.com
Fitness Center spring break hours
The Fitness Center will be:
Open Friday, March 3 from 6:30 a.m.-7:00 p.m. (no p.m. open swim)
Closed Saturday and Sunday, March 4-5
Open Monday-Friday, March 6-10, from 8:00 a.m.-6:00 p.m.
Closed Saturday and Sunday, March 11-12
Normal hours resume on Monday, March 13
Submitted by Lori Adams la87@evansville.edu
Moore Hall suite room requests
Interested in living in a Moore Hall four person suite for 2017-18? Then get a group together and fill out a Moore Hall suite request card in the residence life office this week. There are three suites in the basement of Moore Hall. Suites will be awarded based on the group's combined earned credit hours as of the end of the fall 2016 semester. Requests for the Moore Hall suites are due by 5:00 p.m., Friday, March 3.
Submitted by Brian Conner bc32@evansville.edu
UE welcomes new instructional technologist
The Center for Adult Education would like to welcome Leslie Barton to the University of Evansville. Leslie steps into the role of instructional technologist and brings a wealth of knowledge to our campus. Leslie is a University of Southern Indiana graduate with a B.A. in English and holds a Masters of Library Science from Indiana University. She most recently served as a campus librarian for Harrison College and also an adjunct faculty member in information literacy. Leslie's expertise include creation of online courses, training and facilitating students in learning management systems, and developing online supplements in conjunction with faculty to support face-to-face courses. She can be reached by e-mail at lb261@evansville.edu.
Submitted by Lindsay Roberts lr155@evansville.edu
ARSAF grants for faculty applications due April 3
The UE Alumni Association is once again offering Alumni Research and Scholarly Activity Fellowships (ARSAF) to faculty. The application deadline for 2017-18 academic year grants is Monday, April 3. Find the online application and more details by going to AceLink and clicking on Areas, and selecting Academic Affairs. The application form can be found on that page under the category of Online Forms.
Questions? Contact alumni@evansville.edu or ext. 2586.
Submitted by Sylvia DeVault sy5@evansville.edu
MPH program now accepting applications
The Master of Public Health program is now accepting applications for fall admission. The program is designed to provide students with an in-depth understanding of public health and health policy. If you are interested in applying or have questions, contact Payal Patel-Dovlatabadi, assistant professor of public health, at pp42@evansville.edu.
Submitted by Payal Patel-Dovlatabadi pp42@evansville.edu
Jaylon Brown named to Most Improved Team
University of Evansville senior Jaylon Brown added to his honors on Wednesday as he garnered a spot on the Missouri Valley Conference Most Improved Team for the second year in a row. He is believed to be the first to do so in the history of the league's award.
CECS Engineers Week Banquet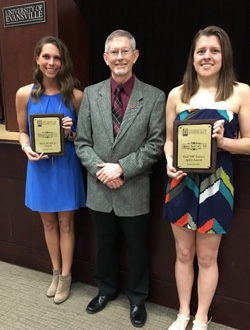 The College of Engineering and Computer Science held its annual Engineers Week Banquet on February 22.
Justin Bennett, Director of Engineering at Ciholas, Inc., and a UE alumnus, was the keynote speaker. Bennett received a BS in Computer Engineering and a minor in Mathematics at UE in 2000.
He spoke to the engineering faculty, staff, students and special guests about the development of algorithms that use data from Ultra-Wide Band (UWB) transceivers to provide highly accurate, low-latency, real-time location data.
Several engineering majors were announced as new inductees in the Tau Delta Kappa engineering honor society by Jared Fulcher, assistant professor of mechanical engineering.
Two of the engineering students were recognized by Brian Swenty, interim dean of the college. Brittani Carroll, a junior electrical engineering major received the James M. Hall, Jr. Award, and Alexis Sorrell, a junior civil engineering major received the Paul "PR" Brown Spirit Award.
The James M. Hall Memorial Award is presented annually to a student of the junior engineering class who is considered by the faculty to be the most outstanding based on scholastic achievement, extra-curricular activities, character, responsibility, attitude, and potential for professional growth.
The award is made possible through a generous donation made by Mr. Hall and his wife, Madeline.
The Paul "PR" Brown Spirit Award is presented annually to an engineering major who has been nominated by the faculty and has completed at least four semesters in good academic standing, who is an encouragement and help to his/her fellow students, and who demonstrates leadership in fostering cooperation and camaraderie among the engineering students.
The Engineers Week Banquet was hosted by the UE student chapter of the Society of Women Engineers and sponsored in part by the CECS Dean's Advisory Council and the local chapter of the Institute of Electrical and Electronics Engineers.
Jaylon Brown and Dru Smith earn MVC accolades
Jaylon Brown and Dru Smith earned Missouri Valley Conference honors on Tuesday in an announcement by the league.
Brown earned a spot on the All-Conference Second Team while Smith garnered All-Freshman honors.
"It is good for our program to have these guys recognized by the MVC," head coach Marty Simmons said. "They are both well-deserving of the honors. Jaylon has been great for us all year long while Dru has done an excellent job of adjusting to the college game."
Brown finished as the top scorer in the MVC with 20.6 points per game. He has hit double figures in all but one of UE's 31 games this season. He also led the league with 36.6 minutes per game and was tied with teammate Ryan Taylor, hitting 86% of his free throws. Brown is also on one of the top scoring streaks
Against one of the top teams in the conference and one of the best atmospheres in the nation, freshman Dru Smith was on fire last Tuesday at Wichita State. Smith connected on 5 of his 7 shots from outside while finishing with a career-high 19 points against the Shockers. A tenacious defender, he has tallied 21 steals while blocking 11 shots. The freshman has done an excellent job of taking care of the ball, posting 76 assists on the season against just 31 turnovers.
Brown, Smith, and the rest of the Purple Aces are ready to take on Indiana State on Thursday at 6:00 p.m. in the opening game of Arch Madness.

Mater Dei places first at High School Changemaker Challenge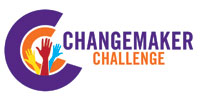 Congratulations to all 12 regional teams who participated in last week's High School Changemaker Challenge. They all worked hard, presented great ideas to improve our community, and we'd love to welcome every one of them to UE! The top four finishers were:
1st place: Mater Dei
2nd Place: Jasper
3rd Place: Gibson Southern
4th Place: Central
Thank you to our faculty members who took the time to meet face-to-face with these talented high school students while they were on campus.
Submitted by Cindy Kelley ck116@evansville.edu
Contribute to AceNotes
To have content considered for inclusion in AceNotes, please submit a Marketing Request Form. Deadline for submission to AceNotes is 10:00 a.m. on the requested date of publication. Only articles concerning UE related/sponsored activities will be accepted. Articles submitted to AceNotes may be edited for length and clarity. Submitter contact information is at the end of each article.