| | |
| --- | --- |
| AceNotes Today | Wednesday, March 1, 2017 |
Communication, Gender, and Violence: Stereotypes and Realities
Counseling services will be hosting Mahri Irvine for an interactive workshop on March 1 from 5:00-6:00 p.m. in Eykamp Hall, Rooms 253-255, Ridgway University Center. This presentation will encourage participants to critically think about rape myths and realities, as related to beliefs about gender and communication styles. Participants will learn about myths and facts about sexual violence and discuss how privilege, power, and vulnerability related to gender-based violence.
Submitted by Jamie Adams-Kemper ja200@evansville.edu
EVPS director to speak at Andiron Lecture
Cynthia Sturgis Landrum, CEO and director of the Evansville-Vanderburgh Public Library, will be the speaker for the Andiron Lecture on March 1. The lecture will begin at 4:00 p.m., in Eykamp Hall, Room 252, in Ridgway University Center on UE's campus. All of the Andiron lectures are free and open to the public.
Landrum's topic will be "Toward a New Nostalgia for Public Libraries: Engaging, Inquiring, and Empowering." During her talk, she will discuss the roots of library nostalgia. When and how was our nostalgia for libraries lost? Most importantly, how can we rediscover it for the greater good of our communities?
Landrum earned her Bachelor of Arts in linguistics at Northwestern University, her master's degree in library and information science at the University of Southern Mississippi, and is a doctoral candidate in managerial leadership for the information professions at Simmons College.
She is councilor-at-large on the Council of the American Library Association, past president of the Arizona Library Association and a former board member of the Institute for Science Education and Technology. Her professional mission is to empower individuals to reach their highest potential so they can impact and transform communities. As one example of this commitment, she tutors K-12 students from Chicago Public Schools, providing homework assistance with a primary focus on reading.
The Andiron Lecture series is sponsored by the William L. Ridgway College of Arts and Sciences and supported by a generous gift from Donald B. Korb. For more information, call 812-488-1070 or 812-488-2589.
Men's MVC pre-game pep rally today
Going to the MVC tourney in St. Louis? Join us for a pre-game gathering in the lobby of the Hotel Lumiere at 3:30 p.m., TODAY, prior to the 6:00 p.m. game vs. Indiana State. Alumni, faculty, staff, students and other Aces fans are all welcome. Questions? Contact alumni@evansville.edu or ext. 2586.
Submitted by Sylvia DeVault sy5@evansville.edu
SAB presents Moana tonight
SAB will be showing Disney's Moana today at 7:00 p.m. in Eykamp Hall, Room 251, Ridgway University Center! Popcorn will be available, and a movie poster will be given out.
Aces face Indiana State on Thursday
A pregame pep rally will take place on Thursday prior to the University of Evansville Men's Basketball team facing Indiana State in the Missouri Valley Conference Tournament.
The Aces and Sycamores take to the floor for a 6:00 p.m. game at the Scottrade Center. Prior to the game, the pep rally will be held at the team hotel, which is the Lumiere Place. It is located at 999 N. 2nd Street in St. Louis.
Tickets for the game are still available online at www.Ticketmaster.com. The UE sections are 112, 114, and 115.
All fans are welcome to the event, which runs from 3:30 p.m. through 5:30 p.m. with the team sendoff taking place at 4:00 p.m. The event is free while parking at the hotel is $10 and has convenient access to Metro Link.
Among the features at the pep rally will be door prizes and a cash bar along with the exciting team sendoff as they depart for the game.
Please contact the Office of Alumni and Parent Relations at 812-488-2586 or e-mail alumni@evansville.edu for more information.
Saint Louis trip
International Club will taking a trip to Saint Louis. The group will leave on Saturday, March 25, and return Sunday, March 26. Activities will include visiting the city museum, downtown/riverfront, the Arch, Union Station, the mall, the zoo, Forest Park, and the science center. The group will also go to Sports Fusion where they will play laser tag, dodge ball, and more.
The cost to sign up for the trip includes these activities plus transportation and hotel.
You can pay $25 to reserve your place on the trip at tables in Ridgway University Center on Thursday, March 2, from 11:00 a.m.-2:00 p.m., and 5:00-7:00 p.m. The $25 is non-refundable. If you reserve your spot on Thursday, you only have to pay another $25 after spring break making the total cost for the trip $50. If you don't pay Thursday but wait until after spring break to pay, then the price will be $60. If you would like to get the $50 deal, you must sign-up this Thursday. The fee for the trip includes any costs for activities plus transportation and hotel.
If you have any questions, please to e-mail Sydney Winstead at sw228@evansville.edu
Submitted by Sydney Winstead sw228@evansville.edu
L2L Conference: SPARK - register today!
Every spring, the University of Evansville Leadership Academy sponsors the L2L Leadership Conference. (L2L stands for Learn to Lead. Love to Lead. Live to Lead.) This year's L2L conference is set for Saturday, March 25, from 9:00 a.m.-3:00 p.m., in Eykamp Hall, Room 251, Ridgway University Center. Check-in will begin at 8:00 a.m.
Early registration for the conference ends March 3, and final registration is March 14. There is a $10 registration fee that will be refunded to UE students at the event. Use this registration form to sign up to attend the event.
The theme of this year's conference is "SPARK: Using Leadership to Ignite a Change in the World." Speakers at the conference will include Mari Plikuhn, UE associate professor sociology, Kevin Snyder from Campuspeak, and Kristina Arnold from WKU.
If you have any questions, please feel free to contact Kendall Turner at kt131@evansville.edu.
Submitted by Kendall Turner kt131@evansville.edu
PSAA soup fundraiser set for Thursday
The UE Professional Staff and Administrators Association (PSAA) is holding its annual soup fundraiser on Thursday, March 2, from 11:00 a.m. to 1:00 p.m. in Bernhardt Atrium, Schroeder School of Business Building. The meal includes a bowl of soup, dessert, and water...all for only $5. There will be several varieties of homemade soup and desserts to choose from. Seating will be available for you to enjoy your lunch or use to-go containers and trays for easy pick-up for the entire department or your roommates.
Proceeds help support scholarships for UE students.
Submitted by Theresa Hoffherr mh270@evansville.edu
Summer assistant applications available
Applications for residence life's summer assistant position are now available at the residence life office.
If you would like more information visit the info tables in Ridgway University Center lobby at 11:00 a.m. on Tuesday, Wednesday, and Thursday of this week. Information sessions will take place in Room 126, Hyde Hall, on February 28 and March 1 at 7:00 p.m.
Please contact Justin Coffey (jc534@evansville.edu) and Melinda Daniels (md212@evansville.edu) with questions.
Submitted by Justin Coffey jc534@evansville.edu
Harlaxton College faculty site visits
Harlaxton College and the Office of Academic Affairs at the University of Evansville are pleased to announce a new faculty site visit program.
Each year, two faculty members will be selected to visit the manor for three nights and four days while attending the Harlaxton Partners Conference. This conference annually gathers faculty and administrators from UE and its Harlaxton partners with the goal of sharing how Harlaxton works, discussing what's new in the academic and student development programs, and expressing our vision for the future. It is also an opportunity for fellowship and field trips, making new friends, and experiencing the manor in all its splendor and glory.
The main goal of the site visit program is to cultivate a familiarity with, and knowledge of, Harlaxton in UE faculty who have not previously lived and taught here. This is intended to lead to at least three other significant outcomes: a facility for communicating about Harlaxton with colleagues, students, and prospective students; the capacity to make a connection between the faculty member's teaching, and research interests and Harlaxton; and, finally, the substance and perspective for submitting an application to teach in residence at Harlaxton in the future.
Faculty who have not taught at Harlaxton will be given first priority.
Preference will be given to those faculty who demonstrate most convincingly that teaching at Harlaxton:
• will benefit their teaching, career trajectory and students at UE.
• will contribute positively to the curricular, artistic, and intellectual fabric of Harlaxton.
• will be broadly appealing to students at UE and partner colleges and universities.
Faculty members who have taught at Harlaxton within the last eight years and/or faculty members who are scheduled to teach at Harlaxton in the next two years are ineligible.
To apply, please submit a completed application and a CV to facultysitevisits@harlaxton.ac.uk. To be considered for the summer of 2017, applications must be submitted via e-mail no later than April 15.
Please direct any questions to Gerald Seaman, principal, at gseaman@harlaxton.ac.uk.
Submitted by Holly Carter hc110@evansville.edu
File the 2017-18 FAFSA by March 10 at www.fafsa.gov
Continuing students should file the 2017-18 FAFSA (free application for federal student aid) to apply for federal, state, and university need-based financial aid, including all federal student loans. UE's FAFSA code is 001795.
Submitting by March 10 is essential for Indiana residents, and highly recommended for all.
Questions regarding the FAFSA should be directed to the Office of Financial Aid (Olmsted Administration Hall, Room 116) at 812-488-2364, 800-424-8634, or financialaid@evansville.edu.
IRS data retrieval tool
The IRS data retrieval tool transfers parent and/or student IRS tax information into the FAFSA. The 2017-18 FAFSA uses 2015 federal tax data just as the 2016-17 FAFSA did, so there is no reason to wait to submit.
CECS Engineers Week Banquet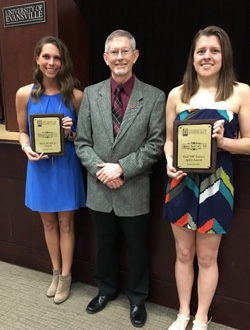 The College of Engineering and Computer Science held its annual Engineers Week Banquet on February 22.
Justin Bennett, Director of Engineering at Ciholas, Inc., and a UE alumnus, was the keynote speaker. Bennett received a BS in Computer Engineering and a minor in Mathematics at UE in 2000.
He spoke to the engineering faculty, staff, students and special guests about the development of algorithms that use data from Ultra-Wide Band (UWB) transceivers to provide highly accurate, low-latency, real-time location data.
Several engineering majors were announced as new inductees in the Tau Delta Kappa engineering honor society by Jared Fulcher, assistant professor of mechanical engineering.
Two of the engineering students were recognized by Brian Swenty, interim dean of the college. Brittani Carroll, a junior electrical engineering major received the James M. Hall, Jr. Award, and Alexis Sorrell, a junior civil engineering major received the Paul "PR" Brown Spirit Award.
The James M. Hall Memorial Award is presented annually to a student of the junior engineering class who is considered by the faculty to be the most outstanding based on scholastic achievement, extra-curricular activities, character, responsibility, attitude, and potential for professional growth.
The award is made possible through a generous donation made by Mr. Hall and his wife, Madeline.
The Paul "PR" Brown Spirit Award is presented annually to an engineering major who has been nominated by the faculty and has completed at least four semesters in good academic standing, who is an encouragement and help to his/her fellow students, and who demonstrates leadership in fostering cooperation and camaraderie among the engineering students.
The Engineers Week Banquet was hosted by the UE student chapter of the Society of Women Engineers and sponsored in part by the CECS Dean's Advisory Council and the local chapter of the Institute of Electrical and Electronics Engineers.
Tkachenko named MVC Women's Tennis Athlete of the Week
ST. LOUIS – For the first time in her career at the University of Evansville, women's tennis freshman Diana Tkachenko was named the Missouri Valley Conference Women's Tennis Athlete of the Week.
"Diana has been on an absolute tear," Purple Aces head coach Jayson Wiseman said. "Ever since she's gotten to campus she's been playing exceptionally well. Since the start of the school year she is 17-3 with some very impressive wins to her name. She's very deserving of being honored by the MVC and I think it's probably just the first of many in her career here at UE."
Tkachenko put together another undefeated weekend for the Purple Aces women's tennis team, including a win at top singles. Against Big Ten foe Iowa, Tkachenko was able to grind out the win at #2 singles, defeating the Hawkeyes Zoe Douglas, 6-7, 6-3, 10-5. She worked with teammate Nicoli Pereira in doubles, battling to a 3-3 mark in an unfinished match in the second flight against Kristen Thoms and Adorabol Huckleby.
On Sunday at UIC, she moved up to the top flight in singles and immediately delivered. She took down Oana Manole, 6-1, 6-1. In #3 doubles, she worked with Pereira once again to earn a 6-4 victory over Georgie Sanders and Stefana Vasic.
Tkachenko and the Aces are in action at Cincinnati this weekend.
Chandra Parr named a candidate for Senior CLASS Award
NASHVILLE, Tenn. – Thirty of the top NCAA® softball student-athletes who excel both on and off the field were selected as candidates today for the 2017 Senior CLASS Award® in collegiate softball.
To be eligible for the award, a student-athlete must be classified as an NCAA Division I senior and have notable achievements in four areas of excellence: community, classroom, character and competition. The complete list of candidates follows this release.
University of Evansville senior Chandra Parr is one of the 30 finalists.
"I am excited for Chandra to receive this recognition, I feel that she embodies perfectly what the Senior CLASS Award is all about," Evansville head coach Mat Mundell said. "She is a tremendous young woman who has been a leader for our program both on and off the diamond."
An acronym for Celebrating Loyalty and Achievement for Staying in School ®, the Senior CLASS Award focuses on the total student-athlete and encourages students to use their platform in athletics to make a positive impact as leaders in their communities.
The 30 candidates will be narrowed to 10 finalists later in the season, and those 10 names will be placed on the official ballot. Ballots will be distributed through a nationwide voting system to media, coaches and fans, who will select one candidate who best exemplifies excellence in the four Cs of community, classroom, character and competition.
The Senior CLASS Award winner will be announced during the 2017 Women's College World Series®.
For more information on all the candidates, visit seniorCLASSaward.com.
Softball Candidates
Ali Aguilar, Washington Sydney Littlejohn, Alabama
Maryssa Becker, Louisville Sam Macken, Minnesota
Dylan Christensen, DePaul Elizabeth McCarthy, Longwood
Christina Clermont, Long Beach Lauren Moore, UNCW
Kasey Cooper, Auburn Madyson Moran, James Madison
Savannah Jo Dorsey, Ohio Taylor Nowlin, Grand Canyon
Hannah Flippen, Utah Jayne Oberforf, Marist
Taylor Glover, CSUN Chandra Parr, Evansville
Delanie Gourley, Florida Daphne Pofek, CSUN
Sara Groenewegen, Minnesota Alex Powers, Florida State
Kylee Hanson, Florida Atlantic Delaney Spaulding, UCLA
Shaye Harre, Southern Illinois Kristen Turner, Iona
MJ Knighten, Nebraska Brittney Vansway, Utah Valley
Vicky Lattanzio, Lehigh Camree Wartman, Grand Canyon
Brittany Lewis, Stephen F. Austin Morgan Zerkle, Marshall
Jaylon Brown and Dru Smith earn MVC accolades
Jaylon Brown and Dru Smith earned Missouri Valley Conference honors on Tuesday in an announcement by the league.
Brown earned a spot on the All-Conference Second Team while Smith garnered All-Freshman honors.
"It is good for our program to have these guys recognized by the MVC," head coach Marty Simmons said. "They are both well-deserving of the honors. Jaylon has been great for us all year long while Dru has done an excellent job of adjusting to the college game."
Brown finished as the top scorer in the MVC with 20.6 points per game. He has hit double figures in all but one of UE's 31 games this season. He also led the league with 36.6 minutes per game and was tied with teammate Ryan Taylor, hitting 86% of his free throws. Brown is also on one of the top scoring streaks
Against one of the top teams in the conference and one of the best atmospheres in the nation, freshman Dru Smith was on fire last Tuesday at Wichita State. Smith connected on 5 of his 7 shots from outside while finishing with a career-high 19 points against the Shockers. A tenacious defender, he has tallied 21 steals while blocking 11 shots. The freshman has done an excellent job of taking care of the ball, posting 76 assists on the season against just 31 turnovers.
Brown, Smith, and the rest of the Purple Aces are ready to take on Indiana State on Thursday at 6:00 p.m. in the opening game of Arch Madness.

Mater Dei places first at High School Changemaker Challenge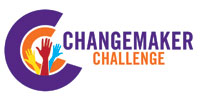 Congratulations to all 12 regional teams who participated in last week's High School Changemaker Challenge. They all worked hard, presented great ideas to improve our community, and we'd love to welcome every one of them to UE! The top four finishers were:
1st place: Mater Dei
2nd Place: Jasper
3rd Place: Gibson Southern
4th Place: Central
Thank you to our faculty members who took the time to meet face-to-face with these talented high school students while they were on campus.
Submitted by Cindy Kelley ck116@evansville.edu
Heather Cook receives March Employee Excellence Award
We are excited to announce that the March 2017 Employee Excellence Award recipient is Heather Cook, senior admission counselor. Heather goes above and beyond what her duties require and this is why she is so successful in recruiting prospective students to the University.
Heather always presents herself with a smile and her dedication to the University of Evansville is obvious. She is a true advocate for each prospective student, and she reaches across all departments throughout campus to ensure every family enjoys and gets the most out of their visit to Evansville. Her colleagues commend Heather for her positive attitude and passion for building the future classes of UE.
Congratulations to Heather!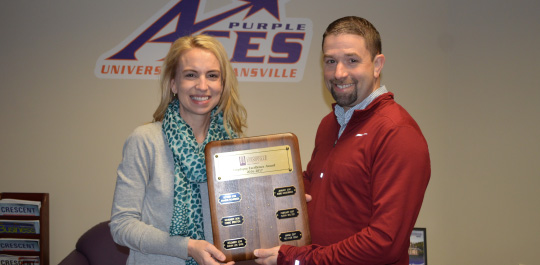 Maass presents research at International Studies Association
Richard W. Maass, assistant professor of Political Science, presented research on two panels on Saturday, February 25, at the annual conference of the International Studies Association.
One of the papers, "Salami Tactics and the Future of US-Russian Relations," was previously an Andiron lecture at UE. The other, "Testing Hypotheses on Great Power Annexation," utilizes an original dataset constructed in part with the help of a UE ARSAF grant.
UE Community members nominated for Leadership Evansville Honors
Several University of Evansville faculty members and administrators and two of the University's programs have been nominated for this year's Leadership Evansville's Celebration of Leadership honors. Celebration of Leadership recognizes individuals and groups who have positively impacted the Evansville community in the categories of the arts, community and neighborhood, education, environment, government and public services, and/or health and social service.
Carol Dallinger, UE professor of music and coordinator of the Suzuki Violin Program, has been nominated in the arts category. Dallinger established the Suzuki Violin Program at UE 44 years ago. She is principal second violinist in the Evansville Philharmonic orchestra, and she has performed solo recitals in England, Austria, and Italy. Read her biography on the UE website to find out more about Dallinger.
UE vice president of marketing and communications Don Jones was nominated in the health and social services category. Prior to UE, he was vice president of marketing for MSW Research, which counts Disney, P&G, L'Oreal, and Kraft among its clients. He has served as senior managing consultant for IBM, senior vice president of global product management at The ARS Group, and director of marketing at St. Mary's Medical Center. Find out more about Jones by reading his biography on UE's website.
Jones also represents the Zagster Bike Share program which has been nominated in the environment category. Jones is president of the Evansville Trails Coalition. You can learn more about the bike share program on the Zagster website.
Erin Lewis, program director for the institute for Global Enterprise at UE, has been nominated in the education category. She received the nomination for her work with Global Enterprise's Global Assistance Project and Changemaker program. Her strong work ethic and abilities have helped both programs improve and grow in a short amount of time. Find out more about Lewis by reading her profile on the UE website.
Michael Roscoe received a nomination in the health and social service category. Roscoe is founding director and chair of UE's Department of Physician Assistant Science, the first program of its kind in the area. He has taken on the responsibility of obtaining accreditation for the program, and it has already been granted accreditation-provisional status by the ARC-PA. Roscoe also serves as an assistant professor of physician assistant science at UE. You can read more about Roscoe in this article in the news section of the UE website.
UE assistant director of gift planning Cathy Renner has been nominated in the community and neighborhood category. Renner is involved in the Rotary Club of Evansville, specifically with its annual Santa Run. She has guided three successful runs, and proceeds from each funded community programs. She is a member of Tri Kappa, a philanthropic organization in Indiana that promotes charity, culture, and education. Renner also devotes a great deal of time to Trinity United Methodist Church.
The University of Evansville's Global Assistance Project (GAP) program has been nominated as an outstanding education program. GAP opens doors for students and community leaders to work together to improve Evansville and the world. With such projects as the UE Cultural District to Growth Alliance of Greater Evansville and Mission Guatemala, GAP has improved the Evansville community by bringing a fresh perspective, an international awareness, and a desire to aid and assist wherever the projects lead. You can find out more about GAP on their web page.
One of GAP's projects, Scholars for Syria, has been nominated as a valuable education program. This group has many members from both the UE and local communities. Scholars for Syria enriches the Evansville community by sharing the Syrian culture through poetry readings, concerts, seminars, and speakers - including a presentation by the imam of the Islamic Center of Evansville and tropical talks by UE professors. Find more details about Scholars for Syria on their website.
Leadership Evansville will be honoring nominees during its Celebration of Leadership event at the Old National Events Plaza in downtown Evansville on Thursday, March 9. Doors open at 4:00 p.m., with a reception from 4:15–5:15 p.m. The ceremony begins at 5:30 p.m. and ends at 7:00 p.m.
University of Evansville campus community members and their families are welcome and encouraged to attend. The cost is $5 for students and children and $15 for adults. You can RSVP online at the Leadership Evansville website.
Contribute to AceNotes
To have content considered for inclusion in AceNotes, please submit a Marketing Request Form. Deadline for submission to AceNotes is 10:00 a.m. on the requested date of publication. Only articles concerning UE related/sponsored activities will be accepted. Articles submitted to AceNotes may be edited for length and clarity. Submitter contact information is at the end of each article.