| | |
| --- | --- |
| AceNotes Today | Tuesday, February 28, 2017 |
This Week in Music: University Symphony Orchestra
The University Symphony Orchestra will present a concert in Neu Chapel this evening, February 28, at 7:30 p.m. The group will be directed by Chun-Ming Chen. The program includes Scottish composer Thea Musgrave's Song of the Enchanter, in homage to Sibelius (1990) and Beethoven's Symphony No. 7. The concert is free and open to the public.
Submitted by James Sullivan js820@evansville.edu
Charlas: Carnaval - Argentina
Students of all levels of Spanish are invited to meet with Belén Alemán Mansilla, a Fulbright FLTA, to talk about Carnaval in Argentina. The next Charlas session is today, February 28, from 4:30-5:30 p.m. at Jazzman's in Ridgway University Center. It's a wonderful opportunity to interact informally in Spanish and to meet other students of Spanish. You can stay as little or as long as you want. Please contact Belén at ma360@evansville.edu if you have any questions. ¡Allá nos vemos! Hope to see you on Tuesday!
Submitted by María Belén Alemán Mansilla ma360@evansville.edu
Nerd Wars is TONIGHT!
Nerd Wars is a trivia-style contest consisting of multi-categorized questions answered by teams of UE students, faculty members, administrators, and staff members. Come see your friends and professors duke it out! The contest is tonight - February 28 - at 7:00 p.m. in Eykamp Hall, Ridgway University Center.
Spectators and participants may also enter in the ELFFAR (this is NOT a raffle, it's a game) for the chance to win gift cards to area restaurants, Bluetooth speakers, Bluetooth headsets, universal portable keyboard, portable chargers, fitness/sleep monitors, and more! ELFFAR tickets are 50 cents or three for $1. FREE Papa John's pizza, popcorn, and soda will be provided for everyone.
Submitted by Luke Steffe ls270@evansville.edu
Career Day today
Attend Career Day TODAY for access to over 100 employers. The event is from 11:00 a.m. – 2:00 p.m. in the Meeks Family Court in Carson Center. See registered employers in JobLink.
Aces face Indiana State on Thursday
A pregame pep rally will take place on Thursday prior to the University of Evansville Men's Basketball team facing Indiana State in the Missouri Valley Conference Tournament.
The Aces and Sycamores take to the floor for a 6:00 p.m. game at the Scottrade Center. Prior to the game, the pep rally will be held at the team hotel, which is the Lumiere Place. It is located at 999 N. 2nd Street in St. Louis.
Tickets for the game are still available online at www.Ticketmaster.com. The UE sections are 112, 114, and 115.
All fans are welcome to the event, which runs from 3:30 p.m. through 5:30 p.m. with the team sendoff taking place at 4:00 p.m. The event is free while parking at the hotel is $10 and has convenient access to Metro Link.
Among the features at the pep rally will be door prizes and a cash bar along with the exciting team sendoff as they depart for the game.
Please contact the Office of Alumni and Parent Relations at 812-488-2586 or e-mail alumni@evansville.edu for more information.
Ash Wednesday service and "ashes to go"
You are invited to come to Neu Chapel at 12:15 p.m. on Wednesday, March 1, for a brief Ash Wednesday service, including imposition of ashes. We will also provide "ashes to go" at 1:00 p.m. in Ridgway University Center.
Submitted by Dallas Gingles dg153@evansville.edu
Saint Louis trip
International Club will taking a trip to Saint Louis. The group will leave on Saturday, March 25, and return Sunday, March 26. Activities will include visiting the city museum, downtown/riverfront, the Arch, Union Station, the mall, the zoo, Forest Park, and the science center. The group will also go to Sports Fusion where they will play laser tag, dodge ball, and more.
The cost to sign up for the trip includes these activities plus transportation and hotel.
You can pay $25 to reserve your place on the trip at tables in Ridgway University Center on Thursday, March 2, from 11:00 a.m.-2:00 p.m., and 5:00-7:00 p.m. The $25 is non-refundable. If you reserve your spot on Thursday, you only have to pay another $25 after spring break making the total cost for the trip $50. If you don't pay Thursday but wait until after spring break to pay, then the price will be $60. If you would like to get the $50 deal, you must sign-up this Thursday. The fee for the trip includes any costs for activities plus transportation and hotel.
If you have any questions, please to e-mail Sydney Winstead at sw228@evansville.edu
Submitted by Sydney Winstead sw228@evansville.edu
I-House: Peru
This week's I-House presentation will be about Peru! Mayumi and Alvaro will be presenting. Mayumi is pursuing a global business degree and Alvaro is working on a business management degree. They both enjoy listening to music and Alvaro likes to play basketball. Their favorite part about UE is Ridgway University Center. Make sure to stop by this Wednesday to hear their presentation at 7:00 p.m., upstairs in Ridgway University Center.
Submitted by Cassie Peterson cp156@evansville.edu
Communication, Gender, and Violence: Stereotypes and Realities
Counseling services will be hosting Mahri Irvine for an interactive workshop on March 1 from 5:00-6:00 p.m. in Eykamp Hall, Rooms 253-255, Ridgway University Center. This presentation will encourage participants to critically think about rape myths and realities, as related to beliefs about gender and communication styles. Participants will learn about myths and facts about sexual violence and discuss how privilege, power, and vulnerability related to gender-based violence.
Submitted by Jamie Adams-Kemper ja200@evansville.edu
Hughes, Hale, and Powell Halls plan etiquette dinner
Hughes, Powell, and Hale Halls are hosting an etiquette dinner for hall residents! At this event you'll learn social and dining etiquette while you are served a catered meal. This event will take place March 23 from 5:00-6:30 p.m. in Eykamp Hall, Ridgway University Center. In order to reserve a spot for this event, you must RSVP and the deadline to reserve a spot is March 3. For more information, e-mail Stephanie Scholz at ss619@evansville.edu.
Submitted by Stephanie Scholz ss619@evansville.edu
PSAA soup fundraiser set for Thursday
The UE Professional Staff and Administrators Association (PSAA) is holding its annual soup fundraiser on Thursday, March 2, from 11:00 a.m. to 1:00 p.m. in Bernhardt Atrium, Schroeder School of Business Building. The meal includes a bowl of soup, dessert, and water...all for only $5. There will be several varieties of homemade soup and desserts to choose from. Seating will be available for you to enjoy your lunch or use to-go containers and trays for easy pick-up for the entire department or your roommates.
Proceeds help support scholarships for UE students.
Submitted by Theresa Hoffherr mh270@evansville.edu
MacLeod's book on Karl Kae Knecht to be launched at UE
University of Evansville professor of history James MacLeod will deliver an illustrated lecture and read from his newly released book, The Cartoons of Evansville's Karl Kae Knecht, at a book launch on Thursday, March 2. Sponsored by the Vanderburgh County Historical Society, MacLeod's lecture will start at 7:00 p.m. in Room 170 (Smythe Lecture Hall) in the Schroeder School of Business Building. The book will be for sale at the event and the author will be signing copies. This event is free and open to the public.
Knecht, editorial cartoonist for the Evansville Courier from 1906 to 1960, was synonymous with the city of Evansville, moving and amusing his readers with his creations. He mocked the Axis powers and kept local morale high during World War II, and commented daily on issues from the Great Depression to the Space Race. But he was much more than an artist, working tirelessly as a civic booster and campaigner for worthy causes of all kinds. He helped establish Evansville College and he was almost single handedly responsible for the establishment of Mesker Park Zoo. The book, which is illustrated with over 70 cartoons, tells the fascinating story of Knecht's life, places him in the context of the history of editorial cartooning, and analyzes his cartooning genius.
MacLeod was educated at the University of Edinburgh in Scotland. He taught history and British studies at Harlaxton College from 1994-1999. Since 1999 he has been a member of the history department at the University of Evansville. He teaches courses in European history and the two World Wars, and lectures frequently on these topics. He is the author of two other books: The Second Disruption, and Evansville in World War II as well as many other scholarly publications. In 2016 he wrote and co-produced a two-part documentary for WNIN, Evansville at War. MacLeod is an editorial cartoonist whose drawings appear in the Evansville Courier and Press and other newspapers.
For more information on the book reading, please call 812-488-2963.
Submitted by James MacLeod jm224@evansville.edu
EVPS director to speak at Andiron Lecture
Cynthia Sturgis Landrum, CEO and director of the Evansville-Vanderburgh Public Library, will be the speaker for the Andiron Lecture on March 1. The lecture will begin at 4:00 p.m., in Eykamp Hall, Room 252, in Ridgway University Center on UE's campus. All of the Andiron lectures are free and open to the public.
Landrum's topic will be "Toward a New Nostalgia for Public Libraries: Engaging, Inquiring, and Empowering." During her talk, she will discuss the roots of library nostalgia. When and how was our nostalgia for libraries lost? Most importantly, how can we rediscover it for the greater good of our communities?
Landrum earned her Bachelor of Arts in linguistics at Northwestern University, her master's degree in library and information science at the University of Southern Mississippi, and is a doctoral candidate in managerial leadership for the information professions at Simmons College.
She is councilor-at-large on the Council of the American Library Association, past president of the Arizona Library Association and a former board member of the Institute for Science Education and Technology. Her professional mission is to empower individuals to reach their highest potential so they can impact and transform communities. As one example of this commitment, she tutors K-12 students from Chicago Public Schools, providing homework assistance with a primary focus on reading.
The Andiron Lecture series is sponsored by the William L. Ridgway College of Arts and Sciences and supported by a generous gift from Donald B. Korb. For more information, call 812-488-1070 or 812-488-2589.
Moore Hall suite room requests
Interested in living in a Moore Hall four person suite for 2017-18? Then get a group together and fill out a Moore Hall suite request card in the residence life office this week. There are three suites in the basement of Moore Hall. Suites will be awarded based on the group's combined earned credit hours as of the end of the fall 2016 semester. Requests for the Moore Hall suites are due by 5:00 p.m., Friday, March 3.
Submitted by Brian Conner bc32@evansville.edu
Aces hold on for Senior Day victory over Illinois State
The University of Evansville Women's Basketball team got it done from the free throw line on Sunday afternoon, sinking 10 free throws over the final 78 seconds to hold on for a 60-56 victory over Illinois State at the Ford Center.
The victory was the third consecutive for the Aces, who have improved to 11-16 on the year with a 6-10 mark in Missouri Valley Conference play. Meanwhile, ISU dropped to 7-21 and 4-13, respectively.
After celebrating seniors Sara Dickey, Ashley Hawkins, Sasha Robinson, and Camary Williams with a special pre-game ceremony, it was Dickey and Williams who put the Aces off to a hot start. Williams recorded three steals in the opening quarter and Dickey sank a pair of threes to help the Aces grab a 16-7 lead after the first quarter.
Williams would end the game with three steals, giving her a school-record 109 for the season, which is the most ever for a UE player, bettering the mark of 108, which was set by Latasha Austin during the 2001-02 season.
"For Camary to break that record here today was pretty cool," UE head coach Matt Ruffing said. "I'm happy she was able to do it in front of the home fans. She got a lot of big rebounds for us today too. I'm happy we were able to send off our seniors the right way. We're building momentum, and hopefully we can continue that going into next weekend."
Williams ended the day with a double-double, scoring 12 points and pulling down 11 rebounds. Dickey led the Aces with 15 points, and both Kerri Gasper and Brooke Dossett boasted of double-figure scoring performances, racking up 11 and 10, respectively.
UE would continue to stretch the lead in the second quarter, taking a 30-17 advantage into the break. However, the Redbirds slowly started to inch back into the game, beginning with a 15-point third frame that saw the team cut the deficit to 10 at 42-32 to enter the final quarter.
The two teams would trade baskets to over the first five minutes of the fourth before layups from Frannie Corrigan and Brechelle Beachum preceded a Taylor Stewart triple to make it a 48-45 game with 2:55 left.
Robinson ended the UE drought with a layup on the other end, but Stewart responded in-kind with an old-fashioned three-point play to cut the deficit to two at 50-48.
From there, the game would be decided at the line, with Gasper hitting a pair. Williams would sink four in a row, bookending a Katrina Beck layup with trips to the line. ISU kept fighting as Beck hit two freebies to cut the lead back to two at 56-54 with just under 16 seconds left.
Beck ended the day with a game-best 18 points, and Stewart added another 14.
A pair of Dossett free throws stretched the lead back to four, but Beachum, who played the role of hero in ISU's come-from-behind win over UE in Normal, responded with a basket on the other end to make it 58-56.
Macie Lively, a freshman out of Tipton, Indiana, effectively iced the game with two more free throws with 7.2 seconds left.
The contest was the final game for the Aces at home this season, and it marked the last for the team at the Ford Center as the women's basketball team will be moving to a newly-renovated Carson Center next season. UE will return to action with the final week of regular season action before playing in the Missouri Valley Conference tournament next month in Moline, Illinois.
Aces drop series finale at Southern Miss
Southern Miss rode big fifth and sixth innings to victory on Sunday afternoon as the University of Evansville Baseball team was dealt its first sweep of the 2017 season, falling 18-2 in the series finale at Pete Taylor Park.
With the loss, the Aces drop to 1-6 on the year, and Southern Miss improves to 6-1.
After Trey Hair put the Aces ahead early, homering in the top of the first inning, UE starter Justin Hayden didn't allow a hit until the third, when LeeMarcus Boyd led off the frame with a single. He'd eventually work his way to third via Dylan Bordeax being struck by an errant pitch and a Mason Irby sacrifice bunt before eventually scoring on a Hunter Slater groundout to level the contest.
UE would fall behind in the fifth when six straight singles plated four runs for USM. An error, groundout and single resulted in two more to send the Aces into the sixth facing a 7-1 deficit.
In the sixth, 15 Golden Eagles walked to the plate as the Aces surrendered 11 runs on eight hits to fall behind 18-1.
A Korbin Williams homer reclaimed one of the runs in the ensuing half-inning.
Williams was the only UE hitter with multiple hits on the day. The Newburgh native was 2-for-4 at the plate, but the Aces were out-hit overall 18-18.
Taylor Braley and Casey Maack led the way for the hosts as each went 3-for-5 with a pair of scores and combined to knock in six more. Bordeaux and Irby each had two hits with three RBI, and Matthew Guidry enjoyed a 2-for-2 outing at the plate.
Hayden (1-1) earned the loss after giving up six runs on seven hits in 4.1 innings of work, and Stevie Powers (2-0) picked up the victory for USM.
UE will return to action next weekend with a home series against Milwaukee at Charles H. Braun Stadium.
UE welcomes new instructional technologist
The Center for Adult Education would like to welcome Leslie Barton to the University of Evansville. Leslie steps into the role of instructional technologist and brings a wealth of knowledge to our campus. Leslie is a University of Southern Indiana graduate with a B.A. in English and holds a Masters of Library Science from Indiana University. She most recently served as a campus librarian for Harrison College and also an adjunct faculty member in information literacy. Leslie's expertise include creation of online courses, training and facilitating students in learning management systems, and developing online supplements in conjunction with faculty to support face-to-face courses. She can be reached by e-mail at lb261@evansville.edu.
Submitted by Lindsay Roberts lr155@evansville.edu
Venturing Crew spring break trip: sign up today!
Join Venturing Crew for spring break! From March 4-10, camp on the beach in North Carolina! For only $150, Venturing Crew members will have a fantastic week boogie boarding down sand dunes, kayaking, visiting lighthouses and the Wright Brothers' historical landmarks, and eating seafood on the East Coast. If this is how you want to spend spring break, sign up TODAY at Ridgway University Center lobby tables from 11:00 a.m.-2:00 p.m., and 5:00-7:00 p.m.
If you have any questions or would like more information, please e-mail venturing@evansville.edu.
Submitted by Andrea Onyett ao64@evansville.edu
ARSAF grants for faculty applications due April 3
The UE Alumni Association is once again offering Alumni Research and Scholarly Activity Fellowships (ARSAF) to faculty. The application deadline for 2017-18 academic year grants is Monday, April 3. Find the online application and more details by going to AceLink and clicking on Areas, and selecting Academic Affairs. The application form can be found on that page under the category of Online Forms.
Questions? Contact alumni@evansville.edu or ext. 2586.
Submitted by Sylvia DeVault sy5@evansville.edu
MPH program now accepting applications
The Master of Public Health program is now accepting applications for fall admission. The program is designed to provide students with an in-depth understanding of public health and health policy. If you are interested in applying or have questions, contact Payal Patel-Dovlatabadi, assistant professor of public health, at pp42@evansville.edu.
Submitted by Payal Patel-Dovlatabadi pp42@evansville.edu
OTM Awards sponsored by RSA!
Do you have friends who do really awesome things for which you think they should be recognized? Do you want this recognition to go beyond a simple thanks with an accompanying pat on the back? The join Resident Students Association's initiative and create an OTM account! What is an OTM account? It stands for Of the Month and it's a really simple and fun way to write a little blurb (600 words or less) about someone who's doing terrific work in their organization, in class, or just in life.
First, go to otms.nrhh.org and create an account. There are several categories to choose from and you can collaborate with friends to write your OTM. You'll be in competition with other writers on campus, and have the opportunity to win a rockin' prize! Sign up for an OTM account today!
Submitted by Justin Coffey jc534@evansville.edu
Spain, Sweden, Morocco, Thailand - study abroad programs still open for fall!
On the fence about studying abroad this fall? Programs are closing fast, but some locations still have openings! We still have applications open for a variety of countries, including Spain, Sweden, Morocco, Thailand, Germany, Austria, South Korea, China, and Mexico.
Our Study Abroad Exchange Program, ISEP, has just compiled a list of universities that are accepting applications later than the February 15 deadline. If you would like to apply to any of the programs listed, please contact Amara Stuehling (as760@evansville.edu) immediately to get started on the application. View the programs here.
If you are interested in studying abroad another semester, set up a meeting in the study abroad office to learn more about programs we offer. Contact Amara Stuehling (as760@evansville.edu) with questions.
Submitted by Amara Stuehling as760@evansville.edu
Rocket launch success for Project Ace!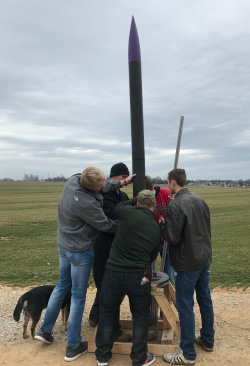 The University of Evansville's Project Ace team of engineering students successfully completed three test flights of their high-powered rocket this past weekend in Elizabethtown, Kentucky. The team will compete nationally this April, in Huntsville, Alabama, as part of NASA's University Student Launch Initiative.
The rocket is designed to reach an altitude of exactly one mile and return safely to the ground while protecting a fragile material. Project Ace's test flight data show the rocket reaching within 15 feet of the targeted 5,280 foot altitude. The team also successfully carried an egg on board, bringing it back to ground safely.
Seven seniors in mechanical engineering are leading the team, which also includes freshmen, sophomores, and juniors.
Videos of the launch will be available soon on the UE mechanical engineering rocket team web page.
Submitted by Jessica Lofton jb363@evansville.edu
SWE selling Gold Value Books to raise money for conference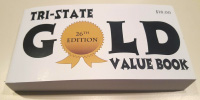 The Society of Women Engineers is selling Gold Value Books (almost 200 coupons!) to raise money to attend the national conference. The books are $18, and the coupons are good until the end of 2017. The book will pay for itself after two or three uses! Coupons include buy one, get one free offers for Showplace Cinemas, Skyzone, Los Bravos, and more.
Please contact the SWE officers at uofeswe@gmail.com if you would to buy a coupon book.
Submitted by Jessica Lofton jb363@evansville.edu
Residence hall Recyclemania pledge contest ends today
The Recyclemania pledge contest between residence halls ends at 4:00 p.m. today. Students can sign a pledge stating that they will learn about the recycling program at UE and act to recycle more in the next month. The residence hall with the highest percent of pledges wins, and students who signed a pledge from the winning hall will have their names entered into a drawing for a Smart Strip Energy Saving Surge Protector. Pledge forms are available in each residence hall. There is one entry allowed per resident.
See the UE Department of Environmental Management Facebook page for more information.
Submitted by Jan Schrader js652@evansville.edu
File the 2017-18 FAFSA by March 10 at www.fafsa.gov
Continuing students should file the 2017-18 FAFSA (free application for federal student aid) to apply for federal, state, and university need-based financial aid, including all federal student loans. UE's FAFSA code is 001795.
Submitting by March 10 is essential for Indiana residents, and highly recommended for all.
Questions regarding the FAFSA should be directed to the Office of Financial Aid (Olmsted Administration Hall, Room 116) at 812-488-2364, 800-424-8634, or financialaid@evansville.edu.
IRS data retrieval tool
The IRS data retrieval tool transfers parent and/or student IRS tax information into the FAFSA. The 2017-18 FAFSA uses 2015 federal tax data just as the 2016-17 FAFSA did, so there is no reason to wait to submit.
Mater Dei places first at High School Changemaker Challenge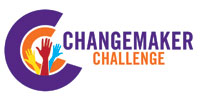 Congratulations to all 12 regional teams who participated in last week's High School Changemaker Challenge. They all worked hard, presented great ideas to improve our community, and we'd love to welcome every one of them to UE! The top four finishers were:
1st place: Mater Dei
2nd Place: Jasper
3rd Place: Gibson Southern
4th Place: Central
Thank you to our faculty members who took the time to meet face-to-face with these talented high school students while they were on campus.
Submitted by Cindy Kelley ck116@evansville.edu
Maass presents research at International Studies Association
Richard W. Maass, assistant professor of Political Science, presented research on two panels on Saturday, February 25, at the annual conference of the International Studies Association.
One of the papers, "Salami Tactics and the Future of US-Russian Relations," was previously an Andiron lecture at UE. The other, "Testing Hypotheses on Great Power Annexation," utilizes an original dataset constructed in part with the help of a UE ARSAF grant.
Faculty, alumni, and sports residents work at MLB spring training
University of Evansville and ProRehab sports physical therapy residents and faculty members recently performed preseason screenings of the Milwaukee Brewers and St. Louis Cardinals Major League Baseball teams.
This is the fourth year UE/ProRehab residents have participated in the injury prevention system utilized by the Brewers and the first year with the Cardinals. The screening involves specific tests and an injury risk algorithm developed and researched by Phil Plisky, associate professor of physical therapy, and Kyle Kiesel, professor and chair. This injury prevention model is used by a wide variety of high school, college and professional sports teams as well as the US Military.
The team working with the Brewers in Arizona was led by Plisky '98, and included UE alumni Kyle Matsel '11, Allison Weaver '15, Katie Whetstone '12, and Jenna Gourlay (2015 residency) as well as current sports residents Nathan Denning, Rachel Patton '16 and Alyssa Waninger '16.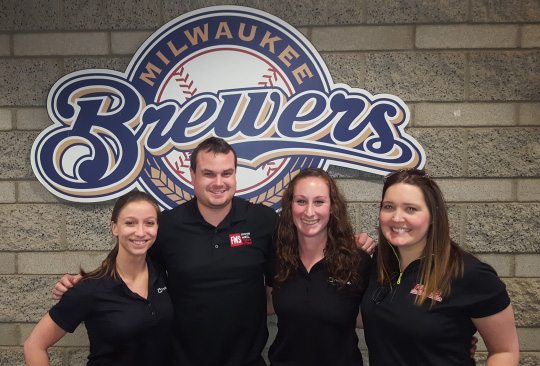 The team working with Cardinals in Florida was led by UE alum and former PT faculty member Robert Butler '09 and included Brian Joyce '12, Frances Matsel '10, Danielle Honnette (2016 residency).
Submitted by Jennifer Simon js698@evansville.edu
Contribute to AceNotes
To have content considered for inclusion in AceNotes, please submit a Marketing Request Form. Deadline for submission to AceNotes is 10:00 a.m. on the requested date of publication. Only articles concerning UE related/sponsored activities will be accepted. Articles submitted to AceNotes may be edited for length and clarity. Submitter contact information is at the end of each article.