| | |
| --- | --- |
| AceNotes Today | Monday, February 27, 2017 |
I-House: Peru
This week's I-House presentation will be about Peru! Mayumi and Alvaro will be presenting. Mayumi is pursuing a global business degree and Alvaro is working on a business management degree. They both enjoy listening to music and Alvaro likes to play basketball. Their favorite part about UE is Ridgway University Center. Make sure to stop by this Wednesday to hear their presentation at 7:00 p.m., upstairs in Ridgway University Center.
Submitted by Cassie Peterson cp156@evansville.edu
Purple Aces draw Indiana State in Arch Madness opening game
For the fifth time in six years, the University of Evansville Men's Basketball team will face its final regular season opponent at Arch Madness as the Purple Aces will face Indiana State on Thursday.
Evansville clinched the #8 seed and will face the 9th-seeded Sycamores at 6:00 p.m. Thursday on the Missouri Valley Conference TV Network. It is also the second year in a row that UE will face Indiana State in the MVC Tournament. Last year, the Aces earned a 68-42 victory over ISU in the semifinals.
The squads split a pair of meetings this season with the games being decided by just three points. Indiana State took an 85-84 overtime win in Terre Haute on February 1 while Evansville held strong on its home court on Saturday, hanging on for a 65-63 win.
This year's tournament is the second time the Aces have drawn the #8 seed. In 2007, UE faced #9 Drake, falling by a final of 82-68. Evansville and Indiana State have met four times in Arch Madness with the teams splitting the four games.
This Week in Music: University Symphony Orchestra
The University Symphony Orchestra will present a concert in Neu Chapel this evening, February 28, at 7:30 p.m. The group will be directed by Chun-Ming Chen. The program includes Scottish composer Thea Musgrave's Song of the Enchanter, in homage to Sibelius (1990) and Beethoven's Symphony No. 7. The concert is free and open to the public.
Submitted by James Sullivan js820@evansville.edu
Charlas: Carnaval - Argentina
Students of all levels of Spanish are invited to meet with Belén Alemán Mansilla, a Fulbright FLTA, to talk about Carnaval in Argentina. The next Charlas session is today, February 28, from 4:30-5:30 p.m. at Jazzman's in Ridgway University Center. It's a wonderful opportunity to interact informally in Spanish and to meet other students of Spanish. You can stay as little or as long as you want. Please contact Belén at ma360@evansville.edu if you have any questions. ¡Allá nos vemos! Hope to see you on Tuesday!
Submitted by María Belén Alemán Mansilla ma360@evansville.edu
Nerd Wars: the intellectual battle you don't want to miss!
Nerd Wars is a trivia-style contest consisting of multi-categorized questions answered by teams of UE students, faculty members, administrators, and staff members. Come see your friends and professors duke it out! The contest, held on February 28, begins at 7:00 p.m. in Eykamp Hall, Ridgway University Center.
Spectators and participants may also enter in the ELFFAR (this is NOT a raffle, it's a game) for the chance to win gift cards to area restaurants, Bluetooth speakers, Bluetooth headsets, universal portable keyboard, portable chargers, fitness/sleep monitors, and more! ELFFAR tickets are 50 cents or three for $1. FREE Papa John's pizza, popcorn, and soda will be provided for everyone.
Submitted by Luke Steffe ls270@evansville.edu
Communication, Gender, and Violence: Stereotypes and Realities
Counseling services will be hosting Mahri Irvine for an interactive workshop on March 1 from 5:00-6:00 p.m. in Eykamp Hall, Rooms 253-255, Ridgway University Center. This presentation will encourage participants to critically think about rape myths and realities, as related to beliefs about gender and communication styles. Participants will learn about myths and facts about sexual violence and discuss how privilege, power, and vulnerability related to gender-based violence.
Submitted by Jamie Adams-Kemper ja200@evansville.edu
Hughes, Hale, and Powell Halls plan etiquette dinner
Hughes, Powell, and Hale Halls are hosting an etiquette dinner for hall residents! At this event you'll learn social and dining etiquette while you are served a catered meal. This event will take place March 23 from 5:00-6:30 p.m. in Eykamp Hall, Ridgway University Center. In order to reserve a spot for this event, you must RSVP and the deadline to reserve a spot is March 3. For more information, e-mail Stephanie Scholz at ss619@evansville.edu.
Submitted by Stephanie Scholz ss619@evansville.edu
MacLeod's book on Karl Kae Knecht to be launched at UE
University of Evansville professor of history James MacLeod will deliver an illustrated lecture and read from his newly released book, The Cartoons of Evansville's Karl Kae Knecht, at a book launch on Thursday, March 2. Sponsored by the Vanderburgh County Historical Society, MacLeod's lecture will start at 7:00 p.m. in Room 170 (Smythe Lecture Hall) in the Schroeder School of Business Building. The book will be for sale at the event and the author will be signing copies. This event is free and open to the public.
Knecht, editorial cartoonist for the Evansville Courier from 1906 to 1960, was synonymous with the city of Evansville, moving and amusing his readers with his creations. He mocked the Axis powers and kept local morale high during World War II, and commented daily on issues from the Great Depression to the Space Race. But he was much more than an artist, working tirelessly as a civic booster and campaigner for worthy causes of all kinds. He helped establish Evansville College and he was almost single handedly responsible for the establishment of Mesker Park Zoo. The book, which is illustrated with over 70 cartoons, tells the fascinating story of Knecht's life, places him in the context of the history of editorial cartooning, and analyzes his cartooning genius.
MacLeod was educated at the University of Edinburgh in Scotland. He taught history and British studies at Harlaxton College from 1994-1999. Since 1999 he has been a member of the history department at the University of Evansville. He teaches courses in European history and the two World Wars, and lectures frequently on these topics. He is the author of two other books: The Second Disruption, and Evansville in World War II as well as many other scholarly publications. In 2016 he wrote and co-produced a two-part documentary for WNIN, Evansville at War. MacLeod is an editorial cartoonist whose drawings appear in the Evansville Courier and Press and other newspapers.
For more information on the book reading, please call 812-488-2963.
Submitted by James MacLeod jm224@evansville.edu
Career Day tomorrow
Attend Career Day for access to over 100 employers. The event is set for tomorrow, February 28, from 11:00 a.m.-2:00 p.m. in the Meeks Family Court in Carson Center. See registered employers in JobLink.
EVPS director to speak at Andiron Lecture
Cynthia Sturgis Landrum, CEO and director of the Evansville-Vanderburgh Public Library, will be the speaker for the Andiron Lecture on March 1. The lecture will begin at 4:00 p.m., in Eykamp Hall, Room 252, in Ridgway University Center on UE's campus. All of the Andiron lectures are free and open to the public.
Landrum's topic will be "Toward a New Nostalgia for Public Libraries: Engaging, Inquiring, and Empowering." During her talk, she will discuss the roots of library nostalgia. When and how was our nostalgia for libraries lost? Most importantly, how can we rediscover it for the greater good of our communities?
Landrum earned her Bachelor of Arts in linguistics at Northwestern University, her master's degree in library and information science at the University of Southern Mississippi, and is a doctoral candidate in managerial leadership for the information professions at Simmons College.
She is councilor-at-large on the Council of the American Library Association, past president of the Arizona Library Association and a former board member of the Institute for Science Education and Technology. Her professional mission is to empower individuals to reach their highest potential so they can impact and transform communities. As one example of this commitment, she tutors K-12 students from Chicago Public Schools, providing homework assistance with a primary focus on reading.
The Andiron Lecture series is sponsored by the William L. Ridgway College of Arts and Sciences and supported by a generous gift from Donald B. Korb. For more information, call 812-488-1070 or 812-488-2589.
Men's Basketball earns 65-63 Senior Day win against Indiana State
On his Senior Day, Jaylon Brown scored a game-high 24 points and hit the winning free throws to give the University of Evansville Men's Basketball team a 65-63 win over Indiana State in the home finale on Saturday at the Ford Center.
"It just worked out very well that Jaylon had the ball in his hand and was able to knock down those free throw on Senior Day," UE head coach Marty Simmons said. "I am proud of him and all of our guys, especially the seniors. At Evansville, our seniors have a chance to personally thank the fans and those who helped them and to do that after a win is even better."
Brown was 8-of-17 from the field and added seven more free throws to his season tally for the Purple Aces (15-16, 6-12 MVC). He also grabbed 8 rebounds, tying Christian Benzon for the team high. David Howard notched 14 points in the victory while grabbing 7 rebounds in 36 minutes of work. Solomon Hainna finished the game with a career-high of 8 points while grabbing four boards.
Three Sycamores (11-19, 5-13 MVC) notched double figures, led by T.J. Bell, who had 14 points. Jordan Barnes and Brenton Scott finished with 11 apiece.
David Howard recorded 11 points in the first half while Jaylon Brown had 10 to give Evansville a 30-25 lead at the break. After Indiana State took a 9-8 lead, the Aces went on a 14-2 run to open up their largest lead at 22-11 with 7:31 remaining in the first half.
Over the next four minutes, the Sycamores roared back when a layup from Everett Clemons got ISU within a pair at 25-23. The Aces were able to regroup and add to the lead in the final moments, heading to the break with a 30-25 advantage.
Indiana State opened up the second half on a 9-2 run as they went back on top at 34-32 when Clemons hit his third bucket of the game. The Aces responded with a 10-3 stretch as they went back up by five at 42-37 on a Dru Smith jumper. Evansville continued to hold the lead with six minutes remaining as a pivotal play saw UE block a breakaway by ISU and turn that into points via a Brown jumper.
The bucket by Brown put Evansville up 60-53. Over the next 2:35, Indiana State reeled off five in a row to get within a pair before a Howard free throw ended the stretch. T.J. Bell got ISU even closer with a jumper to make it a 61-60 game in favor of UE with two minutes remaining. Two free throws saw UE go back up by three entering the final minute of play. That is when a foul on a 3-point shot sent Jordan Barnes to the line to shoot three. He connected on each one, tying the score at 63-63 with 32 ticks on the clock.
With the shot clock winding down on UE's final possession, Jaylon Brown was fouled on a drive to the basket, sending him to the line where he drained both. That proved to be the winner as a Brenton Scott 3-point attempt at the buzzer fell short giving the Aces a 65-63 win.
Hitting 45.8% of their shots, the Aces outshot Indiana State, who finished the game at 36.1%. UE also finished with a 43-35 rebounding advantage.
Softball sweeps doubleheader at Tennessee State
Morgan Lambert notched five RBIs, including a grand slam, as the University of Evansville softball team swept both ends of a doubleheader at Tennessee State on Saturday. The Purple Aces took game one by a final of 8-1 before winning the second one, 9-4.
"I thought our defense played well in both games and our bats came alive today, which we have been waiting on," UE head coach Mat Mundell said. "We got some great base running, which really helped some of our scoring efforts."
With the sweep, the Aces improve their season record to 4-5. Lambert led the way with four hits in nine at-bats on the day. Morgan Florey pitched a complete game in the first contest and hit .600 on the day with three hits in five trips to the plate.
Tennessee State took a 1-0 lead in the bottom of the second inning and held that advantage until the top of the sixth. That is when the Aces got rolling. Michal Luckett and Brittany Hay each drew one-out walks. A single by Chandra Parr loaded up the bases to bring up Morgan Lambert, who came through with a grand slam to left center. It was the first homer for the Aces this year.
Four more runs crossed the plate in the seventh for the Aces as Hayli Scott singled to right to bring two runs home before Tess Hupe stole home. Later, Hay hit a sacrifice fly to left to bring home Michal Luckett. Morgan Florey threw a complete game in the circle striking out 8 batters while allowing three hits. Lambert led the way with four RBI while Scott had two. Luckett paced UE with two runs scored.
In game two, it was the Aces who struck first as Tess Hupe, and Courtney Land scored on a TSU error. The duo struck again in the fifth as Land hit a sacrifice bunt to plate Ashlee Kawall. Hupe later hit an RBI single to left, which sent McKenzie Johnson home.
The bottom half of the fifth saw Tennessee State rally back to tie it up as Reese Weber had an RBI double and Patton Akers draw a bases loaded walk as the Tigers scored four runs.
Evansville broke the tie in the top of the sixth as Chandra Parr hit a home run to center. Two batters later, Florey drove in the second run of the frame as her double to right center brought home Lambert. Florey would score the third run of the inning when McKenzie Johnson hit a sac fly to center. Two more runs scored in the seventh as the Aces had their top offensive game, winning by a final of 9-4 while mustering up 14 hits.
Ashleigh Downing made the start in game two, going three innings while giving up two hits. Emily Lockhart went two frames before Florey pitched the final two. Lockhart was credited with the win while Florey notched the save.
Next weekend, UE heads to Norman, Oklahoma, for the Courtyard Marriott Tournament Friday through Sunday.
UE travels to Cincinnati on March 3
A battle that went down to the wire saw UIC earn a 4-3 win over the University of Evansville Women's Tennis team on Sunday morning at Evergreen Racquet and Fitness.
"This was a close match and it came down to a third set at #5 singles to decide it," Purple Aces coach Jayson Wiseman said. "I'm very proud of how hard we played all weekend, it's just frustrating to give such a fantastic effort and all lose both matches on the weekend."
Evansville picked up the opening point in doubles with Theodora Soldatou and Chicko Yamada earning a 6-3 win over Melika Leblanc and Rachel Le Comber at flight one. Diana Tkachenko and Nicoli Pereira were victorious at #3 doubles, defeating Georgia Sanders and Stefana Vasic, 6-4.
Tkachenko made the start at top singles and won the decision over Oana Manole, 6-1, 6-1. Daria Pentsova was victorious at #4 singles as she topped Bianca Zuzu, 6-4, 6-7 (0-3), 6-0. The biggest battle of the day was in flight five as Miranda Rodriguez got past Andrea Pascual-Larrinaga, 5-7, 6-2, 6-4.
The Aces are back in action on March 3 at the University of Cincinnati.
Venturing Crew spring break trip: sign up today!
Join Venturing Crew for spring break! From March 4-10, camp on the beach in North Carolina! For only $150, Venturing Crew members will have a fantastic week boogie boarding down sand dunes, kayaking, visiting lighthouses and the Wright Brothers' historical landmarks, and eating seafood on the East Coast. If this is how you want to spend spring break, sign up TODAY at Ridgway University Center lobby tables from 11:00 a.m.-2:00 p.m., and 5:00-7:00 p.m.
If you have any questions or would like more information, please e-mail venturing@evansville.edu.
Submitted by Andrea Onyett ao64@evansville.edu
ARSAF grants for faculty applications due April 3
The UE Alumni Association is once again offering Alumni Research and Scholarly Activity Fellowships (ARSAF) to faculty. The application deadline for 2017-18 academic year grants is Monday, April 3. Find the online application and more details by going to AceLink and clicking on Areas, and selecting Academic Affairs. The application form can be found on that page under the category of Online Forms.
Questions? Contact alumni@evansville.edu or ext. 2586.
Submitted by Sylvia DeVault sy5@evansville.edu
MPH program now accepting applications
The Master of Public Health program is now accepting applications for fall admission. The program is designed to provide students with an in-depth understanding of public health and health policy. If you are interested in applying or have questions, contact Payal Patel-Dovlatabadi, assistant professor of public health, at pp42@evansville.edu.
Submitted by Payal Patel-Dovlatabadi pp42@evansville.edu
OTM Awards sponsored by RSA!
Do you have friends who do really awesome things for which you think they should be recognized? Do you want this recognition to go beyond a simple thanks with an accompanying pat on the back? The join Resident Students Association's initiative and create an OTM account! What is an OTM account? It stands for Of the Month and it's a really simple and fun way to write a little blurb (600 words or less) about someone who's doing terrific work in their organization, in class, or just in life.
First, go to otms.nrhh.org and create an account. There are several categories to choose from and you can collaborate with friends to write your OTM. You'll be in competition with other writers on campus, and have the opportunity to win a rockin' prize! Sign up for an OTM account today!
Submitted by Justin Coffey jc534@evansville.edu
Spain, Sweden, Morocco, Thailand - study abroad programs still open for fall!
On the fence about studying abroad this fall? Programs are closing fast, but some locations still have openings! We still have applications open for a variety of countries, including Spain, Sweden, Morocco, Thailand, Germany, Austria, South Korea, China, and Mexico.
Our Study Abroad Exchange Program, ISEP, has just compiled a list of universities that are accepting applications later than the February 15 deadline. If you would like to apply to any of the programs listed, please contact Amara Stuehling (as760@evansville.edu) immediately to get started on the application. View the programs here.
If you are interested in studying abroad another semester, set up a meeting in the study abroad office to learn more about programs we offer. Contact Amara Stuehling (as760@evansville.edu) with questions.
Submitted by Amara Stuehling as760@evansville.edu
Rocket launch success for Project Ace!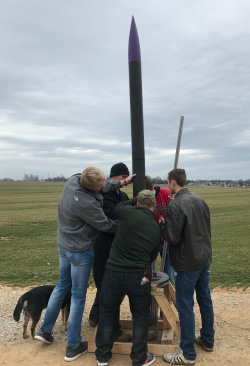 The University of Evansville's Project Ace team of engineering students successfully completed three test flights of their high-powered rocket this past weekend in Elizabethtown, Kentucky. The team will compete nationally this April, in Huntsville, Alabama, as part of NASA's University Student Launch Initiative.
The rocket is designed to reach an altitude of exactly one mile and return safely to the ground while protecting a fragile material. Project Ace's test flight data show the rocket reaching within 15 feet of the targeted 5,280 foot altitude. The team also successfully carried an egg on board, bringing it back to ground safely.
Seven seniors in mechanical engineering are leading the team, which also includes freshmen, sophomores, and juniors.
Videos of the launch will be available soon on the UE mechanical engineering rocket team web page.
Submitted by Jessica Lofton jb363@evansville.edu
SWE selling Gold Value Books to raise money for conference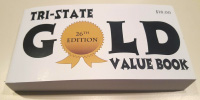 The Society of Women Engineers is selling Gold Value Books (almost 200 coupons!) to raise money to attend the national conference. The books are $18, and the coupons are good until the end of 2017. The book will pay for itself after two or three uses! Coupons include buy one, get one free offers for Showplace Cinemas, Skyzone, Los Bravos, and more.
Please contact the SWE officers at uofeswe@gmail.com if you would to buy a coupon book.
Submitted by Jessica Lofton jb363@evansville.edu
Summer assistant applications available
Applications for residence life's summer assistant position are now available at the residence life office.
If you would like more information visit the info tables in Ridgway University Center lobby at 11:00 a.m. on Tuesday, Wednesday, and Thursday of this week. Information sessions will take place in Room 126, Hyde Hall, on February 28 and March 1 at 7:00 p.m.
Please contact Justin Coffey (jc534@evansville.edu) and Melinda Daniels (md212@evansville.edu) with questions.
Submitted by Justin Coffey jc534@evansville.edu
Harlaxton College faculty site visits
Harlaxton College and the Office of Academic Affairs at the University of Evansville are pleased to announce a new faculty site visit program.
Each year, two faculty members will be selected to visit the manor for three nights and four days while attending the Harlaxton Partners Conference. This conference annually gathers faculty and administrators from UE and its Harlaxton partners with the goal of sharing how Harlaxton works, discussing what's new in the academic and student development programs, and expressing our vision for the future. It is also an opportunity for fellowship and field trips, making new friends, and experiencing the manor in all its splendor and glory.
The main goal of the site visit program is to cultivate a familiarity with, and knowledge of, Harlaxton in UE faculty who have not previously lived and taught here. This is intended to lead to at least three other significant outcomes: a facility for communicating about Harlaxton with colleagues, students, and prospective students; the capacity to make a connection between the faculty member's teaching, and research interests and Harlaxton; and, finally, the substance and perspective for submitting an application to teach in residence at Harlaxton in the future.
Faculty who have not taught at Harlaxton will be given first priority.
Preference will be given to those faculty who demonstrate most convincingly that teaching at Harlaxton:
• will benefit their teaching, career trajectory and students at UE.
• will contribute positively to the curricular, artistic, and intellectual fabric of Harlaxton.
• will be broadly appealing to students at UE and partner colleges and universities.
Faculty members who have taught at Harlaxton within the last eight years and/or faculty members who are scheduled to teach at Harlaxton in the next two years are ineligible.
To apply, please submit a completed application and a CV to facultysitevisits@harlaxton.ac.uk. To be considered for the summer of 2017, applications must be submitted via e-mail no later than April 15.
Please direct any questions to Gerald Seaman, principal, at gseaman@harlaxton.ac.uk.
Submitted by Holly Carter hc110@evansville.edu
Residence hall Recyclemania pledge contest ends today
The Recyclemania pledge contest between residence halls ends at 4:00 p.m. today. Students can sign a pledge stating that they will learn about the recycling program at UE and act to recycle more in the next month. The residence hall with the highest percent of pledges wins, and students who signed a pledge from the winning hall will have their names entered into a drawing for a Smart Strip Energy Saving Surge Protector. Pledge forms are available in each residence hall. There is one entry allowed per resident.
See the UE Department of Environmental Management Facebook page for more information.
Submitted by Jan Schrader js652@evansville.edu
Join the Kazees - pledge to recycle!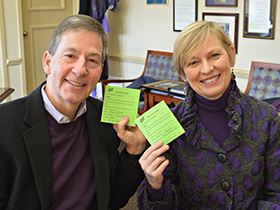 Join President Tom and Dr. Sharon Kazee in pledging to recycle. Fill out a Recyclemania pledge by Feb. 28 and have your name entered in a drawing for one of three beverage coupons from Jazzman's.
Recyclemania pledges and pledge boxes are located in the following buildings:
• Bower-Suhrheinrich Library
• Carson Ticket Office
• General Services Mail Room
• Graves Hall Nursing and Physical Therapy office
• Hyde Hall by the second floor copier
• Koch Center by the second floor copier
• Krannert second floor Room 126
• Olmsted Admissions office
• Ridgway second floor
• Schroeder School of Business Building, first floor
The drawing will be held on Friday, March 3.
Please email js652@evansville.edu with questions.
Submitted by Jan Schrader js652@evansville.edu
UE storm drains
UE has a storm water management program to keep pollutants out of storm drains.
• You can identify storm drains on campus by the red tag or fish stamp.
• Water going down a storm drain is not treated to remove pollutants before going to the river.
• You can help prevent storm water pollution by fixing oil leaks on your car.
• If you see a spill other than water near a UE storm drain, you should call UE security at 812-471-6911 to report the spill.
For more information, go to the storm water quality management web page.
Submitted by Jan Schrader js652@evansville.edu
File the 2017-18 FAFSA by March 10 at www.fafsa.gov
Continuing students should file the 2017-18 FAFSA (free application for federal student aid) to apply for federal, state, and university need-based financial aid, including all federal student loans. UE's FAFSA code is 001795.
Submitting by March 10 is essential for Indiana residents, and highly recommended for all.
Questions regarding the FAFSA should be directed to the Office of Financial Aid (Olmsted Administration Hall, Room 116) at 812-488-2364, 800-424-8634, or financialaid@evansville.edu.
IRS data retrieval tool
The IRS data retrieval tool transfers parent and/or student IRS tax information into the FAFSA. The 2017-18 FAFSA uses 2015 federal tax data just as the 2016-17 FAFSA did, so there is no reason to wait to submit.
Maass presents research at International Studies Association
Richard W. Maass, assistant professor of Political Science, presented research on two panels on Saturday, February 25, at the annual conference of the International Studies Association.
One of the papers, "Salami Tactics and the Future of US-Russian Relations," was previously an Andiron lecture at UE. The other, "Testing Hypotheses on Great Power Annexation," utilizes an original dataset constructed in part with the help of a UE ARSAF grant.
Faculty, alumni, and sports residents work at MLB spring training
University of Evansville and ProRehab sports physical therapy residents and faculty members recently performed preseason screenings of the Milwaukee Brewers and St. Louis Cardinals Major League Baseball teams.
This is the fourth year UE/ProRehab residents have participated in the injury prevention system utilized by the Brewers and the first year with the Cardinals. The screening involves specific tests and an injury risk algorithm developed and researched by Phil Plisky, associate professor of physical therapy, and Kyle Kiesel, professor and chair. This injury prevention model is used by a wide variety of high school, college and professional sports teams as well as the US Military.
The team working with the Brewers in Arizona was led by Plisky '98, and included UE alumni Kyle Matsel '11, Allison Weaver '15, Katie Whetstone '12, and Jenna Gourlay (2015 residency) as well as current sports residents Nathan Denning, Rachel Patton '16 and Alyssa Waninger '16.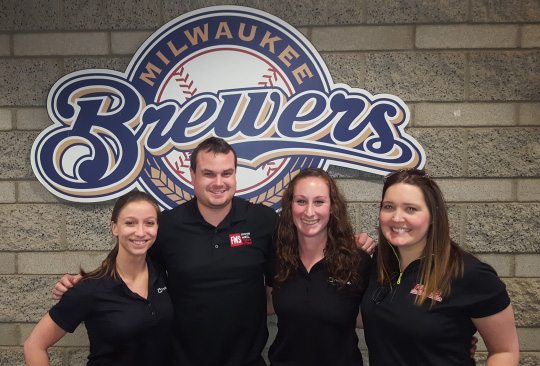 The team working with Cardinals in Florida was led by UE alum and former PT faculty member Robert Butler '09 and included Brian Joyce '12, Frances Matsel '10, Danielle Honnette (2016 residency).
Submitted by Jennifer Simon js698@evansville.edu
Sari Baum named runner-up for Norton Prize
Sari Baum, a junior in creative writing and literature, has had her beautiful essay "Bánat is Hungarian for Grief" selected as runner-up in the esteemed Norton Writer's Prize. The Norton Writer's Prize is among the most competitive contests for undergraduate writing, and this is the second year in a row that a UE student has landed in the top three.
Professor Khan has paper accepted for publication
Walayet A. Khan, professor of finance, co-authored a paper with Ghulam Sarwar, California State University, titled, "The Effect of US Stock Market Uncertainty on Emerging Market Returns." The paper is forthcoming in the Emerging Markets Finance and Trade (journal), 2017.
Khan presented another paper with the same coauthor (under review now) titled," Examining the Interactions of US Market Risks and Emerging Market Returns in an Integrated System: Global Evidence" at the 2016 annual meeting of the Financial Management Association.
UE Community members nominated for Leadership Evansville Honors
Several University of Evansville faculty members and administrators and two of the University's programs have been nominated for this year's Leadership Evansville's Celebration of Leadership honors. Celebration of Leadership recognizes individuals and groups who have positively impacted the Evansville community in the categories of the arts, community and neighborhood, education, environment, government and public services, and/or health and social service.
Carol Dallinger, UE professor of music and coordinator of the Suzuki Violin Program, has been nominated in the arts category. Dallinger established the Suzuki Violin Program at UE 44 years ago. She is principal second violinist in the Evansville Philharmonic orchestra, and she has performed solo recitals in England, Austria, and Italy. Read her biography on the UE website to find out more about Dallinger.
UE vice president of marketing and communications Don Jones was nominated in the health and social services category. Prior to UE, he was vice president of marketing for MSW Research, which counts Disney, P&G, L'Oreal, and Kraft among its clients. He has served as senior managing consultant for IBM, senior vice president of global product management at The ARS Group, and director of marketing at St. Mary's Medical Center. Find out more about Jones by reading his biography on UE's website.
Jones also represents the Zagster Bike Share program which has been nominated in the environment category. Jones is president of the Evansville Trails Coalition. You can learn more about the bike share program on the Zagster website.
Erin Lewis, program director for the institute for Global Enterprise at UE, has been nominated in the education category. She received the nomination for her work with Global Enterprise's Global Assistance Project and Changemaker program. Her strong work ethic and abilities have helped both programs improve and grow in a short amount of time. Find out more about Lewis by reading her profile on the UE website.
Michael Roscoe received a nomination in the health and social service category. Roscoe is founding director and chair of UE's Department of Physician Assistant Science, the first program of its kind in the area. He has taken on the responsibility of obtaining accreditation for the program, and it has already been granted accreditation-provisional status by the ARC-PA. Roscoe also serves as an assistant professor of physician assistant science at UE. You can read more about Roscoe in this article in the news section of the UE website.
UE assistant director of gift planning Cathy Renner has been nominated in the community and neighborhood category. Renner is involved in the Rotary Club of Evansville, specifically with its annual Santa Run. She has guided three successful runs, and proceeds from each funded community programs. She is a member of Tri Kappa, a philanthropic organization in Indiana that promotes charity, culture, and education. Renner also devotes a great deal of time to Trinity United Methodist Church.
The University of Evansville's Global Assistance Project (GAP) program has been nominated as an outstanding education program. GAP opens doors for students and community leaders to work together to improve Evansville and the world. With such projects as the UE Cultural District to Growth Alliance of Greater Evansville and Mission Guatemala, GAP has improved the Evansville community by bringing a fresh perspective, an international awareness, and a desire to aid and assist wherever the projects lead. You can find out more about GAP on their web page.
One of GAP's projects, Scholars for Syria, has been nominated as a valuable education program. This group has many members from both the UE and local communities. Scholars for Syria enriches the Evansville community by sharing the Syrian culture through poetry readings, concerts, seminars, and speakers - including a presentation by the imam of the Islamic Center of Evansville and tropical talks by UE professors. Find more details about Scholars for Syria on their website.
Leadership Evansville will be honoring nominees during its Celebration of Leadership event at the Old National Events Plaza in downtown Evansville on Thursday, March 9. Doors open at 4:00 p.m., with a reception from 4:15–5:15 p.m. The ceremony begins at 5:30 p.m. and ends at 7:00 p.m.
University of Evansville campus community members and their families are welcome and encouraged to attend. The cost is $5 for students and children and $15 for adults. You can RSVP online at the Leadership Evansville website.
Contribute to AceNotes
To have content considered for inclusion in AceNotes, please submit a Marketing Request Form. Deadline for submission to AceNotes is 10:00 a.m. on the requested date of publication. Only articles concerning UE related/sponsored activities will be accepted. Articles submitted to AceNotes may be edited for length and clarity. Submitter contact information is at the end of each article.