| | |
| --- | --- |
| AceNotes Today | Friday, February 24, 2017 |
Hesburgh Lecture tonight
The Fifth Annual Hesburgh Lecture is tonight at 7:00 p.m. in Room 170 in the Schroeder School of Business Building. Brad D. Gregory, director of the University of Notre Dame's Institute for Advanced Study, will discuss "The Reformation Era and the Makings of Modernity."
Submitted by Wilfred C. Bussing wcbussing@aol.com
Baseball road swing to continue in Hattiesburg today
The University of Evansville Baseball season has hit full swing, and that's readily apparent this week as the Purple Aces will be looking to bounce back from Wednesday's loss at seventh-ranked Vanderbilt with a road trip to Hattiesburg, Mississippi, for a three-game set against Southern Miss, which will begin this evening at Pete Taylor Park.
The Aces (1-3) will be looking to repeat the offense brilliance that the line-up showcased a week ago at Central Arkansas, piling up 27 runs over three games. However, the team fell victim to some inopportune errors, leading to only 19 of UE's 36 runs allowed this season going down as earned.
A former UE standout in the infield himself, Aces head coach Wes Carroll has stressed the importance of playing strong defense throughout the week.
Offensively, Travis Tokarek leads the Aces with a .429 batting average. The junior designated hitter out of Zionsville has collected five hits over the past two games and he's reached base an astounding 10 times already this season. Trey Hair, a pre-season All-American, owns a .368 average with three RBI and five runs scored, and Andrew Tanous checks in with similar totals to go along with a .375 average.
As a team, the Aces are hitting .276 and chalking up nearly eight runs per game.
On the mound, UE will look for a return to form on Friday night with starter Connor Strain. The redshirt-senior saw his 23-inning scoreless streak snapped in the first inning a week ago, and he's looking to build on an injury-shortened 2016 campaign that saw him post a 0.68 earned run average.
On Saturday, reigning MVC Pitcher of the Week Patrick Schnieders will toe the rubber after throwing five no-hit frames with 11 strikeouts. The senior right-hander fanned the side on three occasions against the Bears, and he was UE's workhorse last season, tossing a team-best 83 innings.
Newcomer Justin Hayden, who gave up two earned runs in 5.2 innings last Sunday, will be looking to continue that success. Last season with Rend Lake Community College, the Mayfield, Kentucky, product was among the junior college leaders with six complete games to his name.
Brandon Gomer, who's impressed in each of his last two appearances will lead the Aces bullpen, while Ryan Brady, who posted a 1.99 ERA a season ago, will be looking to get back on track.
USM, was nearly unbeatable at home last season, posting a 28-4 overall record at Pete Taylor Park, continued the trend on opening weekend with a three-game sweep of Northeastern, scoring 31 runs in the process before falling 12-5 at Alabama on Wednesday.
USM boasted of the best offense in Conference USA in 2016, leading the league in average, hits, runs, runs batted in, and homers.
First pitch today is slated for 6:00 p.m.
Aces looking to close out Ford Center slate in style
The University of Evansville Women's Basketball team will be looking to make the most of its final weekend at the Ford Center today and Sunday as the Purple Aces are set to play host to Bradley and Illinois State.
The Aces (9-16, 4-10 Missouri Valley Conference) will begin play today with a showdown against Bradley. The contest, which will serve as the team's annual Play for Kay breast cancer awareness game, is slated for a 7:00 p.m. start. Sunday's game against Illinois State will see the Aces celebrate Senior Day, and with plans for the team to move to the Carson Center next season, it could mark the final game for the Aces women's team at the Ford Center. Tipoff in that contest is scheduled for 1:00 p.m.
Led by reigning Missouri Valley Conference Player of the Week Sara Dickey, the Aces will be hoping to keep things rolling after last Friday's 74-61 victory at Southern Illinois. UE, which currently sits eighth in the Valley standings is just two games off the pace for a first-round bye in the tournament. Indiana State and Southern Illinois both own a 6-8 mark in league play, and with a season sweep of the Salukis already accomplished and a game in hand against Indiana State next week, the Aces control their own destiny in terms of securing tiebreakers.
Bradley, is 6-9 in league play with a 10-16 mark overall. Illinois State trails UE by just half-game at 4-11 and 7-19, respectively.
The Braves enter the weekend looking to get back on track after dropping three of their past four games. Earlier this season, BU's Leti Lerma put the team on her shoulders in a 56-52 victory over Evansville in Peoria. In a game that saw the Braves out-rebound UE 56-30, Lerma ended with 24 points and 17 boards.
Meanwhile, Illinois State rode a big fourth quarter on the way to a 71-58 decision over the Aces. Brechelle Beachum and Taylor Stewart each topped 20 points in the contest, with the former scoring 12 of those points over the course of the decisive final quarter.
Dickey, who became just the eighth MVC 2,000-point scorer in that win over SIU, is coming off one of her best career performances. The senior out of Montezuma, Indiana, finished with 28 points, including seven made three-pointers, to help the Aces to a wire-to-wire win at SIU Arena. Meanwhile, Camary Williams chipped in 11 points and eight rebounds, and Sasha Robinson pulled down 11 boards to continue her quest for a top three mark in UE rebounding history.
Williams and Dickey are tied for the fifth-best scoring mark in the Valley at 14.6 points per game. Williams also ranks among the leaders with 8.1 rebounds per game as well as 4.08 steals, which stands as the second-best mark in the nation. With six steals this weekend, the Ft. Myers, Florida, native would tie Latasha Austin for the top single-season steals total (108) in the UE history books.
Dickey, Williams, and Robinson will be joined by Ashley Hawkins, who has been a valuable reserve all season for the Aces, for Sunday's Senior Day festivities.
Softball heads to Nashville for the weekend
A quick trip south to Nashville is on tap for the University of Evansville Softball team this weekend as they take on Belmont and Tennessee State in a total of four games today and tomorrow.
The weekend begins today at Belmont with a doubleheader set for 4:00/6:00 p.m. Then tomorrow, the Purple Aces remain in Nashville where they will take on Tennessee State in a 1:30 p.m. doubleheader.
Evansville opened up the 2017 season last weekend at the Plainsman Invite in Auburn, Alabama. The Aces went 1-4 in the tournament, but finished on a high note with a 3-2 win over Creighton. Four out of the five opening games were decided by two or fewer runs. The pitching staff had a nice weekend, notching an ERA of 1.02 while the offense hit .212 to start the season.
Sophomore Morgan Florey tossed the first no-hitter for the program in 13 years, accomplishing the feat in a 3-2 win over Creighton on Sunday. The last no-hitter thrown by a UE player came on February 22, 2004 when Katie Markle did so in a 2-0 win over Tennessee Tech. Florey went the distance in the win, giving up two unearned runs while fanning a career-high 10 batters in the win. For her efforts, she was named the MVC Pitcher of the Week.
Florey threw 20.1 innings in the first weekend and finished with a 0.00 ERA as she did not allow a single earned run. She struck out 25 batters while walking just six. The opposition batted .079 against her. She also had a nice offense weekend, batting .308 with four hits and a pair of RBIs.
The leading hitter last weekend for the Purple Aces was junior transfer Brittany Hay, who started all five games and batted .313. Hay notched five hits in 16 at-bats while scoring two runs. She also swiped a pair of bases. In Sunday's victory over Creighton, Hay went 2-4 with a run scored.
After leading the offense with a .312 batting average in 2016, Michal Luckett picked up right where she left off in the tournament at Auburn, batting .308. She recorded four hits in 13 trips to the plate. Luckett completed the weekend with a 1-2 performance in the 3-2 triumph over the Bluejays.
While Hayli Scott recorded just one hit in the first weekend, it was definitely the biggest hit of the tournament for UE. In a pinch hit situation against Creighton, Scott hit a game-winning double, which saw UE finish with the 3-2 win.
Belmont is off to the best start in program history, going a perfect 8-0 so far. Pacing the Bruins at the plate is Lexi Rouse, who has batted .519 with three doubles, two home runs and 12 RBIs. Rouse is also the top pitcher for Belmont, notching an ERA of 1.05 through the opening two weekends of play.
After opening the season with two wins apiece over UMKC and UMBC, Belmont swept the Western Kentucky Hilltopper Classic last weekend, defeating Western Illinois twice along with WKU and Miami Ohio.
Tennessee State is 3-6 on the season with their victories coming over Jackson State (twice) and Jarvis Christian. They went 0-5 in last weekend's Tiger Classic, falling to Iowa State three times and Alabama A&M twice. Danica Gleason is the top batter for TSU, checking in at .500 with 13 hits in 26 at-bats. She also leads the way with eight runs and seven RBI.
Medical and graduate school career panel tonight
Are you contemplating a career in medicine? Thinking about going to professional or graduate school? Not sure what you want to do for the rest of your life? Learn about your career options at the SAMS career colloquium!
The next installment of the career colloquium series is tonight from 7:00-9:00 p.m. in Room 101, Koch Center for Engineering and Science. This is an informal event - pizza will be served - and you will have lots of opportunity to ask questions.
This career series is designed to introduce you to the wide variety of job opportunities available for students interested in science or math. The speakers at the colloquium are working in or towards various careers, and they will share insight about their career paths and relate their college experiences to their current careers. Regardless of your eventual career goals, you will find their insights helpful and relevant.
Submitted by Brooke Michelle Wininger bw150@evansville.edu
UE Theatre presents Silent Sky
The University of Evansville Department of Theatre proudly presents its third production of the season, Lauren Gunderson's Silent Sky, in Shanklin Theatre, at 7:30 p.m. tonight and tomorrow, and 2:00 p.m. on Sunday.
In 2015, American Theatre magazine named Lauren Gunderson one of the most produced playwrights in America. In her exciting new play, we meet Henrietta Leavitt, one of the women employed at the Harvard Observatory to process astronomical data gathered by male scientists. A passionate and educated woman, she struggles to balance her own celestial studies, a twinkling workplace romance, and the ethereal bond of siblings. This poetic and poignant play will leave audience members whispering to their special someone, "Let's go gaze at the stars."
Professor of theatre Diane Brewer directs Silent Sky. Theatre department chair Eric Renschler serves as the scenic designer; Ivy Karlsgodt, a senior from San Antonio, Texas, is the costume designer; Avery Reagan, a senior from Conyers, Georgia, is the lighting designer; Benjamin Phillips, a senior from Fort Worth, Texas, serves as the sound designer; Rachel Barkalow, a senior from Cincinnati, Ohio, is the dramaturg; Mary Claire Smalley, a junior from Nashville, Tennessee, is the stage manager; and professor Chuck Meacham is the technical director.
The cast features sophomore Madeline Easley, from Overland Park, Kansas, as Henrietta Leavitt; sophomore Kathleen Finch, from College Station, Texas, as Margaret Leavitt; freshman Luke Lowrance, from Arlington, Texas, as Peter Shaw; freshman Shannon White, from Rockwall, Texas, as Annie Cannon; and junior Zoie Quinn, from San Antonio, Texas, as Williamina Fleming.
Ticket prices are $15 for adults and $13 for senior adults, students, and UE faculty and staff. UE students may obtain one free student rush ticket beginning at noon on the day of the performance they wish to attend.
Following Silent Sky, the Shanklin Theatre Season closes with Hamlet, by William Shakespeare, April 7-15, which marks the 50th anniversary of Shanklin Theatre.
Tickets may be purchased by calling 812-488–2031, Monday-Friday, from noon-5:00 p.m.
Submitted by Sharla Cowden sc75@evansville.edu
Doughnut sale planned as fundraiser
Recently the young son of one of UE's housekeepers was mauled by a dog, injuring his face and dominant hand and arm. He is facing several surgeries to repair the damage. To help with expenses, the housekeeping department is planning to sell Krispy Crème doughnuts as a fundraiser on TODAY - Monday, February 27, 7:00-10:00 a.m., on the first floor of Ridgway University Center. A gofundme account has also been set up to help with the boy's medical bills.
L2L Conference: SPARK - register today!
Every spring, the University of Evansville Leadership Academy sponsors the L2L Leadership Conference. (L2L stands for Learn to Lead. Love to Lead. Live to Lead.) This year's L2L conference is set for Saturday, March 25, from 9:00 a.m.-3:00 p.m., in Eykamp Hall, Room 251, Ridgway University Center. Check-in will begin at 8:00 a.m.
Early registration for the conference ends March 3, and final registration is March 14. There is a $10 registration fee that will be refunded to UE students at the event. Use this registration form to sign up to attend the event.
The theme of this year's conference is "SPARK: Using Leadership to Ignite a Change in the World." Speakers at the conference will include Mari Plikuhn, UE associate professor sociology, Kevin Snyder from Campuspeak, and Kristina Arnold from WKU.
If you have any questions, please feel free to contact Kendall Turner at kt131@evansville.edu.
Submitted by Kendall Turner kt131@evansville.edu
This Week in Music: Wayne Wallace and Latin Jazz Octet
Long known as an outstanding performer on the west coast jazz scene, trombonist Wayne Wallace will bring his Latin Jazz Octet to perform on the Jazz Guest Artist Concert series, on Sunday, February 26, at 4:00 p.m. in Wheeler Concert Hall on the University of Evansville campus. The concert series is co-sponsored by the Evansville Jazz Society and the University of Evansville.
Latin-influenced jazz is one of today's most significant movements in the jazz world today, and six-time Grammy nominee Wayne Wallace is one of the more respected exponents of African American-Latin music in the world. He has recently been named in the Downbeat Critics Polls. Widely respected as a teacher and historian, Wallace has taught at San Jose State University, Stanford University, and the Jazzschool in Berkeley. He has conducted lectures, workshops, and clinics in the Americas and Europe since 1983. Wallace is currently a member of the jazz faculty at Indiana University.
He is an accomplished arranger, educator, and composer with compositions for film and television. He has received grants from the National Endowment for the Arts, the Lila Wallace Foundation, and the San Francisco Arts Commission.
Admission to the concert is $15 for adults, $10 for Jazz Society members, and $5 for students. Tickets can be obtained by contacting the UE Department of Music at 812-488-2754, or may be purchased at the door.
Submitted by James Sullivan js820@evansville.edu
Charlas: Carnaval - Argentina
Students of all levels of Spanish are invited to meet with Belén Alemán Mansilla, a Fulbright FLTA, to talk about Carnaval in Argentina. The next Charlas session is today, February 28, from 4:30-5:30 p.m. at Jazzman's in Ridgway University Center. It's a wonderful opportunity to interact informally in Spanish and to meet other students of Spanish. You can stay as little or as long as you want. Please contact Belén at ma360@evansville.edu if you have any questions. ¡Allá nos vemos! Hope to see you on Tuesday!
Submitted by María Belén Alemán Mansilla ma360@evansville.edu
Nerd Wars: the intellectual battle you don't want to miss!
Nerd Wars is a trivia-style contest consisting of multi-categorized questions answered by teams of UE students, faculty members, administrators, and staff members. Come see your friends and professors duke it out! The contest, held on February 28, begins at 7:00 p.m. in Eykamp Hall, Ridgway University Center.
Spectators and participants may also enter in the ELFFAR (this is NOT a raffle, it's a game) for the chance to win gift cards to area restaurants, Bluetooth speakers, Bluetooth headsets, universal portable keyboard, portable chargers, fitness/sleep monitors, and more! ELFFAR tickets are 50 cents or three for $1. FREE Papa John's pizza, popcorn, and soda will be provided for everyone.
Submitted by Luke Steffe ls270@evansville.edu
Venturing Crew spring break trip: deadline soon!
Join Venturing Crew for spring break. From March 4-10, camp on the beach in North Carolina! For only $150, Venturing Crew members will have a fantastic week boogie boarding down sand dunes, kayaking, visiting lighthouses and the Wright Brothers' historical landmarks, and eating seafood on the East Coast. If this is how you want to spend spring break, sign up at Ridgway University Center lobby tables from 11:00 a.m.-2:00 p.m., and 5:00-7:00 p.m. on Monday, February 27 or Tuesday, February 28. If you have any questions or would like more information, please e-mail venturing@evansville.edu.
Submitted by Andrea Onyett ao64@evansville.edu
Lunch and Lead- Riding the Elephant: Leading when Things Have to Change
Discover how change can behave like an elephant, but not treat it like a mouse to be afraid of. Join us on February 28 for Lunch and Lead at 12:30 p.m. in Eykamp Hall, Room 252, Ridgway University Center.
In this Lunch and Lead, Michael Austin, executive vice president for academic affairs, will explain how to harness the tremendous power of institutional transformation without unleashing the destructive forces that are always inherent in times of change. This event is free and open to all students, faculty, and staff, and UE community members. We encourage attendees to bring their lunch with them to these events.
Submitted by Amber Stull as625@evansville.edu
Black Student Union plans trip to Ali Museum and movie
The Black Student Union is taking students to visit the Ali Museum on Saturday, February 25, in Louisville, Kentucky. The students will travel, visit the museum, and see the movie Get Out free of charge because of the generous support of the Student Government Association. The only cost is your own lunch and snacks. Departure from UE is at 8:30 a.m. and we will arrive back in town at 7:00 p.m. Seating is limited but if you are interested in attending please contact LaNeeca Williams at lw161@evansville.edu or by phone at 812-488-2413 to reserve your spot. This is in celebration of Black History Month at the University of Evansville.
Submitted by LaNeeca Williams lw161@evansville.edu
UE Scholars for Syria Spring Speaker Series announced
The first lecture in the 2017 University of Evansville Scholars for Syrian Spring Speaker Series is set for Thursday, March 2. Immigration experts and attorneys David Guerrettaz and Abby Seif will be the speakers. All lectures in this series are at 6:00 p.m., in Room 162 (Harkness Hall), Schroeder School of Business Building, and will be followed by a panel discussion with UE Syrian students and discussion with the audience. This series is sponsored by Scholars for Syria.
The topic of Guerrettaz and Seif's lecture will be "Immigration, Green Cards, and Asylum: What's Legal?" They will discuss the debate on immigration, what current law requires of immigrants before they enter the country, and the legal basis of executive orders. They will examine the rationale behind the 9th Circuit Court's recent decision. They will talk about current immigration laws and procedural details on what is required to seek asylum and/or green cards in the US.
Guerrettaz is an attorney with Ziemer, Stayman, Weitzel & Shoulders, LLP in Evansville, Indiana, and Seif is an attorney with Epstein Cohen Seif & Porter, LLP in Indianapolis, Indiana.
Other lectures in this series include:
Thursday, March 16
Lisa Kretz, UE assistant professor of philosophy - "How to Be Ethical: Seeding Moral Action"
Thursday, March 23
Lora Becker, UE associate professor of psychology and neuroscience and director of Neuroscience Program and Neuromarketing Research Center – "Neural Development in a War Zone"
Thursday, March 30
Wes Milner, executive director of international programs at UE - "The Emerging Political Dynamics of the Syrian Crisis"
Thursday, April 6
UE Syrian Stories: Humanizing the Syrian conflict with local families
Submitted by Gail Vignola gv15@evansville.edu
MacLeod's book on Karl Kae Knecht to be launched at UE
University of Evansville professor of history James MacLeod will deliver an illustrated lecture and read from his newly released book, The Cartoons of Evansville's Karl Kae Knecht, at a book launch on Thursday, March 2. Sponsored by the Vanderburgh County Historical Society, MacLeod's lecture will start at 7:00 p.m. in Room 170 (Smythe Lecture Hall) in the Schroeder School of Business Building. The book will be for sale at the event and the author will be signing copies. This event is free and open to the public.
Knecht, editorial cartoonist for the Evansville Courier from 1906 to 1960, was synonymous with the city of Evansville, moving and amusing his readers with his creations. He mocked the Axis powers and kept local morale high during World War II, and commented daily on issues from the Great Depression to the Space Race. But he was much more than an artist, working tirelessly as a civic booster and campaigner for worthy causes of all kinds. He helped establish Evansville College and he was almost single handedly responsible for the establishment of Mesker Park Zoo. The book, which is illustrated with over 70 cartoons, tells the fascinating story of Knecht's life, places him in the context of the history of editorial cartooning, and analyzes his cartooning genius.
MacLeod was educated at the University of Edinburgh in Scotland. He taught history and British studies at Harlaxton College from 1994-1999. Since 1999 he has been a member of the history department at the University of Evansville. He teaches courses in European history and the two World Wars, and lectures frequently on these topics. He is the author of two other books: The Second Disruption, and Evansville in World War II as well as many other scholarly publications. In 2016 he wrote and co-produced a two-part documentary for WNIN, Evansville at War. MacLeod is an editorial cartoonist whose drawings appear in the Evansville Courier and Press and other newspapers.
For more information on the book reading, please call 812-488-2963.
Submitted by James MacLeod jm224@evansville.edu
Celebration of Life planned in honor of Ron Glass
The University of Evansville and the Evansville African American Museum invite you to attend a Celebration of Life to honor the life and legacy of Ron Glass '68 on Saturday, February 25, at 11:00 a.m. in Shanklin Theatre. Glass, a UE theatre alumnus and member of the Board of Trustees, passed away at his home in Los Angeles, California, on Friday, November 25.
Previously best known for his role as the debonair, well dressed Detective Harris in the classic television show Barney Miller, Glass gained a new following with his portrayal of the mysterious Shepherd Book in the science fiction series Firefly and its movie sequel, Serenity.
Following the campus event, the Evansville African American Museum invites the community to view its permanent exhibit featuring Glass's life and career from noon-5:00 p.m. Museum admission will be free. The museum is located at the corner of Lincoln Avenue and Garvin Street at 579 South Garvin Street in Evansville.
Cynthia Sturgis Landrum to speak at UE Andiron Lecture
Cynthia Sturgis Landrum, CEO and director of the Evansville Vanderburgh Public Library, will be the speaker for the University of Evansville Andiron Lecture on March 1. The lecture will begin at 4:00 p.m., in Eykamp Hall, Room 252, in Ridgway University Center on UE's campus. All of the Andiron lectures are free and open to the public.
Landrum's topic will be "Toward a New Nostalgia for Public Libraries: Engaging, Inquiring, and Empowering." During her talk, she will discuss the roots of library nostalgia. When and how was our nostalgia for libraries lost? Most importantly, how can we rediscover it for the greater good of our communities?
Landrum earned her bachelor's degree in linguistics at Northwestern University, her master's degree in library and information science at the University of Southern Mississippi, and is a doctoral candidate in managerial leadership for the information professions at Simmons College.
She is councilor-at-large on the Council of the American Library Association, past president of the Arizona Library Association and a former board member of the Institute for Science Education and Technology. Her professional mission is to empower individuals to reach their highest potential so they can impact and transform communities. As one example of this commitment, she tutors K-12 students from Chicago Public Schools, providing homework assistance with a primary focus on reading.
The Andiron Lecture series is sponsored by the William L. Ridgway College of Arts and Sciences and supported by a generous gift from Donald B. Korb. For more information, call 812-488-1070 or 812-488-2589.
Beauty of Engineering scheduled for March 4
The College of Engineering and Computer Science and TwiSTEM (Tri-State Women in Science, Technology, Engineering, and Math) will host the 2017 Beauty of Engineering event on Saturday, March 4.
The event begins at 8:00 a.m. with doors opening at 7:30 a.m. The event will be in the Koch Center for Engineering and Science. The morning event will introduce girls in grades 4 through 8 to engineering and computer science. The activities are executed in a rotation through various STEM related stations staffed by professional women and college students in the fields of engineering and computing science.
The cost is $10 per participant and is non-refundable except in the event of cancellation or full capacity. Enrollment is limited to the first 200 girls, and registration is open until February 24. Individuals and organizations are welcome.
More information and the reservation form can be found on the event flyer or by e-mailing twiSTEM.evv@gmail.com.
EVPS director to speak at Andiron Lecture
Cynthia Sturgis Landrum, CEO and director of the Evansville-Vanderburgh Public Library, will be the speaker for the Andiron Lecture on March 1. The lecture will begin at 4:00 p.m., in Eykamp Hall, Room 252, in Ridgway University Center on UE's campus. All of the Andiron lectures are free and open to the public.
Landrum's topic will be "Toward a New Nostalgia for Public Libraries: Engaging, Inquiring, and Empowering." During her talk, she will discuss the roots of library nostalgia. When and how was our nostalgia for libraries lost? Most importantly, how can we rediscover it for the greater good of our communities?
Landrum earned her Bachelor of Arts in linguistics at Northwestern University, her master's degree in library and information science at the University of Southern Mississippi, and is a doctoral candidate in managerial leadership for the information professions at Simmons College.
She is councilor-at-large on the Council of the American Library Association, past president of the Arizona Library Association and a former board member of the Institute for Science Education and Technology. Her professional mission is to empower individuals to reach their highest potential so they can impact and transform communities. As one example of this commitment, she tutors K-12 students from Chicago Public Schools, providing homework assistance with a primary focus on reading.
The Andiron Lecture series is sponsored by the William L. Ridgway College of Arts and Sciences and supported by a generous gift from Donald B. Korb. For more information, call 812-488-1070 or 812-488-2589.
OTM Awards sponsored by RSA!
Do you have friends who do really awesome things for which you think they should be recognized? Do you want this recognition to go beyond a simple thanks with an accompanying pat on the back? The join Resident Students Association's initiative and create an OTM account! What is an OTM account? It stands for Of the Month and it's a really simple and fun way to write a little blurb (600 words or less) about someone who's doing terrific work in their organization, in class, or just in life.
First, go to otms.nrhh.org and create an account. There are several categories to choose from and you can collaborate with friends to write your OTM. You'll be in competition with other writers on campus, and have the opportunity to win a rockin' prize! Sign up for an OTM account today!
Submitted by Justin Coffey jc534@evansville.edu
Spain, Sweden, Morocco, Thailand - study abroad programs still open for fall!
On the fence about studying abroad this fall? Programs are closing fast, but some locations still have openings! We still have applications open for a variety of countries, including Spain, Sweden, Morocco, Thailand, Germany, Austria, South Korea, China, and Mexico.
Our Study Abroad Exchange Program, ISEP, has just compiled a list of universities that are accepting applications later than the February 15 deadline. If you would like to apply to any of the programs listed, please contact Amara Stuehling (as760@evansville.edu) immediately to get started on the application. View the programs here.
If you are interested in studying abroad another semester, set up a meeting in the study abroad office to learn more about programs we offer. Contact Amara Stuehling (as760@evansville.edu) with questions.
Submitted by Amara Stuehling as760@evansville.edu
Rocket launch success for Project Ace!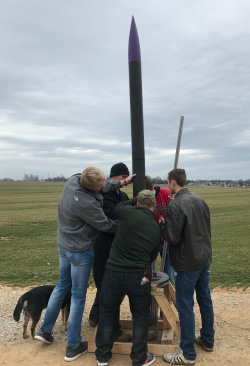 The University of Evansville's Project Ace team of engineering students successfully completed three test flights of their high-powered rocket this past weekend in Elizabethtown, Kentucky. The team will compete nationally this April, in Huntsville, Alabama, as part of NASA's University Student Launch Initiative.
The rocket is designed to reach an altitude of exactly one mile and return safely to the ground while protecting a fragile material. Project Ace's test flight data show the rocket reaching within 15 feet of the targeted 5,280 foot altitude. The team also successfully carried an egg on board, bringing it back to ground safely.
Seven seniors in mechanical engineering are leading the team, which also includes freshmen, sophomores, and juniors.
Videos of the launch will be available soon on the UE mechanical engineering rocket team web page.
Submitted by Jessica Lofton jb363@evansville.edu
SWE selling Gold Value Books to raise money for conference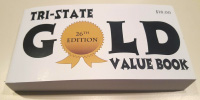 The Society of Women Engineers is selling Gold Value Books (almost 200 coupons!) to raise money to attend the national conference. The books are $18, and the coupons are good until the end of 2017. The book will pay for itself after two or three uses! Coupons include buy one, get one free offers for Showplace Cinemas, Skyzone, Los Bravos, and more.
Please contact the SWE officers at uofeswe@gmail.com if you would to buy a coupon book.
Submitted by Jessica Lofton jb363@evansville.edu
Residence life summer assistant selection
Residence life announces the start of the summer assistant (formerly summer staff) selection process. Any student who is interested in staying on campus this summer can apply for this position.
Summer assistants will assist residence life with summer housing and work with any conferences and events on campus over the summer. This position includes a credit for housing for the summer and pay.
Applications will be available on Monday, February 27 and will be available until March 17.
Next week there will be information tables in Ridgway University Center lobby from 11:00 a.m.-2:00 p.m. on Tuesday, Wednesday, and Thursday. Info sessions will also be held in Room 126 in Hyde Hall at 7:00 p.m. on February 28 and March 1.
If you have questions, please contact Justin Coffey at jc534@evansville.edu or Melinda Daniels at md212@evansville.edu.
Submitted by Justin Coffey jc534@evansville.edu
Residence hall Recyclemania pledge contest ends today
The Recyclemania pledge contest between residence halls ends at 4:00 p.m. today. Students can sign a pledge stating that they will learn about the recycling program at UE and act to recycle more in the next month. The residence hall with the highest percent of pledges wins, and students who signed a pledge from the winning hall will have their names entered into a drawing for a Smart Strip Energy Saving Surge Protector. Pledge forms are available in each residence hall. There is one entry allowed per resident.
See the UE Department of Environmental Management Facebook page for more information.
Submitted by Jan Schrader js652@evansville.edu
Collegiate Changemaker Challenge results
Thanks to all the students who participated in the Collegiate Changemaker Challenge. We are proud of your inspirational ideas and your hard work was evident in your presentations.
First Place (tie) – Trip to a social innovation conference in Konstanz, Germany
Solar Innovators – Andrea Onyett and Hannah Jaramillo
Food Waste Project – Bushara Ahmed
Second Place – $1,000
Residential Revolution –John East
Third Place – $500
Scholars for Syria – Kendra Mehling and Kristen Fowler
Watch for the next Changemaker Challenge this fall!
Submitted by Cindy Kelley ck116@evansville.edu
Join the Kazees - pledge to recycle!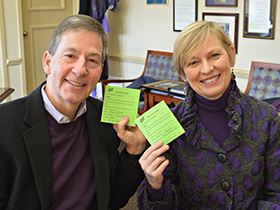 Join President Tom and Dr. Sharon Kazee in pledging to recycle. Fill out a Recyclemania pledge by Feb. 28 and have your name entered in a drawing for one of three beverage coupons from Jazzman's.
Recyclemania pledges and pledge boxes are located in the following buildings:
• Bower-Suhrheinrich Library
• Carson Ticket Office
• General Services Mail Room
• Graves Hall Nursing and Physical Therapy office
• Hyde Hall by the second floor copier
• Koch Center by the second floor copier
• Krannert second floor Room 126
• Olmsted Admissions office
• Ridgway second floor
• Schroeder School of Business Building, first floor
The drawing will be held on Friday, March 3.
Please email js652@evansville.edu with questions.
Submitted by Jan Schrader js652@evansville.edu
Faculty, alumni, and sports residents work at MLB spring training
University of Evansville and ProRehab sports physical therapy residents and faculty members recently performed preseason screenings of the Milwaukee Brewers and St. Louis Cardinals Major League Baseball teams.
This is the fourth year UE/ProRehab residents have participated in the injury prevention system utilized by the Brewers and the first year with the Cardinals. The screening involves specific tests and an injury risk algorithm developed and researched by Phil Plisky, associate professor of physical therapy, and Kyle Kiesel, professor and chair. This injury prevention model is used by a wide variety of high school, college and professional sports teams as well as the US Military.
The team working with the Brewers in Arizona was led by Plisky '98, and included UE alumni Kyle Matsel '11, Allison Weaver '15, Katie Whetstone '12, and Jenna Gourlay (2015 residency) as well as current sports residents Nathan Denning, Rachel Patton '16 and Alyssa Waninger '16.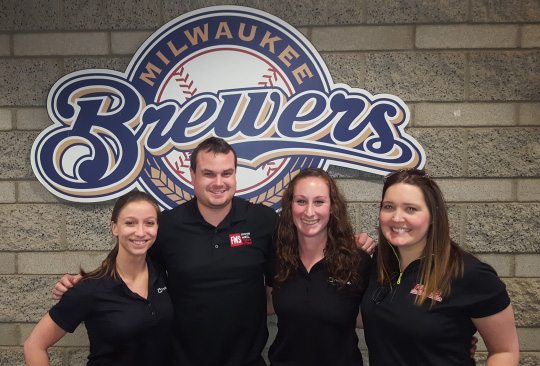 The team working with Cardinals in Florida was led by UE alum and former PT faculty member Robert Butler '09 and included Brian Joyce '12, Frances Matsel '10, Danielle Honnette (2016 residency).
Submitted by Jennifer Simon js698@evansville.edu
Sari Baum named runner-up for Norton Prize
Sari Baum, a junior in creative writing and literature, has had her beautiful essay "Bánat is Hungarian for Grief" selected as runner-up in the esteemed Norton Writer's Prize. The Norton Writer's Prize is among the most competitive contests for undergraduate writing, and this is the second year in a row that a UE student has landed in the top three.
Professor Khan has paper accepted for publication
Walayet A. Khan, professor of finance, co-authored a paper with Ghulam Sarwar, California State University, titled, "The Effect of US Stock Market Uncertainty on Emerging Market Returns." The paper is forthcoming in the Emerging Markets Finance and Trade (journal), 2017.
Khan presented another paper with the same coauthor (under review now) titled," Examining the Interactions of US Market Risks and Emerging Market Returns in an Integrated System: Global Evidence" at the 2016 annual meeting of the Financial Management Association.
Williams and Fellows Scholars to present at national conference
LaNeeca Williams, chief diversity officer, and four Fellows Scholars will present at the Bringing Theory to Practice conference in Chicago on May 24. The conference is titled, "The Whole Student: Intersectionality and Well-Being." It is in partnership with the Association of American Colleges and Universities. Williams and the students will facilitate a single institution team panel on "Academic Mechanisms, Social Engagement Opportunities, and Anti-Bias Training: Winning Students of Color at a PWI." The conference will take place May 24-26, in Chicago, Illinois.
UE Community members nominated for Leadership Evansville Honors
Several University of Evansville faculty members and administrators and two of the University's programs have been nominated for this year's Leadership Evansville's Celebration of Leadership honors. Celebration of Leadership recognizes individuals and groups who have positively impacted the Evansville community in the categories of the arts, community and neighborhood, education, environment, government and public services, and/or health and social service.
Carol Dallinger, UE professor of music and coordinator of the Suzuki Violin Program, has been nominated in the arts category. Dallinger established the Suzuki Violin Program at UE 44 years ago. She is principal second violinist in the Evansville Philharmonic orchestra, and she has performed solo recitals in England, Austria, and Italy. Read her biography on the UE website to find out more about Dallinger.
UE vice president of marketing and communications Don Jones was nominated in the health and social services category. Prior to UE, he was vice president of marketing for MSW Research, which counts Disney, P&G, L'Oreal, and Kraft among its clients. He has served as senior managing consultant for IBM, senior vice president of global product management at The ARS Group, and director of marketing at St. Mary's Medical Center. Find out more about Jones by reading his biography on UE's website.
Jones also represents the Zagster Bike Share program which has been nominated in the environment category. Jones is president of the Evansville Trails Coalition. You can learn more about the bike share program on the Zagster website.
Erin Lewis, program director for the institute for Global Enterprise at UE, has been nominated in the education category. She received the nomination for her work with Global Enterprise's Global Assistance Project and Changemaker program. Her strong work ethic and abilities have helped both programs improve and grow in a short amount of time. Find out more about Lewis by reading her profile on the UE website.
Michael Roscoe received a nomination in the health and social service category. Roscoe is founding director and chair of UE's Department of Physician Assistant Science, the first program of its kind in the area. He has taken on the responsibility of obtaining accreditation for the program, and it has already been granted accreditation-provisional status by the ARC-PA. Roscoe also serves as an assistant professor of physician assistant science at UE. You can read more about Roscoe in this article in the news section of the UE website.
UE assistant director of gift planning Cathy Renner has been nominated in the community and neighborhood category. Renner is involved in the Rotary Club of Evansville, specifically with its annual Santa Run. She has guided three successful runs, and proceeds from each funded community programs. She is a member of Tri Kappa, a philanthropic organization in Indiana that promotes charity, culture, and education. Renner also devotes a great deal of time to Trinity United Methodist Church.
The University of Evansville's Global Assistance Project (GAP) program has been nominated as an outstanding education program. GAP opens doors for students and community leaders to work together to improve Evansville and the world. With such projects as the UE Cultural District to Growth Alliance of Greater Evansville and Mission Guatemala, GAP has improved the Evansville community by bringing a fresh perspective, an international awareness, and a desire to aid and assist wherever the projects lead. You can find out more about GAP on their web page.
One of GAP's projects, Scholars for Syria, has been nominated as a valuable education program. This group has many members from both the UE and local communities. Scholars for Syria enriches the Evansville community by sharing the Syrian culture through poetry readings, concerts, seminars, and speakers - including a presentation by the imam of the Islamic Center of Evansville and tropical talks by UE professors. Find more details about Scholars for Syria on their website.
Leadership Evansville will be honoring nominees during its Celebration of Leadership event at the Old National Events Plaza in downtown Evansville on Thursday, March 9. Doors open at 4:00 p.m., with a reception from 4:15–5:15 p.m. The ceremony begins at 5:30 p.m. and ends at 7:00 p.m.
University of Evansville campus community members and their families are welcome and encouraged to attend. The cost is $5 for students and children and $15 for adults. You can RSVP online at the Leadership Evansville website.
Contribute to AceNotes
To have content considered for inclusion in AceNotes, please submit a Marketing Request Form. Deadline for submission to AceNotes is 10:00 a.m. on the requested date of publication. Only articles concerning UE related/sponsored activities will be accepted. Articles submitted to AceNotes may be edited for length and clarity. Submitter contact information is at the end of each article.