| | |
| --- | --- |
| AceNotes Today | Friday, February 3, 2017 |
Black Student Union hosts Dining with the Past
The Black Student Union, in celebration of Black History Month, is hosting Dining with the Past, a dinner and entertainment event, from 6:00-9:00 p.m., tonight, in Eykamp Hall, Room 251, Ridgway University Center.
This event will feature black musical artists from the past 30 years as your dinner guests from 6:00-8:00 p.m. Then from 8:00-9:00 p.m., there will be a dance featuring R&B music from the past 30 years. Shelby Coates from News Channel 44 will host the event.
Ticket prices are $5 for students and $25 for other campus and community members.
For more information or tickets please contact Marks Cannon, BSU president, at mc281@evansville.edu, or LaNeeca Williams, BSU advisor, at lw161@evansville.edu.
Under Armour sale at the UE Bookstore
The UE Bookstore is offering 25 percent OFF of all Under Armour purchases until February 3 on the remaining stock of inventory. This includes all shorts, polos, T-shirts, and sweatshirts. Hurry while supplies last.
Don't miss out on Nerd Wars 2017
Only a few more team spaces are open, so act fast! The Honors Program is hosting Nerd Wars trivia night on Tuesday, February 28, at 7:00 p.m., in Eykamp Hall, Ridgway University Center. Teams of five, consisting of students, faculty, administrators, and staff, will battle in a competition of wits while enjoying pizza, popcorn, and soda. T-shirts will be given to all team participants and $25 gift cards to the winning team.
Other prizes given throughout the evening include gift cards to area restaurants, Bluetooth speakers, Bluetooth headsets, universal portable keyboard, portable chargers, and fitness/sleep monitors.
Gather your team and register online, TODAY!
Pay your $5 per person entry fee to Jayme Williams in Room 238 in the Koch Center for Engineering and Science. Those who are unable to compose a team of five may still register and will be matched to make a team. The deadline to enter has been extended to February 6.
Questions can be e-mailed to Paige at ph89@evansville.edu.
NY Times representatives on campus today
Representatives from the New York Times will be available in the library today. They will be available in the afternoon and evening to offer assistance signing up for access. They've promised gifts to people who stop by! Hope to see you there.
Ski and snowboard with Venturing Crew and International Club!
Join Venturing Crew and the International Club for a night of skiing and snowboarding at Paoli Peaks! This trip is open to all current UE students.
The bus will leave for Paoli at 6:00 p.m. on February 10, and the group will arrive back at campus at 3:00 a.m.
The cost is $15. You can sign up for the trip at Ridgway University Center lobby tables on Thursday, February 2, Friday, February 3 from 11:00 a.m.-2:00 p.m., and Monday-Friday, February 6-10, from 11:00 a.m.-2:00 p.m. and 5:00-7:00 p.m. Bring your cash or check and student ID to reserve a place.
Snow bibs, pants, and helmets are optional, but if you would like to rent them, bibs and pants will be $12 each and helmets will be $10 each. Lockers will also be available to rent, and boots will be included.
Lessons are free and will be available if requested before February 10!
Lunch and Lead - Sustainability: More than just a Buzzword
Want to learn how to be an environmentally friendly leader? What does that even mean? Go green with us on February 7 for Lunch and Lead in Eykamp Hall, Room 252, Ridgway University Center, at 12:30 p.m. Learn how to be sustainable in your personal life and with your organization!
This Lunch and Lead will be presented by the Moore Hall sustainability committee. This event is free and open to all students, faculty, and staff, and UE community members. We encourage attendees to bring their lunch with them to these events.
Flush Flash correction - Hesburgh Lecture
The date for the annual Hesburgh Lecture has been changed to Friday, February 24. The lecture will begin at 7:00 p.m. in Room 170 (Smythe Lecture Hall) of the Schroeder School of Business Building.
Scam alert - copiers/printers
Campus is again receiving scam calls from unknown caller ID phone numbers. For example, a recent scam caller said he was calling from Business Technologies and that his boss was requesting departmental copier/printer information (model numbers, serial numbers, cartridge numbers, etc.
Do NOT share any information with a scam caller. UE copier/printer vendors already have access to UE equipment and supply information and will NEVER contact individual departments requesting this information.
A scam caller's intent is to obtain information to bill the University. Please DO NOT give them any information. Feel free to tell the scam caller that you are not authorized to provide information or order copier supplies and refer the caller to the Office of Administrative Services. Usually this quickly ends the conversation.
If you receive a scam call, please report it to Kim Winsett, Office of Administrative Services, at ext. 2940 or e-mail kw83@evansville.edu.
Submitted by Kim Winsett kw83@evansville.edu
Interested in living in Village housing for 2017-18?
Students wishing to reside in a Village housing unit (Townhouse, North Hall, house, or apartment) for 2017-18 should plan to attend an information session about the Village selection process. Sessions will be at 4:30 p.m. and 9:30 p.m. in Eykamp Hall, Room 252, Ridgway University Center, on February 8.
You can find more information online about the housing selection process.
TIAA-CREF counseling appointments
The TIAA-CREF representative will be on the UE campus on Wednesday, February 15, and Thursday, February 16, for individual counseling sessions. To schedule an appointment, call TIAA-CREF at 1-800-732-8353 or 317-706-6200. The sessions are held in the Clifford Rare Books Room (Room 158) of the University Libraries.
If you have any questions, call Lori LeDuc at 812-488-2943.
Susan Walter receives February 2017 Employee of Month award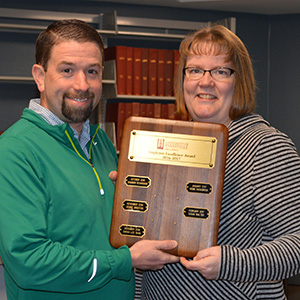 The University of Evansville is proud to announce that Susan Walter has received the February 2017 Employee of the Month Award.
Susan is enthusiastic and committed to her role as a library associate. She works continuously with students who have overdue books. Susan does everything she can to help them avoid charges, while getting the books returned in a timely manner. Susan is also responsible for training the student workers at the library, making sure they are knowledgeable about all policies and procedures. Most importantly, Susan goes above and beyond to help every student who needs it.
She is truly an exemplary employee.
Last day for student charge at UE Bookstore is February 10
The last day for students to charge textbooks and supplies to their student accounts in the UE Bookstore will be Friday, February 10. If you still need a book and want to use this option please come to the bookstore before this date. Keep in mind that these charges will need to be paid on your account in the student accounts office. If you have questions please contact the UE Bookstore.
Rent to own option at UE Bookstore
Students who rented books for the spring term in the UE Bookstore and wish to purchase them can do so in the bookstore by February 28. The amount of your rental fee will be applied to the amount you will owe to purchase the book outright. Please keep in mind the deadline if you want to pursue this option. Bring your original receipt as well. Contact the UE Bookstore with any questions.
Now accepting Global Scholar applications for 2017-18
The Global Scholars Program is designed to offer support for faculty engaged in scholarship or curriculum development that helps prepare our students and community (public, private, and civic sector partners) for global leadership, citizenry, and success. It is expected that the Global Scholars' activities will have a positive impact on the global mindset of some of our constituencies, including students, faculty, and the greater Evansville community.
The Global Scholars program is supported and administered by the Institute for Global Enterprise and is made possible in part by the John H. Schroeder Global Scholar Endowed Fund.
Current funding will support 3-5 awards per year. Awards include a stipend of $1,000 and up to $3,000 for travel, research materials, conference fees, and other related expenses.
The deadline for full consideration is February 28.
More information can be found on the Institute for Global Enterprise's web page.
Reminder - New Enterprise and National rental rates now effective
New cost saving Enterprise holdings (Enterprise Rent-a-Car and National Car Rental) rental rates became effective on January 15. In addition, to car rental savings, discounted commercial truck rental rates have been added.
Travelers are reminded that the rental process remains the same and the new rates are loaded onto the UE account number. To check out the new rental rates visit the AceLink Travel website.
Please note - existing reservations (those made prior to January 15) will not be updated and travelers will need to cancel and rebook the reservations to obtain the new rates.
For questions, contact Kim Winsett at ext. 2940 or e-mail kw83@evansville.edu.

Baines gives paper at Rome conference
Robert Baines, assistant professor of English, gave a paper at the 10th James Joyce Italian Foundation Conference. The conference took place at the University of Roma Tre in Rome on February 2 and 3. Baines's paper was titled "The Doublin Bruno: Reuniting the Nolan in Finnegans Wake I.6."
Maass publishes correspondence in International Security
Richard Maass, assistant professor of political science, has a correspondence on "NATO Non-expansion and German Reunification" published in the newest issue of International Security. The correspondence, with Joshua Shifrinson, concerns Shifrinson's recent article "Deal or No Deal? The End of the Cold War and the US Offer to Limit NATO Expansion." In it, Maass discusses interrelated historical, causal, and moral questions surrounding potential links between the 1990 US pledge not to expand NATO and recent Russian foreign policy.
Maass interviewed on refugee ban by 14News and Eyewitness News
Richard Maass, assistant professor of political science, was interviewed by both 14News and Eyewitness News on the subject of President Trump's recent executive order. The order suspends the refugee program for 120 days, bans entry for 90 days for citizens of Iraq, Iran, Libya, Somalia, Sudan, Syria, and Yemen, and bans entry indefinitely of Syrians seeking refugee status.
Maass emphasized that terrorist groups claim to fight on behalf of much broader populations that actually reject their violence, and that the most effective counterterrorism policies discriminate between the terrorists and those broader populations. In contrast, policies that discriminate against those broader populations end up helping the terrorists recruit.
Portions of Maass's interviews have been turned into features on the subject, which can be viewed on the 14News and Eyewitness News websites.
Maass also wrote an article on the subject in the aftermath of the November 2015 Paris attacks. It was later named Best Post of the Year by the International Studies Association's Online Media Caucus.
From Mary Lou Gerhart and family
Dear UE family,
Your outpouring of love, compassion, and support during Phil's recent illness is deeply appreciated. We are so touched by your support and heart-warming stories of Phil's presence in your life. Thank you for sharing your time and love with us.
Mary Lou Gerhart and family
Women's Tennis ready for three weekend matches
Three matches will take place over the next three days as the University of Evansville Women's Tennis team continues its 2017 spring campaign.
A pair of contests are set for Friday as UE welcomes Murray State and Austin Peay to Tri-State Athletic Club. The Purple Aces face the Racers at noon before welcoming the Governors in a 6:00 p.m. tilt. On Sunday, UE makes a trip to Bloomington to take on Indiana University at 3:30 p.m. ET.
In the opener two weeks ago, Purdue opened play on Sunday, taking the doubles point to start the day. Rafaella Baquerizo and Nicole Robinson earned a 6-1 win over Andjela Brguljan and Daria Pentsova at #1 doubles while Caitlin Calkins and Grace Schaffer topped Theodora Soldatou and Chieko Yamada, 7-5, in second-flight doubles. In the third flight, Marta Ruedas and Alex Sabe defeated Nicoli Pereira and Diana Tkachenko by a 6-4 final.
The Boilermakers also had success in singles play. At flight one, Yamada fell to Robinson, 7-5, 6-4. Tkachenko lost to Andjela Djokovic in #2 singles, 6-3, 6-4. In the third flight, Sabe earned the victory over Pentsova, 6-2, 6-1, while Reudas beat Andrea Pascual-Larrinaga in the fourth flight, 6-3, 6-1.
Baquerizo was the winner in the fifth flight as she topped Soldatou, 6-3, 6-0. Brguljan put up a nice fight in the sixth spot as she faced Schaffer. She fell 4-6, 6-2, 1-0 (12-10).
Murray State enters Friday's match with a mark of 0-1 following a 7-0 defeat at Louisville while Austin Peay opened its spring slate up with a 6-1 loss at Chattanooga. The Hoosiers are 3-1 with wins over Western Michigan, Butler and Cincinnati with their loss coming to Washington State. IU opens the weekend with matches against Miami Ohio and Western Kentucky.

Beth Csukas to be recognized at First Responder Day
Just over a year ago, former Purple Aces student-athlete Beth Csukas suffered a serious automobile accident that would forever change her life. Faced with an uphill battle, she fought every day to overcome the setback and showed the attitude of a champion. On March 26, Csukas will be honored for her efforts by the Missouri Valley Conference as she will be presented with the MVC Most Courageous Award.
Csukas will be presented with the award as part of First Responder Day in conjunction with the University of Evansville Softball game against Bradley at Cooper Stadium. All first responders (firefighters, EMT's, police officers, paramedics, etc.) will receive two free tickets to the game with the proper first responder ID.
Special pricing will also be enacted for the game on March 26. Adult admission will be just $5 while seniors and youth tickets are $3. The award presentation will take place at 11:45 a.m. in Cooper Stadium with the softball contest following at noon.
"This is going to be a great day that will celebrate what Beth Csukas has meant to the University of Evansville and the Evansville community as a whole," UE senior associate athletic director Sarah Solinsky said. "We are excited to have her back on campus and recognize the courage she has shown."
Csukas was a two-sport athlete with the Aces. She spent time playing with the softball and women's soccer squads in her time at the University. After graduation, she stayed in the Evansville area and was a firefighter in the community.
"Beth has been an active alum at UE and has done a great job of serving the community, March 26 will be a chance for all of us to give a little bit back to her," Solinsky added.
Three other recipients of the Most Courageous Award have come from the University of Evansville. Former sports information director Bob Boxell received the award in 2009 while women's soccer play Abby Guerra was a 2010 recipient, and Kwame James got it in 2002.
The Missouri Valley Conference presents the Most Courageous Award to a past or present student-athlete, coach or university administrator who demonstrates unusual courage in the face of personal illness, adversity or tragedy and whose behavior reflects honor on the institution or the Conference. Individuals receiving the award might also have performed heroic feats or otherwise inspired others.

Contribute to AceNotes
To have content considered for inclusion in AceNotes, please submit a Marketing Request Form. Deadline for submission to AceNotes is 10:00 a.m. on the requested date of publication. Only articles concerning UE related/sponsored activities will be accepted. Articles submitted to AceNotes may be edited for length and clarity. Submitter contact information is at the end of each article.