| | |
| --- | --- |
| AceNotes Today | Thursday, February 2, 2017 |
SAB Movie: Dr. Strange tonight
Tonight, the Student Activities Board will be showing Dr. Strange in Eykamp Hall, Room 251, Ridgway University Center, at 7:00 p.m. As usual, free popcorn will be provided. We will also be giving away a Dr. Strange movie poster. Hope to see you there!
Don't miss out on Nerd Wars 2017
Only a few more team spaces are open, so act fast! The Honors Program is hosting Nerd Wars trivia night on Tuesday, February 28, at 7:00 p.m., in Eykamp Hall, Ridgway University Center. Teams of five, consisting of students, faculty, administrators, and staff, will battle in a competition of wits while enjoying pizza, popcorn, and soda. T-shirts will be given to all team participants and $25 gift cards to the winning team.
Other prizes given throughout the evening include gift cards to area restaurants, Bluetooth speakers, Bluetooth headsets, universal portable keyboard, portable chargers, and fitness/sleep monitors.
Gather your team and register online, TODAY!
Pay your $5 per person entry fee to Jayme Williams in Room 238 in the Koch Center for Engineering and Science. Those who are unable to compose a team of five may still register and will be matched to make a team. The deadline to enter has been extended to February 6.
Questions can be e-mailed to Paige at ph89@evansville.edu.
NY Times representatives on campus today
Representatives from the New York Times will be available in the library today. They will be available in the afternoon and evening to offer assistance signing up for access. They've promised gifts to people who stop by! Hope to see you there.
Ski and snowboard with Venturing Crew and International Club!
Join Venturing Crew and the International Club for a night of skiing and snowboarding at Paoli Peaks! This trip is open to all current UE students.
The bus will leave for Paoli at 6:00 p.m. on February 10, and the group will arrive back at campus at 3:00 a.m.
The cost is $15. You can sign up for the trip at Ridgway University Center lobby tables on Thursday, February 2, Friday, February 3 from 11:00 a.m.-2:00 p.m., and Monday-Friday, February 6-10, from 11:00 a.m.-2:00 p.m. and 5:00-7:00 p.m. Bring your cash or check and student ID to reserve a place.
Snow bibs, pants, and helmets are optional, but if you would like to rent them, bibs and pants will be $12 each and helmets will be $10 each. Lockers will also be available to rent, and boots will be included.
Lessons are free and will be available if requested before February 10!
Black Student Union hosts Dining with the Past
The Black Student Union, in celebration of Black History Month, is hosting Dining with the Past, a dinner and entertainment event, from 6:00-9:00 p.m., tonight, in Eykamp Hall, Room 251, Ridgway University Center.
This event will feature black musical artists from the past 30 years as your dinner guests from 6:00-8:00 p.m. Then from 8:00-9:00 p.m., there will be a dance featuring R&B music from the past 30 years. Shelby Coates from News Channel 44 will host the event.
Ticket prices are $5 for students and $25 for other campus and community members.
For more information or tickets please contact Marks Cannon, BSU president, at mc281@evansville.edu, or LaNeeca Williams, BSU advisor, at lw161@evansville.edu.
Lunch and Lead - Sustainability: More than just a Buzzword
Want to learn how to be an environmentally friendly leader? What does that even mean? Go green with us on February 7 for Lunch and Lead in Eykamp Hall, Room 252, Ridgway University Center, at 12:30 p.m. Learn how to be sustainable in your personal life and with your organization!
This Lunch and Lead will be presented by the Moore Hall sustainability committee. This event is free and open to all students, faculty, and staff, and UE community members. We encourage attendees to bring their lunch with them to these events.
UE Hesburgh lecturer to discuss "Reformation Era and Makings of Modernity"
The University of Evansville will host the fifth annual Hesburgh Lecture in collaboration with the Notre Dame Club of the Tri-State, on Friday, February 24. The lecture will begin at 7:00 p.m. in Room 170 (Smythe Lecture Hall) of UE's Schroeder School of Business Building.
This year's guest speaker will be Brad D. Gregory, director of Notre Dame's Institute for Advanced Study. His topic will be "The Reformation Era and the Makings of Modernity." Gregory will discuss ways in which conflicts of the Reformation era prompted unintended historical developments that created the modern Western world, and without which we cannot understand contemporary problems such as the presumed conflict between science and religion, unending moral disagreements, global climate change, and the secularization of knowledge.
Gregory is a professor of history and holds the Dorothy G. Griffin Chair in the Department of History at Notre Dame. Together with Randall Zachman, he serves as the North American editor of the Archive for Reformation History. Gregory earned his PhD in history from Princeton University and his MA in history from the University of Arizona. He received his licentiate degrees in philosophy from the Higher Institute of Philosophy of the Catholic University of Leuven, Belgium. He earned his BA degree in history from the Catholic University of Leuven, and his BS in history from Utah State University. He has been awarded the Hiett Prize in the Humanities from the Dallas Institute of Humanities and Culture, and the Kaneb Teaching Award from the College of Arts and Letters, Notre Dame.
Gregory's research centers on Christianity in the Reformation era, including magisterial Protestantism, radical Protestantism, and Roman Catholicism approached comparatively and cross-confessionally. He is also interested in the long-term ideological influences and institutional consequences of the Reformation era on the making of the modern Western world. Another of his areas of research and interest is methodology and theory in the understanding of religion and history
Named for Rev. Theodore M. Hesburgh, president emeritus of the University of Notre Dame, the Hesburgh Lecture Series is a major community outreach program of Notre Dame alumni clubs around the nation. The series features Notre Dame faculty members discussing topics ranging from art and architecture to economics to social concerns.
Scam alert - copiers/printers
Campus is again receiving scam calls from unknown caller ID phone numbers. For example, a recent scam caller said he was calling from Business Technologies and that his boss was requesting departmental copier/printer information (model numbers, serial numbers, cartridge numbers, etc.
Do NOT share any information with a scam caller. UE copier/printer vendors already have access to UE equipment and supply information and will NEVER contact individual departments requesting this information.
A scam caller's intent is to obtain information to bill the University. Please DO NOT give them any information. Feel free to tell the scam caller that you are not authorized to provide information or order copier supplies and refer the caller to the Office of Administrative Services. Usually this quickly ends the conversation.
If you receive a scam call, please report it to Kim Winsett, Office of Administrative Services, at ext. 2940 or e-mail kw83@evansville.edu.
Submitted by Kim Winsett kw83@evansville.edu
Interested in living in Village housing for 2017-18?
Students wishing to reside in a Village housing unit (Townhouse, North Hall, house, or apartment) for 2017-18 should plan to attend an information session about the Village selection process. Sessions will be at 4:30 p.m. and 9:30 p.m. in Eykamp Hall, Room 252, Ridgway University Center, on February 8.
You can find more information online about the housing selection process.
TIAA-CREF counseling appointments
The TIAA-CREF representative will be on the UE campus on Wednesday, February 15, and Thursday, February 16, for individual counseling sessions. To schedule an appointment, call TIAA-CREF at 1-800-732-8353 or 317-706-6200. The sessions are held in the Clifford Rare Books Room (Room 158) of the University Libraries.
If you have any questions, call Lori LeDuc at 812-488-2943.
Susan Walter receives February 2017 Employee of Month award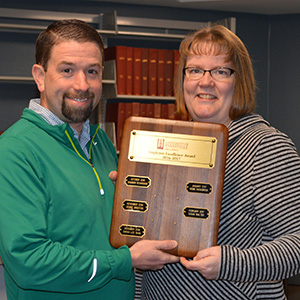 The University of Evansville is proud to announce that Susan Walter has received the February 2017 Employee of the Month Award.
Susan is enthusiastic and committed to her role as a library associate. She works continuously with students who have overdue books. Susan does everything she can to help them avoid charges, while getting the books returned in a timely manner. Susan is also responsible for training the student workers at the library, making sure they are knowledgeable about all policies and procedures. Most importantly, Susan goes above and beyond to help every student who needs it.
She is truly an exemplary employee.
Last day for student charge at UE Bookstore is February 10
The last day for students to charge textbooks and supplies to their student accounts in the UE Bookstore will be Friday, February 10. If you still need a book and want to use this option please come to the bookstore before this date. Keep in mind that these charges will need to be paid on your account in the student accounts office. If you have questions please contact the UE Bookstore.
Rent to own option at UE Bookstore
Students who rented books for the spring term in the UE Bookstore and wish to purchase them can do so in the bookstore by February 28. The amount of your rental fee will be applied to the amount you will owe to purchase the book outright. Please keep in mind the deadline if you want to pursue this option. Bring your original receipt as well. Contact the UE Bookstore with any questions.
Now accepting Global Scholar applications for 2017-18
The Global Scholars Program is designed to offer support for faculty engaged in scholarship or curriculum development that helps prepare our students and community (public, private, and civic sector partners) for global leadership, citizenry, and success. It is expected that the Global Scholars' activities will have a positive impact on the global mindset of some of our constituencies, including students, faculty, and the greater Evansville community.
The Global Scholars program is supported and administered by the Institute for Global Enterprise and is made possible in part by the John H. Schroeder Global Scholar Endowed Fund.
Current funding will support 3-5 awards per year. Awards include a stipend of $1,000 and up to $3,000 for travel, research materials, conference fees, and other related expenses.
The deadline for full consideration is February 28.
More information can be found on the Institute for Global Enterprise's web page.
Outstanding Teacher award
The UE Alumni Association recognizes an outstanding teacher for his or her exemplary instruction and student support at spring commencement. UE administrators, faculty, staff, students, and alumni may nominate a faculty member who exemplifies the award's criteria for outstanding teaching effectiveness that inspires the intellectual development of students. The nomination form is located on the Office of Alumni's Outstanding Teacher webpage.
Full-time faculty who have taught in the classroom at UE for two years or more and hold the rank of lecturer, instructor, assistant professor, associate professor, or professor are eligible for nomination.
Past award recipients are as follows:
Associate professor of anthropology James Berry 2011
Associate professor of sociology Mari Plikuhn 2012
Associate professor of mechanical and civil engineering Mark Valenzuela 2013
Associate professor of archaeology Jennie Ebeling 2014
Associate professor of psychology Margaret Stevenson 2015
Associate professor of sociology and criminal justice M. Kevin Gray 2016
The deadline to submit nominations is February 6, at 5:00 p.m. For questions, contact Tracey Folden at tf91@evansville.edu.
Maass interviewed on refugee ban by 14News and Eyewitness News
Richard Maass, assistant professor of political science, was interviewed by both 14News and Eyewitness News on the subject of President Trump's recent executive order. The order suspends the refugee program for 120 days, bans entry for 90 days for citizens of Iraq, Iran, Libya, Somalia, Sudan, Syria, and Yemen, and bans entry indefinitely of Syrians seeking refugee status.
Maass emphasized that terrorist groups claim to fight on behalf of much broader populations that actually reject their violence, and that the most effective counterterrorism policies discriminate between the terrorists and those broader populations. In contrast, policies that discriminate against those broader populations end up helping the terrorists recruit.
Portions of Maass's interviews have been turned into features on the subject, which can be viewed on the 14News and Eyewitness News websites.
Maass also wrote an article on the subject in the aftermath of the November 2015 Paris attacks. It was later named Best Post of the Year by the International Studies Association's Online Media Caucus.
UE grad named teacher of the week
Central High School teacher Sasha Huff Hudson, a 2009 graduate of UE's School of Education, was recently named the teacher of the week in the Evansville Courier and Press. Hudson, who teaches both English and Spanish at Central High School, says her favorite part of teaching is helping students learn new information.
In an interview with the Courier and Press, Hudson said, "In Spanish, I love teaching a student something for the first time. It's a great feeling to know that I can take a student who, at the beginning of the year, knows almost no Spanish and by the end of the year, he or she can have a conversation, write paragraphs, and read pages."
This honor exemplifies the collaborative work among the English, creative writing, foreign language, and education departments at the University of Evansville. Working in partnership, faculty members cultivate students' passions and build upon their knowledge to prepare them for successful classroom teaching.
Andueza publishes a book chapter on Spanish exclamatives
Lorena Andueza, assistant professor of Spanish, is the co-author of "Embedded Exclamatives and the Ingredients of Grounded Belief," a book chapter that has been published in Advances in the Analysis of Spanish Exclamatives edited by Ignacio Bosque, a Spanish linguist member of the Royal Spanish Academy.
From Mary Lou Gerhart and family
Dear UE family,
Your outpouring of love, compassion, and support during Phil's recent illness is deeply appreciated. We are so touched by your support and heart-warming stories of Phil's presence in your life. Thank you for sharing your time and love with us.
Mary Lou Gerhart and family
UE battles to the end in overtime loss at Indiana State
Jaylon Brown went a perfect 16-for-16 from the free throw line on his way to a game-high 25 points, but Brenton Scott countered with 22 to give Indiana State an 85-84 overtime win over the University of Evansville Men's Basketball team on Wednesday evening at the Hulman Center.
Brown led all scorers with his efforts while playing 43 of the 45 minutes. Ryan Taylor totaled 18 points while Christian Benzon recorded 12 and Dru Smith had 10 for UE (10-14, 1-10 MVC).
Scott hit seven of his 12 attempts and three triples on his way to pace the Sycamores (8-15, 2-9 MVC). Everett Clemons had 14 points while three other ISU players recorded double figures.
"We played hard tonight. We executed well and did some good things, but we were not able to stop them in the second half," UE head coach Marty Simmons said.
Hitting four of its first five shots and four free throws, the Purple Aces started the night taking a 13-3 lead. Ryan Taylor had seven of those points, hitting all three of his opening attempts. Matt Van Scyoc ended the stretch with a three as the Sycamores responded with an 8-2 stretch, cutting the gap so six four points.
Triples by Christian Benzon and Dru Smith saw UE takes its largest lead to that point at 33-22 with 4:43 left before Indiana State responded once again. Treys by Van Scyoc and Brenton Scott came in an 8-0 stretch that made it a 3-point lead for the Aces. Jaiveon Eaves helped to overcome the run as his triple put UE back up at 38-32.
UE added to the lead in the final moments, extending their edge to ten at 42-32 going into the locker room. Shooting 63.6%, the Aces were led by 10 points from Jaylon Brown.
After Indiana State got within eight points in the opening three minutes of the second half, Evansville was able to turn back-to-back turnovers into four points as they opened up a 48-36 edge. Brenton Scott continued to bring ISU closer as his triple was part of a rally that saw ISU cut their deficit to 50-44 with 12:16 on the clock.
With under nine minutes remaining, the Sycamores got within a possession at 56-54 as Jordan Barnes connected on two free throws before Taylor responded on the other end to give UE a 4-point edge. Indiana State held UE to 1-of-9 shooting as they were able to take their first lead of the game. Jordan Barnes was fouled on a triple and hit all three free throws to give ISU a 59-56 lead with six minutes remaining. On the other end, Brown put the lead right back in UE's hands with a triple of his own.
Six lead changes ensued leading to a 71-71 game before ISU hit a pair of free throws to go up 73-71. On the ensuing possession, Taylor connected from downtown to give the Aces a 74-73 lead with 70 ticks left. T.J. Bell put the lead back into ISU's hands with an and-one on the other end to put the Sycamores up 76-74 with 35 seconds remaining. Brown hit a layup of his own following a time out give Indiana State one final change with the shot clock off, but a jumper by Scott at the buzzer fell short forcing overtime.
UE forced a turnover on ISU's opening possession and on the other end, Dru Smith posted an and-one to give the Aces a 79-76 advantage. Midway through the extra period, Bell gave ISU its first OT lead with his jumper, making it an 81-80 ballgame. The back-and-forth play continued as Brown gave UE the lead right back with two free throws. The lead switched two more times leading to an 84-83 Evansville lead with under 30 seconds left. That is when Brenton Scott struck again as his bucket gave ISU an 85-84 lead with 12 ticks left. On UE's possession, the ball got knocked out of bounds with 0.6 on the clock as the final chance fell just short on the in-bound.
Evansville's next two home games will take place at the Ford Center as the Aces welcome Missouri State on Saturday for a 3:00 p.m. game before playing host to Loyola on February 8 at 7:00 p.m.

Contribute to AceNotes
To have content considered for inclusion in AceNotes, please submit a Marketing Request Form. Deadline for submission to AceNotes is 10:00 a.m. on the requested date of publication. Only articles concerning UE related/sponsored activities will be accepted. Articles submitted to AceNotes may be edited for length and clarity. Submitter contact information is at the end of each article.