| | |
| --- | --- |
| AceNotes Today | Monday, January 16, 2017 |
Admission Open House Today!
The Office of Admission will be hosting an Open House today, Monday, January 16. We will be welcoming approximately 90 families during this event. The Open House guests will join the UE community for lunch in Café Court between 11:00 a.m. and 12:40 p.m. Please give our visitors a warm welcome!
Venturing Crew open house is today!
Outdoor enthusiasts, come to the Venturing Crew Spring Open House tonight at 7:00 p.m. in Room 162 in the Schroeder School of Business Building! You will learn about all of the upcoming activities this semester, including extended outings and non-overnight events. Also, if you have not already done so, you will have the opportunity to become a member of Venturing Crew. You will also be able to start signing up for trips. There will also be more opportunities to sign up for events in the future.
Please note that all payments for trips must be paid in full and are non-refundable.
The cost is $25 to become a new member, and a membership and T-shirt bundle is $30. Without the purchase of a new membership, T-shirts will be for sale for $8. Nalgene water bottles will also be for sale for $9.
If you are a Venturing Crew member or anyone who loves the outdoors, we look forward to seeing you at the open house.

Volunteer at ACA's Paws for a Cause pet fashion show!
Another Chance for Animals will be holding an event, Paws for a Cause, on Saturday, March 11, from 6:00-9:00 p.m. at Tropicana. It's a pet fashion show! The organization is in need of volunteers. Volunteer duties will include changing the pets' outfits and walking them down the runway. If you think you'll be in town during spring break and are interested in this, please sign up ASAP! Money from the event supports animals that ACA rescues and cares for and for finding placement for homeless animals in the area.
Help volunteers who are working diligently to find forever homes and loving families for these animals.
You can volunteer by signing up on the ACA'S Paws For A Cause website.
Comedian Eric O'Shea in Café Court tonight
The Student Activities Board will be sponsoring a performance by Eric O'Shea in Café Court at 9:00 p.m., tonight. Eric was awarded Best College Comedian in 2007 and was the creator of the Youtube sensation Songs for Commercials. This event is free to students, and drinks and popcorn will be available.
Collegiate Changemaker Challenge budgeting/sustainability session today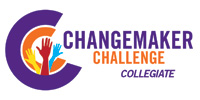 The Changemaker Challenge is hosting its second training session on today, January 18, from 5:00-7:00 p.m. in Room 251, Eykamp Hall, Ridgway University Center. Yasser Alhenawi, associate professor of finance, and Jill Griffin, executive director of the Institute for Global Enterprise, will advise students on project budgeting and sustainability. ALL students welcome! More information can be found on the Changemaker Challenge webpage.
This Week in Music: Shepard Brass in Recital
Tonight's recital is at 7:30 p.m. in Wheeler Concert Hall and will feature Shepard Brass, the music department's faculty brass quintet. As always, this recital is free and open to the public.
Showcase your talent at Spotlight
Do you have a musical talent? You can showcase your talent at UEMTA's Spotlight. Groups and solo acts are welcome to perform. Students and faculty are welcome to participate. The performance fee is $5, and registration ends on January 23. Tickets are $5, and the ticket sales start on January 19. If you have any questions, e-mail Hannah Nilsen at hn22@evansville.edu or Kelsey Fields at kf135@evansville.edu.
Spring 2017 study-skills/time-management workshops
Want to earn higher grades with lower stress? Attend one of our workshops where you will learn strategies to help you better manage your time; study more effectively; and improve reading, note-taking, and in-class listening skills. Hope to see you there.
The workshops are planned for 4:00 p.m. in the Writing Center in Clifford Memorial Library today - Wednesday, January 18 - and tomorrow - Thursday, January 19.
Curious about the resident assistant position?
Information sessions are being held regarding the resident assistant position for any students who are interested in applying for the 2017-18 school year. Sessions will be held in Eykamp Hall, Room 253, Ridgway University Center, today from 7:30-8:30 p.m., and Thursday, January 19, from 5:00-6:00 p.m. Residence life staff encourages you to attend if you are curious about what the position entails and how you can get involved!
Family Weekend 2017
Family Weekend 2017 is set for September 22-24! The Office of Alumni and Parent Relations has started working on plans for the event. If your student organization or department would like to have an event for families or parents during this weekend, please complete the Family Weekend event participation form by March 3.
Like past years' successful events, we would like to have a lot of student and department participation. If you would like to volunteer assistance or if you have ideas, please contact us at alumni@evansville.edu or call 812-488-2900.
UE to Launch New Logistics and Supply Chain Management Program
The University of Evansville will launch a new logistics and supply chain management (LSCM) program in Fall 2018. There is a 6:1 demand-to-supply ratio for new college graduates in the supply chain field.
"We have listened to our regional business community and responded," said Schroeder Family School of Business Dean Greg Rawski, "Our LSCM program will be impactful and will fortify our 98 percent career placement rate – one of the best in the nation."
The LSCM program at UE will prepare students with the knowledge and skills desired by employers. In addition to a rigorous course of study in UE's Schroeder School of Business, students in the program will take part in high level experiential learning opportunities such as:
• Internships at large, global corporations
• Annual attendance at the Indiana Logistics Summit
• Participation in a mock Walmart warehouse program at the University of Arkansas
• LSCM technology training through SAP University Alliance
The Schroeder School of Business will also create the center for logistics and supply chain management which will house experiential student programs and connect LSCM students to corporations.
With a low student-to-faculty ratio of 12-to-1, students will also benefit from close mentorship from Schroeder School of Business faculty members. Students will also attend a speaker series where they can learn from individuals with experience in logistics and supply chain management.
In October 2016, a UE student team took third place among 18 Indiana colleges in the Conexus Logistics Case Competition. These colleges, some with established LSCM programs, vied to develop the best solution to a logistics-related issue at this contest.
"The UE team's third place win", says Yolanda Obaze, UE assistant professor of supply chain management, "was very impressive considering they have had limited exposure to the field of logistics and supply chain management."
UE's Schroeder Family School of Business Administration maintains accreditation with the Association to Advance Collegiate Schools of Business International. (AACSB). The Schroeder School will be the first private AACSB accredited program in Indiana to offer an undergraduate major in logistics and supply chain management.
To learn more about logistics and supply chain management at the University of Evansville, please contact the office of admission at 812-488-2468 or visit UE's website.
Religious life awarded United Methodist Interfaith Innovation Grant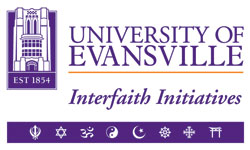 The University of Evansville's Office of Religious Life has been awarded a United Methodist Interfaith Innovation Grant, made possible by generous funding from The Methodist Foundation serving Texas and New Mexico and Interfaith Youth Core in Chicago, Illinois. Grant funds will support plans for faculty and staff development through interfaith reading groups and technology to energize student interfaith leadership.
"We received a higher than anticipated number of proposals for these grants, and were impressed by their overall quality and creativity. We believe these efforts hold much promise for strengthening a campus wide commitment to interfaith engagement," said Joe Morrow of Interfaith Youth Core.

Employee of the Month nominations
The University of Evansville, in pursuit of excellence in service, wishes to recognize a non-faculty employee displaying records of achievement as a leader. Leadership may be demonstrated in any of the following areas: service to the University, service to students, job performance, and attitude towards fellow employees. To be eligible, an employee must be a full-time member of administration or staff. Nominations for the February 2017 Employee of the Month are due no later than Wednesday, January 18. To nominate someone, go to AceLink and click on Areas, and then select Human Resources. The nomination form can be found under Forms on that page.
Ladies in Pink a capella auditions set for Sunday
A capella auditions for Ladies in Pink are planned for Sunday, January 22 at 1:00 p.m. in Eykamp Hall, Room 251, Ridgway University Center. Please prepare one minute of a pop song. Come show us your skills! All genders welcome.
International orientation leader applications available
Apply to be an International Orientation Leader for the 2017-2018 school year! The IOLs are a dynamic group of students who work to welcome new international students to UE in August and throughout the year. Develop your leadership skills, share your UE experiences, and meet new UE students from all over the world. We welcome both international students and students from the United States to apply.
Applications are available online.
Please visit the Office of Cultural Engagement and International Services in the Student Life Center on the second floor of Ridgway University Center in the Student Life Center for more information, and direct any questions to ms331@evansville.edu.
New honors program director named
Michael Austin, executive vice president of academic affairs, is pleased to announce that Maggie Stevenson, associate professor of psychology, has been appointed the director of the UE Honors Program, replacing professor of history Daniel Gahan, who has served with great distinction for three and a half years. Gahan will continue to direct the program during this semester and will help facilitate the transition. Stevenson will officially begin her term at the end of the Spring 2017 semester.
Austin would like to express his deep appreciation to Danny, who stayed on an extra year past the end of his term while Austin got up to speed on both UE and the Honors Program, and to Maggie, who brings a wide swath of talent, enthusiasm, and general awesomeness to this important position.

W-2 notice for 2016
The Office of Accounting/Payroll will be issuing W-2s for 2016 no later than January 31. We are pleased to announce that you can choose one of two options to receive your W-2:
•Electronic W-2 – If you provide your consent, you will receive an e-mail notification via AceNotes Extra that your W-2 is ready to view/print on WebAdvisor.
•Paper W-2 – If you prefer, you can continue to receive a paper W-2 in the mail, as you have in the past.
Among the advantages of electronic W-2s.
(1) You will have access to your W-2 a couple of days earlier than a paper copy that is mailed to hour home
(2) You can print as many copies of the W-2 as you need. The electronic W-2 is IRS compliant and can be submitted with your tax return.
To take advantage of the electronic W-2 option, you must log onto Web Advisor and select the option Employee Self Service. Click the option W-2 Information.
Click the Change Preferences button and then click the first radio button to give your consent.
Then click Save.
You will not receive a paper W-2 in the mail if you select the electronic W-2 option.
Again this year, employees that are eligible to participate in the University's health plans, will receive a 1095-C form. This form will be used to complete questions regarding health insurance offers and coverage on your 2016 tax return. Like the W-2 consent, the 1095-C form will need a consent as well.
This is done by clicking on the 1095-C Information tab (on the same screen as the W-2 Information option) and giving your consent.
If you choose to withhold your consent to view/print your online W-2 and 1095-C, a paper copy will be prepared and mailed to you at your home address.
If you have any questions, please feel free to contact Gloria Spencer at ext. 2159.
Intramural basketball
Registration for intramural basketball and the 3-point contest is now open on IMLeagues. Be sure to sign up before January 20. If you are interested in a flexible campus job, we are also looking for basketball officials and score keepers. E-mail Maria Tonry at mt208@evansville.edu. No experience necessary! Training will be from January 17-19 at 7:00 p.m. in Carson Center.
Do you want to be an orientation leader (OL)?
Orientation leader (OL) applications are now available! To complete an electronic application before the deadline of January 23, visit the Welcome Week website.
Information on "What it takes to be an Orientation Leader" and the "OL Code of Conduct" can be found on the Welcome Week website along with the application and reference forms.
Current orientation leaders will be available in the Ridgway University Center from January 18-20 if you have any questions. You can also contact the Office of the Vice President of Student Affairs/Dean of Students at 812-488-2500 or stop by Room 230 in Ridgway University Center during business hours.
Resident assistant application deadline is approaching!
Don't forget! Your chance to apply to become a resident assistant for the Fall 2017-18 academic year is almost up! Applications are due by Wednesday, January 25, at 5:00 p.m. Application material is available on the residence life webpage. Visit residence life's office on the second Floor of Ridgway University Center in the student life suite for any in-person questions.
Chronicle of Higher Education available across campus
The UE libraries, in cooperation with the Office of the Executive Vice President for Academic Affairs, is happy to announce that the Chronicle of Higher Education is now available online to all students, staff, and faculty. Access is available by going to Chronicle.com. Off-campus access requires you to create an account using your UE e-mail address. Conduct searches, search archives and current news, and sign up for newsletters. Questions can be directed to Danielle at dw56@evansville.edu.
College Mentors for Kids - become a mentor!
College Mentors for Kids has been a campus organization for the past 10 years. It allows college students to give back to the community and mentor an elementary student. Activities are held on campus every Wednesday to teach elementary students about higher education, cultural diversity, and community service. If you are interested, apply online on the College Mentors for Kids application webpage.
The application due date is January 24 and our first activity is January 25.
If you have any questions, please contact the organization's president, Myka Goode, at mg222@evansville.edu.
Scam alert - copiers/printers
Individuals on campus are again randomly receiving scam calls from individuals requesting departmental printer and/or copier information (model or serial numbers, cartridge numbers, etc.). Keep in mind, UE current printer/copier vendors already have access to UE equipment and supply information. UE printer/copier vendors will never call individual departments requesting any information. In some cases, scammers are calling for individuals by name, saying that they need copier/printer information for repair purposes and/or special toner pricing.
A scammer's intent is to obtain information and to bill the University. Please do not give them any information. Simply tell the caller that you are not authorized to provide information or order copier supplies and refer them to the Office of Administrative Services. Usually this quickly ends the conversation.
If you receive a scam call, please report it to Kim Winsett, Office of Administrative Services at ext. 2940.
Study health care at Harlaxton this summer!
Travel to Harlaxton for 10 days or five weeks and learn about the differences between British and US health care systems. This study abroad experience is headquartered at the University of Evansville's British campus, Harlaxton College.
This course focuses on a comparison of health care systems in Great Britain and the United States. Both historical and modern health care sites are visited. The tentative schedule includes visits to Nottingham, Lincoln, Eyam, Chesterfield, and Grantham. The origin of health care systems will be studied during visits to a hospital, hospice, selected almshouses, and cathedrals. Group discussions with British citizens concerning the consumer's view of the British health care system are also scheduled. The course concludes with visits to medical museums in London.
For more information or to apply, please contact Amara Stuehling at as760@evansville.edu.
Contemporary European business issues program this summer!
Apply to take BUS 265 or BUS 365 in the UK this summer! The multidisciplinary course will cover comparative business issues between the European Union and the United States, as well as issues in history, political science, language, culture, and religion. Students will participate in United Kingdom site visits to support the development of an understanding of the complexities of the operations of a corporation in a global context.
For more information or to apply, please contact Amara Stuehling at as760@evansville.edu.

Harlaxton application deadline next week
The deadline to submit an application for Harlaxton Summer 2017 or Harlaxton Fall 2017 is next week on Wednesday, January 25. You will need to create an online application and pay your deposit to guarantee your space on the program by this deadline.
The application only takes a few minutes to complete and can be filled in online on the study abroad webpage.
If you have any questions about studying at Harlaxton please e-mail ls283@evansville.edu for more information or visit the education abroad office on the second floor of the Schroeder School of Business Building.
School of Education Achieves Seven Year Accreditation from the Council for the Accreditation of Education Preparation
The School of Education at the University of Evansville has been granted seven year accreditation by the Council for the Accreditation of Education Preparation (CAEP) with the next site visit in Spring 2023.
After an intense period of self-study which began in 2013, UE hosted a site visit with a CAEP review team in April of 2016. The site visit team reviewed extensive reports and interviewed members of the School of Education team to evaluate and verify the institution's ongoing ability to meet the council's standards for accreditation.
The CAEP standards are as follows:
1. Content and Pedagogical Knowledge
2. Clinical Partnerships and Practice
3. Candidate Quality, Recruitment, and Selectivity
4. Program Impact
5. Provider Quality Assurance and Continuous Improvement
"The accrediting team noted that we had strong, sincere relationships with our school partners," said Sharon Gieselmann, chair of the School of Education at UE. "We are fortunate to have excellent school partners who mentor UE students during school placements beginning their freshman year. This experience allows students to apply what they are learning in university course work in a real world classroom setting. This partnership helps us provide quality candidates who are prepared to teach in K-12 schools."
CAEP's mission is to advance excellent educator preparation through evidence-based accreditation that assures quality and supports continuous improvement to strengthen P-12 learning.
"The most important aspect of the accreditation process is continuous improvement," said Tom Kazee, the president of the University of Evansville. "By choosing this higher level of accreditation, we've shown that we're willing to use new measures to enhance the quality of the program which will, in turn, strengthen our schools and our community."
The School of Education at the University of Evansville has been preparing quality teachers for over 160 years with a challenging curriculum in a supportive environment. UE students thrive in small classes with dedicated faculty advisors. 100 percent of the 2015-16 class is working in the field of education or enrolled in graduate school.
Zyggy retires
Rarely has the cliché "mixed emotions" been more apt for describing the feeling of saying farewell and good luck to everyone's favorite Harlaxton transport coordinator, Zyggy Dekanski. After 16 years at the wheel, and some time spent behind reception on security, Zyggy has decided to turn over his keys. He will indeed be missed massively by his many adoring fans from around the globe. If you wish to join us in congratulating Zyggy, you may leave a comment on the Harlaxton Facebook page or send him a personal note care of Harlaxton. (We'll make sure the cards and letters all reach him).
Congratulations and thank you, Zyggy!

Aces fall 74-67 to Wichita State
After putting together one of the best quarters of the season to open the second half, the University of Evansville Women's Basketball team fell victim to similarly impressive stretch from visiting Wichita State, falling 74-67 to the Shockers at the Ford Center on Sunday afternoon.
The Aces (7-10, 2-4 Missouri Valley Conference) rode a 15-0 run in the third on the way to out-scoring the visitors 19-4 in the frame, but the Shockers (6-10, 1-4 MVC) answered emphatically by scoring 14 of the first 15 points of the final stanza. They would never trail again.
"We started gaining some momentum when we started to be aggressive," UE head coach Matt Ruffing said. "We kind of let them dictate the pace, but once we started to push and attack the paint, I thought our offense opened up. That third quarter proves that when we're doing what we're supposed to do, we're capable of performing at a high level. I think confidence is a big thing for us, and we showed that in the stretch we had earlier this year."
"I have to give Wichita a lot of credit," Ruffing added. "I think we may have gotten a little complacent at the start of the fourth quarter, and Wichita took advantage of it. They got some confidence and started to build momentum, and we couldn't swing it back in our favor."
The Aces were led on the day by Camary Williams. The Ft. Myers, Florida, native led all scorers with 24 points, and she did the bulk of her work from the charity stripe, going 14-21. The 14 made free throws tied Latasha Austin's 16-year-old school record. Williams also pulled down a game-best 10 rebounds.
Sara Dickey also enjoyed a productive day as well with 17 points on 7-for-15 shooting, and both Brooke Dossett and Macie Lively hit double figures, finishing with 12 and 10 points, respectively.
Meanwhile, the post tandem of Rangie Bessard and Angiee Tompkins led the Shockers, combining for 29 points and 15 rebounds.
UE will return to action next Sunday with a showdown against Southern Illinois.

Aces drop fourth in a row on Saturday
For the second game in a row, Ryan Taylor and Jaylon Brown scored 19 points apiece, but a late push by Southern Illinois saw them earn a 73-61 win over the University of Evansville Men's Basketball team on Saturday afternoon at the Ford Center.
The duo for UE (10-9, 1-5 MVC) hit 12 out of 19 attempts on the day and were 12 out of 13 from the free trow line. Behind them, Dru Smith and David Howard finished with six points apiece.
Three Saluki (11-8, 4-2 MVC) players finished in double figures, led by a 20-point game from Mike Rodriguez. He drained a game-high nine free throws. Sean Lloyd finished with 14 while Thik Bowl tallied 12.
Saturday's game saw the program honor legendary head coach Jim Crews was honored during Saturday's game. He was recognized with a proclamation before the game while former players in attendance joined him on the floor at halftime.
"Give Southern Illinois credit, they got off to a good start and kept it going," UE head coach Marty Simmons said. "Defensively, for a large portion of the game, I thought we did pretty well, but when you have breakdowns it is tough to recover."
Evansville led for the majority of the first half, going by as many as nine points, but a late push saw Southern Illinois head to the locker room with a 33-31 lead. Ryan Taylor led everyone with 12 points in the opening half, going a perfect 5-of-5 from the field.
The Aces opened the game on a 6-2 stretch with David Howard scoring four of those tallies. After SIU tied it up at 6-6, UE went back on top as an 11-2 run gave them a 17-8 lead at the midway point of the half. Evansville continued to lead at 23-15 with just over five minutes on the clock before a 13-0 run pushed the Salukis in front for the first time. A triple by Austin Weiher made the difference as they took a 24-23 lead. Six lead changes ensued before the Salukis wrestled away a 33-31 lead going into the half.
Southern Illinois added to its lead in the opening moment of the final period. An 8-3 stretch, paced by an Armon Fletcher triple, saw them take a 7-point advantage (41-34) just over two minutes in. Evansville responded in a big way. Down 43-36, a Jaylon Brown triple with under 13 minutes remaining capped off a 7-0 run as UE tied it up.
A Thik Bowl slam ended the stretch to put SIU back on top, but Dru Smith continued his nice work since returning from injury. His triple gave Evansville a 47-45 lead and on the ensuing SIU possession, Smith drew a charge to put the ball back in the Aces hands.
Just as fast as the Aces rallied, the Salukis did the same. Mike Rodriguez knocked down a triple to finish off an 8-0 run that gave them a 53-47 edge with under eight minutes left in the game. Duane Gibson ended the stretch with his bucket, but the Salukis kept the pressure on. The third trey of the game for Rodriguez gave SIU the first double digit lead either team would enjoy on the day at 61-51. They added to the lead from there, going up by as many as 15 before a late UE triple made it a 73-61 final.
SIU finished with a 37-36 rebounding edge and also outshot the Aces by a 42.6%-40.0% margin.
Wichita State comes to the Ford Center for a game with UE tomorrow evening. Tip is slated for 8:00 p.m.

Contribute to AceNotes
To have content considered for inclusion in AceNotes, please submit a Marketing Request Form. Deadline for submission to AceNotes is 10:00 a.m. on the requested date of publication. Only articles concerning UE related/sponsored activities will be accepted. Articles submitted to AceNotes may be edited for length and clarity. Submitter contact information is at the end of each article.