| | |
| --- | --- |
| AceNotes Today | Thursday, January 5, 2017 |
Outstanding Teacher award
The UE Alumni Association recognizes an outstanding teacher for his or her exemplary instruction and student support at spring commencement. UE administrators, faculty, staff, students, and alumni may nominate a faculty member who exemplifies the award's criteria for outstanding teaching effectiveness that inspires the intellectual development of students. The nomination form is located on the Office of Alumni's Outstanding Teacher webpage.
Full-time faculty who have taught in the classroom at UE for two years or more and hold the rank of lecturer, instructor, assistant professor, associate professor, or professor are eligible for nomination.
Past award recipients are as follows:
Associate professor of anthropology James Berry 2011
Associate professor of sociology Mari Plikuhn 2012
Associate professor of mechanical and civil engineering Mark Valenzuela 2013
Associate professor of archaeology Jennie Ebeling 2014
Associate professor of psychology Margaret Stevenson 2015
Associate professor of sociology and criminal justice M. Kevin Gray 2016
The deadline to submit nominations is February 6, at 5:00 p.m. For questions, contact Tracey Folden at tf91@evansville.edu.
Calling for musicians
Students, staff, faculty, and administrators are invited to play in the University Symphony Orchestra and String Chamber Ensemble. The University Symphony Orchestra meets on Monday at 5:30 p.m. and Wednesday at 4:00 p.m. The String Chamber Ensemble meets on Thursday at 4:00 p.m. in the Krannert Hall of Fine Arts. Come join us!
E-mail Chun-Ming Chen, director of orchestral activities, at cc319@evansville.edu for more information.
UE Bookstore spring term book rush hours
The UE Bookstore will have revised hours for the spring term's book rush from January 7-13.
Saturday and Sunday, January 7 and 8: Closed
January 9-12: 9:00 a.m.-6:00 p.m.
January 13: 9:00 a.m.-4:30 p.m.
Open swim hours
The pool will be open from 11:00 a.m. -1:00 p.m. Wednesday-Friday this week.
UPS drop boxes have arrived!
Two new UPS drop boxes have now been installed on the UE campus. Their locations are:
Outside of the library mailroom entrance door to the left of the service lane
Outside of the UE Bookstore delivery door to the left of the service lane.
General Information
UPS drop boxes allow you to drop off your shipment 24 hours a day, seven days a week at the nearest self-service UE campus location. (Note - dimension, high value, and hazardous material shipment restrictions apply.)
Overall dimensions of an outside UPS drop box is 55"H x 25"W x 22"D. The box that holds shipment ready parcels is 20" x 20" x 18".
The drop box scheduled pick up time is likely to be 6:00 p.m. and the pick-up time will be posted by UPS on the exterior of each drop box.
UE and UPS are not responsible for parcels left OUTSIDE of a drop box at any time.
UPS will attempt to contact senders directly, if parcels are placed in the drop box that are not shipment ready.
When opening the drop box to leave a parcel, senders (UE students, departments, or employees) will be able to tell if the UPS pickup has been made for the day by viewing the inside of the drop in door. A red inside door indicates that the pickup has taken place. A green inside door indicates that the pickup has NOT taken place
Senders are responsible for preparing their parcels for shipment including appropriately taping, addressing parcels, attaching shipping labels and/or documentation, as appropriate.
Pre-paid return labeled parcels too large for a campus drop box with no return date/time sensitivity may be taken to the UE Bookstore. The UE Bookstore does not have daily UPS pickup.
Senders who have pre-paid return labeled parcels too large for a campus drop box that are date/time sensitive may call UPS 1-800-PICK-UPS for a site pickup or take the parcel to an alternate local UPS drop-off site (Office Depot, The UPS Store, etc.) or directly to UPS.
For additional information, visit the Mail Services website on AceLink.
For questions, contact administrative services at 812-488-2940.
Debbie Kassenbrock receives January Employee of the Month Award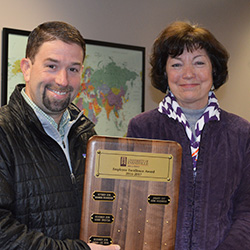 Debbie Kassenbrock, director of academic advising and associate registrar, has received the Employee Excellence Award for January 2017.
All of those nominating Debbie agree on her unfailing dedication to UE students, their families, and this institution. It is evident to all that the success of the UE student is her priority. Debbie is tireless in her efforts to assist both incoming and continuing students with their academic and scheduling concerns. She is an invaluable resource for our students, their parents, faculty, coaches, and her colleagues.
Well done, Debbie, and thank you being our own "UE treasure".
Professors' paper accepted by Review of Quantitative Finance and Accounting
A paper by Schroeder School of Business professors Yasser Alhenawi and Martha Stilwell has been accepted for publication in the Review of Quantitative Finance and Accounting. This is a highly esteemed journal recognized by several PhD-granting institutions as a prestigious research outlet.
The paper is co-authored by Alhenawi, associate professor of finance, and Stilwell, assistant professor of accounting.
The manuscript presents and tests a hypothesis that value creation in merger and acquisition (M&A) transactions is determined by not only the target's pre-acquisition value, as indicated by earlier studies, but also by the acquirer's competency (among other factors). Further, the paper employs statistical procedures and model-building techniques in order to develop and validate parsimonious Altman-style predictive models, which reasonably identify successful M&A deals. The models are statistically significant, robust to out-of-sample testing, and shed more light on a few existing theories in corporate transforming events.
Azarian publishes reviews of mathematics research papers in MathSciNet
Mohammad K. Azarian, professor of mathematics, has published reviews of two research papers in the MathSciNet, the most respected data base for research in mathematical sciences.
The first paper, by Pavel Trojovský entitled, "On Some Combinations of Terms of a Recurrence Sequence," published in Chaos Solitons Fractals. This paper examines integer linear homogeneous recurrence sequences, in connection with k-Nacci sequence, Lucas sequence, and repdigits. The second paper, by Vinícius Facó and Diego Marques, entitled, "Tribonacci Numbers and the Brocard-Ramanujan Equation", appeared in the Journal of Integer Sequences. This paper deals with Diophantine equations involving factorials. Authors have been motivated by the work of Goldbach, D. Bernoulli, J. Liouvill, Ramanujan, and Erdo"s. The movie, "The Man Who Knew Infinity" is based on Ramanujan's highly exceptional mathematical legacy.
Heidi Strobel and Paul Bone
Condolences to Heidi Strobel, associate professor of art history, and her husband, Paul Bone, associate professor of creative writing, on the death of Heidi's father, Fred Strobel, on December 22.
Heidi inherited her love of college teaching from her father, who taught economics for 20 years at Kalamazoo College, where he held the Stephen B. Monroe Chair of Money and Banking. From 1994-2008, Fred held the William G. and Marie Selby Chair of Economics at New College-University of South Florida in Sarasota. Throughout his life, he remained concerned with economic justice. He predicted much of the economic struggles of the working class in this country in his two books.
Heidi's sister, Gretchen, of St. Louis Park, Minnesota, did an extraordinary job of caring for their father in his final years.
Services will be held privately.

Jaylon Brown reaches 1,000-point mark as Aces fall to Bradley
JoJo McGlaston scored a game-high 24 points as Bradley earned a 74-63 win over the University of Evansville Men's Basketball team on Wednesday evening at the Ford Center.
McGlaston paced BU (7-9, 2-1 MVC) with his 24 tallies where he drained seven out of 11 attempts. Darrell Brown finished with 11. Leading the Purple Aces (10-6, 1-2 MVC) was Jaylon Brown, who went 17-of-20 from the free throw line on his way to 21 points. Ryan Taylor had 18 points while Christian Benzon had another double figure outing with 13 tallies. Brown's 17 free throws were the most for a UE player since D.J. Balentine hit 20 in February of 2014 against Illinois State.
"We were sloppy and did not execute very well on offense," UE head coach Marty Simmons said. "One good thing to take away is that we kept attacking and were able to get to the free throw line."
A 3-for-3 start from the floor saw the Braves jump out to a 6-3 lead. They kept that momentum going to take a 9-3 lead as the Aces started the day 1-of-8 from the field. Evansville made its way back with a 6-0 run, tying the game for the first time at 9-9.
After Bradley took a 19-15 lead, the Aces scored five in a row to take their first lead of the game at 20-19 on a Christian Benzon free throw. Six lead changes ensued before the Braves wrestled away a 34-32 lead at the half. Jaylon Brown scored ten in the period and moved past the 1,000-point mark in his career. He became the 48th player in program history to do so. Benzon matched his 10 first-half points.
Bradley continued to lead the Aces in the opening minutes of the latter half, matching their largest lead at 44-38 inside of 13 minutes remaining. A three just seconds later gave them a 47-40 advantage before two Duane Gibson free throws with 6:24 on the clock got UE back within a possession at 58-55. From there, the Braves outscored the Purple Aces by a 16-8 margin to take the 74-63 win.
Evansville finished with a 37-35 advantage on the boards while Bradley shot 50% while holding the Aces to 23.5%. The Braves are the first team this season to hit the 50% mark against UE in 2016-17.
Over the next week, the Aces take to the road for a pair of MVC contests. The trip begins on Sunday as the Aces face Drake at 3:00 p.m. before heading to Springfield, Missouri, to take on Missouri State Wednesday evening at 7:00 p.m.
Contribute to AceNotes
To have content considered for inclusion in AceNotes, please submit a Marketing Request Form. Deadline for submission to AceNotes is 10:00 a.m. on the requested date of publication. Only articles concerning UE related/sponsored activities will be accepted. Articles submitted to AceNotes may be edited for length and clarity. Submitter contact information is at the end of each article.