| | |
| --- | --- |
| AceNotes Today | Thursday, December 22, 2016 |
A Christmas message from the university chaplain
Several years ago, when we were still dating, Mitch and I attended an Amy Grant Christmas concert in Nashville, Tennessee. We experienced some concertgoers that night who weren't necessarily prepared for bagpipes, bassoons, and the maestro, but nonetheless, they purchased tickets and found their seats in the row right behind us. This past week, I was reminded of that concert and the strangers who ended up in our section. Purple Santa and I would like to share the story with you.
We knew it was going to be an interesting evening when the conductor walked onstage. Upon the appearance of the maestro, signaling that the program was about to begin, the woman behind us let out a whoop that one more commonly associates with a rodeo. She was, of course, the only person to do so. As the remainder of the audience applauded the conductor's arrival, we heard the whooper remark to her friend, "Oh, they clap."
Mitch and I enjoy all kinds of music that's done well, and that certainly includes country music. What we sensed immediately, however, was that this woman had come to see Vince Gill, not the Nashville Symphony Orchestra with their oboes and violas. Our hunch was confirmed when the woman continued to chatter loudly (even disrespectfully), throughout the orchestra's opening piece. Finding this to be distracting, Mitch said aloud (in a moment of weakness), "If I wanted to hear constant chatter I would've brought my kids!"
The woman mouthed a sarcastic apology and quieted somewhat, but when the male companions of the two women arrived it was clear that their intent from the beginning was to spend the evening talking, with beer. Mitch turned around periodically to fire irritated looks at them, but to no avail. However, when the music of a very fine bluegrass band called Nickel Creek ensued, their continual guffawing halted somewhat. After an intense stare-down from Mitch at intermission, the two guys behind us finally settled down and were quieter during the second half. Sadly, though, they missed out on some magnificent music and prevented several of us from enjoying the show as we might have.
Sadder still is the recognition that the noisy foursome wasn't all that different from so many of us. We listen only to what we want to hear. And unfortunately, in the hyper-stimulated, digital culture of ours, we only seem to listen to the sounds that scream at us the loudest. We shouldn't wonder, then, that so much of the heart healing of Advent and Christmas, goes unnoticed.
How silently, how silently, we sing, the wondrous gift is given; so God imparts to human hearts the blessings of his heaven. How much joy do we miss by giving ear only to the things we have been programmed to like? How would the Christmas story read if the magi had chosen to listen only to King Herod? And if we give ear only to life's crescendos, how shall we notice the whisper of the winter wind in the pines or the delicate, sparkling chatter of icy droplets on the window? These are the softer sounds of Christmas-time through which God often speaks. We would shudder, wouldn't we, to think God hears only the prayers of those who pray the loudest?
Straining to hear beyond the banter behind us, we heard Amy Grant sing in softened tone, "Breath of heaven, hold me together…" Sometimes God's voice is in the thunder. More often, God's voice is like a gentle breath of air. Maybe that's how, in a day of war, we will hear the sounds of peace. Sometimes, we have to listen harder, in order to hear beyond the din. Said the Night Wind to the little lamb; do you hear what I hear?
May the nights you spend in silence, be filled with the spirit of peace.

UE music ensembles to appear on local media
Some of UE's ensembles will be appearing on local media during the coming holiday weekend.

The department's Holiday Pops Concert from December 6 will be aired in full on WNIN radio 88.3 FM Evansville this Friday, December 23, from 1:00-2:00 p.m.

UE's Kantorei will be one of the choral ensembles featured in upcoming holiday broadcasts by local CBS and FOX Channel 44 television stations.
Friday, December 23: Sometime between 5:00-7:00 a.m., on both CBS 44 and FOX 44
Friday, December 23: Sometime between 7:00-9:00 a.m. on FOX 44
Saturday, December 24: Sometime between 11:30 p.m.-1:30 a.m. on CBS 44
Sunday, December 25: Sometime between 1:30-3:30 p.m. on FOX 44
Complimentary poinsettias available in Neu Chapel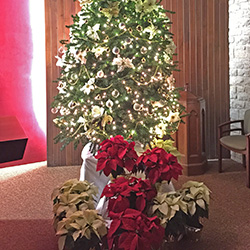 Complimentary white and red Christmas poinsettias are available in Neu Chapel. Feel free to take one home with you or share one with a friend. Neu Chapel is open today and tomorrow, first come, first served. (Please note that poinsettias are toxic to cats and dogs and can prove fatal to small animals.)
December Pcard cycle
The December Pcard cycle which began November 22, ended December 21. December transactions may be reconciled in SDG2 until tomorow - January 4. On January 4, the general ledger Pcard file will be uploaded and cardholders will be locked out of (unable to assign account information or expense descriptions) posted transactions for the December Cycle. However, reports may be scheduled and run on active Pcards for the December cycle as of December 23 and beyond unless the Pcard is cancelled.
UE Bookstore hours
The UE Bookstore will be open 8:00 a.m.-5:00 p.m., from December 19-22. The bookstore will close on December 23 and not reopen again until January 3. Please plan your purchases accordingly.
Eric Renschler and family
Condolences to Eric Renschler, chair of the Department of Theatre, on the death of his mother, Vera Mae (Grabert) Renschler. Mrs. Renschler died December 20, at her home in Evansville, Indiana. She was 85.
She graduated from Evansville College in 1953 with a BA in Modern Languages. She earned her MA in Business Education from the University of Evansville, and taught for 28 years in the Metropolitan School District of Mt. Vernon where she was the business education department supervisor.
She was preceded in death by her husband, Ervin; parents Gottlieb and Alice (Dickhaut) Grabert; and her brother Kenneth Grabert and his wife, Betty.
She is survived by her two sons, Dr. Clifford L. Renschler (Karen), of Tijeras, New Mexico, and Eric L. Renschler (Robin), of Evansville, grandchildren, Clinton and Tyler Renschler of Tijeras; and Alisha and Zoe Renschler of Evansville; nieces, Janelle Vogt and Mary Ruth Butler; nephews, Keith Grabert and David Renschler; and sister-in-law, Nancy Renschler.
The funeral service will be at 10:00 a.m. on Friday, December 23, at Schneider Funeral Home, 512 Main St. Mt. Vernon, Indiana, with burial to follow in Bellefontaine Cemetery.
Visitation will be from 4:00 p.m.-7:00 p.m. on Thursday, December 22, at the funeral home and from 9:00 a.m. until 10:00 a.m. service time on Friday.
Memorial contributions may be made to the Mt. Vernon Fine Arts Academy or to an organization of choice.
Harlaxton connection in Wall Street Journal article
Look for the spouse of a visiting Harlaxton faculty member, Rob Curran, and the Harlaxton media intern, Zoe Dannenmueller, mentioned in the Wall Street Journal today. The article begins on the front page and is titled "Come to Church! There's Beer."
The full article can be viewed online with a subscription.
Matt Ruffing named head women's basketball coach
University of Evansville director of athletics Mark Spencer has announced that Matt Ruffing has been named the permanent head women's basketball coach for the Purple Aces, effective immediately. Ruffing assumed head coaching duties on an interim basis on March 1.
"Since taking over the position on an interim basis, Matt has done an excellent job with our team and we look forward to the future with him at the helm," Spencer said. "In just a short time, Matt has shown that he is ready for this opportunity with our team performing well on and off the court."
Ruffing came to UE in 2011 and served as an assistant coach until 2016.
"I am very thankful for this opportunity to continue coaching at the University of Evansville and am excited to keep working towards our program goals," Ruffing said. "The young ladies on our team are receiving a top notch education while representing UE on the basketball court and in the community. I look forward to helping them succeed academically and athletically."
"Evansville and UE have become home for me over the past five and a half years. I want our players to have that same feeling during their time here," Ruffing added.
Ruffing has led the Aces to a 5-6 mark through their first 11 games of the season. Included in that span is a 4-game win streak that included wins over Valparaiso, Murray State and Austin Peay. Going back to last year, Ruffing has directed the team to six wins in 13 contests.
In 2011, Ruffing came to Evansville after spending four seasons on the coaching staff at the University of Akron. Beginning as a graduate assistant in the 2007-08 season, while working on a masters in sports science, Ruffing was promoted to assistant coach for the past three seasons. He served as the scouting and equipment coordinator and assisted in recruiting, handled film exchange and assisted in pre and postseason conditioning.
Ruffing also worked closely with the post players and developed sophomore center Rachel Tecca into a first team Mid-American Conference selection in 2011, marking just the third Zip in program history to receive the honor. Tecca was also named the MAC Sixth Player of the Year under Ruffing's guidance in 2010, while Ruffing coached an All-MAC Freshmen Team Member in each of his three years as assistant coach.
Prior to Akron, Ruffing served as a student assistant and head manager of the University of Dayton women's basketball team. Ruffing helped coordinate the team's tape exchange and assisted the coaching staff in many other roles, including the daily operations of practice.
"I also want to thank some very important people who made this opportunity possible. I need to thank Dr. Kazee, Mark Spencer and Sarah Solinsky for believing in my vision and supporting our staff since last March. I would also like to thank my wife, Erin, and both of our families for their tireless support of UE Women's Basketball," Ruffing said. "Lastly I would like to thank the players, coaches, alumni and their families. This is not possible without their hard work and commitment to the program."

UE Men's Basketball to finish non-conference play
Non-conference play for the University of Evansville Men's Basketball team will wrap up today as the Purple Aces welcome Mount St. Joseph to the Ford Center for a 7:00 p.m. game.
Jaylon Brown scored 25 points while Christian Benzon added a career-best 18 to lead the Aces to a 77-69 win at Austin Peay on Saturday. Trailing by seven with six minutes remaining, UE finished the game on a 20-5 run to finish off the win. Defense was the key in the final six minutes as the Aces held APSU to 0-3 with six turnovers in that span.
Evansville is a perfect 5-0 this December and has won six in a row overall, matching a 6-game streak from last season. The Aces have won 19 of their last 21 games played in the month of December.
Over two games last week, Ryan Taylor averaged 23.5 points per game while shooting 53.3% from the field on his way to MVC Newcomer of the Week accolades. Taylor opened the week with a career-high 38 points against Norfolk State, hitting 13 shots, six triples and posted 4 rebounds and 4 assists in the win. He hit another triple and two more free throws on his way to a solid 9-point effort at Austin Peay as the Aces earned their first road win of the season. His scoring average of 16.3 PPG is fifth in the MVC.
In the victory at Austin Peay, Jaylon Brown scored a game-high 25 points and pushed his season average to 20.6 PPG, tops in the Valley by 1.2 points. He hit nine out of 18 shots against the Governors and put forth another perfect effort (6/6) from the free throw line. Brown is an unbelievable 41-43 (95.3%) from the free throw line in the month of December; in November, he was just 27-of-39 (69.2%). In the last five games, Brown has posted an average of 23.4 points, scoring at least 18 each time out.
A member of NCAA Division III, Mount St. Joseph comes from Cincinnati, Ohio, to Evansville with an 8-2 record. The Lions are 3-1 in Heartland Collegiate Athletic Conference play and are coming off of a 73-66 win over Defiance on Saturday. Andrew Finley, a 44.8% shooter from long range, paces MSJ with 17.4 points per game. Adam Goetz is just behind him with 13.4 PPG while hitting 91.3% of his free throw attempts.

Contribute to AceNotes
To have content considered for inclusion in AceNotes, please submit a Marketing Request Form. Deadline for submission to AceNotes is 10:00 a.m. on the requested date of publication. Only articles concerning UE related/sponsored activities will be accepted. Articles submitted to AceNotes may be edited for length and clarity. Submitter contact information is at the end of each article.