| | |
| --- | --- |
| AceNotes Today | Thursday, December 15, 2016 |
Phil Plisky Receives United Methodist Exemplary Teacher Award
University of Evansville associate professor of physical therapy Phil Plisky was the recipient of the 2016 United Methodist Exemplary Teacher Award presented at UE's winter commencement exercise on December 14. The award is presented each year by the General Board of Higher Education and Ministry of the United Methodist Church.
Plisky earned his master of physical therapy degree from UE, and his Doctor of Science degree in orthopedic physical therapy from Rocky Mountain University of Health Professions. A board certified clinical specialist in orthopedics through the American Board of Physical Therapy Specialties, he is also a certified athletic trainer and certified strength and conditioning specialist.
His current research is on comprehensive movement testing and interventions in athletes, military personnel, and school aged children. He has published and presented internationally on return to sport testing, injury prevention, and field expedient movement testing.
Plisky founded and directs the ProRehab and University of Evansville Sports Residency Program. Now in its tenth year, the program has a national reputation and a 100 percent pass rate of its graduates on the board specialty exam in sports physical therapy.
He has received the Mary Bennet Outstanding Teacher award four times. This award is voted on by graduating physical therapy students.
Plisky is an expert in orthopedic and sports physical therapy. He serves as a consultant for collegiate and professional teams and has been instrumental in guiding one major league baseball organization's injury prevention program over the last several years. He consults with a variety of military organizations, assisting to shape policy and programming decisions related to injury prevention.
Additionally, Plisky has implemented content related to communication, professional development, and leadership into the Doctor of Physical Therapy program He shares this expertise as director of the Eykamp Center for Teaching Excellence. This position allows him to interact with each new UE faculty member, contributing to their success as effective teachers and sharing up to date research regarding adult learning and communication strategies.
UPS drop boxes have arrived!
Two new UPS drop boxes have now been installed on the UE campus. Their locations are:
Outside of the library mailroom entrance door to the left of the service lane
Outside of the UE Bookstore delivery door to the left of the service lane.
General Information
UPS drop boxes allow you to drop off your shipment 24 hours a day, seven days a week at the nearest self-service UE campus location. (Note - dimension, high value, and hazardous material shipment restrictions apply.)
Overall dimensions of an outside UPS drop box is 55"H x 25"W x 22"D. The box that holds shipment ready parcels is 20" x 20" x 18".
The drop box scheduled pick up time is likely to be 6:00 p.m. and the pick-up time will be posted by UPS on the exterior of each drop box.
UE and UPS are not responsible for parcels left OUTSIDE of a drop box at any time.
UPS will attempt to contact senders directly, if parcels are placed in the drop box that are not shipment ready.
When opening the drop box to leave a parcel, senders (UE students, departments, or employees) will be able to tell if the UPS pickup has been made for the day by viewing the inside of the drop in door. A red inside door indicates that the pickup has taken place. A green inside door indicates that the pickup has NOT taken place
Senders are responsible for preparing their parcels for shipment including appropriately taping, addressing parcels, attaching shipping labels and/or documentation, as appropriate.
Pre-paid return labeled parcels too large for a campus drop box with no return date/time sensitivity may be taken to the UE Bookstore. The UE Bookstore does not have daily UPS pickup.
Senders who have pre-paid return labeled parcels too large for a campus drop box that are date/time sensitive may call UPS 1-800-PICK-UPS for a site pickup or take the parcel to an alternate local UPS drop-off site (Office Depot, The UPS Store, etc.) or directly to UPS.
For additional information, visit the Mail Services website on AceLink.
For questions, contact administrative services at 812-488-2940.
Spring rush help needed in UE Bookstore
The UE Bookstore is looking for a person to help during spring rush, which is the first two weeks of January. Duties would include register help and store stocking, as well as other duties. Ideally the person would work eight hours a day. Please contact the UE Bookstore if interested at ext. 2679.
United Parcel Service reminder
UE departments that wish to use UPS services are reminded to set up a UPS account for their department by calling the UPS Evansville Customer Center at 800-742-5877 for assistance.
Also, please destroy any old UPS forms that may be laying around your area or return them to mail services. Since UE mail services no longer processes UPS out bound parcels, the use of an old UPS form will likely result in a $25 UPS additional service fee to your department.
For questions, please contact Kim Winsett at kw83@evansville.edu or ext. 2940.
Phi Beta Delta student nominations
Students! Have you recently received an e-mail regarding your nomination for Phi Beta Delta?
If you are a current senior, have at least a 3.2 cumulative GPA, and have studied abroad for one consecutive month or longer, or are an international student, you should have received an e-mail stating your eligibility for the Phi Beta Delta Honor Society for International Scholars. Please check your e-mail and respond indicating whether or not you are accepting your nomination. The deadline is quickly approaching, so make sure to act now!
If you have any questions, please contact Greta Becker at gb91@evansville.edu.
Attention employees: payrolls during holiday break
The bi-weekly payroll for Friday, December 30 will be direct deposited on the morning of December 30. The monthly payroll for December 31 will be also be direct deposited on Friday, December 30. As all employees have direct deposit, you will be able to view your online pay advice through WebAdvisor on the morning your pay is direct deposited.
Since the Office of Accounting/Payroll will be closed during the holiday break at the time of the bi-weekly and monthly payrolls on December 30, you will not receive a courtesy e-mail notification that your pay advice is available. However, you may log on to WebAdvisor and view/print your pay advice or contact your bank to confirm the deposit into your bank account.
If you have any questions, please contact Gloria Spencer at ext. 2159.
UE distribution services Christmas break adjustments
Note the following mail services, central receiving, and copy services adjustments and plan accordingly. These adjustments will help ensure there is sufficient time to transport mail for processing, complete campus deliveries, and copy service requests before campus is closed for the Christmas break (Friday, December 23-Monday, January 2).
A campus distribution services delivery reminder/notification is being distributed to departments the week of December 12, via campus mail to be returned to distribution services, if someone will be available at the routine department mail/receiving delivery locations to receive and sign for mail or shipments on Thursday, December 22. Departments are asked to respond no later than Monday, December 19.
Mail Services Adjustments
Mail will be delivered to offices that have responded to the campus distribution services delivery reminder notification that will have someone available at the designated department mail delivery location to receive and sign for mail on Thursday, December 22.
Campus mail will be delivered to administrative offices (student accounts, registrar, accounting and audit, financial aid, and president's office) on Thursday, December 22.
All outgoing USPS mail/parcels must be in UE mail services for transport to Data Mail on December 22, no later than 1:00 p.m.
Those needing to mail a letter, etc. after 1:00 p.m. on December 22 or during Christmas break may do so by taking their mail to the post office and paying for the postage via a UE Pcard.
Post offices will be closed Monday, December 26, and Monday, January 2.
UPS Information:
UPS is closed Monday, December 26 and Monday, January 2.
Central Receiving Adjustments
Receiving will deliver to offices that have responded to the campus distribution services delivery reminder/notification saying that someone will be available at the designated department mail/delivery location to receive deliveries on Thursday, December 22.
Packages will not be accepted in receiving after 3:00 p.m., Thursday, December 22-Monday, January 2.
In-house supply orders received prior to 3:00 p.m. on Wednesday, December 21, will be delivered on the afternoon run of Thursday, December 22.
In-house supply orders received after 1:00 p.m. on Thursday, December 22, will be delivered on Tuesday's afternoon run, January 3.
Copy Services Adjustments
Plan your copy job requirements ahead of time to provide sufficient turn-around time as copy services will be closed December 23-January 2.
Distribution services will resume normal operations on Tuesday, January 3.
For distribution services questions, contact the following:
Mail Services - mailservices@evansville.edu
Copy Services - copyservices@evansville.edu
Central Receiving - centralreceiving@evansville.edu
Koch Holiday Door Competition winner announced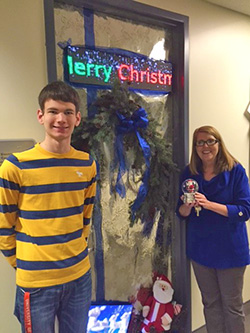 The Department of Computer Science and Electrical Engineering is the winner of the inaugural 2016 Koch Holiday Door Competition.
Several departments housed in Koch Center for Engineering and Science festively decorated their doors for the contest.
You can see computer science and electrical engineering's winning decorations on that department's office door (Room 266 in the Koch Center for Engineering and Science.)
WUEV's Rated G nominated for award
WUEV's Saturday morning children's program, Rated G, has been nominated for Best Morning Show at the Intercollegiate Broadcasting System awards! Congrats to producers Elisa Hoover and Mason Wilhite as well as all the students on the show for their hard work.
Jill Griffin named finalist for 2017 ATHENA award
Congratulations to Jill Griffin, executive director of the Institute for Global Enterprise at UE, who has been named one of 10 finalists for the 2017 ATHENA Award in Evansville.
The recipient will be named during a luncheon February 24 at Old National Events Plaza.
Founded in 1982, ATHENA International is a Chicago-based nonprofit organization that supports, develops and honors female leaders. This international award program recognizes women for leadership and mentoring. Winners are selected based on both their own accomplishments and on their efforts to support other women.
Williams publishes article on color defining
Krista Williams, assistant professor of French, has had an article published in Dictionaries: Journal of the Dictionary Society of North America 37 (2016), 1-35. Her article, entitled "A New Typology of Color Term Defining Strategies," treats defining methods used for color terms in dictionaries of French and English.
In addition to its descriptive nature, this typology serves as a model for other semantic domains. As the words in one domain are typically assigned to a single editor (or group of editors), this method of cataloging strategies can be useful to lexicographers working in many areas.

Baines publishes article in Dublin James Joyce Journal
Robert Baines, assistant professor of English, published an article in the most recent edition of the Dublin James Joyce Journal. This edition of the journal was a special edition devoted entirely to Joyce's last novel, Finnegans Wake. Baines's article was titled "Time and Space: The Opposition of Professor Jones in Finnegans Wake I.6."
Taylor's 38 points helps UE men take down Norfolk State, 85-66
Ryan Taylor shattered his career scoring mark, knocking down 13 shots on his way to 38 points as the University of Evansville Men's Basketball team defeated Norfolk State, 85-66, on Wednesday night at the Ford Center.
"It is a good win, we have a lot of respect for Norfolk State. They are a tough team to prepare for with how many different things they do," UE head coach Marty Simmons said. "I was proud of our guys for getting into our schemes offensively. Overall, I thought our guys did some good things."
Taylor was 13-of-21 from the floor and connected on six triples to lead the Purple Aces (7-4). He was just one point off of Colt Ryan's Ford Center scoring record of 39. Ryan set that mark on January 18, 2012, against Bradley. Jaylon Brown also had a nice effort for UE, registering 18 points while going a perfect 6-6 from the line. Sergej Vucetic was 2-2 from the field and 4-4 from the charity stripe on his way to eight points as the Aces moved to a perfect 7-0 at home this season.
"My teammates found me early on and almost all of my shots were because of being set up on a screen," Taylor said. "Our point guards did a great job of finding me. Give them the credit, they created those shots."
A 25-point outing by Zaynah Robinson led the Spartans (2-9). He knocked down eight field goals, six from outside.
Seven of the first eight shots on the night found the bottom of the net as the Aces jumped out to a 21-11 lead in the opening six minutes of play. Ryan Taylor, who notched 20 points in the first half, hit his first five shots while Jaylon Brown hit two in the opening stanza.
A 3-pointer by Stavian Allen at the midway point of the half saw the Spartans get within six at 24-18, but the Aces were able to pull away over the final minutes. Evansville completed the half on a 20-9 run to lead by a 44-27 margin at the half. The Aces out shot NSU, 57.1%-37.9% but there was an even greater disparity in the rebounds with UE holding a 23-11 edge.
Taylor was at it again in the second half. In the opening moments, his fourth trey of the game saw him pass his career mark in scoring as he notched his 24th point, eclipsing his previous best of 22, set earlier this year against Middle Tennessee State. His efforts helped the Aces take a 19-point lead at 64-45, but the Spartans roared back.
They got within 11 at 65-54 with 8 minutes remaining and kept the pressure on. A Zaynah Robinson triple cut the gap to just nine at 73-64 with just over four minutes left on the clock, but the Aces were able to regroup to finish off the 85-66 triumph.
For the game, the Aces shot 54.2% while the Spartans finished the night at 41.5%. Evansville had the final rebounding edge at 38-24. Christian Benzon set his career mark with a game-high 9 caroms. Solomon Hainna played a season-high 18 minutes. He finished with a solid six points and four rebounds in the effort.
It is back to the road for UE as they head south to face Austin Peay. Game time is 7:00 p.m. On Saturday.
UE Athletics spreading holiday cheer in the community
Student-athletes from various University of Evansville sports programs have been spreading holiday cheer in the local community with several community service projects over the last few weeks.
During the Community Outreach Day for Men's and Women's Basketball on December 3, members of the baseball team dressed as Purple Santa, the Gingerbread Man, Buddy the Elf, and Ace Purple as they put smiles on the faces of more than 4,000 elementary school age children. The next day, women's Tennis, Women's Soccer, Softball, Baseball, Men's Soccer, and Men's Basketball were back out at local elementary schools.
The group visited St. Benedict Cathedral School, Vogel Elementary, Lodge Elementary, Hebron Elementary, and the Community Action Program of Evansville (CAPE) to read Christmas stories and hand out candy canes and Ace Purple coloring pages to the children. They promoted the Just Read! Program, which was developed in order to teach kids the importance of reading at an early age while utilizing student-athletes as positive role models. Players from six UE programs all took time out of their Reading/Study Day to participate in the holiday hospitality.
"It was a great change of pace for us as far as students having the kind of charge schedule that we do have. The better part was to see the effect that it has on the kids, they enjoying themselves, getting to learn from a different perspective from us (students-athlete), who are learning as well," Men's Soccer player Arlick Ntabana said. "That was the best part more than anything else. We've been there (at that age), they get to see where we are now, what they can aspire to be. Whether it's a student-athlete, or students to further themselves, they get to interact with people other than their teachers or peers, and it's great from a social and academic aspect. "
The student athletes were dressed in Santa hats as well as elf and gingerbread costumes. Purple Santa, and Ace Purple were also both on hand to make the children smile.
Aces student-athletes also participated in the Toys for Tots program. They purchased over $900 worth of toys and delivered them to the Old National Bank branch at Weinbach and Lincoln Avenues, which is a collection site for Toys for Tots. They worked very hard to raise money through donations and bake sale to help local children in need.

UE faculty and staff complimentary ticket requests
UE faculty and staff may now begin requesting their two complimentary tickets for all home Men's and Women's Basketball games through January 4. Please remember your UE ID when coming to the Carson Center.
Contribute to AceNotes
To have content considered for inclusion in AceNotes, please submit a Marketing Request Form. Deadline for submission to AceNotes is 10:00 a.m. on the requested date of publication. Only articles concerning UE related/sponsored activities will be accepted. Articles submitted to AceNotes may be edited for length and clarity. Submitter contact information is at the end of each article.