| | |
| --- | --- |
| AceNotes Today | Thursday, December 1, 2016 |
Sarah Lee Bivin receives December 2016 Employee Excellence Award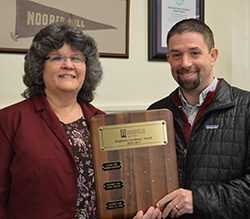 Sarah Lee Bivin has been presented with the December 2016 Employee Excellence Award.
As gift records coordinator and avid Purple Aces fan, Sarah Lee has committed 18 years to advancing the mission of the University. As much of what she does is behind the scenes, it's difficult to grasp the importance of her work. She ensures that donor gift money is processed according to their wishes, acknowledged appropriately, and that all transactions are coordinated with the Office of Fiscal Affairs.
She provides excellent customer service to our constituents, whether they are alumni, donors, or part of our campus community. Her dedication and attention to detail are highly valued across campus.
Congratulations, Sarah Lee!

Upcoming admission events!
The Office of Admission has several events taking place over the next few days. We will be welcoming approximately 25 families tomorrow - Thursday, December 1 - for Nursing Direct Entry Day. We will have 25 parking spaces reserved near the preferred purple and visitors' spots in the front oval for these visitors.
On Friday, December 2, we will have over 60 families for the December Purple Visit Day event. The Purple Visit Day families will join the UE community for lunch in Café Court between 11:45 a.m.-1:00 p.m.
On Monday, we will have over 15 families for Direct Entry PA Day. We will have 10 parking spaces reserved near the preferred purple and visitors' spots in the front oval for these visitors.
Please give our visitors a warm welcome.
UE Christmas on Campus Planned for today
The University of Evansville will mark the holidays with Christmas on Campus today - Friday, December 2. The celebration will include photos with Purple Santa, reindeer games, ice skating, carriage rides, Candlelight Advent Vespers and the lighting of the University's Christmas tree. The celebration will include photos with Purple Santa, reindeer games, ice skating, carriage rides, Candlelight Advent Vespers and the lighting of the University's Christmas tree.
Also - go Christmas shopping at the UE Bookstore. There will be giveaways and 15 percent off the original price of all clothing and gift items for all shoppers during the night! UE faculty and staff get 20 percent off as part of the annual faculty/staff discount.
The public is welcome to any and all events for only $5 per family!
Visit www.evansville.edu/aceschristmas for the complete schedule of events, or to fill out the online registration form to save time during the event.
UEMTA cookie jar sale today
UEMTA is selling cookie jar mixes in the Lobby of Krannert Fine Arts Building from 9:00 a.m.-2:00 p.m. today. They are selling chocolate chip cookie mix, double fudge brownie mix, M&M cookie mix, and oatmeal raisin cookie mix. Each jar is $8 or two jars for $12. They make awesome holiday gifts for the baker in your family.
Honors Program senior presentations set for today
The Honors Program invites you to attend its project presentations today from 4:00-5:00 p.m., in Room 101 in Koch Center for Engineering and Science. Two Honors Program students are graduating in December and will be presenting their Honors projects at this event.
Danielle Gillespie (creative writing and literature) will be making a presentation on "Ballads, a Novella: Research, Writing and Revision."
Kerilynn Pitocco (business management) will be making a presentation on "Tesla Motors - An Examination of its Emergence, Strategic Decisions and Impact on the Electric Vehicle Industry."
A question and answer session will follow the presentations.
The Honors project is an opportunity for students to explore an area about which they are passionate. The Honors project may consist of a research project, thesis, or creative work. Students may use the Honors project to launch areas of interest for graduate study or to expand résumés for employment.

Holiday Art and Crafts Sale is today!
The Department of Art's annual Holiday Art and Crafts Sale is planned for today in the Melvin Peterson Gallery. Doors open at 7:00 a.m. and the sale will continue until 6:00 p.m.
Items for sale may include paintings, pottery, jewelry, soaps, knitted items, greeting cards, purses, bags, and wooden items. All items in the sale are handmade and designed by the artist or craftsman.
This sale is an excellent opportunity to find unique gifts for the holiday.
For more information, please contact the Department of Art at dh196@evansville.edu or 812-488-2043.
Christmas on Campus: Advent Candlelight Vespers in Neu Chapel
The campus community is invited to attend the University of Evansville's annual Candlelight Advent Vespers service this evening at 7:30 p.m. in Neu Chapel.
This year's Vespers service will feature Kantorei, UE's smallest and most select choir, and the University Choir. The service will include Advent and Christmas carols by candlelight and sacred readings by UE students, faculty, and administrators. Patrick Ritsch, Neu Chapel organist, and Alanna Keenan, professor of music, will be providing musical leadership throughout the service.
Be sure to come early for good seats. All are welcome!
Immediately following Vespers, Timothy Zifer, professor of music, will lead the Tannenbaum Trumpets during the Christmas tree lighting processional, which begins at Neu Chapel and ends in front of Graves Hall. Join us as President Kazee flips the ceremonial light switch and illumines UE's beautiful Christmas pine.

Mass at Neu Chapel tonight
Come celebrate the Feast of the Immaculate Conception tonight! Mass will begin at 9:30 p.m. in Neu Chapel. Father Godfrey Mullen will be our celebrant. Hope to see you there. More information can be found on this flyer, or by contacting Olivia Voegerl at ov4@evansville.edu.
Newman Christmas Night on December 3
As the semester comes to an end, finals, packing, and the thought of leaving your friends for a whole month can be a lot to take in. Relax. Take a breather. Come hang out with us at the Newman Center and enjoy some delicious snacks, Christmas activities, and the company of some wonderful people! Bring your friends! The event will be held on December 3 at 7:00 p.m. Hope to see you there. If you have any questions, contact Olivia Voegerl at ov4@evansville.edu.
Chipotle giveback benefitting Albion Fellows Bacon Center
Make dinner a selfless act by joining us for a fundraiser to support Albion Fellows Bacon Center sponsored by Chi Omega. Come to the Chipotle on North Green River Road TODAY between 5:00-9:00 p.m. Bring this flyer, show it on your smartphone, or tell the cashier you're supporting the cause so that 50 percent of the proceeds will be donated to Albion Fellows Bacon Center.
Final university worship service of the semester
Join us at Neu Chapel this Sunday, December 4, at 11:00 a.m. for a special Christmas service. Together we'll mark the end of the semester, and celebrate the holiday season. This will be the final university worship service of the semester.
UE Bookstore Faculty/Staff Appreciation Day Sale
The UE Bookstore will have its annual Faculty/Staff Appreciation Day TODAY, with a special sale and giveaways. Also the bookstore will be offering 15 percent off all clothing and gifts purchases to any customer that comes to the store. Special hours in conjunction with Christmas on Campus will be 8:00 a.m.-10:00 p.m. today.
Learn design thinking today
The Changemaker Challenge is hosting its first training session on creative problem solving and design thinking today from 5:30-7:30 p.m. in Eykamp Hall, Room 251, Ridgway University Center.
Omar Atia, co-founder of ThoughtFire and expert in multi-discipline engineering, will train students in how to take ideas to implementation.
Questions? Contact globalindiana@evansville.edu.
Priority Application Deadline
The student priority application deadline for the Fall 2017 Harlaxton Semester Program is coming up on Wednesday, December 7. Get your applications in before this deadline to guarantee your space in the program. Applications may still be submitted after this date, but will be reviewed on a first come, first served basis until all spaces are filled.
You can submit your application online through the Education Abroad and Harlaxton College Programs welcome webpage.
If you have any questions, please contact Laura Scott at ls283@evansville.edu or visit the Office of Education Abroad in the Schroeder School of Business Building.
Phi Beta Delta faculty and staff nominations
Phi Beta Delta is an honor society "dedicated to recognizing scholarly achievement in international education." The University of Evansville has recently been designated as the Theta Eta Chapter of Phi Beta Delta, which honors both students and faculty/staff for their involvement in international activities.
You are now welcome to nominate fellow faculty and staff members to be inducted into Phi Beta Delta.
For more information regarding how to nominate a faculty/staff member, go to UE's study abroad page and look under Related Links.
All questions and completed forms may be e-mailed to Greta Becker at gb91@evansville.edu. Please have all forms turned in by December 20.
"Evansville at War" documentary series to air December 7 and 8
A documentary series for WNIN public television made by two UE professors will have its broadcast premiere on December 7 at 8:00 p.m. on WNIN channel 9. The second episode will air December 8 at 8:00 p.m. The series was directed by Joe Atkinson of the department of communication and written by James MacLeod of the department of history.
The series features interviews with over 40 people, most of whom were living in Evansville during World War II.
"It was a quite incredible experience to speak to these people," said Atkinson. "We were not sure how many we would manage to find, but my phone was ringing every day and we met some marvelous individuals."
Each episode lasts for one hour and covers the wide range of manufacturing in the city during the war as well as entertainment, rationing, fundraising, housing, and many other topics.
"What really struck us was how much the war affected your everyday life," MacLeod said."85,000 people were employed in war industry, but every man, woman and child in Evansville was aware that there was a war going on, every single day. It was, in a very real sense, total war."
The series will also be shown as a movie at the Showplace East on December 1 and 4.
You can view the documentary's trailer on YouTube.
Cuba GAP info session
Into skateboarding? Know about marketing? Speak Spanish? Interested in Cuba? If you answered yes to any of these questions, come learn about the Cuba Skate GAP Project on Friday, December 2, from noon-12:50 p.m. in Room 172 in the Schroeder School of Business Building. Students will travel to Cuba over spring break and work throughout the semester here on campus. Three credit hours offered in the spring.
Miles wins Live Like a Local category in study abroad photo contest
The results from the study abroad photo contest are in! The winner of the Live Like A Local category is Abigail Miles. She went to the Armenian Quarter in Jerusalem, Israel, in the summer of 2016.
"The Armenian Quarter is a section of Jerusalem identified with having a large population with an Armenian background," explained Miles. "The woman pictured on the right of my photo was desperate to visit this part of Jerusalem because she is part Armenian and has a strong connection to the Armenian Genocide. Her ancestors lived in Van, one of the cities that suffered significantly from the genocide, and most of them were killed. The remaining managed to escape and immigrate to America."
"Unfortunately, many have forgotten this genocide," added Miles, "and it has been overshadowed by the other genocides in history. These people suffered greatly and my friend's family was one of them. Walking through this quarter meant she was walking through her past. Many of those living there welcomed her like a long-lost cousin. They welcomed me – an outsider - as well."
Miles went on to say that the "picture also represents entirely different cultures and backgrounds meeting. They are both shading themselves from the same sun and walking the same streets. These two important things, the Armenian Genocide and every human's importance and equality need to be remembered."
View Miles's photo on the UE study abroad Facebook page.
Linda Wulf and family
Linda Wulf's mother-in-law, Shirley Mae Helen Wulf, passed away on Wednesday, November 30.
The viewing will be on Sunday, December 4, at Kutis Funeral Home, Inc., Affton Chapel, 10151 Gravois Road, St. Louis, MO 63123 from 4:00-8:00 p.m. Burial will be Monday, December 5, at Jefferson Barracks National Cemetery.
Please keep Linda and her family in your thoughts and prayers.
David Green publishes article
David Green, senior lecturer in British studies at Harlaxton College, has had an article translated into Spanish. Titled "¿Revolución o evolución? Dirección y organización militar durante la Guerra de los Cien Años," it is published in Desperta Ferro: Antigua y Medieval, 38 (2016).
Men's Basketball opens home stand with 83-39 win over Wabash
Three players scored in double figures as the University of Evansville Men's Basketball team earned an 83-39 win over Wabash College on Tuesday night at the Ford Center.
Leading the way for the Purple Aces (3-4) was Ryan Taylor. He hit eight shots on his way to 21 points. Next up was Willie Wiley as he hit six of his seven attempts on his way to 14 points. Jaylon Brown recorded 11 points.
"We had just one day of practice after the trip to Nashville and our emphasis was on pushing the ball down the floor," head coach Marty Simmons said. "The start of the second half was much better and we were able to do more of what we wanted to do."
Wabash (2-3) was led by a 13-point effort from Duncan Roy while Evan Frank finished the night with 11.
Wiley scored ten points in the first half as the Purple Aces took a 43-28 lead into the locker room. After missing the first five shots of the night, UE hit its first as a David Howard bucket put the squad up 7-3 at the 15:05 mark. That bucket was the first of three makes in four attempts as Evansville went up 13-8.
The lead reached as many as 22 with 3:19 left in the half as another Howard make put the Aces up 39-17. Wabash cut into the gap, outscoring UE by an 11-4 margin to trail by 15 at the half. Christian Benzon hit the first triple of his career in the first half en route to five points. Wiley hit four of his five attempts in the opening 20 minutes.
Evansville regrouped in the locker room and came out looking sharp, scoring the first ten points of the second half. Ryan Taylor knocked down a pair of triples as UE opened up a 53-28 lead. The shots kept falling for UE as they led by as many as 44 points, which was the final of 83-39.
Defense was the name of the game for the Aces as they held the Little Giants to just 22.2% shooting for the game and 7.7% (2-26) in the second half. Evansville finished the game shooting 47.7%. One major difference for UE was the bench, earning 51 points with all 11 players who saw the floor find their way into the score book.
Two of those off the bench had their top games at UE. Jaiveon Eaves hit three shots while notching two rebounds and two assists while Solomon Hainna notched five points and six boards.
Boise State comes to the Ford Center to face the Aces on Saturday. Game time is 1:00 p.m.

UE faculty and staff tickets can be picked up on December 6
UE faculty and staff may begin picking up their two complimentary tickets for the Women's Basketball game against Oakland City at 11:00 a.m. on December 6 and the Men's Basketball game against Bowling Green at 7:00 p.m. on December 6. Tickets may be picked up from the Carson Center ticket office with your UE ID. Since we will be clearing out the arena between games, separate tickets will be required for each game.
Contribute to AceNotes
To have content considered for inclusion in AceNotes, please submit a Marketing Request Form. Deadline for submission to AceNotes is 10:00 a.m. on the requested date of publication. Only articles concerning UE related/sponsored activities will be accepted. Articles submitted to AceNotes may be edited for length and clarity. Submitter contact information is at the end of each article.