| | |
| --- | --- |
| AceNotes Today | Wednesday, November 16, 2016 |
Charlas: having dinner at Los Bravos
Students of all levels of Spanish are invited to meet at Jazzman's in Ridgway University Center at 5:30 p.m. this afternoon to go to Los Bravos to have dinner with Belén Alemán Mansilla, a Fulbright FLTA. This is the last Charla of this semester, so you are more than welcome to join her and enjoy Mexican food. If you have any questions, contact ma360@evansville.edu. ¡Allá nos vemos!
I-House: Ireland
Today's I-House presentation will be given by Katie Wray from Northern Ireland. Her major is engineering management. She loves baking, crafts, and playing the violin. Her favorite part about UE are the people. So be sure to come by upstairs in the Ridgway University Center at 7:00 p.m. tonight!
International Marketplace set for today
An International Marketplace is planned for today, from 11:00 a.m.-1:00 p.m., outside Ridgway University Center. (Rain location is Eykamp Hall, Room 251, in Ridgway University Center.)
Join us at this international marketplace to celebrate multiple different countries and cultures! There will be several booths set up advertising international products, activities, and organizations.
Stop by to support local organizations, cast your vote in our photo contest, learn more about study abroad, and just have a good time!
DPT Class of 2018 fundraiser today
The PT Class of 2018 will be selling discounts cards in the lobby of Ridgway University Center to raise money for Scorebuilders, a test prep service used to prepare PT students for their national board exam. The cards are $10 each and are good at a variety of local businesses. PT students will be selling the cards today from noon-1:00 p.m. and 5:00-7:00 p.m. in Ridgway University Center lobby.
Cash or checks will be accepted and cards don't expire until December 2017!
Newman Club Dinner and Discussion
All are welcome to join the Newman Club on Monday, November 21, at 5:00 p.m. for a very special Dinner and Discussion. We will be enjoying a homemade Thanksgiving Dinner with a discussion led by the Most Reverend Bishop Thompson. You can find us at the house on Lincoln Avenue with the purple banner. For more information, please contact Olivia Voegerl at ov4@evansville.edu.
Final #readingseries of 2016 is today!
Please join the folks in the Department of Creative Writing today at The Slice for the Fall semester's final #readingseries. This reading will feature original work by students Sarah Pfleiderer, Sari Baum, and Brittney Kaleri. The reading will start promptly at 4:00 p.m., so if you're looking to enjoy some delicious pizza while you're there, please arrive early as The Slice can be charmingly slow. Hope to see you all there!
UEMTA Chipotle Give Back Night is tonight
Come out to Chipotle tonight from 5:00-9:00 p.m. to help the University of Evansville Music Therapy Association raise money to send seniors to national conference. Just show this flyer or mention the fundraiser and UEMTA will get 50 percent back. We hope to see you there!
Vertical eXcape trip: open to campus!
Join Venturing Crew at Vertical eXcape on Saturday, November 19, from 7:30 p.m.-midnight! You do not need to be a member for this trip. This adventure will include bus transportation, climbing gear, a short climbing lesson, hours of climbing, pizza, and soft drinks. To add to the fun, this is a FREE TRIP. We will ask that you pay a $10 deposit when you sign up, but this will be refunded as you get on the bus.
Venturing Crew officers will be at a registration table in Ridgway University Center lobby from noon-2:00 p.m. and 5:00-7:00 p.m. today, and from 11:00 a.m.-2:00 p.m. and 5:00-7:00 p.m. on Wednesday and Thursday of this week.
There is limited space on this trip, and it is open to anyone on campus, so slots will go quickly! To reserve your place, you must sign up at the Ridgway University Center table, pay a $10 deposit (that will be returned to you on November 19), and sign waivers for both UE and Vertical eXcape. Since you must sign waivers to sign up, you will not be able to reserve places for your friends. We recommend signing up early to be sure you get a spot.
If you have any questions, don't hesitate to e-mail venturing@evansville.edu. Tell your friends!

Post-election roundtable: national and international effects of presidential election
The UE community is invited to join a post-election roundtable discussion about the meaning of a Trump presidency both nationally and internationally with faculty members from political science, international studies, history, psychology, sociology, foreign languages and cultures, and religion, as well as the Office of Diversity and Equity. All are welcome to join and participate in the discussion today from 5:00-6:00 p.m., in Room 203 (J. Henry Schroeder Board Room), in the library.
Foreign language speed-dating planned for today
A foreign language speed-dating event is planned for today from 4:00-5:00 p.m., on the second floor of Ridgway University Center. At this event, you'll have the chance to learn some key phrases from multiple different languages in a speed dating style. Spend a few minutes at one booth learning a language from our international students and then quickly move on to the next!
Panel for Harlaxton program updates
On Monday, November 21, there will be a meeting to share and discuss what is currently going on with the Harlaxton programs. This includes programs that run during the fall, spring, and summer. Any past or future changes will be discussed here, and you will have the opportunity to ask any questions you might have. The meeting will be held from 10:00 a.m.-noon in the Henry J. Schroeder Board Room (Room 203), in the library. We would love to have you there! If you have any questions, please contact Greta Becker at gb91@evansville.edu.
International Bazaar set for November 18
The annual International Bazaar is Friday, November 18, in Ridgway University Center! The doors to the event open to students at 4:30 p.m., and to the community at 5:00 p.m. Food will be served until 7:00 p.m. and the interactive cultural booths will be open and entertainment will be available until 8:00 p.m.
From now until November 17, tickets are $7 (cash or check only) through the Office of Cultural Engagement and International Services, located in Room 220 in the Student Life Center upstairs in Ridgway University Center. You can also purchase tickets with a credit card by going to the University's ticket sales website.

Admission is FREE for UE students and children under five. All proceeds will go to support the Friends of Dago community in Kenya.
Sixth annual FanFest 2016 set for Saturday, November 19
Students, faculty, staff, alumni, and other Aces fans are invited to kick off the home basketball season at the sixth annual FanFest. It's Saturday, November 19, from 10:00 a.m.-noon at Freedom Plaza in front of the Ford Center. Food vendors, photo booth, bounce houses, cornhole, and live music are among the activities. Sponsored by Aces Athletics, UE Alumni Association and TRU Event Rentals, Inc. Questions? Contact alumni@evansville.edu or ext. 2586.
UE engineering students host Outreach Program at Dexter Elementary School
The College of Engineering and Computer Science at the University of Evansville has an outreach program for elementary students called Engineers Rock. The program is working with the 4th grade science classes at Dexter Elementary School for the 2016-17 academic year. At the session at Dexter yesterday, 4th graders were instructed about circuits and electrical engineering and participated in hands-on learning activities with snap circuits. The UE student chapter of the Institute of Electrical and Electronics Engineers also did a robot demonstration.
All sessions of Engineers Rock are conducted by current engineering majors within the College of Engineering and Computer Science. The hands-on projects and other activities are designed to give elementary age students a better understanding of what types of opportunities are available in fields most closely related to science, technology, engineering, and mathematics.
Both the Evansville Courier & Press and 14 News did stories on yesterday's session. You can read about the event in the Courier's article, and see what the session was like by viewing 14 News's video clip.
Attention December 2016 graduates
If you have earned a military honorable discharge or a general discharge under honorable conditions, are on active duty, or in active drilling status, notify Cherie Leonhardt in the Office of Veterans Affairs at cl29@evansville.edu or call 812-488-2141 ASAP. The Office of Veterans Affairs and UE VETS have a special graduation gift for you!
Act fast! Adopt-A-Family this holiday season!
Give to a family in need this holiday season! In partnership with Aurora, the Center for Student Engagement is coordinating a University-wide effort for departments and organizations to adopt a family in need this holiday season by providing gifts for both parents/guardians and children.
Families range in size from 1-4 children and 1-2 adults. Sponsoring groups should plan to spend at least $20-$30 per person. All donations must be delivered to the CSE office by December 5.
Please contact Jackie Luedtke at jl295@evansville.edu by Monday, November 21, to confirm that your organization is able to sponsor a family. Please provide the highest number of family members for each family you are able to support.
BRASA now accepting applications for executive board spring 2017
The Brazilian Student Association (BRASA) is looking for candidates for its executive board for Spring 2017. People interested in learning more about Brazil, Brazilian culture, Latin America, and the Portuguese language are encouraged to apply. Members have access to a large network of people and companies both in the US and in Brazil.
The following positions are available:
- Director of finance
- Director of recruitment
- Director of marketing
Positions require commitment of about four hours per week.
Applications are available at the organization's Facebook page.
Further questions can be addressed by e-mailing Arthur Lorente at al224@evansville.edu.
Wear a safety pin to show solidarity with oppressed groups
Following the Brexit vote many people in the UK began wearing safety pins to show solidarity with refugees and immigrants. The idea was that without a word being spoken, people could see that you would provide safety. It is important to flag to our students and the world at large that all are welcome here and that we will defend the safety of all. Wearing a safety pin means that you will intervene if someone is being oppressed, verbally or otherwise.
It is to say: "I am safe. If you are a Muslim, LGBTQ, a person of color, Latino, an immigrant, disabled, a woman, afraid… I am here. I will listen. I will stand up for you."
Please feel free to stop by assistant professor of philosophy Lisa Kretz's office in Room 342 in Olmsted Administration Hall, to pick up a safety pin.
Friday and Saturday night after-hours in library
The library is expanding its after-hours study space and will open on Friday, November 18 and Saturday, November 19 until 10:00 p.m.
An after-hours schedule for Friday and Saturday nights in December will be announced after Thanksgiving.
As always only the first floor will be open with limited library services. The upper floors will close at 6:00 p.m., and will not be accessible after that time. Access to the libraries after 5:50 p.m. on November 18 and November 19 will be through the Ridgway door only.
This service is dependent on student staffing.
Interruptions to the after-hours schedule will be posted to the UE app.
For more information, contact Meg Atwater-Singer at ma35@evansville.edu or ext. 2487.
Christmas donations for children
Graves Hall is collecting new gloves, mittens, socks, hats, and scarves for needy community children grades K-8 this Christmas season. The items can be placed on the Christmas tree in Graves Hall lobby. If you have any questions, please call Pam Young at ext. 2848. Thank you!
UE winter housing
The residence halls will be closed for winter break from noon on December 15 to 3:00 p.m. on January 6. Students participating in official University functions or other approved activities have the opportunity to apply for winter housing. Simply submit an online winter request form by noon on Reading Study Day to be considered. For more information about winter housing, contact the Office of Residence Life or see the winter housing website.
2016-17 student consumer information
The US Department of Education requires universities to disclose consumer information to prospective and enrolled students, parents, and employees. Go to this consumer information page on the University of Evansville website for more information.
Questions about this information may be directed to the Office of Financial Aid at 800-424-8634, 812-488-2364, or financialaid@evansville.edu. A paper copy of this information is available upon request.
Becker, UE alumnus, and UE students present research at SfN
Associate professor of psychology Lora Becker and B. J. Miller '16 (currently in graduate school at St. Louis College of Pharmacy), Victor Deere '16, Kay Sheets, '17, Nehchal Bedi '17, and Keeton Mays '18 presented "The Addictive Potential of Artificial Sweeteners" at the Society for Neuroscience, which boasted over 30,000 attendees this year.
This work was supported by the Department of Psychology and Neuroscience.
Becker wins mentor award
Associate professor of psychology Lora Becker has been awarded the Faculty for Undergraduate Neuroscience (FUN) Distinguished Mentor Award for 2016. The award was given at this year's FUN meeting during the 2016 Society for Neuroscience conference in San Diego.
Birth announcement – Charlotte Olivia Hogan
Kate and Michael Hogan announce the birth of their granddaughter, Charlotte Olivia Hogan. She was born November 14, weighing six pounds, 10 ounces, and measuring 19.5 inches. Her parents, David and Trisha (Beck) Hogan, are both UE alumni who graduated in December 2006. Kate Hogan is UE's director of cultural engagement and international services.
Birth announcement - Everett Allen Ziliak
Becky Ziliak, director of the Health Center, proudly announces the birth of her grandson, Everett Allen Ziliak. He was born November 4 in Atlanta, Georgia. His parents are UE alumni Jacob and Shannon (Rieger) Ziliak. Everett is welcomed home by his sisters, Amelia, Charlotte, and Hattie.
UE alumnus publishes undergraduate teaching article
Alexander J. Bies '09, has published an undergraduate teaching article in the Journal of Undergraduate Neuroscience Education. The title of his article is "Cockroaches Now Evading Death by Getting Bitter about Sweeteners."
Bies graduated from UE in 2009 with a degree in neuroscience. He is currently at graduate student in the Department of Psychology at the University of Oregon.
The Journal of Undergraduate Neuroscience Education is an online journal for undergraduate neuroscience faculty.
Kiesel presents research at Singapore conference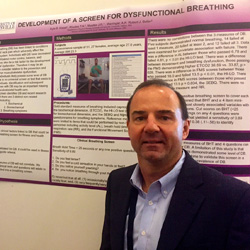 Kyle Kiesel, chair of the Department of Physical Therapy, attended the 9th World Congress for Low Back and Pelvic Pain conference in Singapore October 30-November 3.
Kiesel presented a research poster titled "Development of a Screen for Dysfunctional Breathing" This project involved three UE DPT students who graduated in 2016, Tonya Rhodes, Jacob Mueller, and Alyssa Waninger.
"It is always exciting and satisfying to me to see the hard work of students presented at an international conference," said Kiesel.
The conference, held every three years, is composed of international leaders from the medical and rehabilitation fields who focus on the treatment of low back and pelvic pain.
Freeman and Coverdale earn weekly MVC honors
A pair of Aces were honored this week with the Missouri Valley Conference's weekly awards. Juniors Danielle Freeman and Courtney Coverdale were named Swimmer and Diver of the Week for their efforts over the weekend.
Freeman won both of her individual events on Friday's meet against Eastern Illinois. She won the 200 freestyle by over four seconds at 1:57.22. She also won the 100 freestyle with a 52.89. She also led off the winning 200 Freestyle Relay 200 with a final time of 1:39.54.
On Saturday's double dual versus Indiana State and Rose-Hulman, Coverdale won both of her individual events again. She took the 50 freestyle with a 24.09. She once again won the 100 freestyle with a 52.68, improving her time from the day before. She partook in both winning relays. She anchored the 200 Medley Relay that won with a time of 1:48.64. The 400 Freestyle Relay out touched the competition at 3:33.31, nearly five seconds ahead of the second place competition.
Coverdale won on both boards at the double dual versus Indiana State and Rose-Hulman. Her 1-Meter performance earned her a score of 281.68, with second place at 201.01. Her efforts earned her a NCAA Zones qualifying score, her third qualifying score of the season. In the 3-Meter, she took first place with 275.03. Both her 1-Meter and her 3-Meter scores for the day were new pool records at Indiana State.
Boswell leads Aces contingent on MVC Scholar-Athlete Team
Bronwyn Boswell's picked up yet another honor after a fantastic senior campaign for the University of Evansville Women's Soccer team, earning a spot on the Missouri Valley Conference Scholar-Athlete team for the third time in her career. She was joined on the squad by teammates Whitney Biggs and Colleen Dierkes.
The Scholar-Athlete team, which is selected annually by the MVC, is open to student-athletes with a 3.20 grade-point-average or above that are at least a sophomore in eligibility. Students must have also played in 75% of their team's matches.
Boswell, who led the Aces in scoring this season, was once again an All-MVC First Team selection after leading the team to a third consecutive berth in the conference championship match. With 22 career goals, she will leave Evansville as the school's seventh all-time leading scorer. The Frisco, Texas, native boasts of a 3.94 GPA in exercise science.
Whitney Biggs, who currently owns a 3.97 GPA in exercise science, was also named to the team after posting four shutouts in goal this season. The Bloomington, Indiana, native was named the MVC Goalkeeper of the Year and earned a spot on the all-tournament squad.
Colleen Dierkes, who took home All-MVC Second Team honors, rounds out the Aces representation on the squad. The St. Louis native scored twice this season, and she currently carries a 3.81 GPA in global business.
Evansville and Drake were the only two teams in the Valley to place three players on the Scholar-Athlete team.

UE faculty/staff basketball ticket requests
Beginning Wednesday, November 16, UE faculty/staff can begin picking up their two complimentary tickets to the Men's Basketball game against Morehead State on Saturday, November 19 at noon and the Women's Basketball game against SEMO on Sunday, November 20 at 1:00 p.m. You must show your UE ID in order to receive the tickets.
The Carson Center ticket office is open Monday-Friday, 8:30 a.m.-5:00 p.m.
We hope to see everyone at the games this weekend!
Contribute to AceNotes
To have content considered for inclusion in AceNotes, please submit a Marketing Request Form. Deadline for submission to AceNotes is 10:00 a.m. on the requested date of publication. Only articles concerning UE related/sponsored activities will be accepted. Articles submitted to AceNotes may be edited for length and clarity. Submitter contact information is at the end of each article.