| | |
| --- | --- |
| AceNotes Today | Tuesday, November 15, 2016 |
ISEP study abroad student session planned for today
Today - Tuesday, November 15 - there will be a representative from ISEP, a new study abroad program, on campus. Any students who are interested in study abroad and want to know more about the options available to them are more than welcome to come! This is a great chance for you to ask any questions you might have. The meeting will be from 3:30-4:30 p.m. in Room 273, Schroder School of Business Building. We hope to see you there
This Week in Music: violin recital and ensemble performances
The Department of Music continues its concert season tonight in Wheeler Concert Hall at 7:30 p.m. with a performance by Eykamp String Quartet violinist and Evansville Philharmonic Orchestra concertmaster Robert Anemone. The program will include works by Austrian-American violinist-composer Fritz Kreisler and Belgian violinist-composer Eugène Ysaÿe, as well as J. S. Bach and Franz Schubert. Anemone will be accompanied on some pieces by pianist Futaba Niekawa and by Eykamp String Quartet member and EPO principal cellist Kirsten Jermé.
The UE String Chamber Ensemble, under the direction of assistant professor and director of orchestral activities Chun-Ming Chen, and the Clarinet Ensemble, under the direction of department chair and associate professor of clarinet Thomas Josenhans, will offer a joint concert in Wheeler Concert Hall this Thursday, November 17, at 6:00 p.m. The program will include various works of the Romantic and Modern eras. Both concerts are free and open to the public.
International Film Night is this evening
International Film Night is set for this evening from 7:00-9:30 p.m. in Eykamp Hall, Room 251, in Ridgway University Center. Join us for the screening of In Tahrir Square, an international film that focuses on the Egyptian revolution that changed history. Admission is free and the event is open to the public, so bring your friends and family! Snacks will be provided.
Lunch and Lead: Navigating Different Cultures planned for today
The next Lunch and Lead is set for today at 12:30 p.m. in Eykamp Hall, Rooms 253, 254, 255, Ridgway University Center. (Note - new location)
Learn how to better communicate with those around you by taking cultural differences into consideration from Wes Milner, executive director of international programs.
This event is free and open to all students, faculty, staff, and UE community members. We encourage attendees to bring their lunch with them to these events!

Data science to be topic of talk given to SIAM student chapter
Dylan Beal, lead quantitative analyst at OneMain Financial, will give a talk to the Society for Industrial and Applied Mathematics (SIAM) student chapter today. The lecture will begin at 4:00 p.m. in Room 101, Koch Center for Engineering and Science. There is one internship opening on the data science team at OneMain Financial. UE math alumni Miranda Voegel will bring more details during the talk.
The definition and application of data science to motivate decision making and profitability in a modern business environment with examples from marketing, operations, and risk.

I-House: Ireland
Today's I-House presentation will be given by Katie Wray from Northern Ireland. Her major is engineering management. She loves baking, crafts, and playing the violin. Her favorite part about UE are the people. So be sure to come by upstairs in the Ridgway University Center at 7:00 p.m. tonight!
UEMTA Chipotle Give Back Night is tonight
Come out to Chipotle tonight from 5:00-9:00 p.m. to help the University of Evansville Music Therapy Association raise money to send seniors to national conference. Just show this flyer or mention the fundraiser and UEMTA will get 50 percent back. We hope to see you there!
Vertical eXcape trip: open to campus!
Join Venturing Crew at Vertical eXcape on Saturday, November 19, from 7:30 p.m.-midnight! You do not need to be a member for this trip. This adventure will include bus transportation, climbing gear, a short climbing lesson, hours of climbing, pizza, and soft drinks. To add to the fun, this is a FREE TRIP. We will ask that you pay a $10 deposit when you sign up, but this will be refunded as you get on the bus.
Venturing Crew officers will be at a registration table in Ridgway University Center lobby from noon-2:00 p.m. and 5:00-7:00 p.m. today, and from 11:00 a.m.-2:00 p.m. and 5:00-7:00 p.m. on Wednesday and Thursday of this week.
There is limited space on this trip, and it is open to anyone on campus, so slots will go quickly! To reserve your place, you must sign up at the Ridgway University Center table, pay a $10 deposit (that will be returned to you on November 19), and sign waivers for both UE and Vertical eXcape. Since you must sign waivers to sign up, you will not be able to reserve places for your friends. We recommend signing up early to be sure you get a spot.
If you have any questions, don't hesitate to e-mail venturing@evansville.edu. Tell your friends!

Hanging of the Green
In preparation for the holiday season, there will be a hanging of the green at Neu Chapel on Monday, November 28, beginning at 4:00 p.m. We will decorate the chapel and eat free pizza, and afterward sing carols. All are welcome!
Sunday University worship
Come to Neu Chapel this Sunday morning at 11:00 a.m. for a service of Thanksgiving. The final Sunday worship service of the semester will be December 4.
Great American Smokeout information table
Smokefree Communities and UE's chapter of Colleges Against Cancer will have an information table in the lobby of Ridgway University Center today from 10:30 a.m.-1:00 p.m. They will be celebrating the Great American Smokeout.
Today is the Great American Smokeout, a day set aside by the American Cancer Society to encourage smokers to give up tobacco, at least for one day, and to think about quitting for good. These days, most people have a good understanding of the harms caused by cigarette smoking, but nearly 25 percent of Vanderburgh County adults still smoke. Come visit to learn more!
Post-election roundtable: national and international effects of presidential election
The UE community is invited to join a post-election roundtable discussion about the meaning of a Trump presidency both nationally and internationally with faculty members from political science, international studies, history, psychology, sociology, foreign languages and cultures, and religion, as well as the Office of Diversity and Equity. All are welcome to join and participate in the discussion today from 5:00-6:00 p.m., in Room 203 (J. Henry Schroeder Board Room), in the library.
International Marketplace set for today
An International Marketplace is planned for today, from 11:00 a.m.-1:00 p.m., outside Ridgway University Center. (Rain location is Eykamp Hall, Room 251, in Ridgway University Center.)
Join us at this international marketplace to celebrate multiple different countries and cultures! There will be several booths set up advertising international products, activities, and organizations.
Stop by to support local organizations, cast your vote in our photo contest, learn more about study abroad, and just have a good time!
Foreign language speed-dating planned for today
A foreign language speed-dating event is planned for today from 4:00-5:00 p.m., on the second floor of Ridgway University Center. At this event, you'll have the chance to learn some key phrases from multiple different languages in a speed dating style. Spend a few minutes at one booth learning a language from our international students and then quickly move on to the next!
Panel for education abroad updates (non-Harlaxton programs)
On Tuesday, November 22, there will be a meeting to share and discuss what is currently going on with all of our non-Harlaxton programs. The education abroad office has been hard at work restructuring program offerings to make the student experience as helpful and efficient as possible, and this is your chance to find out what has been happening! This meeting will cover summer, semester, and year-long academic programs, and you will have the opportunity to ask any questions you may have. The meeting will be from 10:00-11:30 a.m. in the Beck Conference Room (Room 219), in the Ridgway University Center. We would love to have you there! If you have any questions, please contact Greta Becker at gb91@evansville.edu.
International Bazaar set for November 18
The annual International Bazaar is Friday, November 18, in Ridgway University Center! The doors to the event open to students at 4:30 p.m., and to the community at 5:00 p.m. Food will be served until 7:00 p.m. and the interactive cultural booths will be open and entertainment will be available until 8:00 p.m.
From now until November 17, tickets are $7 (cash or check only) through the Office of Cultural Engagement and International Services, located in Room 220 in the Student Life Center upstairs in Ridgway University Center. You can also purchase tickets with a credit card by going to the University's ticket sales website.

Admission is FREE for UE students and children under five. All proceeds will go to support the Friends of Dago community in Kenya.
Speaker Liana Peter-Hagene presents jury decision-making research
Psychology Club and PSI CHI will be hosting a guest speaker on campus, Liana Peter-Hagene, assistant professor of psychology at Southern Illinois University-Carbondale. She will present a research talk titled "Jury Decision Making: How Emotions and Race Shape Individual and Group Judgments" at 4:00 p.m., Wednesday, November 16, in Room 162, Schroeder School of Business Building. All are welcome to attend.
Wear a safety pin to show solidarity with oppressed groups
Following the Brexit vote many people in the UK began wearing safety pins to show solidarity with refugees and immigrants. The idea was that without a word being spoken, people could see that you would provide safety. It is important to flag to our students and the world at large that all are welcome here and that we will defend the safety of all. Wearing a safety pin means that you will intervene if someone is being oppressed, verbally or otherwise.
It is to say: "I am safe. If you are a Muslim, LGBTQ, a person of color, Latino, an immigrant, disabled, a woman, afraid… I am here. I will listen. I will stand up for you."
Please feel free to stop by assistant professor of philosophy Lisa Kretz's office in Room 342 in Olmsted Administration Hall, to pick up a safety pin.
Recycling at UE – helpful information
Check out the AceLink/Areas/Recycling site for information on UE's campus recycling program. Topics that are covered include:
• What items may be put in the recycling bins around campus: Paper products, including newspaper, magazines, cereal boxes, and cardboard; empty, clean plastics with a recycling number of 1-7; empty aluminum cans and tin cans.
• Where to recycle: there is a list of recycling pick up locations by building.
• What not to put in the recycling bins, including: Food, Styrofoam, pizza boxes (because they contain grease and sometimes uneaten pizza).
You can also find information on the UE Department of Environmental Management Facebook page.
Feel free to call ext. 2697 or e-mail js652@evansville.edu with any questions or suggestions.
Thank you for recycling!
Christmas donations for children
Graves Hall is collecting new gloves, mittens, socks, hats, and scarves for needy community children grades K-8 this Christmas season. The items can be placed on the Christmas tree in Graves Hall lobby. If you have any questions, please call Pam Young at ext. 2848. Thank you!
Employee of the Month nominations
The University of Evansville, in pursuit of excellence in service, wishes to recognize a non-faculty employee displaying records of achievement as a leader. Leadership may be demonstrated in any of the following areas: service to the University, service to students, job performance and attitude towards fellow employees. To be eligible, an employee must be a full-time member of administration or staff.
Nominations for the December 2016 Employee of the Month nominations are due no later than Wednesday, November 16.
To nominate someone, please go to AceLink and click on Areas, and then select Human Resources. The nomination form can be found under Forms on that page.
America Recycles Day is November 15
Recycling helps keep material out of our landfills and much more. Per the EPA, here are some benefits of recycling:
•Reduces the amount of waste sent to landfills and incinerators
•Conserves natural resources such as timber, water, and minerals
•Prevents pollution by reducing the need to collect new raw materials
•Saves energy
•Reduces greenhouse gas emissions that contribute to global climate change
•Helps sustain the environment for future generations
•Helps create new well-paying jobs in the recycling and manufacturing industries in the United States
See the UE Department of Environmental Management Facebook page for more information.
Thank you for recycling!
UE alumnus publishes undergraduate teaching article
Alexander J. Bies '09, has published an undergraduate teaching article in the Journal of Undergraduate Neuroscience Education. The title of his article is "Cockroaches Now Evading Death by Getting Bitter about Sweeteners."
Bies graduated from UE in 2009 with a degree in neuroscience. He is currently at graduate student in the Department of Psychology at the University of Oregon.
The Journal of Undergraduate Neuroscience Education is an online journal for undergraduate neuroscience faculty.
Kiesel presents research at Singapore conference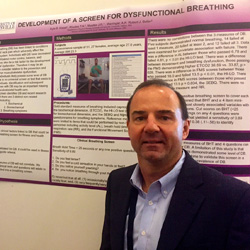 Kyle Kiesel, chair of the Department of Physical Therapy, attended the 9th World Congress for Low Back and Pelvic Pain conference in Singapore October 30-November 3.
Kiesel presented a research poster titled "Development of a Screen for Dysfunctional Breathing" This project involved three UE DPT students who graduated in 2016, Tonya Rhodes, Jacob Mueller, and Alyssa Waninger.
"It is always exciting and satisfying to me to see the hard work of students presented at an international conference," said Kiesel.
The conference, held every three years, is composed of international leaders from the medical and rehabilitation fields who focus on the treatment of low back and pelvic pain.
UE ACM programming teams
The University of Evansville's Association for Computing Machinery (ACM) computer programming team members Kane Catt, Evan Higgins, Asher Trockman, William Johns, Kudzaishe Mandingwa, and Keenen Cates - all computer science and computer engineering students – recently competed in the ACM International Collegiate Programming Contest. They competed as two teams representing UE against over 150 teams at the University of Louisville in Louisville, Kentucky.
The teams placed seventh and eighth out of 17 teams at the Louisville site of the Mid-Central Region of the International Programming Contest. They placed 58th and 67th overall the entire region.
The ACM International Contest is an activity that provides college students with an opportunity to demonstrate and sharpen their problem-solving and computing skills.
The ACM International Programming Contest consisted of 10 questions which must be solved with computer programs within a five hour time limit. Other schools competing were University of Kentucky, University of Louisville, Northern Kentucky University, and Eastern Kentucky University.
Congratulations to both University of Evansville teams!
Men's Basketball defeats Alcorn State, 82-59
Ryan Taylor and Jaylon Brown now each match their career highs in scoring as the University of Evansville Men's Basketball team picked up an 82-59 victory over Alcorn State on Monday night at the Ford Center.
"I like how we bounced back from the other night," UE head coach Marty Simmons said. "Once our guys settled down, I thought we did a nice job defensively. Overall, I think our staff is pleased. Everyone who played did something positive and we have to build on that."
Taylor hit five of his seven attempts, four triples and seven free throws to match his mark of 21, which came in his freshman season at Ohio University against Appalachian State.
"It felt good," Taylor said. "Coach Novsek talked about preparation and it was good to see my first few shots go in."
For the fifth time in his career at UE (1-1), Brown scored 19 points. It also marked the second game in a row that the Fishers, Indiana, native scored 19.
"Any time you come off of a loss, you want to come back strong," Brown said. "When you can pick up a win over a good team, it feels good."
A 5-0 run got the Aces off to a nice start. Jaylon Brown hit a layup to open the night before Ryan Taylor drained a triple. Alcorn State (0-2) came back to tie it up at 5-5. After tying his mark with three triples in Friday's opener at Louisville, Brown hit his fourth of the season to put the Aces back on top at 16-13.
That bucket was the first of seven in a row as UE took a 20-13 lead nine minutes into the game. After the Braves ended the run, Brown notched another trey on the ensuing possession to give UE a 23-15 edge. After the tenacious Braves squad got within three at 24-21, the UE offense came back with six in a row as Ryan Taylor's second trey of the evening spurted the stretch, which led to a 30-21 Aces lead.
Evansville's lead reached 14 at the break as Willie Wiley hit a bucket with 12 seconds remaining. UE hit 14 buckets in the first half with 13 of those coming from the starters. Brown and Taylor each had 13 in the period.
The lead continued to grow in the second half and reached the 20-point mark when a Taylor free throw made it a 61-41 game midway through the stanza. With six minutes remaining, Jaylon Brown's great start to the year continued as he matched his career-high of 19 points. It marked the second game in a row and fifth time in his career that he hit the mark. Just minutes later, another senior was able to set his career mark. Christian Benzon notched his 10th point of the night, marking his first double-digit game at UE.
Over the final minutes of the game, the Aces lead never went under 19 points as they cruised to the 82-59 win. Evansville finished the night shooting a strong 56.3% while holding the Braves to 37.3%. Alcorn State did finish with a 34-33 rebounding advantage. They were led by Marquis Vance, who notched 19 points and a game-high seven rebounds. For the second game in a row, David Howard was the Aces' leading rebounder, totaling six on the night. Willie Wiley and Duane Gibson each notched five. Sergej Vucetic connected on a pair of shots and hit five of his six free throws to finish the game with a career-best nine points.
At the half, a special presentation was made to former US Army Specialist Michael Edds. Sponsors Walmart, Royal Crown Bottling Company, 7-UP, and Snapple, in conjunction with Military Warriors Support Foundation, presented Edds with the keys to a mortgage-free house. Edds was injured in September of 2011 and was honored for his service to the United States and for being a true American hero.
FanFest will take place on Saturday morning from 10:00 a.m.-noon in front of the Ford Center. Several great activities will be available free of cost prior to the Aces home contest against Morehead State, which is set for a noon start time.
Contribute to AceNotes
To have content considered for inclusion in AceNotes, please submit a Marketing Request Form. Deadline for submission to AceNotes is 10:00 a.m. on the requested date of publication. Only articles concerning UE related/sponsored activities will be accepted. Articles submitted to AceNotes may be edited for length and clarity. Submitter contact information is at the end of each article.