| | |
| --- | --- |
| AceNotes Today | Monday, November 7, 2016 |
Holiday season hours
The University of Evansville will be closed during the holidays to allow our employees to enjoy this special time with their families. The following November-December-January holiday schedule will be observed:
Thanksgiving
Wednesday, November 23 – close at noon
Thursday, November 24
Friday, November 25
Christmas/New Year's
Friday, December 23, through Monday, January 2 – returning on Tuesday, January 3
Charlas: Chatting and Cooking this afternoon
Students of all levels of Spanish are invited to meet at Jazzman's in Ridgway University Center at 4:50 p.m., this afternoon to practice Spanish with Belén Alemán Mansilla, a Fulbright FLTA, and to cook Argentinian "tortillas fritas" and try some "mate cocido" (Argentinian tea). Meet at Jazzman's and then walk over to Moore Hall to cook and chat in Spanish. ¡Allá nos vemos!
Chi Epsilon hosting lecture on Peters-Margedant House
UE's Chapter of Chi Epsilon Civil Engineering Honor Society is hosting a lecture by Heidi Strobel, associate professor of art history, and Jim Renne regarding the background of the Peters-Margedant House and the process of bringing it to our campus. The lecture will be today at 6:00 p.m. in Room 133, Koch Center. Tours of the house will be conducted immediately following the lecture.
Newman Club Dinner and Discussion
All are welcome to join the Newman Club today at 5:00 p.m. for food, fun, and fellowship! We'll be serving homemade lemon cream pasta with chicken, and discussing "Tragedy to Triumph" with Kristin Brokaw. You can find us at the house on Lincoln Avenue with the purple banner. For more information, please contact Olivia Voegerl at ov4@evansville.edu.
Exhibit by Sergio Gomez on display in Melvin Peterson Gallery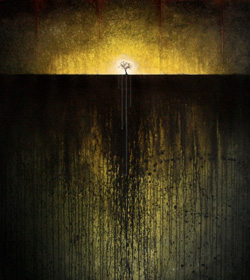 An exhibition of the work by Chicago artist Sergio Gomez will be on display in the Melvin Peterson Gallery from October 31-December 10.
A Chicago based visual artist, Gomez earned a Master of Fine Arts degree from Northern Illinois University. As an art student at Governors State University, he was recipient of the Lincoln Laureate Medallion Award.
Gomez's work has been the subject of solo exhibitions in the United States, Italy, Mexico, and Vienna. He has participated in group exhibitions in Spain, Sweden, Mexico, Korea, and the US. His work can be found in private and public collections of the National Museum of Mexican Art, Brauer Art Museum, and the MIIT Museo Internazionale Italia Arte among others.
Presently, Gomez is director of exhibitions at the Zhou B. Art Center and director of Art NXT Level Projects. He is a contributor for Italia Arte Magazine. In addition, Gomez is an art/design faculty member at South Suburban College and creative consultant for Idea Seat Marketing and Advertising.
Nationally known suicide researcher to present on campus tomorrow
"Helping Others Hold On: Understanding the warning signs of suicide, interventions, and what we can do to help" will be presented by Craig Bryan, executive director of the National Center for Veterans Studies, Air Force veteran, and 2001 UE graduate on Thursday, November 10 at 6:00 p.m. in Room 170, Schroeder School of Business Building.
The presentation is open to the public and especially for family members and friends of individuals at risk for suicide.
Bryan is a board-certified clinical psychologist in cognitive behavioral psychology. He earned his undergraduate degree from the University of Evansville, and his PsyD in clinical psychology from Baylor University. He completed his clinical psychology residency at the Wilford Hall Medical Center, Lackland Air Force Base, Texas.
He was retained as a faculty member in the Department of Psychology at Wilford Hall Medical Center, where he was chief of the Primary Care Psychology Service, as well as the Suicide Prevention Program manager for Lackland AFB.

Bryan deployed to Balad, Iraq, in 2009, where he served as the director of the Traumatic Brain Injury Clinic at the Air Force Theater Hospital. He separated from Air Force active duty shortly after his deployment and currently researches suicidal behaviors and suicide prevention strategies, and psychological health and resiliency.
He manages numerous federally funded projects related to treatments for suicide prevention and has published more than 120 scientific articles and written several books on the subject. Bryan has served on the board of directors of the American Association for Suicidology and is considered a leading national expert on military and veteran suicide.
UE Theatre presents Oklahoma!
The University of Evansville Department of Theatre proudly presents its second production of the season, Rodgers & Hammerstein's Oklahoma! in Shanklin Theatre. Performances are at 7:30 p.m. on November 18 and 19, and at 2:00 p.m. on November 20.
This Pulitzer Prize and Tony Award-winning musical has the distinction of being the first collaboration of Richard Rodgers and Oscar Hammerstein II, thus ushering in the Golden Age of American musical theatre. Set against the hardscrabble life in 1906 Indian Territory, the endearing story of a rocky romance between a lovesick cowboy and headstrong farm girl still garners wide appeal and is sure to have audiences tapping their toes to the catchy lyrics, buoyant melodies, and soaring score.
Oklahoma! is directed and choreographed by Seattle-based guest artist Ruben Van Kempen, with additional choreography by Ricki Smith Newman, and features a 16-person student orchestra led by musical director Patrick Ritsch.
Grace Guarniere, a senior from Katy, Texas, is the scenic designer; professor of theatre Patti McCrory is the costume designer; Avery Reagan, a senior from Conyers, Georgia, is the lighting designer; Richard Ingraham, a guest designer from Euclid, Ohio, is the sound designer; professor of theatre Chuck Meacham is the technical director; professor of theatre Diane Brewer is the dramaturg; and Mary Claire Smalley, a junior from Nashville, Tennessee, is the stage manager.
The cast features Davis Brinker, a junior from Minneapolis, Minnesota, as Curly; and Braden Wilkerson, a junior from Fort Worth, Texas, as Laurey. The 24-person cast also features David Aaron Evans, a senior from The Woodlands, Texas, as Will Parker; Demi Davis, a senior from Leesburg, Georgia, as Ado Annie; and Nate DeCook, a senior from Holland, Michigan, as Jud.
Ticket prices are $18 for adults and $15 for senior adults, students, and UE faculty and staff. UE students may obtain one free student rush ticket beginning at noon on the day of the performance they wish to attend.
Tickets may be purchased by calling 812-488-2031, Monday through Friday, noon to 5:00 p.m.
Fair Trade Market at UE today
The Old North United Methodist Church Fair Trade Market will have tables set up selling fair trade goods today - Tuesday, November 8 - from 11:00 a.m.-2:00 p.m. They will be set up in Ridgway University Center on the second floor along the Eykamp Hall mezzanine area. A portion of the proceeds will go to the UE Professional Staff and Administrators Association, which provides annual scholarships to UE students. The market has great holiday gifts and more! Stop by to support a great organization and your UE PSAA!
This Week in Music: University Symphony Orchestra Performs
The University Symphony Orchestra will present a concert in Neu Chapel this evening at 7:30. The orchestra will be under the direction of assistant professor Chun-Ming Chen, the department's new director of orchestral activities. The program will include a suite by the modern Polish composer Witold Lutoslawski, and it will conclude with a performance of Antonin Dvorák's Symphony N. 8 in G Major, Op. 88. The concert is free and open to the public.
Pre-game event planned for Louisville game
Alumni relations and Aces athletics are holding a pre-game gathering when the Men's Basketball team opens their season at the KFC YUM! Center on Friday, November 11. All Aces fans are invited to help send off the team. The event begins at 5:00 p.m. EASTERN time at the Holiday Inn Express, 800 W. Market Street in Louisville, and goes until game time at 7:00 p.m. EASTERN.
Celebrate International Education Week
Join us in celebrating International Education Week!
This year, International Education Week will take place on November 14-18. The Office of Study Abroad has been hard at work planning a wide variety of events for the week, and would love to see you there. The events are:
Monday: Life After Study Abroad sessions
Tuesday: International Film Night
Wednesday: International Marketplace
Thursday: Foreign Language "Speed Dating"
Friday: International Bazaar
Visit UE's International Education Week website for a more detailed schedule.
If you have any questions, please e-mail gb91@evansville.edu.
Veterans Day Service set for November 11 - Campus community, alumni, and friends invited
The campus community, alumni, and friends are invited to celebrate Veterans Day on campus at our annual Veterans Day service set for Friday, November 11, from 11:00 a.m.–noon in Wheeler Concert Hall. A light luncheon reception will be served immediately following in the lobby of Krannert Hall of Fine Arts.
The special guest speaker will be Air Force veteran Craig Bryan '01, executive director for the National Center for Veterans Studies. Bryan earned his PsyD and MS degrees in clinical psychology from Baylor University, and his BS degree in psychology from UE.
Bryan is a board-certified clinical psychologist in cognitive behavioral psychology, and is executive director of the National Center for Veterans Studies at the University of Utah.
This event is being sponsored by UE's Office of Veteran Affairs.
Newman Club Community Prayer - Vocations Awareness Week
Next week is Vocations Awareness Week, and the members of Newman Club invite you to pray with them! Today they will be having dinner, discussion, and a Holy Hour.
Special guests from around the religious community will be joining the group for an evening of fun and prayer
Join them as they pray to support young men and women discerning vocations in their life - holy orders, marriage, single life, missionary work, and MORE! All are welcome - you do NOT have to be discerning a vocation.
If you have never been to adoration, you need to check out this unique and awe-inspiring way to pray. The Holy Hour will include music, prayer, and silence. Dinner begins at 5:00 p.m. at the Newman Center. Discussion and Holy Hour will follow. The program concludes at 7:00 p.m.
Contact Director Jenny Koch at je46@evansville.edu or Olivia Voegerl at ov4@evansville.edu for more details.
Speaker Series November Luncheon
Please join us for the November Speaker Series Luncheon, Wednesday, November 9, noon-1:00 p.m. in Eykamp Hall, Room 253, Ridgway University Center.
The speaker will be Ron Hagy, senior vice president of talent acquisition at Old National Bank. His topic will be "Affective Networking to Find the Right Career Options."
This luncheon is open to the campus community. If you wish to reserve a free boxed lunch, please RSVP to ds120@evansville.edu by Monday, November 7.

Scholars for Syria to host screening of "The White Helmets"
On November 10, from 7:00-8:30 p.m., in Room 272 in the Schroeder School of Business Building, Scholars for Syria and the University of Evansville Honors Program will host a screening of the Netflix documentary "The White Helmets." This short film tells the story of the first responders who risk their lives to rescue victims of the daily airstrikes taking place in Syria.
Following the viewing, there will be an academic discussion panel focusing on the Syrian Crisis. Members of this panel will include Hisham Alababidi, a local Syrian doctor; Lisa Kretz, a UE professor; and Syrian students Walid Hasanato, Hassan Taki Eddin, and Abdulhasib Aljandali.
While this event is worth .25 Honors Program points, all UE students and Evansville community members are invited to partake in this educational opportunity.
Renowned French historian to give lecture at UE on November 8
The Office of Diversity and Equity and the Department of Foreign Languages and Cultures invite the UE and Evansville community to hear renowned French historian, Pap Ndiaye's lecture "The Minority Paradox: Blackness in France" on November 8, from 4-5 p.m., in Room 162, Schroeder School of Business Building.
His presentation will discuss the notion of French blacks and the tension within the classic French republican understanding of citizenship. How and why is it intellectually and politically legitimate to use this notion? Ndiaye will discuss the reasons why French scholars have been reluctant to focus on racial minorities. He will also elaborate on the notion of blackness, that is the subjectification of racial identities in France in the 20th century, and show why a new blackness has emerged in France in the past few years.
For more information, read this brief biography of Ndiaye.
If you have any questions, please e-mail sb413@evansville.edu.
Joe Atkinson to speak at Andiron Lecture
Joe Atkinson, digital multimedia specialist in residence, will be the speaker for the Andiron Lecture on November 9, at 4:00 p.m., in Eykamp Hall, Room 253, Ridgway University Center. A social gathering with beverages will precede the event at 3:45 p.m.
Atkinson's topic will be "Evansville History in Motion."
Atkinson has learned about Evansville's history from some of the best sources available: the people who lived it. As a documentary filmmaker, he chronicled the 1977 plane crash that killed UE's Men's Basketball team for the film From the Ashes. Currently, he is working alongside professor of history James MacLeod on Evansville at War, a two-part WNIN documentary about Evansville's role in WWII for WNIN Tri-State Public Media. That documentary will air December 7 and 8.
During his lecture, Atkinson will use interviews compiled for these projects, along with clips from WNIN's Top 9 program, to share what he has learned about the people and events that made Evansville the city it is today - and what lessons we can take from these interviewees as we look to move our city forward.
Atkinson is owner and co-founder of Court Street Productions. Originally from Cincinnati, Ohio, he came to Evansville after earning his Bachelor of Science in Journalism from Ohio University's Scripps School of Journalism in 2001. He spent three years as a reporter for the Evansville Courier & Press, then three years as a freelance magazine writer and public relations consultant before joining the University of Evansville as director of news services. He returned to UE in 2015 as a member of the Department of Communication faculty.
For further information, call Annette Parks at 812-488-1070 or the William L. Ridgway College of Arts and Sciences at 812-488-2589
Overnight hosts needed for Sunday, November 13
Are you interested in hosting a prospective student? The Office of Admission is looking for current students to help host prospective students on Sunday, November 13, starting at 5:00 p.m., for Purple Visit Day. Dinner will be provided. The students staying overnight will be doing their campus visit the following day.
If you are interested in being a host, please e-mail Catie Taylor at ct37@evansville.edu with your name, roommate's name, hall, room number, and cell phone number.

Interested in traveling to Cuba over spring break?
The Cuba Skate GAP Program is open for registration. In this course, students will enroll in the GAP program course for the spring semester and then travel to Cuba during spring break. This course will provide opportunities to better understand and to engage in issues of business practices, and social and civic responsibility in an international context. The course will focus on addressing the needs of Cuba Skate, a non-profit initiative designed to foster a constructive environment for Cuban youth.
Apply for program by going to the Cuba Skate GAP Project website.
Questions? Contact Amara Stuehling in education abroad at as760@evansville.edu.
Still need to drop a fall class?
Students who are needing to drop a fall class have until this Friday, November 11, at 5:00 p.m. to turn in their drop slip. If you have questions, contact the Office of the Registrar.
Interested in traveling to Guatemala over spring break?
The Mission Guatemala GAP program is open for registration. Mission Guatemala is a non-profit organization founded by Tom Heaton of Evansville, Indiana. This organization is affiliated with the United Methodist Church. Based on the needs of Mission Guatemala and the interest and skills of the UE faculty and students involved, the projects for the program will focus on:
•Training educators in rural Guatemala on how to incorporate art and health topics into their classes.
•Developing a strategic communications plan for Mission Guatemala.
Apply for this program by going to the Mission Guatemala website.
Questions? Contact Amara Stuehling in education abroad at as760@evansville.edu.
Remember to vote
If you are registered to vote, remember to do so by next Tuesday, November 8. Unfortunately, less than half of young adults generally turn out to vote, even for presidential elections. Exercise your Constitutional right and cast your ballot on Tuesday, Nov. 8. To learn more about what will be on the ballot, and how to vote, visit this website developed by the League of Women Voters Education Fund.
UE's environmental policy
UE's environmental policy, which was approved by President Thomas Kazee, is the foundation for UE's environmental management system. The policy can be summarized by the acronym CREST:
C = Continuous improvement
R = Reduce, reuse, recycle
E = Environmental compliance
S = Sustainability
T = Training and education
For additional information, or if you have any questions, comments, or suggestions, please contact Jan Schrader, manager for risk and environmental management, at js652@evansville.edu or ext. 2697.
You can find additional information in AceLink/Areas/Environmental Management, or check out UE's Department of Environmental Management Facebook page.
Master of Science in Athletic Training program accepting applications
The Master of Science in Athletic Training program at UE is now accepting applications for classes starting in Summer 2017. The only prerequisite courses for the MSAT program is Human Anatomy and Physiology I and II.
If you are still looking for the next step after graduation and have an interest in athletic training, please contact professor of athletic training and exercise and sport science Kathy Liu at kl154@evansville.edu for more information.
In addition, juniors may have the opportunity to start the MSAT program and finish both an undergraduate and master's program in five years. Please set up a meeting with Professor Liu to see if you qualify.
For more information on the program, visit the program's website for more information.
Do you know a future Purple Ace?
The Office of Admission needs your help. Do you know students that would be a great fit at UE? They could be a son, daughter, niece, nephew, or neighbor, and we would love to share the exciting UE tradition with them.
To ensure ease of the referral process, fill out this prospective student referral form and submit it to the Office of Admission. After you submit the form, we will take it from there. If you need any assistance, please stop by the Office of Admission located in Room 104 in Olmsted Administration Hall, or call 812-488-2468.
If the referred student is a senior, please encourage an application (free online) and a campus visit.
COMM 380 offered online in winter intersession
COMM 380, Intercultural Communication, will be offered online during winter intersession. This class fulfills general education Core Outcome 9 (Understanding of Core Concepts of Society, Human Behavior, and Civic Knowledge) and Overlay A (Global Diversity: International Component). If you have any questions about the course format, e-mail dt4@evansville.edu.
Winter Intersession financial aid
If you are seeking financial aid to help pay for Winter Intersession courses at UE, please contact the Office of Financial Aid. We will help you examine your options for aid, which in most cases is limited to loans.
Honorary Degree Committee invites your suggestions
The University of Evansville Honorary Degree Committee is now soliciting your recommendations for honorary degrees to be conferred at the May 2017 Commencement. According to the UE Faculty and Administrator Manual, the committee is charged with requesting and reviewing honorary degree nominations made on the basis of individual service to the University and individual achievement. An honorary degree may also be awarded to individuals who exemplify the University's mission. Selected persons have excelled in a variety of areas--law, medicine, education, business, literature, politics, and entertainment.
The committee will forward nominations to President Kazee so he can make his recommendations to the faculty. The faculty will vote on the final list of nominees.
Please e-mail the following information to Robert Dion, committee chair, at rd35@evansville.edu, by Friday, November 11:
1. Nomination by (include name, phone and e-mail address)
2. Name of person nominated
3. Title and/or profession of nominee
4. Rationale for the nomination (see criteria above)
5. Any biographical or background information on the nominee
6. Address information for contacting the nominee
Time is running out to register for Indiana Means Business
Last chance to register for the Indiana Means Business career fair! The event is November 10, from 10:00 a.m.-3:00 p.m. (Eastern Time), at the Westin Indianapolis.
You can register for the fair through UE JobLink (Jobs tab --> search for posting 901450).
Bus transportation will be provided from UE. Contact Career Development to reserve your seat.
View employers who will be at the fair at Indiana Means Business Career Fair website.
Need assistance with your job, internship, co-op or graduate school search? Please contact the Center for Career Development: career@evansville.edu or 812-488-1083.
Robert Dion featured on Canadian radio to discuss presidential election
Robert Dion, chair of the Department of Law, Politics, and Society, was a featured commentator this weekend on a special broadcast dedicated to understanding the US presidential election. The program, Desautels le dimanche, airs nationwide for two hours on Radio Canada every Sunday morning.
Professor Dion joined the Canadian broadcast from the downtown studios of WNIN in Evansville, and his appearance was broadcast live and in French. The show devoted over 90 minutes to the presidential election and covered a wide array of subjects.
Angela Williams makes presentation at CASE Indiana Conference
Angela Williams, assistant director of alumni and parent relations, presented at the CASE Indiana Conference on Friday, November 4, at the University of Indianapolis. Her presentation was titled "Parent Engagement and Events Result in Giving." Read more about the conference at the CASE website.
Halloween Baby
Samantha Fulkerson, director of accounting in the Office of Fiscal Affairs, gave birth to a baby boy, Spencer Paul, on October 31. Spencer and mom are doing well.
Maass presents research at international security conference
Richard Maass, assistant professor of political science, presented two research papers this past weekend at the annual ISAC-ISSS conference, co-hosted by the international security sections of the American Political Science Association and the International Studies Association. One of the papers - "Salami Tactics and the Future of US-Russian Relations" - is familiar to the UE community from Maass' November 2015 Andiron lecture. The other uses his dataset of great power annexation attempts to test hypotheses regarding when states pursue annexation.
Sue Edwards and family
Sue Edwards' mother Rita Shekell passed away on Friday, November 4. Her funeral was this morning at St. John the Baptist Catholic Church in Newburgh. Please keep Sue and her family in your thoughts.
Women's Swimming and Diving come up short against Trojans
A number of Lady Aces put up strong performances at Little Rock on Saturday afternoon, but the swimming and diving squad came up short against UALR.
UALR put up a final score of 177 points, with Evansville at 118.
"It was an okay meet. We were a little flat; not quite the performance we were hoping for coming in," UE head coach Rickey Perkins said. "But we stayed together as a team. We have some things we need to work on when we get back home, but I'm proud of the way we stuck together as a team. At the end of the meet our spirits were still high, and the girls cheered for each other. That's what this is about, is for us to look each other in the eye and say 'I gave you the best I could have at this moment.' So we'll go back home and get back to work and see what happens next week."
Junior Danielle Freeman was the top scorer for the Aces this afternoon. She took victories in the 50 and 100 freestyle, touching in at 24.23 and 52.99 respectively. She took the top spot in the 50 butterfly as well at 26.39. Teammate Emma Hennessy followed closely behind for second place with a 26.58, with sophomore Kristen Myers in fourth place at 27.58. Freeman also teamed up with senior Michaela Kent, junior Kayla Aitken, and Myers to earn second place in the 200 Medley Relay with a time of 1:49.42.
Kent had a strong meet once again as well. She clocked in at 26.80, well ahead of the 50 backstroke competition. Sophomore Sam Gowdy followed in third place with a 28.55. Kent won the 100 backstroke as well at 58.24, a solid 2.02 seconds ahead of second place. Gowdy once again followed suit in third place with a 1:00.78. In addition to the 200 Medley Relay, Kent closed the day out with the 200 Freestyle Relay. Her efforts combined with Hennessy, sophomore Madi Jones, and Gowdy took second place with a time of 1:39.52.
Junior Courtney Coverdale returned to the boards that afternoon. She took second in both 1-Meter and 3-Meter. Her score of 271.57 was a mere point and a half behind first place and was yet another NCAA Zones qualifying score. She scored 246.66 on the 3-Meter. Freshman Alyssa Vonder Haar earned fourth place on 1-Meter with 159.75. She took third in the 3-Meter with a 142.05. Junior Kasey Rein made her diving debut this afternoon on the 1-Meter. Her efforts scored 160.19 for third place.
Other notable performances from the Lady Aces were in the 200 freestyle. Freshman Kristy Kupfer took second place with a time of 1:57.93. She was followed by Madi Jones at a 1:58.36; junior Jessi Hildebrand came in fifth for a season best time of 2:03.41. Kupfer returned to take third in the 500 free with a 5:19.45, followed by freshman Ashton Adams in fourth at 5:29.91. Kayla Aitken then put up a season best of her own with a 1:10.41 and a third place finish in the 100 breaststroke.
The Aces continue competition with the men's team on Friday at Eastern Illinois.

Volleyball posts persistent effort at Illinois State
It was Mildrelis Rodriguez pacing the University of Evansville offense once against as the Purple Aces Volleyball team came up just short at Illinois State on Saturday night.
Rodriguez had a team-best nine kills and also led UE (5-23, 1-14 MVC) with 11 digs. Joselyn Coronel had a solid night, posting nine digs and four kills. Jelena Mersei notched 20 assists. Three Redbirds (16-10, 10-5 MVC) notched double digit kills, led by Ella Francis' game-high of 12.
Illinois State began the night with a 25-16 win. Evansville fell behind by a 10-3 margin, but picked up momentum in cutting the gap to 11-7. Trailing 21-16, UE gave up the final four tallies as ISU took a 1-0 lead.
Evansville had a pair of early leads in the second game before the Redbirds wrestled away a 13-9 lead. They added to it from there, taking a 25-18 victory.
The never-give-up attitude of the Aces was evident in the third set as they overcame an early 5-1 deficit to fight back to trail by just one at 9-8. Cathy Schreiber had a service ace in the rally. Just a few points later, the Aces tied it up at 13-13. The pivotal moment came after UE made it a 19-17 game. Illinois State scored three in a row and fended off the challenge to clinch the match with a 25-20 win.
On Friday night, UE is back home to face Southern Illinois in a 7:00 p.m. match.

Women's Soccer falls 2-1 in MVC championship match
A second-half Redbird surge was hard to combat for the University of Evansville Women's Soccer team on Sunday afternoon as host Illinois State scored twice after the break to take the lead and never looked back, earning a 2-1 victory over the Purple Aces in the Missouri Valley Conference championship match at Adelaide Street Field.
"I thought the girls battled hard today," UE head coach Krista McKendree said. "We wanted to put ourselves in a position to compete for the championship today, and I thought they did that. They got the early goal, but Illinois State is a very good team and they took advantage of two of their opportunities."
The loss brings the season to an end for the Aces, who were playing in their third consecutive MVC final. UE ends the year with a 4-12-3 overall record. Meanwhile, the Redbirds, who are now on a conference-record 14-match unbeaten run, improved to 14-5-2 and earned the league's automatic berth into the NCAA Tournament.
The Redbirds, who were also forced to come from behind to claim the MVC regular season title over the Aces, came out strong in the contest, peppering the Aces goal with 10 shots in the opening 45 minutes. However, ISU only put three shots on target in the half and MVC Goalkeeper of the Year Whitney Biggs was up to the task, making three saves.
Late in the half, Bronwyn Boswell put the Aces ahead after her strike partner Montana Portenier blazed up the right flank, beating her defender twice before picking out Boswell near the penalty spot. From there, Boswell turned and blasted a shot past ISU goalkeeper Haley Smith to give UE the lead.
The goal was the 22nd of Boswell's UE career, and she'll leave Evansville tied with Jessica Schwartz as the program's seventh-best goal-scorer in history.
Following the half, ISU came out on the front foot. The Redbirds would draw a foul outside the 18-yard box in the 53rd minute, and the ensuing free kick from Kiley Czerwinski found the head of Brooke Ksiazek, who sent it back across the face of goal to Paige Jarsombeck to tie up the match.
Nine minutes later, another ball into the box, this time from Abby Basler found Brianne Richards, who played it to Lauren Koehl for the eventual match-winner. Koehl, who was the MVC Player of the Year, now has 16 goals on the season.
"We've had a very good group this season," McKendree said. "Our seniors have helped get us to where we are today. We're very appreciative of them and helping lead the program to the title game in three of their four years. That's a very high mark. Hopefully they've something behind that we can build on."
The title for Illinois State marked the seventh in the program's history, tying with UE for the most in the history of MVC. Meanwhile, it marked a fifth runner-up finish for the Aces.

Aces FanFest set for November 19
FanFest, an annual event that has taken place every year since the opening of the Ford Center in 2011, will be held Saturday, November 19.
Beginning at 10:00 a.m., FanFest will be go until the Men's Basketball game against Morehead State begins at noon. It will be held at Freedom Plaza, which is directly in front of the Ford Center main entrance.
Several great activities will be on hand for Purple Aces fans of all ages. The fun includes bounce houses, cornhole, a photo booth, rally towels, live music, and much more.
Food vendors and a beer garden will also be on hand for the attendees at FanFest. Admission to the festivities is free. Russ Grieger will be on hand signing copies of his new book - "The Perfect Season: A Memoir of the 1964-1965 Evansville College Purple Aces."

Contribute to AceNotes
To have content considered for inclusion in AceNotes, please submit a Marketing Request Form. Deadline for submission to AceNotes is 10:00 a.m. on the requested date of publication. Only articles concerning UE related/sponsored activities will be accepted. Articles submitted to AceNotes may be edited for length and clarity. Submitter contact information is at the end of each article.