| | |
| --- | --- |
| AceNotes Today | Friday, November 4, 2016 |
Holiday season hours
The University of Evansville will be closed during the holidays to allow our employees to enjoy this special time with their families. The following November-December-January holiday schedule will be observed:
Thanksgiving
Wednesday, November 23 – close at noon
Thursday, November 24
Friday, November 25
Christmas/New Year's
Friday, December 23, through Monday, January 2 – returning on Tuesday, January 3
Debbie Brenton receives November Employee Excellence Award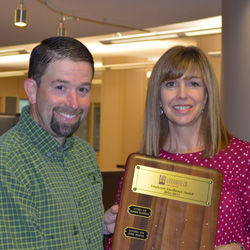 Debbie Brenton, disability services coordinator in the Office of Counseling and Disability Services, has been presented with the Employee Excellence Award for November 2016.
Debbie works diligently to prepare for the accommodations, technology, and alternative format texts and materials needed for incoming students with disabilities in order to give them a strong start to their college careers.
She approaches her job with compassion, sensitivity, and dedication.
We appreciate all that you do, Debbie!
Pre-game event planned for Louisville game
Alumni relations and Aces athletics are holding a pre-game gathering when the Men's Basketball team opens their season at the KFC YUM! Center on Friday, November 11. All Aces fans are invited to help send off the team. The event begins at 5:00 p.m. EASTERN time at the Holiday Inn Express, 800 W. Market Street in Louisville, and goes until game time at 7:00 p.m. EASTERN.
Celebrate International Education Week
Join us in celebrating International Education Week!
This year, International Education Week will take place on November 14-18. The Office of Study Abroad has been hard at work planning a wide variety of events for the week, and would love to see you there. The events are:
Monday: Life After Study Abroad sessions
Tuesday: International Film Night
Wednesday: International Marketplace
Thursday: Foreign Language "Speed Dating"
Friday: International Bazaar
Visit UE's International Education Week website for a more detailed schedule.
If you have any questions, please e-mail gb91@evansville.edu.
Chi Epsilon hosting lecture on Peters-Margedant House
UE's Chapter of Chi Epsilon Civil Engineering Honor Society is hosting a lecture by Heidi Strobel, associate professor of art history, and Jim Renne regarding the background of the Peters-Margedant House and the process of bringing it to our campus. The lecture will be today at 6:00 p.m. in Room 133, Koch Center. Tours of the house will be conducted immediately following the lecture.
Veterans Day Service set for November 11 - Campus community, alumni, and friends invited
The campus community, alumni, and friends are invited to celebrate Veterans Day on campus at our annual Veterans Day service set for Friday, November 11, from 11:00 a.m.–noon in Wheeler Concert Hall. A light luncheon reception will be served immediately following in the lobby of Krannert Hall of Fine Arts.
The special guest speaker will be Air Force veteran Craig Bryan '01, executive director for the National Center for Veterans Studies. Bryan earned his PsyD and MS degrees in clinical psychology from Baylor University, and his BS degree in psychology from UE.
Bryan is a board-certified clinical psychologist in cognitive behavioral psychology, and is executive director of the National Center for Veterans Studies at the University of Utah.
This event is being sponsored by UE's Office of Veteran Affairs.
All UE employees invited to workshops for retirement health
UE employees are invited to attend one of the informational workshops presented by Emeriti Retirement Health Solutions on Monday, November 14, in the J. Henry Schroeder Boardroom (Room 203) in the University Libraries.
The workshops are scheduled for:
• 10:00 a.m.–11:00 a.m. – primarily geared to those already retired or close to retirement
• 11:30 a.m.–12:30 p.m. – for active employees considering retirement
The Emeriti Retirement Health Solutions program provides important benefits such as:
• A tax-advantaged way for you to invest and accumulate assets for your future retiree medical expenses.
• A retiree health insurance program for you and your eligible dependents that builds on the foundation of Medicare.
• A tax-free way for you to pay for other qualified out-of-pocket medical expenses in retirement.
A representative from Emeriti and Aetna health insurance will be on campus to provide information about Emeriti and what you need to do to take full advantage of the program. The meetings will cover such topics as why you need to save for retiree health care, the unique tax advantages of the program, and your options available under it.
For more information about the program, please visit the Emeriti retirement health website.
Human Foosball this Saturday!
Be a part of Human Foosball this Saturday, November 5, starting at 10:00 a.m.! Join or create a team to take part in the competition. The deadline to register for the event on IMLeagues.com ends Friday, so don't wait! The event is being held at St. Paul's United Church of Christ.
Newman Club Dinner and Discussion
All are welcome to join the Newman Club today at 5:00 p.m. for food, fun, and fellowship! We'll be serving homemade lemon cream pasta with chicken, and discussing "Tragedy to Triumph" with Kristin Brokaw. You can find us at the house on Lincoln Avenue with the purple banner. For more information, please contact Olivia Voegerl at ov4@evansville.edu.
Newman Club Community Prayer - Vocations Awareness Week
Next week is Vocations Awareness Week, and the members of Newman Club invite you to pray with them! Today they will be having dinner, discussion, and a Holy Hour.
Special guests from around the religious community will be joining the group for an evening of fun and prayer
Join them as they pray to support young men and women discerning vocations in their life - holy orders, marriage, single life, missionary work, and MORE! All are welcome - you do NOT have to be discerning a vocation.
If you have never been to adoration, you need to check out this unique and awe-inspiring way to pray. The Holy Hour will include music, prayer, and silence. Dinner begins at 5:00 p.m. at the Newman Center. Discussion and Holy Hour will follow. The program concludes at 7:00 p.m.
Contact Director Jenny Koch at je46@evansville.edu or Olivia Voegerl at ov4@evansville.edu for more details.
Sabbatical activities presentation
On Monday, November 7, at 4:00 p.m., in Room 142 of the Krannert Hall of Fine Arts, associate professor of music Garnet Ungar will give a half-hour colloquium on his 2015-16 sabbatical activities. These include a piano technology internship, professional activities in Asia, and writing a book about American pianist Abbey Simon. All are invited.
Save the date! The Chili Bowl Sale is back!
The art department and the Clay Club are excited to announce that the Chili Bowl Sale has returned. Mark your calendar for Thursday, November 10, 11:00 a.m.-1:00 p.m., on the lawn between Hyde Hall and Sampson Hall. See you there. More details to come.
Exhibit by Sergio Gomez on display in Melvin Peterson Gallery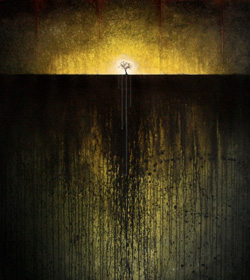 An exhibition of the work by Chicago artist Sergio Gomez will be on display in the Melvin Peterson Gallery from October 31-December 10.
A Chicago based visual artist, Gomez earned a Master of Fine Arts degree from Northern Illinois University. As an art student at Governors State University, he was recipient of the Lincoln Laureate Medallion Award.
Gomez's work has been the subject of solo exhibitions in the United States, Italy, Mexico, and Vienna. He has participated in group exhibitions in Spain, Sweden, Mexico, Korea, and the US. His work can be found in private and public collections of the National Museum of Mexican Art, Brauer Art Museum, and the MIIT Museo Internazionale Italia Arte among others.
Presently, Gomez is director of exhibitions at the Zhou B. Art Center and director of Art NXT Level Projects. He is a contributor for Italia Arte Magazine. In addition, Gomez is an art/design faculty member at South Suburban College and creative consultant for Idea Seat Marketing and Advertising.
Joe Atkinson to speak at Andiron Lecture
Joe Atkinson, digital multimedia specialist in residence, will be the speaker for the Andiron Lecture on November 9, at 4:00 p.m., in Eykamp Hall, Room 253, Ridgway University Center. A social gathering with beverages will precede the event at 3:45 p.m.
Atkinson's topic will be "Evansville History in Motion."
Atkinson has learned about Evansville's history from some of the best sources available: the people who lived it. As a documentary filmmaker, he chronicled the 1977 plane crash that killed UE's Men's Basketball team for the film From the Ashes. Currently, he is working alongside professor of history James MacLeod on Evansville at War, a two-part WNIN documentary about Evansville's role in WWII for WNIN Tri-State Public Media. That documentary will air December 7 and 8.
During his lecture, Atkinson will use interviews compiled for these projects, along with clips from WNIN's Top 9 program, to share what he has learned about the people and events that made Evansville the city it is today - and what lessons we can take from these interviewees as we look to move our city forward.
Atkinson is owner and co-founder of Court Street Productions. Originally from Cincinnati, Ohio, he came to Evansville after earning his Bachelor of Science in Journalism from Ohio University's Scripps School of Journalism in 2001. He spent three years as a reporter for the Evansville Courier & Press, then three years as a freelance magazine writer and public relations consultant before joining the University of Evansville as director of news services. He returned to UE in 2015 as a member of the Department of Communication faculty.
For further information, call Annette Parks at 812-488-1070 or the William L. Ridgway College of Arts and Sciences at 812-488-2589
Remember to vote
If you are registered to vote, remember to do so by next Tuesday, November 8. Unfortunately, less than half of young adults generally turn out to vote, even for presidential elections. Exercise your Constitutional right and cast your ballot on Tuesday, Nov. 8. To learn more about what will be on the ballot, and how to vote, visit this website developed by the League of Women Voters Education Fund.
UE's environmental policy
UE's environmental policy, which was approved by President Thomas Kazee, is the foundation for UE's environmental management system. The policy can be summarized by the acronym CREST:
C = Continuous improvement
R = Reduce, reuse, recycle
E = Environmental compliance
S = Sustainability
T = Training and education
For additional information, or if you have any questions, comments, or suggestions, please contact Jan Schrader, manager for risk and environmental management, at js652@evansville.edu or ext. 2697.
You can find additional information in AceLink/Areas/Environmental Management, or check out UE's Department of Environmental Management Facebook page.
Master of Science in Athletic Training program accepting applications
The Master of Science in Athletic Training program at UE is now accepting applications for classes starting in Summer 2017. The only prerequisite courses for the MSAT program is Human Anatomy and Physiology I and II.
If you are still looking for the next step after graduation and have an interest in athletic training, please contact professor of athletic training and exercise and sport science Kathy Liu at kl154@evansville.edu for more information.
In addition, juniors may have the opportunity to start the MSAT program and finish both an undergraduate and master's program in five years. Please set up a meeting with Professor Liu to see if you qualify.
For more information on the program, visit the program's website for more information.
Expansion of UE Martin Luther King Jr. Day events
The Martin Luther King Jr. Committee is seeking faculty, staff, students, departments, or student organizations interested in being a part of the 2017 Martin Luther King Jr. Day annual program. The theme will focus on education.
We are searching for campus members to lead discussions, panels, or workshops on Monday, January 16, that will focus on the teachings and messages of Martin Luther King Jr. Each session will last 45 minutes.
This would be a terrific opportunity for faculty or staff members to work with a student or student groups in order to share those messages in a variety of ways. Examples of possible events include a panel discussion on being a first generation college student, playing and discussion of civil rights themed music, reading poetry from the 60s, discussion of the famous Greensboro sit-ins, or showing a documentary.
If you are interested please contact LaNeeca Williams at lw161@evansville.edu.
COMM 380 offered online in winter intersession
COMM 380, Intercultural Communication, will be offered online during winter intersession. This class fulfills general education Core Outcome 9 (Understanding of Core Concepts of Society, Human Behavior, and Civic Knowledge) and Overlay A (Global Diversity: International Component). If you have any questions about the course format, e-mail dt4@evansville.edu.
Honorary Degree Committee invites your suggestions
The University of Evansville Honorary Degree Committee is now soliciting your recommendations for honorary degrees to be conferred at the May 2017 Commencement. According to the UE Faculty and Administrator Manual, the committee is charged with requesting and reviewing honorary degree nominations made on the basis of individual service to the University and individual achievement. An honorary degree may also be awarded to individuals who exemplify the University's mission. Selected persons have excelled in a variety of areas--law, medicine, education, business, literature, politics, and entertainment.
The committee will forward nominations to President Kazee so he can make his recommendations to the faculty. The faculty will vote on the final list of nominees.
Please e-mail the following information to Robert Dion, committee chair, at rd35@evansville.edu, by Friday, November 11:
1. Nomination by (include name, phone and e-mail address)
2. Name of person nominated
3. Title and/or profession of nominee
4. Rationale for the nomination (see criteria above)
5. Any biographical or background information on the nominee
6. Address information for contacting the nominee
UE community invited to participate in Holiday Art and Crafts Sale
The Department of Art is pleased to announce its annual Holiday Art and Crafts Sale. Everyone in the UE community who creates art or crafts is welcome to participate. This includes faculty, staff, students, spouses, children, parents, relatives, and friends.

The sale will be held in the Melvin Peterson Gallery on Thursday, December 1. Doors will open at 7:00 a.m. and the sale will continue until 6:00 p.m. Participating artists and craftsmen may drop work off the day prior to the sale or on the morning of the sale before the doors open. Vendors do not need to stay with their work as art department staff and volunteers will be on site to handle the sale.

If you would like to join in this year's Holiday Sale, or you would like more information, please contact the Department of Art at dh196@evansville.edu or 812-488-2043.
Robert Dion interviewed about the Indiana election
Robert Dion, chair of the Department of Law, Politics, and Society, appeared in the Indianapolis Star yesterday in an article about the outside money being spent in the Indiana Senate race.
He was also interviewed this week for a story that looked at the role of labor unions in the gubernatorial election.
Aces head to Normal with repeat in mind
The defending Missouri Valley Conference tournament champion University of Evansville Women's Soccer team will begin its quest for a second straight title this afternoon as the Purple Aces open play at the tournament with a showdown against Loyola.
The Aces, who finished the regular season with a 4-11-2 overall record, hit their stride near the end of the season, picking up three wins from five matches before concluding with a scoreless draw at Missouri State last Thursday. The late success mirrored the end of last season, which saw UE hold opponents scoreless for 200 minutes in the conference tournament before upending Loyola in penalties.
UE will be looking for more of the same in this year's edition, and head coach Krista McKendree will have plenty of postseason experience to choose from, beginning with goalkeeper Whitney Biggs, who earned the MVP of last year's tournament. The senior out of Bloomington, Indiana, has enjoyed a strong final season in Evansville, posting four clean sheets in the process.
Also helping the defensive effort is senior Emily Richardson, who has played nearly every minute at the heart of the Aces backline. An all-conference defender a year ago, Richardson owns a pair of memorable postseason highlights, first scoring as a freshman in 2013 and then converting the winning penalty last season to send the Aces into the NCAA tournament.
Richardson isn't the only Ace with a postseason goal to her name either. Colleen Dierkes has scored in each of the past two tournaments to lead the pack, and Bronwyn Boswell, who finished off the regular season with a team-best six goals, also scored as a sophomore in 2014's run to the title game. Montana Portenier, who ranks second on the team this year with two goals and two assists, also scored in 2014, and she'll be looking to make her mark after missing out on last season's championship due to injury.
If the Aces are to get back to the title game for a third successive season, they'll have to go against their opponents from last year's championship in Loyola. UE dropped the encounter against the Ramblers earlier this season as the team saw 17 shots, including seven on goal, wiped out by a 78th-minute winner from Loyola's Sienna Cruz. It was the only shot on target for Loyola on the night.
With a win, the Aces would go on to face either Indiana State or regular season champion Illinois State. The Aces earned a 2-1 win over the Sycamores last month before dropping a heartbreaker by the same score to the Redbirds that featured two goals in the final seven minutes.
Kickoff today is slated for 3:30 p.m. at Adelaide Street Field. With a win, the Aces would advance to Sunday's final, which is slated for a 1:00 p.m. start. Both games will be broadcast live on The Valley on ESPN3.

Aces FanFest set for November 19
FanFest, an annual event that has taken place every year since the opening of the Ford Center in 2011, will be held Saturday, November 19.
Beginning at 10:00 a.m., FanFest will be go until the Men's Basketball game against Morehead State begins at noon. It will be held at Freedom Plaza, which is directly in front of the Ford Center main entrance.
Several great activities will be on hand for Purple Aces fans of all ages. The fun includes bounce houses, cornhole, a photo booth, rally towels, live music, and much more.
Food vendors and a beer garden will also be on hand for the attendees at FanFest. Admission to the festivities is free. Russ Grieger will be on hand signing copies of his new book - "The Perfect Season: A Memoir of the 1964-1965 Evansville College Purple Aces."

Volleyball back on the road this weekend
Coming off of its best weekend of Missouri Valley Conference play, the University of Evansville Volleyball team looks to continue rolling in a pair of road matches at Indiana State and Illinois State.
The Purple Aces begin the weekend on today at Indiana State before traveling to Normal to face Illinois State on Saturday. Today's match begins at 6:00 p.m. CT while Saturday's game against the Redbirds will begin at 7:00 p.m. Both will be televised by The Valley on ESPN3.
In two matches last weekend, Mildrelis Rodriguez led the Purple Aces to their first conference win of the season and came close to making it 2-0 in a hard-fought match against Loyola. Rodriguez notched a career-high 23 kills in a 5-set victory over Bradley on Friday while hitting .311. She also led all players with an impressive 19 digs. She followed that up with 15 more kills versus the Ramblers and 10 digs. For the weekend, she 3.80 kills per set and hit .212. She also notched 2.90 digs per frame.
Rocio Fortuny also had her best collegiate match against Bradley. The sophomore posted 19 kills in 48 attempt, besting her previous high of 17. She also matched her top mark of 13 digs in the triumph over the Braves. Fortuny ranks second on the team behind fellow sophomore Mildrelis Rodriguez with 2.19 kills per set. She has also done well on the defensive side with 0.44 blocks per set.
A strong weekend saw UE freshman Rachel Tam average 2.90 kills per game along with 2.10 digs as the Aces won their first MVC match of the season. Tam opened the weekend with a career-best 19 kills in the win over Bradley while hitting .406. She added 10 digs and a pair of block assists. Tam completed the weekend with 10 kills versus Loyola while hitting .333.
Today the Aces open up the weekend with a trip to Terre Haute to face Indiana State. The Sycamores begin the weekend with a 9-15 record and are 3-9 in league play. In the meeting earlier this season in Evansville, Indiana State hung on for a victory in five sets. Kynedi Nalls continues to lead ISU with 3.38 kills per set, which is a tally that ranks fifth in the MVC.
Saturday will see the Aces travel to Illinois State. The Redbirds are in the midst of a four-way battle for second place in the Valley with an 8-4 conference mark while sitting at 15-9 overall. Jaelyn Keene ranks as the top hitter in the conference, checking in at .450. She has also gotten the job done with her serving, pacing the MVC with 0.45 service aces per game.
Contribute to AceNotes
To have content considered for inclusion in AceNotes, please submit a Marketing Request Form. Deadline for submission to AceNotes is 10:00 a.m. on the requested date of publication. Only articles concerning UE related/sponsored activities will be accepted. Articles submitted to AceNotes may be edited for length and clarity. Submitter contact information is at the end of each article.