| | |
| --- | --- |
| AceNotes Today | Thursday, November 3, 2016 |
Holiday season hours
The University of Evansville will be closed during the holidays to allow our employees to enjoy this special time with their families. The following November-December-January holiday schedule will be observed:
Thanksgiving
Wednesday, November 23 – close at noon
Thursday, November 24
Friday, November 25
Christmas/New Year's
Friday, December 23, through Monday, January 2 – returning on Tuesday, January 3
Debbie Brenton receives November Employee Excellence Award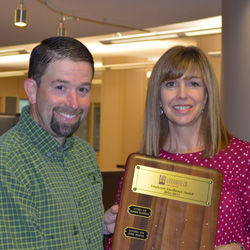 Debbie Brenton, disability services coordinator in the Office of Counseling and Disability Services, has been presented with the Employee Excellence Award for November 2016.
Debbie works diligently to prepare for the accommodations, technology, and alternative format texts and materials needed for incoming students with disabilities in order to give them a strong start to their college careers.
She approaches her job with compassion, sensitivity, and dedication.
We appreciate all that you do, Debbie!
Chinese cultural presentation tonight!
A Chinese cultural presentation is planned for tonight – Thursday, November 3 – at 7:00 p.m., upstairs in Ridgway University Center, at the same location where I-House is held. Students from several different provinces in China will be talking about their hometowns and the area where they grew up. Places the presenters will talk about include: Beijing, Hong Kong, Xinjiang Guangxi, and Fujjan. They will also cook Chinese brand noodles after the presentation for those who attend.
Bernstein Mass Symposium on campus tonight
The Evansville Philharmonic Orchestra will host a Bernstein Mass Symposium this evening from 7:00-9:00 p.m., in Room 100 (Wyttenbach Lecture Hall) in Graves Hall. Admission is free and the event is open to the public. Please visit the Evansville Philharmonic website for more information.
Celebrate International Education Week
Join us in celebrating International Education Week!
This year, International Education Week will take place on November 14-18. The Office of Study Abroad has been hard at work planning a wide variety of events for the week, and would love to see you there. The events are:
Monday: Life After Study Abroad sessions
Tuesday: International Film Night
Wednesday: International Marketplace
Thursday: Foreign Language "Speed Dating"
Friday: International Bazaar
Visit UE's International Education Week website for a more detailed schedule.
If you have any questions, please e-mail gb91@evansville.edu.
Chi Epsilon hosting lecture on Peters-Margedant House
UE's Chapter of Chi Epsilon Civil Engineering Honor Society is hosting a lecture by Heidi Strobel, associate professor of art history, and Jim Renne regarding the background of the Peters-Margedant House and the process of bringing it to our campus. The lecture will be today at 6:00 p.m. in Room 133, Koch Center. Tours of the house will be conducted immediately following the lecture.
Veterans Day Service set for November 11 - Campus community, alumni, and friends invited
The campus community, alumni, and friends are invited to celebrate Veterans Day on campus at our annual Veterans Day service set for Friday, November 11, from 11:00 a.m.–noon in Wheeler Concert Hall. A light luncheon reception will be served immediately following in the lobby of Krannert Hall of Fine Arts.
The special guest speaker will be Air Force veteran Craig Bryan '01, executive director for the National Center for Veterans Studies. Bryan earned his PsyD and MS degrees in clinical psychology from Baylor University, and his BS degree in psychology from UE.
Bryan is a board-certified clinical psychologist in cognitive behavioral psychology, and is executive director of the National Center for Veterans Studies at the University of Utah.
This event is being sponsored by UE's Office of Veteran Affairs.
All UE employees invited to workshops for retirement health
UE employees are invited to attend one of the informational workshops presented by Emeriti Retirement Health Solutions on Monday, November 14, in the J. Henry Schroeder Boardroom (Room 203) in the University Libraries.
The workshops are scheduled for:
• 10:00 a.m.–11:00 a.m. – primarily geared to those already retired or close to retirement
• 11:30 a.m.–12:30 p.m. – for active employees considering retirement
The Emeriti Retirement Health Solutions program provides important benefits such as:
• A tax-advantaged way for you to invest and accumulate assets for your future retiree medical expenses.
• A retiree health insurance program for you and your eligible dependents that builds on the foundation of Medicare.
• A tax-free way for you to pay for other qualified out-of-pocket medical expenses in retirement.
A representative from Emeriti and Aetna health insurance will be on campus to provide information about Emeriti and what you need to do to take full advantage of the program. The meetings will cover such topics as why you need to save for retiree health care, the unique tax advantages of the program, and your options available under it.
For more information about the program, please visit the Emeriti retirement health website.
Human Foosball this Saturday!
Be a part of Human Foosball this Saturday, November 5, starting at 10:00 a.m.! Join or create a team to take part in the competition. The deadline to register for the event on IMLeagues.com ends Friday, so don't wait! The event is being held at St. Paul's United Church of Christ.
Newman Club Dinner and Discussion
All are welcome to join the Newman Club today at 5:00 p.m. for food, fun, and fellowship! We'll be serving homemade lemon cream pasta with chicken, and discussing "Tragedy to Triumph" with Kristin Brokaw. You can find us at the house on Lincoln Avenue with the purple banner. For more information, please contact Olivia Voegerl at ov4@evansville.edu.
Newman Club Community Prayer - Vocations Awareness Week
Next week is Vocations Awareness Week, and the members of Newman Club invite you to pray with them! Today they will be having dinner, discussion, and a Holy Hour.
Special guests from around the religious community will be joining the group for an evening of fun and prayer
Join them as they pray to support young men and women discerning vocations in their life - holy orders, marriage, single life, missionary work, and MORE! All are welcome - you do NOT have to be discerning a vocation.
If you have never been to adoration, you need to check out this unique and awe-inspiring way to pray. The Holy Hour will include music, prayer, and silence. Dinner begins at 5:00 p.m. at the Newman Center. Discussion and Holy Hour will follow. The program concludes at 7:00 p.m.
Contact Director Jenny Koch at je46@evansville.edu or Olivia Voegerl at ov4@evansville.edu for more details.
Newman Club: MASSive Chili Fire
On Saturday November 5, the Newman club will be taking a group of students to the MASSive Chili Fire at Holy Cross Church in Fort Branch, Indiana. We will meet at the Newman Center at 3:45 p.m. Mass will be at 4:30 p.m. followed by food and fun. For more information contact Olivia Voegerl at ov4@evansville.edu or Rachel Smith at rs255@evansville.edu.
Speaker Series November Luncheon
Please join us for the November Speaker Series Luncheon, Wednesday, November 9, noon-1:00 p.m. in Eykamp Hall, Room 253, Ridgway University Center.
The speaker will be Ron Hagy, senior vice president of talent acquisition at Old National Bank. His topic will be "Affective Networking to Find the Right Career Options."
This luncheon is open to the campus community. If you wish to reserve a free boxed lunch, please RSVP to ds120@evansville.edu by Monday, November 7.

Joe Atkinson to speak at Andiron Lecture
Joe Atkinson, digital multimedia specialist in residence, will be the speaker for the Andiron Lecture on November 9, at 4:00 p.m., in Eykamp Hall, Room 253, Ridgway University Center. A social gathering with beverages will precede the event at 3:45 p.m.
Atkinson's topic will be "Evansville History in Motion."
Atkinson has learned about Evansville's history from some of the best sources available: the people who lived it. As a documentary filmmaker, he chronicled the 1977 plane crash that killed UE's Men's Basketball team for the film From the Ashes. Currently, he is working alongside professor of history James MacLeod on Evansville at War, a two-part WNIN documentary about Evansville's role in WWII for WNIN Tri-State Public Media. That documentary will air December 7 and 8.
During his lecture, Atkinson will use interviews compiled for these projects, along with clips from WNIN's Top 9 program, to share what he has learned about the people and events that made Evansville the city it is today - and what lessons we can take from these interviewees as we look to move our city forward.
Atkinson is owner and co-founder of Court Street Productions. Originally from Cincinnati, Ohio, he came to Evansville after earning his Bachelor of Science in Journalism from Ohio University's Scripps School of Journalism in 2001. He spent three years as a reporter for the Evansville Courier & Press, then three years as a freelance magazine writer and public relations consultant before joining the University of Evansville as director of news services. He returned to UE in 2015 as a member of the Department of Communication faculty.
For further information, call Annette Parks at 812-488-1070 or the William L. Ridgway College of Arts and Sciences at 812-488-2589
America Recycles Day is November 15
Recycling helps keep material out of our landfills and much more. Per the EPA, here are some benefits of recycling:
•Reduces the amount of waste sent to landfills and incinerators
•Conserves natural resources such as timber, water, and minerals
•Prevents pollution by reducing the need to collect new raw materials
•Saves energy
•Reduces greenhouse gas emissions that contribute to global climate change
•Helps sustain the environment for future generations
•Helps create new well-paying jobs in the recycling and manufacturing industries in the United States
See the UE Department of Environmental Management Facebook page for more information.
Thank you for recycling!
UE's environmental policy
UE's environmental policy, which was approved by President Thomas Kazee, is the foundation for UE's environmental management system. The policy can be summarized by the acronym CREST:
C = Continuous improvement
R = Reduce, reuse, recycle
E = Environmental compliance
S = Sustainability
T = Training and education
For additional information, or if you have any questions, comments, or suggestions, please contact Jan Schrader, manager for risk and environmental management, at js652@evansville.edu or ext. 2697.
You can find additional information in AceLink/Areas/Environmental Management, or check out UE's Department of Environmental Management Facebook page.
Master of Science in Athletic Training program accepting applications
The Master of Science in Athletic Training program at UE is now accepting applications for classes starting in Summer 2017. The only prerequisite courses for the MSAT program is Human Anatomy and Physiology I and II.
If you are still looking for the next step after graduation and have an interest in athletic training, please contact professor of athletic training and exercise and sport science Kathy Liu at kl154@evansville.edu for more information.
In addition, juniors may have the opportunity to start the MSAT program and finish both an undergraduate and master's program in five years. Please set up a meeting with Professor Liu to see if you qualify.
For more information on the program, visit the program's website for more information.
Expansion of UE Martin Luther King Jr. Day events
The Martin Luther King Jr. Committee is seeking faculty, staff, students, departments, or student organizations interested in being a part of the 2017 Martin Luther King Jr. Day annual program. The theme will focus on education.
We are searching for campus members to lead discussions, panels, or workshops on Monday, January 16, that will focus on the teachings and messages of Martin Luther King Jr. Each session will last 45 minutes.
This would be a terrific opportunity for faculty or staff members to work with a student or student groups in order to share those messages in a variety of ways. Examples of possible events include a panel discussion on being a first generation college student, playing and discussion of civil rights themed music, reading poetry from the 60s, discussion of the famous Greensboro sit-ins, or showing a documentary.
If you are interested please contact LaNeeca Williams at lw161@evansville.edu.
University of Evansville now a chapter of Phi Beta Delta
The University of Evansville has recently been designated as the Theta Eta Chapter of the Phi Beta Delta Honor Society for International Scholars!
Students interested in becoming a member of Phi Beta Delta must have a 3.2 minimum GPA, have studied abroad/are currently studying abroad, or be an international student.
For more information about Phi Beta Delta or how to become a member, contact Greta Becker at gb91@evansville.edu.
Register today for Indiana Means Business
Don't forget to register for the Indiana Means Business career fair! The event is November 10, from 10:00 a.m.-3:00 p.m. (Eastern Time), at the Westin Indianapolis.
You can register for the fair through UE JobLink (Jobs tab --> search for posting 901450)
Bus transportation will be provided from UE. Contact the Center for Career Development to reserve your seat.
View registered employers at this website: http://cccc-in.org/event-2248195
Need assistance with your job, internship, co-op or graduate school search? Please contact the Center for Career Development: career@evansville.edu or 812-488-1083.
Robert Dion interviewed about the Indiana election
Robert Dion, chair of the Department of Law, Politics, and Society, appeared in the Indianapolis Star yesterday in an article about the outside money being spent in the Indiana Senate race.
He was also interviewed this week for a story that looked at the role of labor unions in the gubernatorial election.
Atkinson to direct Evansville Civic Theatre Underground production
Evansville Civic Theatre's Underground series presents The Nether, by Jennifer Haley, Thursday-Sunday, November 3-6, at the Arts Council of Southwestern Indiana. The play is directed by Joe Atkinson, UE digital multimedia specialist in residence, and stars alumna Tara Sorg '16 as Detective Morris.
The Nether is a virtual wonderland that provides total sensory immersion. Just log in, choose an identity and indulge your every desire. But when a young detective uncovers a disturbing brand of entertainment, she triggers an interrogation into the darkest corners of the imagination. Winner of the 2012 Susan Smith Blackburn Prize, The Nether is both a serpentine crime drama and a haunting sci-fi thriller that explores the consequences of living out our private dreams.
Tickets are $10 in advance or $12 at the door, and are available at evansvillecivictheatre.org or from Joe Atkinson at x2562.
"You've Been Ticketed" program to benefit area youth
The University of Evansville Athletics Department is teaming up with the Evansville Police Department, Vanderburgh Country Sheriff's Office, G.D. Ritzy's, Vectren Corporation, and Toyota Indiana to start a program called "You've Been Ticketed."
"You've Been Ticketed" will see police officers and sheriff's deputies in the Evansville area giving out "tickets" to local youth as a reward for exhibiting good behavior, displaying a positive attitude, and making right choices. This program is an important way for youth and law enforcement to strengthen their relationship in a unique and lasting way.
"The Purple Aces are excited to team up with such a great group of agencies and businesses to start the "You've Been Ticketed' program," UE director of revenue development John Rodgers said. "We know that this will be a big positive for the Evansville community while rewarding our local kids for their good behavior."
Each "ticket" is good for a free single scoop of ice cream at G.D. Ritzy's as well as one free youth and adult admission to any Purple Aces home athletic contest throughout the year. The Aces athletic tickets are courtesy of Vectren Corporation and Toyota Indiana. Tickets will be issued to kids beginning in early November.
"I am excited to be a part of a program that puts a positive spin between the youth in our community and law enforcement," Vanderburgh County sheriff Dave Wedding said. "As a community leader, I love to see this type of interaction and know it will be a great program."
Evansville Police chief Billy Bolin echoed those sentiments.
"I think this is a great way for law enforcement agencies to partner up and provide a positive experience for children in our community," Bolin said. "This program will also help us to build a relationship with our youth, which is extremely important."
Media sponsors in Evansville have graciously donated airtime for a public service announcement to promote the initiative. Townsquare Radio stations 99.5 WKDQ, 103 GBF, and 106.1 KISS FM will broadcast radio commercials while WEHT and WTVW TV will also televise commercials promoting the cause.
What they are saying:
"This program brings our youth and police and sheriffs together in a positive way that will result in good relationships and experiences. Thank you for letting us be a part of this community event!" – Dan Grunow – Owner – G.D. Ritzy's
"This campaign is a unique way to communicate to children and teens the value of doing the right thing and helping others. Too often we focus on the negative. 'You've Been Ticketed' emphasizes the positive!" – Gary Jossa – Select Media (Advertising agency for G.D. Ritzy's)
"We've developed a strong and beneficial relationship with Chief Bolin over the years through our partnership with 911 Gives Hope, which made the decision to jump on board with the You've Been Ticketed Program an easy one. Much like Chief Bolin, Townsquare Media is passionate about the success of the Evansville community, and that certainly starts with the young people who we hope to see become future leaders in the area, and take pride in their hometown. We believe the potential impact of the You've Been Ticketed Program will not only be beneficial to the students themselves by showing them the value in making good decisions, but to the community has a whole for many years to come. We appreciate Chief Bolin, the Choose Not to Lose Program, and the University of Evansville for allowing us to be a small part of it." – Ryan O'Bryan – brand manager – Townsquare Media
"This program will have a positive influence on a young person's life on several levels. It reinforces good behavior while strengthening police and community relations, and it provides a bonding opportunity for the child and parent. We at Toyota are proud to partner in this program." - Toyota Indiana spokeswoman Karen Johnston
"As we remain committed to ensuring the safety and security of our customer base, Vectren is proud to partner with the Evansville Police Department, the Vanderburgh County Sheriff's Office, Toyota and the Aces on efforts to strengthen the relationship between youth and law enforcement in Evansville," said Brad Ellsworth, president of Vectren Energy Delivery of Indiana South. "The "You've Been Ticketed" program will help to recognize positive behaviors exhibited by the young people in our community and encourage others to follow suit." - Brad Ellsworth – president of Vectren Energy Delivery of Indiana South
"Eyewitness News is always looking for positive ways to give back and highlight our community. You've been ticketed is a wonderful opportunity to shine a light on the good deeds done by youth in our community". – Curt Molander – vice president and general manager – WEHT and TriStateHomePage.com
Contribute to AceNotes
To have content considered for inclusion in AceNotes, please submit a Marketing Request Form. Deadline for submission to AceNotes is 10:00 a.m. on the requested date of publication. Only articles concerning UE related/sponsored activities will be accepted. Articles submitted to AceNotes may be edited for length and clarity. Submitter contact information is at the end of each article.