| | |
| --- | --- |
| AceNotes Today | Wednesday, November 2, 2016 |
UE to Launch Software Engineering Program in Fall 2017
The University of Evansville will launch a new software engineering program in Fall 2017. Software systems are at the core of the future economy, and software engineers are needed to build these systems.
Software engineers may develop many types of programs including operating systems, computer games, middleware, business applications, network control systems, and more.
"This is a cutting-edge degree, and software engineers are in high demand," says Don Roberts, associate professor of computer science at UE. "You may immediately think of software engineers as designing apps—like Angry Birds—but they do much more, and the curriculum we've designed will prepare students for a wide range of career options."
Software engineering is a branch of computer science that deals with the design, implementation, and maintenance of complex computer systems (very large programs that cannot be written by one person alone). Software engineering teaches students to work in teams and emphasizes design for reliability and maintenance.
Early, hands-on learning opportunities make the University of Evansville stand apart in many of its programs.
"Students will begin designing and building applications in their first semester," says Roberts. "Students at other universities might not get the opportunity to work on real projects until their junior or senior years."
The College of Engineering and Computer Science at UE was just named the number 22 best undergraduate engineering program among small private colleges by U.S News & World Report. The college also recently received a $1 million gift to purchase new equipment for engineering programs.
To learn more about software engineering at the University of Evansville, please contact the office of admission at 812-488-2468.
Debbie Brenton receives November Employee Excellence Award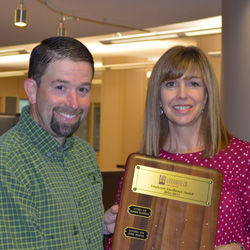 Debbie Brenton, disability services coordinator in the Office of Counseling and Disability Services, has been presented with the Employee Excellence Award for November 2016.
Debbie works diligently to prepare for the accommodations, technology, and alternative format texts and materials needed for incoming students with disabilities in order to give them a strong start to their college careers.
She approaches her job with compassion, sensitivity, and dedication.
We appreciate all that you do, Debbie!
Charlas - Informal conversation in Spanish
Join Belén, a Fulbright FLTA from Argentina, to practice Spanish in a relaxed setting and to celebrate "El día de los fieles difuntos y todos los santos" or the Day of the faithful deceased and of all saints - Argentinian style - and the relationship of this day with Halloween. All levels of Spanish welcome. Please meet at Jazzman's at 5:00 p.m. today. ¡Allí nos vemos! See you there!
I-House: England
This week's I-House presentation will be about England and Sam Lee will be presenting. He is an international business and economics major and he loves to swim, scuba dive, and eat food. He loves all the people here at UE and may even bring us some Yorkshire pudding! Be sure to come out this Wednesday at 7:00 p.m. upstairs in Ridgway University Center to see Sam!
SIAM Student Chapter Talk Series- Clark Kimberling
Clark Kimberling, professor of mathematics, will give a talk to the Society for Industrial and Applied Mathematics (SIAM) student chapter today. The lecture will begin at 4:00 p.m. in Room 307, Koch Center for Engineering and Science.
The title of Kimberling's lecture is "The Encyclopedia of Integer Sequences."
This introduction to the world's most frequently used mathematical database will start with sequences authored by UE students. Sequences featuring Ramanujan and G. H. Hardy will be sampled, and then sequences associated with the Wythoff Game. The role of computers in connection with certain unsolved combinatorial problems will be illustrated, and music based on "Kimberling's paraphrase" will be performed on a computer. The session will end with questions and answers.
Newman Club Pilgrimage for Life callout meeting tonight
The Newman Club is organizing a group of students to travel to Washington D.C. for the Pilgrimage for Life on January 25-29. While in Washington, students will participate in the March for Life - an annual pro-life rally protesting abortion. Students can also visit the numerous museums and memorials that D.C. has to offer.
A callout meeting is being held tonight at 8:00 p.m. in the basement of Neu Chapel for all those interested in making the pilgrimage.
For more information, visit the Pilgrimage for Life website.
If you have any questions, please contact Olivia Voegerl at ov4@evansville.edu.
Newman Club Dinner and Discussion
All are welcome to join the Newman Club today at 5:00 p.m. for food, fun, and fellowship! We'll be serving homemade lemon cream pasta with chicken, and discussing "Tragedy to Triumph" with Kristin Brokaw. You can find us at the house on Lincoln Avenue with the purple banner. For more information, please contact Olivia Voegerl at ov4@evansville.edu.
Bernstein Mass Symposium on campus tonight
The Evansville Philharmonic Orchestra will host a Bernstein Mass Symposium this evening from 7:00-9:00 p.m., in Room 100 (Wyttenbach Lecture Hall) in Graves Hall. Admission is free and the event is open to the public. Please visit the Evansville Philharmonic website for more information.
Newman Club Community Prayer - Vocations Awareness Week
Next week is Vocations Awareness Week, and the members of Newman Club invite you to pray with them! Today they will be having dinner, discussion, and a Holy Hour.
Special guests from around the religious community will be joining the group for an evening of fun and prayer
Join them as they pray to support young men and women discerning vocations in their life - holy orders, marriage, single life, missionary work, and MORE! All are welcome - you do NOT have to be discerning a vocation.
If you have never been to adoration, you need to check out this unique and awe-inspiring way to pray. The Holy Hour will include music, prayer, and silence. Dinner begins at 5:00 p.m. at the Newman Center. Discussion and Holy Hour will follow. The program concludes at 7:00 p.m.
Contact Director Jenny Koch at je46@evansville.edu or Olivia Voegerl at ov4@evansville.edu for more details.
Newman Club: MASSive Chili Fire
On Saturday November 5, the Newman club will be taking a group of students to the MASSive Chili Fire at Holy Cross Church in Fort Branch, Indiana. We will meet at the Newman Center at 3:45 p.m. Mass will be at 4:30 p.m. followed by food and fun. For more information contact Olivia Voegerl at ov4@evansville.edu or Rachel Smith at rs255@evansville.edu.
Sabbatical activities presentation
On Monday, November 7, at 4:00 p.m., in Room 142 of the Krannert Hall of Fine Arts, associate professor of music Garnet Ungar will give a half-hour colloquium on his 2015-16 sabbatical activities. These include a piano technology internship, professional activities in Asia, and writing a book about American pianist Abbey Simon. All are invited.
Save the date! The Chili Bowl Sale is back!
The art department and the Clay Club are excited to announce that the Chili Bowl Sale has returned. Mark your calendar for Thursday, November 10, 11:00 a.m.-1:00 p.m., on the lawn between Hyde Hall and Sampson Hall. See you there. More details to come.
Renowned French historian to give lecture at UE on November 8
The Office of Diversity and Equity and the Department of Foreign Languages and Cultures invite the UE and Evansville community to hear renowned French historian, Pap Ndiaye's lecture "The Minority Paradox: Blackness in France" on November 8, from 4-5 p.m., in Room 162, Schroeder School of Business Building.
His presentation will discuss the notion of French blacks and the tension within the classic French republican understanding of citizenship. How and why is it intellectually and politically legitimate to use this notion? Ndiaye will discuss the reasons why French scholars have been reluctant to focus on racial minorities. He will also elaborate on the notion of blackness, that is the subjectification of racial identities in France in the 20th century, and show why a new blackness has emerged in France in the past few years.
For more information, read this brief biography of Ndiaye.
If you have any questions, please e-mail sb413@evansville.edu.
Master of Science in Athletic Training program accepting applications
The Master of Science in Athletic Training program at UE is now accepting applications for classes starting in Summer 2017. The only prerequisite courses for the MSAT program is Human Anatomy and Physiology I and II.
If you are still looking for the next step after graduation and have an interest in athletic training, please contact professor of athletic training and exercise and sport science Kathy Liu at kl154@evansville.edu for more information.
In addition, juniors may have the opportunity to start the MSAT program and finish both an undergraduate and master's program in five years. Please set up a meeting with Professor Liu to see if you qualify.
For more information on the program, visit the program's website for more information.
Expansion of UE Martin Luther King Jr. Day events
The Martin Luther King Jr. Committee is seeking faculty, staff, students, departments, or student organizations interested in being a part of the 2017 Martin Luther King Jr. Day annual program. The theme will focus on education.
We are searching for campus members to lead discussions, panels, or workshops on Monday, January 16, that will focus on the teachings and messages of Martin Luther King Jr. Each session will last 45 minutes.
This would be a terrific opportunity for faculty or staff members to work with a student or student groups in order to share those messages in a variety of ways. Examples of possible events include a panel discussion on being a first generation college student, playing and discussion of civil rights themed music, reading poetry from the 60s, discussion of the famous Greensboro sit-ins, or showing a documentary.
If you are interested please contact LaNeeca Williams at lw161@evansville.edu.
Deaconess Pediatric Conference: November 2
Deaconess will host the 2016 Pediatric Conference, "Pulling It All Together for the Kids" on November 2 in Eykamp Hall, Ridgway University Center. The event will take place 7:30 a.m.-4:00 p.m. and conference guests have been directed to park in lot H.
Please contact Kari Hughes at kh355@evansville.edu with any questions.
University of Evansville now a chapter of Phi Beta Delta
The University of Evansville has recently been designated as the Theta Eta Chapter of the Phi Beta Delta Honor Society for International Scholars!
Students interested in becoming a member of Phi Beta Delta must have a 3.2 minimum GPA, have studied abroad/are currently studying abroad, or be an international student.
For more information about Phi Beta Delta or how to become a member, contact Greta Becker at gb91@evansville.edu.
COMM 380 offered online in winter intersession
COMM 380, Intercultural Communication, will be offered online during winter intersession. This class fulfills general education Core Outcome 9 (Understanding of Core Concepts of Society, Human Behavior, and Civic Knowledge) and Overlay A (Global Diversity: International Component). If you have any questions about the course format, e-mail dt4@evansville.edu.
Honorary Degree Committee invites your suggestions
The University of Evansville Honorary Degree Committee is now soliciting your recommendations for honorary degrees to be conferred at the May 2017 Commencement. According to the UE Faculty and Administrator Manual, the committee is charged with requesting and reviewing honorary degree nominations made on the basis of individual service to the University and individual achievement. An honorary degree may also be awarded to individuals who exemplify the University's mission. Selected persons have excelled in a variety of areas--law, medicine, education, business, literature, politics, and entertainment.
The committee will forward nominations to President Kazee so he can make his recommendations to the faculty. The faculty will vote on the final list of nominees.
Please e-mail the following information to Robert Dion, committee chair, at rd35@evansville.edu, by Friday, November 11:
1. Nomination by (include name, phone and e-mail address)
2. Name of person nominated
3. Title and/or profession of nominee
4. Rationale for the nomination (see criteria above)
5. Any biographical or background information on the nominee
6. Address information for contacting the nominee
Register today for Indiana Means Business
Don't forget to register for the Indiana Means Business career fair! The event is November 10, from 10:00 a.m.-3:00 p.m. (Eastern Time), at the Westin Indianapolis.
You can register for the fair through UE JobLink (Jobs tab --> search for posting 901450)
Bus transportation will be provided from UE. Contact the Center for Career Development to reserve your seat.
View registered employers at this website: http://cccc-in.org/event-2248195
Need assistance with your job, internship, co-op or graduate school search? Please contact the Center for Career Development: career@evansville.edu or 812-488-1083.
UE community invited to participate in Holiday Art and Crafts Sale
The Department of Art is pleased to announce its annual Holiday Art and Crafts Sale. Everyone in the UE community who creates art or crafts is welcome to participate. This includes faculty, staff, students, spouses, children, parents, relatives, and friends.

The sale will be held in the Melvin Peterson Gallery on Thursday, December 1. Doors will open at 7:00 a.m. and the sale will continue until 6:00 p.m. Participating artists and craftsmen may drop work off the day prior to the sale or on the morning of the sale before the doors open. Vendors do not need to stay with their work as art department staff and volunteers will be on site to handle the sale.

If you would like to join in this year's Holiday Sale, or you would like more information, please contact the Department of Art at dh196@evansville.edu or 812-488-2043.
Robert Dion interviewed about the Indiana election
Robert Dion, chair of the Department of Law, Politics, and Society, appeared in the Indianapolis Star yesterday in an article about the outside money being spent in the Indiana Senate race.
He was also interviewed this week for a story that looked at the role of labor unions in the gubernatorial election.
Atkinson to direct Evansville Civic Theatre Underground production
Evansville Civic Theatre's Underground series presents The Nether, by Jennifer Haley, Thursday-Sunday, November 3-6, at the Arts Council of Southwestern Indiana. The play is directed by Joe Atkinson, UE digital multimedia specialist in residence, and stars alumna Tara Sorg '16 as Detective Morris.
The Nether is a virtual wonderland that provides total sensory immersion. Just log in, choose an identity and indulge your every desire. But when a young detective uncovers a disturbing brand of entertainment, she triggers an interrogation into the darkest corners of the imagination. Winner of the 2012 Susan Smith Blackburn Prize, The Nether is both a serpentine crime drama and a haunting sci-fi thriller that explores the consequences of living out our private dreams.
Tickets are $10 in advance or $12 at the door, and are available at evansvillecivictheatre.org or from Joe Atkinson at x2562.
Contribute to AceNotes
To have content considered for inclusion in AceNotes, please submit a Marketing Request Form. Deadline for submission to AceNotes is 10:00 a.m. on the requested date of publication. Only articles concerning UE related/sponsored activities will be accepted. Articles submitted to AceNotes may be edited for length and clarity. Submitter contact information is at the end of each article.