| | |
| --- | --- |
| AceNotes Today | Monday, October 31, 2016 |
UE to Launch Software Engineering Program in Fall 2017
The University of Evansville will launch a new software engineering program in Fall 2017. Software systems are at the core of the future economy, and software engineers are needed to build these systems.
Software engineers may develop many types of programs including operating systems, computer games, middleware, business applications, network control systems, and more.
"This is a cutting-edge degree, and software engineers are in high demand," says Don Roberts, associate professor of computer science at UE. "You may immediately think of software engineers as designing apps—like Angry Birds—but they do much more, and the curriculum we've designed will prepare students for a wide range of career options."
Software engineering is a branch of computer science that deals with the design, implementation, and maintenance of complex computer systems (very large programs that cannot be written by one person alone). Software engineering teaches students to work in teams and emphasizes design for reliability and maintenance.
Early, hands-on learning opportunities make the University of Evansville stand apart in many of its programs.
"Students will begin designing and building applications in their first semester," says Roberts. "Students at other universities might not get the opportunity to work on real projects until their junior or senior years."
The College of Engineering and Computer Science at UE was just named the number 22 best undergraduate engineering program among small private colleges by U.S News & World Report. The college also recently received a $1 million gift to purchase new equipment for engineering programs.
To learn more about software engineering at the University of Evansville, please contact the office of admission at 812-488-2468.
Workshop Registration Deadline TOMORROW November 1
Craig Bryan, prominent suicide researcher and leading national expert on military suicide, will be speaking and leading a workshop for clinicians at the University of Evansville on Thursday, November 10. His visit to UE's campus is being hosted by the Office of Veterans Affairs at the University. Bryan is a 2001 graduate of UE.
Bryan researches suicidal behaviors and suicide prevention strategies, and psychological health and resiliency. His techniques have been utilized by the US military. Currently Bryan serves as executive director for the National Center for Veterans Studies.
Highly sought after as a media source, Bryan has been frequently interviewed by such entities as the New York Times, Huffington Post, USA Today, Fox News, CNN, and Frontline.
The schedule of Bryan's visit to UE's campus on November 10 is as follows:
Interventions for Managing Suicide Risk through Crisis Response Planning
8:00-11:00 a.m. in Eykamp Hall, Ridgway University Center
This free workshop led by Bryan for area clinicians will utilize crisis response planning, a technique for managing suicide risk. Clinicians wishing to attend should contact CL29@evansville.edu or 812-488-2141. Deadline to register is November 1. This workshop is being co-sponsored by the VA Evansville Health Care Center, Deaconess Cross Pointe, St. Mary's Behavioral Health, and Brentwood Meadows.
Helping Others Hold On
6:00-7:00 p.m. in Room 170, Schroeder School of Business Building
No reservations are needed to attend this free, public presentation by Bryan on understanding the warning signs of suicide, interventions, and what can be done to help. While this lecture will be of interest to the general public, it will be especially informative for family members and friends of individuals at risk for suicide.
Bryan is a board-certified clinical psychologist in cognitive behavioral psychology, He earned his PsyD and MS degrees in clinical psychology from Baylor University, and his BS degree in psychology from UE.
In 2009, Bryan deployed to Iraq, where he was director of the Traumatic Brain Injury Clinic at the Air Force Theater Hospital. He later separated from Air Force active duty service. Bryan currently manages numerous federally-funded projects in excess of $10 million, which include testing cognitive behavioral treatments for suicidal service members, He is lead risk management consultant for the $25 million STRONG STAR Research Consortium investigating treatments for combat-related PTSD among military personnel.
Bryan is on the board of directors of the American Association for Suicidology. He is a consultant to the Department of Defense for psychological health promotion initiatives and suicide prevention, where he has briefed Congressional leaders on these topics.
He provides training to clinicians and medical professionals about managing suicidal patients. Bryan has written dozens of scientific publications and book chapters, and has authored many books, including Managing Suicide Risk in Primary Care, Cognitive-Behavioral Therapy for Preventing Suicide Attempts: A Guide to Brief Treatments Across Clinical Settings, and The Handbook of Psychosocial Interventions for Veterans and Service Members: A Guide for the Non-Military Mental Health Clinician.
For his contributions to primary care behavioral health and military suicide prevention, Bryan was recognized by the Society for Military Psychology with the Arthur W. Melton Award for Early Career Achievement.
For more information, call 812-488-2141 or e-mail CL29@evansville.edu.
This Week in Music: Tour Kick-Off Concert
The University of Evansville Wind Ensemble and Jazz Ensemble I will present their Tour Kick-Off Concert this evening, November 1, at 7:30 p.m. The concert will take place at Old National Bank on Main Street in downtown Evansville. Admission is free, and a cash bar will begin at 6:00 p.m. A reception will follow immediately after the concert. On Wednesday, the ensembles will depart on a three-day concert tour under the leadership of their conductors Kenneth Steinsultz and Timothy Zifer.
Newman Club- MASSive Chili Fire
On Saturday, November 5, the Newman club will be taking a group of students to the MASSive Chili Fire at Holy Cross Church in Fort Branch, IN. Mass will be at 4:30 pm followed by food and fun. For more information contact Olivia Voegerl at ov4 or Rachel Smith at rs255.
SIAM Student Chapter Talk Series- Clark Kimberling
Clark Kimberling, professor of mathematics, will give a talk to the Society for Industrial and Applied Mathematics (SIAM) student chapter today. The lecture will begin at 4:00 p.m. in Room 307, Koch Center for Engineering and Science.
The title of Kimberling's lecture is "The Encyclopedia of Integer Sequences."
This introduction to the world's most frequently used mathematical database will start with sequences authored by UE students. Sequences featuring Ramanujan and G. H. Hardy will be sampled, and then sequences associated with the Wythoff Game. The role of computers in connection with certain unsolved combinatorial problems will be illustrated, and music based on "Kimberling's paraphrase" will be performed on a computer. The session will end with questions and answers.
Lunch and Lead: Leading as a Woman in a Man's World
The next Lunch and Lead is set for today at 12:30 p.m. in Eykamp Hall, Room 252, Ridgway University Center. Rideout has served many years in male-dominated career fields. Listen to her experiences and reflect on gender as it relates to leadership.
This event is free and open to all students, faculty, staff, and UE community members. We encourage attendees to bring their lunch with them to these events!
Sabbatical activities presentation
On Monday, November 7, at 4:00 p.m., in Room 142 of the Krannert Hall of Fine Arts, associate professor of music Garnet Ungar will give a half-hour colloquium on his 2015-16 sabbatical activities. These include a piano technology internship, professional activities in Asia, and writing a book about American pianist Abbey Simon. All are invited.
Charlas - Special Halloween Session: informal conversation in Spanish
A special Halloween session of Charlas: informal conversation in Spanish is planned for students of all levels. Meet at 5:00 p.m. at Jazzman's in Ridgway University Center on Monday, October 31 to practice Spanish with Belén Alemán Mansilla, a Fulbright foreign language teaching assistant from Argentina. On this occasion we'll talk about Halloween, play card games, and make cards. Hope to see you Monday at 5:00 p.m.!
Save the date! The Chili Bowl Sale is back!
The art department and the Clay Club are excited to announce that the Chili Bowl Sale has returned. Mark your calendar for Thursday, November 10, 11:00 a.m.-1:00 p.m., on the lawn between Hyde Hall and Sampson Hall. See you there. More details to come.
Village Reverse Trick-or-Treat
Attention all Village residents! The Village RA staff has planned reverse Trick-or-Treat for Monday, October 31 at 7:00 p.m. for Weinbach Houses and Lincoln Apartments
During reverse trick-or-treat, the RA staff will go to all village residences delivering free candy to the residents. Make sure to be in the comfort of your home at the indicated days and times so you do not miss out on this opportunity to get to know your RAs better AND get free candy. Hope to see you there!
Exhibit by Sergio Gomez on display in Melvin Peterson Gallery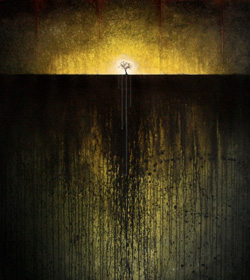 An exhibition of the work by Chicago artist Sergio Gomez will be on display in the Melvin Peterson Gallery from October 31-December 10.
A Chicago based visual artist, Gomez earned a Master of Fine Arts degree from Northern Illinois University. As an art student at Governors State University, he was recipient of the Lincoln Laureate Medallion Award.
Gomez's work has been the subject of solo exhibitions in the United States, Italy, Mexico, and Vienna. He has participated in group exhibitions in Spain, Sweden, Mexico, Korea, and the US. His work can be found in private and public collections of the National Museum of Mexican Art, Brauer Art Museum, and the MIIT Museo Internazionale Italia Arte among others.
Presently, Gomez is director of exhibitions at the Zhou B. Art Center and director of Art NXT Level Projects. He is a contributor for Italia Arte Magazine. In addition, Gomez is an art/design faculty member at South Suburban College and creative consultant for Idea Seat Marketing and Advertising.
Renowned French historian to give lecture at UE on November 8
The Office of Diversity and Equity and the Department of Foreign Languages and Cultures invite the UE and Evansville community to hear renowned French historian, Pap Ndiaye's lecture "The Minority Paradox: Blackness in France" on November 8, from 4-5 p.m., in Room 162, Schroeder School of Business Building.
His presentation will discuss the notion of French blacks and the tension within the classic French republican understanding of citizenship. How and why is it intellectually and politically legitimate to use this notion? Ndiaye will discuss the reasons why French scholars have been reluctant to focus on racial minorities. He will also elaborate on the notion of blackness, that is the subjectification of racial identities in France in the 20th century, and show why a new blackness has emerged in France in the past few years.
For more information, read this brief biography of Ndiaye.
If you have any questions, please e-mail sb413@evansville.edu.
Deaconess Pediatric Conference: November 2
Deaconess will host the 2016 Pediatric Conference, "Pulling It All Together for the Kids" on November 2 in Eykamp Hall, Ridgway University Center. The event will take place 7:30 a.m.-4:00 p.m. and conference guests have been directed to park in lot H.
Please contact Kari Hughes at kh355@evansville.edu with any questions.
Applications for 21+ status now available
For students 21 years of age or older living in Village properties or fraternities, the process to apply for 21+ status for Spring 2017 is under way.
All residents of the Village unit or fraternity room must:
Submit an application and successfully complete the 21+ education program
Be 21 years of age at the start of the Spring 2017 Semester (students turning 21 during Spring semester will be considered upon successful completion of the program and one's birthday).
Find all application materials and workshop dates on the alcohol policy 21+ website here: https://www.evansville.edu/alcoholpolicy/21Application.cfm
Recycling on campus – no food waste in the recycle bins
We have had several instances of food waste being put in the recycling bins. Food waste contaminates the paper, plastic, and aluminum recyclables, and can result in the entire bag being thrown in the trash. Please help keep our recyclables out of the landfill by throwing garbage in the trash bins, not the recycle bins.
COMM 380 offered online in winter intersession
COMM 380, Intercultural Communication, will be offered online during winter intersession. This class fulfills general education Core Outcome 9 (Understanding of Core Concepts of Society, Human Behavior, and Civic Knowledge) and Overlay A (Global Diversity: International Component). If you have any questions about the course format, e-mail dt4@evansville.edu.
Winter Intersession financial aid
If you are seeking financial aid to help pay for Winter Intersession courses at UE, please contact the Office of Financial Aid. We will help you examine your options for aid, which in most cases is limited to loans.
Honorary Degree Committee invites your suggestions
The University of Evansville Honorary Degree Committee is now soliciting your recommendations for honorary degrees to be conferred at the May 2017 Commencement. According to the UE Faculty and Administrator Manual, the committee is charged with requesting and reviewing honorary degree nominations made on the basis of individual service to the University and individual achievement. An honorary degree may also be awarded to individuals who exemplify the University's mission. Selected persons have excelled in a variety of areas--law, medicine, education, business, literature, politics, and entertainment.
The committee will forward nominations to President Kazee so he can make his recommendations to the faculty. The faculty will vote on the final list of nominees.
Please e-mail the following information to Robert Dion, committee chair, at rd35@evansville.edu, by Friday, November 11:
1. Nomination by (include name, phone and e-mail address)
2. Name of person nominated
3. Title and/or profession of nominee
4. Rationale for the nomination (see criteria above)
5. Any biographical or background information on the nominee
6. Address information for contacting the nominee
Test your knowledge - take the UE storm water survey
Part of UE's storm water program is assessing storm water awareness by the campus community. Please help us with this taking the UE storm water survey (even if you took it last year). You'll learn about UE's storm water program and how you can help protect our rivers and streams.
If you have any questions, call ext. 2597.
Spring housing cancellation deadline
Students, the deadline to cancel your UE housing contract for the spring semester is November 1. Stop by the residence life office to cancel your housing contract without penalty for the spring semester if you will be:
Attending Harlaxton or studying abroad
In an internship, co-op, or clinical outside of the Evansville area
Moving into a fraternity house
Transferring, withdrawing, or graduating
Requests not falling in the above categories are typically not granted. Requests to move off campus to live with friends or move into an apartment are not sufficient reasons to cancel a UE housing contract. Entering into any other housing agreement or lease with a private landlord will have no effect upon the conditions of your contract with the University of Evansville.
For more information, contact the residence life staff or visit our website.
UE Schroeder School of Business third in Conexus Logistics Case Competition
The University of Evansville Schroeder School of Business won third place in the Conexus Logistics Case Competition held in Indianapolis. October 12-14. Teams from 18 Indiana colleges vied to develop the best solution to a logistics-related issue at this contest.
UE students Francis Prexl Orti, Hassan Taki Eddin, Wade Mobley, and Montana Portenier were the members of the University of Evansville team.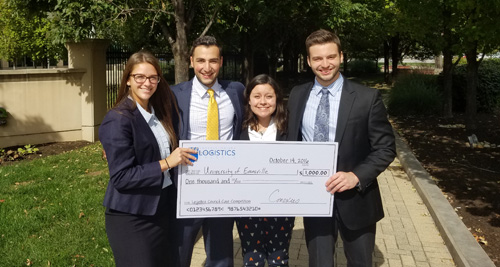 This was the first time for the event, which was sponsored by Conexus Indiana.
The goal of the competition was to increase awareness of logistics career opportunities and build the pipeline of students seeking logistics careers.
During the event, students had networking access to many of the state's highest ranking logistics executives while working in teams to develop the winning response to a real-world logistics business case. The scenarios presented to the students to solve represented issues regularly faced by today's industry leaders in high-tech logistics environments.
Early on October 12 each team was presented with a case to solve for a fictitious company. Taking on the role of that company's logistics team, they were given 36 hours to come up with a solution. The contest culminated with the teams' case presentations to the judges and the awarding of cash prizes, which ranged from $5,000 (first place), $2,000 (second place), and $1,000 (third place).
During the event, team members also attended an executive networking dinner and gathered for a daylong workshop hosted by the Indianapolis law firm, Frost Brown Todd LLC. A reception followed the workshop at the Indianapolis Zoo where students discussed potential careers and future job roles with business representatives.
Yolanda Obaze, UE assistant professor of supply chain management, noted that the UE team's third place win was particularly impressive as they have had limited exposure to the field of logistics and supply chain management. The University is planning to launch a new logistics and supply chain management program.
Obaze believes the UE team's success despite lack of experience in the field is a good indication that this new program will thrive.
Aces Cross Country completes MVC Championships
The University of Evansville cross country teams participated in the Missouri Valley Conference Championships on Saturday morning in Cedar Falls, Iowa.
"Overall, I am proud of the way both of our teams ran today," UE head coach Don Walters said. "The course was fantastic and had a few hills in it that slowed the times down a bit from the last time we were here, but we still came away with some good races. Our women were just 13 points behind Drake, which is a big step for us. The men also improved their standing over last season."
Hannah Welsh ran one of her best races of the year for the women. The freshman ran the 5K in 18:35.2. She took 26th place out of the 80 runners. Welsh's finish was the best for a UE female since Kelby Jenkins finished 8th as a senior in 2013. Welsh finished ahead of Sienna Crews, who took 35th. Crews finished the race in a time of 18:54.6.
Michelle Karp was UE's #3 runner. The junior completed the race in 20:03.1. For Karp, it was her second-fastest time of the season. Ashton Bosler was next up. She checked in with a 20:17.4. Kylie Hasenour was fifth for UE, running her first MVC Championship in 21:21.9. Anna Loef registered a time of 21:26.3. A consistent season has seen Loef run five out of six races in 21:34 or faster.
Katie Beaber and Hayley Elliott were the final two runners for the Aces. Beaber notched a 21:52.3. It was the third time this season that Beaber finished the 5K in under 22 minutes. Elliott's time finished at 23:10.4.
UNI took the top spot in the women's team rankings. The Panthers finished with a score of 52, defeating Bradley by 12. Evansville came home in 10th. Rebekah Topham of the Shockers took top honors with a 17:24.8. She defeated Illinois State's Ariel Michalek, who ran a 17:33.6.
Ricky Hendrix was the top runner for the men, running the 8K in 27:45.5. He came home in 56th out of the 69 runners. Senior Ben Woolems was second on the squad. He ran what was by far his best time of the season, circling the course in 28:48.0. It was nearly three minutes faster than any other 8K race of the year.
Taking third on the team was Andrew Barrett. A 28:56.5 was his third-best 8K race of the season. Next was senior Ross Frondorf, who finished the race in 29:01.7. Rounding out the Aces' top five was Tucker Dawson. The freshman ran a time of 29:16.2. Stanley Chepchieng, Paul Schwartz and Aaron Cochran completed the UE contingent. Chepchieng ran a 29:32.3 while Schwartz finished with a 29:56.9. Cochran's checked in at 31:30.0.
Bradley took the men's championship with a final score of 24 points. The Braves had four of the top six finishers in the race. Wichita State was second with 82 while Indiana State finished third (84). The Aces took 10th place. Reed Fischer of Drake was the top finisher in the race, running a 24:31.8 to win by just under seven seconds.
Contribute to AceNotes
To have content considered for inclusion in AceNotes, please submit a Marketing Request Form. Deadline for submission to AceNotes is 10:00 a.m. on the requested date of publication. Only articles concerning UE related/sponsored activities will be accepted. Articles submitted to AceNotes may be edited for length and clarity. Submitter contact information is at the end of each article.