| | |
| --- | --- |
| AceNotes Today | Friday, October 28, 2016 |
Post Active Shooter Drill Survey
A link to a Post Active Shooter Drill Survey has been e-mailed to all full-time faculty, administrators, staff, and students. Please take a few minutes to provide your feedback regarding the drill. The survey will close on November 3. Thank you for your participation!
Photographer on campus
The Office of Marketing and Communication will have a photographer on campus for a photo shoot Wednesday, October 26, through Friday, October 28. UE students and faculty have always been very cooperative and accommodating during previous shoots. As a result, many great photos have been taken for UE publications. Kim McDonald will try to notify faculty in advance if photos will be taken in a particular class; however, weather often can force the shoot inside, and it is possible that last minute requests will be made. If faculty members know that they will be giving a test or do not wish to have their class photographed any of these days, please inform Kim McDonald at ext. 2683 and the classroom will be avoided.
UE employee scholarship opportunity at Evansville Day School
Evansville Day School, the only independent school in the tri-state area, is pleased to announce a scholarship opportunity for students whose families are employed full-time by the University of Evansville. Any student who is admitted to Evansville Day School will automatically receive a 50 percent (25 percent for junior Pre-K and Pre-K) tuition reduction. To learn more, Evansville Day School is hosting two, one-hour open houses on November 11 at 8:30 a.m. and 12:30 p.m. Please also see the promotional flyer attached here. Additional informational flyers will be available in the UE human resources office.
Rosary group meeting
The Newman Club will be having a rosary group meeting today at 2:00 p.m. in Room 209 in the Bower-Suhrheinrich Library. All students and faculty are welcome!
This Weekend in Music: Schmidt Family Opera Series
UE's Schmidt Family Opera Series will present its fall program, Musical Mayhem: A Supernatural Evening of Opera Scenes, in Wheeler Concert Hall this evening and Saturday evening at 7:30 p.m.
Alanna Keenan will direct scenes appropriate for the Halloween season, including selections from Benjamin Britten's Turn of the Screw, Verdi's Macbeth, and Menotti's The Medium. The evening concludes when fairies invade Parliament during the rousing finale from Act II of Gilbert and Sullivan's Iolanthe.
Tickets are available at the door or in advance by calling the Department of Music Office at 812-488-2754. Ticket prices are $10 for general seating, or admission is free with a UE ID. The performances are made possible by the Schmidt Family Opera Series.
Sabbatical activities presentation
On Monday, November 7, at 4:00 p.m., in Room 142 of the Krannert Hall of Fine Arts, associate professor of music Garnet Ungar will give a half-hour colloquium on his 2015-16 sabbatical activities. These include a piano technology internship, professional activities in Asia, and writing a book about American pianist Abbey Simon. All are invited.
Charlas - Special Halloween Session: informal conversation in Spanish
A special Halloween session of Charlas: informal conversation in Spanish is planned for students of all levels. Meet at 5:00 p.m. at Jazzman's in Ridgway University Center on Monday, October 31 to practice Spanish with Belén Alemán Mansilla, a Fulbright foreign language teaching assistant from Argentina. On this occasion we'll talk about Halloween, play card games, and make cards. Hope to see you Monday at 5:00 p.m.!
Newman Club Pilgrimage for Life callout meeting tonight
The Newman Club is organizing a group of students to travel to Washington D.C. for the Pilgrimage for Life on January 25-29. While in Washington, students will participate in the March for Life - an annual pro-life rally protesting abortion. Students can also visit the numerous museums and memorials that D.C. has to offer.
A callout meeting is being held tonight at 8:00 p.m. in the basement of Neu Chapel for all those interested in making the pilgrimage.
For more information, visit the Pilgrimage for Life website.
If you have any questions, please contact Olivia Voegerl at ov4@evansville.edu.
Open to campus - Venturing Crew bonfire, hayride, and extreme s'mores!
Venturing Crew has opened its fall outing to nonmembers! The group will be going to Cate's Farm in Henderson, Kentucky, on Saturday, October 29, for exciting fall activities. Come hang out around a bonfire, go on a hayride, navigate your way through a corn maze, and gorge on extreme s'mores. You can even take home your own pumpkin! The group will leave UE at 6:00 p.m. and return around 9:00 p.m.
To sign up, see Venturing Crew officers in the human resources office in Room 118 in Olmsted Administration Hall, from 11:00 a.m.-noon on Thursday and Friday. If you cannot make these times and would still like to attend, email venturing@evansville.edu prior to 11:00 a.m. on Friday.
The cost of the trip is $12, and you do not have to be a Venturing Crew member to attend. It will be a fantastic night, and you won't want to miss it!
For more information about Cate's Farm, visit www.catesfarmky.com.

Save the date! The Chili Bowl Sale is back!
The art department and the Clay Club are excited to announce that the Chili Bowl Sale has returned. Mark your calendar for Thursday, November 10, 11:00 a.m.-1:00 p.m., on the lawn between Hyde Hall and Sampson Hall. See you there. More details to come.
Village Reverse Trick-or-Treat
Attention all Village residents! The Village RA staff has planned reverse Trick-or-Treat for Monday, October 31 at 7:00 p.m. for Weinbach Houses and Lincoln Apartments
During reverse trick-or-treat, the RA staff will go to all village residences delivering free candy to the residents. Make sure to be in the comfort of your home at the indicated days and times so you do not miss out on this opportunity to get to know your RAs better AND get free candy. Hope to see you there!
Exhibit by Sergio Gomez on display in Melvin Peterson Gallery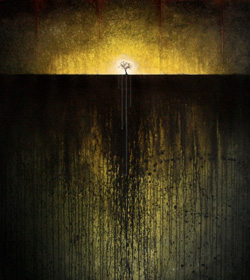 An exhibition of the work by Chicago artist Sergio Gomez will be on display in the Melvin Peterson Gallery from October 31-December 10.
A Chicago based visual artist, Gomez earned a Master of Fine Arts degree from Northern Illinois University. As an art student at Governors State University, he was recipient of the Lincoln Laureate Medallion Award.
Gomez's work has been the subject of solo exhibitions in the United States, Italy, Mexico, and Vienna. He has participated in group exhibitions in Spain, Sweden, Mexico, Korea, and the US. His work can be found in private and public collections of the National Museum of Mexican Art, Brauer Art Museum, and the MIIT Museo Internazionale Italia Arte among others.
Presently, Gomez is director of exhibitions at the Zhou B. Art Center and director of Art NXT Level Projects. He is a contributor for Italia Arte Magazine. In addition, Gomez is an art/design faculty member at South Suburban College and creative consultant for Idea Seat Marketing and Advertising.
Renowned French historian to give lecture at UE on November 8
The Office of Diversity and Equity and the Department of Foreign Languages and Cultures invite the UE and Evansville community to hear renowned French historian, Pap Ndiaye's lecture "The Minority Paradox: Blackness in France" on November 8, from 4-5 p.m., in Room 162, Schroeder School of Business Building.
His presentation will discuss the notion of French blacks and the tension within the classic French republican understanding of citizenship. How and why is it intellectually and politically legitimate to use this notion? Ndiaye will discuss the reasons why French scholars have been reluctant to focus on racial minorities. He will also elaborate on the notion of blackness, that is the subjectification of racial identities in France in the 20th century, and show why a new blackness has emerged in France in the past few years.
For more information, read this brief biography of Ndiaye.
If you have any questions, please e-mail sb413@evansville.edu.
Honorary Degree Committee invites your suggestions
The University of Evansville Honorary Degree Committee is now soliciting your recommendations for honorary degrees to be conferred at the May 2017 Commencement. According to the UE Faculty and Administrator Manual, the committee is charged with requesting and reviewing honorary degree nominations made on the basis of individual service to the University and individual achievement. An honorary degree may also be awarded to individuals who exemplify the University's mission. Selected persons have excelled in a variety of areas--law, medicine, education, business, literature, politics, and entertainment.
The committee will forward nominations to President Kazee so he can make his recommendations to the faculty. The faculty will vote on the final list of nominees.
Please e-mail the following information to Robert Dion, committee chair, at rd35@evansville.edu, by Friday, November 11:
1. Nomination by (include name, phone and e-mail address)
2. Name of person nominated
3. Title and/or profession of nominee
4. Rationale for the nomination (see criteria above)
5. Any biographical or background information on the nominee
6. Address information for contacting the nominee
Recycling on campus – no food waste in the recycle bins
We have had several instances of food waste being put in the recycling bins. Food waste contaminates the paper, plastic, and aluminum recyclables, and can result in the entire bag being thrown in the trash. Please help keep our recyclables out of the landfill by throwing garbage in the trash bins, not the recycle bins.
Religious Life welcomes John Wesley minister and assistant chaplain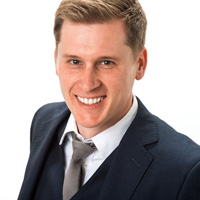 The Office of Religious Life would like to welcome Dallas J. Gingles, who will be serving as the John Wesley minister and assistant chaplain and the assistant program director of the Lilly funded summer youth theology institute, Open Table.
Gingles earned his PhD in Christian ethics at Southern Methodist University. His dissertation was entitled "Against Innocence: Bonhoeffer and Augustine on Responsibility and Political Guilt."
He is seeking ordination in the Episcopal Church, having started the process this year. He is excited to be starting a new vocational journey at UE and looks forward to meeting the campus community.
Gingles and his wife, Rebecca, have a 3-year old son, Graham, and for fun they read books together, visit extended family in Pennsylvania, Texas, and Colorado, watch the Cowboys, and eat tacos. Gingles officially begins at UE on Sunday, October 30.
UE students in "Social Issues: Latin America" class partner with Evansville Day School on Landfill Harmonic Tribute Project
UE students in Diana Rodriguez Quevedo's "Social Issues: Latin America course have worked with students from the Evansville Day School on the "Landfill Harmonic Tribute Project" remotely throughout this semester. On October 13, both groups came together on campus to work together and review the lesson
Landfill Harmonic is a remarkable orchestra in Cateura, Paragray, where musicians play instruments made from trash. Among many projects this semester, UE students created newscast videos in Spanish and sent them to EDS students for use in class. EDS students also created instruments of their own using recyclable materials.
Displays will be up in the Bower-Suhrheinrich Library until October 28. Visit the University of Evansville Facebook Page here to view photos and learn more.
Test your knowledge - take the UE storm water survey
Part of UE's storm water program is assessing storm water awareness by the campus community. Please help us with this taking the UE storm water survey (even if you took it last year). You'll learn about UE's storm water program and how you can help protect our rivers and streams.
If you have any questions, call ext. 2597.
UE runners and walkers encouraged to join in the Rotary Santa Run
The Rotary Santa Run committee is offering University of Evansville students, staff, and administrators a special discount on their registration fee for the Rotary Santa Run. The code is santa-on-campus and runs from Friday, October 21-Friday, October 28. It is a limited time offer of $5 off and the registration system has been established to accept the code for that week only.
Visit www.evansvillerotary.com or https://runsignup.com/Race/IN/Evansville/RotarySantaRun to register.
The third annual Rotary Santa Run is set for December 3, at 9:00 a.m., at the Buffalo Trace Boy Scout Council. This 5k raises funds and awareness in supporting youth outreach - gang intervention and prevention.
Fall Dining Services survey
Let the University of Evansville Dining Services team know what you think! Head on over to Sodexo's customer survey. Fill it out and you'll be entered to win $50 Ace Bucks and a Foodie Basket! The survey will be open from October 17-November 2.
Spring housing cancellation deadline
Students, the deadline to cancel your UE housing contract for the spring semester is November 1. Stop by the residence life office to cancel your housing contract without penalty for the spring semester if you will be:
Attending Harlaxton or studying abroad
In an internship, co-op, or clinical outside of the Evansville area
Moving into a fraternity house
Transferring, withdrawing, or graduating
Requests not falling in the above categories are typically not granted. Requests to move off campus to live with friends or move into an apartment are not sufficient reasons to cancel a UE housing contract. Entering into any other housing agreement or lease with a private landlord will have no effect upon the conditions of your contract with the University of Evansville.
For more information, contact the residence life staff or visit our website.
UE Schroeder School of Business third in Conexus Logistics Case Competition
The University of Evansville Schroeder School of Business won third place in the Conexus Logistics Case Competition held in Indianapolis. October 12-14. Teams from 18 Indiana colleges vied to develop the best solution to a logistics-related issue at this contest.
UE students Francis Prexl Orti, Hassan Taki Eddin, Wade Mobley, and Montana Portenier were the members of the University of Evansville team.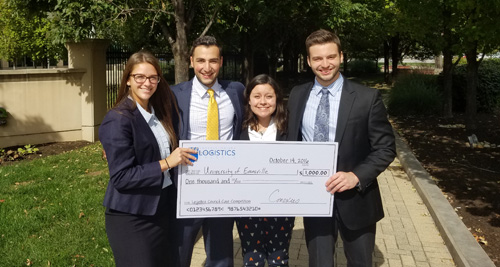 This was the first time for the event, which was sponsored by Conexus Indiana.
The goal of the competition was to increase awareness of logistics career opportunities and build the pipeline of students seeking logistics careers.
During the event, students had networking access to many of the state's highest ranking logistics executives while working in teams to develop the winning response to a real-world logistics business case. The scenarios presented to the students to solve represented issues regularly faced by today's industry leaders in high-tech logistics environments.
Early on October 12 each team was presented with a case to solve for a fictitious company. Taking on the role of that company's logistics team, they were given 36 hours to come up with a solution. The contest culminated with the teams' case presentations to the judges and the awarding of cash prizes, which ranged from $5,000 (first place), $2,000 (second place), and $1,000 (third place).
During the event, team members also attended an executive networking dinner and gathered for a daylong workshop hosted by the Indianapolis law firm, Frost Brown Todd LLC. A reception followed the workshop at the Indianapolis Zoo where students discussed potential careers and future job roles with business representatives.
Yolanda Obaze, UE assistant professor of supply chain management, noted that the UE team's third place win was particularly impressive as they have had limited exposure to the field of logistics and supply chain management. The University is planning to launch a new logistics and supply chain management program.
Obaze believes the UE team's success despite lack of experience in the field is a good indication that this new program will thrive.
UE Basketball kicks off season with Hoopfest
A crowd in excess of 1,000 helped the University of Evansville Men's and Women's Basketball teams kick off the 2016-17 season with Hoopfest on Thursday night at the Ford Center.
A full night of action took place including a 3-point contest, shooting challenge, slam dunk exhibition, and scrimmages by each squad.
Payton Langston and Ryan Taylor got the night started with a victory in the 3-point contest. In the half court shooting challenge, it was Willie Wiley and Sasha Robinson whose team hit a long shot in just 56 seconds.
A close contest ensued in the women's scrimmage as the Gray team beat the Purple squad by a 13-12 margin. Peyton Langston led the gray with four points while Brooke Dossett had three.
Camary Williams was the leading scorer in the contest, posting seven points for the purple while Kaylan Coffman had four.
On the men's side, the Purple took down the Orange by a score of 20-10. Sergej Vucetic was the top performer for the purple, scoring six points. Jaylon Brown and Ryan Taylor each hit a triple and finished with five points apiece. Christian Benzon had four points for the orange.
Following the festivities, fans were able to get autographs from both teams on their newly-released schedule posters.
Evansville's women begin their season at home against Cleveland State on November 12 while the men open up on November 11 at Louisville.
UE Volleyball home to face Bradley and Loyola
It is back to the Carson Center for the University of Evansville Volleyball team as they return home following a 3-week road trip that wrapped up last weekend with road contests at UNI and Drake. Evansville faces Bradley today before welcoming Loyola to the Carson Center on Saturday. Both matches begin at 7:00 p.m. and will be featured on The Valley on ESPN3.
Saturday's match against the Bulldogs was an offensive explosion for Mildrelis Rodriguez and Rocio Fortuny as Rodriguez set her career mark with 21 kills while Fortuny tied her top effort at UE with 17. Rachel Tam also checked in with her high of five block assists while Joselyn Coronel assisted on a career-high 32 shots.
Rodriguez set her career-high with 21 kills in 52 attempts last Saturday. She hit a solid .308 and also posted 12 digs. She has notched at least eight kills in seven of the last eight matches and continues to pace the squad with 2.91 per set. The sophomore comes into this weekend with an even 250 kills on the season. The Purple Aces have depended on her efforts to keep the offense rolling as she has notched at least 24 attempts in each MVC match in 2016.
Fortuny had her shot going against Drake, notching 17 kills last time out. It tied her career-high, which came earlier this year in the home meeting against the Bulldogs. Fortuny ranks second on the team behind fellow sophomore Mildrelis Rodriguez with 2.11 kills per set. She has also done well on the defensive side with 0.39 blocks per set.
A week after setting her collegiate mark with four kills at Southern Illinois, Joselyn Coronel set a career-high in assists with 32 versus the Bulldogs. It marked the third time this season she has posted at least 20 helpers. Splitting time at the position with Jelena Merseli, Coronel has averaged 2.96 assists per game.
Bradley will mark the first match of the weekend as the Aces and Braves play at 7:00 p.m. today. The Braves come to the Carson Center with a 7-15 overall mark and are 2-9 in MVC play. Erica Haslag has had a strong sophomore season for the Braves and ranks fourth in the league with 3.44 kills per set. Defensively, Abby Ihrke ranks fifth in the Valley with 4.07 digs.
On Saturday, UE will take on Loyola. The Ramblers enter the weekend with a 10-14 mark and are 5-6 in the conference. They are in sixth place in the league standings as we round the homestretch. Senior Morgan Reardon is third in the MVC with 3.47 kills per game while Delilah Wolf has registered 9.86 assists in her freshman season and stands third in the conference in that statistic.
Contribute to AceNotes
To have content considered for inclusion in AceNotes, please submit a Marketing Request Form. Deadline for submission to AceNotes is 10:00 a.m. on the requested date of publication. Only articles concerning UE related/sponsored activities will be accepted. Articles submitted to AceNotes may be edited for length and clarity. Submitter contact information is at the end of each article.