| | |
| --- | --- |
| AceNotes Today | Thursday, October 27, 2016 |
Post Active Shooter Drill Survey
A link to a Post Active Shooter Drill Survey has been e-mailed to all full-time faculty, administrators, staff, and students. Please take a few minutes to provide your feedback regarding the drill. The survey will close on November 3. Thank you for your participation!
Photographer on campus
The Office of Marketing and Communication will have a photographer on campus for a photo shoot Wednesday, October 26, through Friday, October 28. UE students and faculty have always been very cooperative and accommodating during previous shoots. As a result, many great photos have been taken for UE publications. Kim McDonald will try to notify faculty in advance if photos will be taken in a particular class; however, weather often can force the shoot inside, and it is possible that last minute requests will be made. If faculty members know that they will be giving a test or do not wish to have their class photographed any of these days, please inform Kim McDonald at ext. 2683 and the classroom will be avoided.
UE employee scholarship opportunity at Evansville Day School
Evansville Day School, the only independent school in the tri-state area, is pleased to announce a scholarship opportunity for students whose families are employed full-time by the University of Evansville. Any student who is admitted to Evansville Day School will automatically receive a 50 percent (25 percent for junior Pre-K and Pre-K) tuition reduction. To learn more, Evansville Day School is hosting two, one-hour open houses on November 11 at 8:30 a.m. and 12:30 p.m. Please also see the promotional flyer attached here. Additional informational flyers will be available in the UE human resources office.
Heavy visit days approaching for Office of Admission
Fridays in October are exciting because many visitors from around the country are checking out UE for the first time! In respect for the families who have driven such a distance to visit our campus, the Office of Admission asks that the campus community not park in the white or purple parking spaces in the Sesquicentennial Oval on Fridays in October. Thank you for continuously doing your part to make UE such a special place for a prospective student to visit.
SWE Give Back Night at Chipotle is today
Make dinner a selfless act by joining us for a fundraiser to support the Society of Women Engineers. Go to the Chipotle at 499 North Green River Road, Suite A, in Evansville today between 5:00-9:00 p.m. Bring in this flyer, show it on your smartphone or tell the cashier you're supporting the cause to make sure that 50 percent of the proceeds will be donated to the Society of Women Engineers.
Village Reverse Trick-or-Treat
Attention all Village residents! The Village RA staff has planned reverse Trick-or-Treat for Monday, October 31 at 7:00 p.m. for Weinbach Houses and Lincoln Apartments
During reverse trick-or-treat, the RA staff will go to all village residences delivering free candy to the residents. Make sure to be in the comfort of your home at the indicated days and times so you do not miss out on this opportunity to get to know your RAs better AND get free candy. Hope to see you there!
Last performance of UE Theatre's Orlando
The University of Evansville Department of Theatre will present Virginia Woolf's Orlando, adapted by Sarah Ruhl, in the May Studio Theatre at 7:30 p.m. tonight.
Orlando follows the luxurious and romantic life of a young English duke who wakes up one morning to find he has transformed into a womanly duchess. Over the course of five centuries, the titular Orlando finds herself tangled up in colorful web of casual acquaintances and life-altering companions as she learns to navigate her new identity and find her place in the world. Through witty humor, fast-paced dialogue, and vivid storytelling, this spirited and poetic play explores the power of transformation and the concept of the self.
Ruhl is a Tony Award nominee and two-time Pulitzer Prize finalist. Most recently, she was named the recipient of the 2016 Steinberg Distinguished Playwright Award.
Steinberg Advisory Committee Member Paige Evans said of Ruhl, "Sarah Ruhl is unique. She fills her intelligent and highly theatrical plays with striking oddities and playful humor. Sarah is a prolific playwright of great distinction."
Sam Schanwald, a senior theatre performance major from Pittsburg, Pennsylvania, serves as the director of the entirely student designed and directed production. The creative team for Orlando includes scenic designer Elizabeth Tredinnick, a junior from Madison, Wisconsin, costume designer Mitchel Wolf, a senior from Chaska, Minnesota; lighting designer Renée K. Voteau, a junior from St. Louis, Missouri; sound designer Benjamin Phillips, a senior from Fort Worth, Texas; dramaturg Olivia L. Rigdon, a senior from Colorado Springs, Colorado; and stage manager Melia Schnefke, a junior from St. Louis, Missouri. Chuck Meachum serves as technical director for the production.
The cast includes senior McKenna Ceci, from Peachtree City, Georgia; juniors Davis Cowart, from Bronwood, Georgia; Joseph W. Schwalb, from Milwaukee, Wisconsin; Zoie Quinn, from San Antonio, Texas; sophomores Alexandra Curren, from McKinney, Texas; Marshall Hopkins, from Baldwin City, Kansas; and freshman Shannon White, from Rockwall, Texas.
Tickets are $11 for adults and $9 for senior adults, students, and UE faculty and staff. UE students may pick up their free student ticket beginning at noon on the day of the performance they wish to attend.
Seating is limited and patrons are strongly encouraged to purchase tickets in advance by calling 812-488–2031, Monday through Friday, noon to 5:00 p.m.
Phi Mu Gives Back today
Today from 5:00-7:00 p.m., Phi Mu will have a clothing drive table in Ridgway University Center lobby. The clothes should be in good condition or lightly worn. Clean out your closets for the new semester and the holidays!
Faculty regalia sale today at the UE Bookstore
The UE Bookstore, in conjunction with Oak Hall Industries, is offering a special faculty regalia sale today at the Bookstore from 10:30 a.m.-1:00 p.m. During this time faculty will receive 20 percent off of the purchase price. An Oak Hall representative will be available to take professional measurements and answer any questions faculty may have.
This is a once a year event so if you're interested, please be sure to stop by even if you just want browse and ask questions.
Contact the Bookstore if you need further information.
Ireland's revolution of 1916 to be topic of Fiddick Lecture
This year's annual Thomas C. Fiddick Lecture sponsored by the University of Evansville's Department of History is planned for tomorrow - Friday, October 28. The lecture begins at 7:00 p.m. in Room 170 (Smythe Lecture Hall) in the Schroeder School of Business Building. This event is free and open to the public.
Daire Koegh, professor of history at Dublin City University, will be the speaker. His topic will be "Ireland's Revolution 1916: Patrick Pearse and Education."
Keogh has served as president of St Patrick's College Drumcondra since 2012. He has published extensively on the history of popular politics, religion, and education in Ireland. He has a strong profile as a historian and an educationalist. He has lectured widely at universities in Europe, America, and Australia.
A former Government of Ireland senior research fellow, Keogh is currently principal investigator of an Irish Research Council funded project to publish the extensive correspondence of Cardinal Paul Cullen.
Keogh is a graduate of the National University of Ireland, Trinity College, the Gregorian University in Rome, and Glasgow University.
Fiddick, for whom the Fiddick Memorial Lecture is named, served as professor of history at the University of Evansville from 1963 to 2002. In his 39 years at the University, he was a dedicated teacher, a productive scholar, and a tireless fighter in the cause of justice. His untimely death on the day of his retirement stunned the UE community, especially his many former students. It was from the former students' efforts in particular, with the support of Fiddick's friends and the University, that the annual Thomas C. Fiddick Memorial Lecture was established.
For more information, call UE's Department of History at 812-488-2965.
This Weekend in Music: Schmidt Family Opera Series
UE's Schmidt Family Opera Series will present its fall program, Musical Mayhem: A Supernatural Evening of Opera Scenes, in Wheeler Concert Hall this evening and Saturday evening at 7:30 p.m.
Alanna Keenan will direct scenes appropriate for the Halloween season, including selections from Benjamin Britten's Turn of the Screw, Verdi's Macbeth, and Menotti's The Medium. The evening concludes when fairies invade Parliament during the rousing finale from Act II of Gilbert and Sullivan's Iolanthe.
Tickets are available at the door or in advance by calling the Department of Music Office at 812-488-2754. Ticket prices are $10 for general seating, or admission is free with a UE ID. The performances are made possible by the Schmidt Family Opera Series.
Sabbatical activities presentation
On Monday, November 7, at 4:00 p.m., in Room 142 of the Krannert Hall of Fine Arts, associate professor of music Garnet Ungar will give a half-hour colloquium on his 2015-16 sabbatical activities. These include a piano technology internship, professional activities in Asia, and writing a book about American pianist Abbey Simon. All are invited.
Charlas - Special Halloween Session: informal conversation in Spanish
A special Halloween session of Charlas: informal conversation in Spanish is planned for students of all levels. Meet at 5:00 p.m. at Jazzman's in Ridgway University Center on Monday, October 31 to practice Spanish with Belén Alemán Mansilla, a Fulbright foreign language teaching assistant from Argentina. On this occasion we'll talk about Halloween, play card games, and make cards. Hope to see you Monday at 5:00 p.m.!
Newman Club Pilgrimage for Life callout meeting tonight
The Newman Club is organizing a group of students to travel to Washington D.C. for the Pilgrimage for Life on January 25-29. While in Washington, students will participate in the March for Life - an annual pro-life rally protesting abortion. Students can also visit the numerous museums and memorials that D.C. has to offer.
A callout meeting is being held tonight at 8:00 p.m. in the basement of Neu Chapel for all those interested in making the pilgrimage.
For more information, visit the Pilgrimage for Life website.
If you have any questions, please contact Olivia Voegerl at ov4@evansville.edu.
Run for Hera Halloween Square Dance
Join us for our Halloween-themed western-style square dancing event from 6:00-9:00 p.m., on Friday, October 28. The event will be in Carson Center.
Learn how to square dance under an array of white lights with two western-style dance coordinators.
For $5 per person or $8 per couple, everyone can enjoy western themed hair braiding snacks, drinks, and a photo booth. All of the money raised will be sent to aid multiple Kenyan communities in medical and educational purposes.
We look forward to seeing you there - don't forget your cowboy costume!
Indiana Means Business Career Fair
Register via JobLink for Indiana Means Business, an exciting career fair for business-related disciplines! Students at all class levels are encouraged to attend. The event is November 10, from 10:00 a.m.-3:00 p.m. (Eastern Time), at the Westin Indianapolis.
You can register for the fair through UE JobLink (Jobs tab --> search for posting 901450)
Bus transportation will be provided from UE. Contact Career Development to reserve your seat.
View registered employers here: http://cccc-in.org/event-2248195.
Need assistance with your job, internship, co-op or graduate school search? Please contact the Center for Career Development: career@evansville.edu or 812-488-1083.
Open to campus - Venturing Crew bonfire, hayride, and extreme s'mores!
Venturing Crew has opened its fall outing to nonmembers! The group will be going to Cate's Farm in Henderson, Kentucky, on Saturday, October 29, for exciting fall activities. Come hang out around a bonfire, go on a hayride, navigate your way through a corn maze, and gorge on extreme s'mores. You can even take home your own pumpkin! The group will leave UE at 6:00 p.m. and return around 9:00 p.m.
To sign up, see Venturing Crew officers in the human resources office in Room 118 in Olmsted Administration Hall, from 11:00 a.m.-noon on Thursday and Friday. If you cannot make these times and would still like to attend, email venturing@evansville.edu prior to 11:00 a.m. on Friday.
The cost of the trip is $12, and you do not have to be a Venturing Crew member to attend. It will be a fantastic night, and you won't want to miss it!
For more information about Cate's Farm, visit www.catesfarmky.com.

UE students in "Social Issues: Latin America" class partner with Evansville Day School on Landfill Harmonic Tribute Project
UE students in Diana Rodriguez Quevedo's "Social Issues: Latin America course have worked with students from the Evansville Day School on the "Landfill Harmonic Tribute Project" remotely throughout this semester. On October 13, both groups came together on campus to work together and review the lesson
Landfill Harmonic is a remarkable orchestra in Cateura, Paragray, where musicians play instruments made from trash. Among many projects this semester, UE students created newscast videos in Spanish and sent them to EDS students for use in class. EDS students also created instruments of their own using recyclable materials.
Displays will be up in the Bower-Suhrheinrich Library until October 28. Visit the University of Evansville Facebook Page here to view photos and learn more.
Religious Life welcomes John Wesley minister and assistant chaplain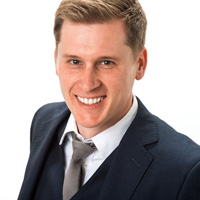 The Office of Religious Life would like to welcome Dallas J. Gingles, who will be serving as the John Wesley minister and assistant chaplain and the assistant program director of the Lilly funded summer youth theology institute, Open Table.
Gingles earned his PhD in Christian ethics at Southern Methodist University. His dissertation was entitled "Against Innocence: Bonhoeffer and Augustine on Responsibility and Political Guilt."
He is seeking ordination in the Episcopal Church, having started the process this year. He is excited to be starting a new vocational journey at UE and looks forward to meeting the campus community.
Gingles and his wife, Rebecca, have a 3-year old son, Graham, and for fun they read books together, visit extended family in Pennsylvania, Texas, and Colorado, watch the Cowboys, and eat tacos. Gingles officially begins at UE on Sunday, October 30.
Honorary Degree Committee invites your suggestions
The University of Evansville Honorary Degree Committee is now soliciting your recommendations for honorary degrees to be conferred at the May 2017 Commencement. According to the UE Faculty and Administrator Manual, the committee is charged with requesting and reviewing honorary degree nominations made on the basis of individual service to the University and individual achievement. An honorary degree may also be awarded to individuals who exemplify the University's mission. Selected persons have excelled in a variety of areas--law, medicine, education, business, literature, politics, and entertainment.
The committee will forward nominations to President Kazee so he can make his recommendations to the faculty. The faculty will vote on the final list of nominees.
Please e-mail the following information to Robert Dion, committee chair, at rd35@evansville.edu, by Friday, November 11:
1. Nomination by (include name, phone and e-mail address)
2. Name of person nominated
3. Title and/or profession of nominee
4. Rationale for the nomination (see criteria above)
5. Any biographical or background information on the nominee
6. Address information for contacting the nominee
UE is part of the solution
Aces, this is your week to get involved and spread the message to do something if you see something happening on our campus. Stop by the Ridgway University Center lobby tables at lunch on today, tomorrow, and Thursday for give aways and to take the pledge to be part of the solution. It's on us, UE! Check out our very own It's On Us UE video.
Test your knowledge - take the UE storm water survey
Part of UE's storm water program is assessing storm water awareness by the campus community. Please help us with this taking the UE storm water survey (even if you took it last year). You'll learn about UE's storm water program and how you can help protect our rivers and streams.
If you have any questions, call ext. 2597.
UE community invited to participate in Holiday Art and Crafts Sale
The Department of Art is pleased to announce its annual Holiday Art and Crafts Sale. Everyone in the UE community who creates art or crafts is welcome to participate. This includes faculty, staff, students, spouses, children, parents, relatives, and friends.

The sale will be held in the Melvin Peterson Gallery on Thursday, December 1. Doors will open at 7:00 a.m. and the sale will continue until 6:00 p.m. Participating artists and craftsmen may drop work off the day prior to the sale or on the morning of the sale before the doors open. Vendors do not need to stay with their work as art department staff and volunteers will be on site to handle the sale.

If you would like to join in this year's Holiday Sale, or you would like more information, please contact the Department of Art at dh196@evansville.edu or 812-488-2043.
UE Schroeder School of Business third in Conexus Logistics Case Competition
The University of Evansville Schroeder School of Business won third place in the Conexus Logistics Case Competition held in Indianapolis. October 12-14. Teams from 18 Indiana colleges vied to develop the best solution to a logistics-related issue at this contest.
UE students Francis Prexl Orti, Hassan Taki Eddin, Wade Mobley, and Montana Portenier were the members of the University of Evansville team.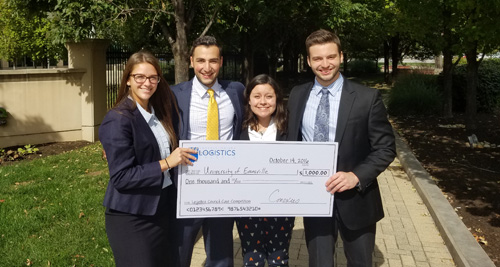 This was the first time for the event, which was sponsored by Conexus Indiana.
The goal of the competition was to increase awareness of logistics career opportunities and build the pipeline of students seeking logistics careers.
During the event, students had networking access to many of the state's highest ranking logistics executives while working in teams to develop the winning response to a real-world logistics business case. The scenarios presented to the students to solve represented issues regularly faced by today's industry leaders in high-tech logistics environments.
Early on October 12 each team was presented with a case to solve for a fictitious company. Taking on the role of that company's logistics team, they were given 36 hours to come up with a solution. The contest culminated with the teams' case presentations to the judges and the awarding of cash prizes, which ranged from $5,000 (first place), $2,000 (second place), and $1,000 (third place).
During the event, team members also attended an executive networking dinner and gathered for a daylong workshop hosted by the Indianapolis law firm, Frost Brown Todd LLC. A reception followed the workshop at the Indianapolis Zoo where students discussed potential careers and future job roles with business representatives.
Yolanda Obaze, UE assistant professor of supply chain management, noted that the UE team's third place win was particularly impressive as they have had limited exposure to the field of logistics and supply chain management. The University is planning to launch a new logistics and supply chain management program.
Obaze believes the UE team's success despite lack of experience in the field is a good indication that this new program will thrive.
Ranganathan publishes article in Studies in Christian Ethics
Bharat Ranganathan, visiting assistant professor of religion, has published an article, "Might Only Theology Save Medicine? Some Ideas from Ramsey," in Studies in Christian Ethics.
In response to the reductive tendencies permeating current medical treatment and research, Ranganathan draws from Protestant social ethicist Paul Ramsey in order to argue for an emphasis on care and not only cure, meaning and not only function.
Katterhenry earns MVC Women's Golf of the Week following win
Fresh off of the ninth tournament win of her collegiate career, University of Evansville senior Kayla Katterhenry was named the Missouri Valley Conference Women's Golfer of the Week on Wednesday.
Katterhenry continued to add to her record-setting career at UE, earning the ninth individual victory of her career at the Charles Braun Jr. Intercollegiate.
In the Aces final event of the fall, Katterhenry won in style, defeating the competition by eight strokes. Just as impressive was that her efforts, combined with the performances of her teammates, gave the Aces the team tournament victory.
The senior opened play on Monday with a 2-under 70 and added to the lead in Tuesday's final round, carding a 3-under 69 to finish the event with a 139.
Hoopfest to take place today
Fans will have their first opportunity to see the University of Evansville Men's And Women's Basketball teams this evening at Hoopfest.
Admission to Hoopfest is free and a T-shirt will be given away to the first 1,000 fans, courtesy of Heritage Federal Credit Union. Fans can also enjoy $1 soft drinks and popcorn as well as $2 hot dogs.
Doors open at 6:00 p.m. with the event getting underway at 7:00 p.m. A full slate of action will be on tap. The schedule includes:
7:00 p.m. – Dance Team and Cheer Team Performance
7:05 p.m. – Men's and Women's Team Introductions
7:10 p.m. – 3-Point Shooting Team Challenge (Men and Women)
7:20 p.m. – Slam Dunk Exhibition
7:25 p.m. – Aces Shooting Challenge (Men and Women)
7:30 p.m. – Women's Team Warm-up
7:35 p.m. – Women's Team Scrimmage (Two 7-minute halves)
7:50 p.m. – Men's Team Warm-up
7:55 p.m. – Men's Team Scrimmage (Two 7-minute halves)
8:10 p.m. – Autographs on court
This will also be the first chance for season ticket holders to pick up their new season ticket boxes for the 2016-17 season. Boxes will be given out in the main lobby of the Ford Center. UE ticket officials will be on hand for Aces fans wishing to inquire about ticket options.
Contribute to AceNotes
To have content considered for inclusion in AceNotes, please submit a Marketing Request Form. Deadline for submission to AceNotes is 10:00 a.m. on the requested date of publication. Only articles concerning UE related/sponsored activities will be accepted. Articles submitted to AceNotes may be edited for length and clarity. Submitter contact information is at the end of each article.