| | |
| --- | --- |
| AceNotes Today | Monday, October 10, 2016 |
United Way campaign is under way – today is your day!
Deadline: October 12 at 5:00 p.m.
Don't miss out on your chance to WIN! Turn in your pledge form at any time this week and be eligible to win prizes including:
• Day off of work (3)
• Men's and Women's Basketball tickets
• Theatre tickets
• Gift certificates to UE bookstore and Jazzman's
• And MORE!
Please read the information in your packet and if you have any questions, feel free to contact Office of Human Resources at ext. 2943.

I-House: Thailand
Today's presentation of I-House will be on Thailand and Bhuree (Pooh) Dardarananda will be presenting. He is a senior and is majoring in marketing and will have a minor in psychology. He loves to travel, cook, and eat food (especially from street cars). His favorite part about UE is all the friends he has made throughout his years here. So come upstairs in Ridgway University Center tonight at 7:00 p.m. to hear about Thailand.
Charlas: informal conversation in Spanish
Students of all levels of Spanish are invited to meet at Jazzman's in Ridgway University Center from 5:00- 6:00 p.m. on Wednesdays to practice Spanish in a relaxed atmosphere with Belén Alemán Mansilla, a Fulbright foreign language teaching assistant from Argentina. This week come play chancho and other card games. Nos vemos el miércoles a las 5:00 p.m.!
Blood Drive on October 18
The Newman Club is hosting a fall blood drive on Tuesday, October 18, from noon-6:00 p.m. If you are interested in either giving blood or donating your time through volunteer work, contact Paige Hignite at ph89@evansville.edu.
Senior nursing class presentation on homelessness
The University of Evansville senior nursing class will host a homeless awareness presentation today at 6:00 p.m. in Eykamp Hall, Ridgway University Center. The goal is to increase awareness of and empathy for the homeless population.
Evansville has a significant homeless population whose basic needs are not being met. Because of this, the UE senior nursing class has devised a community outreach program to help raise awareness regarding the homeless problem within the Evansville community. This presentation is part of that program.
Learn about American University graduate programs in public affairs
Jennifer Forney, assistant dean of graduate enrollment for the School of Public Affairs at American University, will be on campus to discussgraduate programs at SPA. She will have an information booth today in Ridgway University Center from 9:00 a.m.-1:00 p.m. The School of Public Affairs offers an array of graduate degrees in public administration, public policy, justice, law and criminology, terrorism, homeland security policy, and political science.
Homecoming 2016 Reunion Weekend - October 14-16
Many alumni will return to campus October 14-16, as many anniversaries are celebrated during Homecoming Reunion Weekend. The class of 1966 is 50, Chi Omega celebrates 65 years at UE, Lambda Chi Alpha - 60 years, Harlaxton is 45 years, and neuroscience is 40.
The full schedule of events is online here.
Questions? Contact alumni@evansville.edu or ext. 2586. Join us in welcoming alumni back to campus and join in the fun!
Poet George David Clark appearing at Coffee Hour today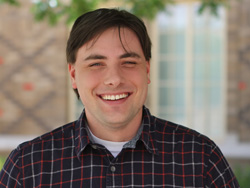 You are invited to join us at the Creative Writing Coffee Hour today to welcome poet George David Clark. All the lectures in the Creative Coffee Hour series begin at 4:00 p.m. in UE's Melvin Peterson Gallery, and are free and open to the public.
Clark's current book, Reveille (Arkansas, 2015), won the Miller Williams Prize, and his more recent poems can be found in Agni, The Cincinnati Review, The Gettysburg Review, Image, The New Criterion, University of Evansville's Measure, and others.
He edits the journal 32 Poems and lives with his wife and their three young children in Western Pennsylvania where he teaches creative writing at Washington & Jefferson College.
Spring and intersession adoptions due
The UE Bookstore is now requesting textbook adoptions for the intersession and spring 2017 terms. Faculty members and departments are encouraged to return their adoptions as soon as possible as per the information that was sent to them in an e-mail. Thanks in advance for your help.
Student employment positions available!
The Center for Student Engagement is looking for motivated students to fill their community project coordinator positions! Community project coordinators provide assistance on special projects at local nonprofit community partner organizations. Agencies include local elementary and middle schools, after-school programs homeless agencies, and other community organizations.
Please contact Catherine Carver at cc204@evansville.edu if you are interested in one of these positions.
Fitness Center fall break hours
The Fitness Center will be open during fall break on:
Friday, October 7: 6:30 a.m.-7:00 p.m.
Saturday, October 8: closed
Sunday, October 9: closed
Monday, October 10: 8:00 a.m.-7:00 p.m.
Tuesday, October 11: 8:00 a.m.-7:00 p.m.
Physician assistant program granted accreditation - provisional status
The ARC-PA has granted accreditation - provisional status to the University of Evansville physician assistant program sponsored by the University of Evansville. Accreditation-provisional is an accreditation status granted when the plans and resource allocation, if fully implemented as planned, of a proposed program that has not yet enrolled students appear to demonstrate the program's ability to meet the ARC-PA Standards or when a program holding accreditation.
Provisional status appears to demonstrate continued progress in complying with the standards as it prepares for the graduation of the first class (cohort) of students. Accreditation-provisional does not ensure any subsequent accreditation status.
It is limited to no more than five years from matriculation of the first class.
The inaugural class of 20 PA students will begin the program in January 2017.
Become a resident assistant for spring 2017!
Impact lives, build community, and be a leader - become a UE resident assistant. Applications are now available for spring 2017.
For more information, including position details and expectations, visit the Residence Life website.
Fall break hours for the library
The library will observe the following hours for fall break:
Friday, October 7 - 7:45 a.m. to 5:00 p.m.
Saturday, October 8 - closed
Sunday, October 9 - closed
Monday, October 10 - 8:00 a.m. to 5:00 p.m.
Tuesday, October 11 - 8:00 a.m. to midnight
After hours will resume at midnight on Wednesday.
Please contact Meg Atwater-Singer with questions at ext. 2487 or ma35@evansville.edu.
TIAA-CREF counseling appointments
The TIAA-CREF representative will be on the UE campus for individual counseling sessions on Wednesday, October 19 and Thursday, October 20. To schedule an appointment, call TIAA-CREF at 1-800-732-8353 or 317-706-6200.
Please note that the meeting location has been changed to room 208 of the University Libraries.
UE Bookstore fall break hours
The UE Bookstore will have revised hours for fall break, which is October 8-11. The bookstore will be closed on Saturday, October 8. On Monday, October 10, store hours will be 8:00 a.m.-5:00 p.m., and on Tuesday, October 11, store hours will be 10:00 a.m.-6:15 p.m. for a special event. Normal hours will resume on October 12. If you have questions please contact the UE Bookstore.
Federal loan repayment counseling session required for students graduating or transferring
Students who have received federal direct (subsidized/unsubsidized) loans and plan to graduate in the fall (or transfer after the fall semester) are required to attend a loan repayment counseling session. The Office of Financial Aid will hold the first session of the semester on Thursday, October 20 at 1:00 p.m. in Eykamp Hall, Room 251, Ridgway University Center. The last session will be held December 7 at 2:00 p.m.
Denning-Smith receives scholarship to attend international leadership symposium
Johnna Denning-Smith, director of grants and sponsored programs, is one of four doctoral students to receive a scholarship from Western Kentucky University to attend the International Leadership Seminar at IAE Lyon in Lyon, France. This seminar attracts leaders in industry and education from around the world. Seminar professors in past years have hailed from all over Europe, Asia, the Middle East, North and South America, Australia, and New Zealand. Denning-Smith will participate in a series of several day seminars that cover a broad range of management and leadership topics.
Tkachenko to play for MVC Championship on Monday
University of Evansville freshman Diana Tkachenko will play for the Missouri Valley Conference Championship at #2 singles on Monday as the Purple Aces wrap up the Individual Championships on Monday at Wesselman Park.
In Sunday's action, Tkachenko defeated Ting-Ya Hsu of Wichita State, 6-4, 6-0 to advance to the final match in the second flight. She will face Marcia Tere-Apisah from Illinois State on Monday morning.
Chieko Yamada clinched fifth place at the top flight as she beat Ari Dechter of Bradley, 6-0, 6-3. In flight five, Theodora Soldatou will have a chance to take third place on Monday as she will take on Valerija Gercar (Illinois State). Soldatou opened play on Saturday with a win over UNI, but dropped her match against BU's Malini Wijesinghe on Sunday, 7-5, 7-5.
Nicoli Pereira will also have a chance at a third place finish as she will play Savanna Hunt of UNI on Monday. Pereira lost Sunday's matchup against Missouri State's Alexia Meyer, 6-4, 6-3.
Flight four singles featured Andrea Pascual-Larrinaga, who took sixth place after falling to Alexa Brandt of the Braves, 6-4, 6-3.
All three doubles pairs for UE have a shot at third place in Monday's final day. At flight one, Tkachenko and Pereira face off against the Bears' Alye Darter and Phoebe Boeschen. Yamada and Soldatou face Illinois State's Jana Kustkova and Jelena Karla Vujicic in the third place match of #2 doubles while Pentsova and Andjela Brguljan will take on Malini Wijesinghe and Alexa Brandt from Bradley in the third flight.
Today's action begins at 9:00 a.m. with championship doubles before singles play begins. Singles action features the championship and third place matches. Admission to the championships at Wesselman Park is free.
Contribute to AceNotes
To have content considered for inclusion in AceNotes, please submit a Marketing Request Form. Deadline for submission to AceNotes is 10:00 a.m. on the requested date of publication. Only articles concerning UE related/sponsored activities will be accepted. Articles submitted to AceNotes may be edited for length and clarity. Submitter contact information is at the end of each article.